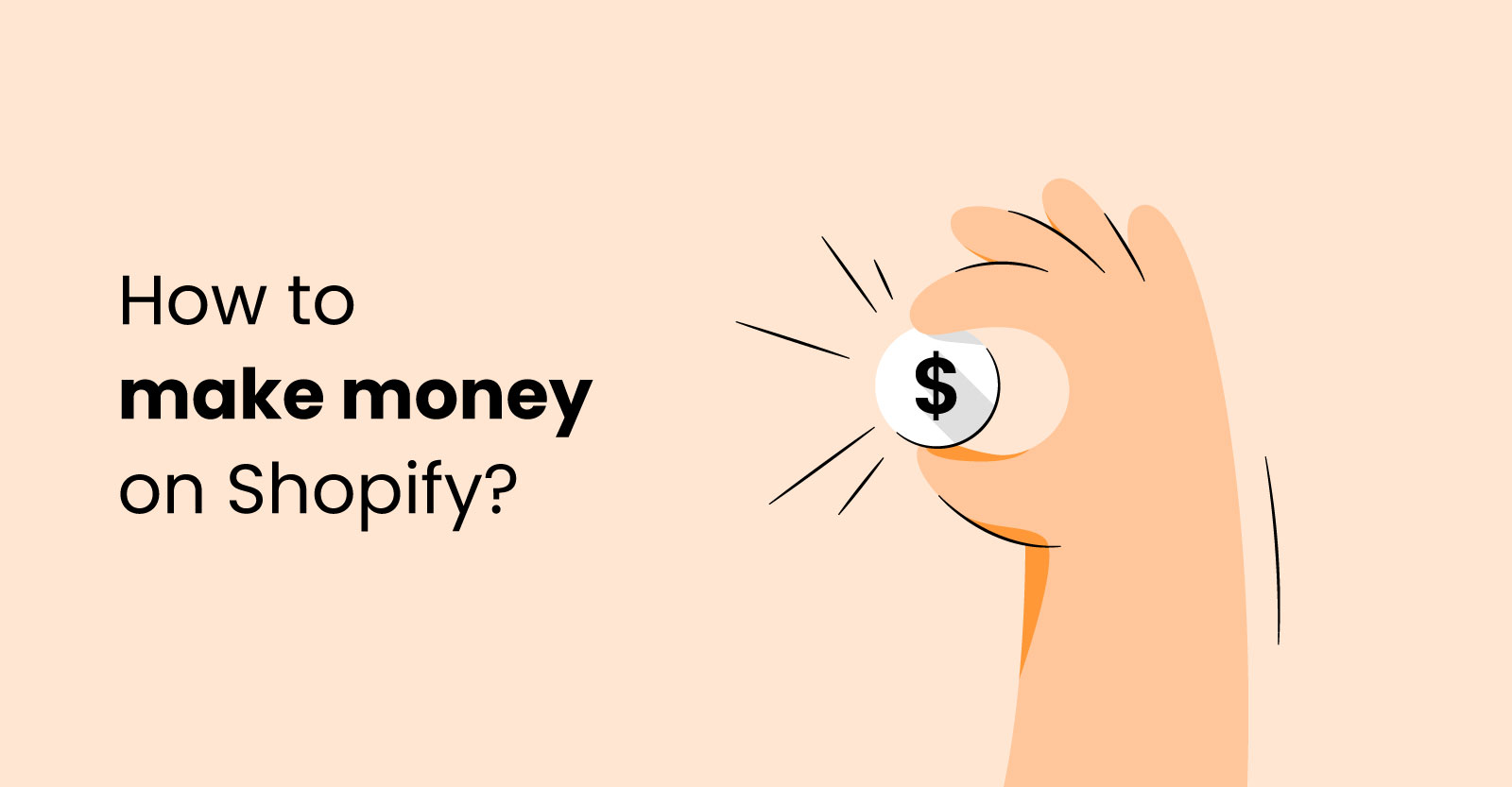 By purchasing through the links on this page, you are giving us the opportunity to earn a commission. Your support is greatly appreciated!

The shift to digital and online shopping has allowed more businesses to reach customers than ever before, and platforms like Shopify have paved the way for small and beginner businesses to start venturing into e-commerce and earn money through online sales.

Shopify is one of the biggest and most successful e-commerce platforms today. It's easy to use and has a wide range of features to make managing your business and selling online that much easier, so that you can focus your efforts on what really matters: making money!

In this article, we'll share some amazing ideas for making money on Shopify, from selling handcrafted products and personalized services to specializing in affiliate marketing and app development. Then keep reading for tips to help you launch your Shopify store and set your online business up for success!

TinyIMG - a single Shopify app you'll need for your store image compression and SEO optimization

Install TinyIMG now
15 ways to make money on Shopify
There are loads of ways to make money on Shopify, from selling handcrafted products and specialist services to becoming a Shopify expert and helping to launch other businesses. If you're new to the platform, check out our guide on how Shopify works.
And here are 15 of the best ideas for making money with Shopify:
1. Start an eCommerce Store
Perhaps one of Shopify's best-known features is its incredible infrastructure for allowing users to set up an e-commerce store quickly and with relative ease. Virtually anything can be sold on Shopify, from handcrafted products to a service you provide, or something that you're reselling.
The platform is easy enough to use, so you can easily add and curate items on your online store, and your customers can check them out hassle-free. Remember, it takes effort to draw in and retain customers - check out these customer retention strategies that will help boost your sales.
With a simple Shopify Lite subscription, you can add a "buy" button to your blog or website, helping users to convert effortlessly, even if selling may not be your website or blog's main objective. You can also sell via Facebook with the help of Shopify.
2. Start a Dropshipping Business
Dropshipping is a retail pattern in which the seller does not physically store goods in their inventory. To fulfill an order, the seller purchases stock from a third party and arranges to ship it to the buyer. As such, the seller does not handle inventory directly.
This has been a popular mode of selling things online for many years now, as many business owners find that it's a convenient way to sell merchandise. With no need to worry about storage space or dealing with unsold items, dropshipping is efficient and cost-effective.
Shopify also supports dropshipping. Through your Shopify account, you can easily set up your catalog, pricing, and orders to a dropshipping partner. Shopify also has a service in partnership with Oberlo for those who want to get started with a dropshipping business.
Make your store fast and visible for potential clients from the start. Automate optimization efforts with TinyIMG
Use TinyIMG for Shopify
3. Start an affiliate business
Affiliate marketing is a commission-based advertising and business model that works very well on Shopify. To start an affiliate business, you can go down one of two routes:
You can create an affiliate marketing program for your own store, which involves advertising your own products via social media influencers, relevant online publications, other Shopify stores and the like. You'll pay these affiliates a commission, but it can ​​help to grow your reach and increase sales.
Alternatively, you can sell affiliate products on your Shopify store. If your store has good reach and could use some more product variety, reselling products for a commission-based profit is a great way to make more profit.
Find out more about affiliate marketing on Shopify and how you could use it to make money.
4. Create your own clothing brand
If you're a clothing designer or fashion aficionado, put your talents to good use and earn money by starting your own clothing line. Whether you sew the garments yourself or design them and have them produced by someone else, Shopify can help you start a clothing company of your own in just a few easy steps.
A print-on demand clothing store is another way of selling without an inventory. Shopify has partnerships with Printful, and Printify, and provides a selection of print-on-demand apps. This can help you connect with clothing printers and manufacturers. Retail fulfillment can also be handled by these providers, so there's no need to worry about holding inventory or packing items for shipping.
Clothing online stores need many high-quality images. Make sure they don't slow down your pages
Use TinyIMG app
5. Sell art and digital products
This is another great example of the variety of things you can sell on Shopify. If you're a painter, photographer, digital illustrator, or work with other art media, Shopify is a great way to sell art through your own website. You can also curate art pieces and put up an art store where people can find prints, digital art, custom art, and all sorts of handcrafted pieces.
It's pretty much like selling on Etsy, except that you can create your own website or sell from your social media pages. With Shopify you have the option to design your website in such a way that it matches your design philosophy and aesthetic, making purchasing an even more immersive experience for your clients and loyal followers.
6. Sell merch to your fans
Shopify is also a great option if you're a musician - whether you're big on Spotify or have a loyal YouTube following. Use Shopify to sell CDs, vinyl LPs, and digital copies of your music. You can also use it to sell other related merchandise, such as custom-made guitar picks, drumsticks, guitars, clothing, tote bags, mugs, and autographed photos.
Your Shopify store is completely customizable, so you can build a storefront that perfectly suits your band's style and aesthetic. Want an idea of big artists and bands that use Shopify? Lady Gaga, Foo Fighters, HAIM and Bastille all use the platform to sell music and merch to their fans!
7. Resell vintage items and thrift store finds
There's a large market of people looking for vintage and novelty items, and this is a line of business that lends itself perfectly to a Shopify store. If you love scouring estate sales and thrift stores for unique finds and unnoticed high-value vintage items, then this is a great option for you! Take your bargain finds and sell them at a higher price on Shopify to make amazing profits on your purchases.
Check out these stories of people who scored big from flipping their thrift store finds.
8. Sell your services
Did you know that as a freelancer, you can set fixed prices for your services by creating a Shopify store? Simply list your available services as your 'products' and disable shipping. A lot of freelance writers, graphic designers, and web or app developers can benefit from this model.
This model is also called 'drop servicing' - unlike dropshipping, you won't necessarily be shipping physical products to your customers, but they still pay you through the platform. Of course, you'll still need to network and market to promote your services in order to make this an effective mode of earning money consistently through the platform.
9. Become a Shopify expert
If you already have a track record of success with Shopify, you can become a Shopify partner and earn money by helping other merchants build and scale their online businesses. This might include helping with design, development, marketing, SEO, photography, image optimization, and more!
According to Shopify, 1 in 3 of their merchants reach out to a Shopify Partner every 6 months, so this could be a great side hustle (or full-time hustle!) for you to give a go! As a Shopify Partner, you'll also get exclusive access to deals on extra tools that other Shopify merchants don't have access to.
10. Become a Shopify affiliate
Shopify's affiliate program is an innovative way to earn money without even needing to sell anything. If you happen to know online merchants that aren't currently using Shopify platforms, then encourage them to join Shopify and you'll earn a commission for referring them!
As a Shopify affiliate, you'll create and share online courses, seminars, blog posts, or videos to inspire and teach your audience about entrepreneurship with Shopify. You'll earn a referral fee for every new merchant that joins thanks to you! The more sellers you refer, the more you'll earn!
11. Monetize your social media
If you already have a loyal following on social media, then you can turn that into a source of income as well. Maximize your online presence by using your social media influence to make money on Shopify.
Shopify Lite is especially great for selling on social media as it allows you to insert 'buy now' calls to action on your Instagram and Facebook posts - your followers can simply click this link to buy the specific product you've advertised.
12. Build and flip Shopify stores
Another way to make money through Shopify is to build a Shopify store and then sell it on for profit. How much effort you put in is up to you, but the more you put in, the more you're likely to get out. You could simply come up with a business idea, a domain name and a template before selling the store, or you could go a step or two further by creating a social media presence and investing in some marketing to get the store to a more appealing and profitable level.
How much you can sell your Shopify store for will depend on many factors, including what stage the business is at and the market value of the business. Some starter Shopify businesses sell for as little as $50, while established six-figure stores can sell for more than $1 million!
13. Build and sell online courses
Earn passive income by creating an online course on a subject that you're an expert in and selling your courses via your Shopify store. Upload your courses and tutorials to your website - perhaps to your blog - as restricted pages, and then sell membership to your customers in order for them to access this content.
The subject doesn't have to be academic. It can be about anything you're highly experienced in, whether that's SEO, social media marketing, music production, writing, acting, or even dance!
To record your screen and voice-overs simultaneously, you can use a screencasting app like Screenflow, which will help you walk your viewers through a certain topic.
14. Turn your Shopify experience into products
Make the most of your Shopify expertise by monetizing what you've learnt during your time using the platform. You could create a blog specializing in tips for how to succeed as a Shopify entrepreneur, or you could create training courses, digital marketing materials, or YouTube tutorials - be as creative as you like, spend time marketing these 'products' and you'll soon reap the rewards.
15. Create Shopify apps
Last, but not least, if you're a pro when it comes to creating apps, then you can earn regular revenue on the Shopify App Store by helping Shopify merchants from around the world to build their custom apps. To find out more, visit the Shopify Developers page.
How to launch your Shopify business
You've put in all the hard work and you're now ready to launch your Shopify store. Before you officially launch it, use this checklist to make sure you've not missed anything:
1. You've added a custom domain
Adding a custom domain gives you brand recognition and makes it easier for people to remember your URL - keep it short and snappy so that it's easy to type!
2. You've prepared your standard pages
At minimum, you should have a homepage, an about page, a contact page, and an FAQ page. You'll also want at least one product or service page so that there's something for users to buy!
3. You've added your chosen sales channels
For example, eBay, Amazon, Instagram, Facebook, Google Shopping, TikTok, and Pinterest.
4. You've optimized all images on your website using TinyIMG
Slow-loading images are bad for SEO and user experience, so ensure they're optimized for faster loading times. TinyIMG app reduces your image size while retaining excellent visual quality and automatically generates ALT tags and titles for your images. Other features like SEO audit, 3rd party script control, and broken link redirect makes it an all-in-one SEO app you need.
5. You've reviewed your checkout experience and payment options
It's worth placing some test orders to make sure the checkout process works smoothly.
6. You've reviewed your email notification settings
There are a number of automated emails you'll want to customize before launch, including shipping confirmation emails.
7. You've installed an analytics tool
Shopify has a built-in analytics tool, but you might also find it useful to install Google Analytics and Google Search Console for useful data about your visitors and your website.
8. You've adjusted your tax and shipping settings
Make sure you're not left out of pocket by making sure your tax and shipping settings are appropriate for the products you're selling.
9. You've set up your billing information
Make sure your store's billing information is correct to ensure there aren't any issues when your store goes live.
When you're ready, remove the password on your store so that it's open to the public, and voila! You're ready to sell!
Are Shopify stores profitable?
In short, yes! Of course, how profitable your Shopify store will depend on the type of business you're creating, the value of your products or services, your profit margins, expenses, how saturated your particular market is, and how you go about promoting your store, along with other factors.
The average income that a small, established business can earn from Shopify is around $1000 to $1500 per month. Dropshippers can earn as much as $10,000 considering the reduced overhead cost, and a survey by Littledata in May 2022 found that the average revenue per customer for Shopify was $92.
What to sell on Shopify
According to Shopify, the 10 best things to sell this year are:
Print books and ebooks
Vinyl LPs and CDs
Belt buckles
False eyelash accessories
Household cleaning supplies
Circuit boards and components
Play vehicle accessories
Dinnerware
Pet carriers and crate accessories
Curtain and drape rings
As you can see from this list, surprisingly niche things can sell incredibly well! Consider adding one of these products to your existing store, or use this as inspiration for your next business idea.
How to set your Shopify store on the path to success
Once your store is live, the real work begins! There are several things you can to set your Shopify store on the path to success:
Focus on marketing activity to drive traffic to your Shopify store and grow your audience - this might include SEO, paid ads, and social media marketing. Consider an affiliate marketing strategy to increase your reach and target potential customers outside of your usual network. To avoid miscommunications when you're reaching out to potential customers via many different communication platforms, you can use UCaaS systems. UCaaS conversations are picked up right where they left off, even if those conversations took place across multiple channels.
Use Shopify's built-in analytics tool as well as Google Analytics and Google Search Console to analyze user experience and user journey, and to improve store design. Is your bounce rate high? Ensure there's a clear next step for users to take from each page. Are particular pages not performing as well as you'd hoped? Ensure they're well-written and informative, contain eye-catching images, and are SEO friendly.
Customers are more likely to buy from you if they trust you, so prioritize collecting reviews from satisfied customers as you go along and add them to your Shopify store to reassure and entice new customers. Take care to provide excellent customer service, from replying to customer queries promptly to ensuring items are shipped on time.
Curious to read more? Check out these articles:
Frequently asked questions
Is Shopify a good place to sell?
Yes, Shopify is a great platform for selling goods and services. It's easy to use and has a wide range of features to help you manage your business and grow your customer base.
Can you sell services on Shopify?
Yes, Shopify isn't just for selling physical products, you can sell services too. Everyone from writers, developers, and graphic designers to beauty salon owners and yoga instructors can sell their services on Shopify.
What are the best Shopify business ideas?
Scroll up to check out our 15 top Shopify business ideas! As a brief recap:
Start an eCommerce Store
Start a Dropshipping Business
Start an affiliate business
Create your own clothing brand
Sell art and digital products
Sell merch to your fans
Resell vintage items and thrift store finds
Sell your services
Become a Shopify expert
Become a Shopify affiliate
Monetize your social media
Build and flip Shopify stores
Build and sell online courses
Turn your Shopify experience into products
Create Shopify apps
This list isn't exhaustive, and there's really no limit to the type of business you can launch on Shopify.
How long does it take to make money on Shopify?
There's no hard and fast answer to how quickly you'll start to make money on Shopify - it could be days, weeks, or even months. You can increase your chance of making money by having a solid business plan and a strategic marketing plan in place.
Does Shopify provide products to sell?
No, Shopify provides the software for you to set up your online store and sell your products, but you'll need to source the products yourself. Whether that's handmade items or products that you're reselling, once you've decided on your products, simply advertise them on your store and get selling!