By purchasing through the links on this page, you are giving us the opportunity to earn a commission. Your support is greatly appreciated!

If you're looking to build a dropshipping store, Shopify is an amazing platform to do it with. With dropshipping app integration and sales features, it's a popular choice for many business owners. But finding the right platform, and the right product supplier is just half the battle – in order to be successful, your website needs to look good, and sell even better.

This is where Shopify themes for dropshipping come in. Focused on supreme user experience, customizable designs, and high conversion rates, these themes will be amazing for dropshipping sites of all niches. What's even better, some of these dropshipping themes are also entirely free of charge!
Why is dropshipping popular on Shopify?
Dropshipping is incredibly popular in Shopify – and there are several reasons why more and more people are choosing to grow their businesses using this model.
Stores are very simple to set up. With excellent dropshipping themes, supported by Shopify's robust ecosystem, covering just about any business need, it's easier than ever to build an online store.
Wide range of supported products and platforms. With a wide range of suppliers and dedicated dropshipping solutions, there are plenty of excellent products you can sell and ship from all across the world.
eCommerce is stronger than ever. Everybody already knows it's here to stay: but the recent record-breaking figures show that there's still a lot of room to grow and a lot of products to sell. Dropshipping offers a simple and reliable way to tap into the market.
Good selection of dropshipping-ready themes. There are plenty of excellent Shopify themes, created specifically for selling a wide variety of dropshipped products. Optimized for large catalogs and top sales, they offer a simple way to get started.
What to look for in a Shopify theme for dropshipping?
There are a lot of interesting options – and it might be difficult finding the right Shopify theme for dropshipping. You can browse the top Shopify themes for inspiration too. Here are the main things you should look for, when selecting the best Shopify dropshipping theme:
Customizable design. Your website is your brand: being able to sell it to your visitors is incredibly important. Either choose a theme that's closest to your vision – or find a Shopify theme with plenty of design customization tools, that will help you finetune your store to perfection.
Additional sales tools. Building a business is all about increasing the margins. And what's a better way to increase the margins, than to increase your profit? Some Shopify dropshipping themes include excellent conversion features, that will help you sell even more and grow your business.
Excellent user experience. When you're making a dropshipping store, you're in direct competition against every other similar store – after all, you're selling the same products! Make sure to pick a theme that loads fast, looks good on all devices, and encourages visitors to buy, not to click "back".
Top Shopify themes for dropshipping
These right here are the best Shopify themes for dropshipping:
Let's have a look at these and 10 more great options in detail.
1. Gecko – best overall Shopify dropshipping theme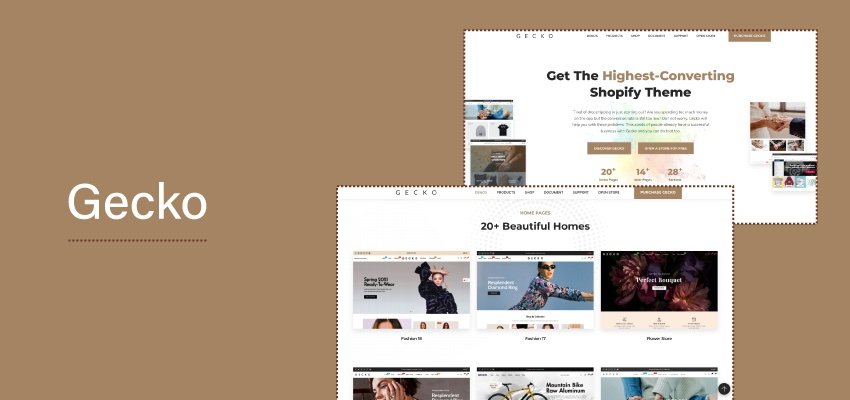 Gecko is a super popular Shopify theme, with one of the best community ratings on a theme, ever. No surprise – its creator, The 4 is a company responsible for some of the best Shopify themes out there. One look at Gecko lets anyone see why this might be the best Shopify theme for dropshipping. With plenty of excellent sales tools, great performance, and customizable design, there is a lot to love.
The template's modern, tastefully minimal design adapts right around products. But there are still over 30 different demos, tailored to a variety of different products, like fashion, sports, food, furniture, gadgets and more – so you can get a perfect starting point for your business. A lookbook, smart product search, and custom product page layout features are all there to help you sell better.
Plus, full support for Shopify 2.0 gives Gecko access to simple and intuitive Shopify editing tools. All in all, this theme offers plenty of excellent additional features – but still makes everything simple by fitting within Shopify's own ecosystem. At $99, it's a steal.
Main features:
Demos for different industries
Fast page loading
Easy editing options.
2. Turbo – Shopify theme perfect for large dropshipping websites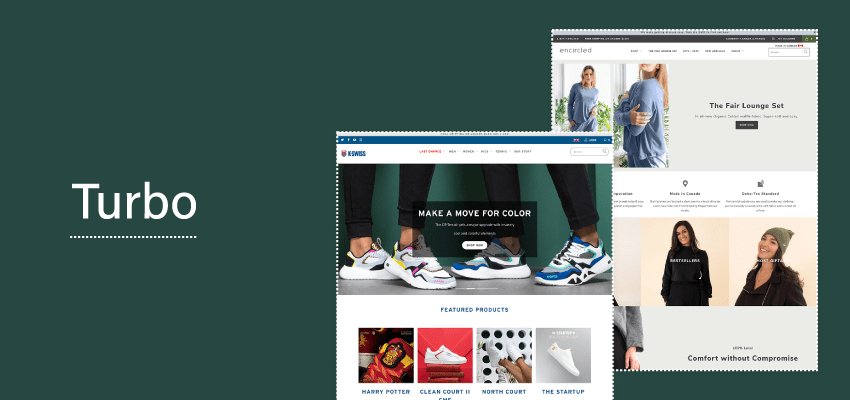 Turbo is a premium Shopify theme, offering high speed and powerful features. No wonder this theme is highly rated among industry professionals and Shopify Plus merchants – it can handle large inventories without losing its speed.
Theme creators put performance first and foremost, offering you fast, smooth and seamless experience on mobile and desktop alike. There's also a lot of focus on high-impact visuals with homepage galleries, full-width image sections, and more. Turbo is highly customizable and flexible, so you'll have no trouble setting up your dropshipping website.
Main features:
Smart page preloading
Upgraded product layouts
Predictive search
3. Dropshipping – purpose-built Shopify dropshipping theme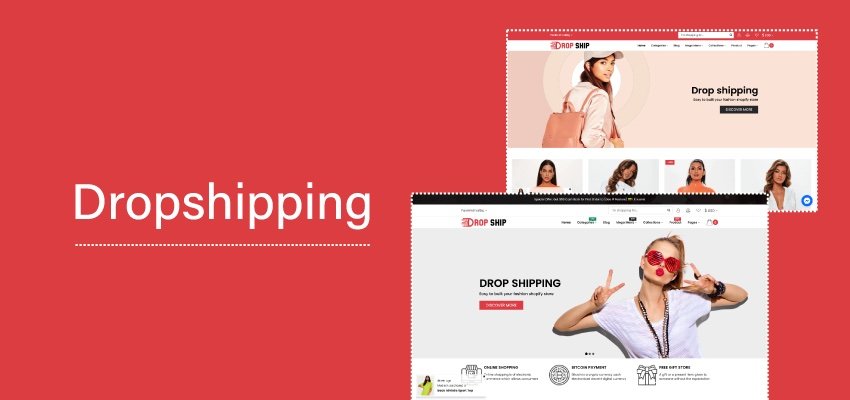 The name does not lie – unsurprisingly, Dropshipping is one of the best Shopify themes for dropshipping. With over 40 different home page styles, as well as multiple collections, blog, product, and article pages, you can put together a store of your dreams. Big menu options will help you maintain a large inventory – and smart sales features will help you quickly sell it.
Dropshipping lets you have an online store of any size – and this theme does not limit you. Pre-made site sections will let you put together large and elaborate projects in a matter of minutes. Advanced variant switches will let you easily sell several different types of one product. Newsletter popup, recent sales notification, live chat, and many more features are put in place for increased sales.
All in all, Dropshipping has everything you need to run a massive dropshipping store. At the price of $84, it's an excellent all-around investment.
Main features:
Conversion features
Product variant management
Customer live chat options
4. Debutify – dropshipping theme with top sales features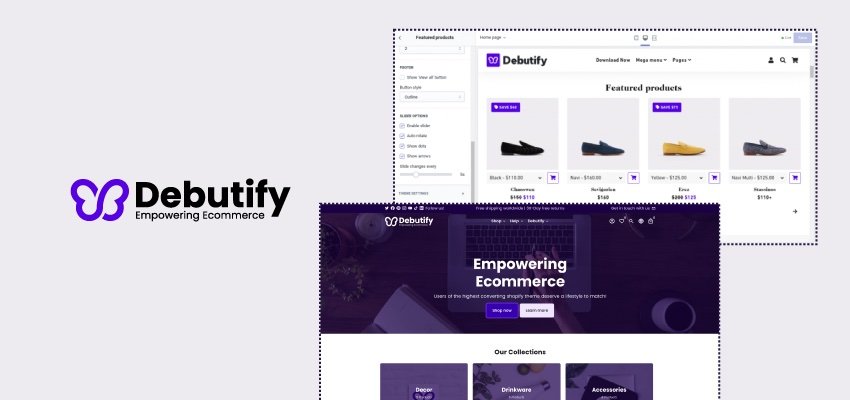 Debutify is a Shopify dropshipping theme that goes all in on increasing you conversions and achieving business goals. With over 50 "boosters" – sales improving features – your store gets all the tools it needs to sell at a highest possible rate.
The boosters are all made by Debutify, and they're fully optimized to work perfectly with the theme. Separated into "cart maximizers", "conversion triggers", "loyalty builders", "shopping enhancers", and "shop protectors", these apps fully replace several premium apps in Shopify's own app store.
Plus, design-wise, you'll get a lot of features as well. Tailor-made editor lets you easily customize the store, and make the best out of all available sales features.
Unlike many other themes, Debutify requires a monthly subscription: and it also has a free plan. On all – free, and $111.75/month plans, there's plenty to love about Debutify.
Main features:
Sales and conversion features
Custom site editing tools
5. Kala – Shopify dropshipping theme with excellent customization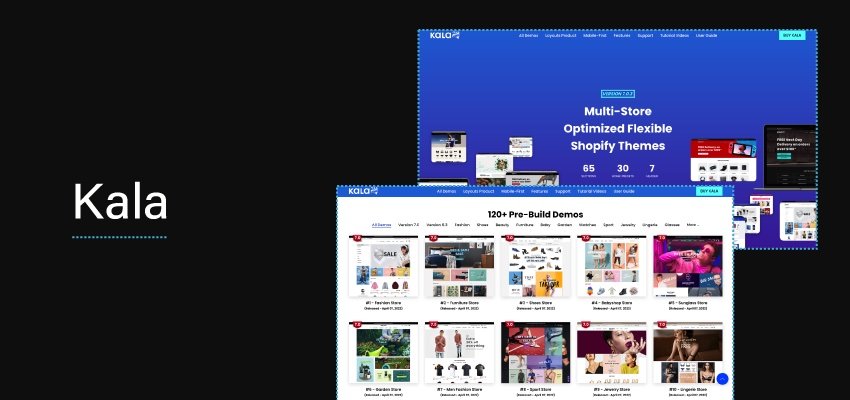 Kala is a customizer's dream – and a very popular theme on Shopify, with thousands of 5-star reviews. This Shopify theme for dropshipping offers over 120 unique page templates, focusing on just about any niche and store type there is. Plus, new designs get released consistently – so you'll always have your pick of fresh and modern site styles.
With the style selected, you'll be able to use this theme's powerful sections and customization options to tie everything together. With over 50 unique sections, 7 types of product pages and header styles each, and a mobile-first design, this theme is fully ready to turn into a custom dropshipping website of your dreams. At $69, it's also seriously affordable.
Main features:
120 site styles
Shopify 2.0 support
Responsive design
6. Sonata – simple and intutive dropshipping theme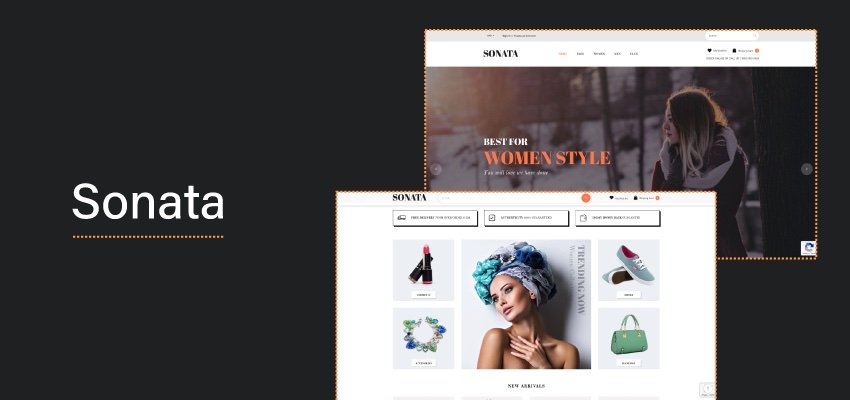 With 8 pre-made homepages and simple designs, Sonata is an excellent Shopify theme for dropshipping, that lets you make a website fully focused on your products. Multilanguage-ready and offering great lookbook features, this theme is an excellent all-rounder.
Sonata works very well on mobile devices. The fully customizable design is also responsive, letting you make sales on just about any device. Fast loading times are also seriously impressive – and better website performance means better user experience.
All in all, Sonata is an excellent all-around theme offering good customization options and excellent performance for all devices. At $56, it's great value for just about anyone.
Main features:
Lookbook
Excellent site loading speeds
7. Supply – simple Shopify dropshipping theme for bigger inventories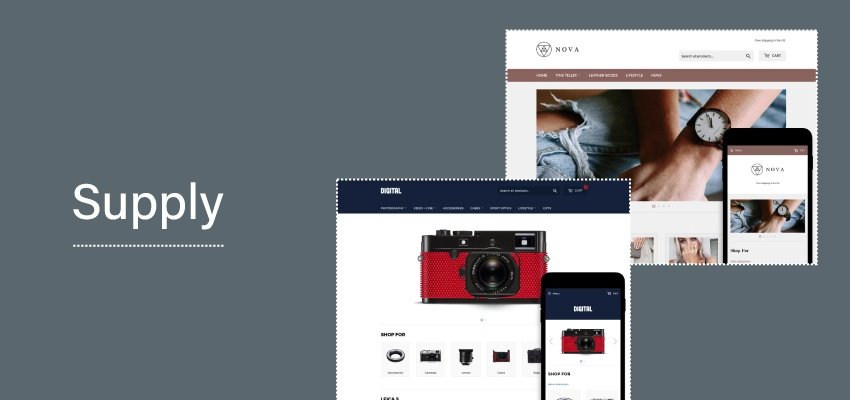 Supply is an excellent Shopify dropshipping theme for larger businesses. Everything about it is meant to make the browsing and buying experience as simple as possible: even when browsing through hundreds of products, divided into dozens of distinct categories.
Custom collection display will let you easily customize your homepage look, and smart Shopify design options are there to edit two different styles to your heart's content.
Smart slideshow functions will let you make a good first impression with the media of your products. Everything's going to look good on all devices, as the theme is fully optimized for all devices. While browsing, users will be able to take advantage of sidebar collection filtering – displaying products filtered by brand, price, and other customizable options.
Supply is a theme build by Shopify – so, you'll be getting top performance and access to all the latest platform's features. And this theme is entirely free, too: so you can invest your money elsewhere. What's not to love?
Main features:
Catalog filtering
Smart collection display options
8. Portera – Shopify dropshipping theme with two different styles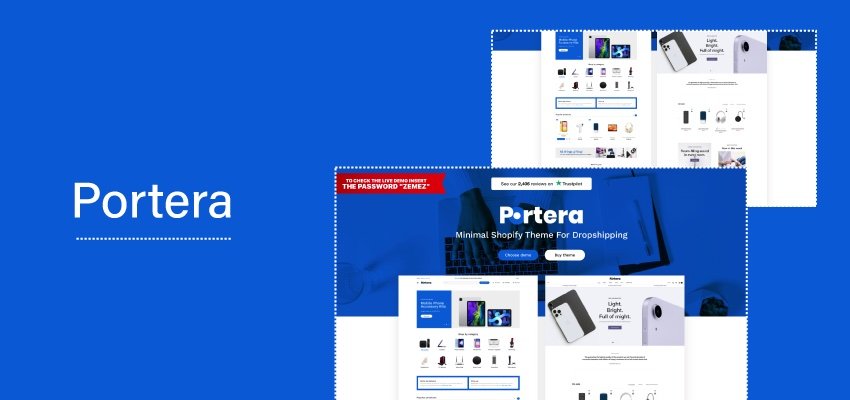 Portera offers distinct design options and smart sales tools – no surprise it's an excellent option for dropshipping. If you're looking for a simple, all-around theme with a modern design and essential sales tools, Portera is a great way to go.
The theme offers two different styles, suited for two entirely different types of websites. One is focused on large inventories, covering several different niches. The other focuses more on individual product and not their categories, which is ideal for smaller inventories.
Wishlist and quickview functionality, excellent site performance, and full page customization come as standard in both layouts. At just $39, Portera is an absolute bargain.
Main features:
Wishlist
Quickview
Layouts for different inventory sizes
9. Vendy – simple and intuitive theme for dropshippers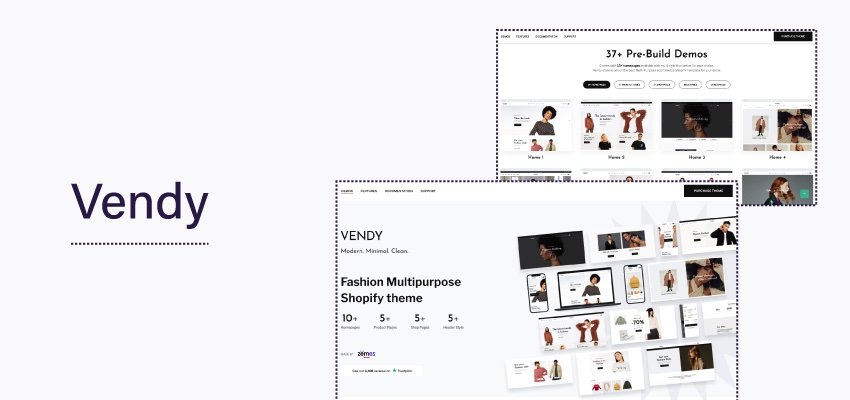 Vendy is an excellent multipurpose Shopify theme for dropshipping stores. With its clean, minimal design and focus on product images, it's an excellent option for selling clothes or accessories: but quite frankly, this minimalist style fits just about everything.
A smart MegaMosaic section will let you quickly customize a responsive grid of products. The theme is built with the latest Shopify 2.0 in mind – and grid Bootstrap 5, giving you full design freedom. Websites built with the theme load seriously fast – and a minimalist modern look, with little details, helps with the speed as well.
At a low price of just $48, this theme offers excellent value for your dropshipping store, no matter what you wish to do with it.
Main features:
Shopify 2.0 and Bootstrap 5 support
Minimalist style
Advanced editing options
10. Dropshop – excellent Shopify dropshipping theme for big inventories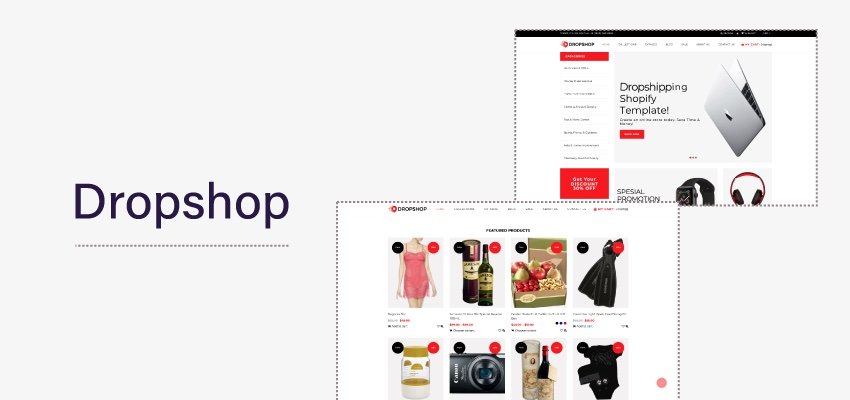 Dropshop is a purpose-built Shopify theme for dropshipping, that focuses on large stores with big inventories. Despite only having one style option, it's a fully-customizable theme that will let you build your store's identity and inventory just the way you want it to look.
The customizable homepage comes with dozens of purpose-built sections for text, media, logos, and product displays. Full integration with live chat, social media, and sales apps is there to help you combine all of your existing solutions into one place. DropShop acts as a hub that brings everything together – using a visual, user-friendly website editor.
If you're looking for a large dropshipping website theme that can help you grow your business, DropShop is an excellent pick.
Main features:
Intuitive visual builder
A lot of app integrations
11. TeePerfect – dropshipping theme, excellent for printed merchandise
Dropshipping is an excellent way to sell printed products – think t-shirts, posters, mugs, and home accessories. TeePerfect is a Shopify dropshipping theme, made exactly for this. It's a tailor-made template, perfect for setting up your next fashion brand.
With 10 different homepage layouts, you'll get an excellent starting point, fitting your desired style and color scheme. The theme is both responsive – looking excellent on desktop and mobile devices, and Retina-ready – meaning it's ready for modern high-definition screens. Variant swatches, live search, and a powerful mega menu makes this theme excellent for larger inventories, as browsing through them becomes a breeze.
For $59, TeePerfect is an excellent option, if you're using dropshipping to sell printed products.
Main features:
Live search
Retina-ready
Fully responsive design
12. Palo Alto – designer-built Shopify dropshipping theme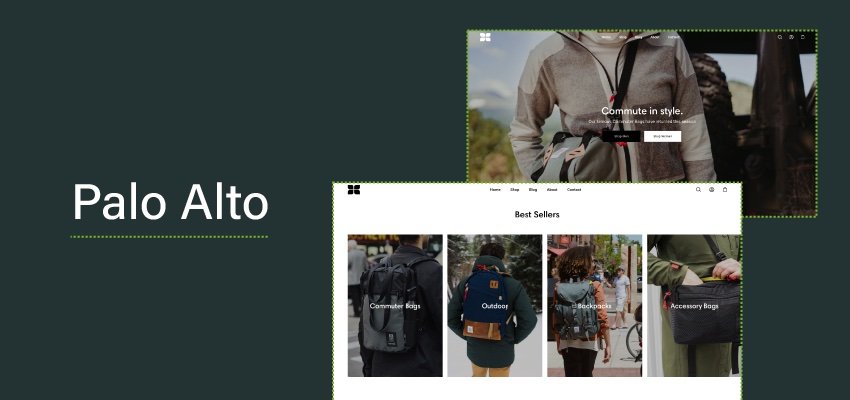 Palo Alto is a Shopify theme built by Presidio Creative – and featured on Shopify's own theme store. It's a premium theme, made for user engagement and making use of modern, interactive sections. With smart text, image and product display, your product, collection, about, FAQ, and contact pages can look amazing, with no extra effort required.
This Shopify theme comes pre-loaded with some good sales features. Out-of-stock notifications, as well as multiple popup and product upsell options come as standard. Plus, the theme is entirely compatible with Shopify 2.0, presenting an entire world of flexible, well-designed content blocks.
At a price of $280, Palo Alto is an investment. But it's also a highly-rated, conversion-boosting design from a well-known design company. If anything, this can be seen as a bargain.
Main features:
Extra sales features
Original image and product display options
13. Maxmin – Shopify dropshipping theme for bigger catalogs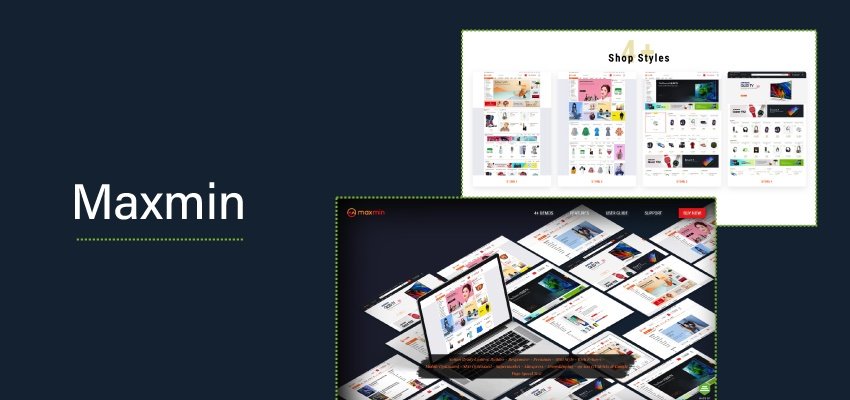 Maxmin is a Shopify dropshipping theme, built purposefully for large catalogs. This theme follows the style of some of the world's biggest, most popular stores. If your dropshipping project looks to be a big one, this is one of the top themes to pick – especially looking at the excellent sales features on deck.
With horizontal and vertical menus, dynamic sections, variant filters and more, there are plenty of ways for visitors to interact with your large inventory. Product upsell features in the cart, recently viewed products section, sales notifications and more are all available to help you massively increase the sales. At the price of $69, Maxmin is a very solid choice for large dropshipping stores looking for a theme to call their own.
Main features:
Several menu options
Dynamic sections
Widescreen site design
14. Craft – simple Shopify dropshipping theme for small inventories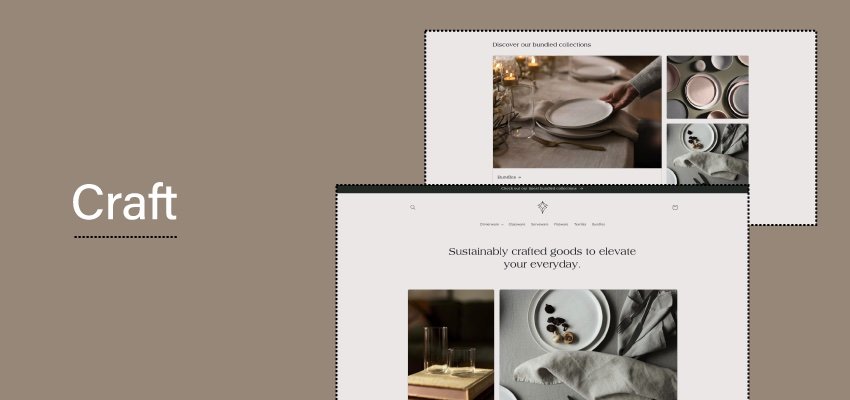 Craft is probably the most simple theme on this list. With only one design, there isn't much room for complete design overhaul. However – this one design is beautiful, loads completely fast, and is perfectly suited for selling home supplies and accessories. Or really, just about anything that you want.
Simple, image-driven design lets you build your own visual identity based on the images of your products. In the world of samey stock product images, this theme offers an alternative way out. If you know your way around a camera – or can get someone who does – this theme will be great. Plus, it's entirely free and made by Shopify: so you're guaranteed great loading speeds and years of updates.
Main features:
Made by Shopify
Shopify 2.0 customization
Fast loading times
15. Ella – multipurpose Shopify theme popular among dropshippers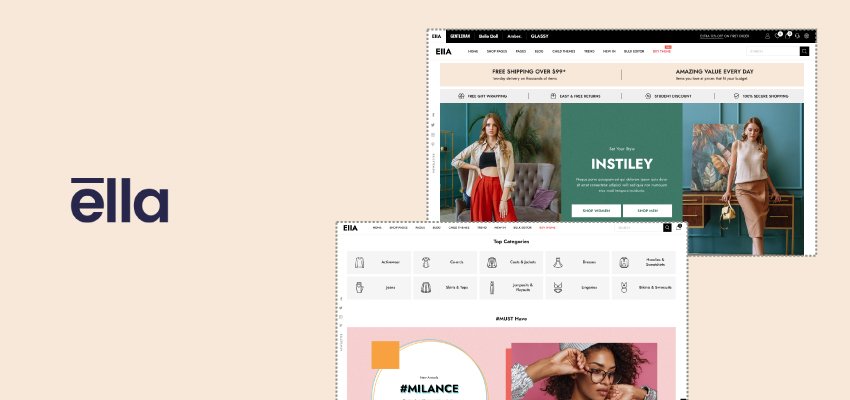 Ella is one of the biggest and most popular Shopify themes. It offers over 50+ pre-designed home page demos, and tons of features that are constantly updated. It's a favorite among many business owners, including dropshippers.
Since the theme is rich in its features, you can save a lot by not investing in third-party Shopify apps. With Ella, you get features like cart upsell, lookbooks, bundles and discounts, advanced mega menu, product filtering, and much more. This theme also offers mobile-first design, which is important since increasingly more people choose to shop on their phones.
Main features:
Advanced product filtering
Mobile-first design
Cart upsell
50+ design presets
How a Shopify dropshipping theme can help drive sales?
A good Shopify dropshipping theme can help you sell more and grow your brand – and it's all thanks to smart sales features and an excellent visitor experience.
Recent sales notifications, banners, popups, related items, and more: all of these features are focused on increasing the percentage of your visitors that turn into buyers. Also, simple inventory browsing features, smart search, responsive design, and more can help your visitors can easily find exactly what they want – and increase sales.
On our list of best Shopify themes for dropshipping, you've seen themes that offer exactly that. It's not about just bringing people in: it's about making sure they have a great experience, that rewards you with additional sales.
Shopify dropshipping theme is set - what's next?
So, your theme is put together, the products are imported, and you're ready to go? Before you hit warp speed, make sure you've done your prep work.
Traffic generation. In order to make sales, you need some visitors. Look for several different traffic sources, including paid social media advertising, paid search engine advertising, and organic traffic.
Apps. Shopify includes an amazing app store, full of various software that can help you advertise your products, deal with your finances, optimize your website, and more. Make sure every facet of your business is covered – and this is where apps can help.
SEO optimization. Organic traffic is a cheap and reliable way to get interested buyers on your website. Making your Shopify store SEO optimized is a surefire way to get solid passive income.
Image optimization. Images sell. But plenty of high-quality images will also increase your site's loading times, resulting in decreased visitor experience. Make sure you optimize your Shopify site images to the smallest possible size without losing much (or any) quality.
Summary
Dropshipping is a very exciting niche for all budding entrepreneurs. To be successful in dropshipping on Shopify, it's very important to find the right theme – the one that can accommodate the entire inventory and offer excellent sales features to increase your conversions.
On this list, we found some great picks. Be it feature-packed versatile solutions like Debutify or Gecko, or more minimalist options in Sonata, there are many routes your dropshipping business can take. Find the theme that suits your business the best – and build the internet's next dropshipping success story.