By purchasing through the links on this page, you are giving us the opportunity to earn a commission. Your support is greatly appreciated!

Booster Shopify theme is one of the most well-rounded and feature-packed themes in the market at the moment. Topping a lot of lists for the best Shopify themes, Booster has a lot to show for itself.

In an all-in-one package deal, Booster is a marketing and sales focused Shopify theme that promises to help you scale your business. While testing that is difficult since a lot of components go into a successful business, what we can do is give a fair and comprehensive review.

In this detailed Booster theme review, we will go over this theme's pros and cons, all the built-in marketing features, available layout options, and pricing plans. At the end of the article, you will be able to decide whether this Shopify theme suits your needs.
Booster theme quick overview
Here's our quick overview of the Booster theme for those who have no time to dive deep into the detailed review.
| | |
| --- | --- |
| 💻 Theme name | Booster |
| 🧑‍💻 Theme developer | Booster theme |
| 📅 Last update | 2023 |
| ⭐ Notable features | Fully customizable, Fast loading, 40+ marketing tools |
| 🖼️ Premade layouts | 50+ |
| 💵 Pricing | Yearly license $248/year and Lifetime license $398 one-time |
We recommend Booster as one of the fastest Shopify themes with excellent layout collection for almost any store type
Try Booster today
Booster theme Pros and Cons
A single Shopify theme can't be a perfect choice for every single business owner. As expectations, needs, and budgets vary, there are a lot of things to consider when choosing how your online presence is going to look like.
Let's go over Booster's biggest advantages and possible disadvantages.
Advantages
Some of the biggest advantages Booster offers are:
Conversion-focused marketing features. And a lot of them. With this theme, you'll be able to save around $300/month on third-party Shopify apps. That's because Booster has a lot of built-in marketing features necessary for business success.
Fast loading theme architecture. The theme is developed and designed by Shopify experts, bringing you a true winner in the race for the fastest Shopify theme. And since you don't have to install Shopify apps to help with marketing efforts, the theme is not overcrowded with plugins that slow your website down.
Built and optimized for mobile. Since over 72% of Shopify traffic comes from mobile, a responsive Shopify theme is crucial for your online store's success. Booster is built and optimized for mobile, with a sleek and user-focused design.
50+ stylish and up-to-date presets. Booster doesn't offer outdated Shopify store designs. And with so many presets to choose from, your store will not be a carbon copy of other online stores.
Flexible and easily customizable. Piggybacking off of the last point, Booster doesn't only offer 50+ presets – you can also easily customize each theme to reflect your business vision. No coding knowledge required! However, if you do want to dabble in Booster's code, you can use section scooped CSS to change the layout of your homepage.
Fit for different niches. Booster is a great theme for fashion, electronics, books, pets, music, food, beverage, baby care, outdoor, tools, service, cosmetics stores, and a lot more. It's extremely versatile and flexible.
Live chat support is now available. If you run into issues, it can take only a few minutes for customer support to get back to you.
Disadvantages
Some of the possible Booster disadvantages are as follows:
Could be a bit pricey. With the yearly plan of $248/year and a lifetime plan of $398, Booster can be a bit pricey if you're just starting out with your business. While the theme is a good investment, we understand that not everyone can pay that much up front.
No free trials. While you get a 14-day money-back guarantee if you're not satisfied with the Booster theme, there is no free trial.
One license for one store only. If you're running multiple online businesses, you'll have to pay for each one separately as Booster only offers one theme license for one store.
Booster theme Marketing features
Booster has over 40 built-in conversion optimized marketing tools. Let's go over some of the most prominent ones.
Upsell feature
Upselling is a powerful sales tactic that offers customers better items to increase the value of their purchase. For example, a store will offer you a larger bottle of shampoo for just 20% additional cost. According to research, upselling increases revenue by 10-30% on average.
Shopify upselling apps cost anywhere between $5/month for a basic version, to even $60/month for a pro version of the app. By getting Booster, you're saving money that you'd eventually spend on these apps in order to increase revenue.
Cross-selling feature
Cross-selling is another proven marketing strategy that works by offering customers additional items that go very well with the one you're about to purchase. It benefits the buyer by offering items they need but might not think about getting. And it benefits you – a business owner – by increasing sales.
Shopify cross-selling apps cost between $9.99/month for a basic version, and $39.99/month for a pro version. In a screenshot below, you can see how the cross-selling feature looks in the Booster app. On the website, this feature is usually called something along the lines of "People often buy together".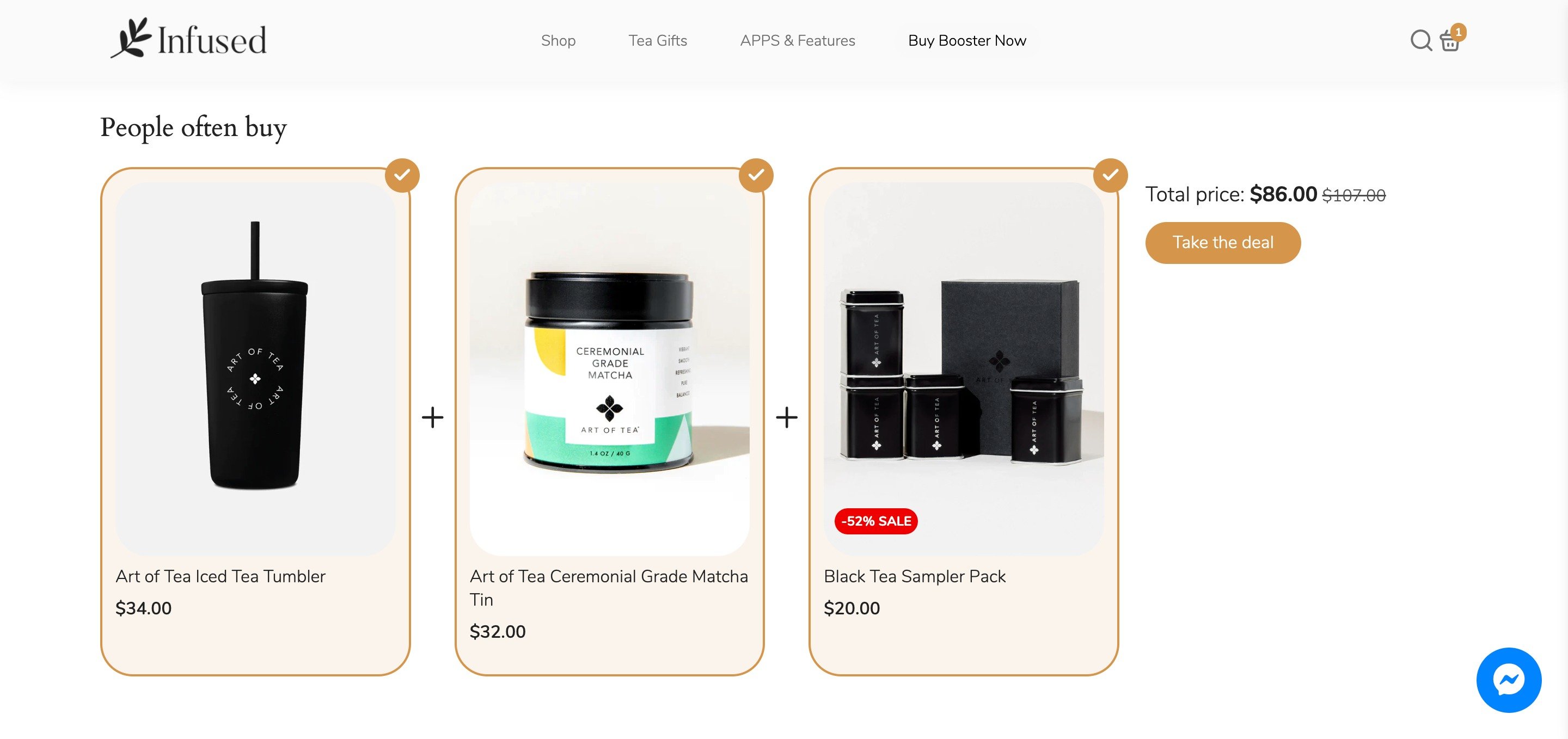 Both upselling and cross-selling features can help you increase average order value (AOV).
SEO optimization
If your store is not on the first page on search engines, it's essentially non-existent. We know that's harsh – but it's true. SEO is absolutely crucial to your business success.
There are tons of Shopify SEO apps out there, offering various features, like image compression, speed optimization, metadata creation and optimization, broken link detection, and more.
Booster automatically optimizes all the images on your store, saving you around $10-20/month.
However, SEO encompasses a lot of areas of your website. In order to improve those areas, you first need a comprehensive SEO audit.
One click to check your store's SEO score? It's possible with TinyIMG SEO audit feature!
Run SEO audit
Countdown timer
Countdown timers increase urgency and cut down the time it takes for a customer to decide what to buy. With Booster's promotion timer, you'll be less likely to lose customers to competition by incentivizing them to buy your product before the promotion ends.
Shopify countdown apps cost between $5.99/month for a basic version, and $29.99/month for a pro version.
Currency converter
Currency conversion is a great way to increase sales by not alienating buyers from other regions. By displaying prices that are local to the audiences you're targeting, you can unlock a whole new area of customers.
Shopify currency conversion apps cost around $9.99/month, while Booster has this feature built-in and ready to use.
Sales notification
Recently bought notifications can increase trust of your brand by showing that people are buying your products, as well as incentivize them to purchase the item before it goes out of stock.
There are a lot of Shopify apps that focus on increasing sales and building trust for your shop. By getting Booster, you can save $10-20/month on third party apps.
Lazy loading
Lazy loading reduces initial load time and increases the speed of your Shopify store by reducing page weight.
Booster only loads images and other theme components when you scroll to them which conserves bandwidth. This feature adds to fast loading speed, keeping your store running as quickly and as smoothly as possible.
GDPR cookie bar
Booster has an easy to use GDPR cookie bar that will show up for store visitors in the EU. This is a crucial component if you want to avoid any legal issues.
There are apps that add this feature to the theme and they cost around $9/month. By getting Booster, you can save money and trouble since it's an in-built feature.
Other features
There is a lot that you can do with Booster. Here are some more features that the Booster theme offers:
Advanced mega menu. Allows you to organize the store better and for buyers to easily find what they're looking for.
Different cart options. You can opt for a cart slider, cart drawer, cart page, or a direct checkout.
Multiple swatches option. You can customize the swatches to look the way you want. Choose a single or multi color swatch, or custom images.
Optimized product filtering. The feature makes it easier for customers to search and filter out products.
Quick buy. This popular feature reduces page load, gives better user experience, and increases conversion rate.
Dynamic checkout. This feature allows you to add several different payment methods which adds to a better user experience.
Easily integrated videos. Booster allows you to easily integrate videos into your Shopify store.
Geolocation tags. You can personalize your website or block users from certain areas by using your visitors' geolocation information.
Rick-click blockers. You can stop people from trying to steal your images or copy text by blocking right-clicking on your website.
Free shipping bar. You can display a banner on your website that lets customers know how much they need to spend in order to get free shipping.
Booster theme Layout options
At the moment of writing this review, Booster offers 58 design presets to help you get started with your store. You can find a preset for such niches as food, home and living, fashion, health and beauty, toys and games, sports and outdoors, electronics, and others. All presets are fully customizable, and if you wish, you can build your own theme from scratch.
Let's review some of the presets to get the general gist of what Booster offers.
Shoe store preset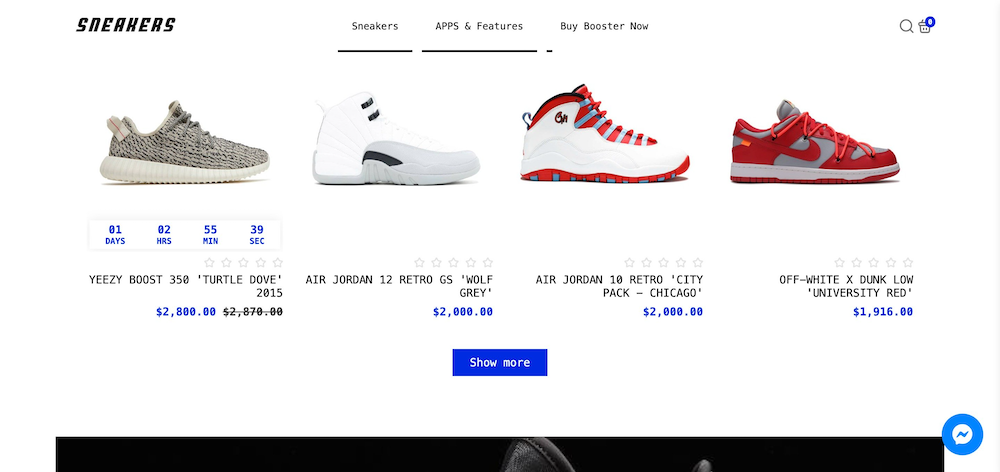 Shoe store preset offers a minimal and stylish design. You can see various marketing features integrated in the preset, like the promotion timer and the banner at the top that informs the buyer how much they still need to spend to get free shipping.
One-product store preset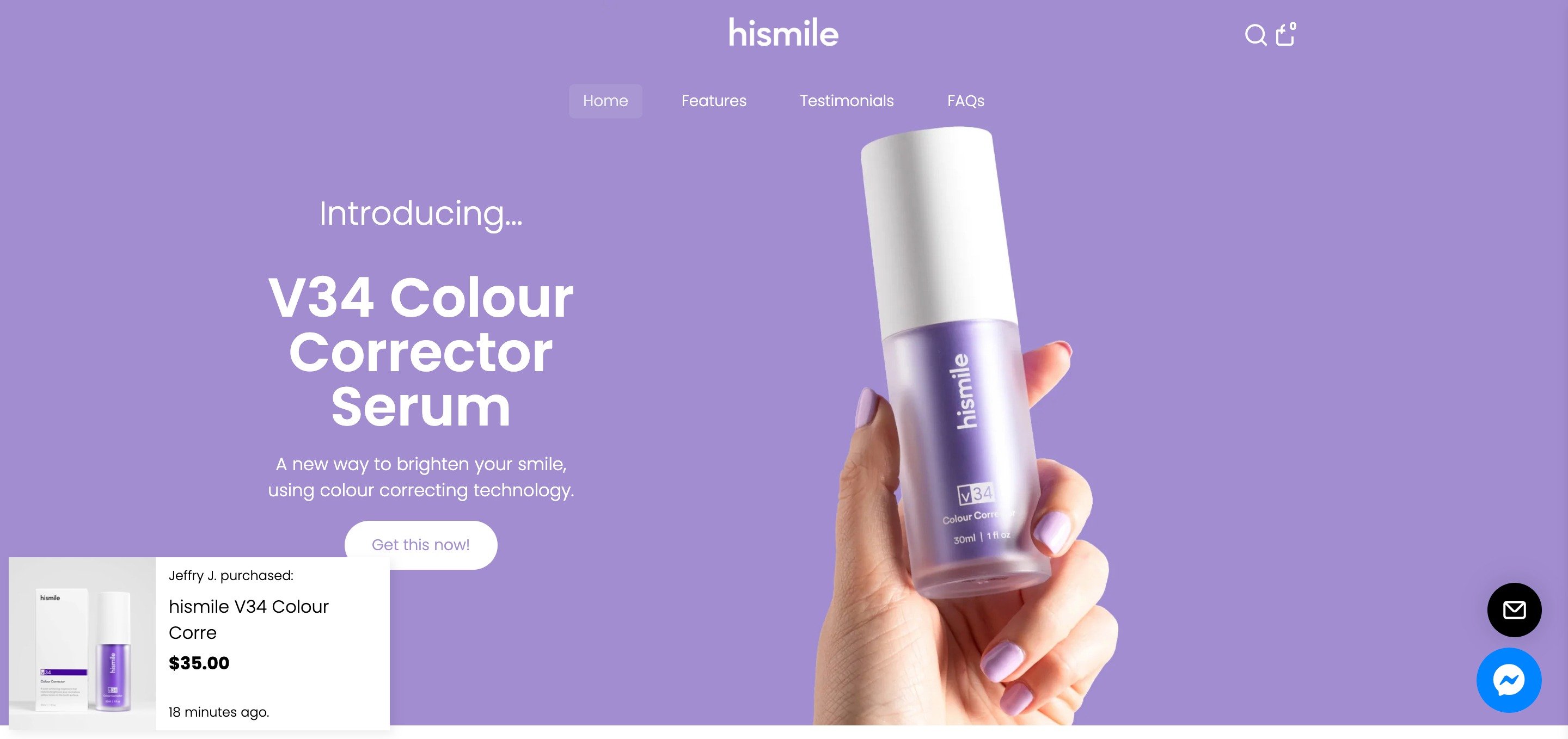 Booster offers a preset for one product Shopify stores. There is plenty of space for storytelling, feature descriptions, and testimonials. You can also add an FAQ section straight to the homepage. It's a simple yet proven design for a single product shop.
Jewelry store preset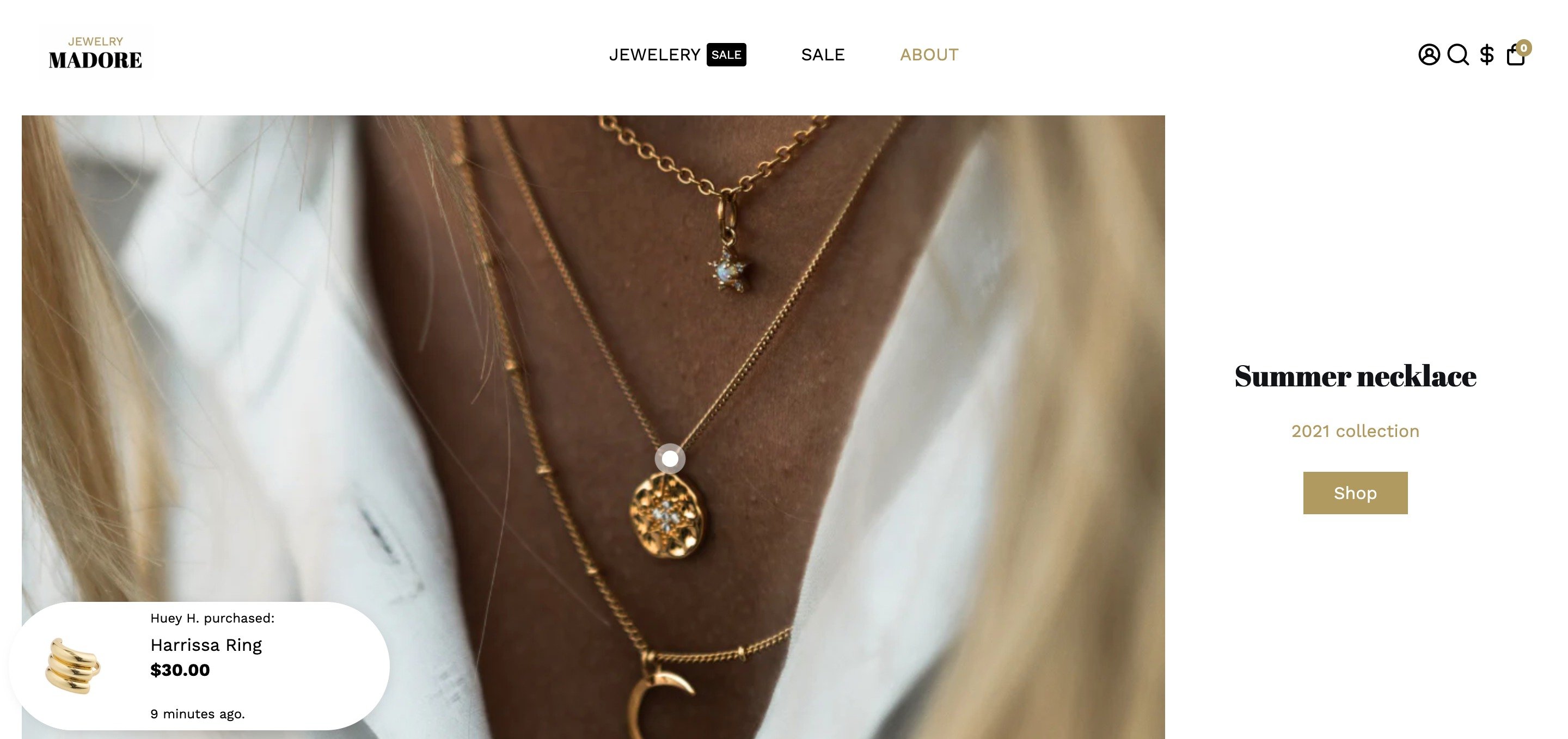 Booster's jewelry store preset offers a stylish mega menu, lookbook feature, sales notification, collections, cross-selling feature, and more. It's a stylish and sleek preset perfectly fit for high-end jewelry Shopify stores.
Coffee store preset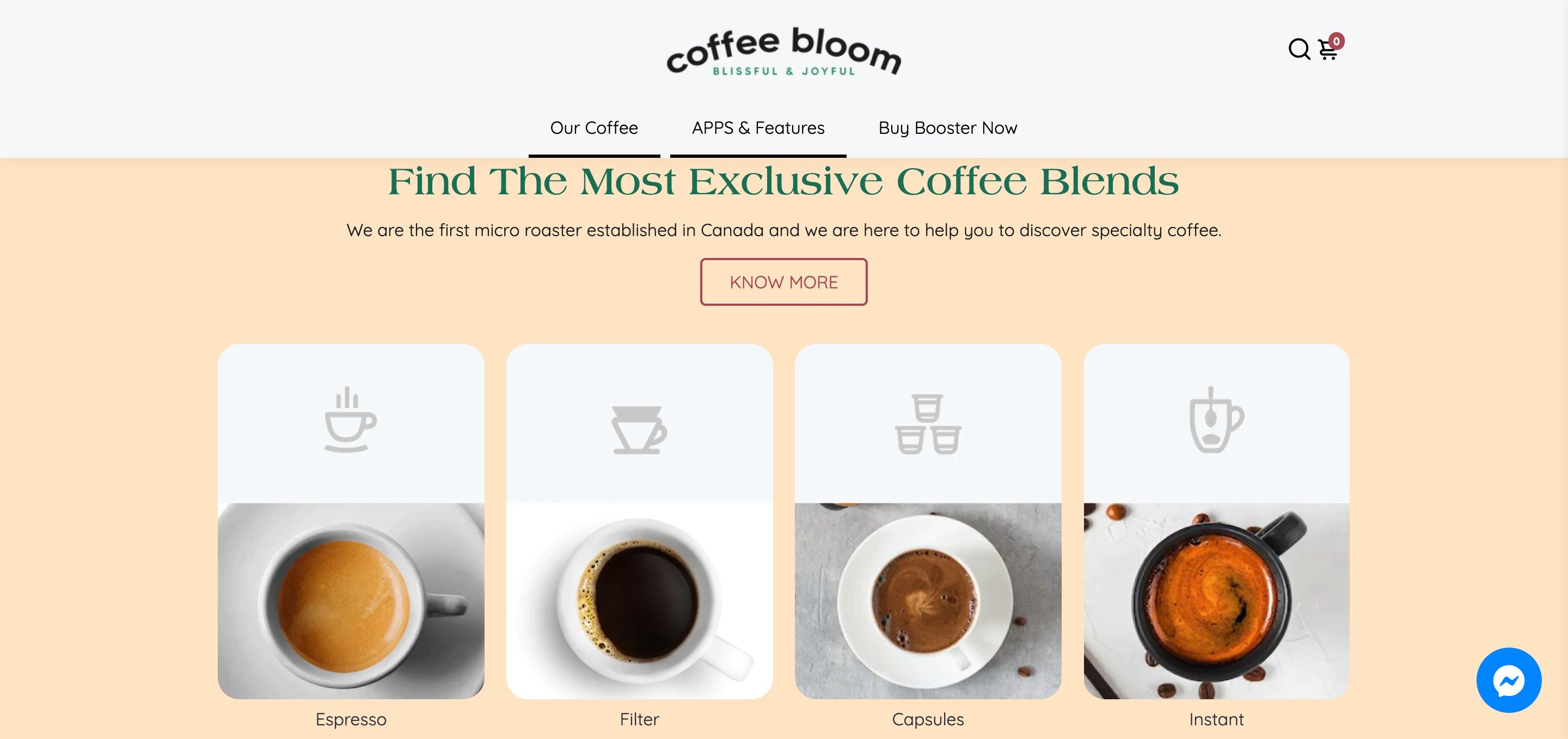 There are tons of great food and drink store Shopify themes. This coffee store design by Booster is colorful and cohesive, offering chic and modern theme components. This preset focuses a lot on visual storytelling, increasing the appetite of the buyer with beautiful imagery and colors.
Luggage store preset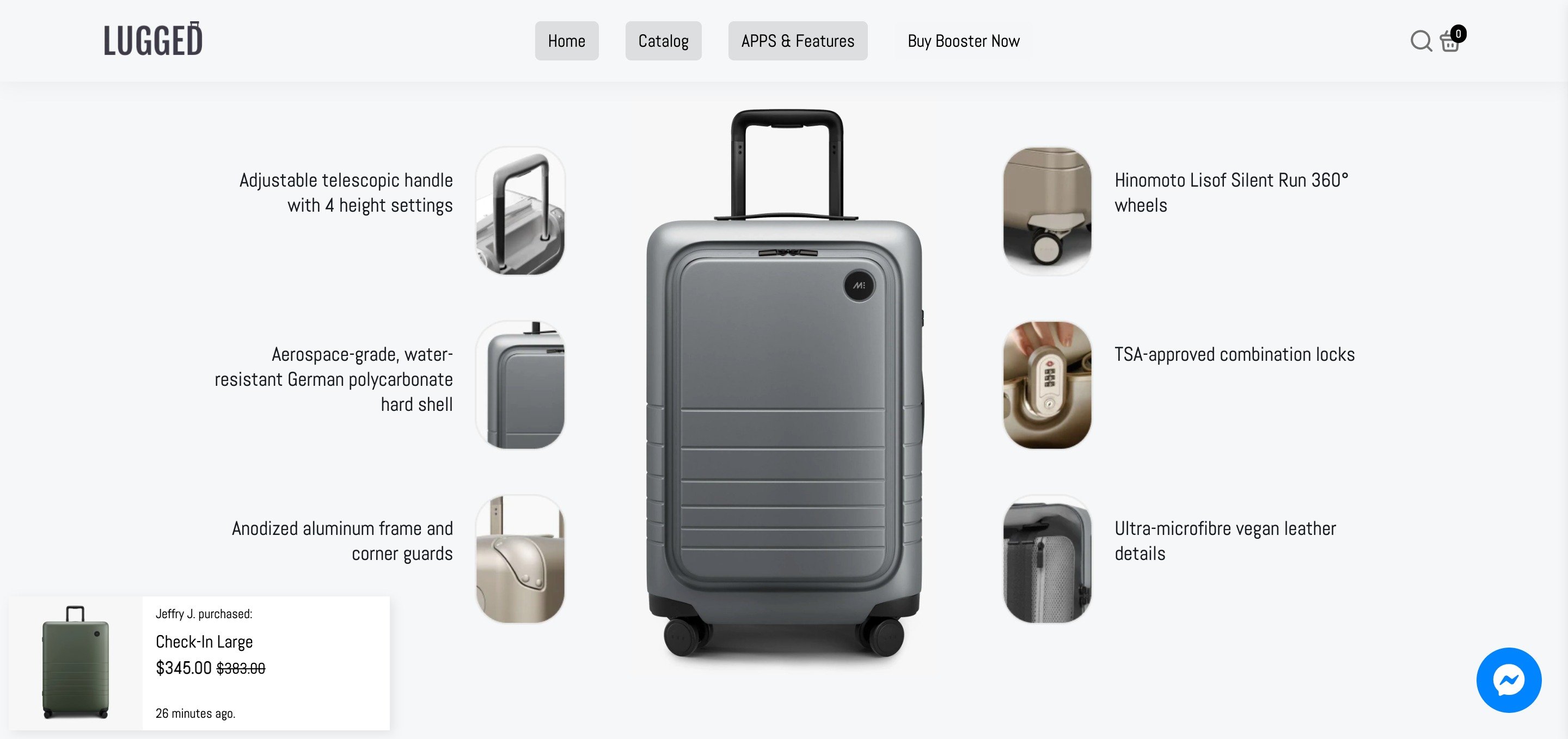 We included this example to show how you can display your product features on the homepage. It's a fairly minimal theme, focusing on the quality of the items being sold. You can also see the example of sales notification and parallax scrolling effect.
Booster theme Pricing
Booster theme offers two pricing options. Both options buy you a license for one store.
Yearly price
If you opt for a yearly price, you'll pay $248/year and get all the features and benefits for as long as you pay the subscription.
Lifetime price
If you opt for a lifetime price, you'll pay a one time payment of $398. Needless to say, you'll be able to use every feature and benefit that Booster can offer for as long as you like.
Booster theme review summary
Booster theme is a hassle-free package deal filled with 40+ marketing features, powerful speed optimization based on technical know-how, and 50+ up-to-date design presets. Save money on third-party Shopify apps and save time by not having to scour the internet for ways to improve sales.
As a final note, it's important to remember that the money you save on those third party apps is not going to be obvious instantly. But as your business grows, you'll eventually start looking for ways to increase revenue. What Booster does is supply you with a lot of features that you won't have to worry about in the future.
Curious to read more? Check out these articles: