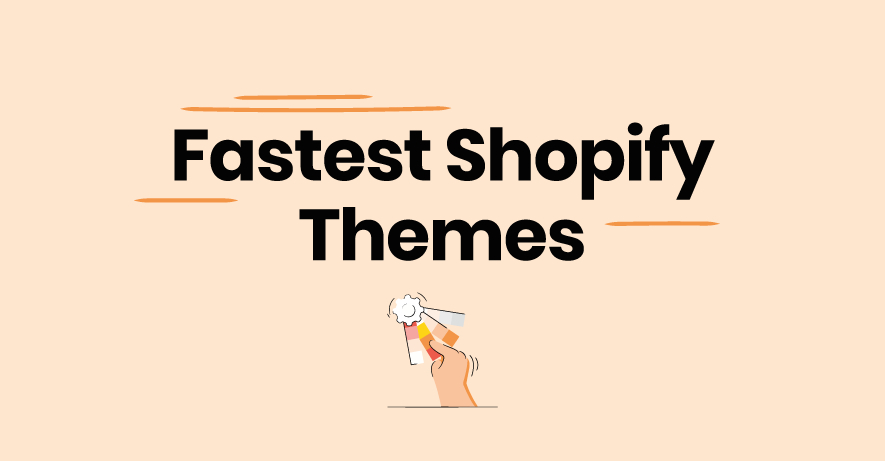 By purchasing through the links on this page, you are giving us the opportunity to earn a commission. Your support is greatly appreciated!

Your Shopify store has to be fast. That's a fact – if your website takes ages to load, potential customers will leave before getting a chance to buy. Plus, a fast website is bound to get better Google rankings, as the search engine prioritizes websites with quicker loading times.

There is a number of things you can do to speed up your Shopify store. The first one - choosing the right theme. And while all Shopify pages are using the same Shopify servers, one thing is different and it affects speed massively – and that is your Shopify theme.

In this post, we'll be talking about the fastest Shopify themes. Lightweight, and beautifully optimized, they'll store load fast, rank high, and sell big.
How does a Shopify theme make your store faster?
What separates a fast Shopify theme from a slow one? Well – here are some of the things Shopify themes do to make sure your store loads as quickly as possible.
Less code. The math is simple – the less code there is to load, the faster it will load. The fastest Shopify theme options try to minimize the amount of code used to display your site.
Cleaner CSS and inline CSS. This means that the visitor's browser will only need to download one file instead of two – making the loading speeds quicker.
No relying on external libraries. Many themes still rely on the outdated jQuery JavaScript library, known for causing slower loading times. By not relying on external libraries at all, fast Shopify themes can minimize the load times.
Naturally, for our list, we included the themes that use all the industry's best website speed practices.
5 fastest Shopify themes for 2023 - our detailed list:
These right here are the fastest Shopify themes that will offer the best overall performance for your store.
A fast theme alone is not enough. Use one of the best optimization apps to improve your Shopify store's speed and SEO performance.
Get TinyIMG now
1. Booster Theme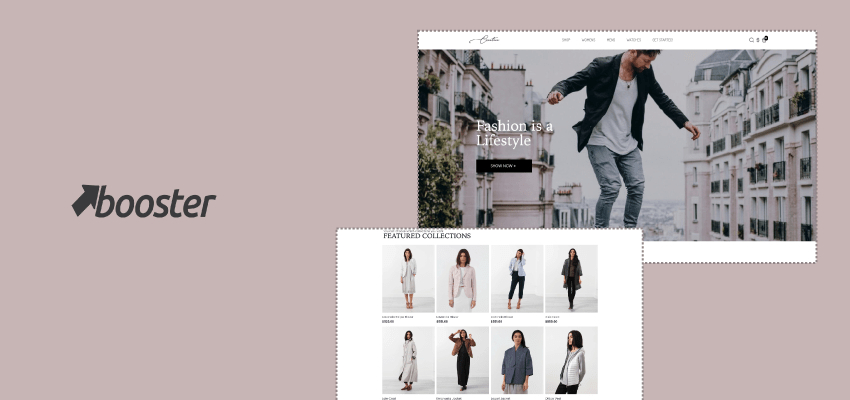 Booster is a zero-dependency theme focused heavily on speed. With all of its code created from scratch by the True Scalable team, it's done an amazing job in our PageSpeed results, clocking the highest scores out of all compared themes. All in all, Booster is the fastest Shopify theme out there.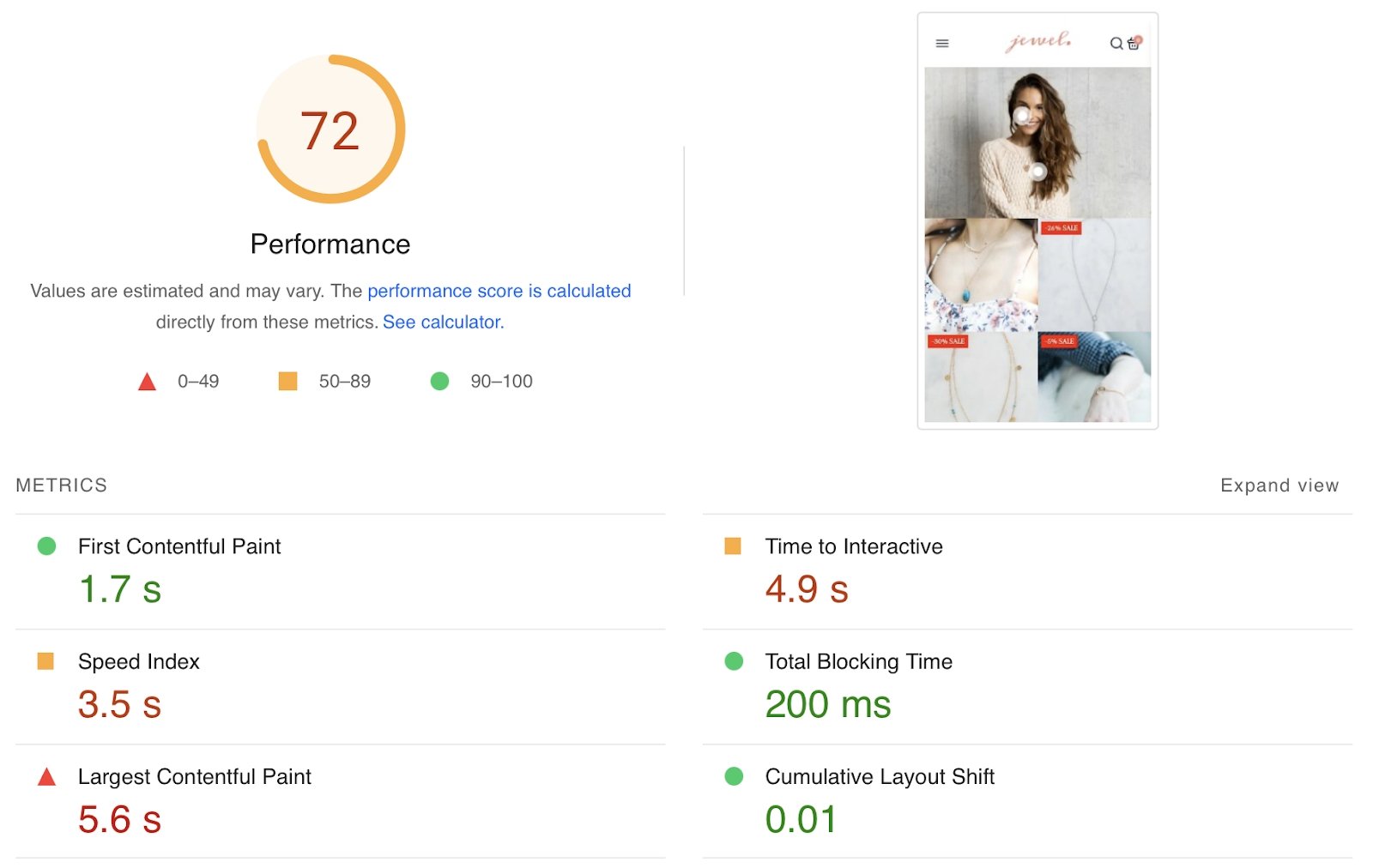 Automatic image optimization makes sure that the visuals don't lose their quality, but drop down massively in file size. Modular Javascript loads only the essentials, without the bloat, and it's often not used at all, thanks to additional CSS implementations. This can help you speed up your website by quite a lot.
With exciting sales features, such as geo-personalized content, multitab shopping sync, and a lookbook feature so your visitors can browse products right from a set picture, Booster adds a lot of premium stuff entirely free of charge. It costs $249 a year – or $399 for unlimited lifetime access. It's a great theme for medium-sized shops looking to offer a premium shopping experience – with excellent speeds to match.
2. Shoptimized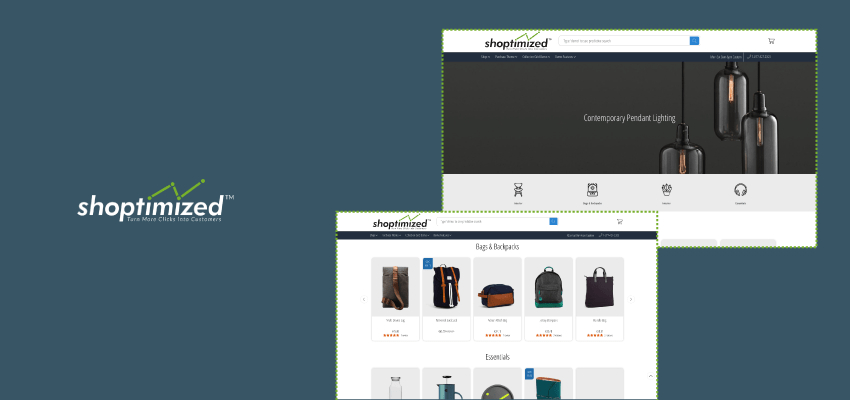 Created by a conversion rate expert Bradley Long, the Shoptimized theme is incredibly fast – but it's also made with one major goal in mind: making sure you get the most sales out of your store. As you already know, speed is an important part of user experience. So it was not a surprise to see this theme ace the PageSpeed tests.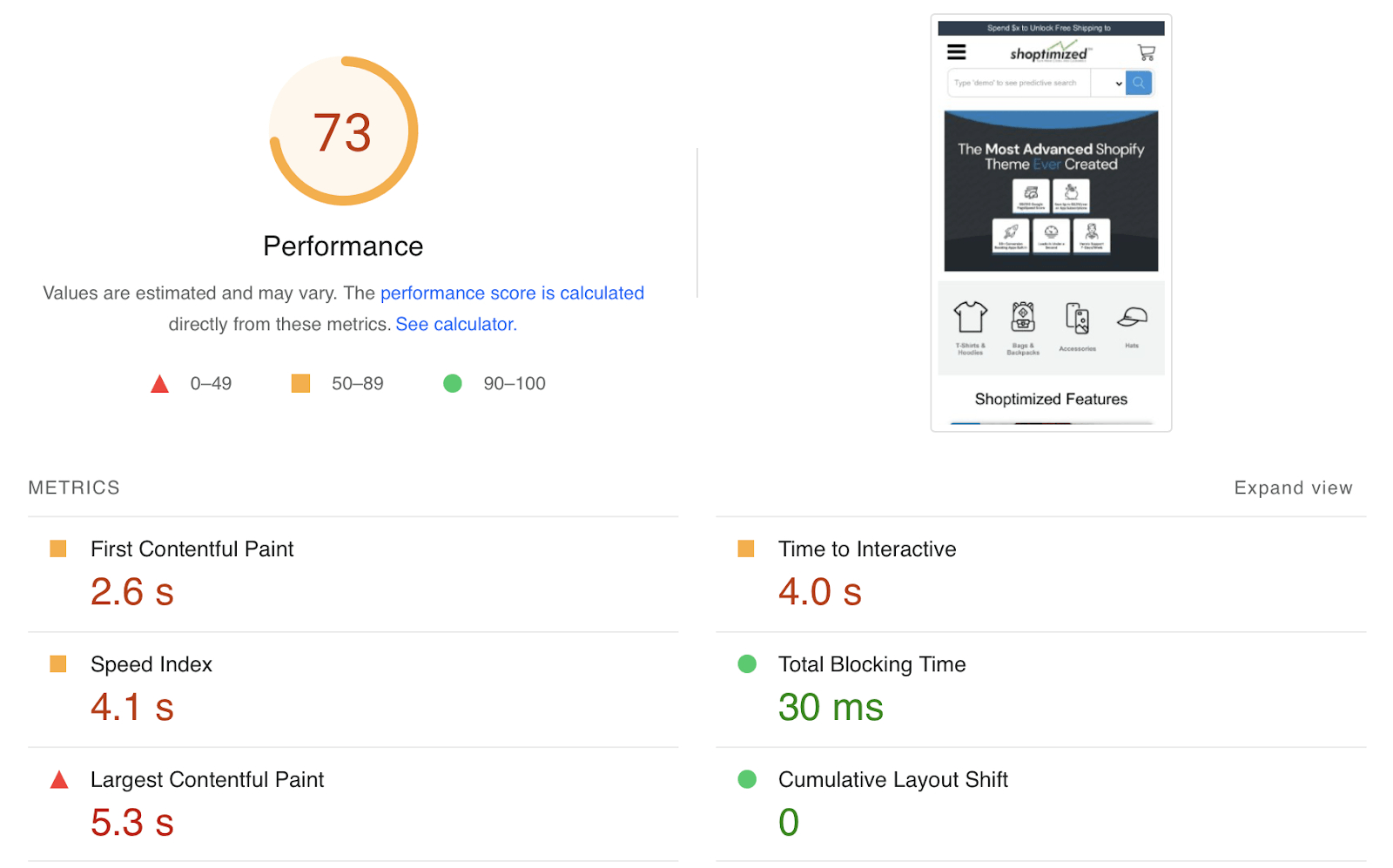 Additional third-party apps for banners, pop-ups, badges, and much more can also negatively affect your site's load times. Shoptimized includes nearly 30 conversion-boosting features in one package, with designs, coupons, product filters, and more. All of the designs and code in the features are fully optimized to work with this theme specifically. This means you'll be able to use all of the fun stuff, without the speed penalty. And so, this theme is a seriously fast one.
For one store, Shoptimize will cost you $167. Additional plans will give you more store licenses and access to private store optimization courses.
3. Plak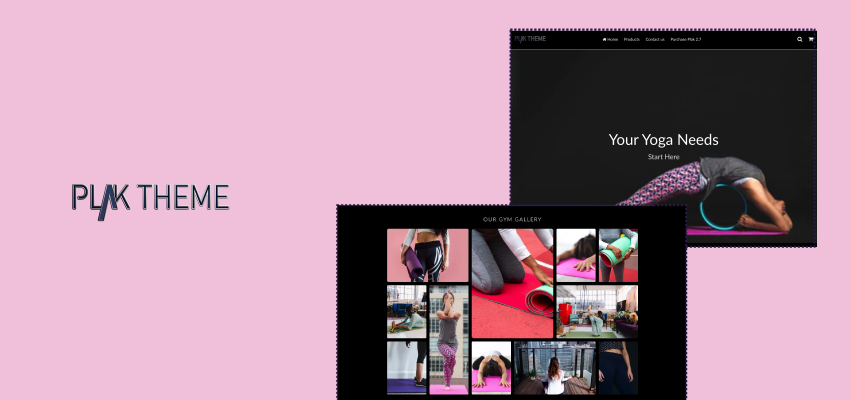 Extensive site customization
Plak is a very lightweight fast Shopify theme that includes a lot of customization features and SEO tools – letting you focus completely on getting those super important high places on search engine results. At very high PageSpeed test scores, this theme is an excellent performer.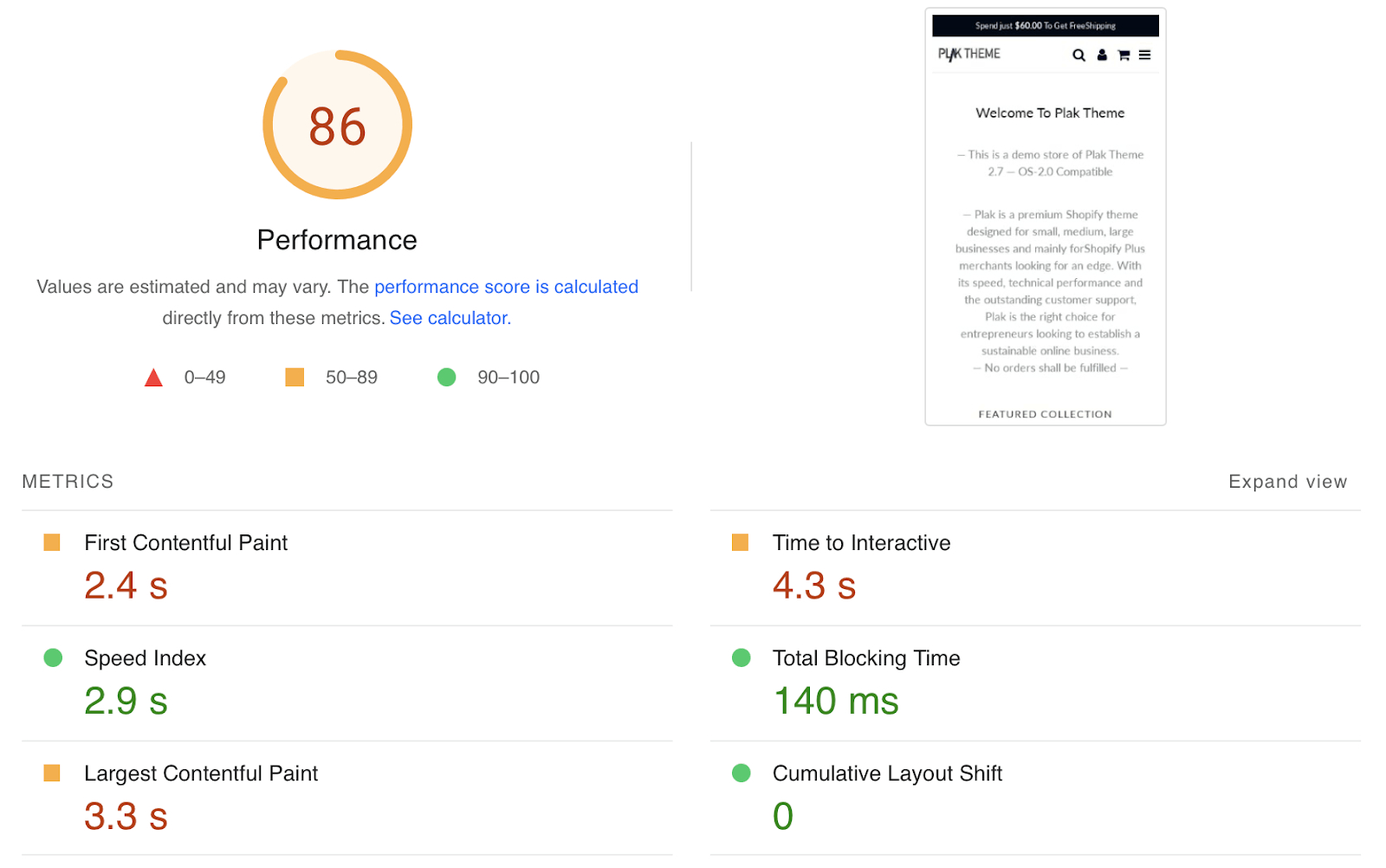 With 7 different lazy loading effects and dynamic lazy-loaded parallax sections, Plak offers a lot of opportunities for you to optimize your site's performance and user experience. Plus, with the barebones version of the theme loading in just 0.4 seconds, you're given an incredible lightweight starting point for your Shopify store creations.
At the price of $295 for one license, this is not a cheap choice – but it's a great basis to build serious Shopify stores.
4. Debut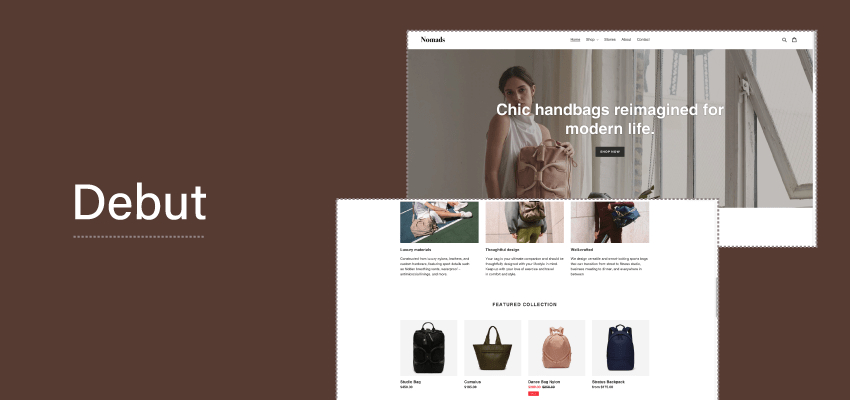 Beginners, small business owners
You all know Debut: most of you have actually used it! Yes, this is the very starting Shopify theme, the one we know and love. It's not going to win any design awards, but you're given a great base to work with, and some speed optimization features come as default – which most certainly reflects in the pretty solid base PageSpeed score.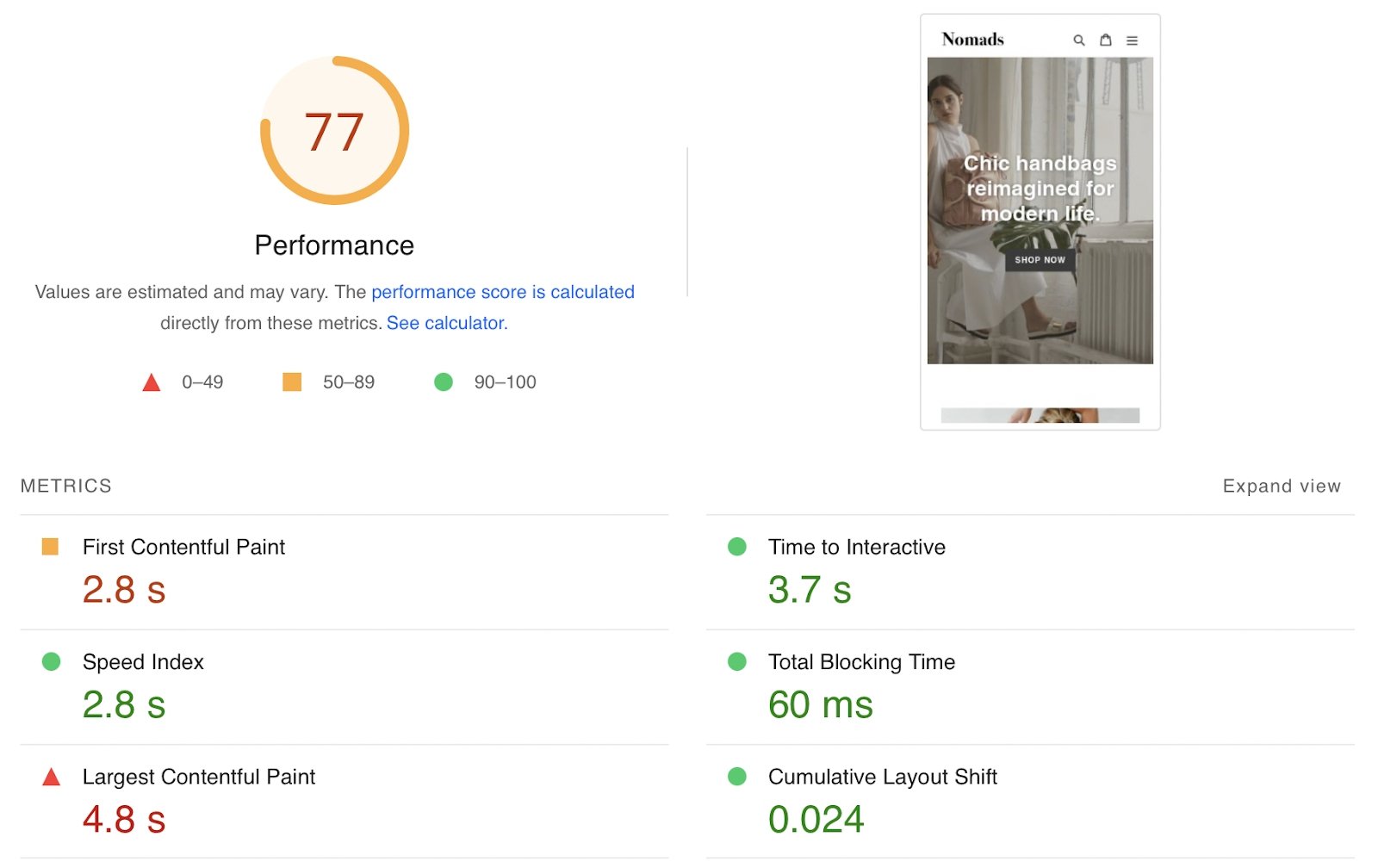 CSS and JS are completely minified, lazy loading is active, so is efficient CSS. As this theme is made and continuously maintained by Shopify, expect the best possible speed optimization improvements out there. Very often we've seen Debut sites completely outperform other themes on SEO – sometimes, it's best to not mess with the recipe and pick a fast, reliable option.
Of course, Debut is entirely free. It will be everywhere you'll go, ready to be used.
5. Shella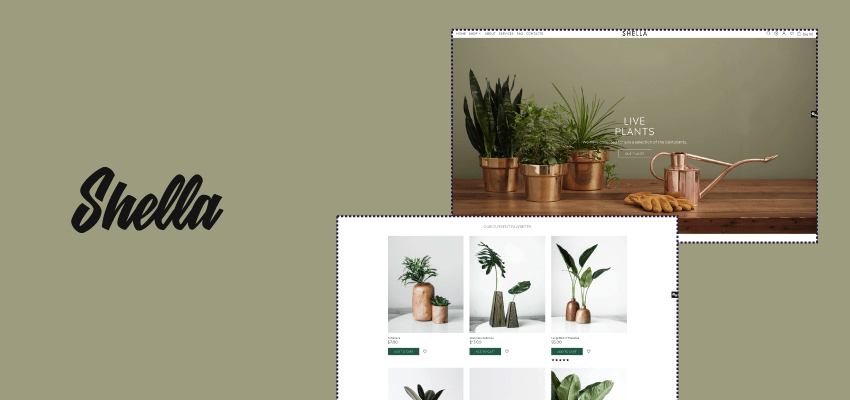 Made by a small independent team of website designers, Shella is a lightweight, modern theme perfect for trendy stores. It got pretty good scores on our PageSpeed testing: you'll be able to use a massive number of beautiful pre-made design templates without having to worry about performance. Because all in all, the performance is excellent.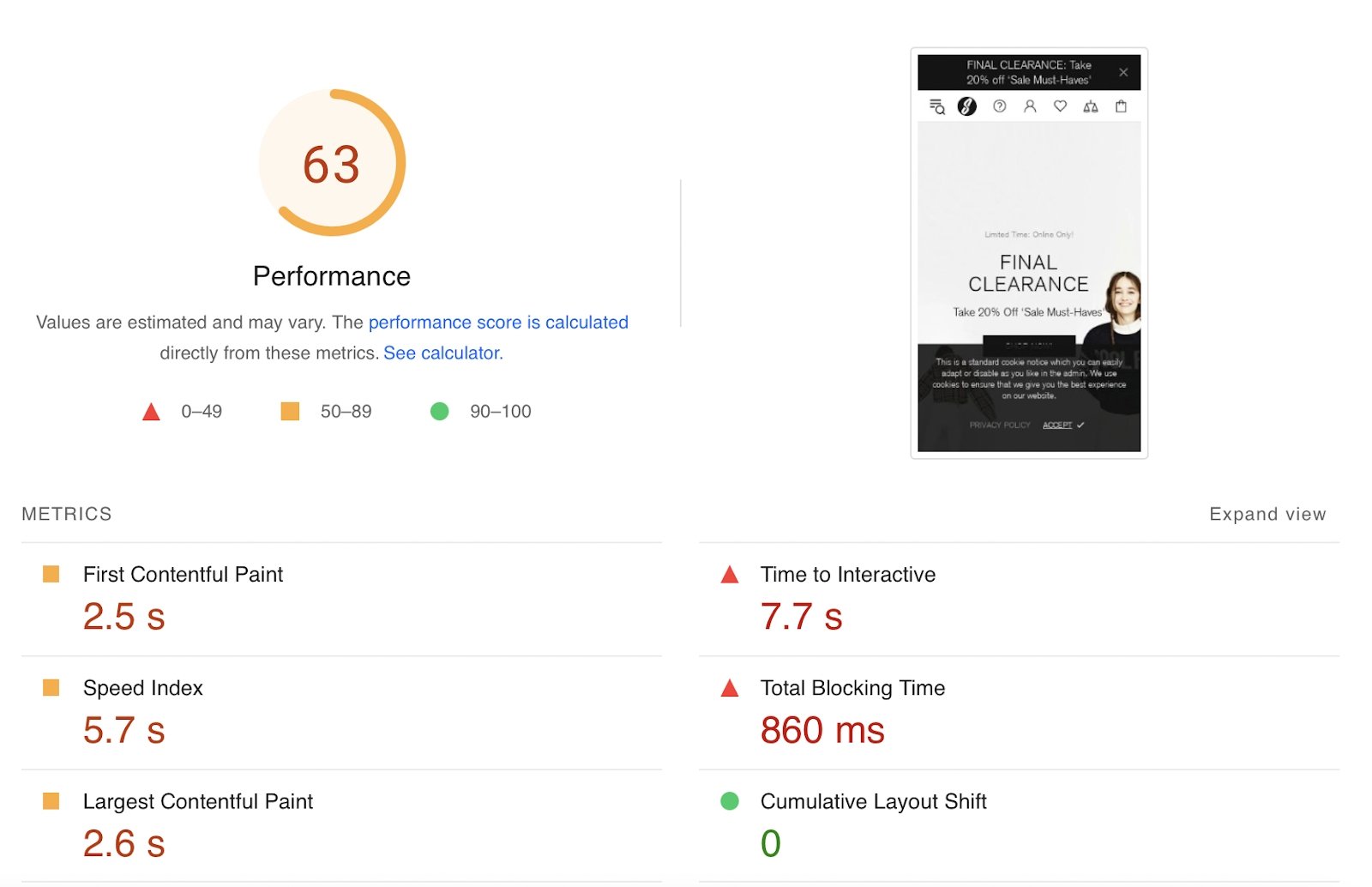 This theme is currently the only theme managed by this team, which means it gets utmost care. Constant and consistent updates often include additional optimization and speed improvements. So, you won't be left for dead with an outdated theme that doesn't fit the newest Google rules.
Shella is one of our top choices as a Shopify theme for a fashion boutique. It has 18 skins, and over 100 pre-designed pages, letting you make different stores with drastically different designs. Add that to bespoke UI/UX elements optimized for conversions and speed, and at $79, Shella is looking like a right bargain – it's a super-fast theme with a great modern design.
Fast Shopify themes – honorable mentions
During our searches, we've also discovered a lot of options the community voted as the fastest Shopify themes. These options right here didn't make the fastest lists – but they are well-beloved and highly-rated options you might want to check out.
6. Brooklyn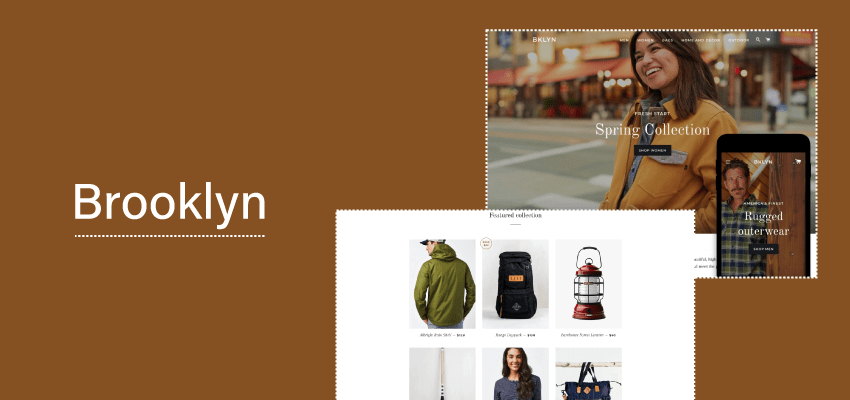 Brooklyn is a free theme that comes standard for every Shopify user. It's focused mostly on apparel stores – and it's pretty darn fast. Talk about fast fashion, huh? Even if the PageSpeed scores were lacking, we were blazing through this theme with no issues.
Minified CSS and JS, lazy loading images, and efficient CSS are all here, coming as standard on all homebrew Shopify themes. As it's maintained by Shopify, we don't expect there to be many optimization issues as time goes on, making it fast for years to come.
The theme has a solid focus on brand imagery, a dynamic product grid makes your site look good, however many products you sell, and a slide-out cart is a super convenient way for your customers to pay. How much will you pay? None at all – as we mentioned, Brooklyn is free, and overall, its speed will not disappoint you.
7. Flex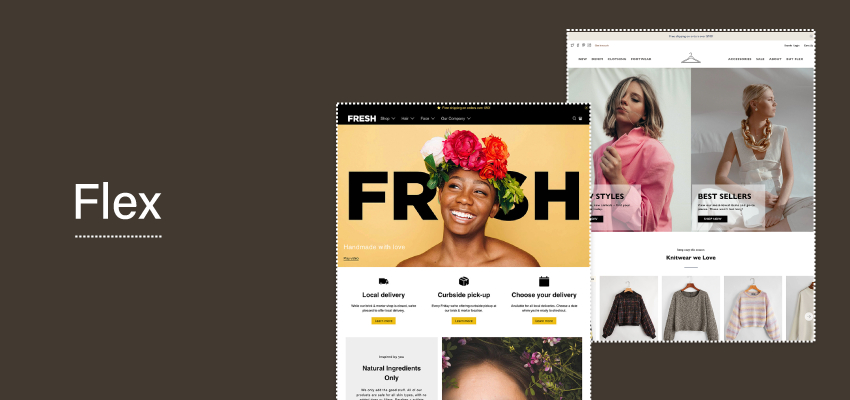 Freelancers and site designers
The crew at Out of The Sandbox are pretty good at naming: the Flex is, of course, an incredibly flexible Shopify theme. It's done fairly well in our PageSpeed testing, but Flex's biggest strength is the creative freedom – letting freelancers and designers make completely custom sites without having to worry about speed optimization.
The website building process can be a lengthy process: and then, optimizing it for Google's high standards can be a real pain. Flex includes flexible layouts and extensive custom CSS editing options, so you can build custom sites that all adhere to strict optimization rules and achieve excellent speed results.
With 13 pre-made styles included, you can also give yourself a good starting point to inspire yourself with. At $485, it's a pretty expensive theme, but with all these features, Flex can be an indispensable tool to creatives.
8. Turbo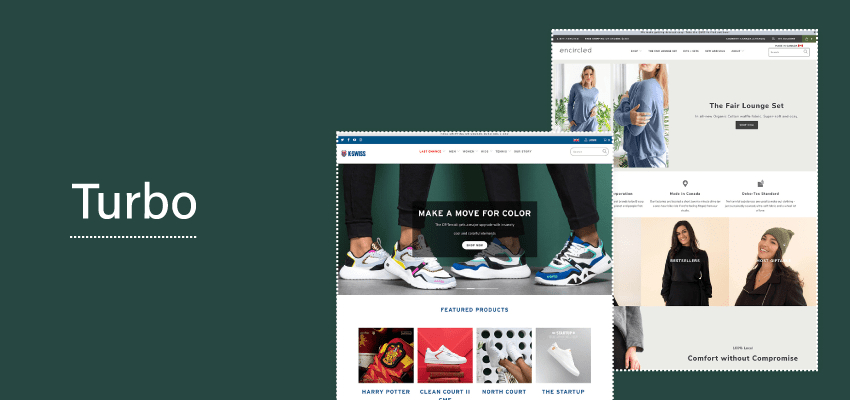 High volume, high-inventory shops
Created by the talented crew in Out of The Sandbox, the Turbo theme lives up to its name. It's fully optimized for speed, but also includes a lot of great customization tools and 8 completely different design variations. While the demo store didn't show excellent scores, Turbo was excellent in real-life tests – and we're sure that the theme can be edited to perform much better.
There are plenty of interesting speed-related features to talk about. Smart page preloading will try to assume where the visitor will go next, massively reducing load times as they jump around your site. Predictive smart search will help them do so even faster. Plus, full CSS customization and expansive menu layouts will let you edit this theme to your heart's content, getting the best speed results.
At the price of $400, it can be an investment – but with 8 unique design options, built-in newsletter popup, and excellent editing features, it's an investment worth making.
9. Debutify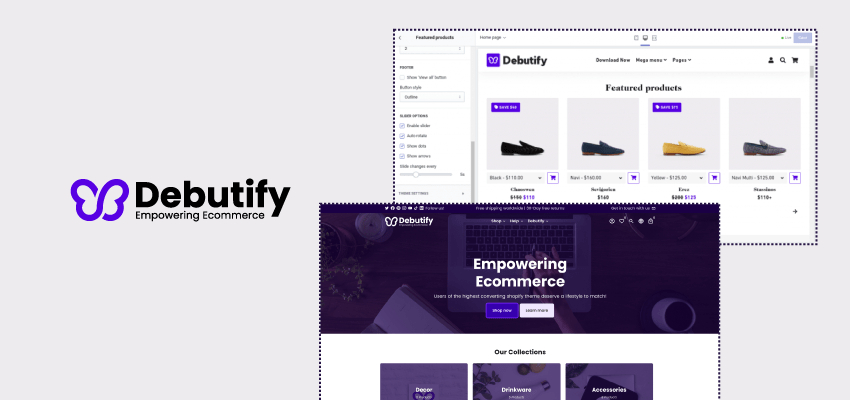 Debutify didn't light it up in our PageSpeed tests: but it was excellent in our real-world trials. Plus, it drew a lot of our attention, as it tries to solve a common Shopify problem. With a massive variety of tools, blocks, and designs available, it's very easy to get lost. Debutify tries to bootstrap this whole process by offering a simple setup for your desired type of store, then offering the right tools to grow your business, and not have to worry about speed optimization ever again.
A lot of the mistakes in our stores, including the speed, are self-inflicted. With unnecessary elements and unoptimized add-ons, we can seriously slow down a website. Debutify takes all of the decisions out of your hands, makes everything much easier, and delivers a fast, fully optimized Shopify store.
The best-value Pro plan, including all the main tools and add-ons, will cost $59-79 a month, depending on your plan term. If you're just starting out, and need all the help and guidance you can take, this is a great solution that might pay back for itself very quickly.
10. Fastor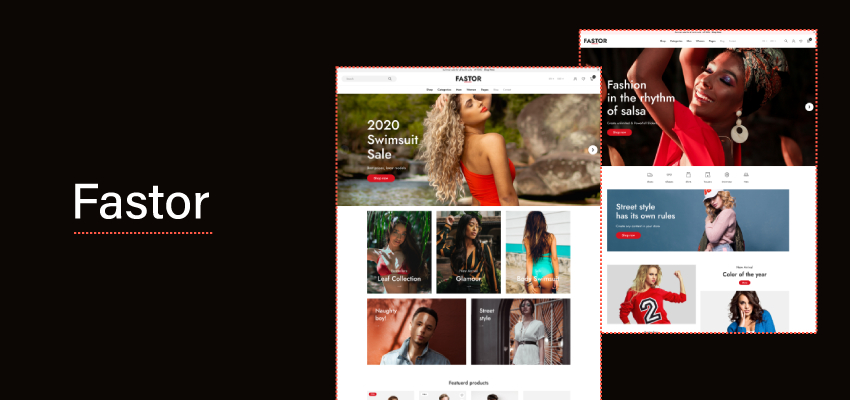 Made by the well-known RoarTheme team, Fastor is an excellent all-around theme with some smart little tricks that give it seriously good real-life performance. Even if the PageSpeed scores do not reflect that.
Based on Bootstrap 4, Fastor compresses its code, placing CSS and JS files within a single one. That allows for faster page loading. Plus, default lazy loading for all images will give your visitors a smoother overall browsing experience. Constant theme updates and optimization from the team also keep improving on the theme's overall performance.
With great design options, such as over 95 website skins and rich banners for super simple customization, Fastor can be designed into pretty much anything. Now add that to marketing automation tools, Facebook live chat functionality, plus so much more, and you'll see – Fastor offers amazing value at just $56.
Fastest Shopify themes compared
All of the themes on the list have been tested using Google's PageSpeed tool. With it, we'll be able to see which sites had the top theoretical performance, according to Google.
These results are calculated using various criteria, so it doesn't mean that a '40' page loads twice as slowly as an '80' page. These are the PageSpeed results for three main types of Shopify pages.
| | | | |
| --- | --- | --- | --- |
| Theme | Homepage | Collection page | Product page |
| Booster | 72 | 84 | 81 |
| Shoptimized | 73 | 70 | 67 |
| Plak | 86 | 78 | 46 |
| Debut | 77 | 78 | 51 |
| Shella | 63 | 58 | 67 |
| Brooklyn | 34 | 51 | 43 |
| Flex | 38 | 51 | 24 |
| Turbo | 39 | 42 | 22 |
| Debutify | 15 | 32 | 28 |
| Fastor | 12 | 31 | 11 |
What should you consider when choosing a fast Shopify theme?
There is no one correct answer which is the fastest Shopify theme. When looking to build a super-fast store with one of these themes, consider a few very important things.
More features = less speed. If a website is a blank page with nothing interesting, it will be very fast. But is that what you want? Sometimes, speed is a penalty websites pay for better website design.
Minimize the unused code. This is where the real performance gains are. Best Shopify themes focus on removing the unnecessary – that's what the themes on our list are set out to do.
Real-life experience matters. You're making a store for people, not machines. Performance scores don't mean much if the website isn't blazing fast and buttery smooth to use.
Media is the speed killer. A massive high-quality image or a video file will plunge all your speed metrics to the ground. Not even the fastest theme can save you if your media is massive.
Try TinyIMG to compress images, manage 3rd-party apps and improve your store's speed as well as SEO performance
Install TinyIMG now
Other ways to make your store faster
A theme alone is not going to make your store faster. There are plenty of other ways you can improve your Shopify store speed.
Hosting media externally can be a lot of help. Videos uploaded to a sharing service, and not your site can reduce loading time by a lot. You can also remove a lot of strain to your site by using apps more effectively, lazy loading images below the fold, and compressing your existing media to a smaller file size.
Finally, regular website analysis can help you see the issues with broken links, redirects, and other factors that slow down your store. Always make sure to look after your page – and that goes beyond just getting a flashy new theme.
Final words
Fast loading Shopify themes can help you positively impact your site's performance, leading to higher Google search rankings and better conversions. Therefore, it's important to choose a theme that's lightweight and offers a lot of features that would reduce the need for several third-party apps.
However, your site's performance will depend on a lot of other factors – themes like Shoptimized or Shella are amazing starting points, but for best results, you will still need to work.
Frequently asked questions
Is the fastest Shopify theme - the best choice?
The fastest Shopify theme is a great starting point for building a fast Shopify website. It's important to have a good foundation, so your store can grow, but remain fast for all of its visitors.
Does the speed of the theme improve Shopify store SEO performance?
A fast theme can't give you high SEO rankings alone – but it certainly helps. Google improves the rankings on fast websites, as they offer better overall user experience.
Are fast Shopify themes better for conversions?
Fast Shopify themes can help you make your store load faster – and that's better for website conversions. Visitors are more likely to stay on websites that offer better overall browsing experience.