By purchasing through the links on this page, you are giving us the opportunity to earn a commission. Your support is greatly appreciated!

The fastest Shopify themes contain clean code and no deadweight CSS or Javascript files. Sounds complicated – that's why we did the hard work for you and tested the themes to determine which ones load the fastest.

Website speed is the first thing visitors notice upon entering your store. With so much competition around, people are quick to leave sites that take too long to load. Therefore, choosing the best Shopify theme is the first step to having a successful business.

In this article, we list 10 fast loading Shopify themes, talk about what makes them fast, briefly touch on how we chose them, as well as share general tips on speeding up your store.
Fastest Shopify themes for 2023:
These are the 10 themes we're gonna talk about in this article. But before going into our detailed overview of each theme, let's talk about what makes a Shopify theme fast.
What makes a Shopify theme fast?
What separates a fast Shopify theme from a slow one? Well – here are some of the things Shopify themes do to make sure your store loads as quickly as possible.
Less code. The math is simple – the less code there is to load, the faster it will load. The fastest Shopify theme options try to minimize the amount of code used to display your site.
Cleaner CSS and inline CSS. This means that the visitor's browser will only need to download one file instead of two – making the loading speeds quicker.
No relying on external libraries. Many themes still rely on the outdated jQuery JavaScript library, known for causing slower loading times. By not relying on external libraries at all, fast Shopify themes can minimize the load times.
Shopify 2.0 theme architecture. After Shopify released Online Store 2.0, stores with the old theme architecture (called Vintage themes) no longer get any updates apart from security fixes. Simply put, it's important to keep up with the industry standards and keep your store up to date for the best performance.
Naturally, for our list, we included the themes that use all the industry's best website speed practices.
Fastest loading Shopify themes:
1. Booster Theme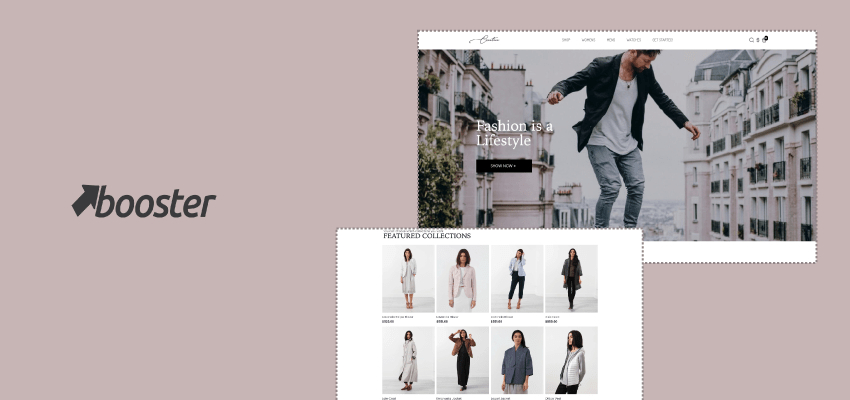 Booster is a zero-dependency theme focused heavily on speed. With all of its code created from scratch by the True Scalable team, it's done an amazing job in our PageSpeed results, clocking the highest scores out of all compared themes. All in all, Booster is the fastest Shopify theme out there.
Below, you can see Booster theme's homepage speed results on desktop: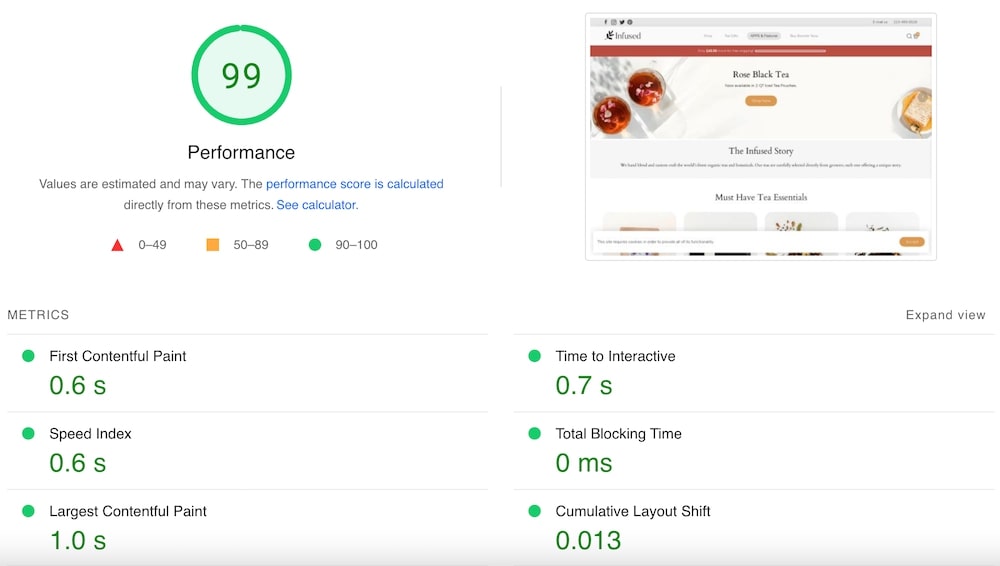 … and mobile: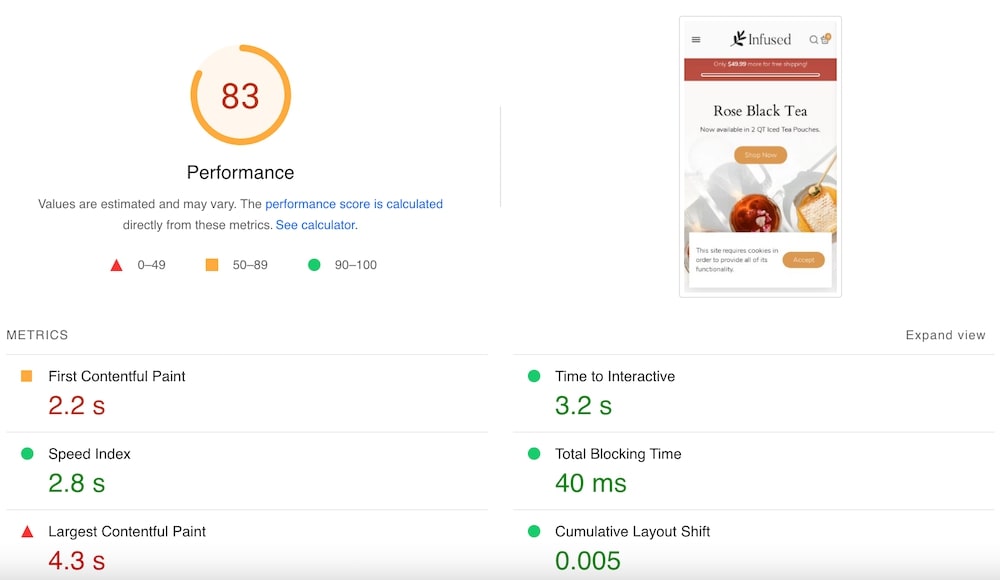 Automatic image optimization makes sure that the visuals don't lose their quality, but drop down massively in file size. Modular Javascript loads only the essentials, without the bloat, and it's often not used at all, thanks to additional CSS implementations. This can help you speed up your website by quite a lot.
With exciting sales features, such as geo-personalized content, multitab shopping sync, and a lookbook feature so your visitors can browse products right from a set picture, Booster adds a lot of premium stuff entirely free of charge. It costs $249 a year – or $399 for unlimited lifetime access. It's a great theme for medium-sized shops looking to offer a premium shopping experience – with excellent speeds to match.
Booster theme highlights:
Automatic image optimization
Save $281/month on third-party apps
Built and optimized for mobile
2. Electro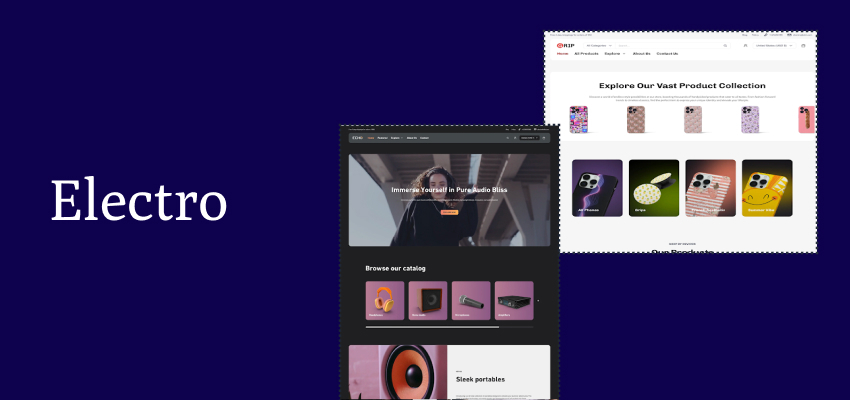 Electro - fast and mobile-first Shopify theme
Made by CRO experts with more than 10 years of experience, Electro theme stands out as a fast and powerful theme specifically designed for electronics and high-tech stores. However, its adaptability extends far beyond, making it a seamless fit for any online store's unique demands.
One of Electro's paramount attributes is its unrivaled page speed. Following thorough testing, our findings revealed that every page crafted through the Electro theme reaps an impressive Google Pagespeed score on mobile devices. This metric holds immense significance, influencing both the buyer's experience and Google ranking.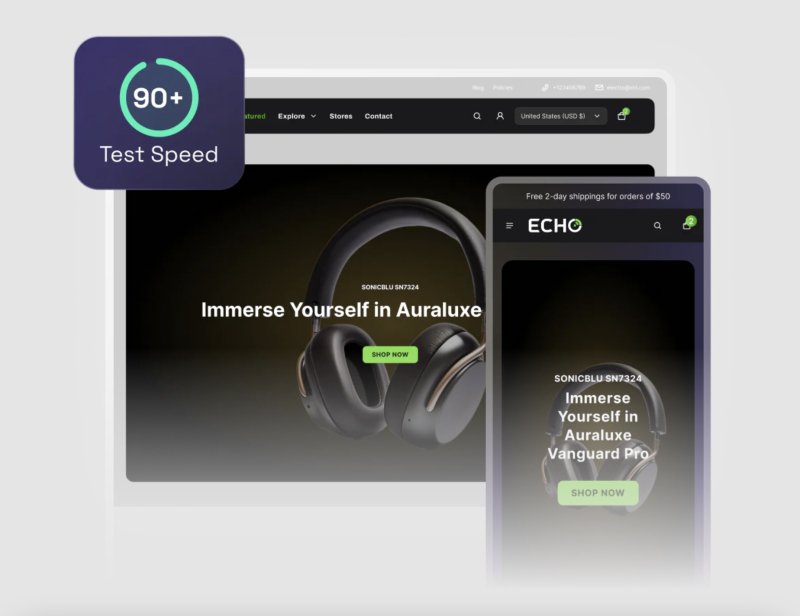 Below, you can see Electro theme's homepage speed results on desktop: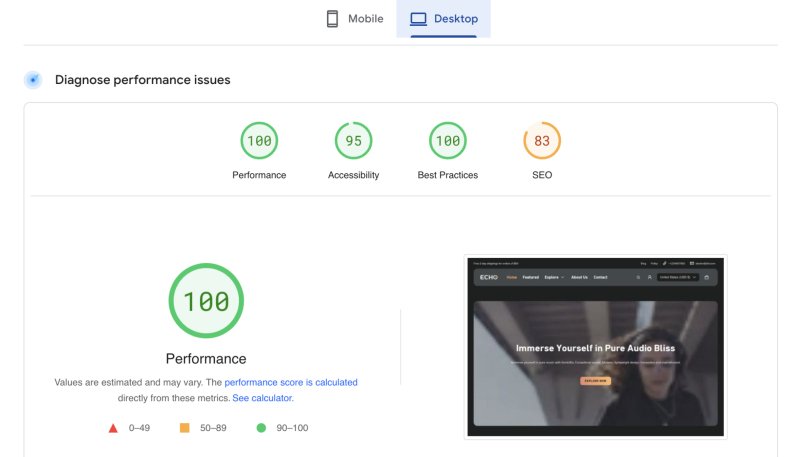 And mobile: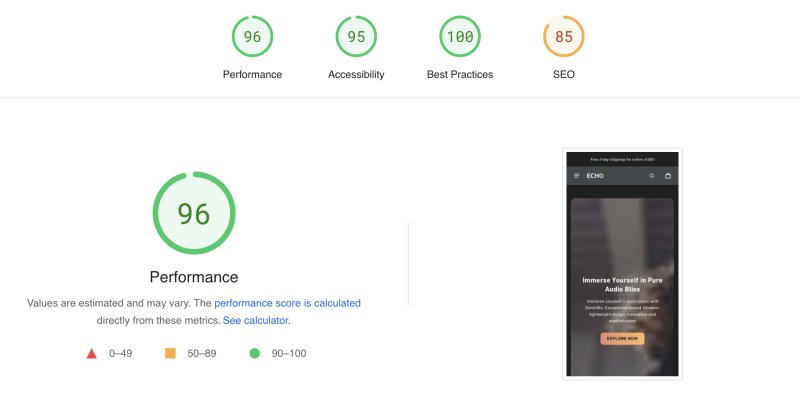 The Electro theme goes above and beyond in optimizing for speed, ensuring merchants the luxury of a lightning-fast loading store. This is achieved through the latest optimization methods including image optimization, lazy loading, pre-connected & pre-load, no external library, no layout shifts and even line-by-line code optimization.
Elevate your online presence with the Electro theme and witness a harmonious blend of performance and aesthetics.
Electro theme highlights:
Unrivaled page speed
Truly mobile-first
Powerful product comparison
Intuitive hotspots
Product page navigation
3. Shoptimized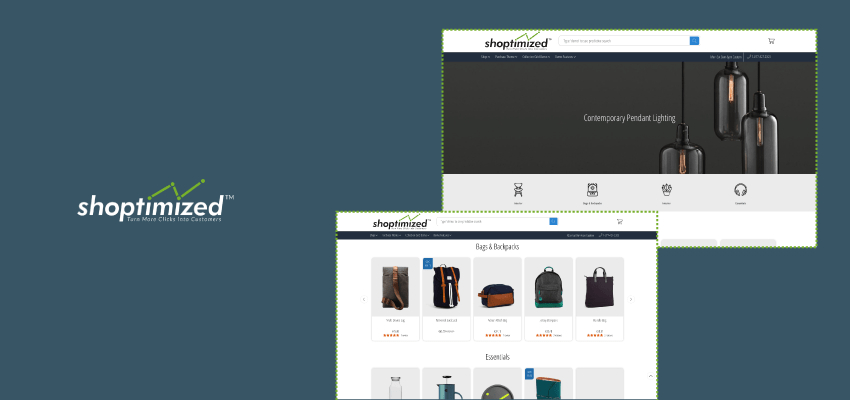 Created by a conversion rate expert Bradley Long, the Shoptimized theme is incredibly fast – but it's also made with one major goal in mind: making sure you get the most sales out of your store. As you already know, speed is an important part of user experience. So it was not a surprise to see this theme ace the PageSpeed tests.
Below, you can see Shoptimized theme's homepage speed results on desktop: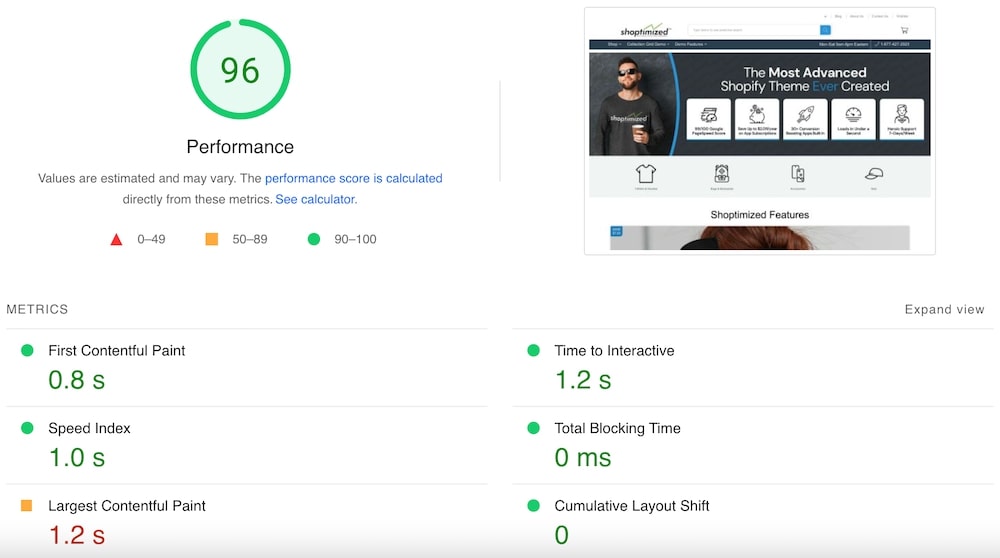 … and mobile: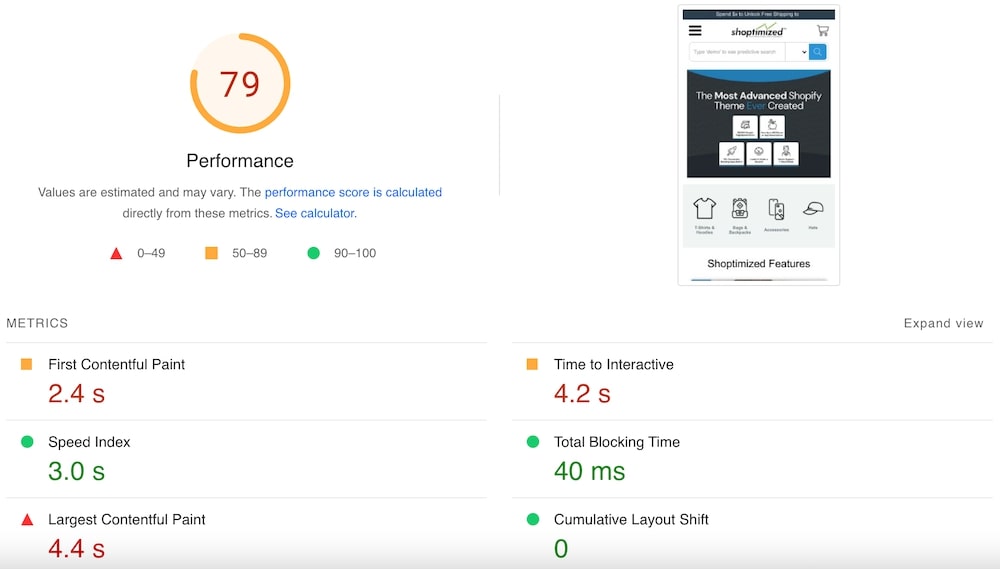 Additional third-party apps for banners, pop-ups, badges, and much more can also negatively affect your site's load times. Shoptimized includes nearly 30 conversion-boosting features in one package, with designs, coupons, product filters, and more. All of the designs and code in the features are fully optimized to work with this theme specifically. This means you'll be able to use all of the fun stuff, without the speed penalty. And so, this theme is a seriously fast one.
For one store, Shoptimize will cost you $167. Additional plans will give you more store licenses and access to private store optimization courses.
Shoptimized theme highlights:
30+ conversion boosting features
Optimized for mobile
Save on third-party apps
4. Plak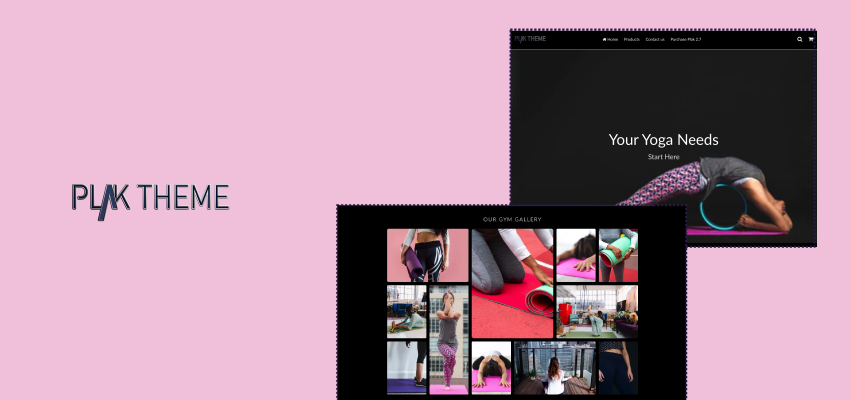 Plak is a very lightweight fast Shopify theme that includes a lot of customization features and SEO tools – letting you focus completely on getting those super important high places on search engine results. At very high PageSpeed test scores, this theme is an excellent performer.
Below, you can see Plak theme's homepage speed results on desktop: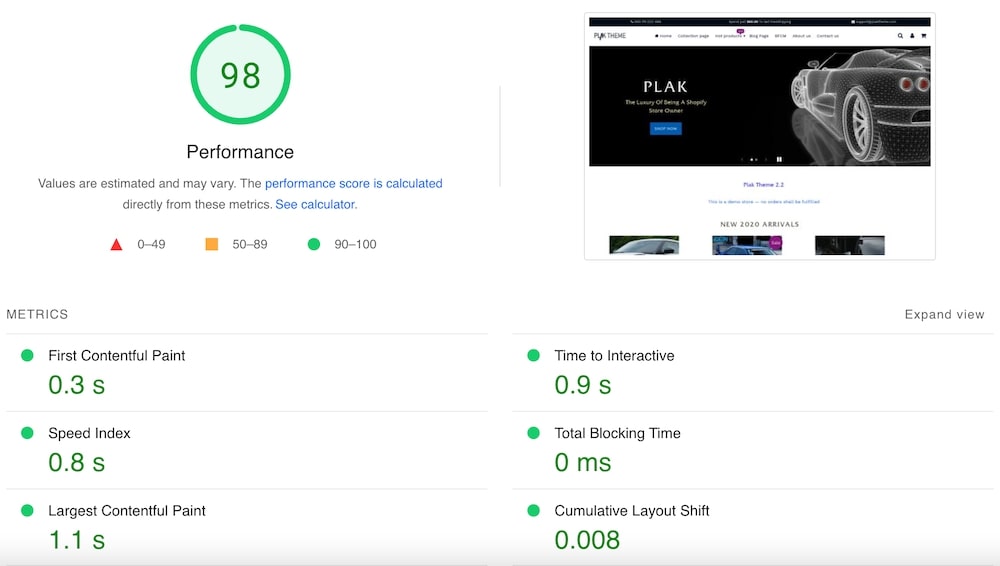 … and mobile: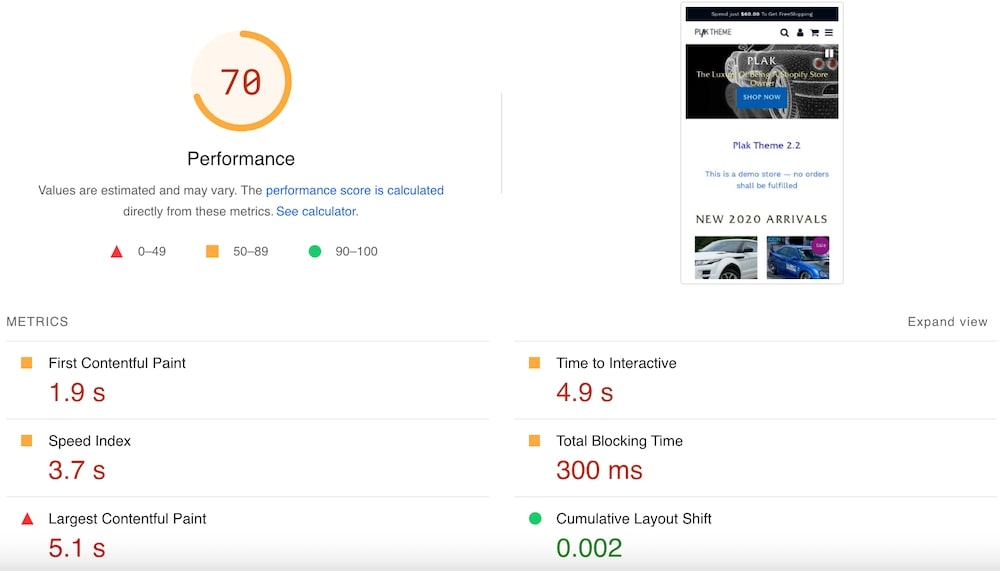 With 7 different lazy loading effects and dynamic lazy-loaded parallax sections, Plak offers a lot of opportunities for you to optimize your site's performance and user experience. Plus, with the barebones version of the theme loading in just 0.4 seconds, you're given an incredible lightweight starting point for your Shopify store creations.
At the price of $295 for one license, this is not a cheap choice – but it's a great basis to build serious Shopify stores.
Plak theme highlights:
Built and optimized for mobile
One time fee for the theme
Fit for small, medium & large businesses
5. Shella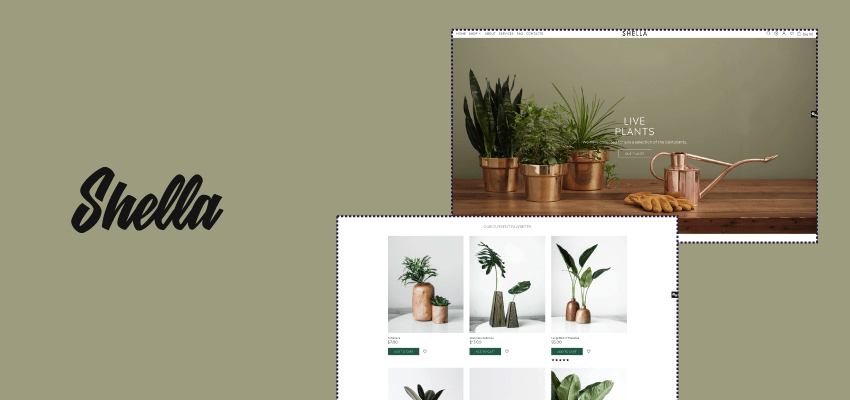 Made by a small independent team of website designers, Shella is a lightweight, modern theme perfect for trendy stores. It got pretty good scores on our PageSpeed testing: you'll be able to use a massive number of beautiful pre-made design templates without having to worry about performance. Because all in all, the performance is excellent.
Below, you can see Shella theme's homepage speed results on desktop: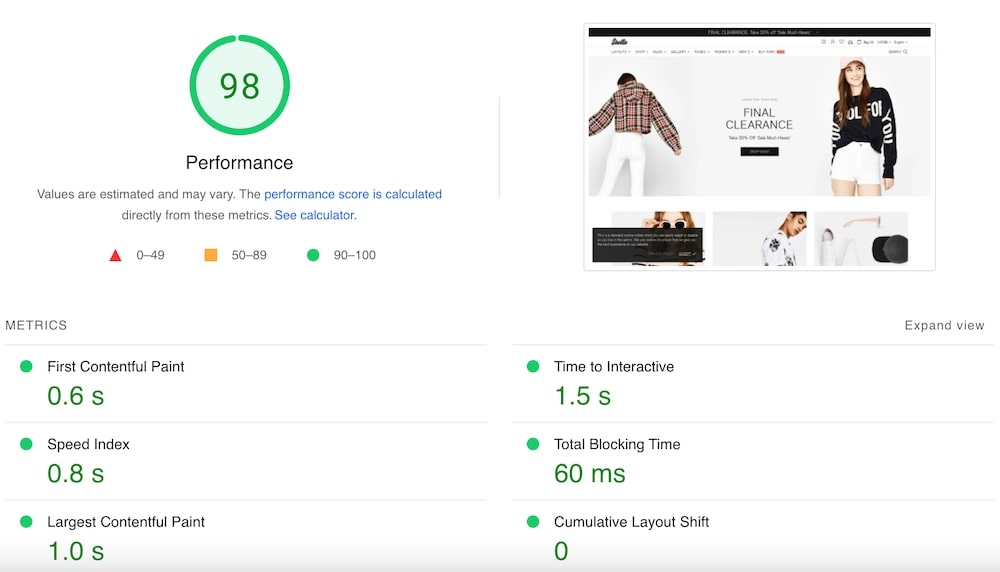 … and mobile: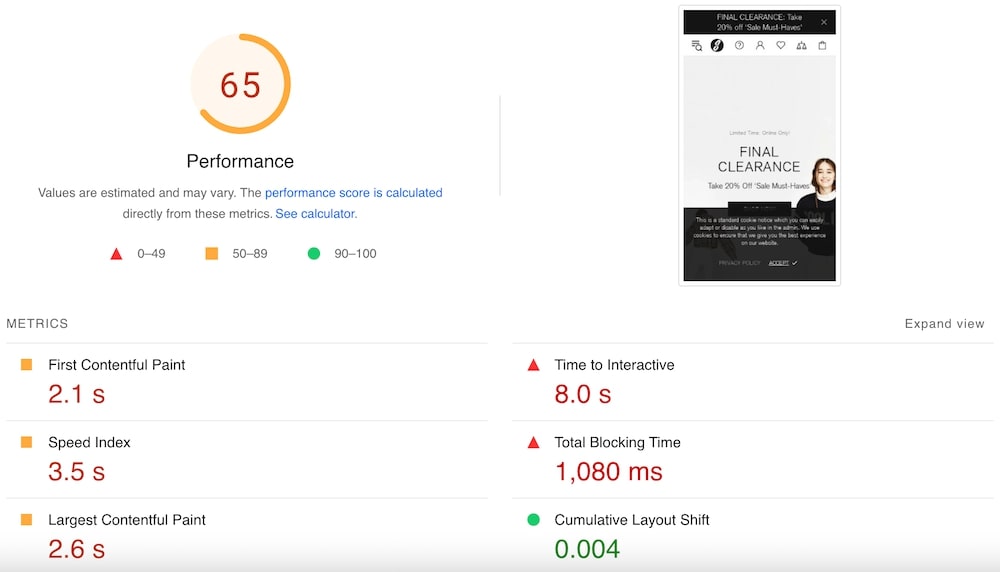 This theme is currently the only theme managed by this team, which means it gets utmost care. Constant and consistent updates often include additional optimization and speed improvements. So, you won't be left for dead with an outdated theme that doesn't fit the newest Google rules.
Shella is one of our top choices as a Shopify theme for a fashion boutique. It has 18 skins, and over 100 pre-designed pages, letting you make different stores with drastically different designs. Add that to bespoke UI/UX elements optimized for conversions and speed, and at $69, Shella is looking like a right bargain – it's a super-fast theme with a great modern design.
Shella theme highlights:
Save on third-party apps & plugins
Conversion boosting features
Build with UX/UI in mind
6. Dawn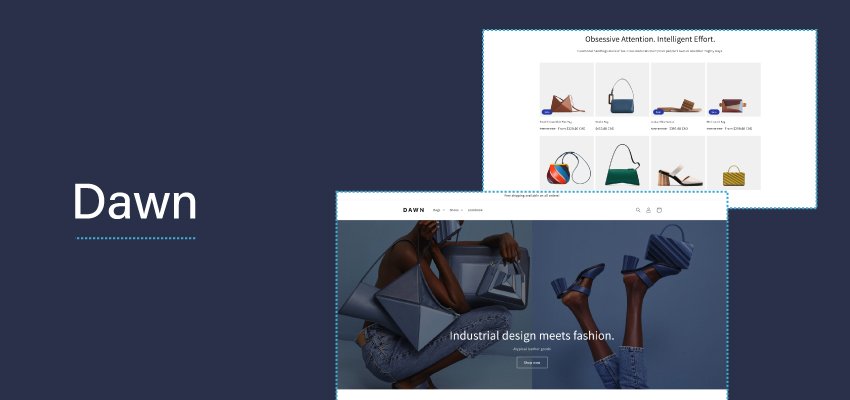 You all know Dawn: most of you have actually used it! Yes, this is the very starting Shopify theme, the one we know and love. It's not going to win any design awards, but you're given a great base to work with, and some speed optimization features come as default – which most certainly reflects in the pretty solid base PageSpeed score.
Below, you can see Dawn theme's homepage speed results on desktop: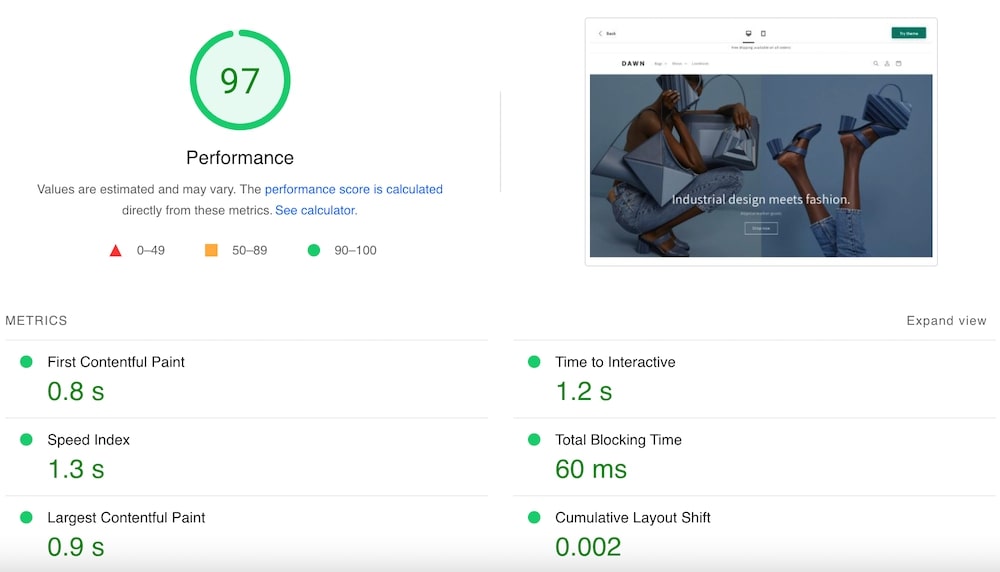 … and mobile: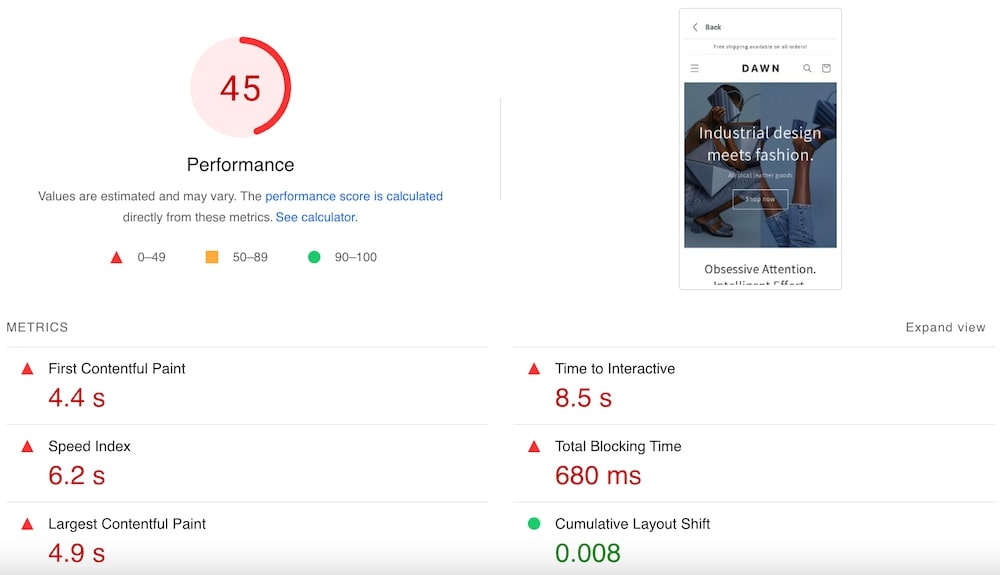 CSS and JS are completely minified, lazy loading is active, so is efficient CSS. As this theme is made and continuously maintained by Shopify, expect the best possible speed optimization improvements out there. Very often we've seen Dawn sites completely outperform other themes on SEO – sometimes, it's best to not mess with the recipe and pick a fast, reliable option.
Of course, Dawn is entirely free. It will be everywhere you'll go, ready to be used.
Dawn theme highlights:
Minimal design
Media-forward product page
Advanced customization options
7. Ride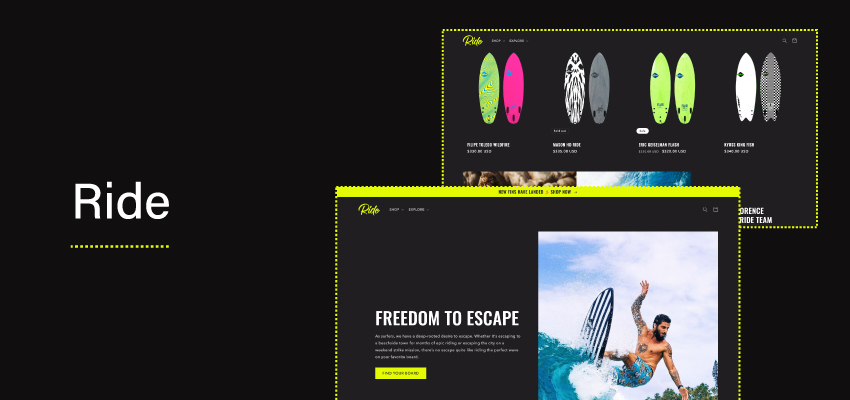 Ride is the top trending Shopify theme at the moment – and it's free! Scoring an average of 80/100 in performance speed testing, Ride is a great Shopify theme for those who want to launch their business online without investing too much.
Below, you can see Ride theme's homepage speed results on desktop: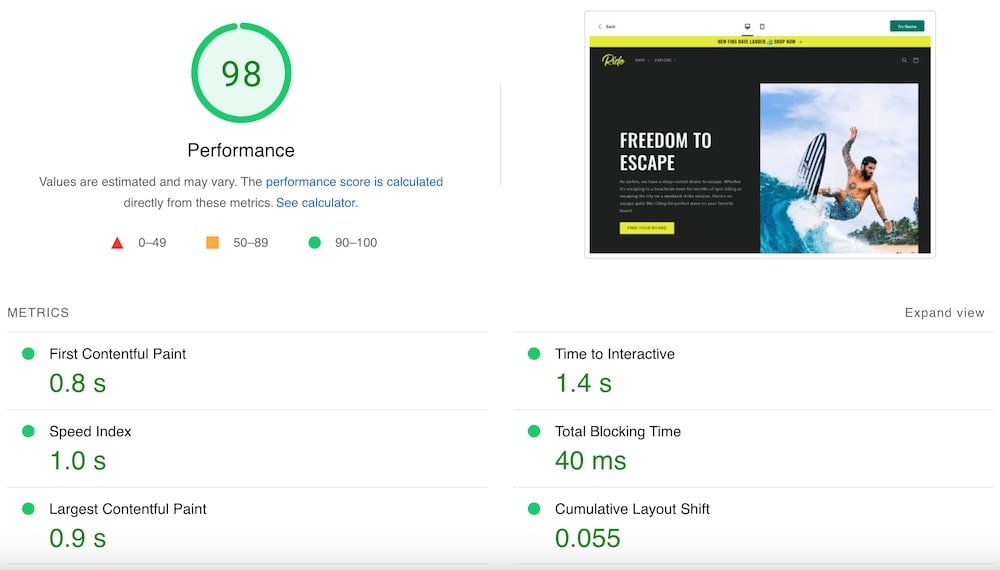 … and mobile: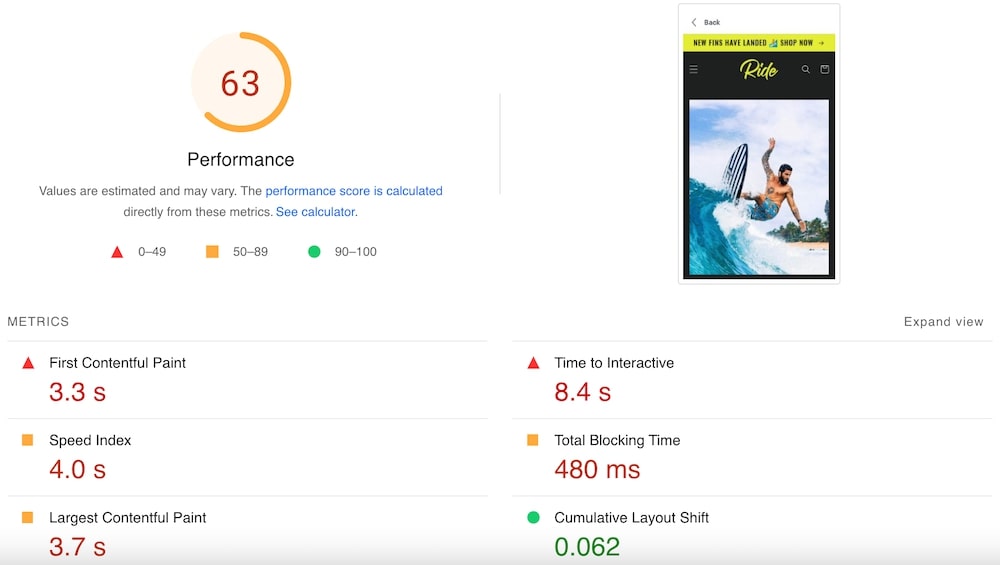 The theme offers a bold look, so it's perfect for brands that want to stand out and give a dynamic feel through images. And while quite minimal, Ride has flexible and innovative layout options, as well as allows for advanced customization.
It's one of the easiest themes to launch and maintain – it's not cluttered, has a fair amount of marketing and conversion boosting features, and as a cherry on top, it's completely free of charge.
Ride theme highlights:
Advanced customization options
Marketing and conversion boosting features
Bold design
8. Turbo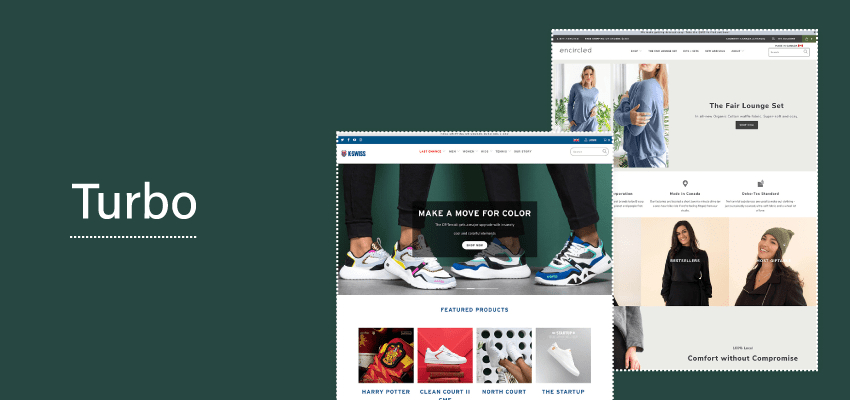 Created by the talented crew in Out of The Sandbox, the Turbo theme lives up to its name. It's fully optimized for speed, but also includes a lot of great customization tools and 8 completely different design variations. While the demo store didn't show excellent scores, Turbo was excellent in real-life tests – and we're sure that the theme can be edited to perform much better.
Below, you can see Turbo theme's homepage speed results on desktop: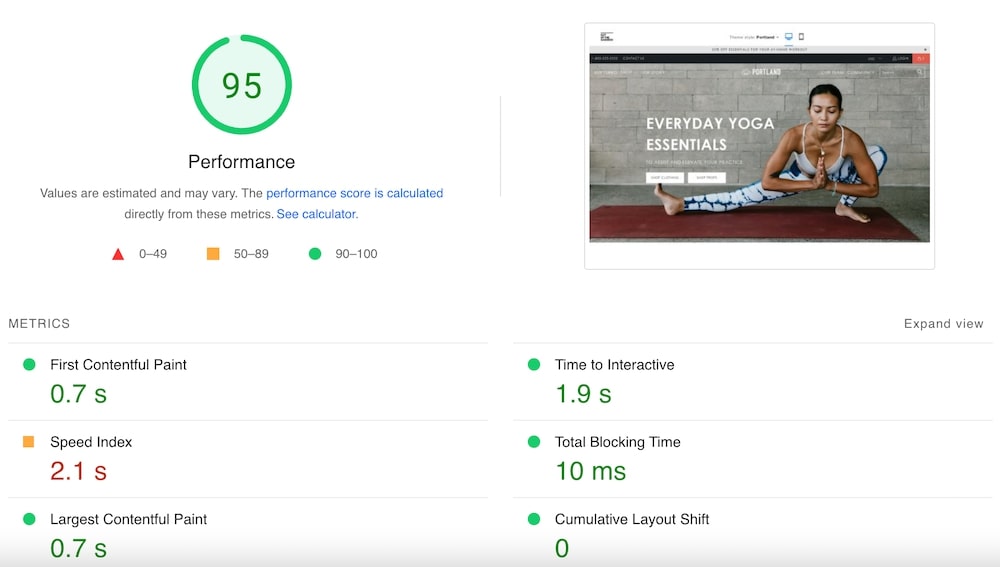 … and mobile: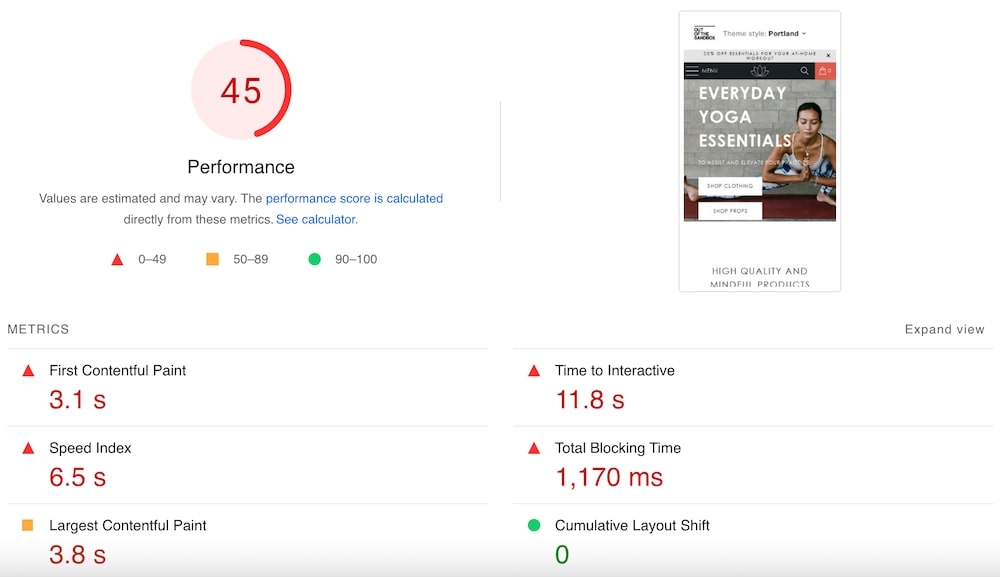 There are plenty of interesting speed-related features to talk about. Smart page preloading will try to assume where the visitor will go next, massively reducing load times as they jump around your site. Predictive smart search will help them do so even faster. Plus, full CSS customization and expansive menu layouts will let you edit this theme to your heart's content, getting the best speed results.
At the price of $400, it can be an investment – but with 8 unique design options, built-in newsletter popup, and excellent editing features, it's an investment worth making.
Turbo theme highlights:
Smart page preloading
Unique product layouts
Allows CSS customizations
9. Fastor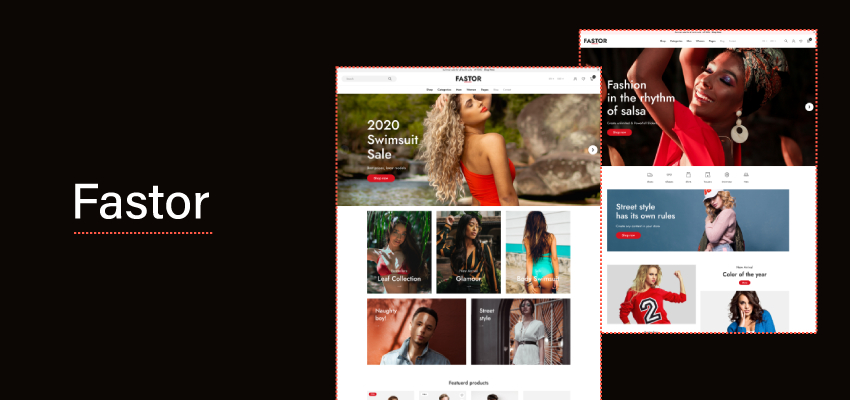 Made by the well-known RoarTheme team, Fastor is an excellent all-around theme with some smart little tricks that give it seriously good real-life performance.
Below, you can see Fastor theme's homepage speed results on desktop: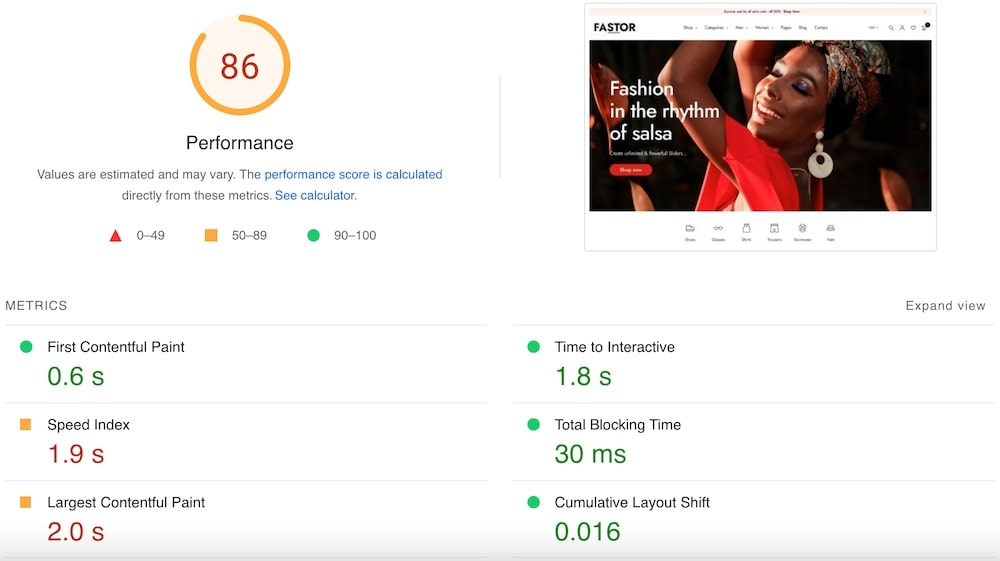 … and mobile: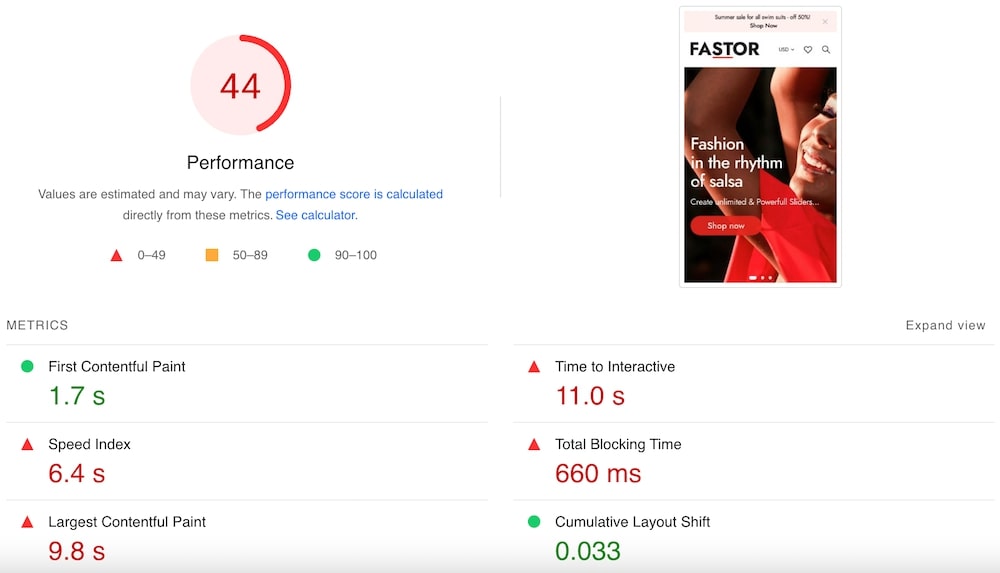 Based on Bootstrap 4, Fastor compresses its code, placing CSS and JS files within a single one. That allows for faster page loading. Plus, default lazy loading for all images will give your visitors a smoother overall browsing experience. Constant theme updates and optimization from the team also keep improving on the theme's overall performance.
With great design options, such as over 95 website skins and rich banners for super simple customization, Fastor can be designed into pretty much anything. Now add that to marketing automation tools, Facebook live chat functionality, plus so much more, and you'll see – Fastor offers amazing value at just $56.
Fastor theme highlights:
Mobile optimized
Save money on third-party apps
95+ predesigned skins
10. Flex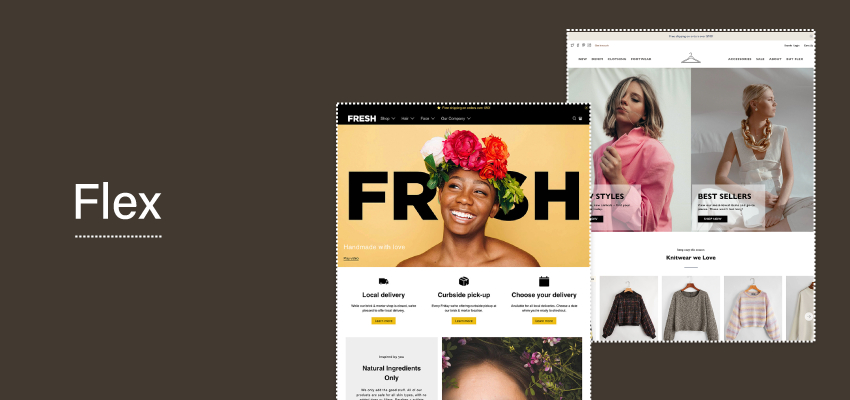 The crew at Out of The Sandbox are pretty good at naming: the Flex is, of course, an incredibly flexible Shopify theme. It's done fairly well in our PageSpeed testing, but Flex's biggest strength is the creative freedom – letting freelancers and designers make completely custom sites without having to worry about speed optimization.
Below, you can see Flex theme's homepage speed results on desktop: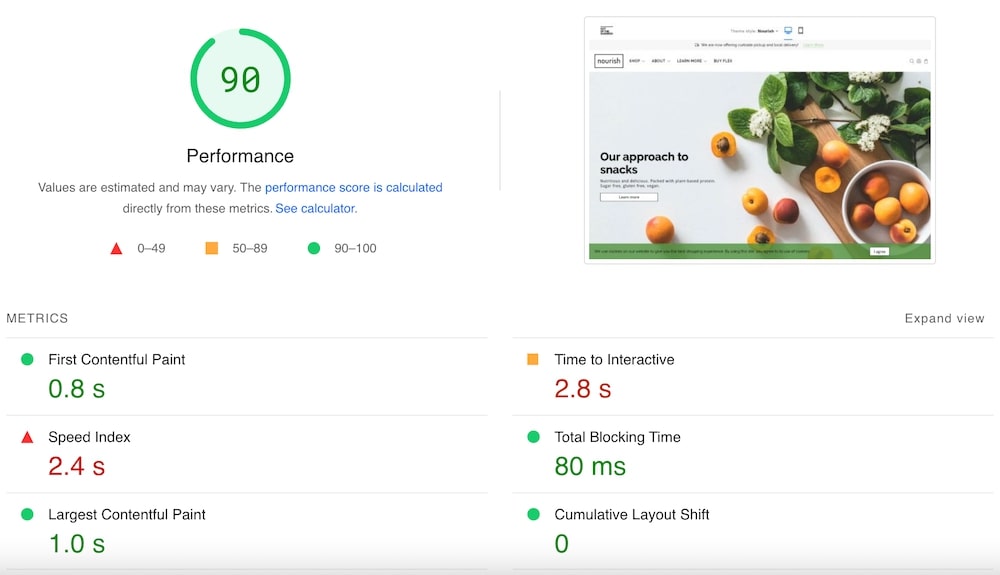 … and mobile: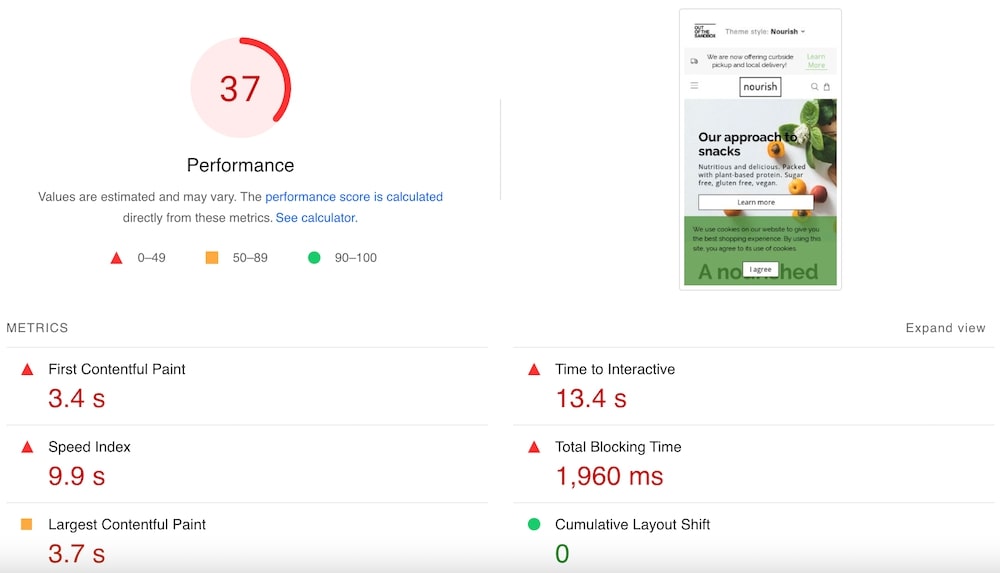 The website building process can be a lengthy process: and then, optimizing it for Google's high standards can be a real pain. Flex includes flexible layouts and extensive custom CSS editing options, so you can build custom sites that all adhere to strict optimization rules and achieve excellent speed results.
With 13 pre-made styles included, you can also give yourself a good starting point to inspire yourself with. At $495, it's a pretty expensive theme, but with all these features, Flex can be an indispensable tool to creatives.
Flex theme highlights:
The most customizable sections
Flexible layouts + custom CSS
13 pre-designed demo stores
Fastest Shopify themes compared
All of the themes on the list have been tested using Google's PageSpeed tool. With it, we'll be able to see which sites had the top theoretical performance, according to Google.
These results are calculated using various criteria, so it doesn't mean that a '40' page loads twice as slowly as an '80' page. These are the PageSpeed results for three main types of Shopify pages.
All the scores below are desktop speed results. Mobile speed scores are lower for all the themes we tested – as you can see in the screenshots next to all theme reviews above.
| | | | |
| --- | --- | --- | --- |
| Theme | Homepage score | Collection page score | Product page score |
| Booster | 99 | 98 | 100 |
| Electro | 98 | 97 | 97 |
| Shoptimized | 96 | 94 | 94 |
| Plak | 98 | 97 | 95 |
| Shella | 98 | 100 | 94 |
| Dawn | 97 | 97 | 99 |
| Ride | 98 | 97 | 99 |
| Turbo | 95 | 87 | 91 |
| Fastor | 86 | 89 | 74 |
| Flex | 90 | 90 | 94 |
How we selected these fast Shopify themes
This was our criteria for selecting the fastest Shopify themes:
Speed result to feature ratio. We ran speed tests on a lot of popular Shopify themes using Google's PageSpeed Insights, and selected those that had the best speed result to feature ratio.
Price range. We wanted to include themes of different price ranges because there are some great, fast free themes, high-scoring middle-of-the-road ones, as well as huge premium themes with tons of features that have shone in the speed test results.
It's important to remember that the more minimal the theme is, the better speed score it'll get. That's because of the uncluttered design and the small number of products. That's why we included a whole range of Shopify themes to the list, depending on the industry they're most suited for.
Other ways to improve your Shopify store speed
A theme alone is not going to make your store faster. There are plenty of other ways you can improve your Shopify store speed.
Hosting media externally can be a lot of help. Videos uploaded to a sharing service, and not your site can reduce loading time by a lot. You can also remove a lot of strain to your site by using apps more effectively, lazy loading images below the fold, and compressing your existing media to a smaller file size.
Finally, regular website analysis can help you see the issues with broken links, redirects, and other factors that slow down your store. Always make sure to look after your page – and that goes beyond just getting a flashy new theme.
Final words
Fast loading Shopify themes can help you positively impact your site's performance, leading to higher Google search rankings and better conversions. Therefore, it's important to choose a theme that's lightweight and offers a lot of features that would reduce the need for several third-party apps.
However, your site's performance will depend on a lot of other factors – themes like Booster or Shoptimized are amazing starting points, but for best results, you will still need to work.