By purchasing through the links on this page, you are giving us the opportunity to earn a commission. Your support is greatly appreciated!

Choosing the right Shopify theme for a clothing store can be a daunting task – the fashion industry is no joke. With competition aplenty, how do you make sure you start off on the right foot?

That's why we've compiled the list of 16 best Shopify clothing themes. We've looked at the template design, user-friendliness, and easy navigation: generally anything that would help you generate more sales.

The best part is that you'll be able to personalize these themes to your clothing brand image without having to spend weeks tinkering with code. That being said, let's get into the reviewing part.
Top 16 Shopify themes for clothing stores – our detailed list
As promised, here's our shortlist of the best Shopify themes for the fashion industry:
See all the other themes in our list here. And now, let's review each of them in detail.
1. Ella – stunning layouts & plenty of space for creativity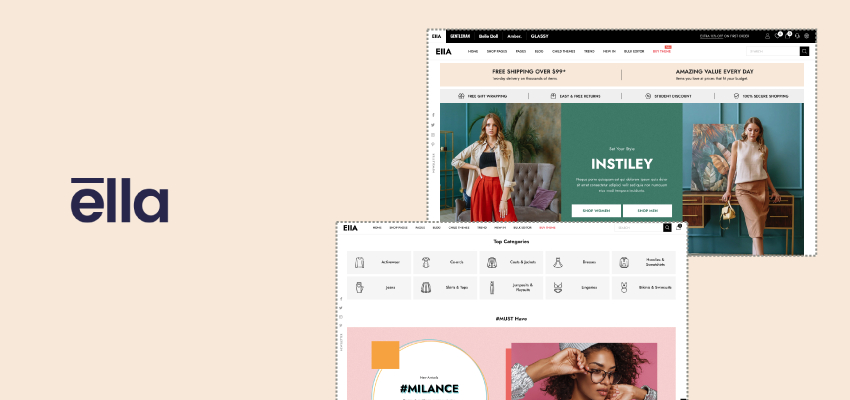 Contemporary, colorful, yet insanely neat and organized – that's probably the best way we can describe Ella. With 20+ gorgeous layouts, you're bound to find the perfect theme for your clothing store.
Ella is on top of our Shopify theme list for a reason – not only does it offer plenty of design options, but it also has many features. The theme is mobile-first, meaning it's designed in a way to make the shopping experience on the phone as comfortable as possible.
There's also a lot of focus on sales features, like upsell and cross-sell elements, quick shop for an easy checkout, and an effective "Before you leave" popup that brings the customer right back to the store with an enticing discount offer.

Main features:
Lots of layout options
Quick shop
One-click checkout

Flexible sections

Sticky Add to cart button
Multiple currencies
Newsletter popups
This is one of our favorites when it comes to the best Shopify clothing themes. The only downside is that it's quite pricey. So, if you're just starting out and your eCommerce store is still in the beginning stages, save Ella theme for later.
2. Booster – all-inclusive Shopify theme for any store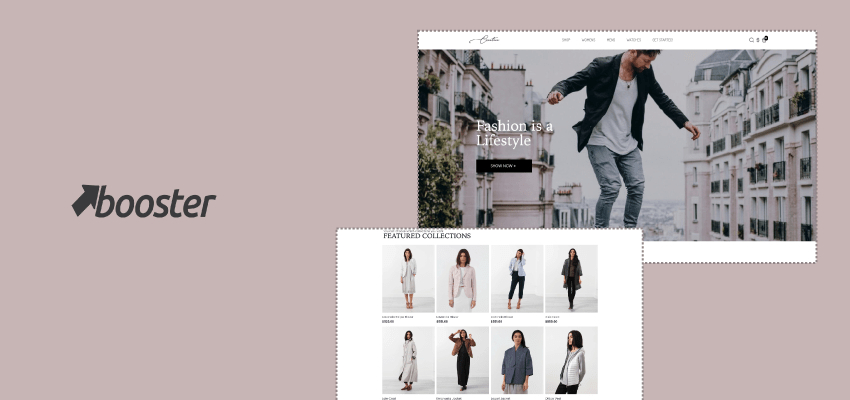 Booster is a powerhouse of a Shopify theme. Flexible, fast, and focused on conversions, it's absolutely worth checking out.
Booster might seem expensive but they include 40+ conversion optimized marketing tools into the cost. This way, you save money because you won't have to think about installing third party Shopify apps that only slow your website down. You get features like people watching, upsell pop ups, stock left bar, delivery estimator, dynamic checkout, and a lot more.
Running a clothing business in an oversaturated market is extremely difficult, so all these useful features can be a huge boost in increasing sales.

This theme is very highly flexible, and you get a lot of options when it comes to different layout elements. For example, you can choose from several mega menus, cart options, and add to cart interactions.
Main features:
Extremely customizable
Fast performance
40+ marketing tools
Fully mobile optimized
If there's one Shopify theme that truly includes everything, it's Booster.
3. Multifly – flexible and easily customizable layouts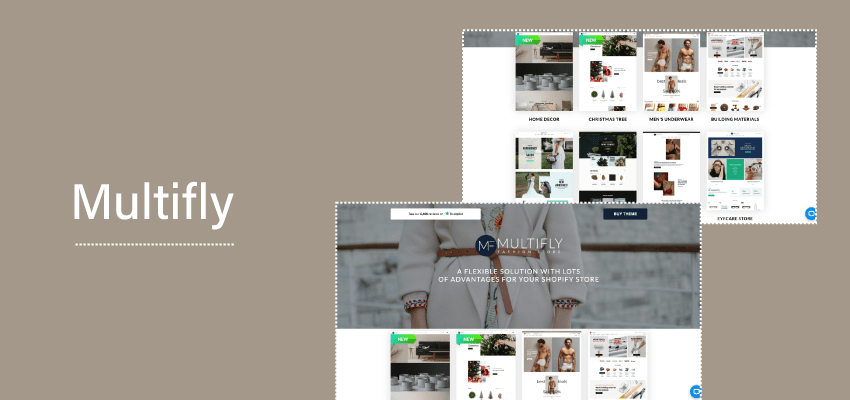 Multifly offers customizable Shopify templates for your fashion store. With an in-built Shopify visual builder, you can make your own layout with no coding involved.
This Shopify theme is fully responsive, lightweight, and allows for full customizability. You can customize the homepage with ready sections, set up color and size swatches for your products, AJAX search (aka live search functionality), quick view, and more.
Multifly is pricey, but the perks it offers are worth the money. Also, with extra payments, you can set up dropshipping, get additional months of customer support, and more. Multifly also utilizes big images with text overlay to display collections, sales, and discounts which creates an interesting visual dynamic.

Main features:
Responsive layouts with all devices
Full customization of the entire store
Shopify visual builder
Color, size swatches
Dropshipping ready
Google web fonts
With its full flexibility in customization, Multifly is a great theme for building a unique store that would reflect your fashion brand.
4. Glossier – multipurpose Shopify theme for beauty & fashion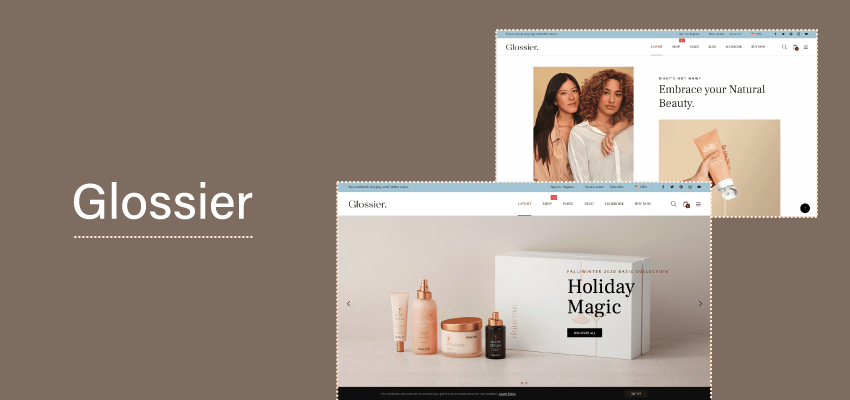 Glossier is a responsive Shopify theme for your clothing or cosmetics store. With its sleek, minimal design and customization capabilities, this theme will allow you to create an ecommerce store of your dreams.
You can set up Glossier themes for all screens, including mobile, tablet, and desktop. You can use drag & drop page builder for an easier design process. Glossier also has great marketing and sales features, including custom product labels, quick view, lookbooks, customer review and testimonial sections, countdown timers, and more.

Main features:
Fully responsive
Several page layouts
Multiple currencies
Quickview

Custom product labels

Customer reviews

Lookbooks
If you want to launch a successful fashion store, you need a theme that's trendy and modern. And Glossier gives you exactly that.
5. Shella – huge variety of Shopify theme layouts for clothing stores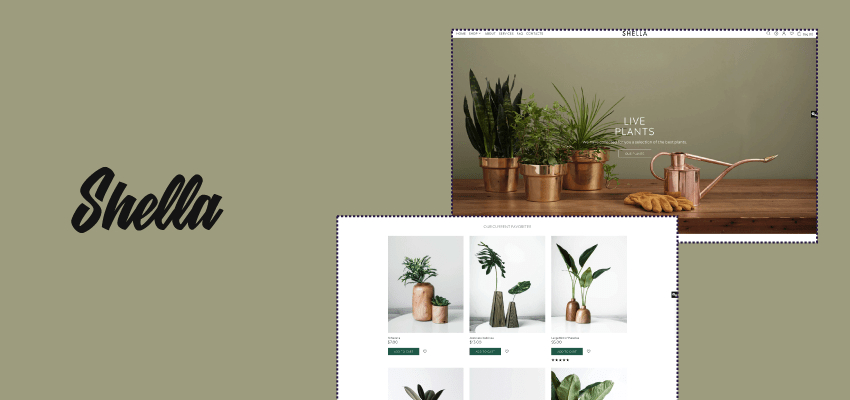 Shella offers clean, lightweight Shopify templates for clothing stores. Years of development and experience allowed MPIthemes to create dynamic, functional and optimized themes.
The theme is not cheap, but it's feature-heavy. The theme is perfect for big stores as it offers powerful mega menus for comfortable product categorization. You can choose from tens of contemporary designs and create the clothing store you dream of without dabbling in code. Shella is also one of the faster themes in the market as they boast a score of 89 based on Google Lighthouse speed metrics.

Main features:
Fast speed
Product swatches
Quickview
Code optimized for rich snippets
Dropshipping ready
RTL support

Powerful mega menus
If you need a Shopify clothing theme with clean design, fast speeds, and lightweight code, Shella will not disappoint.
6. Retina – modern and flexible Shopify theme perfect for fashion stores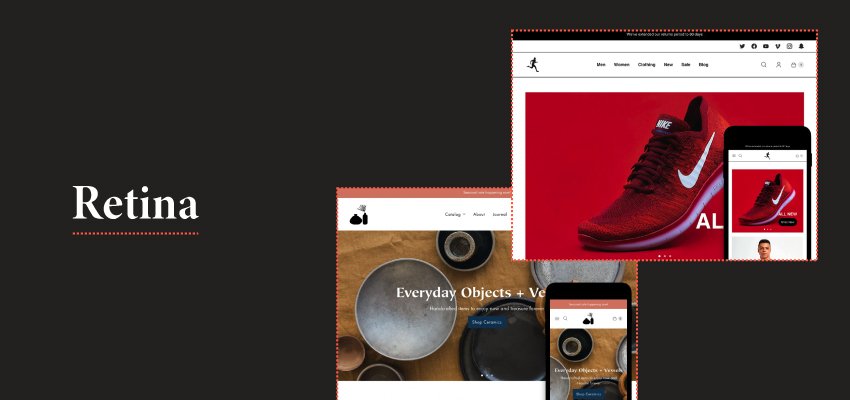 Retina is a highly customizable Shopify theme with a lot of features focused on elevating your brands and increasing sales. With so much competition in the fashion industry, a professional theme like this can help you stand out.
With this theme, you can add beautifully made testimonial sections, features product callouts, back-in-store alerts, and other features. Retina also focuses on mobile design, which is very important since increasingly more people are shopping on their phones. And by using Shopify theme builder, you can give your store a unique look that represents your brand the best.

Main features:
Mobile-friendly design
Simple setup and customization
Quick buy
Back-in-store alerts
Promo banners and popups
7. Responsive – minimal Shopify theme for trendy fashion brands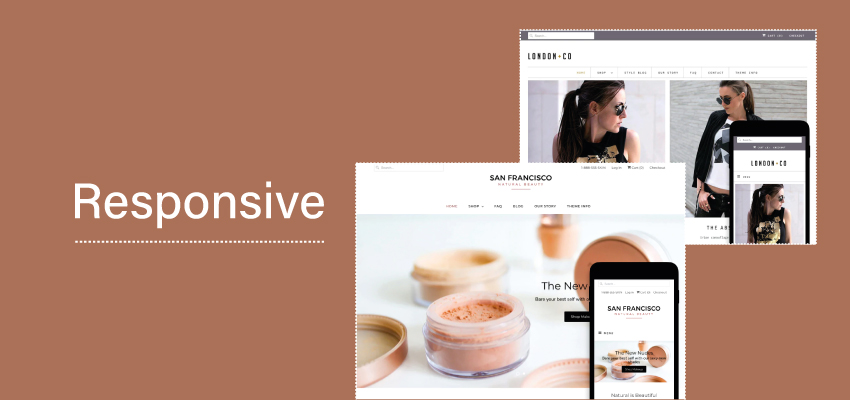 Developed by Out of the Sandbox, Responsive is a great Shopify theme for clothing brands. The products are put front and center, and everything looks smooth and sleek on any screen.
One of the things that sets Responsive apart is its clean and clutter-free design. They made it extremely easy for customers to find what they're looking for, thanks to its minimal navigation. When it comes to features, you'll find powerful product filtering and sorting options, promo banners, back-in-stock alerts, custom product badges, stock counters, and more.
Take a look at The Zany Store, a clothing brand that has embraced the Responsive Shopify theme for their website. The site exudes a clean and fashionable aesthetic, featuring intuitive navigation and an absence of unnecessary elements.

Main features:
Fully responsive

Focus on visuals

Highly customizable

Quick view

Stock counter
8. Goodwin – feature-rich and bold Shopify theme for fashion stores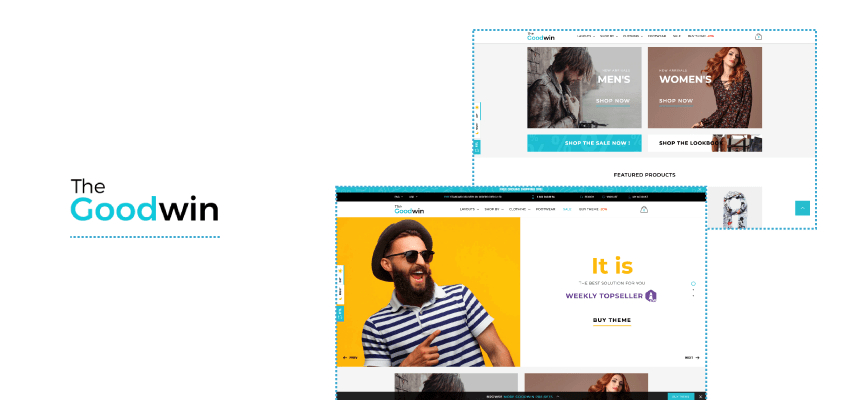 Goodwin offers lots of useful eCommerce features and bold, colorful, yet tidy templates for your clothing store.
Goodwin is a mobile-friendly Shopify theme that offers more than 10 header and footer options, advanced add-to-cart buttons, mega menu visual builder, and much more. With this theme, your clothing store will get a new, professional feel.
Rated as a weekly top seller by Shopify, Goodwin already has multiple clients with successful stores in various industries – including fashion. While not the cheapest option out of the bunch, we think it's worth the price just because of the variety and the quality it offers.

Main features:
Fully responsive
Advanced add to cart button
Product reviews
Flexible visual builder
Dynamic checkout buttons
Goodwin is a true and tested Shopify theme for fashion stores that will certainly give your site a new, professional look.
9. August – stylish and well-optimized Shopify templates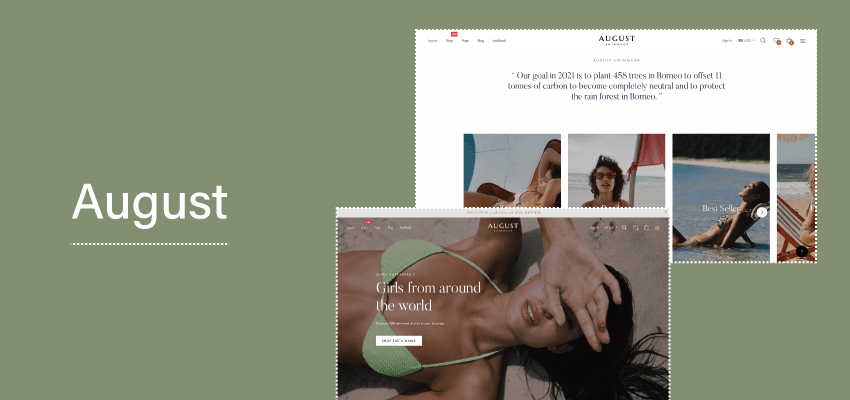 August is for those seeking stylish and trendy designs packed with conversion-focused features.
Live search feature, product filter systems, user-friendly mega menu – all in one attractive Shopify theme package. August has a simple admin panel, so it's easy to get around and set up your store. For better SEO, this theme offers a clean and structured code base optimized for Google rich snippets. In terms of design, August focuses on visual storytelling with different sections for bold imagery.
The August Shopify theme focuses on fashionable swimwear, so if you're setting up an eCommerce store for bikinis and swimsuits, this could be your pick.

Main features:
Fully responsive
Several header & footer options
Convenient product filtering
Easy customization
FAQ pages
Fast loading
August is attractive and packed with all the features you need to set up a functional and optimized Shopify store.
10. Avone – one of the most feature-packed themes for clothing stores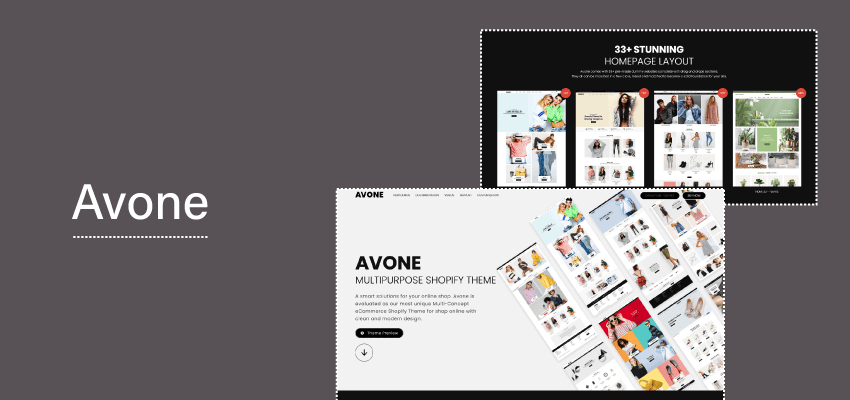 Avone is a powerful and easy-to-use multipurpose Shopify theme with extensive functionality. Since they offer more than 1000 customization options, it makes them the most customizable theme in the market.
This Shopify theme is highly customizable, giving you options to choose your own style for a header, footer, typography, logos, colors, layouts, and more. Flexibility is also reflected in product pages where you can add and rearrange blocks to your liking. You can make changes and see them immediately in real-time using Shopify theme customizer.
Being at $79, it's pretty pricey, but you get your money's worth when it comes to the myriad of customization options and many useful eCommerce features.
Main features:
Mobile-optimized design elements

Flexible layout sections

Built-in mega menu
Integrated mini shopping cart
Shopify theme customizer
Quick shop
Dynamic product labels
We don't have enough space here to list all the advanced Shopify features Avone offers. Try out yourself and see!
11. Elessi 3.0 – clean, modern, and focused on customer experience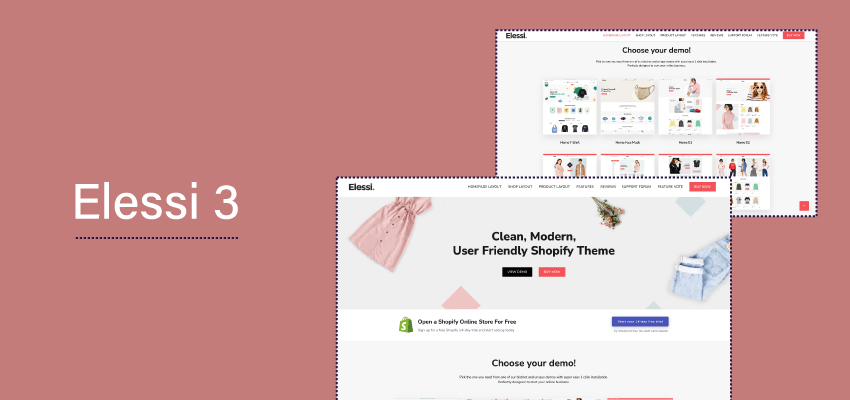 Elessi 3.0 creators highlight the importance of customer experience in their Shopify theme descriptions. With modern, neat touch, Elessi 3 tries to appeal to those seeking minimalism.
Elessi 3.0 is designed for conversions – from layout designs and excellent product pages to features and section placements, this theme was smartly built to help you increase conversion rate. With this teme, you can use unique product filtering and comparing, product quick view, FAQ pages, and more.

Main features:
Fully responsive
In-built mega menu
Color, label & image swatches
Product filtering
Drag & drop page builder
Performance optimized
RTL support
This Shopify clothing theme is easy to use, it's powerful, customer-focused, and very good-looking. It might be exactly the thing you've been looking for.
12. Flow – put your product front and center with this Shopify clothing theme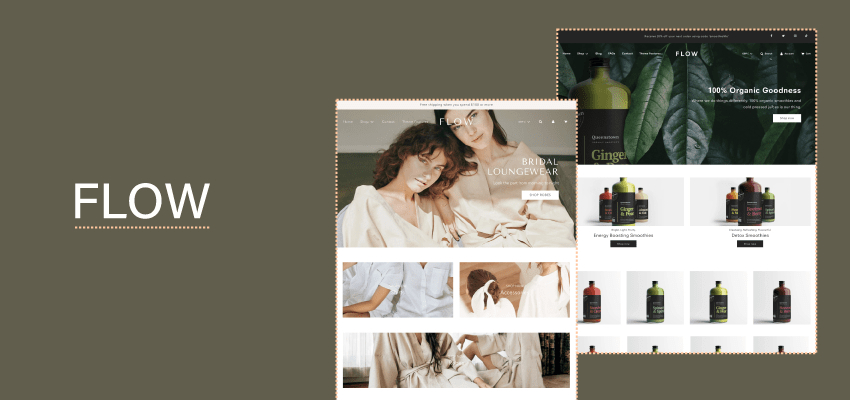 Flow is a clutter-free and product-focused Shopify theme that allows you to create a modern and fashionable eCommerce store.
Flow makes it easy for you to design a unique online store that perfectly reflects your brand. Use the drag-and-drop feature to create custom pages with no coding experience required. Flow is also very visually-centric, with images doing a lot of heavy lifting for brand storytelling. This Shopify theme is powerful and built to handle a high volume of purchases and traffic at any time.

Main features:
Drag and drop builder
High performance
Quick buy
In-menu promos
Optimized for international customers
Color swatches
Enhanced search
While being one of the more expensive options, Flow offers powerful functionality and an abundance of features while keeping your product front and center.
13. Testament – visual storytelling and focus on conversions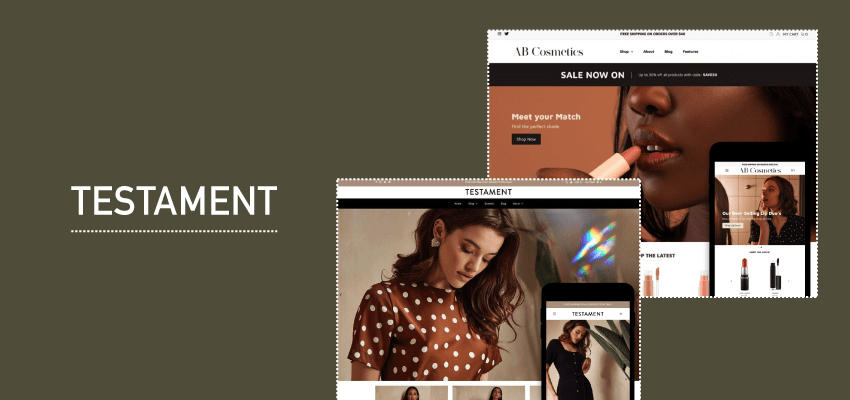 Testament is a Shopify clothing theme focused on conversions and high performance.
Testament is fully optimized for mobile users and highly focused on improving conversions. This Shopify theme is great for large catalogs, high-volume stores, and visual storytelling.
With this theme, you can take advantage of a lot of features, such as quick buy, slide-out cart, in-menu promos, product badges, quick view, product filtering, FAQ pages, and much more. Testament also has a testimonials section that you can connect to the reviewed product – which could be a great boost in brand trust and conversion rate.

Main features:
Mobile optimized
High performance
Mega menu
Color swatches
Quick buy
Cart notes
If you want a Shopify theme that's great for storytelling, but also optimized for conversions, try out Testament (you can try it out with an unlimited free trial). And you can get the best store look if you use the right Testament theme image sizes.
14. Apparelix – powerful and feature-packed Shopify fashion theme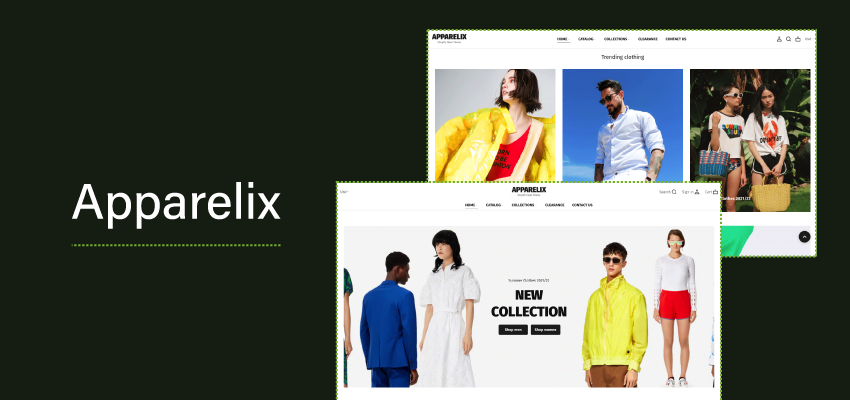 Apparelix lets you enjoy a completely code-free workflow and tons of customization options for your dream Shopify fashion store.
Use Shopify visual builder and build your own layouts freely. Apparelix has features such as a mega menu, banners section, color and size swatches, AJAX search, custom product tabs, quick view, and more. You can also create stunning banner designs using banner templates.

Main features:
Fully responsive
Countdown timer
Mega menu
Quick view
Multi-language & RTL support
Fast-loading
Clean and fully optimized, Apparelix allows you to kick back, forget about technical issues, and just design the clothing store of your dreams.
15. Icon – perfect Shopify theme for image-focused content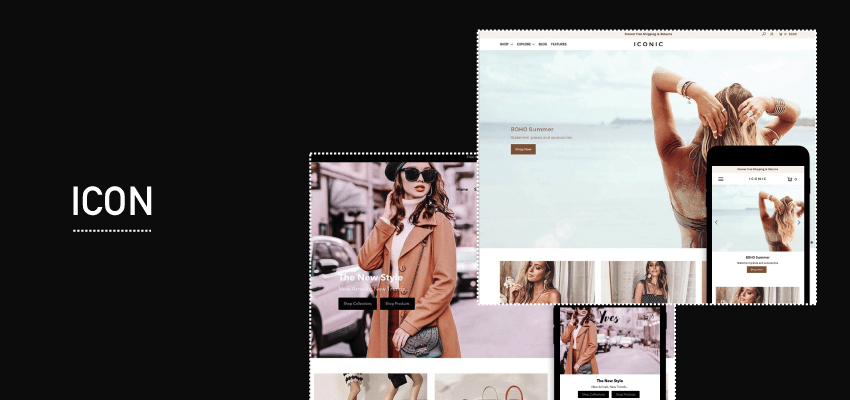 Icon gives you a lot of space for visual expression as it focuses on image-heavy clothing stores.
This Shopify theme is great for large catalogs, high-volume stores, and quick setup. You can use the drag and drop feature to build custom blocks and sections, thus making your store unique and reflective of your brand. While quite minimal, Icon offers great sales features like upsell and cross-sell, quick view, stock counters, product badges, promo banners, and more.

Main features:
Mobile optimized
Quick setup
Quick buy
Back-in-stock alert
In-menu promos
Animation
Color swatches
Icon is an extremely good-looking store and a perfect fit for those looking to tell a story through images.
16. Lezada – minimal multipurpose Shopify theme with a creative touch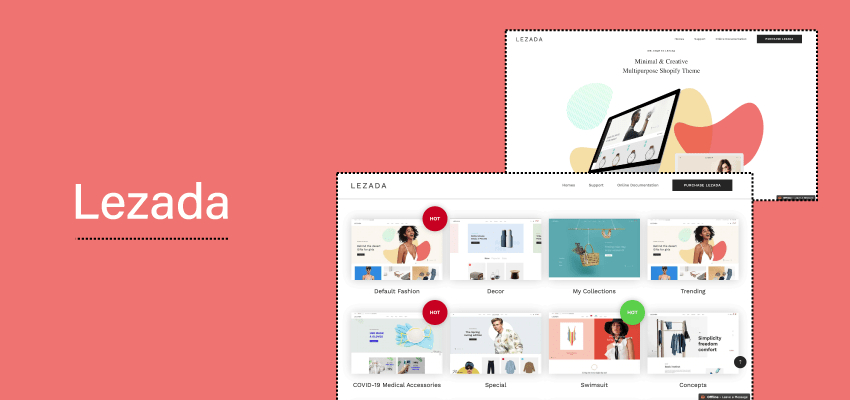 Lezada is a creative Shopify theme for fashion stores that allows you to use its stunning elements for a unique brand representation.
With Lezada, you can allow your creative side to make decisions. On top of all the main features all themes offer, this Shopify theme has features like 3D product display, wishlist, Instagram shop, notification bar, coming soon page, and more. Since Lezada offers tons of useful conversion-focused features, you can save money on third party Shopify apps.

Main features:
Mobile-first design

Responsive mega menu
Free lifetime updates
Instagram shop

Parallax & video backgrounds

RTL support
With tons of features and plenty of pre-built design templates, Lezada is an excellent choice for anyone looking to start a fashion store online.
What to look for in a Shopify theme for a fashion store?
Seeing long lists of features while researching Shopify themes for clothing stores can feel overwhelming. So what should you pay attention to the most in order to pick the right one?
Here's our list of criteria:
Mobile optimization – probably the most important one
Tested high performance so not to scare away customers
Quick buy options for an easier purchasing process
Multiple currency support
Color and size swatches
Plenty of customization options, templates, and layouts
Flexible visual builder for an easier designing period
Customer review section to build trust among buyers
Dynamic product sale labels
Upselling features that would incentivize customers to buy more
Conversion-focused features like sale labels and countdown timers
Generally, most Shopify themes offer features that are necessary to build a functional and fast clothing store. Pay attention to details, price, and last but definitely not least, the design.
Shopify clothing themes: Final words
Choosing the best Shopify theme for clothing stores is definitely a challenge because the industry is huge and there are more than enough options.
It's incredibly important to make an informed, researched decision because all aspects of a theme will help you gain traffic, customers, and increase conversions. From design, layout options, mobile optimization, customization options, and upselling features, to details like sale labels or color swatches, everything forms a package necessary for the growth and development of a successful store.
We hope our list of 16 best Shopify themes for fashion, alongside their descriptions, will help you choose the one that will allow your brand to shine the most.