By purchasing through the links on this page, you are giving us the opportunity to earn a commission. Your support is greatly appreciated!

Simple and direct, one-product Shopify stores convert really well. By focusing all attention on one central item, you can showcase it beautifully, in all of its glory.

A single product Shopify theme that celebrates your item is a perfect way to do it.

Companies like reMarkable pretty much have an inventory of one, and they showcase it remarkably well. They make it look easy, but it isn't. Put your single product in any old Shopify theme – it will look single and lonely. Your product needs to be a star of the entire website.

Here we'll have a look at the themes that are perfect for your one-product stores.
What are the benefits of single-product Shopify themes?
A single product Shopify theme can be amazing when it comes to focusing on the details. Giving your product plenty of room to shine, with several full-size images and text boxes will certainly increase the conversion rate.
While to some, the idea of having fewer products may sound like a lost opportunity to do some cross-selling, having only one product one sale reduces decision fatigue and improves sales. Plus, you can also use single-product Shopify sites to conveniently sell subscriptions and bundles.
Overall, single-product Shopify themes offer an excellent way to make one product stores shine.
Top one-product Shopify themes in 2023 - our detailed list:
These right here are the best overall one-product Shopify themes:
Let's take a look at all 15 contenders in detail.
1. Ella – highly-customizable one-product Shopify theme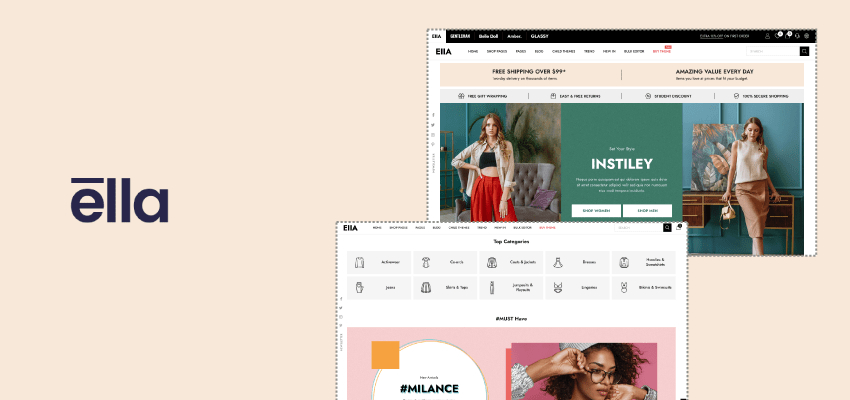 Ella is a one-product Shopify theme that is the best of both worlds. It offers several pre-made layouts and styles, including both one-product and large-inventory options. But with excellent editing tools, you can mix and match with the best of them, building entirely custom one-product websites – giving you full creative freedom, and letting you make a completely unique creation.
There are 12 product page layout options which you can use to showcase your item, with both images and product videos. Modern, and highly customizable with around 100 content blocks, they can be turned into the single-product website of your dreams.
It's also our top Shopify clothing store theme.
Main features:
Full creative freedom
Around 100 customizable content blocks
Mobile optimized layout
Supports 3D product images
Ella offers solid value and plenty of customization features – perfect for any single-product website.
Made by CRO experts with more than 10 years of experience, Electro theme stands out as a fast and powerful theme specifically designed for electronics and high-tech stores. However, its adaptability extends far beyond, making it a seamless fit for any online store's unique demands.
One of Electro's paramount attributes is its unrivaled page speed. Following thorough testing, our findings revealed that every page crafted through the Electro theme reaps an impressive Google Pagespeed score on mobile devices, which will result in higher conversion rate and sales growth.
With a core focus on presenting product details optimally, the Electro theme offers multiple sections dedicated to presenting rich content and diverse media formats. Electro has a distinctive Product Page Navigation, a feature that empowers visitors to seamlessly navigate your product pages, swiftly locating relevant information.
Whether you're running a single-product or multi-product website, Electro is scalable and ready to grow with your catalog.
Main features:
Unique Product Sticky Bar
Intuitive hotspots
Unrivaled page speed
Mobile-first design
3. Wokiee – an excellent single-product theme for building businesses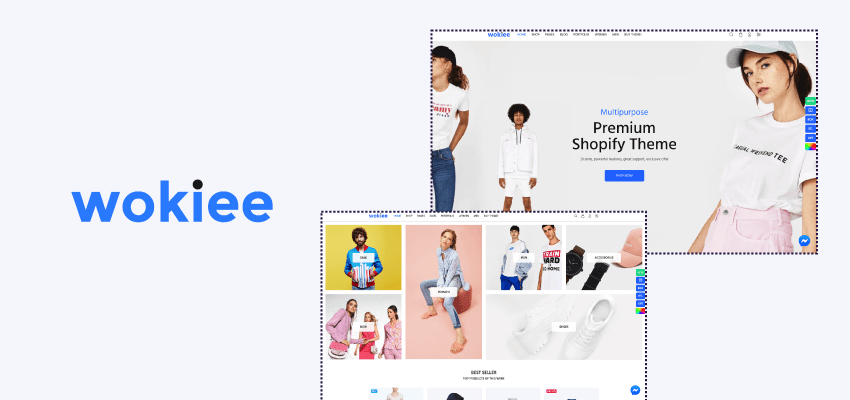 Wokiee includes an incredible list of features and templates – no it's no surprise that this theme also has an excellent design for single-product websites. And while it looks plain so far, don't worry, there are plenty of things you can do to make it look pretty and sell big.
On the same subscription, you'll get access to social media feeds, full-page media, custom headers, banner sections, and excellent product variant switching options.
Main features:
Social media feeds
Flexible design
Marketing features included
Flexible banner section
Wokiee has just about everything you need to make a beautiful single-product website that really converts.
4. Minimog – one-product Shopify themes for better conversions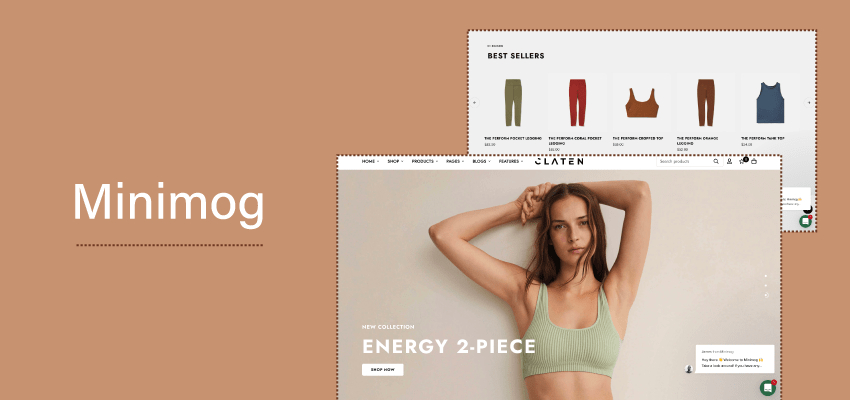 Minimog is not built to be a "just another Shopify theme". This advanced theme lets you make both single-product and multi-product websites. With over 50 page templates, dozens of customizable content blocks, and a wide array of features to increase your sales, Minimog is an excellent choice for building a modern, conversion-friendly website.
Minimog's secret sauce? It's the FoxKit app, that works as an additional tool to help you with marketing, and product management. With an additional editing tool and plenty of premium marketing features, Minimog is of excellent value.
Main features:
Additional sales tools
Free assistant app
Special layouts for seasonal sales
Easy item management
It's a great all-around Shopify theme that makes sure your single product looks good – and sells good!
5. Boom – single-product theme with simple design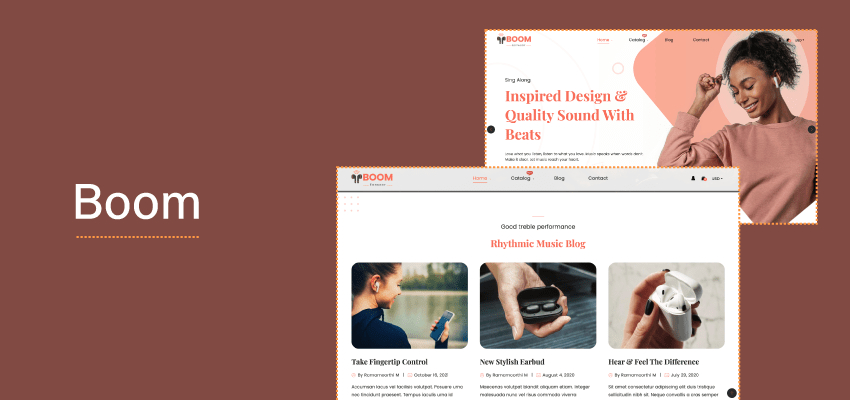 Boom is a purpose-built single product Shopify theme, including over 70 different starting points, that use various products. Simple and minimalistic, these themes put the product left, right, and center: and browsing through the library, you can see the type of theme that suits your product best.
Then, it's all about editing – and Boom makes it pretty simple, with modern full-size sections that work perfectly next to one another. Plus, with a good range of sales-boosting features, you'll be able to save a lot of money you might potentially spend on other Shopify apps.
Main features:
Many single-product templates
Simple design options
Powerful sections functionality
Excellent marketing features
Simple, customizable, and working perfectly with one product, Boom is a great all-around single product theme.
6. Lezada – Shopify theme for showcasing your products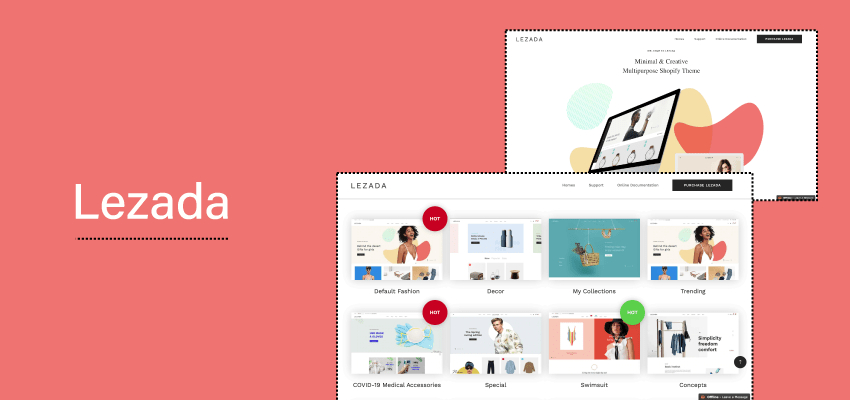 Lezada includes over 200 different templates and a massive list of additional features – it's called multipurpose for a reason. But what makes it excellent for single-product websites is the product display features themselves, letting you showcase the hero of the site in the light it deserves.
With videos, 3D and AR model features, you can showcase the product beautifully. A beautiful product page with color and size product variations will let you easily stock customizable products, and features like combo selling and ajax cart popup can do wonders for sales figures. Lezada makes your product a star – and that's incredibly important for all single-product websites.
Main features:
3D and AR product display
Over 200 styles
Mobile-optimized designs
Drag and drop site editing
For one payment of $49, this single product Shopify theme is of excellent value and gives plenty of top design ideas and solutions.
7. Queen – simple single-product Shopify theme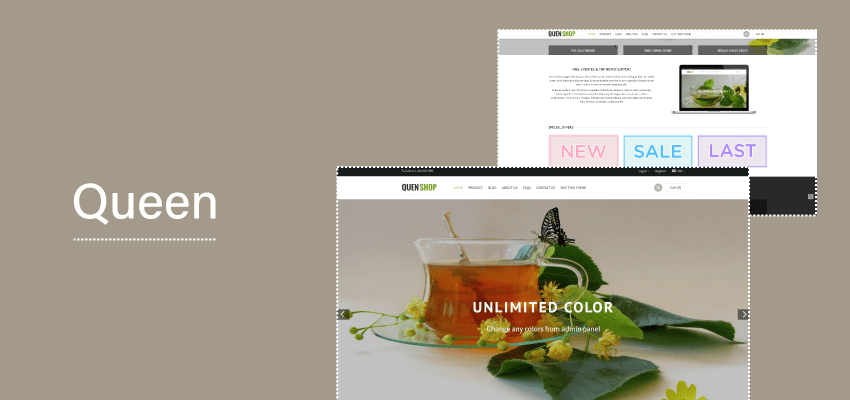 Queen is a mighty basic single-product Shopify theme. It only has 5 different variations and 6 header styles. But if you're looking for a website that's simple to build, edit, and maintain – and one that treats your product like royalty – Queen is a great way to go.
With full-screen video integration right at the top of your site, this theme is an excellent choice if you have a solid video presence. Plus, you can easily connect your Instagram feed to the store as well, giving your visitors a look at who you and your business are.
Main features:
Beginner-friendly editing
Simple design
Extensive menu
Video integration
Queen is a simple, no-frills single-product Shopify theme, perfect for simple websites.
8. Optimal – single-product theme with versatile editing tools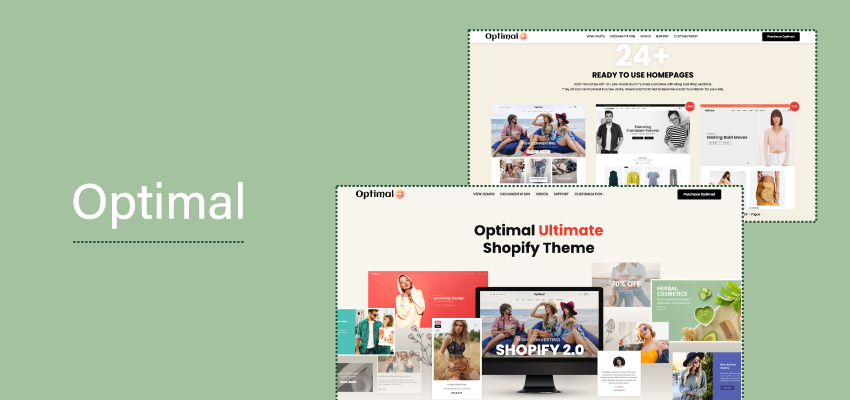 Optimal is one of those Shopify themes that claim to do it all: so it's no surprise to see it offer a solid single-product layout, as well as some excellent editing and sales features to make it even better.
With all the solid editing tools, any layout could work well with your single product. Custom headers, footers, collections, and product pages can be arranged entirely to your liking. Plenty of excellent half and full-width elements can be used to fill your page with content, and additional sales tools are there to help you with conversions.
Main features:
Multiple editing options
Over 100 content blocks
Mobile-first design
Full-width designs
Optimal offers more than optimal value to all of your sales-related adventures.
9. MyMedi – one-product theme for in-depth product options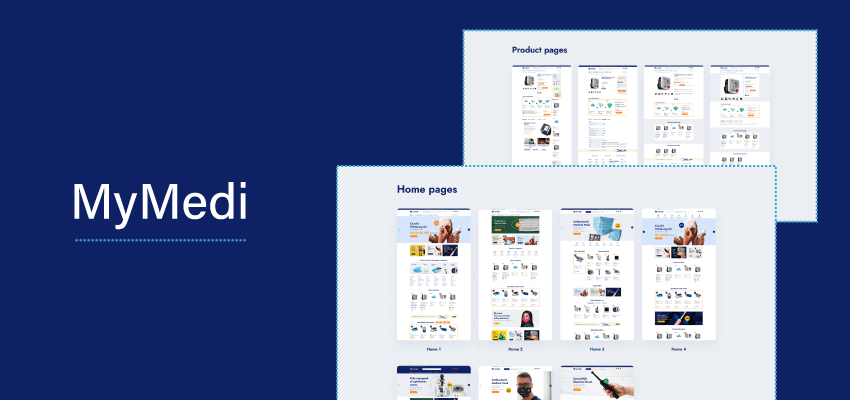 MyMedi might be a theme focused on medical websites: but it can do a lot more than that. Single-product website owners will most definitely love how extensive this theme can be when it comes to displaying single product information. 5 different product page types cover just about anything, including color variations, product ratings, main features, stock alerts, social share, wishlist functionality, and more.
Plus, this website is perfectly optimized for speed. With low page times and high Google PageSpeed rankings, this not only means better user experience – it can also lead to better rankings on search engines.
Main features:
Excellent site optimization
Product display features
Marketing tools included
Mobile-first design
MyMedi is very good value for money. It's a product-focused theme that will let you display all the best features of the product.
10. Chrono Dial – luxury single-product Shopify theme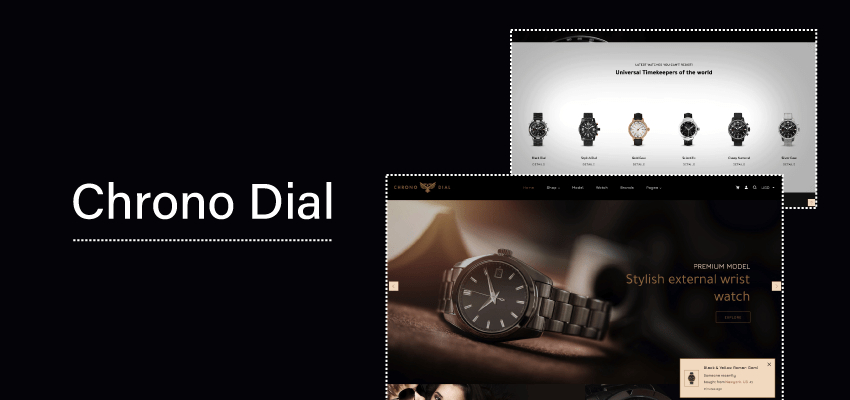 As you might have guessed, Chrono Dial is a theme focused specifically on watches. The focus on product visuals is an important part of any watch store – and it's also incredibly important for all single-product pages. So, it's no surprise that this theme works with everything where a refined look and focus on visuals are important.
A built-in image carousel makes showcasing various product pictures very simple. Several design elements you can mix and match also focus heavily on one product and its variations, giving you an opportunity to talk more about that.
Main features:
Image carousel
Easy customization
Custom shopping cart designs
Shipping and marketing add-ons
Chronos Dial is a simple theme that is all about elegance: if that's what you're looking to display, this is a great theme to choose.
11. AP Fashion Store – single-product theme for professionals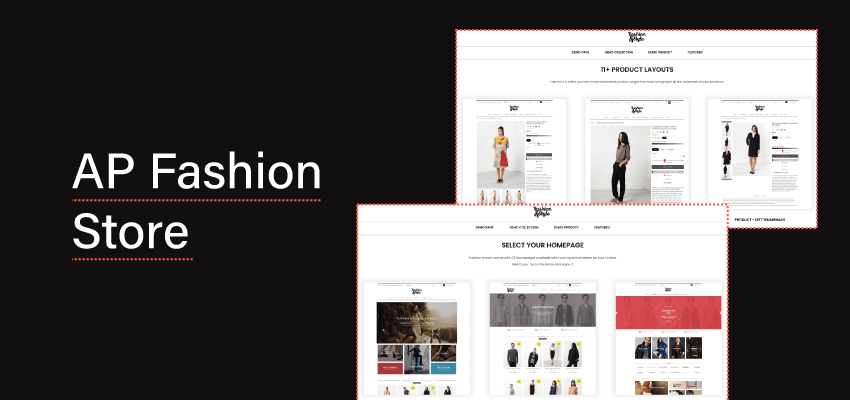 Fashion stores are all about visuals, and this AP Fashion Store theme makes excellent use of them. Incredibly versatile, it also lets you heavily edit your website using CSS3, Bootstrap 3, and HTML5. Plus, the custom shortcode functionality will let you more efficiently build custom pages and content. This theme is a great starting point for single product line stores.
For starters, you'll be given 3 starters layouts and access to a simple drag-and-drop editor. But really, this theme works absolutely brilliantly in the hands of an experienced Shopify developer.
Main features:
Good code support
Simple drag and drop editor
Newsletter feature support
Variant color options
Very well-documented, and often updated, AP Fashion Store is a great theme if you're looking for a starting point for a serious custom project.
12. Votto – purpose-built Shopify single-product theme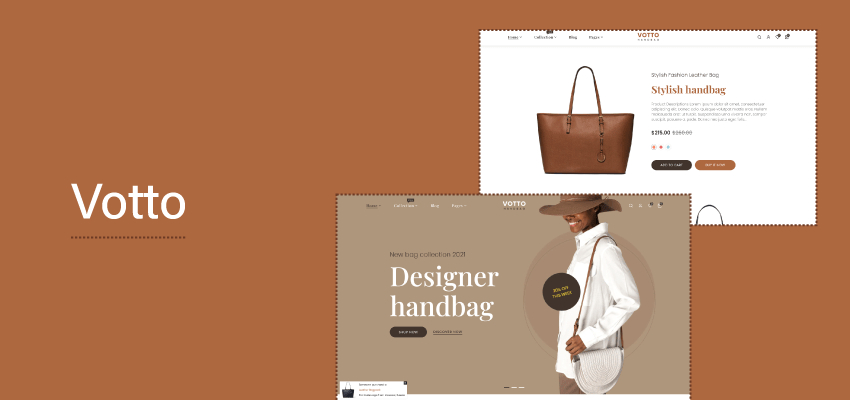 Votto is a dedicated single-product Shopify theme: and it had 8 unique page designs to show for it. WIth different styles, color schemes, and example products used, each of them can serve as a solid starting point. No extra thinking or tinkering required.
A simple drag-and-drop editor makes rearranging sections and adding extra information really simple. Custom headers and footers, as well as modern blog and menu sections, can make your site not only unique but super modern as well.
Main features:
Easy site editing
Bootstrap 4 support
Several one-page layouts
Color variant functionality
At a low price of $39, Votto is an excellent single product Shopify theme, made specifically for that purpose.
13. Bikez – single-product theme for great visuals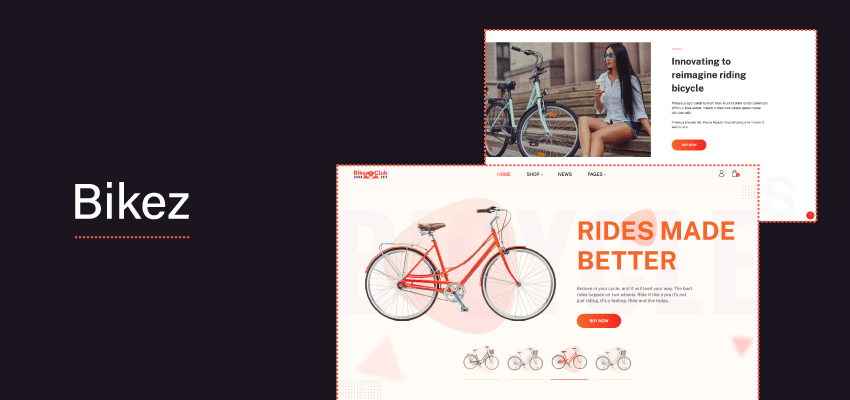 Are you looking to sell a bike? If so, congratulations: you found your theme! If not – don't worry – this theme offers plenty of design features to work with any one-product Shopify store. Stylish and fully customizable sliders will let you make a perfect first impression. Informative product pages will help you offer customization and highlight the best features in one place, as well as let you offer detailed product image zooms.
And then, a fully-optimized theme code will let you deliver that information to your readers, at seriously fast speeds. This will lead to a better user experience, which in turn, increases your sales.
Main features:
Informative product pages
Customizable image sliders
Full mobile optimization
Easy customization
Bikez is for more than just bikes: this theme offers excellent design and sales features that adapt perfectly to all single-product stores.
14. Flex – the most configurable Shopify theme on the market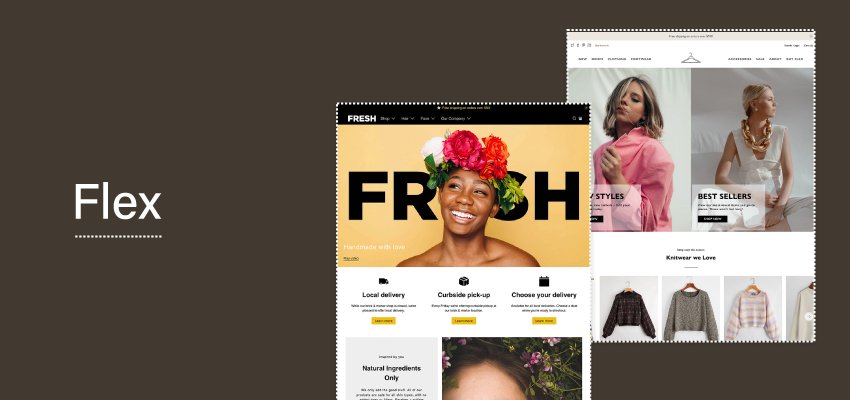 Flex is a great theme for anyone who wants to take Shopify theme customization into their own hands and get creative with it. With 10+ pre-designed demo stores, you can easily get started and work your way up instead of building a website from scratch.
With Flex, you can configure CSS directly within the theme editor, choose several different header and footer styles, choose from three different product page layouts, and more. You can also use a vast icon library to add elements to your store.
Main features:
The most configurable theme on the market
13 unique predesigned demo stores
3 product page layouts
While pricey, Flex is absolutely worth it for those who want to create a completely unique website for their one-product store.
15. Shella – feature-rich Shopify theme for single product stores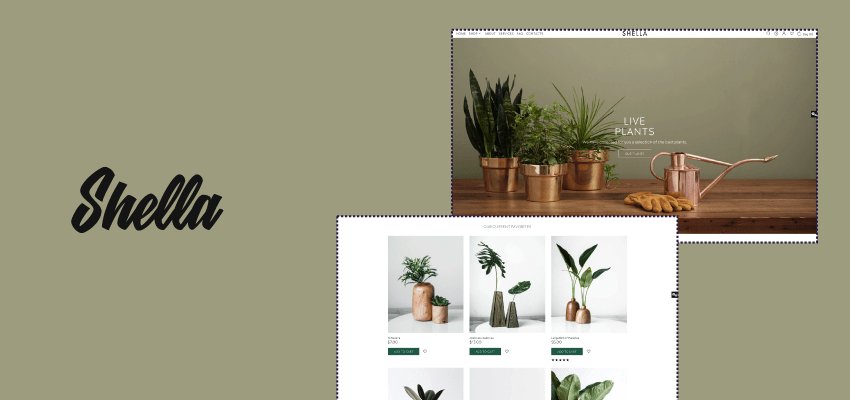 Shella is a highly rated Shopify with tons of features and over 99 pre-designed demo stores for you to choose from.
One of the more unique features that Shella offers is displaying 3D models of your products with a 360 angle view. If you're building a single product store, you want your product to stand out, that is why features like that can really help you out. Shella has one of the richest features list, including multi currency options, conversion boosting features, UX/UI optimization, and much more.
Main features:
3D models
Zoom popup
Banners
Pre-order button
Icons for all payment systems
Shella is one of the most popular Shopify themes for a reason, as it combines a huge list of features with a fairly low price.
What to look for in a one-product Shopify theme?
Finding a good one-product Shopify theme isn't simple. Especially considering that many Shopify themes, tailored for several products, can also easily be used as one-product themes.
Here are the main things you should look for in a one-product Shopify theme:
Design features. In order to have a unique website, you need to have a highly-editable theme. Look for themes with plenty of content blocks and a good list of layouts that will help you get the design closest to your vision.
Image-centric design. On single-product websites, good visuals are key. Look for smart product pages and multiple product views on images, which you can use to showcase different angles. We suggest a theme that uses full-width images and designs.
Conversion-boosting features. With only one product as a highlight, well-placed banners, pop-ups, and messages give your website some life: and help make you more money. Several themes offer premium business features in the same purchase.
How to make the most of a single product Shopify store?
In business, every little positive change leads to better success. Here's how you can take your existing Shopify single-product store, and make the best out of it.
Optimize it for better SEO. Search engine results are a great source of traffic, thus, sales and income. But it won't get good results automatically: you need to do good search engine optimization. You can learn more about it in our Shopify SEO guide.
Make it seriously fast. A fast website means happy users, and that means sales. In order to make the most out of your one product Shopify store, have a look at the best Shopify speed optimization tips.
Take good care of the images. Pictures bring life to your website, and they're super important for all single-page websites. But they can also be way too big in file size, meaning slower site load times. It would be wise to use Shopify image optimization to avoid that.
Final words
Single-product Shopify pages can be made with themes, purpose-built for stores with only one product. They can also be easily crafted from advanced multipurpose themes that have plenty of design features on deck.
It's up to you to decide which approach you like more. As long as you build your site for excellent product photos and pages, and focus hard on increasing conversions – your single-product store will be in good hands.