commission. Your support is greatly appreciated!

Free Shopify themes can offer you some beautiful design solutions and needed functions to run your eCommerce business. However, each theme's capabilities can differ.

It is always worth emphasizing that your website needs to be well designed and easy to navigate to attract shoppers and stay relatable to the target customer base. This is very true for beginners or merchants who want to test their products or branding strategies. Especially for them, it may be better to kickstart with free Shopify themes to minimize expenses and have more room to experiment.

Picking the best free Shopify theme is tough so we have made a list for you! In addition, we will share some tips and tricks you need to know while starting using your favorite Shopify theme. That said, let's dive in!
How did we rate the free Shopify themes on our list?
While building a list of the best free Shopify themes, we have considered several aspects such as:
User-friendliness. The best free Shopify themes should provide the means to build easily navigated websites to browse and buy products or services.
Responsive design. Nowadays, people use various screen devices to access their favorite e-stores. That's why you need a theme that would allow you to run a website that can be accessed both on mobile and desktop devices.
Great adaptability. A good theme should represent your brand and help you to adapt to the ever-changing customer's needs. The best theme should allow you to change the logo, fonts, and color schemes.
15 best free Shopify themes for 2023 - our detailed list:
So, now as we made it clear how we picked the 15 best Shopify themes you can get for free, let's look at each and explore their functions.
1. Debutify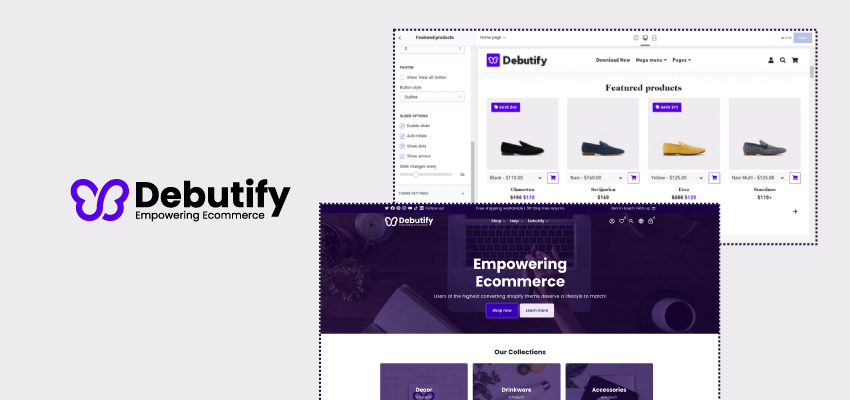 Debutify is the best free Shopify theme. It has some amazing customization and other attributes that will help you create the website of your dreams.
First of all, this theme doesn't require coding experience, so all levels of eCommerce merchants can use it. Debutify has a fast page loading speed, keeping the store abandonment rate in check. Additionally, it comes with some useful functions such as customizable footer, product testimonials, etc. Finally, it offers some premium plans to provide extra support if needed.
Top features:
Customizable. This theme allows customizable slideshows, footers, and headers. This will make your e-store genuinely unique and your brand recognizable.
Advanced branding tools. Deputy allows to include testimonials and other segments. It will help you to build brand trust and boost your customer experience to new heights.
Easy-to-use. The best part about this theme is that it works perfectly for specialists of all levels so you can start reaping Debutify's benefits no matter what your expertise is.
2. Brooklyn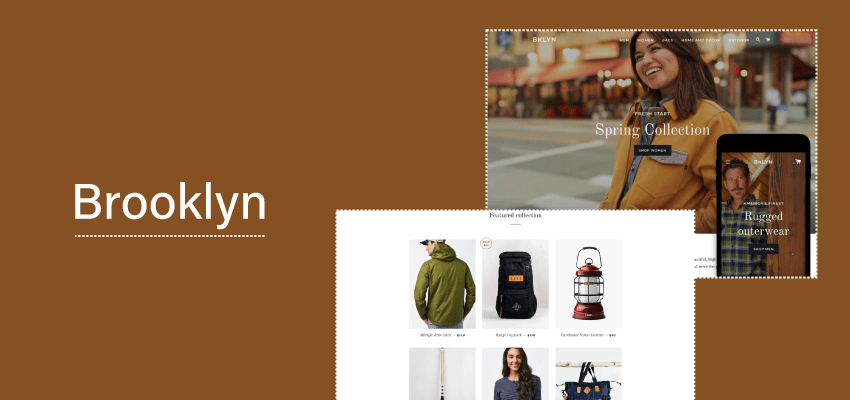 Brooklyn is another great Shopify theme with a strong focus on branding. The theme is highly responsive to all screen devices like smartphones, tablets, and desktops.
Brooklyn can offer you a chance to make your e-store attractive to the target audiences. It offers a header slideshow and home page video to make your website look stunning. Among other attributes, this theme has a dynamic product grid and slide-out cart to enrich the customer journey in your store.
Top features:
Stylish templates. Brooklyn has two templates. If you are striving for a minimalistic look, choose the Classic one, but if you want to project your brand as vibrant and energetic - pick Playful.
Highly responsive. As it was noted, this theme works perfectly with all-screen devices. This attribute will improve your web page loading speed and conversion rates.
Easy application of various content types. The ability to include videos, images, and typed information on your website will help you to build the brand image.
3. Narrative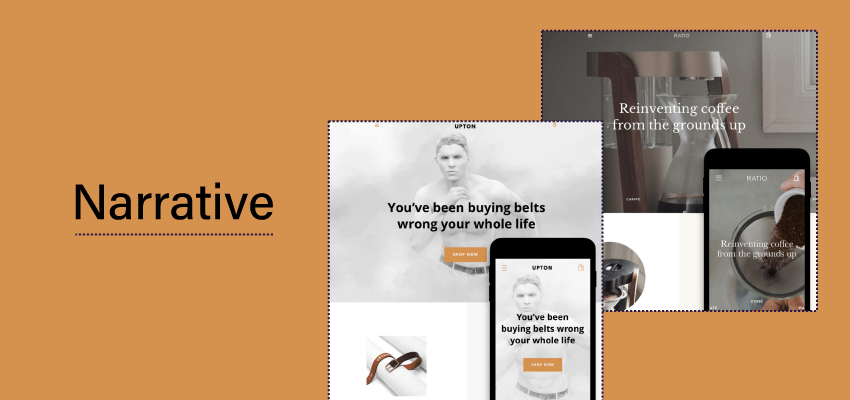 The Narrative is a free Shopify theme for stores with a limited range of products. It's perfect for merchants who want to showcase their products and services through means of storytelling.
The first thing that makes Narrative a top pick is its ability to display products in HD visual quality. With this theme, you will have no issues with featuring products and highlighting their benefits and attributes on a single page. Some other goodies include a comprehensive layout and a vertical slideshow.
Top features:
Friendliness to small businesses. Narrative offers attributes that will help to emphasize your products and services through sophisticated design and featured content pieces.
Customer-friendly navigation. This theme makes the shopping experience effortless because the theme supports the surfacing menu, logo, and cart sections.
Enriched storytelling. Narrative creates memorable moments for the shoppers by featuring autoplay fullscreen videos, blog posts, and other content pieces. Also, promote them in a vertical slideshow on your home page.
4. Boundless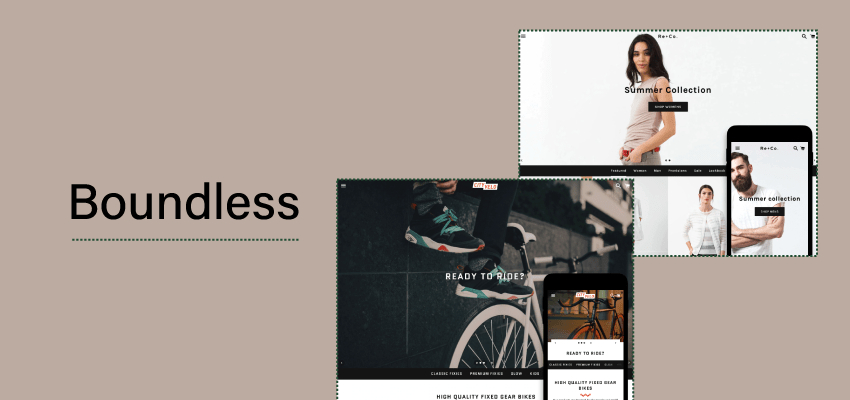 Boundless is the top pick for those opting for minimalist design. This free Shopify theme is well known for working smoothly on all devices; thus, your potential clients will be definitely satisfied.
Boundless is a perfect match for merchants who want to emphasize their products and make the images stand out. Plus, this theme works perfectly with large images as well as it supports home page videos. Due to its easy-to-use functions and design, beginners will find this theme a true heaven.
Top features:
User-friendly. The theme has sticky navigation, which keeps the menus fixed to the top of your page as the user scrolls down.
Great showcasing. Boundless supports the presentation of image collection in a full-width format which can be great for exhibiting your product imagery.
Structural design. With the Boundless theme, you can arrange and run product galleries. It can help you a lot if you want a neat and navigable webpage.
5. Venture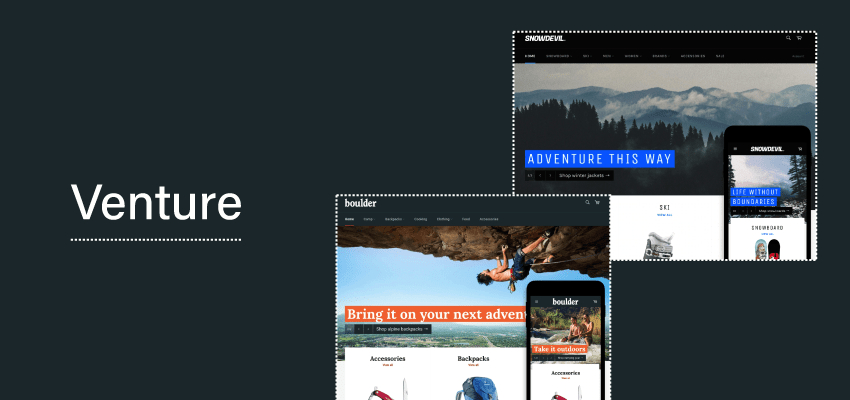 The Venture theme is an amazing free theme for stores with a large number of products. This pick is for those who dare to experiment with design and build rich brand storytelling.
Venture could be an excellent choice for those with a vast number of products and services. Due to its expressive and modern design toolbox, the theme can be a perfect choice for creative merchants. Also, this theme has some spicy functions which can make your website more engaging, in turn, nurturing leads and conversions.
Top features:
Supporting promotion pieces. With this theme, you can run various promotional pieces like sales banners, discounts, or unique product lines.
Highly navigable. This theme allows users to filter products by type and categories, making the product search easy.
Heavy lifting. By implementing filters and other customer journey components, you will make the buyer's experience mesmerizing, despite your many products.
6. Supply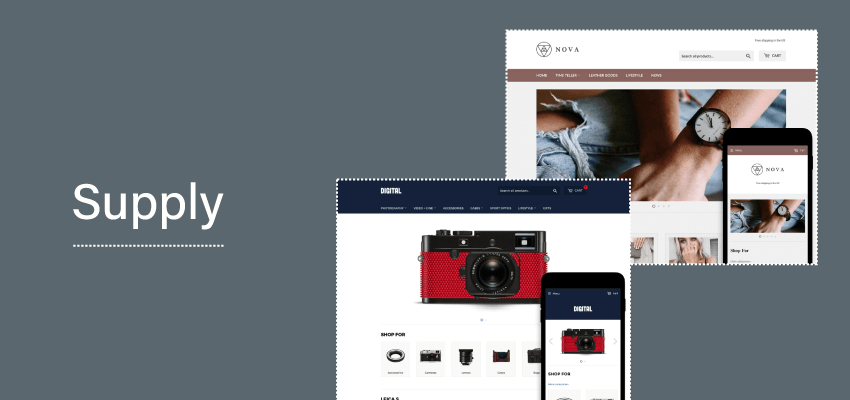 The Supply free theme works best for stores with a large inventory and multiple collections. Also, it's easy to customize the design according to your needs and those of your customers.
Supply supports activated filters, meaning your online visitors will be able to segment collection pages by brand, price, and any other option. Moreover, the theme allows easy integration of other apps as well if you need additional functions.
Top features:
Supporting large catalogs. Your visitors can be safe from getting lost while looking at an abundant product choice. The theme provides collection filtering in the sidebar attribute to use filters and find products faster.
Flexible in showcasing. Another attribute of Supply is that it will permit you to exhibit various products in a slideshow while positioning them on your home page.
Adequate featuring possibilities. With this theme, you can feature product categories, special offers, and other categories easier on the home page. Therefore, making the product search digestible for the customer base.
7. Simple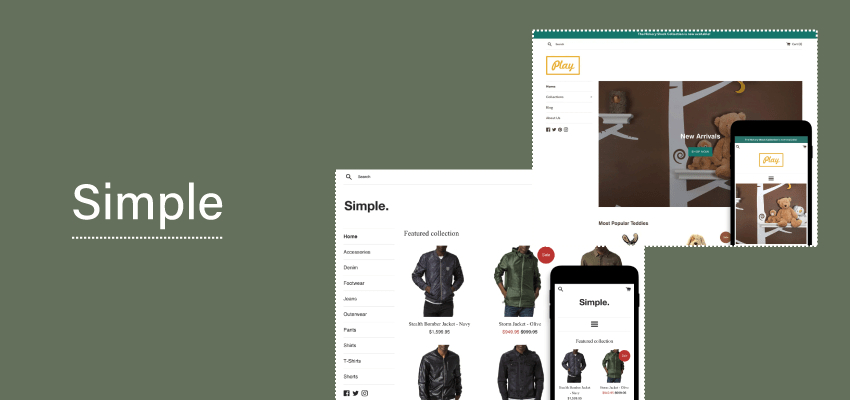 Simple is a clean and minimalist free Shopify theme. It offers the essential functionalities to get your e-store up and operating effectively.
The theme has an accordion menu that consolidates a broad scope of products into your sidebar to save screen space. Simple allows the use of a zoom-in feature on each product picture. This grants customers a better view of your products.
Top features:
Easy to use. This Shopify theme is easy to use. It doesn't require extensive technical knowledge. That's why Simple is recommended as a top pick for beginners.
Responsive to all screen devices. Simple works perfectly with all-screen devices so your online visitors can reach you in their preferred way.
Customizable. The theme has a clear, responsive grid. It's easy to customize your site and add more functionality and content if you like it.
8. Minimal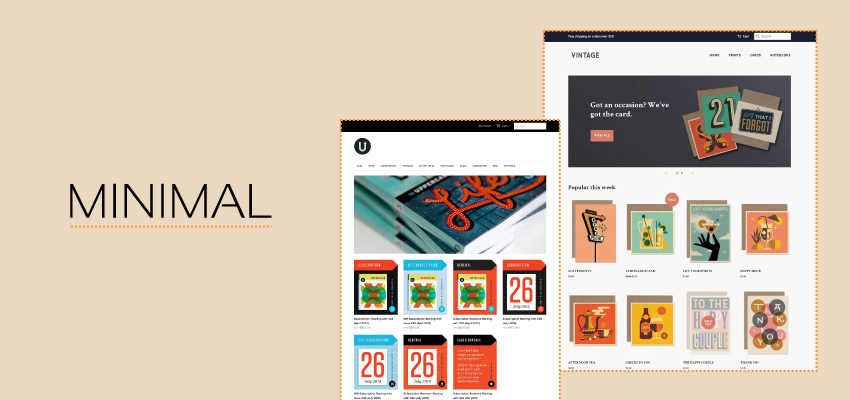 Minimal is a simple and neat Shopify theme. It's a perfect match for those who have a smaller choice of products as well as beginners.
The Minimal theme has some cool attributes. It has a beautiful slideshow that supports large-size images (perfect if you're looking to build a one-product theme for a fashion store). It can be placed on your homepage to give visitors a substantial preface to your products. Minimal also has great product filtering tools.
Top features:
Product-first. The theme has some fantastic tools that can help you to accentuate your products and allow users to have a better look with the zoom-in feature.
Easy to use. The Minimal is a perfect match for merchants with minimal technical and coding-related knowledge.
Responsiveness. Compatibility with desktop and mobile devices offers you a chance of being accessible quickly. This will increase conversion rates and traffic generated via mobile devices.
9. Express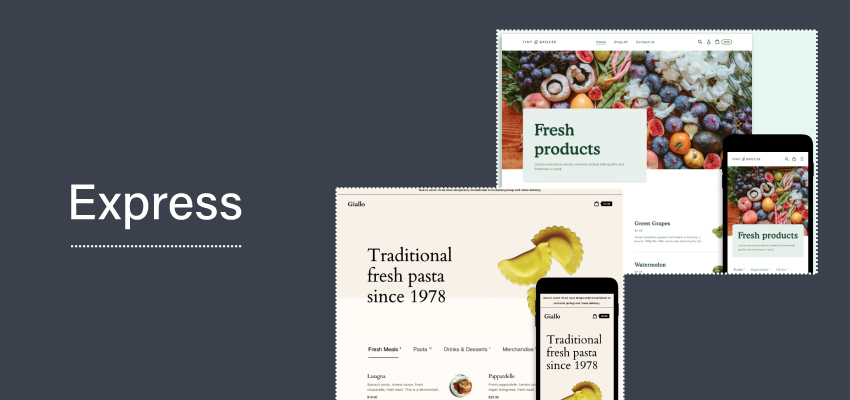 The Express theme is an excellent free option for merchants from the food industry. This tool offers excellent features to help your business to skyrocket over the roof.
This theme has some content sections that are tremendously customizable. Therefore, you can change the website's design or structure it according to the present trends. You may also add featured collections of products to highlight your services on the homepage. And most importantly, the theme is highly responsive to mobile devices.
Top features:
Mobile-first design. The theme was designed for smaller devices and mobile commerce. Therefore, it requires little content and images.
Advanced customer experience. Express enables customers to add items to their cart quickly without leaving their current page.
Easy-to-use. Although this theme has multiple attributes, it's relatively easy to use it. There's no need to acquire advanced technical knowledge if you opt for the Express theme.
10. Thalia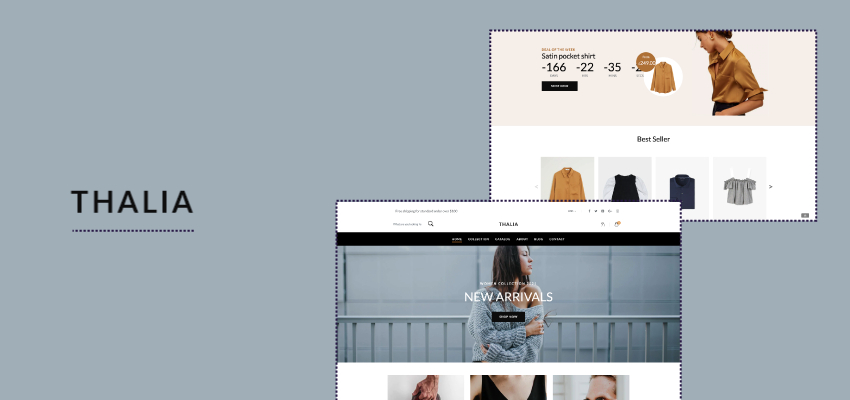 Thalia may be an excellent choice for merchants seeking a clean and minimalist look for their Shopify store. This free Shopify theme is highly flexible and works well for all purposes.
Thalia is a simple yet very stylish Shopify theme with enough white space. This theme has several attributes. It includes an optional responsive slideshow, a slide-out (Ajax) cart, and advanced filters and swatches. Besides, Thalia is a customizable theme, meaning you can make design and layout changes easily.
Top features:
Enhanced shopper's experience. There's no need to leave the page to complete the order. Thalia allows users to go through their cart-and-order steps quickly and without a fuss.
Flexible. Although the theme is usually placed as the best pick for merchants from the fashion niche, it can also be effectively used by other merchants from the food or medicine industries.
Fast. Merchants have noticed that this theme has no speed issues. This may have some positive effect on your customers' satisfaction and also boost your conversion rate.
11. Fashe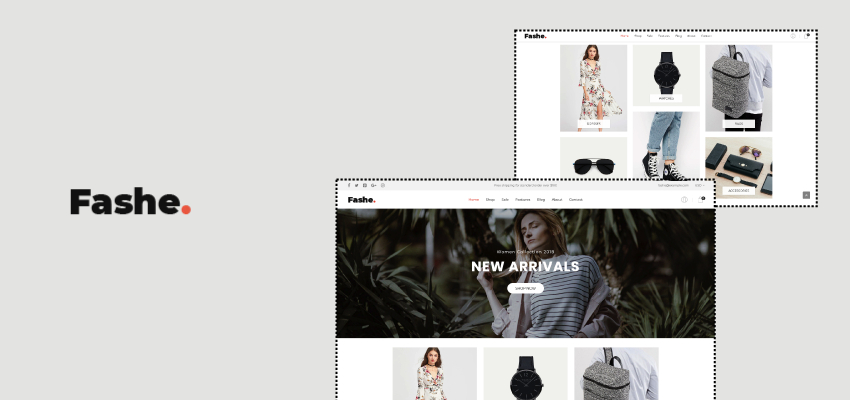 Try the Fashe theme if you're looking for a free, simple, and eye-catching solution for your website. This theme comes with some excellent styles and functionality options.
The theme is a multipurpose one. It offers a solid menu, incorporating your social media buttons and contact information. Plus, Fashe allows categories and collections to be displayed and you can also launch announcement banners or run a blog including customer support information.
Top features:
Speed-optimized. The faster your site loads, the lower the bounce rate. If your website is fast, you have a better chance of ranking on Google.
SEO-friendly. Good SEO practices enhance the user experience and usability of a website. This theme allows the creation of fast and user-friendly websites that generate high traffic and eventually increase conversion rates.
Flexible. Fashe has some customization tools that allow any merchant to build a site to fit one's niche trends.
12. Debut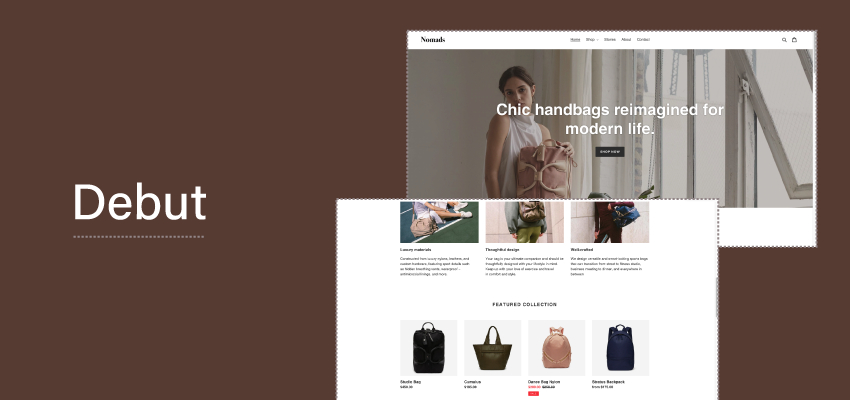 The Debut theme is an excellent choice for merchants who seek to showcase their brand and products beautifully.
Debut offers an amazing feature set for free. For instance, you can add product recommendations, filter, and set a beautiful homepage video. Also, you will get a chance to run promotional banners for making announcements. It's also a great theme choice for a single-product store.
Top features:
Navigable. Debut comes with product filtering and pickup availability attributes allowing customers to find their products and choose the location for a product pickup.
Brand-friendly. The theme allows including testimonials and other content pieces to build customer trust in your brand.
Small-business friendly. Debut works perfectly for small businesses and is easy to use. Therefore, making it one of the top choices for eCommerce beginners.
13. Story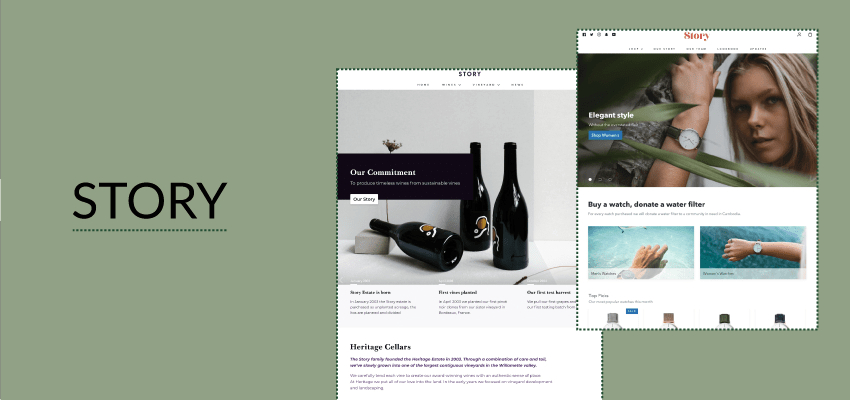 Story is another clean and unique theme that offers interactive layouts and multilevel dropdown menus.
This free theme has several attributes that could help you to achieve your business goals. For example, Story offers a lookbook feature allowing merchants to publish their products. This could be done in an editorial-style layout to accentuate the brand's sophistication.
Top features:
Powerful filtering. Story offers the tools you need to manage your catalog and sophisticated filtering tools.
Customizable. With this theme, you will have drag-and-drop sections on every page, and the ability to make changes everywhere.
Mobile friendly. The theme is highly responsive for all screen devices. So, if your customers are on your phones, Story will ensure they're happy with your webpage.
14. Streamline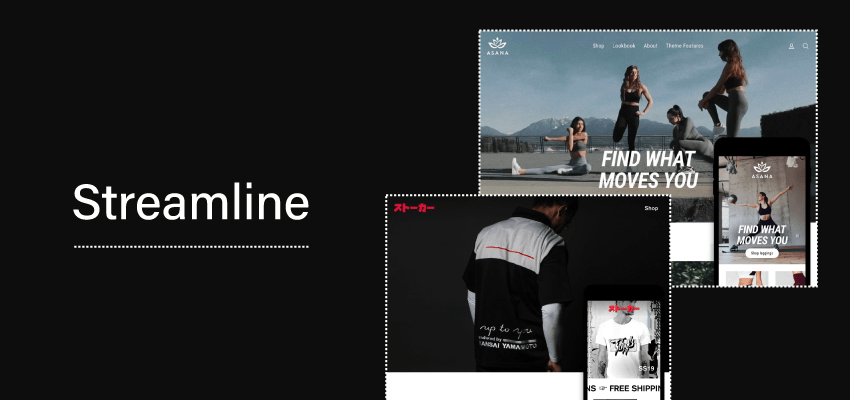 The Streamline theme is easy to use so it's a good free alternative for the store owners seeking to brand their stores efficiently.
Streamline offers multiple functions for merchants who want to give their customers a unique experience. The theme has numerous conversion-focused features such as engaging animation, responsiveness to all screen devices, and more!
Top features:
Powerful promoter. The theme offers a versatile custom promotion designer. An ideal helper to boost customers' shopping rates and maximize product awareness.
Fast and focused. Get your message and your products across quickly and effectively. To do so, the theme offers some attentive design solutions, fast load times, and instant product pages.
Friendly to all screen devices. Your website will work perfectly with all electronic devices. The theme is highly responsive and fast. So, your online visitors will be able to reach you with their phones easily.
15. Sense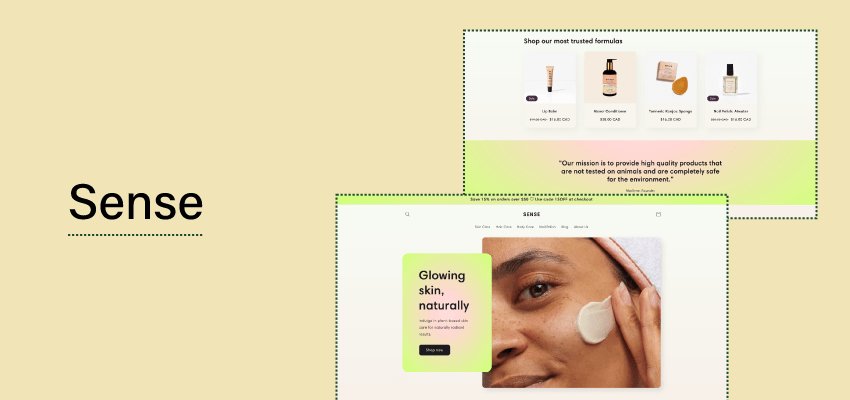 Sense is an excellent free pick for merchants focusing on beauty and fashion industries. It has some great attributes that you will find refreshing and awe-inspiring.
Ecommerce merchants love this Theme due to various reasons. It's easy to customize. Also, the theme is responsive to all screen devices. With all of its attributes, your online store will make your website look very professional and elite.
Top features:
Bright design. With this theme, you can energize your brand with a fresh color palette. Consequently, making your customers remember your site and the brand.
Brand-first. Sense allows merchants to establish trust with visitors through testimonials, videos, and comprehensive product descriptions.
Customizable. The theme provides extensive customization settings so you could achieve your desired vision. No coding needed!
How to choose the best free Shopify theme for you?
Here are some aspects you must know before making the final decision while choosing your free Shopify theme:
User-friendly design
The perfect theme should hit all of these targets:
Navigation menus should be easy to use on mobile and desktop devices.
The space that images take should be distributed equally.
CTAs should be easy to use.
All design components should be correctly spaced.
Fast-loading
The best free Shopify theme should be super-fast as it leads to more conversions. So, if it takes more than 3 seconds for your website to load, look for another theme.
Built-in SEO features
SEO is vital if you want your business to flourish and boost organic traffic to the website. That's why your theme should:
generate sitemap;
include a social sharing option;
contain widgets, comment boards, and other elements to generate content from users.
Customizable
A perfect theme should grant you the ability to change footers, headlines, CTAs, navigation functions, and other design or content-related elements.
Responsive
All themes today need to be responsive to all screen devices. It can help merchants to attract wider audiences, provide an optimized browsing experience, and in eCommerce case - improve sales.
What are the limitations of free Shopify themes?
Indeed, free Shopify themes offer a good amount of customization options for their themes. But they have some limitations as well. For example:
Limited design options
Normally, free themes don't support the use of a drag-and-drop editor. So, re-arranging elements or places may be difficult. Of course, coding may help to solve such issues, however, that may require a lot of specific knowledge and expertise.
Built-in features
Unlike paid Shopify themes, the free ones may have some restrictions regarding the use of some functions.
Direct theme support
Sometimes, free themes have limited support resources that may stall your progress.
How to make a free Shopify theme better?
If your chosen Shopify theme doesn't contain all the functions you need, you can get them through multiple apps.
Image optimization
Creating high-quality images in the ideal format or size may be difficult. That's why opt for the TinyImg app. This app will automatically reduce your Shopify website's images, optimize them according to SEO principles, and keep the site fast.
Product Reviews
Customer testimonials provide social validation for brands and products. In case your theme lacks this attribute, try out any of the product review apps.
Currency conversion
If your shop is focused on the worldwide market, allowing your customer to pay with their affiliated currencies will increase their satisfaction. Also, it will boost sales. So, if your theme doesn't support currency conversion, add a Shopify currency converter app of your choice to your store.
Final words
There are a lot of free Shopify themes out there. However, eCommerce merchants need to be careful as they choose because each theme is different, but with enough diligence everything is possible.
As for now, the best free Shopify theme is Debutify because it offers various functions which makes it versatile and highly effective.