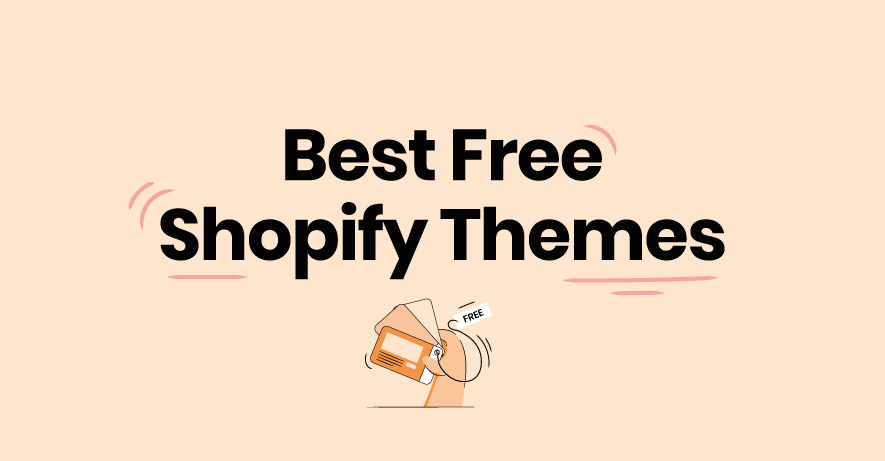 By purchasing through the links on this page, you are giving us the opportunity to earn a commission. Your support is greatly appreciated!

Might sound paradoxical but the better the website design, the less visitors notice it. Why? Because they can navigate said website without having to think about it.

While creating intuitive design is not easy, Shopify has been leading the ranks as one of the most popular website builders with tons of pre-made templates that will get your business up and running. In fact, a lot of popular brands use some of the best Shopify themes for their online stores.

And the best part is, Shopify has multiple free and up to date themes you can use if you're just starting out and don't want to invest in expensive website hosting. Free Shopify themes offer all the core features and allows for flexible customization where you can edit or remove sections, buttons and other elements.

In this article, we review 12 best free Shopify themes, talk about how to choose one, and how we ended up with this particular list.
Top 12 free Shopify themes:
Make your online store fast and optimized for search engines.
Try TinyIMG today with 50 free image optimizations
What to look for in a free Shopify theme?
Since the price is out of the question, what should you look for in a free Shopify theme? Here's our criteria:
Theme architecture version. All the themes on our list are updated to the latest version and work with the newest Shopify 2.0 features. Make sure the theme you've chosen is not Vintage because you'll lose a lot of functionality and will have to invest in paid apps and plugins to fill in the gaps.
Responsive design. The number of people that shop on their phones keeps increasing every year – and you don't want to be left behind. Make sure to always check how the theme looks on a phone screen so your store visitors don't leave the site out of frustration.
Your business industry. Shopify themes that are better for big e-commerce stores might not suit your one-product business. Pay attention to the structure, elements, design, and features that the theme offers.
User reviews. Always read user reviews and pay attention to the lower ratings to see what issues people are having and whether the creators addressed them.
Free Shopify themes: detailed overview
1. Dawn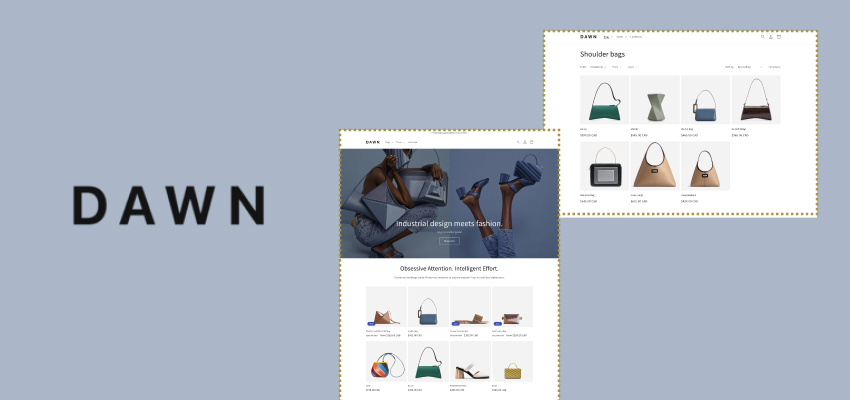 Dawn is the free Shopify theme that you start out with when you create your Shopify account. And it's certainly a great one. Dawn offers all the core features you need to successfully launch and manage your store. On top of it all, this theme is chic, stylish, and media-forward. Minimalist design removes all the clutter, so it's easy to navigate.

Theme highlights:
Media-forward product pages
Advanced customization options
Minimal and stylish
2. Origin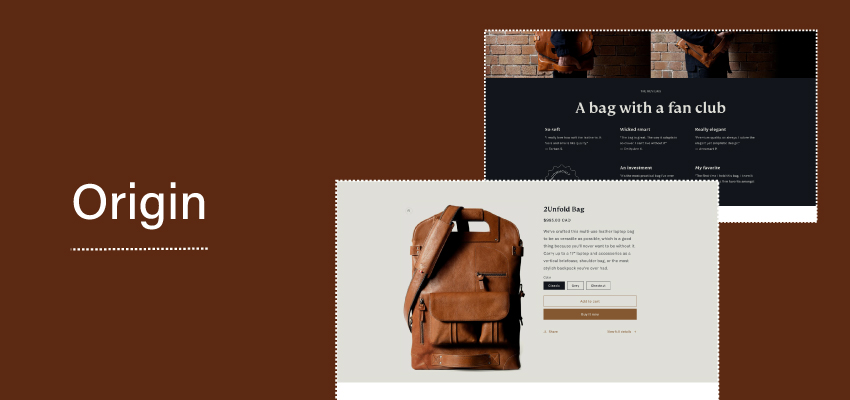 Origin is a free Shopify theme that's designed for one-product stores. The design gives plenty of space to tell the brand story and talk about the product in a creative way. The original theme design is in a neutral color palette but you can tinker with it as much as you want because Origin offers flexible and advanced theme customization settings.

Theme highlights:
Great for brand storytelling
Advanced customization options
Quick setup
3. Publisher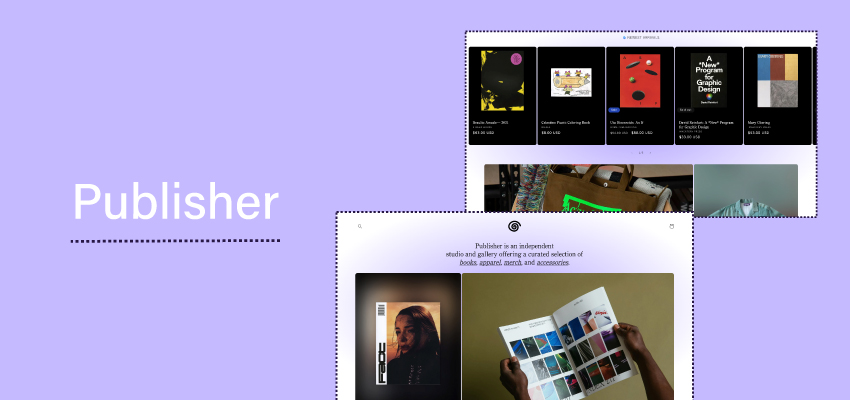 Independent studios, publishers
Publisher sways away from the usual Shopify theme design and offers a more unique look for your website. It's a great theme for selling artwork, merchandise, books, and accessories. This free theme focuses on visual storytelling, bold design, and minimal navigation. The starting preset can inspire you to customize the theme to your liking as it also offers flexible customization options.

Theme highlights:
Moody, progressive design
Minimalist navigation
Advanced customization options
4. Ride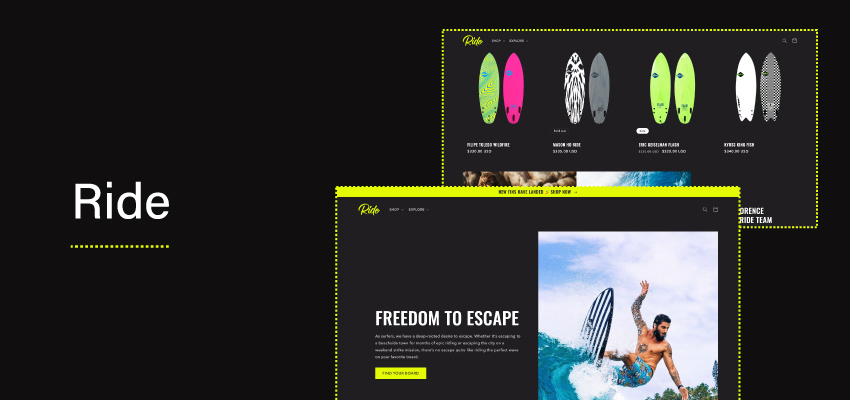 Ride is a dark and bold Shopify theme that's perfectly fit for selling sports equipment. This theme also offers unique page templates and asymmetrical layouts that allow you to create your own unique brand story. The theme is not cluttered but it gives enough space for editorial content and visual storytelling. And if you want to change things up, Ride has you covered with advanced customization options.

Theme highlights:
Bold, dark design with accent colors
Advanced customization options
Innovative and flexible layout
5. Taste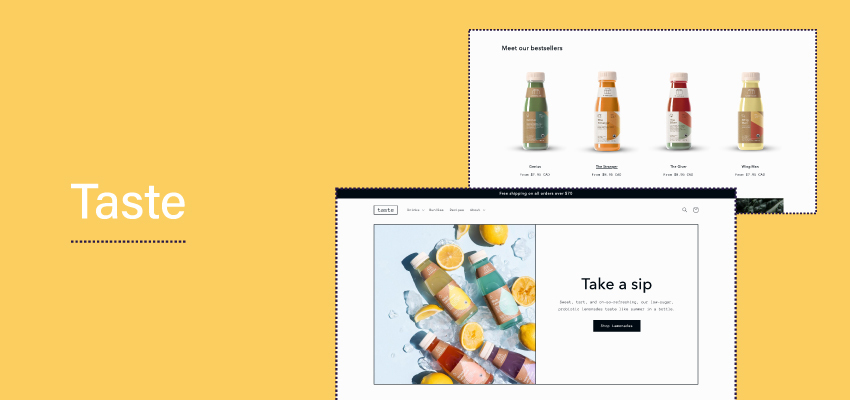 Taste is one of the best Shopify themes for food and drink stores. It's stylish, bold, and clean, with clear separate sections and no clutter. The product pages support larger product images, specialty product highlights, and FAQs, giving the potential buyer as much information on the product as possible. And if you wish to change up the sections and elements in this theme, you can do just that with flexible design and customization settings.

Theme highlights:
Spacious and clean design
Advanced customization options
Thorough product pages
6. Craft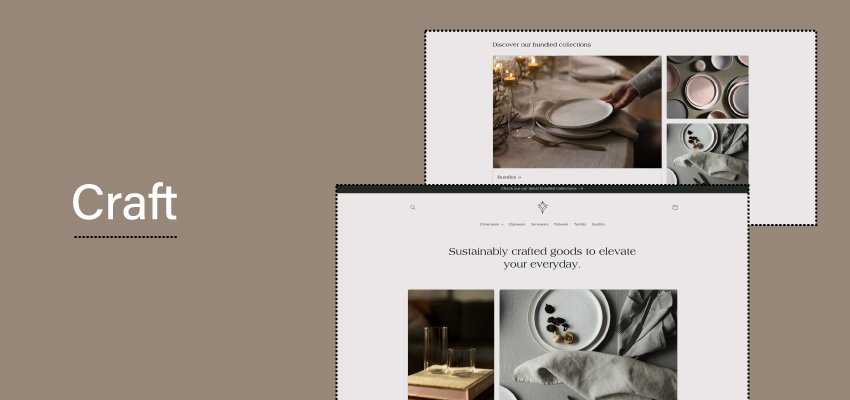 Home goods, crafted goods
Craft is a refined and minimal Shopify theme that celebrates authentic design. This theme supports brand storytelling with dedicated space for rich and compelling narratives. Everything from the navigation bar to product pages is tidy and simple, making your product the center piece.

Theme highlights:
Timeless, minimal design
Advanced customization options
Elevated storytelling
7. Studio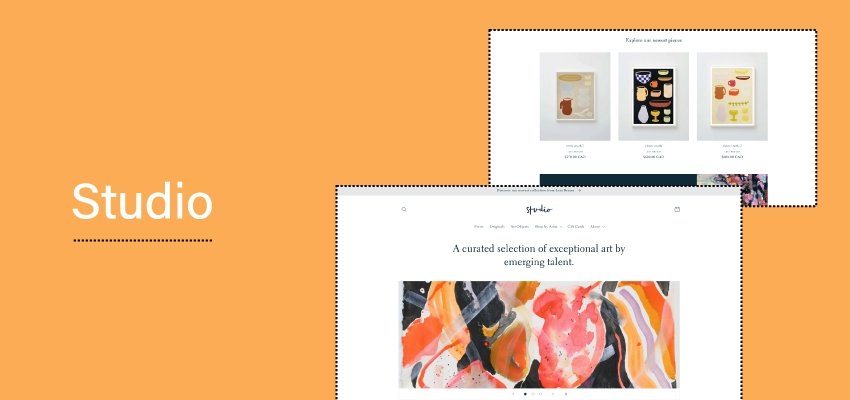 Studio is a great free theme and has several attributes that could help you to achieve your business goals. This theme combines modern typography, visual storytelling and minimalism to create an artistic look for your website.
As one of the great themes for artists, Studio supports collections-based navigation, creator filters, featured collections for galleries and new arrivals, as well as artist profiles. If you wish to tailor the theme to your brand, Studio has you covered, as it offers flexible customization options.

Theme highlights:
Advanced customization options
Collections-based navigation
Stylish typography and colorful accents
8. Sense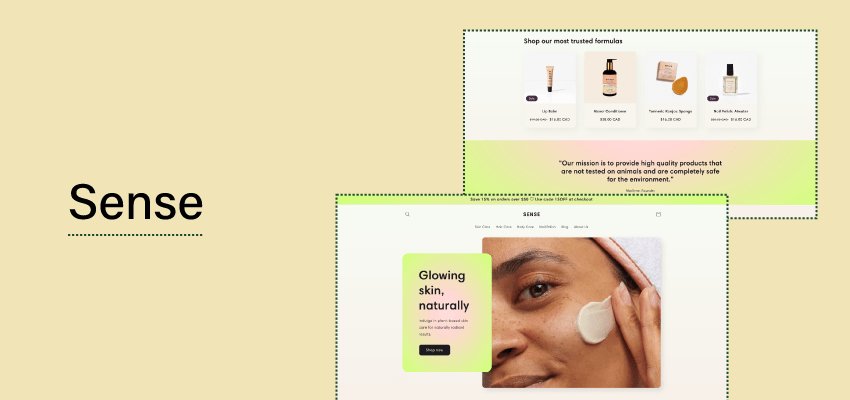 Sense is a bright and fresh Shopify theme for beauty and skin-care products. The theme supports product videos, testimonials, and comprehensive product descriptions to build trust with the audience. If at any point you want to change elements, sections, navigation or anything else, you can easily do that because Sense offers advanced customization options that will help you achieve desired brand vision.

Theme highlights:
Fresh and bright design
Enhanced product understanding
Advanced customization options
9. Crave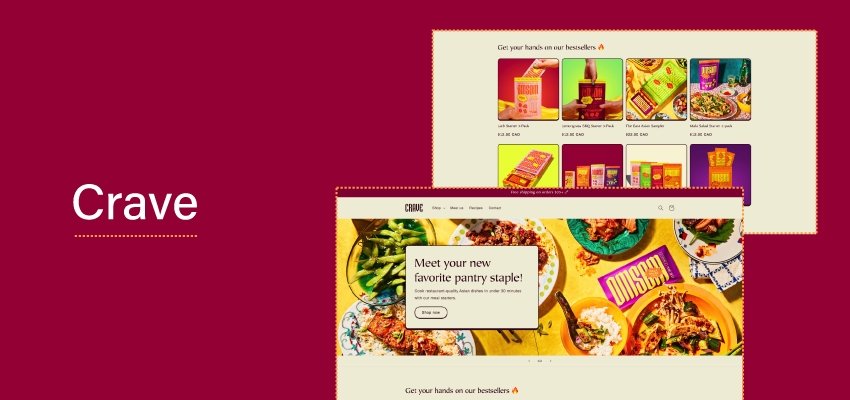 Food products, bold brands
Crave is a vibrant Shopify theme perfectly fit for those that want to stand out among the rest. Vibrant, bold, and fun colors instantly bring personality into your brand. However, if you want to go for something a little bit different with your design, Crave allows you to do that with their advanced customization options.

Theme highlights:
Vibrant and playful design
Supports animated content
Advanced customization options
10. Refresh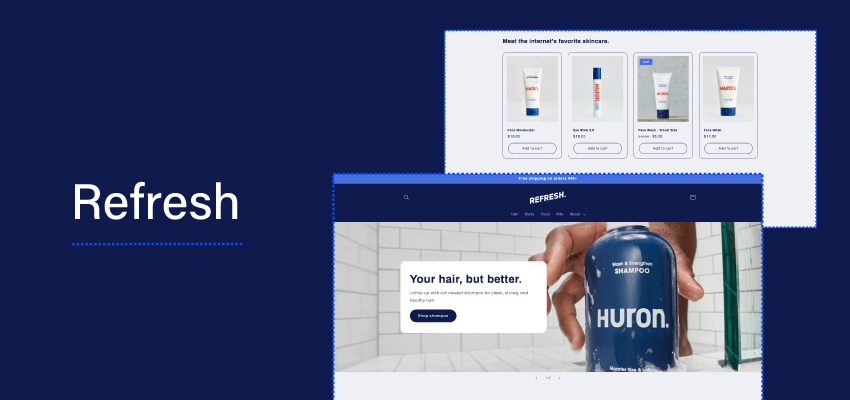 Refresh goes for a masculine, bold design with consistent typography and simple color palette. This free Shopify theme is great for emphasizing product quality and details with testimonials, ingredient information, and more. You can choose how you want the elements in your store to look with adaptive section layouts and advanced customization options.

Theme highlights:
Modern design with minimalist color palette
Focuses on product quality
Advanced customization options
11. Voonex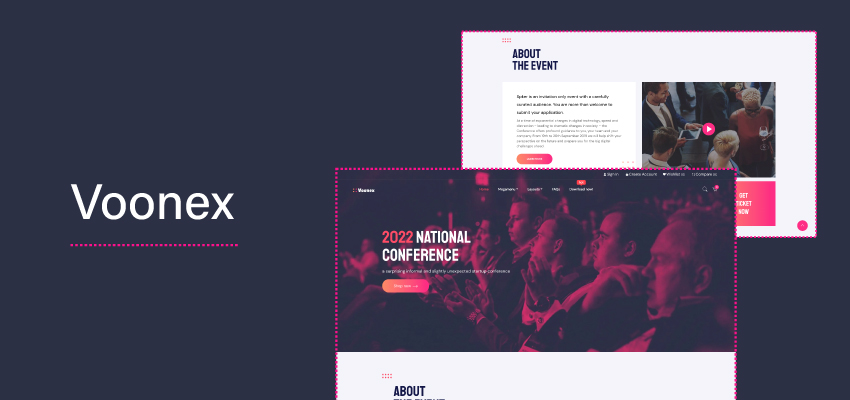 Voonex is a free Shopify theme designed for various events, such as conferences, summits, concerts. This theme differs from the traditional e-commerce website layout, and offers such sections as event schedule, pricing plans, full event information, map integration, and more. The design is clean and minimal, focusing on the information rather than optics.

Theme highlights:
Great for events & conferences
Unique sections and layouts
Minimal, uncluttered design
12. Constance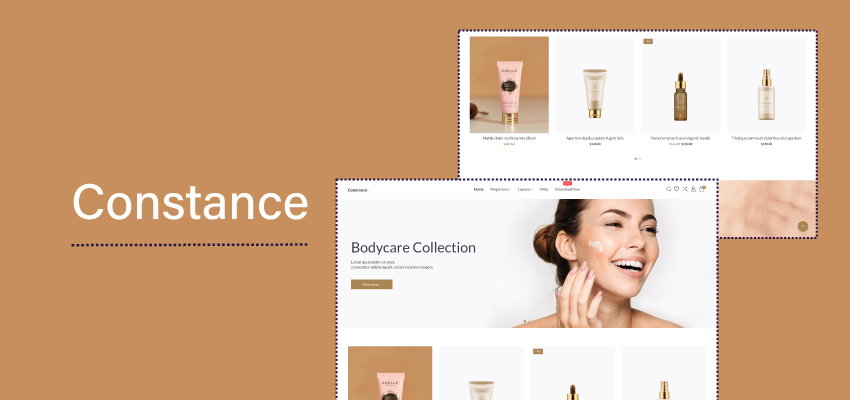 Skin care and beauty products
Constance is a Shopify theme that offers free and paid versions. The free version has all the core features you need, including a megamenu and a framework which creates a fully responsive website allowing it to look polished on all different screens. The theme also supports adding products to the wishlist without logging in.

Theme highlights:
Beautiful design
Clear navigation
Professional megamenu
How did we rank the free Shopify themes?
While building a list of the best free Shopify themes, we have to consider several aspects such as:
Responsive design. All the themes on this list have responsive design, meaning they look good and work well on mobile devices.
Up-to-date theme architecture. Every theme in this article is updated to the newest Shopify 2.0 version, meaning they get regular updates and don't lack in features.
Flexible customization. Since free themes usually don't have a lot of pre-designed templates to choose from, it's important to have flexible customization options to tinker the design and structure of the website to fit your brand.
Should you use a free Shopify theme?
A free Shopify theme is a great option for businesses that are just starting out. If you don't want to invest in a website right from the start, a free theme is a great choice.
However, premium Shopify themes cost money for a reason – they're built better, they are more powerful and have more features. Sometimes, paying for a theme can benefit you in the long run because you won't have to invest in a lot of third-party apps and plugins.
How to make a free Shopify theme better?
If your chosen Shopify theme doesn't contain all the functions you need, you can get them through multiple apps.
Image optimization
Creating high-quality images in the ideal format or size may be difficult. That's why opt for the TinyImg app. This app will automatically reduce your Shopify website's images, optimize them according to SEO principles, and keep the site fast.
Product Reviews
Customer testimonials provide social validation for brands and products. In case your theme lacks this attribute, try out any of the product review apps.
Currency conversion
If your shop is focused on the worldwide market, allowing your customer to pay with their affiliated currencies will increase their satisfaction. Also, it will boost sales. So, if your theme doesn't support currency conversion, add a Shopify currency converter app of your choice to your store.
Generally, there are a lot of useful Shopify apps that can help with SEO, referrals, purchase tracking, revenue optimization, and other marketing needs.
Final words
There are a lot of free Shopify themes out there. However, eCommerce merchants need to be careful as they choose because each theme is different, but with enough diligence everything is possible.
As for now, the best free Shopify theme is Dawn because it offers all the core features needed for a successful website, as well as a stylish yet timeless design that doesn't over-clutter the website.
Frequently asked questions
How many free themes does Shopify have?
In its official library, Shopify currently has 11 free themes. However, there are tons of free themes developed by other creators specifically for Shopify.
What is the most popular free Shopify theme?
The most popular free Shopify theme is Dawn. It's a theme that you start out with after creating a Shopify account. There are multiple successful stores created with Dawn.
Are free Shopify themes responsive?
Not every free Shopify theme is responsive, but the themes in the official Shopify library are all created to fit desktop and mobile screens. As you're previewing a Shopify theme, you can view the mobile version by selecting a phone icon in the top bar.
Where can I download free Shopify themes?
You can download free Shopify themes from the official Shopify theme library.
How to get great Shopify store themes for free
In order to get a great free Shopify theme, make a list of features your website needs and check out our article on the best free Shopify themes to find the one.