By purchasing through the links on this page, you are giving us the opportunity to earn a commission. Your support is greatly appreciated!

Shopify product review apps can help you boost your sales, as customer reviews create trustworthy social proof. Over 88% of online shoppers read product reviews first before making further purchase decisions. So, you may already guess that gathering firsthand customer reviews should be one of your priorities.

However, the Shopify app store is flooded with legitimate-looking yet vain review apps. Thus, we have tested and selected the best 12 review apps for Shopify regarding ease of use, import options, performance, and price. If you're not convinced yet, find our listed benefits of a review app and learn how to choose the right one for your store.
What to look for in a Shopify product review app?
Before leading you to our top Shopify review app picks, let's find out what are the main criteria determining the provider you're considering is worth a shot.
Integrations with platforms. To speed up the review collecting process, the application must have integrations with Facebook, AliExpress, and Amazon, among others, to collect and store reviews from there right on your store web.
Featured photo and video reviews. Visual reviews often put the final piece of the puzzle in place for an undecided customer. Having them in your store may boost your sales even faster!
Customization options. Whether it's a widget or an email template, customization is important, as you want to maintain a fitting design across the store. Moreover, you may even make personalized emails to improve your relationship with customers.
Review requests. A reputable review app for Shopify will not have only a single method of gathering reviews. It's best to choose the one that uses SMS, email, QR codes, pop-ups, and extra methods to collect both positive and negative feedback.
Extra features. Extra features for your Shopify store mean better optimization opportunities. Robus review apps include SEO tools, smart filters, and such.
Ease of use. Getting the app for Shopify means you're trying to escape the coding part of Shopify itself. Hence, review apps that ensure a user-friendly experience are those to choose from.
Price. Maintaining a Shopify store requires quite an amount of expenses already. Therefore, make sure you try the review app first before subscribing, and, of course, choose only the one with a fair price-to-quality ratio.
Best review apps for Shopify: overview
Each app on this list has been selected due to its overall review features – importing from other platforms and new review collection. We also looked at the additional tools that they might have, as well as the value for money that they propose.
Now, let's have a look at the best review apps for Shopify:
1. Stamped.io
Stamped.io focuses on not only getting "reviews" – but getting high-quality reviews. A smart assist feature will guide customers to put business-boosting insights.
Stamped.io also lets you import and collect reviews from various sources, like Facebook, Facebook Messenger, Klaviyo email service, and AliExpress – so you can get plenty of satisfied customers on your site in no time.
Stamped.io highlights:
Many layout display options
SMS review requests
Community Q&A section
Google integration
Inline-SEO
Free Stamped.io version limits you to 50 monthly reviews, 10 display widgets, and basic marketing features. Premium plans have a 7-day free trial, and they range between $23 and $149 a month, allowing you to use advanced SEO tools, add Q&A, and more.
2. Fera
Fera lets you import reviews from Google, Facebook, as well as multiple other platforms, and offers an intuitive dashboard, letting you easily manage all of the reviews you already have.
Modern review display options merge very well with all Shopify themes, giving your site a modern look. Plus, with a variety of post-purchase triggers, asking for a review (and maybe giving a coupon back), you can make sure to get a lot of feedback from your satisfied customers.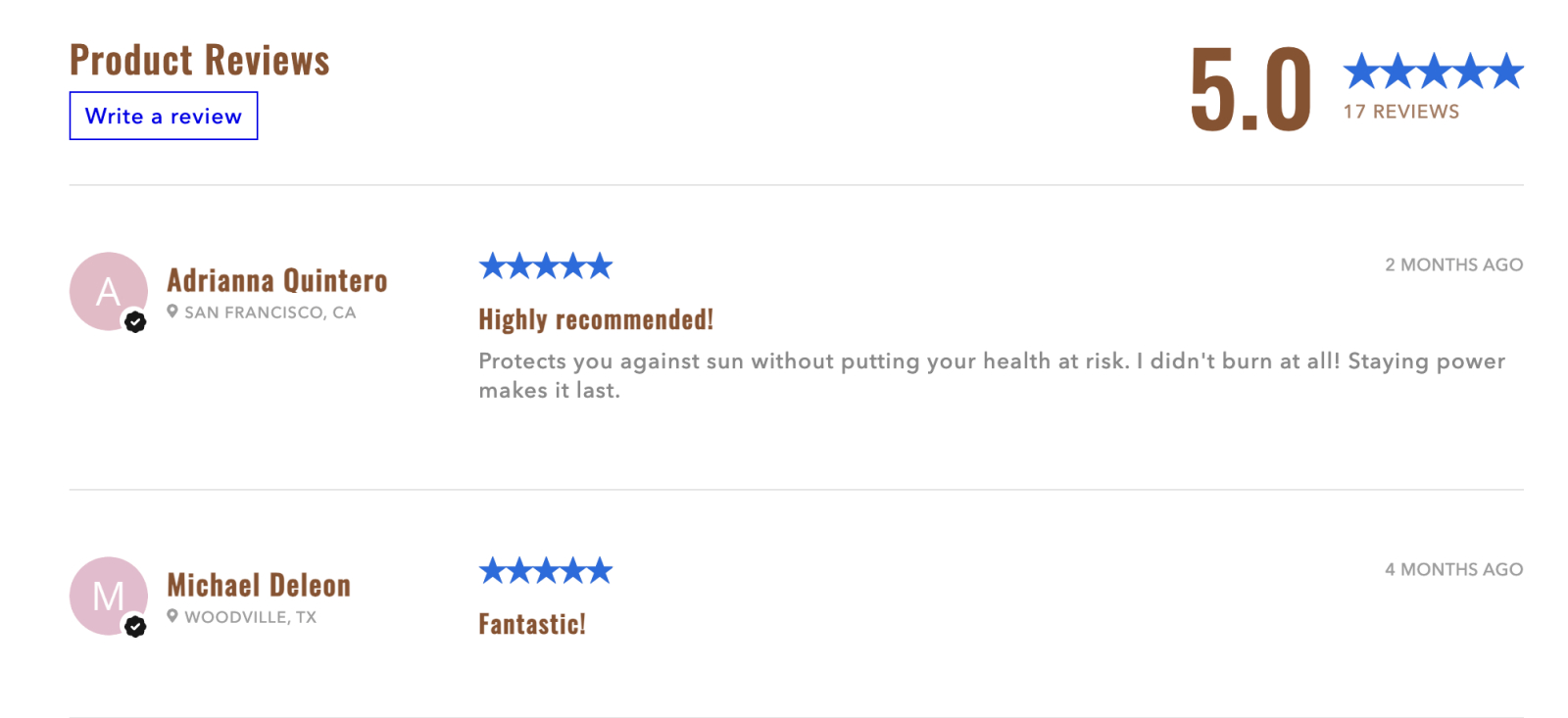 Fera highlights:
Synced product reviews from Amazon, Facebook, and Google, among other platforms
Customizable review widgets
Automatic post-purchase product review requests (photos and videos)
Customer reward program
Multi-language
Fera offers quite an impressive free version that allows you to import unlimited reviews, send up to 10 product review requests, and store up to 10 MB of video or photo reviews. And yet, with the basic $9/month paid plan, you can have ten times more than with the free plan. Test premium subscriptions using a 14-day free trial!
3. Ryviu
Ryviu is an excellent review app for dropshipping, letting you import reviews from AliExpress, Amazon, Etsy, and CSV files and keep your store busy.
If your store depends heavily on search engine traffic, Ryviu has your back – this app also displays the review score on products' Google results. But that's not all.

Ryviu highlights:
Questions & Answers widget
Displayed review score on product's Google results
Google Rich Snippets & SEO
Review import options from Amazon, Oberlo, Etsy, and more
Luckily, the product review widget is fully available on the free Ryviu app. It will also let you import 20 reviews each for 50 products but will limit import to AliExpress only. For more reviews, email request functions, as well as more widgets and import sources, there are paid plans, ranging between $6.99 and $19.99/month.
4. Lai AliExpress Reviews
Lai lets you import reviews from AliExpress, Amazon, and several dropshipping apps like Oberlo and EPROLO.
The Shopify review app's killer feature – is excellent layouts, such as the homepage display, review popups, and photo review display. Plus, all your happy reviews can be aggregated into one showcase page – perfect for sharing on social media.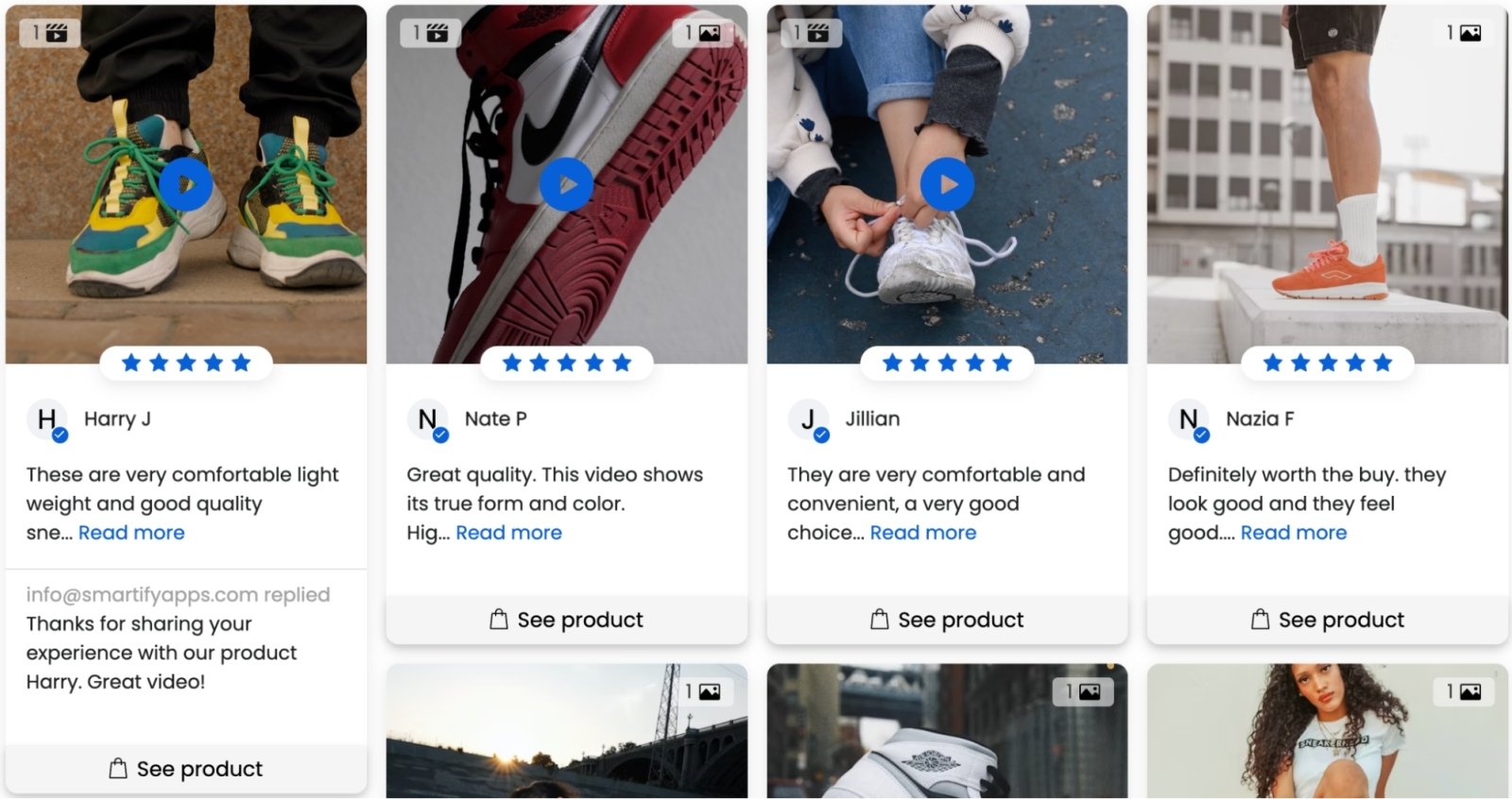 Lai AliExpress Reviews highlights:
Automated review requests
Integrations with Klaviyo, Google Shopping, and PageFly, among others
Reviews' showcase across your store
Custom CSS for all widgets
Motive email campaign
Lai offers a free version with 6 layouts, AliExpress/Amazon import functionality, and a homepage review display. Paid plans include increased review upload limits, dropshipping app import functionality, and a few extra features – prices range from $4.95 to $19.95/month a month and come with a 7-day free trial.
5. Reputon Store Reviews
Reputon is the top Shopify review app for established businesses. With it, satisfied clients will be directed to Google, Yelp, or Trustpilot, spreading the good news about your business far and wide.
Yet, it also focuses heavily on negative reviews, sending the disgruntled users to the internal page, where you get a chance to resolve their problems – and turn those one-stars into five.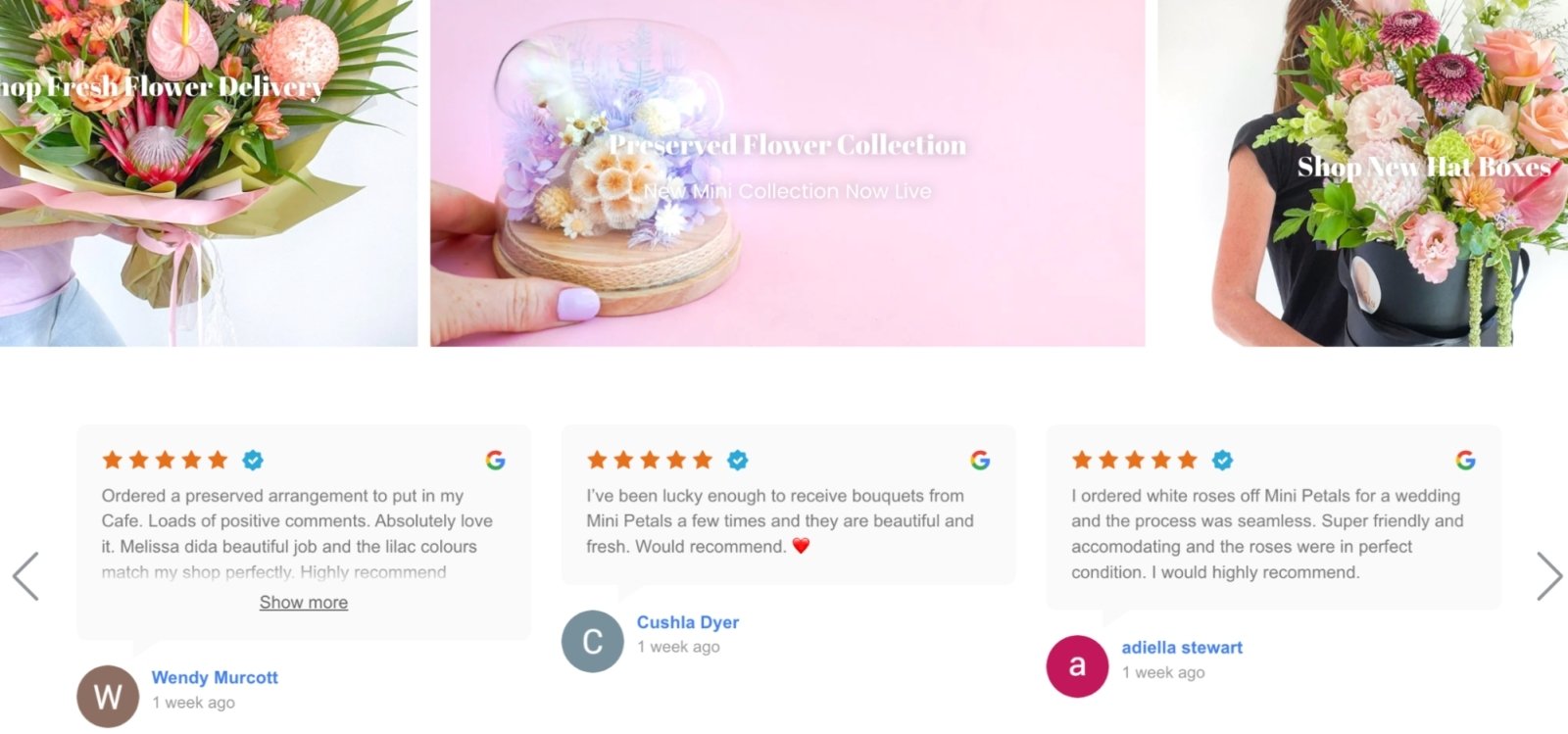 Reputon highlights:
AI-personalized follow-up emails, text and review links, QR
Custom feedback form
Reviews import from Google, Etsy, Facebook, and more
Customizable email templates
Reputon has a free plan, allowing up to 50 monthly emails, and basic managing features. Paid plans ranging from $9.99 to $49.99 a month include extra emails, additional importing, and management solutions.
6. Loox
Loox focuses on photo reviews – the most engaging review types out there. Photos can then be displayed in a variety of ways, using multiple widget options, matching your website and brand.
It offers features specifically for gathering photo reviews from customers, even offering additional discounts, if the buyer offers a photo of a product they just purchased. Consequently, prospective buyers, seeing real pictures, will be more inclined to buy – leading to increased sales.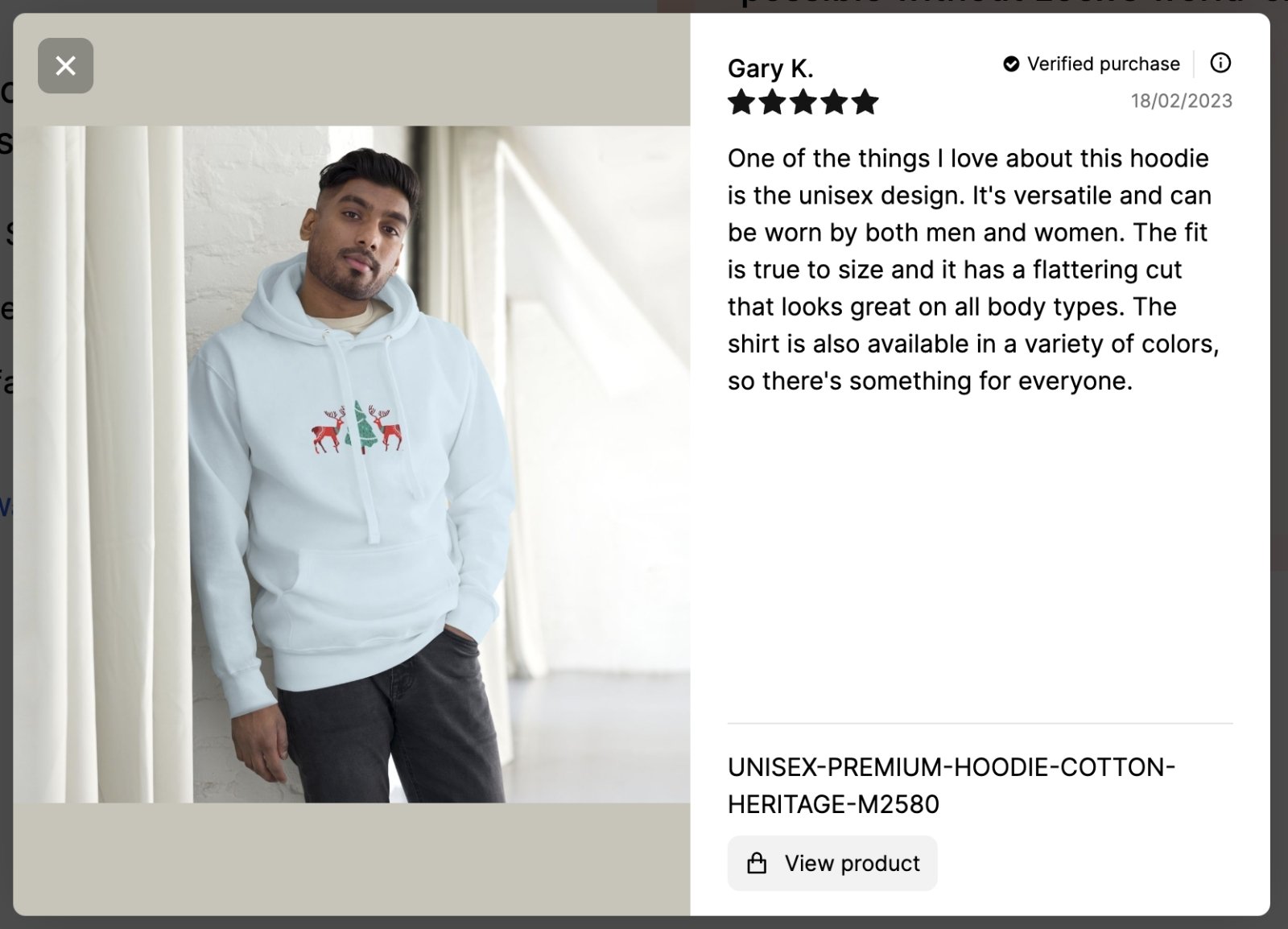 Loox highlights:
Grid, List, Carousel, Popup, and Sidebar display options
Google Shopping and SEO Integrations
Auto-generatad referral links
Referral program
Klaviyo Email/SMS review requests
Loox plans start at $9.99 for 100 monthly request emails and main features, and go all the way to $2599.99/month for big business solutions allowing unlimited requests, referrals, and upsells. The best part is that you can test Loox with a 14-day free trial.
7. JudgeMe
JudgeMe allows you to gather reviews in a variety of ways – push notifications, SMS, and emails. And rich snippet functionality lets your product page flaunt all of its 5 stars right on Google's result pages.
When the happy buyers reply, you can make the best of it with custom survey questions and Q&A sections, letting you show your prospective buyers any real-user information they could possibly need.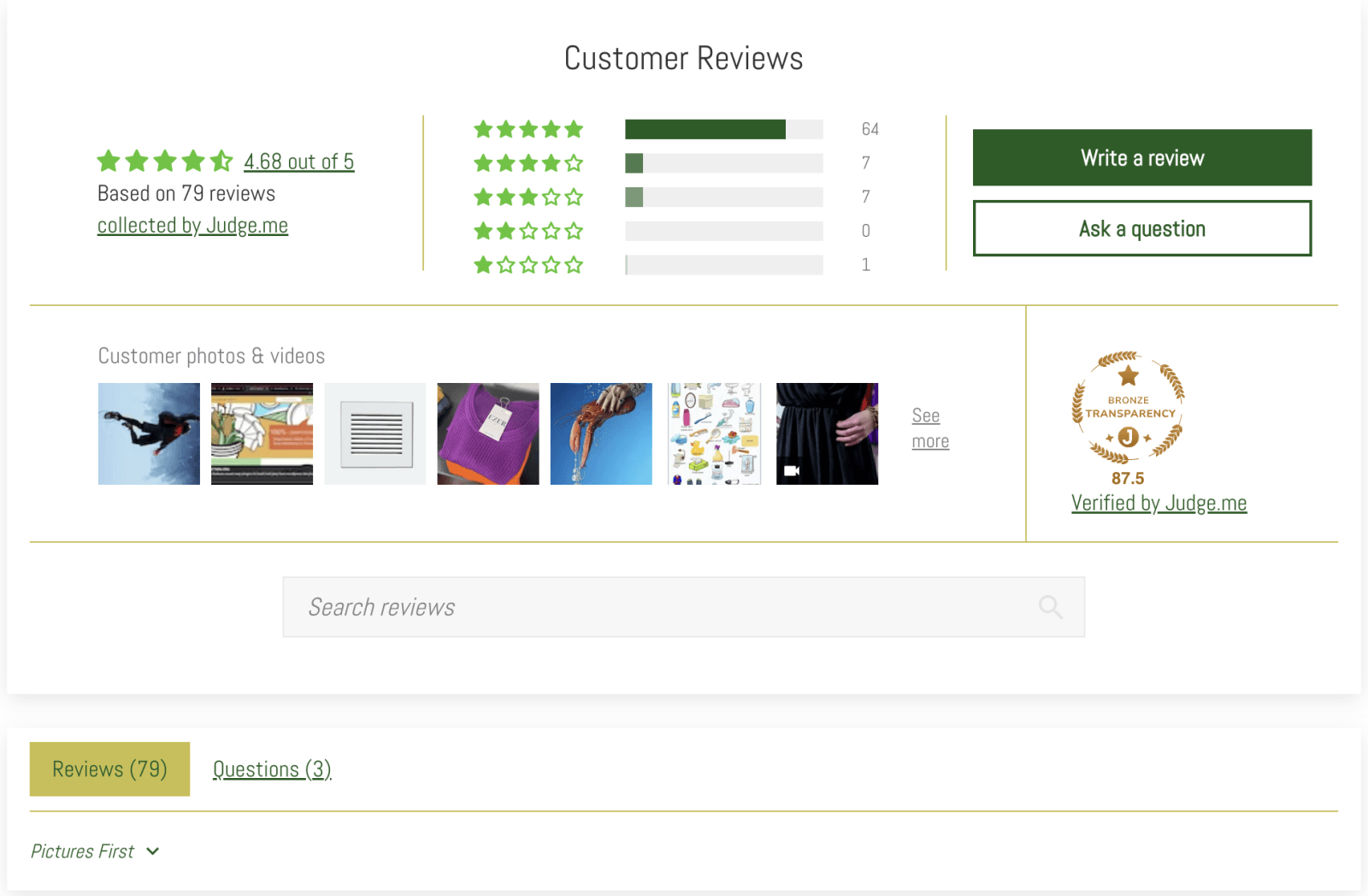 JudgeMe highlights:
SMSbump, Klaviyo, PushOwl, Omnisend, and more integrations
Unlimited product review requests
Synced reviews across products and stores
Email marketing and coupons integrations
Custom forms
The Free JudgeMe plan allows for unlimited product review requests and all the main features. Paid plan for $15/month includes an added Q&A section, all the layout options, cross-shop syndication, removed JudgeMe branding, and adds a lot more.
8. Automizely Reviews
Automizely is an excellent review app choice for AliExpress dropshippers – as it lets you easily import existing AliExpress reviews to your Shopify store, with up to 100 reviews at once.
Plus, With it, you can also easily move between platforms, with CSV file migration allowing for up to 500 reviews at once, quickly filling it up with loads of feedback from existing buyers. However, there are more benefits that this app may bring.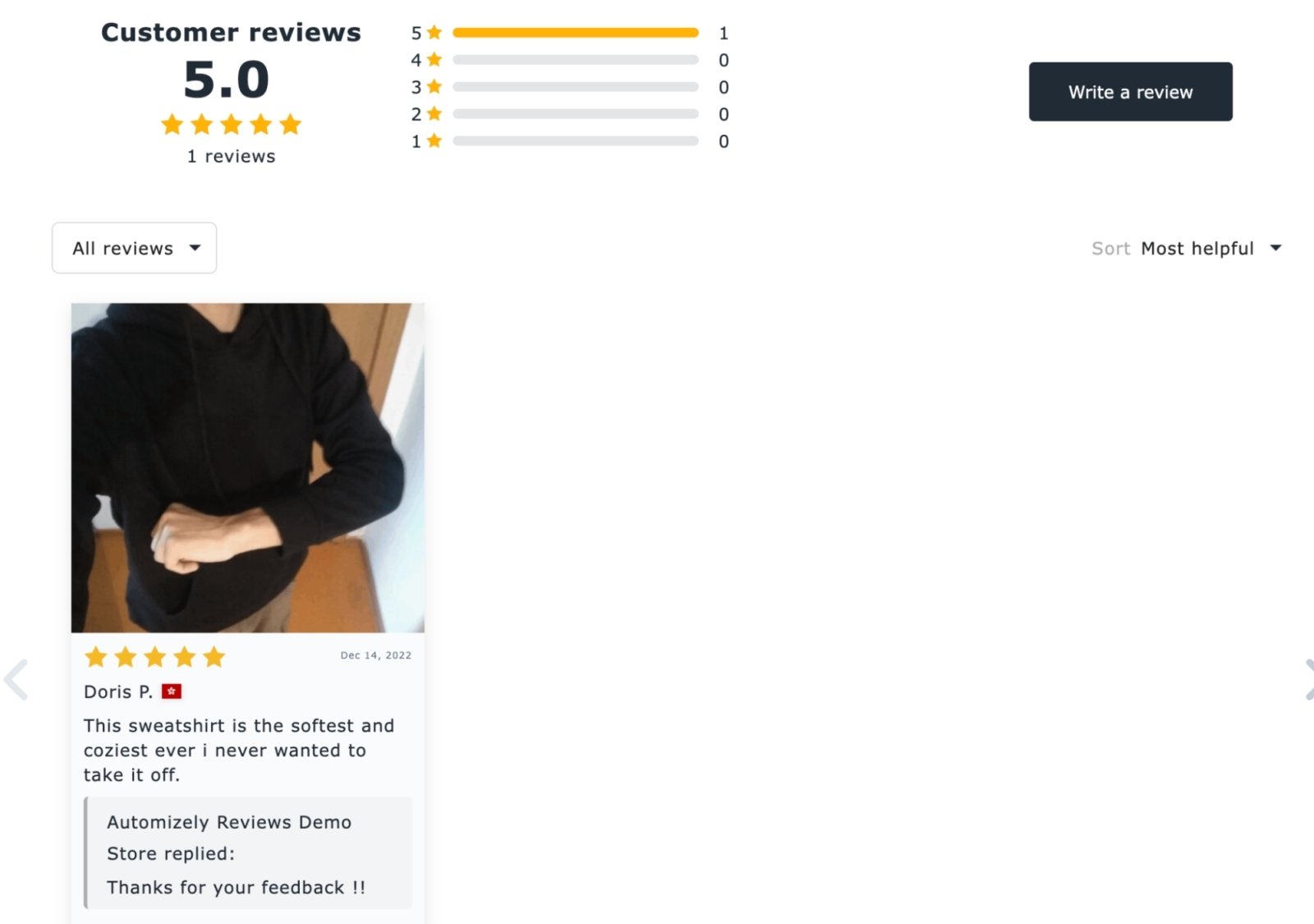 Automizely highlights:
Automates post-purchase review triggers
Video and photo product reviews
Custom fonts, layouts, and colors
Review analytics included
Google and Klaviyo integrations
First of all, you can try out the app using a free version or a 7-day free trial. However, with the free version, you can get only up to 50 product reviews monthly, can't reply to reviews, and even more details are excluded. While the Essential $11/month plan allows more reviews, collects them in store, plus extras.
9. Opinew
Opinew lets you import reviews from eBay, Amazon, AliExpress, and Oberlo. It helps make them look right at home, with fully custom colors and fonts that will match your store.
But perhaps the biggest strength of Opinew lies in the review request features – with options to ask for them via email, SMS, and even printed QR codes in the order.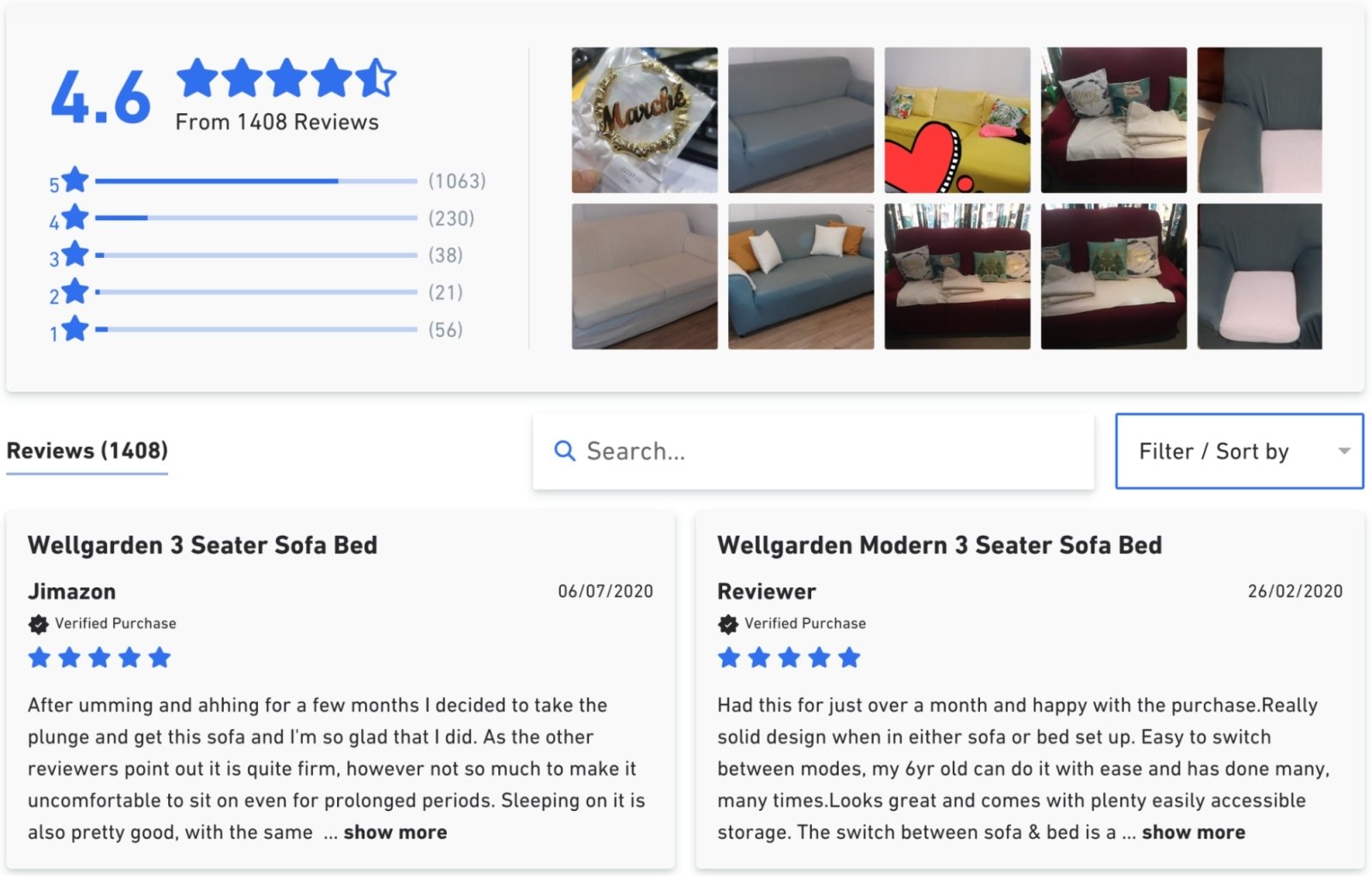 Opinew highlights:
Q&A widgets
Automatic top reviews preview
Review requests via email, SMS, QR codes
Optimized images
Klaviyo, Omnisend, Gorgias, Loyaltylion integrations
Opinew has a free version with limited email review requests and review imports, as well as a page builder integration and rich SEO snippets.In the meantime, the premium version will cost $19-199 a month. It uses a credit system: for example, the cheapest plan includes 100 credits that can be used for review requests and importing. And you also can benefit from a 14-day free trial.
10. Ali Reviews
Ali Reviews is a Shopify product review app for AliExpress, letting you instantly import 500+ reviews from this platform, as well as move reviews from most other Shopify review apps.
Moreover, with several fully editable templates that can be placed anywhere on the site, you will have full design freedom to showcase reviews exactly how you want them, where you want them.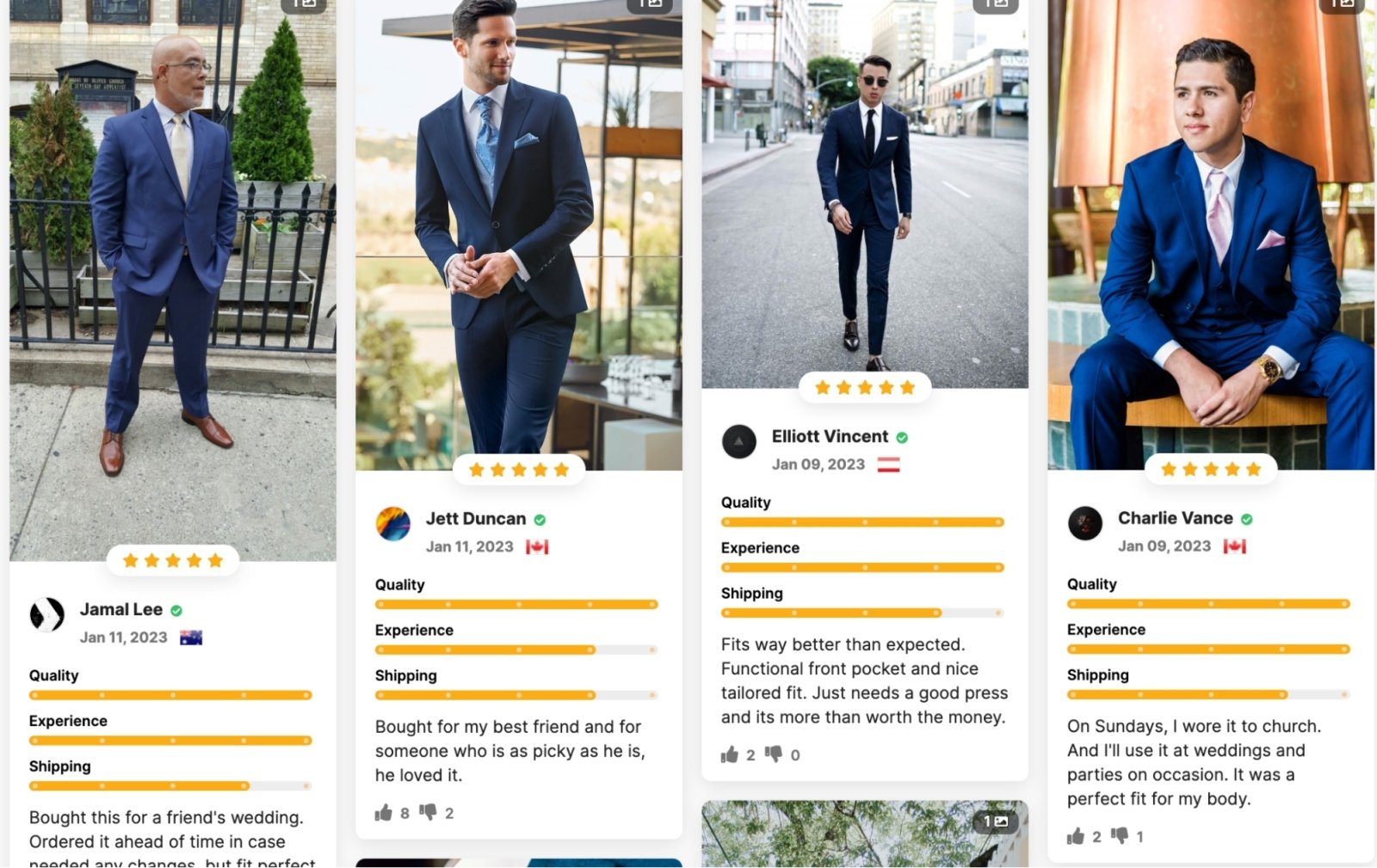 Ali Reviews highlights:
Auto-collected reviews through email and SMS
Google Shopping Ads integration
Multilingual review widgets
Q&A forms
Ali Reviews app paid plans range from $9.90 to $49.90/month – offering varying monthly orders, editing, and management features, as well as a 7-day free trial. There's also a free plan, allowing 5 reviews per order and up to 50 orders per month.
11. Yotpo Product Reviews & Photos
Yotpo offers an intuitive interface for running all of your online marketing – and its Shopify product review app is certainly worth your attention.
With options for gathering reviews via emails, SMS, or a built-in review widget, you can get a lot of reviews pretty quickly. Especially if you use coupon functionality to reward those reviewers.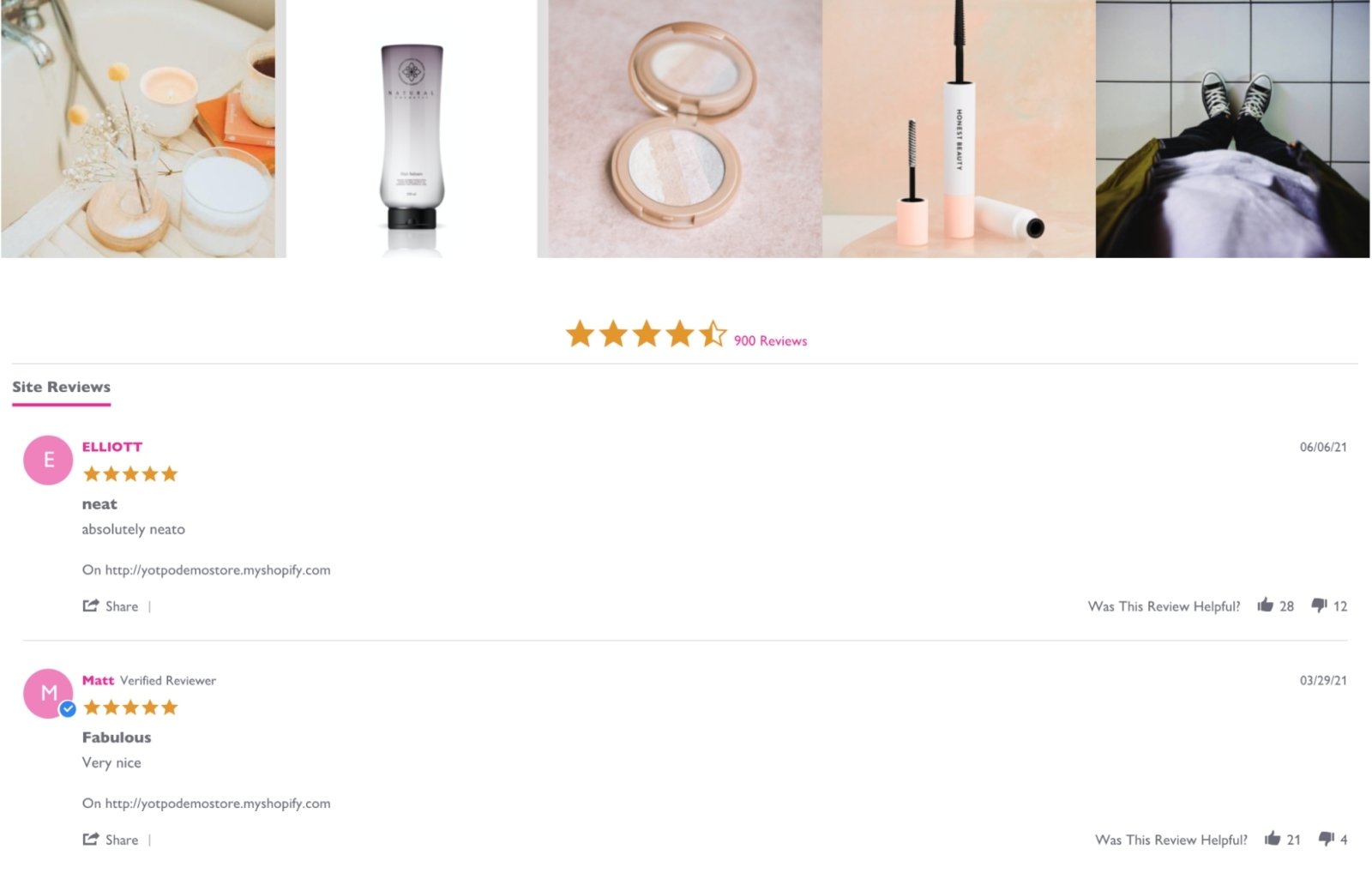 Yotpo highlights:
Collected photo and video reviews
Google Seller Ratings and Google Shopping Ads integration
Smart Filters to display relevant content
Integrates with Facebook, Instagram, Google, Klaviyo, SMSBump, PageFly
Yotpo offers a free plan, with 50 monthly orders (250 on your first month), and basic SEO/social media features. Premium plans range between $15 and $119 a month, giving you top-notch SEO features and unlimited orders.
12. Product Reviews and Testimonials
Product Reviews and Testimonials app from Expert Village lets you collect text reviews, photos, and even testimonials to place on your website.
A Q&A section allows you to connect instantly with customers that might have some problems, and a coupon code functionality lets you reward the reviewers for their time.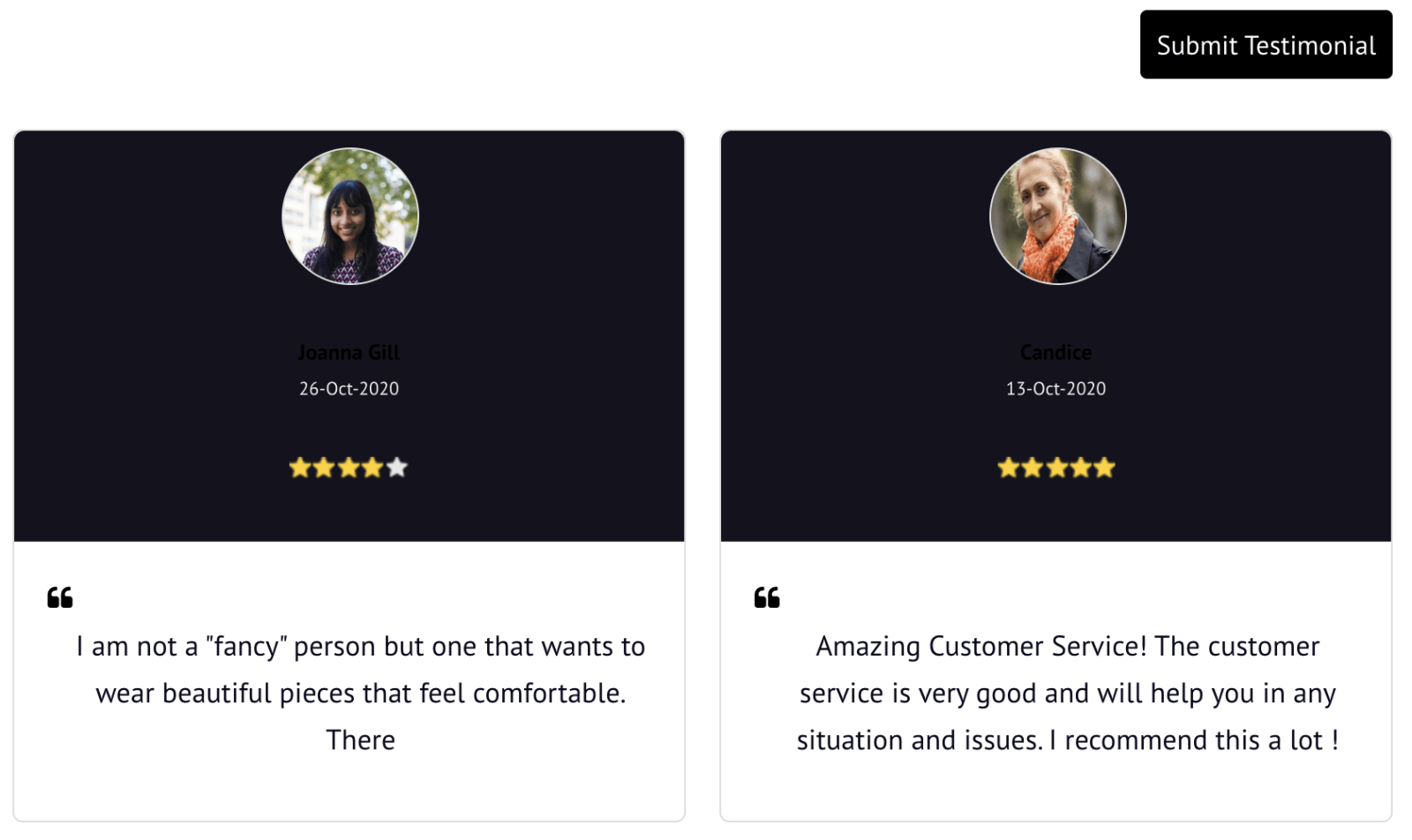 Product Reviews and Testimonials highlights:
Built-in email tracking system
Variety of pre-made review templates
Photo reviews
Customer support for free users
The Free plan of this app includes up to 50 monthly review requests and 10 testimonials, plus, you can even get help from a customers support agent. For less strict limits and more features, go for paid plans – they range between $9 and $19.99 a month.
Why should you use a product review app for Shopify?
A Shopify product review app can be seriously helpful when growing your business. Here are some of the main reasons why you should consider one:
Social proof works. People want to be sure that the product they're buying is good. If there are no reviews, chances are, they won't take the risk. A vibrant and active review page is a certain way to turn some doubters into buyers.
Helps you learn and improve. Reviews are not there for others – they are for you as well. By getting solid, well-rounded feedback, you can know exactly what you're doing well, as well as the things that you still need to improve.
SEO functionality. Most Shopify review apps include additional SEO functionality, showing your product rating right on the search result pages. This results in more clicks and in turn – more sales.
How to get first product reviews for your Shopify store?
Getting the first reviews is always trickiest – so, here are some tips to get you and your store off the ground.
Build an automated collection process. Users won't just leave reviews on their own – and if they will, they're likely to be negative. In order to get the happy visitors reviewing your products, you need to work for them. Shopify review apps offer an automated process, which automatically sends out a review request email to the customers that just received the package.
Offer some nice benefits. Many buyers just won't review your product if it brings nothing to them. Offer some additional discount codes for those who review: that will not only give you an extra evaluation, but also highly increase the chances of a repeat customer.
Import some previous reviews. If you're doing dropshipping, it's likely that many people have already purchased and reviewed the very same product. By simply importing reviews from your platform, you can get a lot of legitimate reviews in no time.
What is a good product review example for a Shopify store?
Here are some of the main things a good product review should have:
Extensive information. Just saying "good" isn't enough – but paragraphs of empty praises are not great either. A solid review includes a lot of contextual information, such as size, packaging, as well as describes buying/shipping/delivery experience. Encourage your visitors to write such reviews – often, a promise of a discount code does the trick.
Photos and videos. Visual content is the best proof that a review is legitimate – and it also leads to the best increase in sales. Therefore, prioritize reviews that include photos and videos – plenty of Shopify review apps on our list will help you do just that.
Communication is key. This goes beyond the review itself, and focuses more on your own review page experience. Try the review apps offering Q&A pages and direct communication with the reviewers – this way, you will both help solve potential problems, and show prospective clients that you care about all of your buyers.
Summary
Shopify product reviews can be an incredibly important tool in improving your sales. But getting them can be quite difficult. Luckily, with apps that help you import reviews from other platforms, as well as help you get extensive feedback from new clients, you can fill up your website in no time.
Automizely is an excellent free solution for doing just that on a budget, offering solid well-rounded tools that are suited for pretty much everyone. But all the apps on this list have something to offer – be it special use cases for photo reviews, an improved feedback loop, exporting reviews to third-party review sites, and more. All you have to do is to find out exactly what you're looking for: then, you'll find the best app for you.