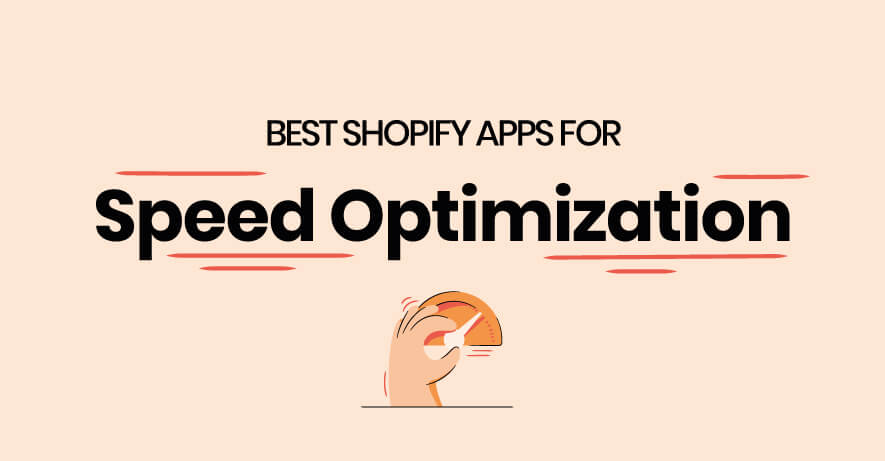 Whether people are shopping online, searching for information, or having their daily social media intake, they don't wait for websites to load. And why would they? Competitors are always here to greet them with better speeds and user experience. So make sure you're that fast competitor with a Shopify speed optimization app.
Why use an app though? There are a lot of metrics that contribute to page speed – keeping track of everything separately is time consuming and incredibly inconvenient. But if you install an app for your Shopify store, you can automate a lot of functions, saving you time and energy.
Below you'll find the list of 5 hand-picked Shopify speed optimizers. These apps will help you make sure you don't lose potential customers due to slow speeds. We looked at each of the app's Shopify store ratings, price, features, and user reviews to help you choose what's best for your store.
Best apps to speed up your Shopify store: overview
TinyIMG – the best speed optimization app for your Shopify store
Hyperspeed: Extreme Page Speed – feature-packed Shopify page speed optimization app
Crush.pics - Image Optimizer – Shopify speed optimizer with advanced image compression
Page Speed Booster – a completely free Shopify store speed optimization app
Booster: Page Speed Optimizer – a free, one-click speed booster for your Shopify store
Now, let's go more in depth into each Shopify page speed optimization app reviewing their Shopify store rating, price, key features, and the summary of user reviews.
1. TinyIMG – best app to optimize your Shopify store speed

From Free to $39.99/month
Image compressing, app script control, page speed audit
TinyIMG helps boost your Shopify store's loading speed by compressing website images and controlling third-party app scripts. Everyone wants the images to be the highest possible quality, but if they're not optimized, they can negatively impact speed. That leads to a bad user experience and a drop in search engine rankings. But don't worry about image quality – even after optimization the images will appear beautiful and sharp.
A unique TinyIMG app script control functionality allows you to control how and where third-party apps load on your page. This is incredibly important because third-party apps are one of the leading causes of slow site speed.
Here are some other advantages:
TinyIMG generates SEO and page speed reports, allowing you to be on top of the site issues that might occur. Alongside an audit, the app also gives you suggestions on how to fix critical problems.
The app offers a Free plan, which allows you to optimize up to 50 images per month and use some of the SEO optimization tools.
Overall, TinyIMG is a great tool for improving the speed of your Shopify store – compress images, automate optimization, take control over third-party scripts, and get detailed issue reports and suggestions for fixing them.
What do TinyIMG reviews say?
People say TinyIMG helped their SEO efforts, boosting the rankings and page speed. They also praise the ease of use and helpful customer support.
2. Hyperspeed – utilize several tools for rapid speed improvement

$39/month (includes a 7-day free trial)
Image compressing, JS & CSS minification, third-party app monitoring
Hyperspeed helps improve your Shopify store's speed by utilizing several tactics. For example, compressing images, making your site's size as small as possible (with JS and CSS minification), and by caching third-party apps that have a negative impact on loading speed.
The app also implements a functionality called LazyLoad that allows the site to only load images when visitors are about to see them. This way the unseen images cannot have a negative impact on the speed.
When it comes to image compressing – arguably the most popular way to boost site speed – Hyperspeed does it without compromising image quality. The app also monitors new product images and automatically optimizes them, so you don't have to do it manually every single time.
What do Hyperspeed reviews say?
Customers praise intuitive design and quick results, as well as showing appreciation for customer support.
3. Crush.pics – speed up your Shopify store with advanced image compression

From $4.99/month (includes a free plan)
Image compression, full automation, asset image optimization
Crush.pics offers advanced image compression with three settings to choose from: balanced (reduces your image size significantly with minimal reduction in quality), conservative (reduces your image size moderately with no reduction in quality), and custom (allows you to choose compression level for each image manually).
As the app offers a free version, here's what you can do without paying a penny: upload only 25MB of images, only optimize product images (no asset images), compress images manually (no automation available on the free plan), and use their 30-day image backup policy.
What do Crush.pics reviews say?
Customers praise the ease of use and say the app helped them speed up the store. However, some also mention that it takes quite a lot of time to reduce the size of photos.
4. Page Speed Booster - an easy-to-use Shopify page speed optimizer

No coding requirement, works with all customized themes
Page Speed Booster boosts up your Shopify store's speed by foreseeing the site visitor's next step. For example, if a potential customer is on the home page, they will most likely click on a product detail page next. So what the app does is it retrieves the contents of the page while the visitor is still thinking.
When the user clicks on a product, the site only needs to retrieve the contents from the browser's cache, this way improving Shopify store's performance.
This all might sound complicated, but Page Speed Booster does all of it as soon as you install the app. You don't need to have any prior coding skills to use the app. You can also use some of the advanced functions in order to be a bit more flexible with your Shopify store.
What do Page Speed Booster reviews say?
Customers say the app is really easy to install and use, and that the results were visible right away.
5. Booster – hassle-free Shopify speed optimization app

One-click speed booster, no coding required
The simplicity Booster app offers is its main characteristic. It speeds up your Shopify store by adding one line of code to the script. You don't have to do anything technical - one click and the app is set.
Booster is completely free to use so it's great for new and smaller Shopify stores that don't want to instantly invest in expensive Shopify page speed optimization.
The downside of the app is that it doesn't really offer any other customization, and would probably not be a good fit for those who want more control of their shop. As we've mentioned in a previous paragraph, the app is nearly perfect for beginners as you don't really have to do anything on your own.
What do Booster reviews say?
The customers are happy with the app's simplicity and the fact that it actually helped them improve page speed with just one switch.
What else can you do to boost Shopify store speed?
We've talked about which Shopify apps can help you with slow websites and how. But there is more you can do to improve your Shopify store's loading speed and make sure potential customers don't bounce from your website. Some of those include:
Avoid landing page redirects. Redirecting can be incredibly useful for when you don't need some specific page anymore, but cannot delete it because it hurts your SEO efforts. However, too many redirects can have a negative impact on your site speed.
Implement Accelerated Mobile Pages (AMP). It's an open standard framework designed to improve page loading speed on mobile devices.
Download a fast theme for your store. The theme is one of the most important factors in page speed, so make sure it's fast and responsive before installing.
Reduce installed apps. The more apps you install, the more overcrowded your Shopify store becomes, thus reducing the loading speed.
Reduce HTTP requests. There are tools you can use to check how many HTTP requests your page makes.
We hope those speed boosting techniques help you improve your Shopify store's performance and increase sales!
Summary
Boosting up the speed of your Shopify store can decrease bounce rate, increase rankings in search engines, and significantly improve conversion rate. All in all, it's one of the most important metrics that will make or break your website.
As for Shopify speed optimization apps, our overall winner is TinyIMG, which offers script control, advanced image compression techniques and auto-optimization to speed up your site.
However, if you want to go for a free app, try out Page Speed Booster, which takes all the complicated coding upon itself and does the speed-boosting without you having to lift a finger.
Other Shopify apps you might be interested in:
Frequently asked questions
Which is the best speed optimizer for Shopify?
The best speed optimizer for Shopify is TinyIMG. It optimizes the images on your website without ruining their quality and has powerful script control functionality. Inexpensive and advanced, TinyIMG app is a great choice both for smaller shops and bigger Shopify stores.
Is Shopify speed optimization app enough?
Yes, depending on the app's functionality, one app can be enough to significantly improve your Shopify store speed. However, in some cases, you might need a couple of different apps to reach the best performance results for your store.
What is the best Shopify store speed?
Google recommends that your Shopify store loads in under one second. However, anything under three seconds is also an impressive speed. If the loading speed is higher than that, it can increase the bounce rate which results in losing potential customers.
How to check my Shopify store speed?
You can use Google Lighthouse to check how fast your website loads to your potential customers. It scores your page in a scale from 1 to 100, the latter being the highest score your Shopify store can get.