By purchasing through the links on this page, you are giving us the opportunity to earn a commission. Your support is greatly appreciated!

In 2004, the founders of Shopify decided to take a path less travelled. While the prevailing trend was leaning towards marketplaces, Lütke and Lake were drawn in a different direction.

They wanted to launch an online snowboard store, but they encountered a significant roadblock: the lack of user-friendly software for setting up an online shop. It was from this challenge that Shopify came into existence.

Fast forward to the present — this platform has grown into a powerhouse, hosting a staggering ten thousands of brands online. Whether you're an individual entrepreneur or a giant in your industry, Shopify offers solutions tailored to businesses of every scale.

In the face of this ubiquity, you might still wonder, "Is Shopify worth it for my business?"

This in-depth Shopify review 2023 will help you make an informed decision about whether you should invest in Shopify or not. We delve into everything, from its features to its pros and cons.

Let's dive right in!
Shopify quick overview
Here's a quick overview in case you don't have time to read this in-depth Shopify review:
| | |
| --- | --- |
| 💻Ease of use | Suitable for everyone — beginners or pros |
| 🎯Notable features | Smart SEO, Dropshipping, Marketing, Shopify analytics |
| 🛠️Apps and plugins | 8000+ |
| 🖼️Themes | 80+ fully customizable themes |
| 💵Pricing | Starting from $29/month |
| ⭐Raiting | 9/10 |
We highly recommend Shopify as one of the best end-to-end eCommerce solutions for themes and features for every industry and pricing plans for businesses of every scale.
What is Shopify?
Shopify is a SaaS solution built for the eCommerce industry — which means it has everything you'll need to launch your eCommerce store.
Its cloud-based platform equips you with all the features you need to set up a website, sell, and make money online.
From managing your orders, to payments, customer data and more - you can do it all on one dashboard, from anywhere in the world.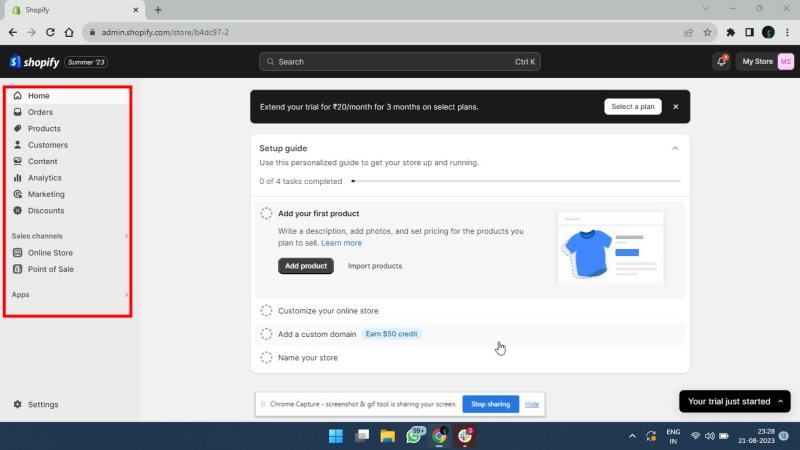 The platform caters to businesses of all sizes, across industries - from digital products, fashion and apparel, health and wellness, beauty and cosmetics, consumer electronics and more.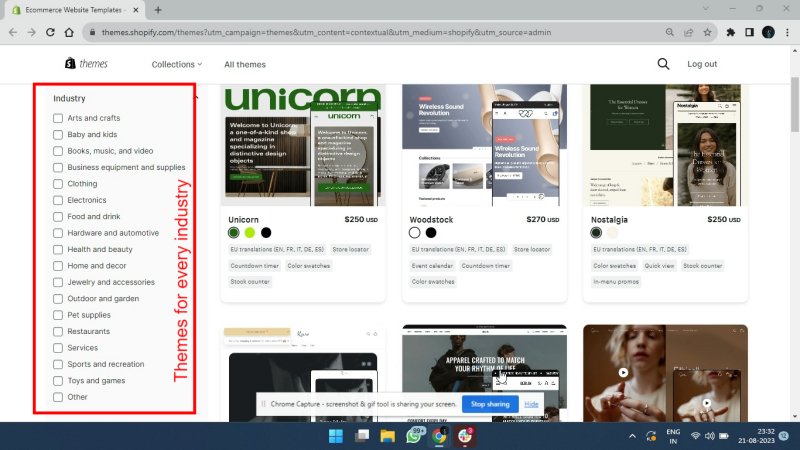 Now that you know what Shopify is, let's look into the pros and cons of the platform in detail.
Shopify Website Builder Review: Pros and Cons
A Shopify review is incomplete without weighing the pros and cons of the platform. Here we go:
| | |
| --- | --- |
| Shopify Pros | Shopify Cons |
| ✔️ Ease of use | ➖ Pricing |
| ✔️ 24/7 available customer support | ➖ Limited customization |
| ✔️ Multiple payment processors | ➖ Difficulty with content marketing |
| ✔️ Supports all categories of eCommerce businesses | ➖ No email hosting |
| ✔️ A good variety of themes | ➖ Leaving is difficult |
| ✔️ Apps and plugins | |
| ✔️ SEO and marketing | |
| ✔️ Hosting and security | |
| ✔️ Customization available | |
What we liked about the Shopify website builder:
1. Simplicity and Ease of Use: Shopify's website builder offers a user-friendly experience with its drag-and-drop tool. You can customize your online store without any technical hassle, allowing you to get your business up and running quickly.
2. Diverse Payment Options: Shopify supports multiple payment processors, making transactions smoother and quicker. This flexibility widens your audience reach, allowing you to sell to a global market.
3. Abundance of Themes: The variety of Shopify themes suits various business niches. A well-designed store enhances visitor retention, which can translate into higher conversion rates. Numerous free themes are also available.
4. Rich App and Plugin Ecosystem: Shopify's built-in app store features over 8,000 apps and plugins, each catering to specific needs like shipping, inventory management, marketing, and more. These integrations streamline operations and enhance functionality.
5. Customization Possibilities: You can personalize your store's appearance with ease using the customizable website builder. Even if the default themes don't fully match your taste, you can edit them to align with your vision.
What Shopify website builder can improve:
Everything that comes with pros has some cons too. Here are some Shopify disadvantages:
1. Pricing Considerations: While Shopify offers convenience, it comes at a cost. Monthly plans range from $39 to $299 and go over $2000 per month for businesses with high-order volume. And though a free trial is available, the basic plan might lack essential features. Upgrading for more functionality can be expensive, particularly for small businesses.
2. Content Marketing Challenges: Shopify's built-in content marketing features are limited. Blogging, SEO, and social media content might not be as seamless as desired due to outdated software.
3. Customization Constraints: While Shopify is customizable, the process might be challenging for those unfamiliar with the Liquid setup it employs. Customizing themes could require a learning curve.
4. Lack of Email Hosting: Shopify doesn't provide email hosting, necessitating third-party extensions for managing customer communications via email.
5. Exit Difficulties: Moving away from Shopify can be complicated due to its lock-in feature. If you choose to leave, you can only take your store data in CSV format, making the transition quite challenging.
Shopify pricing review
Shopify offers three packages — basic, advanced, and plus. So whether you're just starting out or moving an offline business online, there's a plan available for everyone.
The good thing is that you can scale your Shopify pricing plan up or down based on your business growth easily.
| | | |
| --- | --- | --- |
| Plan | Features | Price (Yearly) |
| Shopify Basic | Online store, unlimited products, 2 staff accounts, 24/7 support, sales channels, hydrogen storefronts, up to 1000 inventory locations, marketing automation, customer segmentation, basic reports, abandoned cart recovery, free SSL certificate, etc. | $29 |
| Shopify Advanced | All the above + 15 staff accounts, advanced reports, third-party calculated shipping rates, Shopify flow, and more. | $299 |
| Shopify Plus | All the above + 25 storefronts, priority support, Checkout extensibility, B2B on Shopify, Shopify Audiences, tax automation, Bot protection, Certified App Partners, Custom app built with Shopify Functions, and more. | Starts from $2000 |

Grow your small business online
Sign up for Shopify's free trial and take advantage of the "3 months for 1$" offer
Selecting the optimal Shopify plan for your business hinges on evaluating your unique requirements — your budget, business scale, desired features, and growth objectives. Here are some points that you should consider before choosing your Shopify plan:
1. Shopify Basic
Suitable for businesses with two or fewer staff accounts.
If you have up to four inventory locations.
If you don't need advanced reporting features.
If calculated shipping rates aren't a priority.
Ideal for single-country sales and modest budgets.
2. Shopify Advanced
Best for businesses needing more than two or up to 15 staff accounts.
If you have up to eight inventory locations.
For advanced reporting needs.
If showing real calculated shipping rates is essential.
If you want to sell internationally at different prices.
3. Shopify Plus
Tailored for enterprise-level businesses.
If customization and scalability are crucial.
For those requiring dedicated support and lower transaction fees.
Ideal for businesses that demand automation, wholesale management, and omnichannel capabilities.
Is Shopify easy to use?
Setting up and managing an online store can seem like a daunting task, especially for those who're new to e-commerce or tech.
Is Shopify easy to use, particularly for beginners? Yes, it is one of the easiest-to-use eCommerce store builders out there, if not the most.
Starting your journey with Shopify is designed to be a smooth and hassle-free experience. The signup process is as simple as entering your email, setting a password, and choosing a store name. This initial step sets a welcoming tone, making onboarding simple for all levels of users.
The second step is creating an online store, which might sound complex, but Shopify's dashboard breaks down this process into manageable steps.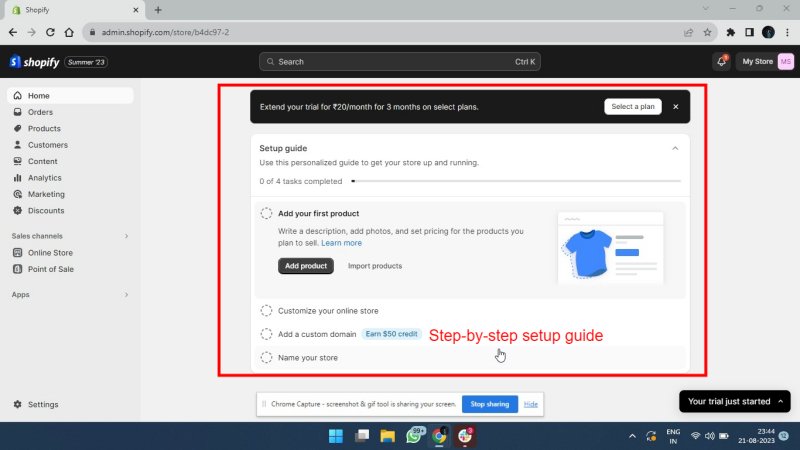 The interface lays out essential information, making the design and setup of your store intuitive and easily understandable.
So no matter who you are — a tech-savvy entrepreneur or someone new to SaaS solutions, Shopify's dashboard guides you through the process, ensuring you don't feel overwhelmed.
The ease of managing your store and products on Shopify is where the platform truly stands out. With various user-friendly options available, you can set up your store and tailor your product offerings without fuss.
The management tools are thoughtfully designed to be approachable and user-centric, simplifying tasks that could otherwise be complex. It's now time for Shopify's features review.
An in-depth look at Shopify features
If you want to truly grow your online business, you must understand the true potential of your eCommerce store builder.
And Shopify isn't just a run-of-the-mill e-commerce platform. It's as good as you want it to be — from aesthetics to analytics, it has it all.
Here's taking a look at some of its features:
1. Theme Editor
One of the best features of Shopify is its easy to use theme editor, which makes it a go-to choice for businesses of all sizes.
Once you have picked a Shopify theme for your online store, the editor lets you customize the layout as per your need. You can simply select the different blocks and fields from the displayed menu, add images, videos and content, and preview the changes before you go live.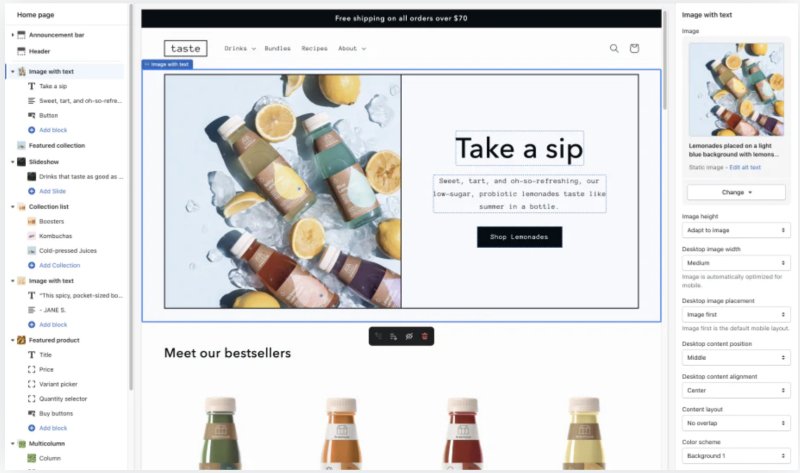 2. Shopify POS
Shopify introduces the concept of frictionless omnichannel selling through its Point of Sale (POS) system.
This feature allows businesses to extend their reach beyond the internet and establish a physical presence, even setting up pop-up stores.
The integration of Shopify's POS system lets merchants process in-person transactions, sync them with their online inventory, and manage everything from a unified dashboard.
This means that whether a customer buys in-store or online, your inventory and sales data stay aligned.
The application caters to both small businesses and enterprises, offering options like Shopify POS Lite and Shopify POS Pro, which come with advanced analytics and omnichannel capabilities.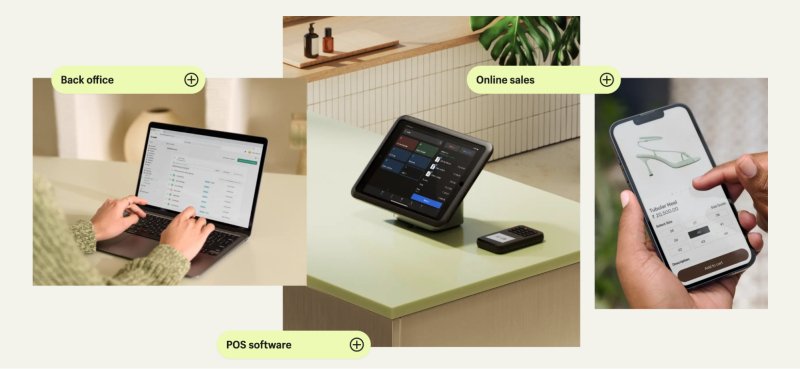 3. Shopify Dropshipping
Dropshipping, a model that eliminates the need for maintaining inventory by connecting businesses directly with suppliers, is a breeze on Shopify.
This revolutionary feature not only simplifies inventory management but also enables businesses to offer a wide array of products without having to deal with the intricacies of traditional inventory upkeep.
4. Shopify Smart SEO
Shopify acknowledges the importance of Search Engine Optimization (SEO) in driving online success. It equips users with built-in SEO tools to enhance their website's visibility on search engines.
You can edit the title tags, meta descriptions, and URLs for all your content - blog posts, webpages, products, and collections.
You can edit the alt text for images.
In addition to its native SEO features, Shopify supports third-party app integrations that supercharge SEO efforts.
Applications like TinyIMG for instance can help businesses boost page speed, create image sitemaps, set up ALT text and more to help you get discovered on the search engines. The good thing is that you can do it all from the Shopify CMS Manager, making it much simpler to do.
5. Marketing features
Whether you're just getting started or are looking for ways to streamline communication with customers, Shopify equips you with key marketing tools.
Social media integrations - You can integrate your Shopify store with popular social media channels to promote your brand and sell to customers at touchpoints that matter.
Shopify Inbox - Assist your target audience or store visitors in making the right purchase on live chat. This tool comes with advanced features that help with automation and labeling of conversations.
Shopify Email - From welcome messages to abandoned cart recovery reminders, use emails extensively to keep customers informed, engaged and coming back for more.
Localization - Shopify enables you to truly embrace running an online business by giving you the ability to localize store experiences and sell to multiple international markets.
6. Shopify order management and fulfillment
Shopify makes it easy for businesses to keep up with their orders, no matter how big or small their sales are. It removes the need for them to maintain multiple excel sheets and systems to keep records of their orders.
No matter what sales channel you're driving customers in from, you can manage it all from one dashboard. Apart from the ability to serve customers better, it also helps with inventory management, ensuring you can meet consumer demand proactively.
Additionally, you can fulfill every order from your admin with Shopify's built-in capabilities. This also helps ensure a great post-purchase experience for your customers.
7. Shopify Analytics
Nothing drives success in eCommerce better than decisions based on data. And Shopify's analytics tools provide businesses with all the necessary insights.
Shopify Analytics offers a comprehensive view of customer behavior, sales trends, and marketing effectiveness.
By understanding customer activities, demographics, and purchase patterns, businesses can optimize their strategies for better engagement and conversions.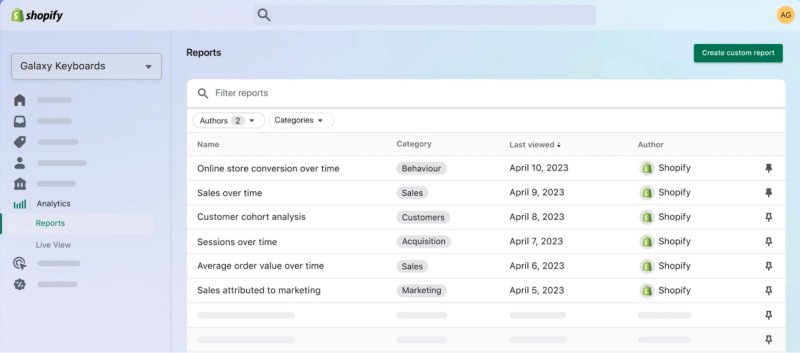 Integrating with Google Analytics further magnifies Shopify's analytical prowess, offering a holistic view of website performance and customer interactions.
But that's not all, Shopify covers the smallest of details to help you sell online: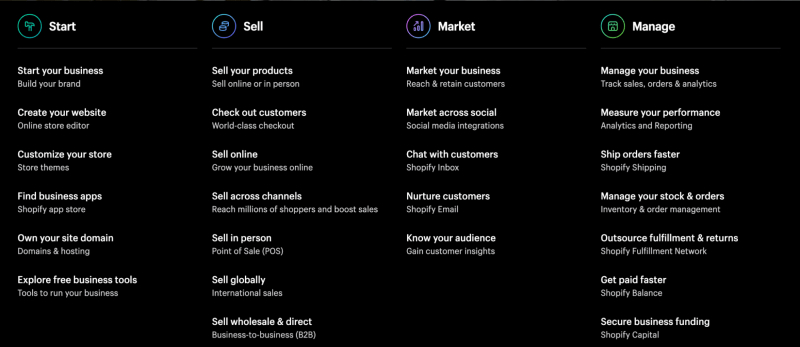 How to make money on Shopify?
To make money on Shopify, you should focus on niche selection, quality products, compelling product descriptions, effective marketing, SEO optimization, social media engagement, and providing excellent customer service. Continuously analyze and adapt your strategies to meet market trends and customer preferences.
Some of the popular online businesses run on Shopify include:
Start a dropshipping business
Sell handmade or custom products
Create and sell digital products
Become a Shopify affiliate
Flip Shopify stores
Bring your brick-and-mortar store online
Sell print-on-demand products
Monetize your social media channels
Develop a Shopify app or theme
The good thing is that you can experiment with business ideas and scale your online store easily based on your revenue goals.
PS. Did you know that some of the biggest brands like Kylie Cosmetics, Allbirds, Staples, Indigo and many others have built their online stores on Shopify?
How to start your eCommerce store and sell on Shopify? [Easy Steps]
Follow the easy steps below to sell on Shopify in 2023:
Sign up for a Shopify account.
Customize your store's design using themes.
Add products by uploading images, descriptions, and prices.
Set up payment and shipping options.
Launch your store and promote it through marketing strategies like social media, SEO, and email campaigns.
Manage orders and customer interactions through the Shopify dashboard.
Shopify has created a detailed step-by-step guide to help you get started with setting up an online store. You can access it here.
And if you're looking for a step-by-step guide on setting up an online store and launching your business online, read this guide.
5 must have Shopify apps for starters
As a new Shopify store owner, you need apps that provide essential functionality and help your business thrive. Here are 5 must-have Shopify apps to get your store started on the right foot:
1. TinyIMG

TinyIMG is the best app for optimizing images and speeding up your site. It compresses images and helps pages load faster, which improves SEO and conversion rates.
Slow page speeds hurt conversion rates and search rankings. TinyIMG resizes and optimizes your images to make pages load lightning fast.
It also handles technical SEO, improving things like meta titles and descriptions. With TinyIMG, you get all the performance benefits without having to manually optimize every image.
2. PageFly

PageFly is a landing page builder that helps you maximize conversion rates. Use it to quickly build targeted, high-converting pages for campaigns and ads.
Generic pages often fail to convert visitors into buyers. With PageFly, you can make customized landing pages that speak directly to your promotions. Select from hundreds of professionally designed templates, then customize with your brand colors, images, and messaging.
PageFly also lets you A/B test different page versions to optimize conversion performance.
Suggested reading
3. Printify

Printify is the great app for running multiple print-on-demand Shopify stores. It connects you with a global network of fulfillment partners to handle printing and shipping your designs.
With Printify, you can run POD products on up to 10 different storefronts from one account.
It offers some of the most cost-effective POD fulfillment and a huge range of eco-friendly products. You get a realistic mockup generator plus options to select your preferred print provider.
Printify makes scaling multiple POD brands affordable and efficient.
4. Loox

Loox is one of the best app for collecting visual reviews and running referral programs. It helps build trust and turn happy customers into brand advocates.
Loox makes it easy to request post-purchase reviews with automated flows. It captures visual content like photos and videos that you can display as social proof.
You can also run customizable referral programs to incentivize customer loyalty and word-of-mouth promotion. With multilingual support and extensive customization options, Loox is a great choice for any type of Shopify store.
The key advantage of Loox is that it goes beyond plain text reviews. The visual content it generates acts as social proof that resonates more with modern buyers. Loox also lets you showcase UGC across your website and ads for further impact.
5. Uppromote

UpPromote makes it easy to run affiliate marketing for your Shopify store. It has a simple setup for creating affiliate registration, tracking links, making payouts, and more.
UpPromote gives you detailed analytics on affiliate activity and performance. You can easily approve and manage affiliates right from your Shopify dashboard. It also protects you against affiliate link misuse and fraud.
For those new to affiliate programs, UpPromote offers the features and tracking you need with a simplified interface.
A major benefit of UpPromote is that it handles the technical side of running an affiliate program for you. The app sets up link tracking, coupon codes, payouts, and reporting automatically based on your settings. This makes affiliate marketing accessible even if you don't have the technical expertise.
5 best Shopify alternatives to set up an online store
If you want to explore other options available to you, here are some of the best Shopify alternatives:
WooCommerce
BigCommerce
Magento
Prestashop
Squarespace
Let's look into each of these Shopify alternatives in detail:
1. WooCommerce
WooCommerce is a renowned Shopify alternative that you can effortlessly integrate with WordPress, transforming websites into functional online stores.
This open-source plugin offers extensive customization and growth opportunities. Its scalability, wide range of free and premium themes, and diverse plugins make it a favorite among entrepreneurs.
However, advanced functionality may require investment in pricier versions. While it lacks built-in hosting, WooCommerce's freedom to sell unlimited products and user-friendly interface stand out.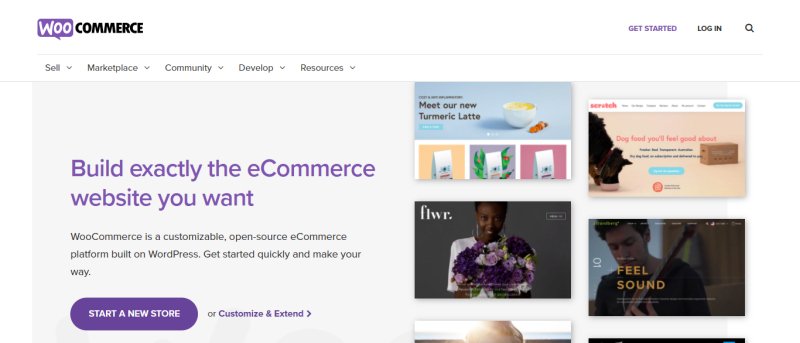 2. BigCommerce
BigCommerce, known for scalability, offers advanced SEO tools, multi-channel selling, and integrations.
Its drag-and-drop editor facilitates straightforward store setup, although the loading speed might vary.
The pricing ranges from $29.95/mo to $299.95/mo, catering to businesses of different sizes.
While customization options might surpass Shopify, the pricing structure can be complex for newcomers.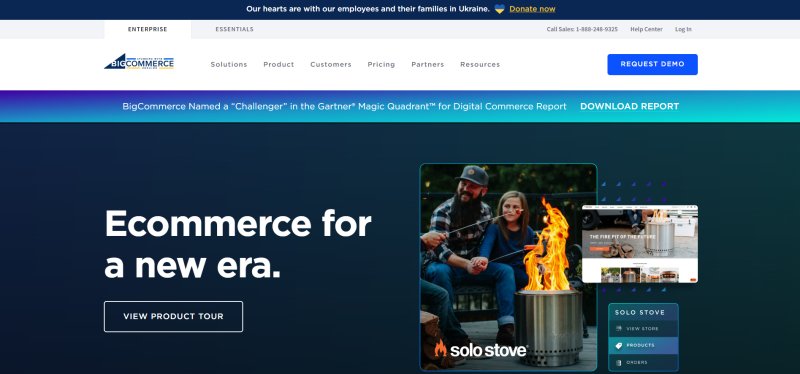 3. Magento
Magento, popular among established businesses, provides flexibility and scalability. The open-source platform requires coding knowledge but offers high-level functionality and customization possibilities. Its large developer community and various add-ons enhance its features. However, its complexity might challenge new users, and hosting, themes, and plugins come with additional costs.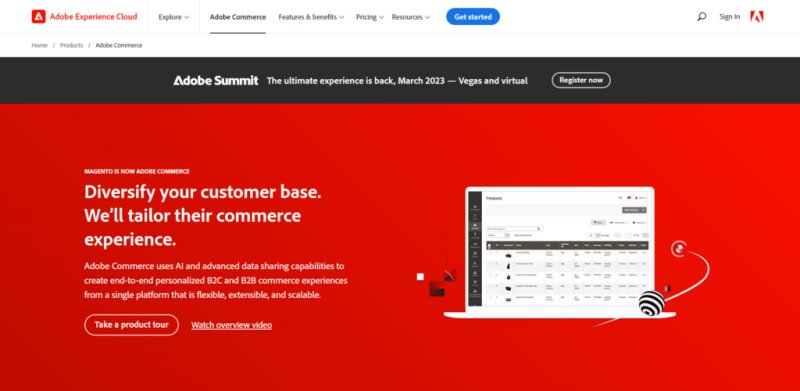 4. Prestashop
Prestashop, an affordable alternative, suits budget-conscious entrepreneurs. Its free CMS requires hosting and domain purchase. While theme variety might be limited, its user-friendliness is comparable to Shopify. It supports multiple languages and currencies, but customization and technical skills are essential for optimal use.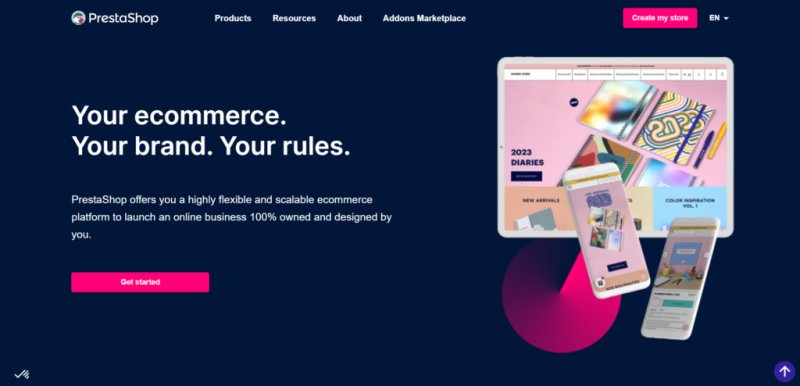 5. Squarespace
A fairly old content management system, Squarespace too comes with features that can help you set up an online store. From ready-to-use and customizable website templates, designer fonts, color palettes and more, Squarespace offers it all to help you create the look and feel that suits your brand. It also comes with built-in integrations with payment gateways, shipping solutions and more to streamline operations.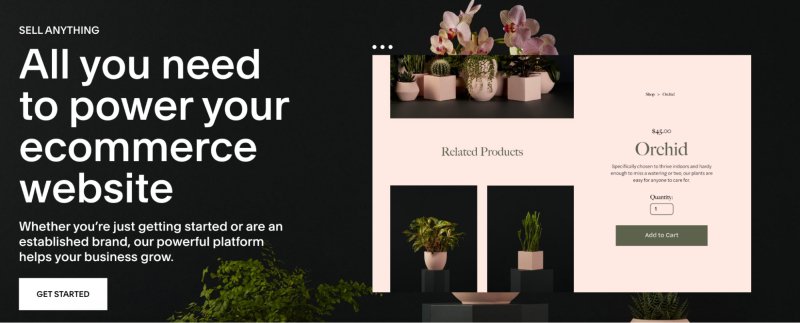 How to delete a Shopify account?
Incase you don't want to use Shopify or want to shut down you store, you can delete the account by following these steps:
Log in to your admin panel, go to Settings.
Choose Plan, then select between pause or cancel your subscription.
Select Cancel subscription and close the store.
Pick a reason, and click Continue.
Confirm with your password and click Close the store.
Conclusion: Shopify Review 2023
Shopify stands out as a versatile and robust e-commerce platform that caters to businesses of all sizes.
Its user-friendly interface, customizable themes, and extensive app ecosystem make it an attractive choice for entrepreneurs looking to establish an online presence.
The various pricing plans cater to different needs, offering scalability and flexibility.
The platform's unique features, such as Shopify POS, SEO tools, dropshipping capabilities, analytics, and abandoned cart reminders, make it a powerful tool for businesses seeking growth in the digital marketplace.
Additionally, its partner ecosystem of agencies and solution builders further enable you to scale your business without having to heavily invest in development resources. This reduces your go-to-market time and operational costs.
With the right strategy and resources, Shopify empowers businesses not only to create but also to thrive in an industry as competitive as eCommerce.
Frequently asked questions
Yes, Shopify is a highly reputable and user-friendly e-commerce platform. Its range of features, customizable options, and app integrations make it a valuable tool for building and growing online businesses.
Shopify Plus is an enterprise-level version of Shopify tailored for large-scale businesses. It offers advanced features, scalability, and customization options to handle high-volume sales and complex operations.
Shopify and Etsy serve different purposes. Shopify is a comprehensive e-commerce platform where you can build your own store, while Etsy is a marketplace for selling unique, handmade, and vintage items. Choose based on your business model and goals.
Shopify is not entirely free. While it offers a 14-day free trial, ongoing use requires subscription fees based on your chosen plan. However, the costs are justified by the platform's features, support, and potential for online business success.
Yes, Shopify is completely legit. Over 6 million stores are using Shopify to sell their products online.