By purchasing through the links on this page, you are giving us the opportunity to earn a commission. Your support is greatly appreciated!

Selling digital products on Shopify is easy: no inventory, high profit margins, evergreen product pages. Sounds like a dream, right?

And it is! We're here to show you how to sell digital products on Shopify and make money.

We'll cover Shopify website optimization for digital products, give trending product and marketing tips as well as review benefits.

Let's do this, shall we?
Start selling digital product on Shopify step-by-step
You need to adapt your Shopify website a bit if you want to sell digital products. We'll cover this process in six simple steps.
Tip: We'll assume you have a functional Shopify store that simply needs digital product download functionality. If you're building your Shopify store from scratch, start with our guide on how to set up your Shopify store and come back to this article once you're done.
1. Install digital download app
While it is an all-powerful eCommerce platform, Shopify does not have a native digital product upload functionality.
Worry not! Plenty of app developers took it upon themselves to enable digital creators.
Let's take a look at our main app recommendations for selling digital products on Shopify:
EDP - Easy Digital Products - 5-star rating, free up to 30 digital orders per month. License keys to protect your digital products, customizable emails and download buttons are all available. The UI isn't the most slick, but otherwise it's a great, affordable app.
SendOwl - 4.4 stars, more pricey plus charges commission. That being said, it offers nifty automatizations that could be handy for sellers with hundreds of digital products on their Shopify store.
Digital Downloads - a free but not-so-loved alternative brought to you by Shopify themselves.
Once you settle on your preferred option, install it, pick a plan and let's get to work.
2. Add digital products to your Shopify store
Now that we actually can, it's time to add your digital products to your Shopify store.
The process will vary from how you would add products to Shopify in a regular way depending on the app you choose. For the purpose of this tutorial, we're going to use the EDP - Easy Digital Products app.
First, this app does not allow you to create product pages. Your regular product pages need to be live on Shopify so you can include digital files.
Here is how you add digital products to Shopify:
1. Open the app and click "Create Digital Product / Variant".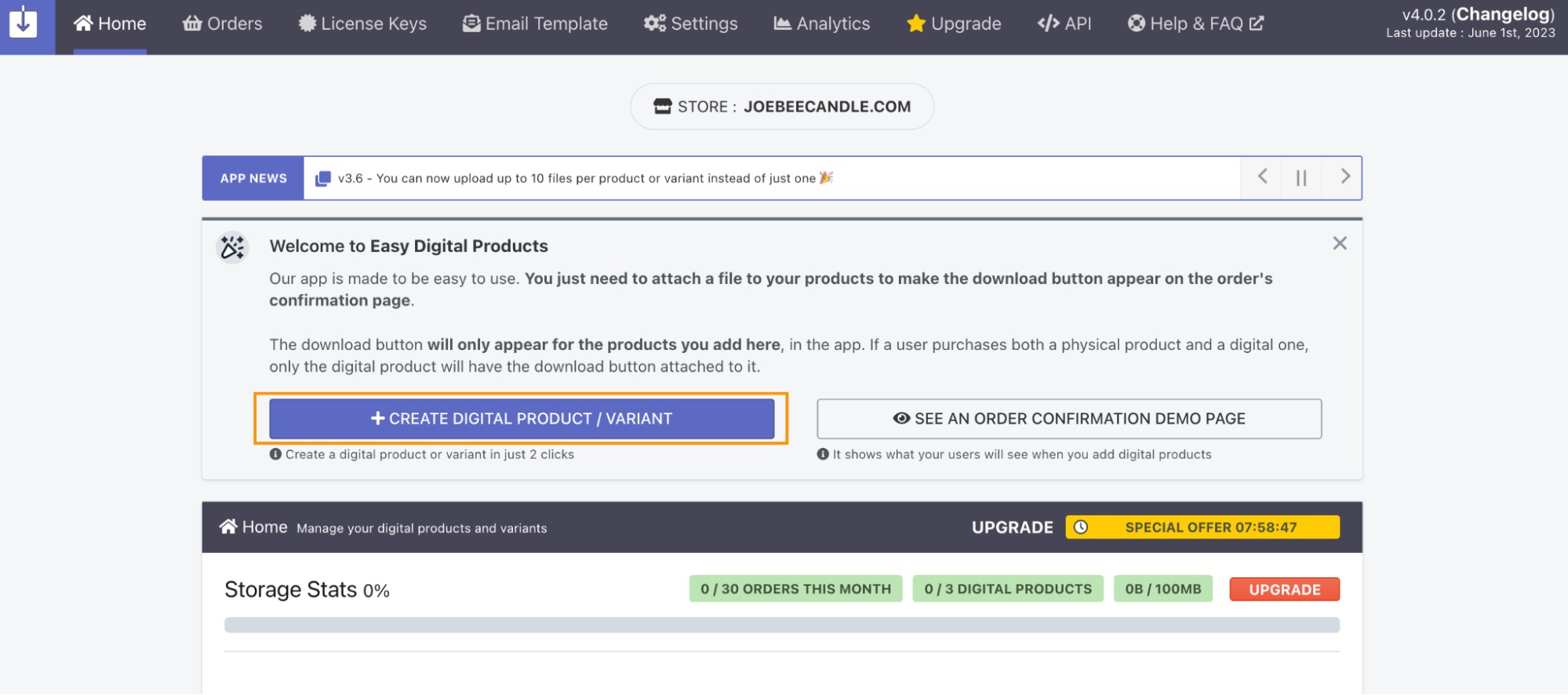 2. In the search bar, type in product title. Depending on how specific you are, all of your product page options will appear below once you click "Search".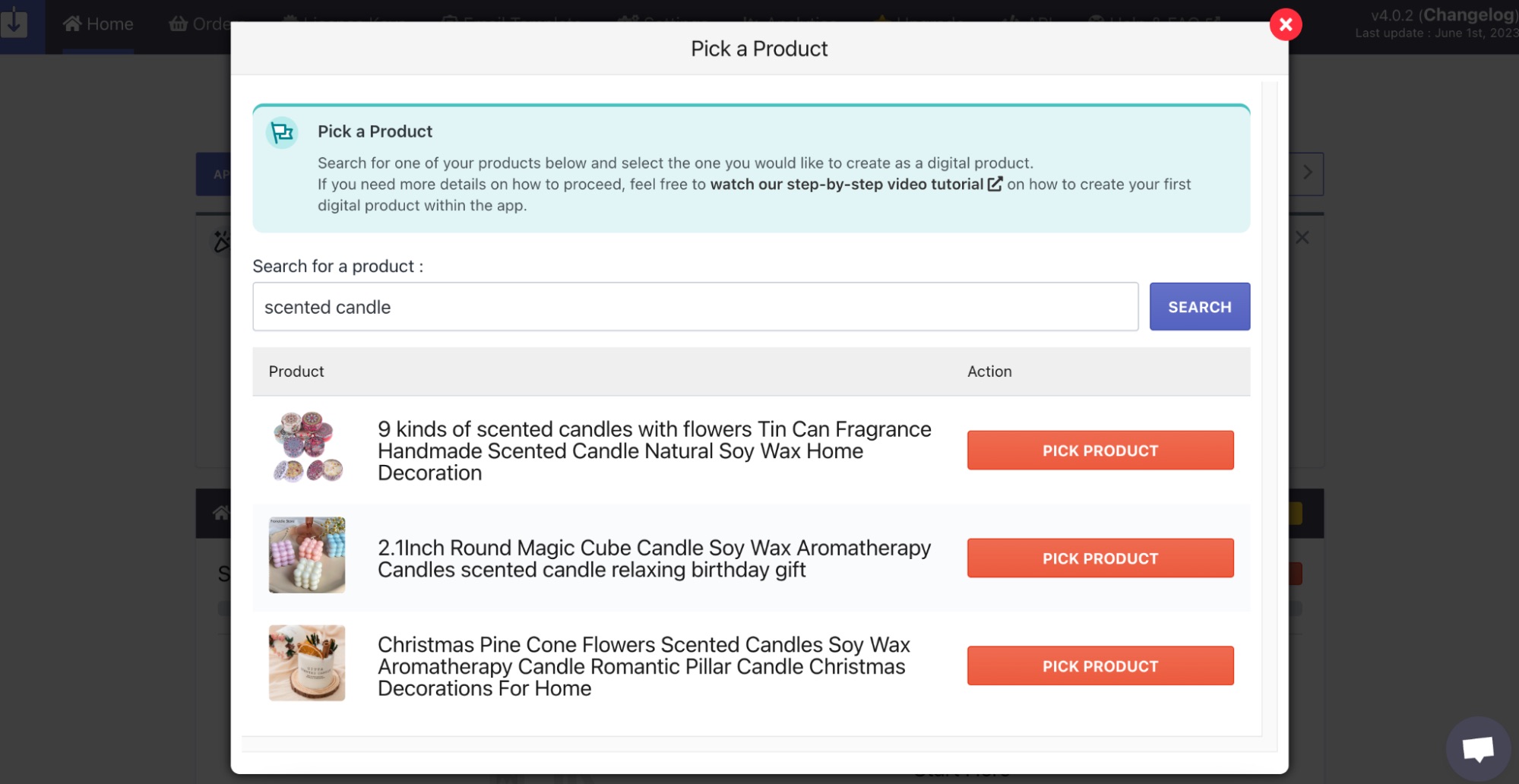 3. Once you pick the product page you want to work with, a window will pop up where you need to specify the details for your digital download.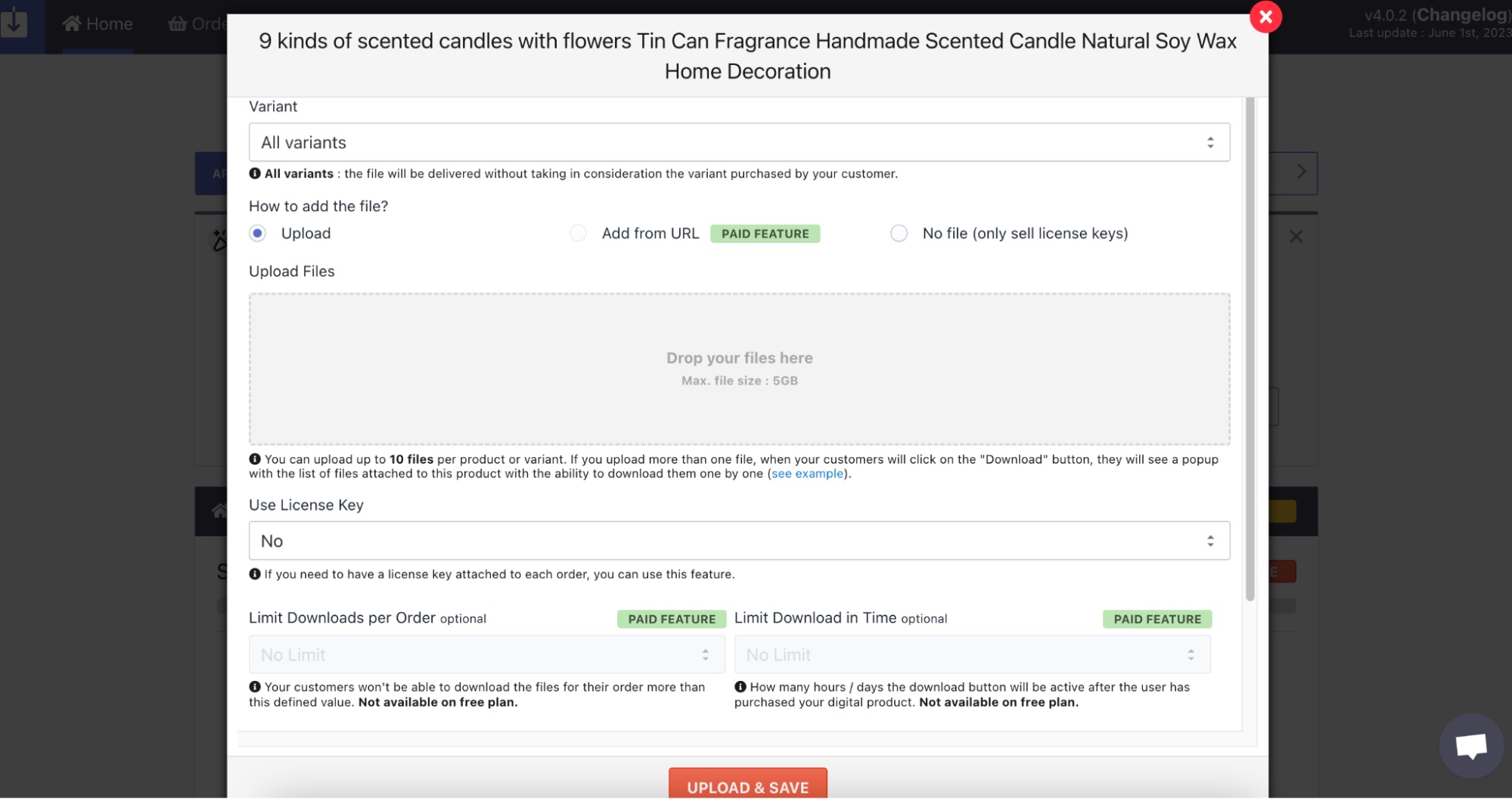 A couple of things to note:
Consider upgrading to a paid version to limit downloads per order, especially if the digital downloads you're selling can be easily replicated.
Use license keys to protect your digital product authenticity.
That's it, your digital product is live on your Shopify store!
3. Disable shipping for digital products
Now that we have our digital product available for download, let's disable shipping.
1. Go to "Products" and select the product page with the digital download.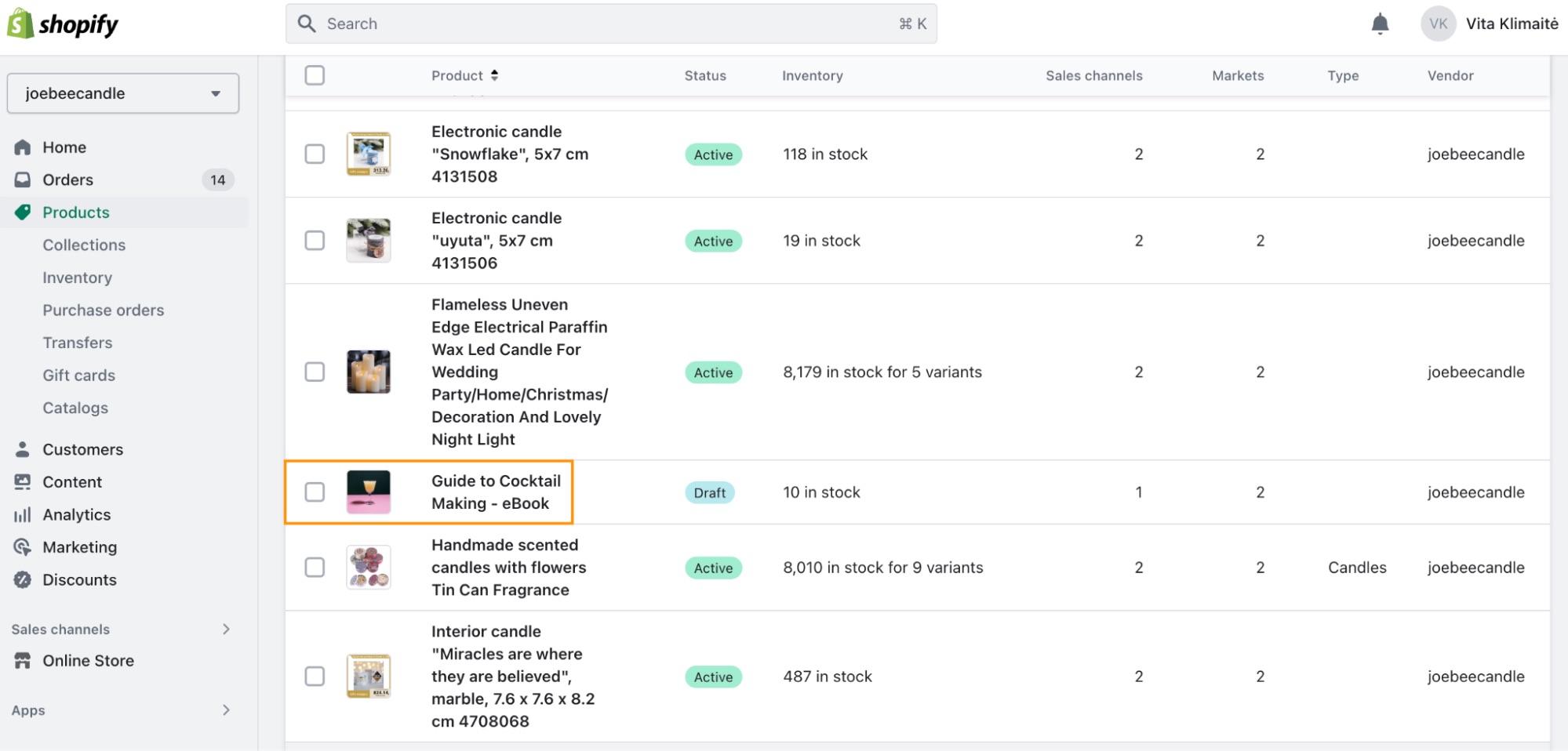 2. Scroll down to the Shipping section and select Digital product or service, then click Save.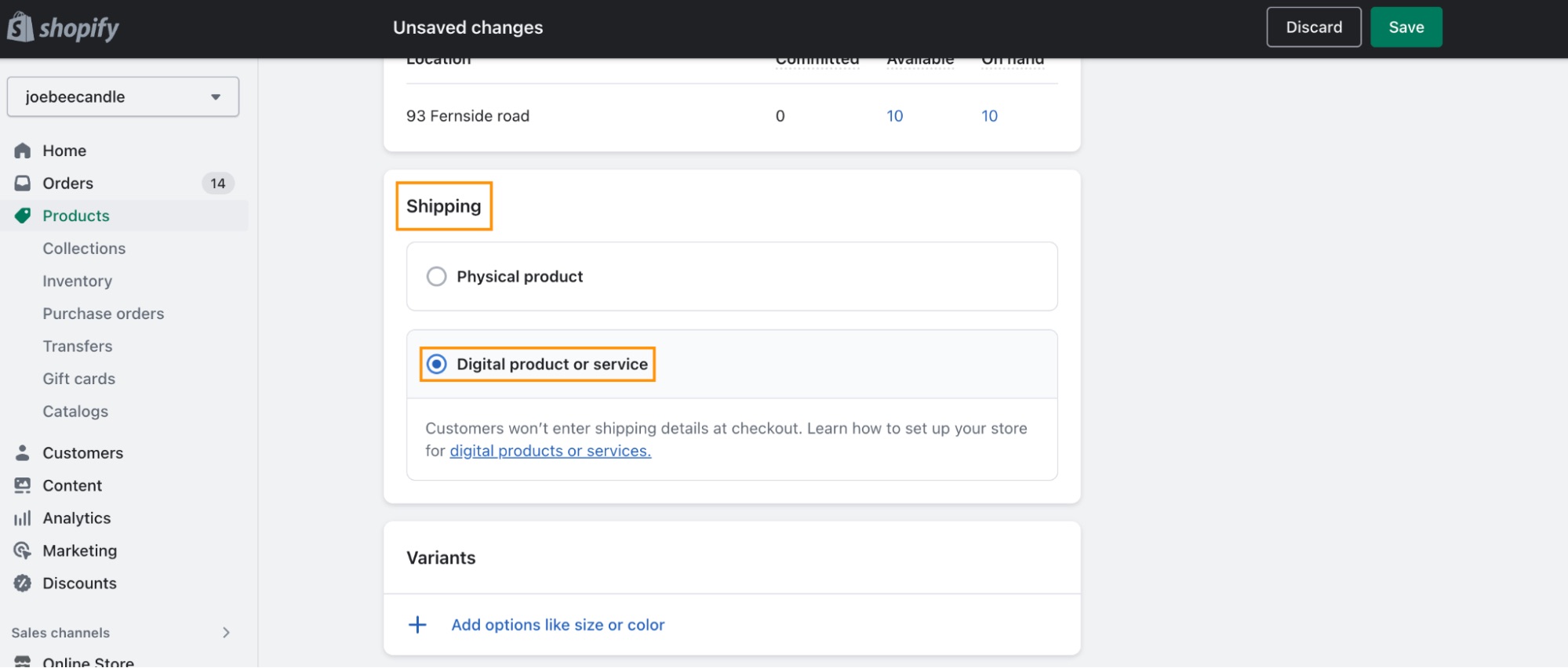 Done!
4. Set up email templates
After the purchase, your customers will receive your product download links straight to their email. Let's take this opportunity and create memorable email templates for them!
To unleash the real potential of your order confirmation emails, you should:
Create your own, original and creative email copy and subject line
Customize the downloads block
Include additional product recommendations to encourage further shopping
Ask happy customers to leave a review
Give easy access to customer support in case shoppers have issues with their download link
Which ones you can handle natively will depend on the app of your choice. That being said, if you live and breathe digital products, it might be worth it to contact their support and find out whether making custom features for missing things is an option.
Here is an example of an order confirmation page from EDP app your customers will see after the purchase: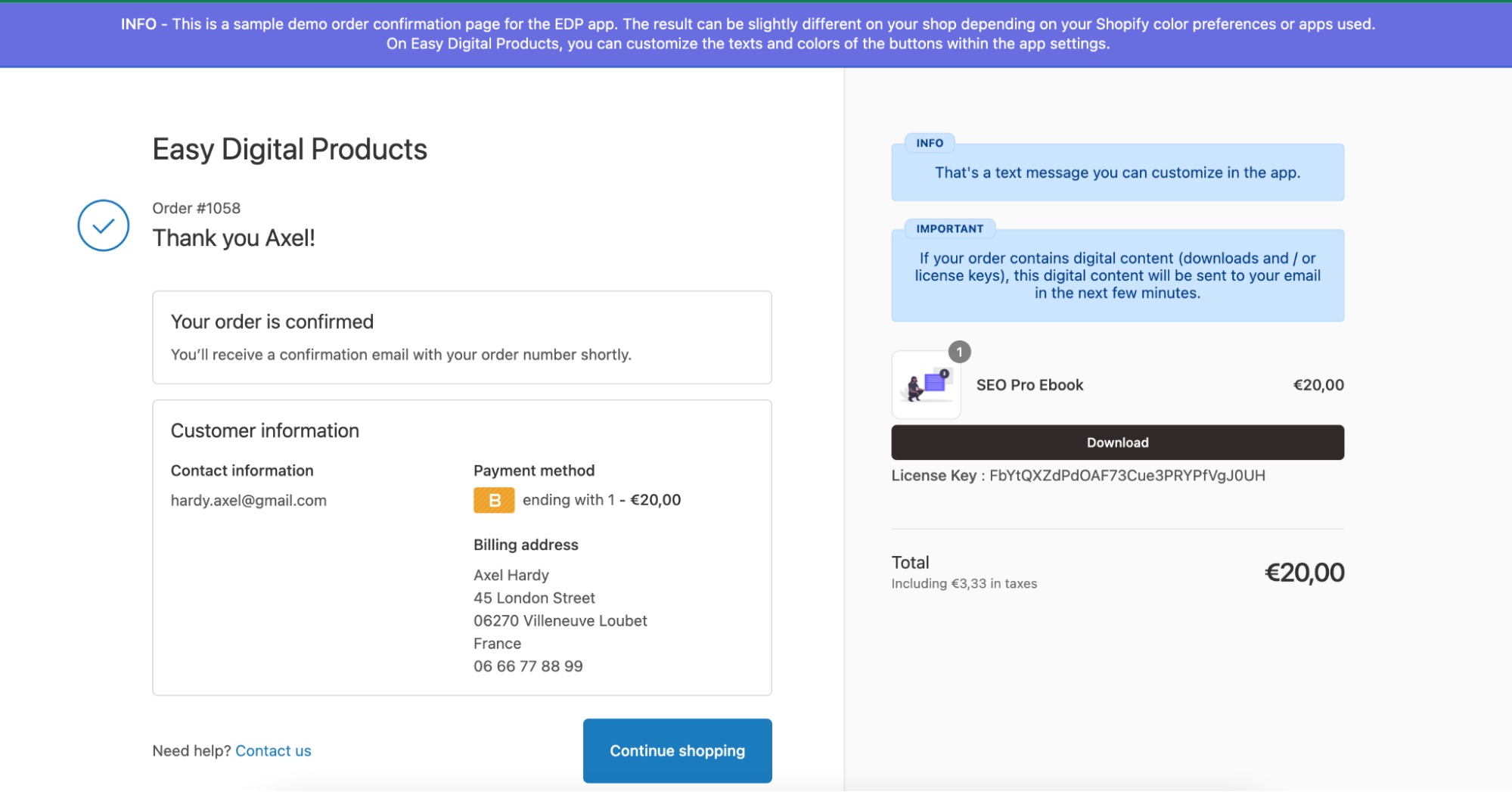 Keep in mind that with EDP, your emails play a slightly lesser role since the download buttons are already available on the post-purchase screen.
5. Optimize product pages for search
Your digital products are good to go, now let's make sure people can find them!
Shopify digital product page optimization isn't all that much different from the regular ones. We have an entire section dedicated to that on our Shopify SEO guide, but let's touch base anyways.
For a well-ranking Shopify digital product page, you need:
That's just the beginning! All the effort you invest in making your product pages informative, unique, and a breeze to navigate will be accounted for by both your customers and Google.
6. Promote your products
Organic search optimization is a long-term game, but you're also eager for the world to see your new digital products asap, aren't you?
Let's check out some ways to promote your digital products immediately:
Email campaigns. You've probably gathered a blooming email list by now (and if you haven't, get on top of that, yesterday). Craft a product launch email and reach a narrow audience with huge conversion potential directly in their inbox.
Social media. Digital products are usually highly visual. Use that to your advantage by running a Pinterest and Instagram post campaign. If you don't yet have the reach that would bring results, consider ads or sponsored posts. And don't forget to sync up your social media and SEO strategies!
Organize a giveaway. That's one sure way to get thousands of people talking. If your following is small, you can always reach out to influencers in a relevant niche and have them do the job for you.
That's just a few effective ideas. Overall, put out as much visual content as possible around your new digital product, make promises (only ones you can keep, of course) that it will bring something special into your customers' lives and watch the sales roll in.
Trending digital products to sell on Shopify
Are you having a hard time coming up with your first digital product idea? Or perhaps you've already succeeded in launching one and are now looking for the best direction to grow?
Whatever the reason, you can never go wrong by expanding your Shopify digital product inventory with trending options.
Online courses - turn whatever you know best into a passive source of income.
Digital artwork - photographers, designers, animators, illustrators – this is your chance!
Printables and templates - who doesn't love a cute monthly planner poster or a habit tracker spreadsheet?
eBooks - whether you're the one writing it or simply reselling it, it's bound to work.
Fonts - you'd be surprised how many people will invest in a custom font for their website.
If none of these strike your fancy, remember that you can always tap into your hobbies, skills, and interests to create something completely unique!
More tips for selling digital products
What's most important to take into account to sell digital products on Shopify?
Here are a few extra tips relevant largely to digital product strategy.
1.Build an email list in advance
To launch your digital products on Shopify successfully, start building your subscriber list as early as possible.
How do you do that if you don't yet have a product and, potentially, even a website?
A couple tested strategies will help:
Build a landing page with your digital product preview and countdown until launch. Give people an opportunity to sign up with their email to get notified when the product becomes available. Promote the landing page wherever you can.
Promise an early bird discount. Tell everyone that if they volunteer their emails, they'll get access to the product a day before everyone else with a 20% discount.
Make opt-in form super accessible. Promote your perks and invite people to sign up everywhere you can.
Use pop ups. While annoying, they can be very effective if you already have a website and a decent offer.
Follow these tips and you'll see, once it's time to launch the product, you'll thank yourself.
2. Invest in quality product content
When you're purchasing a dress or a phone, you know exactly what value you're getting out of them. With digital products, that's not always the case.
It's your responsibility to explain, and better yet show, how the digital product you're offering can change someone's routine, improve well-being or bring in that lifestyle edge they've been craving.
You can never go wrong with investing in visual content for your digital products. Inspire shoppers with a short video of people reading your eBook and experiencing positive changes or emotions afterwards, create a moodboard to present how your custom font shines with the right design, or add living room mockups with your photography on the walls.
Whatever you're selling, make sure you help your customers create vision around it.
3. Protect your product
Digital products are a lot more susceptible to illegal reproduction and piracy, so protect them to your best ability.
Here is how:
Copyright your product.
Use license keys to grant access to downloads (available with EDP app).
Disable right click from your website.
Password-protect your downloadable content.
Set a download limit to prevent link sharing.
PDF-stamp customer's personal details on their downloadable and discourage them from sharing (available with EDP app).
Now, with enough tech-savviness and effort you can by-pass pretty much all of these suggestions. However, you can rest assured that at least you'll make them work for it and if you do find out someone's profiting off your work, you can take legal action.
Benefits of selling digital products
If you're still unsure as to why you should choose digital products for your Shopify store over psychal ones, let us help you.
You can't beat these advantages of digital products:
Higher profit margin - no manufacturing or storage facility costs means pretty much everything you make is your profit.
No inventory management - unless you're a one-product store or a dropshipper, warehouse logistics and hiding out-of-stock products are quite a task. With digital products, you sell without inventory so that entire line of work becomes irrelevant.
No shipping - imagine, you never have to worry about customer satisfaction because you know that 110% of it is in your hands. Shipping delays, costs, and custom clearance are a huge headache to regular Shopify merchants you can avoid altogether.
Passive income. Depending on the type of your digital product, it can be a set-it-and-forget-it type of business model (e.g. fiction eBook). It will generate passive income with minimal supervision.
This should be enough to get the big picture. But trust us, you'll find even more digital product perks once you get going!
Selling digital products on Shopify: final thoughts
We learned to upload digital products to your Shopify store, discussed trending digital products, reviewed digital product benefits, and tips.
At this point, you're practically an expert on selling Shopify digital products!
So what's next?
Streamline the success of your digital product strategy: