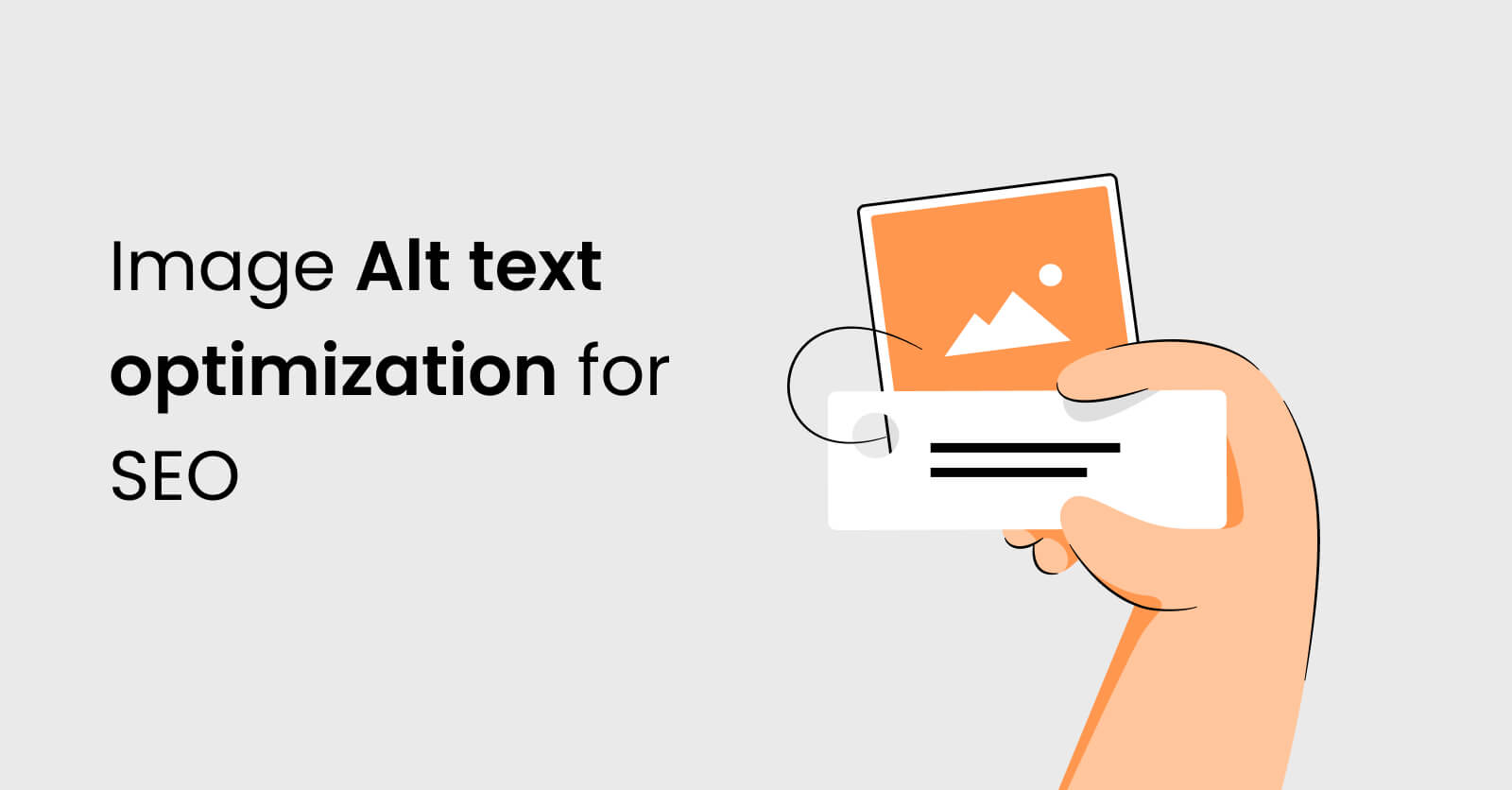 Usually, product images play an important part when trying to sell products on an eCommerce store. You add images to show how your product looks. Moreover, high-quality and interesting images could spark potential clients' interest to encourage them to buy from you.
However, if you want to make your images even more effective, you should learn all there is to know about ALT text and how it benefits image optimization for SEO.
Properly filled ALT texts make it easier for search engines to find you and rank you higher in SERPs.
We are sure you are least somewhat familiar with the terms "ALT tags," "title tags," and image "filenames," as you may have seen them when uploading images to your Shopify website. But how about learning their function and importance concerning SEO?
This article explains what these terms mean and how you can use them to your advantage to optimize your Shopify store images.
What is Image ALT text, and how does it help SEO?
ALT text stands for ALTernative text, and it is used within an HTML code for describing an image's appearance and function. In some cases, ALT texts can also be called ALT attributes, ALT descriptions, or simply ALT tags.
For Shopify stores, ALT texts come in handy when the merchants need to describe the images they upload to their online stores so that search engines, like Google, could better crawl and rank their websites.
When it comes to the Shopify SEO, ALT texts can help with the following:
Help search engines find images faster - unique ALT texts specify your product, making it easier to find.
Access images when they are not loaded on the page. When an image is not loaded, what you'll see instead would be an ALT text that you could use to find the pictures.
Ensure a better user experience. ALT text is one of those things that you don't notice when it is well done. However, if done wrong, it's one of the first things that give away the lack of great user experience on your Shopify store.
Add up to the value to image optimization and overall website SEO. Great SEO consists of many factors, and ALT texts are one of them. Therefore, put some extra effort and take care of them.
Difference between image ALT tags, title tags, and filenames
If you are new to Shopify SEO, terms like ALT tags, title tags, and file names may sound similar. While there are some similarities, these are three different things that require specific practices to help you reach your SEO goals.
Therefore, it's time we set the record straight when it comes to the following terms:
ALT tags
title tags
and file names.
ALT tags are often referred to as ALT text. They are the same - an ALTernative text attribute of an image tag.
Some of the best ALT tags practices include:
being short and specific;
using relevant keywords;
including words that are a part of the image.
Title tags provide additional information about the image. The title tag is displayed on the screen when you hover over a picture with your mouse cursor.
Some of the best title tags practices include:
using no more than 66 characters;
using keywords first;
mentioning your brand name.
File names are simply the names of your files that you upload from your computer to your Shopify store.
Some of the best file name practices include:
being short;
being descriptive;
using no more than four words;
using no underscores.
How to add ALT text to images on Shopify?
Let's now look at some of the practical tips and tricks of adding ALT text to images on Shopify.
We'll look at the four most common pages on the platform.
Adding ALT text to Product images
Adding ALT text to images on your product pages is no rocket science. However, let's quickly recap the main steps in different content management systems.
To add ALT text in Shopify product pages, follow these steps:
Login in to your Shopify store
Go to Products > All products
Choose the product you would like to edit
On the product details page, click a product media item
You will see the Preview media page
Click Add ALT text
Enter your ALT text and click Save ALT text.
Click the X to exit the preview page.
Adding ALT text to theme images
Adding ALT texts for the images on your online store is KEY as it makes the photos accessible to customers who are blind or have low vision.
These customers use screen readers and, hence, they count on the ALT texts to understand the content of the images on your theme images.
To add ALT text to the theme images, here's what you do:
From your Shopify admin, go to Online Store > Themes.
Find the theme that you want to edit, and then click Customize.
From the theme editor sidebar, click the section with the image that needs ALT text.
Below the image, click Edit.
In the dialog, enter the ALT text and then click Save.
Click Save.
Adding ALT text to collection images
Sadly, as of now, Shopify store admins do not have a built-in way to edit ALT texts for collection images.
What Shopify staff recommends to solve this issue is:
using coding skills (if you have some) to create a custom way to add ALT text to collection images;
using metadata apps that could do that for you.
Here's a friendly recommendation - you can always opt for the TinyIMG app and add ALT texts to your collection images in no time!
Adding ALT text to blog images
When it comes to the blog images, adding ALT texts helps to provide more context to your pictures.
As a result, your blog has more chances of ranking higher in SERPs, as the search engines understand that you create original content and not spam.
Therefore, whenever you are working on the new blog post, upload relevant images and choose the right ALT texts.
Shopify image ALT text for better SEO
If you are a Shopify merchant, by now, you already know the power of good images to your brand awareness and, as a result, sales.
Therefore, ensuring that your Shopify store images have both - great quality and optimization - is KEY.
One of the surest ways to achieve maximum image optimization that is by adding ALT texts. You can do it manually or use a good Shopify app for image optimization.
With ALT texts, you make it so much easier for the search engines to rank your online store and make it more accessible to your potential customers.
ALT texts in Shopify - best practices and tips
Now that we understand the power of a good ALT text, let's look at some of their best practices and tips.
In short, a good ALT text should have the following characteristics:
it should be brief yet very descriptive to make it a breeze to access;
it should include a targeted keyword (or a keyword phrase) that is relevant to your online store products;
no hyphens should be added.
Think of ALT texts for your Shopify store as crucial details that help your potential customers to discover your store and, eventually, buy from you.
Using apps for writing ALT text in Shopify
If you are starting to think that image file name and ALT text optimization will take forever, no worries. There is a way to make this process less of a headache. You can install a Shopify app that carries out image optimization automatically.
Take TinyIMG - Image Optimizer, for instance. This app:
automatically generates ALT tags for your product, collection and main blog images
reduces your images by up to three-quarters of their original size without sacrificing quality
additionally has other SEO and speed optimization features to boost your store performance
What is so great about TinyIMG is that you can generate your ALT tags in just a few clicks and, as a result, improve your Google Image Search rankings.
Moreover, using TinyIMG to add ALT texts to your images makes your Shopify store accessible to visually impaired users.
Bottom line
ALTogether, ALT texts are indispensable when it comes to a fully SEO-friendly Shopify store.
To ensure that your products have good ALT texts and file names, follow the tips mentioned in the article. Make sure you keep your ALT texts short and descriptive and include relevant keywords.
Undoubtedly, this task may seem tedious initially, but bear with us - the effort will pay off. Ensuring your ALT texts are filled in correctly will help Google and other search engines find you faster and rank you higher.
Curious to read more? Check out these articles:
Frequently asked questions
Can you bulk edit image ALT text in Shopify?
Yes, you can bulk edit ALT texts for your images on Shopify using the TinyIMG app.
The app will give you automated suggestions of unique ALT texts you could add to your product images.
What happens if I don't add ALT text in Shopify?
When you don't add ALT text in Shopify, it makes it harder for search engines to find your images and your online store.
Therefore, put that extra effort and add ALT text to all your images. To make this job easier, use handy online tools just like TinygIMG.
Should I add different ALT texts for each product image in Shopify?
Adding different ALT text for each product is a good practice as it helps to specify and differentiate the products you sell on your online store.
The good thing is, tools like TinyIMG can automatically generate unique ALT texts for all the products you have on your Shopify store.