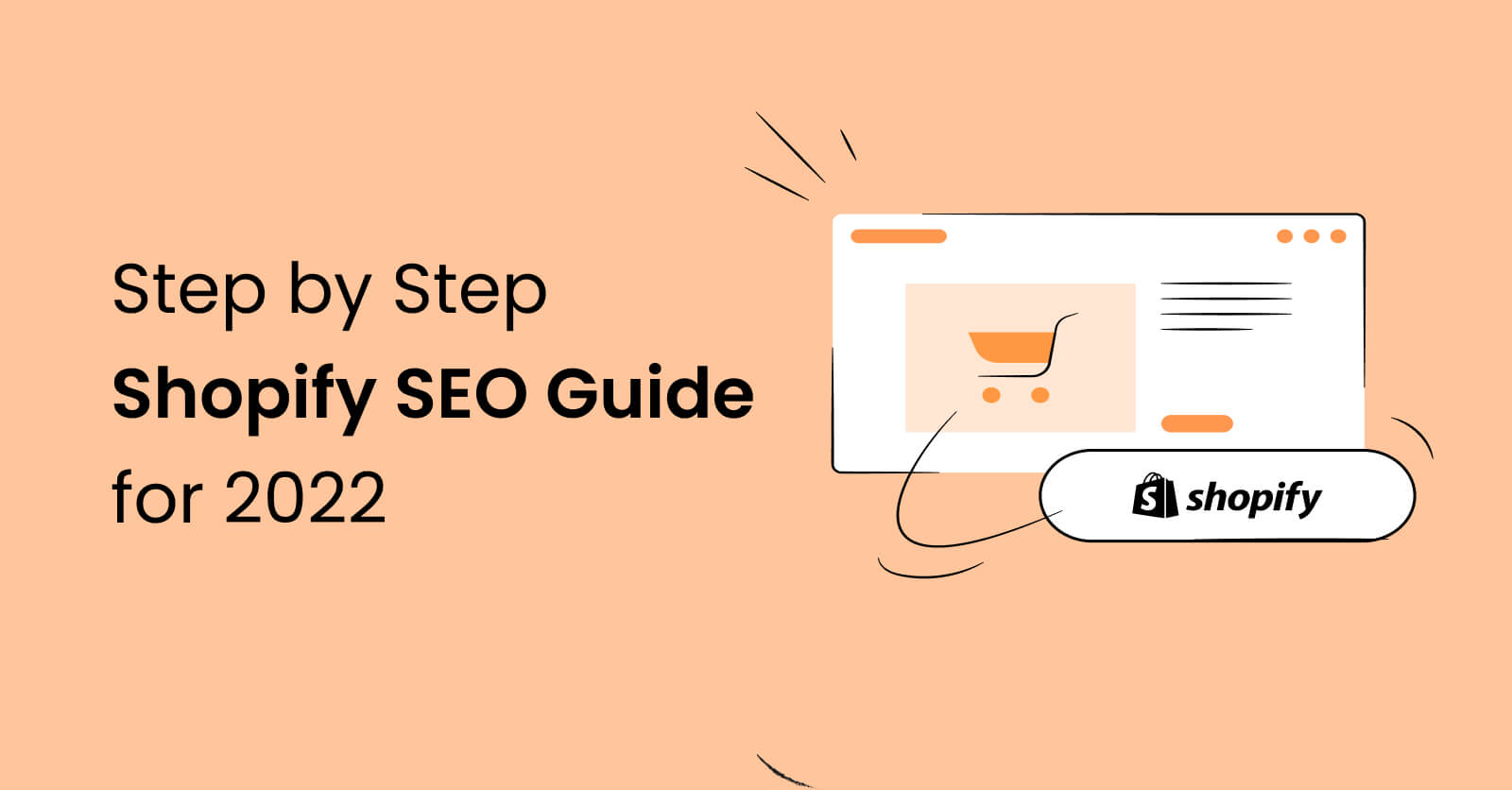 Shopify SEO is a set of practices you use to improve your Shopify store rankings on the search engines. It stretches across everything, from website speed to content quality.
So how do you approach Shopify store optimization and make it simple?
To help you improve Shopify SEO, we prepared a comprehensive guide. We will walk you through default Shopify optimization features, best on-page and technical SEO practices as well as product page optimization.
Let's get your Shopify store ranking!
Are Shopify stores optimized for SEO by default?
Shopify does a good job to cover the basics of good SEO practices.
Your Shopify store comes with built-in SEO features you can edit, such as meta and title tags, and URLs. It also generates a robots.txt file for you with essential "Disallow" commands.
On top of that, Shopify ensures you're working with a top-notch CDN (Content Delivery Network) powered by Fastly, which is crucial for good store speed. Another perk is that Shopify serves your images in WebP file format in supporting browsers, ensuring minimal load times for images.
It sounds like a lot is covered, do you really need to do anything yourself?
Most definitely. First of all, some SEO issues, such as duplicate content and page titles or forced URL structure are quite common for Shopify and you need to know how to take care of that. But most importantly, you want to gain a competitive advantage and outrank all those who are enjoying the same SEO perks from Shopify.
We will help you do just that.
Shopify SEO optimization checklist
How much work are we looking at if we want to improve Shopify SEO?
Here is a Shopify SEO optimization checklist that covers all bases for effective Shopify SEO practices:
We will discuss each of these steps in detail and provide actionable tips on how to make the most out of Shopify SEO.
Automate Shopify SEO and image optimization with TinyIMG app designed to make your website load fast and rank high!
Install TinyIMG now
Shopify on-page SEO optimization
Let's start with on-page SEO optimization for Shopify stores. Implementing the best on-page SEO practices across all of your store's pages is a great first step towards an overall Shopify SEO strategy.
We'll cover all bases, including keyword research and intent, metadata, and Shopify image SEO.
Thorough keyword research
Before posting any content on your Shopify store, make sure you complete keyword research.
Using appropriate keywords can help you get discovered by your target audience and increase the number of customers and sales.
Here is some keyword-related advice you should follow on your Shopify store pages:
Choose keywords effectively. Don't get lured into optimizing for the highest volume keyword you can find around your product. Those keywords are usually very broad and practically impossible to rank for. Instead, optimize for long-tail keywords related to what your store actually has.
Create a keyword map. Every page on your Shopify store needs to be optimized for a different keyword. Create a map with pages you have or are planning to have on your website and assign each one of them a separate keyword. That way you will avoid keyword cannibalization.
Tip: If you can't avoid overlapping or duplicate content, use canonical tags. These tags tell Google which version of your page should rank for the preferred keywords.
Understand intent. Being able to explain why someone is searching for this specific query is key to effective on-page Shopify store optimization. There are four main types of search intent: informational, transactional, commercial, and navigational. If you determine the intent of every specific page, you will successfully provide what the user is looking for and see growth in rankings.
Avoid keyword stuffing. The days when using as many keywords on one page as possible meant good rankings are long gone. Google has improved to the point where it understands how much a person can take from the content they are engaging with. Optimize keywords to improve topical relevance and context. If you put too many keywords in the text, you can even get penalized, so be smart about this and check keyword density.
Optimized metadata
Metadata is your way of talking to search engines. Thankfully, Shopify stores have all the essentials covered, you don't need to worry about basic meta tag implementation.
However, meta titles and descriptions are individual to each of your pages and thus should be crafted carefully. Let's take a look at how you can effectively optimize metadata for your Shopify store pages.
Meta titles
The job of a meta title is to tell search engines and visitors what they can expect from the page.

Since title tags are visible on search engine results pages (SERPs), they must be well written, short yet descriptive.
Here are three tips to follow when optimizing your meta titles:
Begin with keywords. Your title tag should contain the target keyword you want to rank for. The closer to the start of the title tag your target keyword is, the more likely it is to rank well for that keyword-based query. Making your keywords more specific by adding concrete numbers, dates, places, and years will help them perform better in search.
Keep it short. Your meta title should be between 50-60 characters long. If it exceeds 60 characters, Google will cut off parts of it and only show the beginning.
Keep your customers in mind. Your meta title is a lot like an ad for your page, so make sure it is designed to drive click-through. You should include your main selling point – something unique about your product that will compel users to click on the link. You could mention materials, design features, or something unique about your brand.
Meta descriptions
A meta description is a snippet of text displayed in the SERPs underneath the title of the page.

Meta description is your space to briefly explain what the page is about, and, if done right, it allows your listing to stand out.
Here are three tips to follow when optimizing your product page meta description:
A well-crafted meta description should include relevant keywords.
Meta description should be optimized to improve click-through rates. Make the description specific and relevant, emphasize the benefits for the user and use action verbs.
Keep the meta description no longer than 145 characters. It is important because sometimes Google might include publishing date into the description and if your text is longer than 145 characters, users won't be able to read it all.
Image optimization
Captivating product pictures can keep your site visitors engaged and showcase how your product will look and feel to use.
However, if image files are heavy, they can slow down your page speed, which harms your SEO and, more often than not, negatively affects your sales.
Therefore, make sure you follow these best Shopify image SEO practices:
Reduce image size and dimensions
Choose the appropriate file type
Optimize image title and alt tags
Ensure images are responsive
Tip: For even better image SEO performance, create image sitemaps based on Google guidelines.
Shopify store product page optimization
Product pages have the most potential to bring in a well-converting audience. Don't be afraid to spend time on them, pushing them to the top of SERPs will be well worth it.
Establish a focus keyword. Determine what specific keyword with transactional intent you want this product page to rank for. Analyze competition for on-page elements, find synonyms to serve as secondary keywords, and optimize the page to perfection.
Work on metas. Meta titles and meta descriptions are what's first seen by people searching for your target keywords. Not only will well-crafted metas help you climb up in rankings, they can also be the deciding factor for a person choosing between you and your competitor.
Write informative product descriptions. Unique and thoughtful product descriptions will serve your product page rankings well.
Show customer reviews. Implement structured data to capture rich results and show ratings of your product.
Shopify store homepage optimization
Homepage SEO is an interesting topic, since a lot depends on your store's name and what you choose to feature on the homepage. However, your homepage will acquire the most organic links from other websites and is the starting point when Google crawls your website.
To ensure your homepage SEO is doing justice to the rest of your Shopify SEO strategy, make sure that:
Metadata is in place. Just like any other page on your store, homepage will have SERP snippets. Meta title should contain your store name and meta description should give a good understanding of what you offer and a click incentive.
Navigation is on point. Visitors and Google should be able to get to the most important pages of your store from the homepage directly. Links from the homepage are very valuable though, so choose them wisely.
Blog for more organic traffic
A sure way to bring in informed visitors is writing quality content and having it rank well. If you're running a store, you definitely know a thing or two about your industry, use that!
Share information with your shoppers in blog format and you will:
Improve topical authority. Having a blog establishes you as an industry authority in the eyes of Google as well as readers. The more you write, the easier it will be for your product pages to climb in rankings as well.
Attract organic visitors. No one converts better than an informed reader who got to your store through organic search, especially if your content helped them solve issues.
Boost product pages with internal links. People who land on your well-ranking blog pages can easily end up on your product pages if you set up an internal linking strategy right. Create a silo structure with your main product pages at the center of it and enjoy increased sales.
If you're looking for tip and inspiration, check these successful Shopify blog examples.
Shopify technical SEO optimization
On-page SEO strategies will benefit your rankings immensely, but missing technical SEO practices can harm your effort to gain more visibility on the SERPs.
Technical SEO might sound intimidating, but in reality, it can be covered in simple steps anyone can follow. Let's cover the best website structure, internal linking practices, store speed, mobile optimization, and more.
Good website structure
The way you structure your Shopify store directly affects the user experience (UX) and helps your website's visitors decide how long they want to stay. It is also how Google sees your store's organization and hierarchy, which largely determines search rankings.
It is always easier to start on the right track than fix mistakes. Therefore, when setting up an online shop, consider the following tips:
Simplify your online shop's structure as much as possible.
Use the Shopify product page template.
Plan for future growth of your Shopify store.
Use breadcrumbs to ensure your users can navigate the store conveniently.
Make content easy to read by using simple and clear fonts in user-friendly colors.
Use effective internal linking strategies to show relationships between your pages.
Here's an example of how a simple yet powerful website structure could look like:

Tip: The structure of your store largely depends on your chosen Shopify theme. Choose a theme where collections list the raw product URLs and link directly to canonical parent, not the other way around.
SEO-friendly URLs
A URL specifies the location of a resource on the internet. A well-crafted URL provides both search engines and users with a clear idea of what your page is about.
Here are some of the best practices to stick to if you want clear and consistent URLs:
Consistency. All your URLs should follow the same formatting rules. For example, you could decide to always use lower case letters for the slugs. This way, you will avoid creating duplicate pages and damaging your website structure.
Keyword usage. Keywords in a URL can act as a ranking factor. Building your URLs around your main keywords is a great way to make search engines consider your page more relevant for a specific search query.
Avoiding special symbols. Symbols such as &, %, $, or @ make your URLs harder to read. Also, do not forget that spaces in your URLs will be converted to %20, which does not look appealing. If you need to separate words, use hyphens.
URL length. If your URL is already less than 50-60 characters, you're all good. But if you have URLs pushing 100+ characters, you need to rewrite them. Shorter URLs are easier to parse, copy, paste, and share. Try cutting down on stop words, such as and or but, and the number of folders.
Avoid dates and numbers. Regardless of the title of your page or article, do not put any date markers or numbers into the URL because you might want to update your page later.
Here's what a good URL could look like:
https://tastyfood.com/products/avocado-dip/
As you can see this is a short, yet understandable URL. It is clear that a user can expect to find an avocado dip recipe after clicking on the link.
Shopify can seem less flexible in terms of URL management compared to other CMS, but you can still edit your store URLs to some extent - check out our Shopify URL structure guide to learn more.
Tip: Be very careful about editing URLs of pages that are already live and indexed, you can lose a lot of site traffic because both Google and users will be looking for your page at the old URL. If you must do so, make sure you set up a 301 redirect from the old URL to the new one to make the transition smooth.
Improved Shopify store speed
No one likes to wait while they're browsing. This is why your Shopify store speed has a direct impact on your rankings and conversion rates.
Some of the ways to boost your Shopify store speed include:
Image compression. Shopify stores are usually heavy on visuals and if they're not optimized, they will massively slow down your store.
SEO-friendly theme. Choose a theme with clean code that was designed for fast load times.
Control third-party scripts. Not all apps need to load on all pages. Choosing the right pages to load apps on will improve your store speed significantly.
For more steps and detailed explanations, visit our guide on Shopify speed optimization.
Choose TinyIMG, an all-in-one solution for faster Shopify store speed and good rankings. Compress images, automate SEO efforts, and enjoy great results!
Install TinyIMG now
Mobile-friendliness
These days, the majority of people read and shop on mobile. Google rankings are also mobile-first. That's why having a mobile-friendly Shopify store is a must.
You have take into account:
Responsiveness. All of your on-page elements need to be dynamic Shopify allows you to choose a responsive template for your site and have built-in mobile commerce shopping cart features.
Mobile visual hierarchy. Choose correct paddings, image and logo sizes, and increase font size to improve readability.
Navigation. Dropdowns and huge menus don't work well on mobile. Create an effective navigational structure with as few layers as possible.
Fast loading speed. Surprise surprise, fast load time is crucial for good mobile performance.
Improved internal linking
Effective internal links help people navigate your store. Plus, Google has a better understanding of your store's hierarchy.
Design your internal linking strategy to boost your most important pages. To do that, make sure those product and collection pages are receiving the most internal links with relevant anchor texts.
Another thing you have to take care of is duplicate pages. This issue is specific to Shopify and comes up because products have two URLs, original and collection one. They do not create duplicate content issues because of default canonical tags, but that can cause redirects for your internal links.
More info and solutions can be found here.
Fixed redirects and broken URLs
Redirects and broken links are detrimental to site health. Any unnecessary redirect adds to page load time and every 404 page is a dead-end for users and Google alike.
A few best practices here:
Find and eliminate redirect chains. Any internal link to a page that is now redirected will create a redirect chain. Find those links and replace them with those that are live.
Take care of 404 pages. Never leave unattended 404 pages on your site, especially if they're receiving organic traffic. It wastes the crawl budget of your store and damages site health as well as user experience. Remove all internal links going to a 404 page and set up a redirect to a live page to salvage all incoming traffic.
Tip: If you use TinyIMG, you can create broken link redirects in bulk to any chosen page of your store.
Structured data
Structured data is HTML markup that helps Google understand the content of your page better. Implement it and you will capture rich snippets, such as ratings, product pricing, number of reviews and more.
Rich SERP snippets boost click-through rates and attract audience that is more likely to convert.
Adding structured data to your Shopify store is very simple:
Choose a Shopify app that will provide search engines with structured data. Most often it will come in JSON-LD format.
If you're code-savvy, you can also choose the manual route.
Robots.txt
Robots.txt file is the foundation of your store. Basically, it tells search engines which pages it should and shouldn't crawl.
Shopify automatically generates a robots.txt file for your store and adds default "Disallow" tags. You have the option of introducing new rules to it, but it's not recommended to do so, one mistake can cause complete loss of all traffic.
Tip: If you want to make adjustments to the robots.txt file, hire a professional to avoid harming your website.
Sitemaps
A sitemap is a list of all pages that exist on your store. There are three main types of sitemaps:
Main XML sitemap. A blueprint of your entire store.
Image sitemap. Helps Google find all images on your website.
Video sitemap. Maps out all video content on your site.
Submitting sitemaps to Google helps to find and crawl all pages of your website. However, if your internal linking strategy is on point, Google should be able to find them anyways. This makes adding a sitemap for your Shopify store more of a best practice than a necessity.
Bottom line
There is plenty you can do with your Shopify store to better optimize it for SEO. Start with the basics, like meta descriptions and keyword maps, then tackle more complex tasks, like structured data implementation and internal linking.
And don't forget, tools like TinyIMG can do a lot of the SEO heavy lifting for you by automating SEO practices with minimal investment.
Curious to read more? Check out these articles:
Frequently asked questions
How to do SEO on Shopify?
To optimize a Shopify store for SEO, start with the product pages as they have the most potential to bring you new website visitors. On your product pages, make sure that you upload optimized images, provide clear product descriptions, use filename and alt texts for the product images.
Are there any Shopify apps for SEO?
How to rank Shopify store on Google?
To help your Shopify store rank higher on Google, focus on these tips:
Optimize meta titles and metadata.
Create high-value content.
Optimize your images and use ALT texts as well as filenames.
Improve your website's speed.
Optimize your website's structure.
How to optimize your Shopify page speed?
To optimize your Shopify page speed, we recommend optimizing visuals, choosing multipurpose Shopify apps, taking care of broken links and implementing script control. For more, take a look at our extensive guide on Shopify speed optimization.