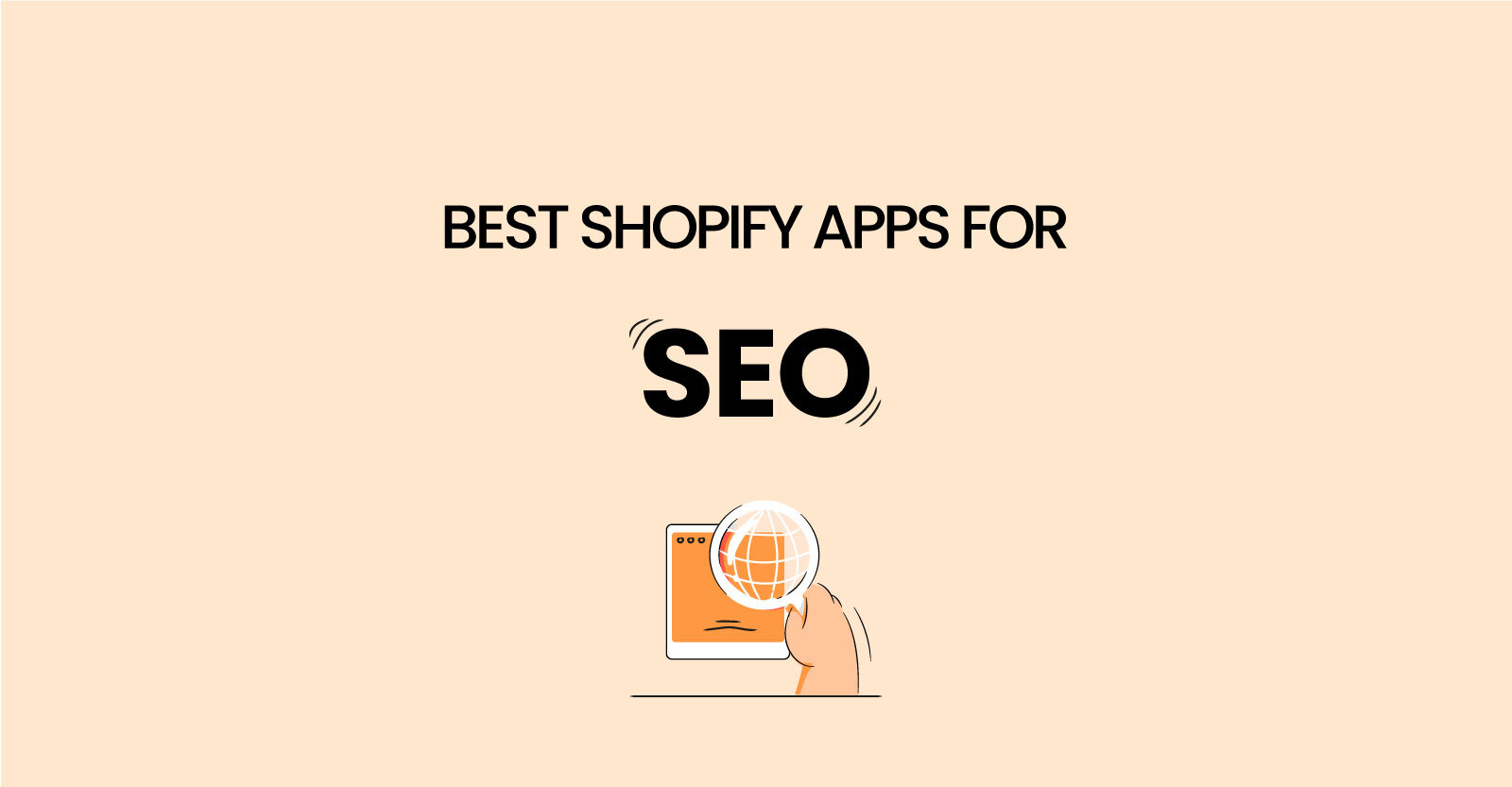 By purchasing through the links on this page, you are giving us the opportunity to earn a commission. Your support is greatly appreciated!

You need a reliable Shopify SEO app, there is no question about that. Some SEO tasks are tedious, some are very technical, and all of them are very time consuming.

A good Shopify app for SEO doesn't just boost search engine visibility and site speed, it saves a lot of your valuable time.

It takes time to find great Shopify apps that meet your expectations. Since the choices are numerous, we reviewed the options and compiled a list of best SEO apps for Shopify.

In this article, we will look over selected top 8 Shopify SEO apps and our criteria for them. We'll also touch upon additional SEO tips to help increase the visibility of your Shopify store.
Best Shopify SEO apps: short overview
TinyIMG

- best overall Shopify SEO app

AVADA

- great app with unlimited image optimization

SEO King

- best for single product stores

SEO Manager

- Shopify SEO app with powerful integrations

Smart SEO

- SEO app with free metadata and alt text

SearchPie

- app with unique Shopify SEO features

Schema Plus - best for specialized schema implementation
DropInBlog - best app to focus on Shopify blog SEO
Keep reading for in-depth reviews and feature analysis of these Shopify SEO apps that truly stand out.
How can a great SEO app help your Shopify store?
Inherently, Shopify is an SEO-friendly eCommerce platform. However, a lot of technical, mundane or time-consuming SEO tasks have to be handled manually, and no one wants that.
A good Shopify SEO app will help you with three main things:
Improve store speed with image compression, lazy loading, asset preloading, script control and other features.
Increase visibility on Google with metadata, alt text optimization, structured data implementation and more.
Save time with various automations, SEO reports and bulk edit features.
All that leads to better rankings on Google, more clicks on your listings, better user experience, and, ultimately, more sales.
Now let's take a detailed look at the apps that will help you do that.
8 best SEO apps for Shopify: in-depth reviews
1. TinyIMG - best overall Shopify SEO app

The rating says it all - TinyIMG is your one-stop shop for all SEO, image and Shopify site speed optimization needs.
TinyIMG boasts a variety of Shopify SEO solutions, such as image compression, optimization and lazy loading, metadata and JSON-LD implementation, third party app script control and broken link management.
You can choose to learn as much as you wish about these features from a dedicated knowledge base and handle them yourself. Or you can put some initial settings in place and let TinyIMG automations do all the work for you. And if anything needs attention, it will come up on regular site audit reports that analyze your site and point out errors based on how critical they are.
The live support team of TinyIMG is ready to not only troubleshoot with you, but also offer insightful tips and do store-specific analysis.
Also, few Shopify SEO apps can beat the pricing and plan range. The lower-end plans start at $2.49/mo and include the majority of all features. The main difference among paid plans is how many free monthly or yearly image optimizations are included in the plan.
Many merchants have already noticed quick wins with their Shopify store speed and saved hours of work on site optimization, join them!
App highlights:
Everything you need to optimize a Shopify store start to finish
Best value for money
The only app with a cheap yearly plan
Most features can be automated
The only app offering script control
2. AVADA SEO Suite - great alternative with unlimited image optimization

Avada SEO also aims to take care of all Shopify SEO-related aspects.
From image alt text and metatags to comprehensive SEO analysis of your product pages, this Shopify app is designed to be an all-inclusive SEO solution for your store.
Alt tag and image optimization, Google structured data implementation and 404 redirects will ensure your store is loading fast, ranking well and sending people to all the right pages.
While Avada's feature range is impressive and it's trusted by many Shopify merchants, the downfall is their all-or-nothing approach to pricing. The free plan offers few useful features, pretty much all real benefits come with their pricey Pro plan.
It's true, Avada's Pro includes unlimited image optimization. But in reality, very few stores add enough products to actually benefit from this feature and might end up paying for something they don't need.
App highlights:
Great range of SEO features
Unlimited image optimization with Pro plan
Part of Avada Suite (8 apps in total)
3. SEO King - amazing SEO app for single product stores

With a good range of free features and comprehensive paid plans, SEO King app caters to Shopify stores of any size.
It's exceptionally good for single product stores - their free plan gives access to all tools for one product page, meaning you can benefit from the app fully and for free.
SEO King's AI has received quite a bit of praise from merchants, meaning you can fully trust their automated tools available with all paid plans.
The plan pricing is among the lowest and increases based on the number of products, making it easy to decide which plan you need without worrying about what features will be available.
App highlights:
Free plan is perfect for small, especially single product stores
Straightforward plan upgrades
One of the most affordable options
4. SEO Manager - Shopify SEO app with powerful integrations

No, 7-day free trial available
We can strongly recommend SEO Manager as one of our top picks for Shopify SEO apps - over 20 SEO features, super straightforward pricing and app management.
This is one of very few apps that integrates with Google Trends and Analytics - easy to discover potential keywords and track actual results.
Besides the fact that SEO Manager's design could use a facelift, the only real downfall of the app is the lack of a free plan. However, we see the value behind the $20 per month and you have a 7-day free trial to test it out for yourself.
App highlights:
20+ SEO features
Straightforward pricing and setup
Integrates with Google Trends and Analytics
5. Smart SEO - SEO app with free metadata and alt text

Smart SEO is yet another top of the line Shopify SEO app. This app covers meta tag, alt tag and sitemap generation among some of its basic features in the free plan.
Paid plans also include JSON-LD implementation, bulk edit mode as well as varying numbers of image optimization and pages to be crawled for broken links.
Unfortunately, the plans upgrade in a complicated way with many variables and it's hard to grasp the real value. For example, unless you have a store with very few pages, it will be hard to know what you're getting out of their broken links feature. The app might not prioritize the affected pages when crawling and so you might never find out if you have issues unless you upgrade.
On the flip side, Smart SEO is also great for those who like to turn to customer support with most questions. Their agents are famous for troubleshooting and finding original solutions related not only to their app, but the store as a whole.
App highlights:
Convenient bulk mode
Decent free plan
Outstanding support
6. SearchPie - app with unique Shopify SEO features

SearchPie can pride itself on how well it caters to beginners. There are no complicated technical SEO terms, the interface is intuitive and their Auto Features will have your store optimized in just a few clicks.
Plus, this is the only app offering AMP (Accelerated Mobile Pages) implementation - a known way to optimize for mobile performance (although with questionable store design sacrifices). That being said, AMP comes only with their $79/mo plan, the most expensive on our list.
To gain access to automated solutions and a moderate range of features, you have to upgrade to the $39 Premium plan.
Bottom line, SearchPie is a solid alternative with unique selling points, but most apps above can do the same (or more) for less.
App highlights:
Advanced automations
Offers AMP pages
7. Schema Plus for SEO

No, 7-day free trial available
Who knows Google algorithms better than engineers who worked there? No one.
If you're looking to dominate Google pages with rich snippets, Schema Plus could be a worthwhile option for you. Designed by Google employees who decided to switch their focus to Shopify, this app implements top-notch Shopify structured data on all pages of your store and helps capture rich snippets.
Schema Plus integrates with most Shopify product review apps. Plus, their team will dedicate time for an onboarding call.
It comes at a flat $14.99 fee - quite expensive for one feature, but you'll reap the benefits.
App highlights:
Niche specialization in schema markup and rich snippets
Dedicated support
8. DropInBlog - SEO Friendly Blog

No, 14-day free trial available
Are you investing a lot into an informative Shopify blog? Give it the SEO boost it deserves with the DropInBlog app designed to help your blog rank.
It provides live feedback on SEO quality of your text as you type and has optimized the blog page layout to serve both SEO and conversions.
Plus, DropInBlog makes it easy to organize the blog and promote it on your homepage with a dedicated widget.
App highlights:
Niche specialization in Shopify blog SEO
Powerful on-page SEO and conversion features
How we chose top SEO apps for Shopify
To ensure you're looking at Shopify app store's finest, we handpicked these Shopify SEO apps based on a rigorous selection process.
Our criteria for a top Shopify SEO app includes:
Price and free plan. Ideally, the app offers a free option. If it's paid, the features must be worth the price.
Rating and customer reviews. Only those rated 4.7+/5 on Shopify app store made it to our list. Also, on top of our own tests, we took the comments of those who reviewed the app into account. We looked for apps that helped numerous users achieve tangible results improving website speed and rankings.
Ease of use. We were aiming to list apps that are beginner friendly. That being said, each one of these is suitable for an SEO guru running a Shopify store.
Customer support. We offer only those Shopify SEO apps that provide live chat or otherwise excellent customer support.
Is having a Shopify SEO app enough?
A great Shopify SEO app is necessary, but it's not everything. To follow the best SEO practices, you must have a comprehensive strategy in place.
We have compiled some resources for you. Read over them and combine that with the functionalities of your chosen SEO app for Shopify to take your store to the next level:
Conclusion
By now, you know all the best Shopify SEO apps available on Shopify app store. We have listed their basic functions, reviewed exceptional features, pointed out shortcomings and considered their value for money.
We hope that you can make an informed decision when choosing which Shopify SEO app to install. Now let's work on those rankings!
Other Shopify apps you might be interested in:
Frequently asked questions
What is the best SEO app for Shopify?
Overall, we recommend TinyIMG, Avada SEO and SEO King as the top-3 Shopify SEO apps. However, read over our criteria, reviews and suggestions to choose one that suits your needs best.
Should I use a SEO app for Shopify?
Yes, you should definitely use a Shopify SEO app. It will help you automated and simplify a lot of technical and tedious SEO tasks, improving store performance and saving time.
Does Shopify have SEO tools?
Shopify stores have some basic built-in SEO tools, such as title or meta data editing. However, to ensure top SEO performance, you should use a Shopify SEO app.
What is the best free SEO app for Shopify?
Although most Shopify SEO apps have some version of a free plan, most don't offer their full feature range. TinyIMG, SEO King, and SmartSEO offer the best free plan options.