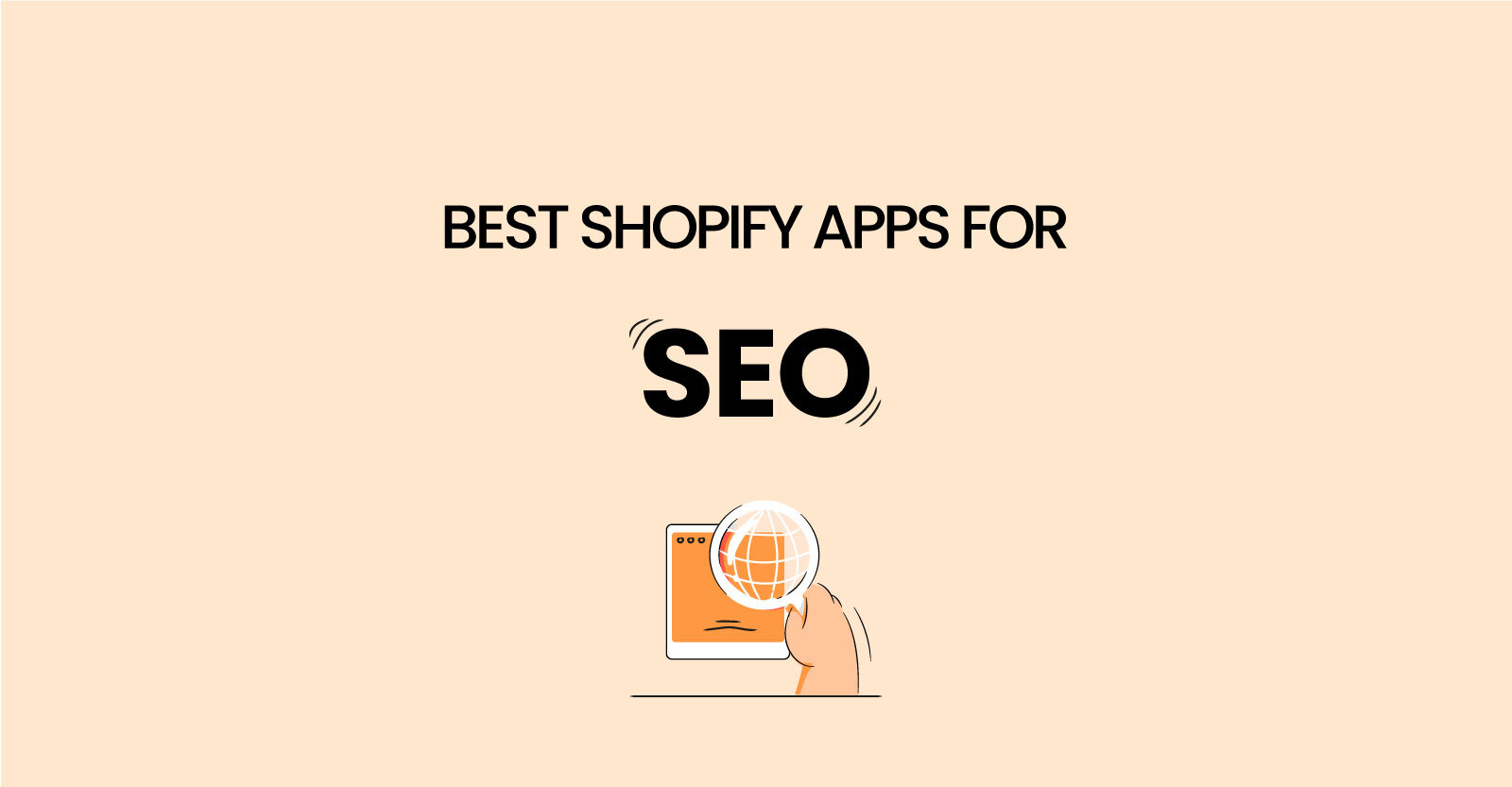 By purchasing through the links on this page, you are giving us the opportunity to earn a commission. Your support is greatly appreciated!

Running a successful Shopify store is no easy task. Besides exceptional branding and appealing aesthetics, one of the main aspects to take care of is great rankings on search engines.

This is where a good Shopify SEO app comes in. Since the choices are numerous, we reviewed the options and compiled a list of best SEO apps for Shopify.

In this article, we will look over our criteria, selected top 6 Shopify SEO apps and additional SEO strategies to help increase the visibility of your Shopify store.
How we chose top SEO apps for Shopify
It takes time to find great Shopify apps that meet your expectations. To ensure you're looking at Shopify app store's finest, we considered the strengths and weaknesses of numerous apps and concluded with 6 best SEO apps for Shopify.
Our criteria for a top Shopify SEO app includes:
Price. Ideally, the app offers a free option. If it's paid, the features must be worth the price.
Rating and customer reviews. Only those rated 4.5+/5 on Shopify app store made it to our list. Also, on top of our own tests, we took the comments of those who reviewed the app into account. We looked for apps that helped numerous users achieve tangible results improving website speed and rankings.
Ease of use. We were aiming to list apps that are beginner friendly. That being said, each one of these is suitable for an SEO guru running a Shopify store.
Customer support. We offer only those Shopify SEO apps that provide live chat or otherwise excellent customer support.
Multilingual SEO. Since not every store operates in English, we looked at whether the app supports multilingual SEO.
The list below includes only selected Shopify SEO apps that will make sure your store is hitting those top positions on Google.
Best Shopify SEO apps: short overview
TinyIMG

- top Shopify image optimization app

AVADA

- all-inclusive basic SEO solution

Smart SEO

- great app for free backlink analysis

SEO Booster

- best app for beginner SEO on Shopify

SEO King

- exceptional at automated SEO solutions

SEO Manager

- best in offering unique SEO solutions
Keep reading for in-depth reviews and feature analysis of these Shopify SEO apps that truly stand out.
6 Best SEO Apps for Shopify: In-Depth Reviews
1. TinyIMG

5 options, from Free to $39.99/month
Speed optimization, image SEO
The rating says it all - TinyIMG is your one-stop shop for all image and general SEO-related needs.
The app offers exceptional image resizing and SEO optimization features - many users have noticed quick wins with their Shopify store speed.
TinyIMG also has a variety of basic Shopify SEO solutions at hand, such as technical issue fixes, site audits, and metadata optimization. What's more, with the third-party app script control feature you can easily optimize your Shopify store speed. Not only that can impact your ranking in search engines, but also improve user experience and conversion rates!
The live support team of TinyIMG is ready to not only troubleshoot with you, but also offer insightful tips on image SEO.
Also, few Shopify SEO apps can beat their pricing. On top of the Free option, they offer affordable monthly plans. The difference here is how many images are included in the plan. There is an additional treat - an even cheaper option of $1.99/month for those ready to make a two-year commitment and pay at once.
2. AVADA SEO Suite

All-inclusive marketing solution
AVADA SEO aims to take care of all Shopify SEO-related aspects.
From image alt text and metatags to comprehensive SEO analysis of your product pages, this Shopify app is designed to be an all-inclusive SEO solution for your store.
The free plan offers a couple of nice features, but the full package comes with their Pro plan. Alt tag and image optimization, Google structured data implementation and 404 redirects will ensure your store is loading fast, ranking well and sending people to all the right pages.
Plus, AVADA SEO has an exciting feature coming out - built-in image converter to ease the management of on-page visuals.
To top it all off, the app has over 1000 top-notch customer support and amazing reviews, so why not give it a shot?
3. Smart SEO

Smart SEO is yet another top of the line Shopify SEO app. This app covers meta tag, alt tag and sitemap generation among some of its basic features.
If you suspect that your backlink profile is the reason why your Shopify store is struggling to rank, we suggest you take a closer look at Smart SEO. Even with the free plan, they offer one crawl per month to help you find broken backlinks. With the Pro plan, you get one more crawl per month, ensuring you'll never have backlink-related issues.
Smart SEO is also great for those who like to turn to customer support with most questions. Their agents are famous for troubleshooting and finding original solutions related not only to their app, but the store as a whole.
4. SEO Booster

Free, Premium $39.99/month, Pro $79.99/month
SEO beginners, duplicate content detection
SEO Booster can pride itself on how well it caters to beginners. There are no complicated technical SEO terms, the interface is intuitive and their Auto Features will have your store optimized in just a few clicks.
SEO Booster Premium plan will help you detect and fix duplicate content issues, ensuring that only the right page gets all the attention. Don't overlook the importance of this feature. If you have a few similar product pages, chances are your store might be suffering rank drops caused by duplicate content.
As for the Pro plan, it is one of the priciest options in our list, but among the numerous tools and features you are also entitled to 24/7 exceptional customer support.
5. SEO King

4 options, from Free to Large Shops $18.99/month
single-click optimization
With a good range of free features and comprehensive paid plans, SEO King app caters to Shopify stores of any size.
You don't need to pay anything for basic SEO assistance, such as JSON-LD, meta and alt text optimization. However, where SEO King really stands out is their one-click optimization feature that comes with their paid plans. All of your images, blog posts and other store assets will get compressed and optimized, leading to quick wins in rankings.
The app does fall a bit short on effective feature explanation - their plan descriptions are extensive, making it hard to grasp the main highlights and make actionable decisions.
6. SEO Manager

We can strongly recommend SEO Manager as one of our top picks for Shopify SEO apps because of the sheer variety of unique features - 15 of the app's features cannot be found anywhere else.
SEO Manager does not leave SEO beginners behind either. Their keyword suggestions are on point, plus they have a very handy Google results simulator. Use it to test how effective your SEO strategy is without going live with any changes to avoid potential issues.
The only downfall of SEO Manager is the lack of a free plan. However, we see the value behind the $20 per month and you have a 7-day free trial to test it out for yourself.
Additional SEO Strategies for Your Shopify Store
A great Shopify SEO app is necessary, but it's not everything. To follow the best SEO practices, you must have a comprehensive strategy in place.
We have compiled some resources for you. Read over them and combine that with the functionalities of your chosen SEO app for Shopify to take your store to the next level:
Conclusion
By now, you know all the best Shopify SEO apps available on Shopify app store. We have listed their basic functions, reviewed exceptional features, pointed out shortcomings and considered their value for money.
We hope that by now you have all the insights you need to make an informed decision when choosing which Shopify SEO app to install. Now let's work on those rankings!
Other Shopify apps you might be interested in:
Frequently asked questions
What is the best SEO app for Shopify?
Overall, we recommend TinyIMG, AVADA SEO Suite and Smart SEO as the top-3 Shopify SEO apps. However, read over our criteria, reviews and suggestions to choose one that suits your needs best.
Can you do SEO on a Shopify store?
Absolutely! An effective SEO strategy and a good Shopify SEO app will ensure your store is ranking at the top positions on Google or other search engines.
How to drive organic traffic to a Shopify store?
The best way to drive organic traffic to your Shopify store is with effective SEO practices. Maintain site health, optimize website speed and metas manually or using s Shopify SEO app and you'll see significant growth in organic traffic.
Does Shopify have SEO tools?
Shopify stores have some basic built-in SEO tools, such as title or meta data editing. However, to ensure top SEO performance, you should use a Shopify SEO app.