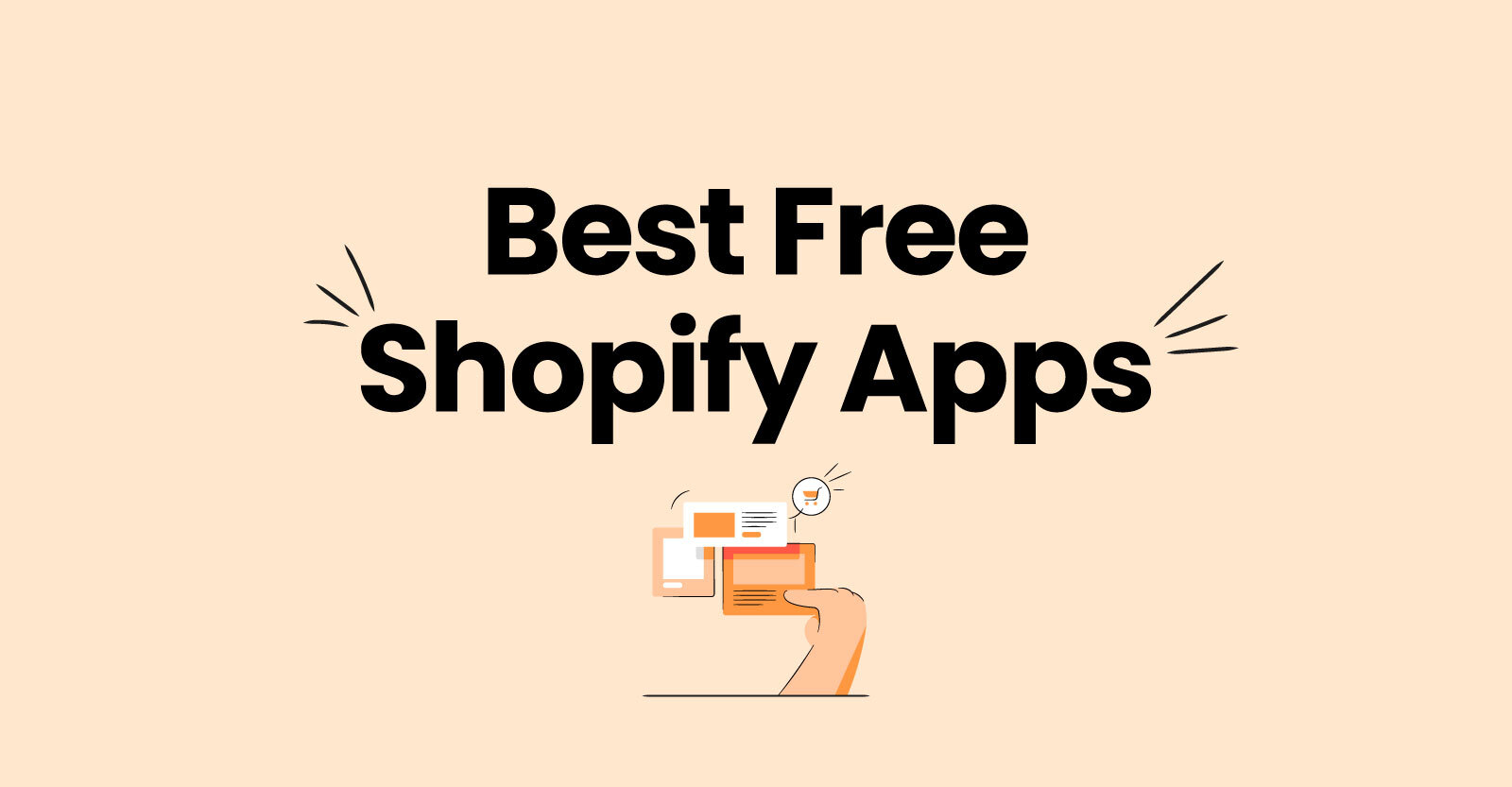 By purchasing through the links on this page, you are giving us the opportunity to earn a commission. Your support is greatly appreciated!

Most Shopify merchants just starting on the platform aim to make their online store as best as possible. To do that, Shopify users have to invest in expensive apps that promise to take their Shopify store to another level. But is it possible to start an online business without investing too much money on the apps (at least, at the beginning)?

It is! And in this blog post, we'll show you how.

We'll review our 10 best free Shopify apps that will improve your online store in no time. If you are in a rush, here's a shortlist of the free Shopify apps we'll be covering:
Best Free Shopify apps overview
In the list below, you will find top Shopify apps that are completely free. With them, you are sure to improve your online store.
To make a list, we considered the following:
functionality;
ease of use;
integrations.
1. Firepush - best free plan for website pushes

Website pushes, welcome campaigns, report, and growth tools
Loox and Photo Reviews, Growave and Reviews, Privy, PageFly, GemPages, SMS
Firepush is our favorite online tool for SMS and email marketing, as well as web push notifications with some great free features.
With the app's free plan, you get the following:
100 web pushes per month;
welcome campaigns;
basic reports;
basic growth tools.
As you can manage everything in a single dashboard, reaching your customers is easy and comfortable. Firepush makes sending promotional SMS, email newsletters, and push campaigns as easy as possible.
If you want to take advantage of SMS and email marketing, you can opt for a 14-day free trial and choose one of their three paid plans.
PROS:
Dedicated Customer Success Manager
Free migration
Priority support
Personalized strategic sessions
CONS:
Email and SMS marketing is not available with a free plan
2. TinyIMG - perfect for image and SEO optimization

Image optimization, SEO optimization, Image Alt texts, JSON-LD, Broken link reports
Image optimization, SEO, image compression, site speed, speed, PageFly
Image and SEO optimization
TinyIMG is your go-to choice for image and SEO optimization!
With the Free plan, you get 50 FREE images per month - that's more than enough for someone taking the first steps on the Shopify platform!
Both Free and paid plans offer a great variety of features to improve the SEO of the images you upload on your Shopify store.
Some other features that make TinyIMG an excellent choice include:
store speed optimization;
alt-text optimization;
broken links reports;
JSON-LD feature
PROS:
Excellent for image and SEO optimization
Highly intuitive
User-friendly pricing plans (if you decide to upgrade)
Dedicated support team.
CONS:
Automatic SEO title and description generation, as well as some other features, available only on paid plans
3. UpPromote - best free app for affiliate marketing

Create affiliate campaign, real-time tracking process, recruit new affiliates
Paypal, Mailchimp, Recharge, Omnisend
UpPromote: Affiliate Marketing is our best app for affiliate marketing on the Shopify app store with a generous free plan. This is an all-in-one solution for your affiliate campaign.
With UpPromote, you can easily build, track and manage your affiliate marketing campaigns.
The app's free plan offers you the following:
Unlimited affiliates/referral links for your affiliates/influencers
Approve/deny 200 referral orders/month
Email templates
Analytics: accurate real-time tracking
Expand your affiliate circle with the marketplace
As you can manage everything in a single dashboard, reaching your customers is easy and comfortable. Tracking your affiliates' performance is easier than ever.
If you want to take full advantage of UpPromote, you can opt for a 14-day free trial of any paid plans.
PROS:
Easy-to-use
Auto-generated referral affiliate links and coupon codes
Support to recruit affiliates
Customer referral feature
CONS:
Tiers of pricing are based on the number of orders obtained from affiliates.
4. Tada - the best wheel popup app

Analytics dashboard, exit discount popup, unique automatic coupons, color schemes, email validation, coupon expiration, countdown timer
Tada is the highest converting wheel discounts popup with excellent exit intent and spin the wheel discount popups.
With the app, you can create customizable Spin a Wheel and Pick a Gift pop-ups. They are so powerful that your users are offered to win a discount if they share their email addresses with you.
In turn, the likelihood of increasing your conversion rates skyrockets!
PROS:
Converting popups
100% Customizable
Increased customer loyalty
CONS:
Beginners may need extra help from the Support team on starting using the app
5. PageFly - superb for landing pages

Landing pages (e.g., Product pages, Pricing pages, Collection pages, About us pages)
Google Analytics, Facebook Pixel, Bold Bundles, Omnisend, Vitals, Judge.me
PageFly is one of the best free Shopify apps we could think of for landing pages.
With the app, you can enhance your store appearance due to access to the:
biggest element library;
and page sections to build your store pages.
What's also great about PageFly is that it helps you improve your Shopify store's speed and page performance with a built-in Lazy Load feature and optimized code.
Pros
Highly intuitive
Compatible with Online Store 2.0
Flexible pricing (if you decide to upgrade)
Cons
With the free plan, you only get 1 page per page type
6. Shopify Email - superb for email marketing

Branded emails, a wide variety of templates
No information provided on Shopify
Shopify Email is one of our favorite free Shopify apps for email marketing.
With a free plan, you get 2,500 emails free each month and pay $1 for every 1,000 emails you send after that - that's a great deal for those who are just starting out selling on Shopify!
Pros
A huge number of free emails to send monthly
Perfect for beginners
Cons
May get too basic for advanced users
7. Tobi - best free options for SMS marketing automation

Welcome automation, automated order recovery, automatic delivery updates, automated promotional offers, easy customer remarketing, request reviews
Tobi is a one-stop SMS marketing automation solution designed to give you a competitive advantage in the market.
With the free plan, you get:
SMS popup;
SMS subscription;
through checkout.
Due to the powerful features, the Tobi app offers, you can track customer behavior. Hence, you can choose when to send your prewritten messages so that your customers get them. They are so powerful when they are ready to take action.
On top of that, Tobi provides you with insightful reports (e.g., number of orders, customer spend, customer location, and more). Taking advantage of this feature is a sure way to improve your business.
PROS:
User-friendly app
Highly intuitive
Packed with powerful customer-tracking features
CONS:
The free plan offers limited options, hence you'll need to upgrade eventually
8. Transcy - content translation and currency conversion

Content translation, image translation, auto currency converter
Ali Reviews, Shipping Bar, Reviews Widget, Language API, Convert Currency API, Google Translate
Translating content and converting currencies
We saved quite an unusual suggestion at the end! Transcy is a powerful content and image translation app that also has an automatic currency converter.
With the app, you can:
translate all types of content (including checkout page & third-party apps) - all in one click with AI Translation,
translate an unlimited number of words and pageviews,
take advantage of multilingual SEO,
enjoy automatic currency converter.
Should you need any help - Transcy offers friendly 24/7 support!
PROS:
The app makes it easy to adapt your content to foreign customers
Intuitive and easy to use
Advanced AI features
CONS:
With the free plan, you can only add one additional language and one additional currency
9. OptinMonster - best exit and email popup app

Lightbox Popup, Mobile & SEO Friendly Popup, Hello Floating Bars, Fullscreen Welcome Mats, Gamified Spin-a-Wheel Coupon, Popup Inline Forms & Inline Popup, Slide-in Scroll Boxes, Countdown Timer Popup
Mailchimp, Klaviyo, ConvertKit, Drip, HubSpot, Infusionsoft
If you need a powerful app for exit and email popups, OptinMonster is an excellent choice.
It is fully packed with features that will convert leads into paying customers.
With OptinMonster this app, you can:
drive more email signups;
reduce cart abandonment cases;
increase sales to boost ROI.
What is more, the app is all set to help you create superb marketing campaigns - be it popup messages, timers for time-limited campaigns, and much more.
Pros
Superb campaign builder tool
Integrated A/B testing
Seamless integration
Over 50 templates to choose from
Cons
If you decide to upgrade, paid plans are relatively expensive
Quick tips for Shopify starters
We have compiled a short list of our TOP tips you should consider for those just starting on the Shopify platform.
Don't use a free domain. Unlike most free Shopify apps, free domains are no good as you put your website's security at risk.
Make your Shopify store mobile-friendly. With so many shoppers buying via their phones today, it is KEY to make your online store all devices-friendly. By the way, we have a great guide on mobile SEO - check it out!
Learn the basics of SEO. To run your Shopify store, you MUST know the key rules of SEO as they will help you optimize your store and lead more customers to it.
Focus on high-quality images. To sell products, you need to have great pictures of them. The good thing is, you can achieve top-quality even with your mobile device! To learn how read our guide on taking better photos with mobile.
Use Facebook Messenger to chat with your customers. It's the fastest and highly reliable way to answer your customers' questions quickly.
Conclusion
Altogether, taking advantage of free Shopify apps is more than possible!
All the apps included in the list above are reliable tools that can improve your online store in no time.
However, one thing to keep in mind is that free Shopify apps can get pretty basics more often than not. To get more advanced features, you'll eventually have to upgrade and choose a paid plan.
Therefore, if you'd like to continue growing your store, we highly recommend investing in some additional paid apps - just like TinyIMG!