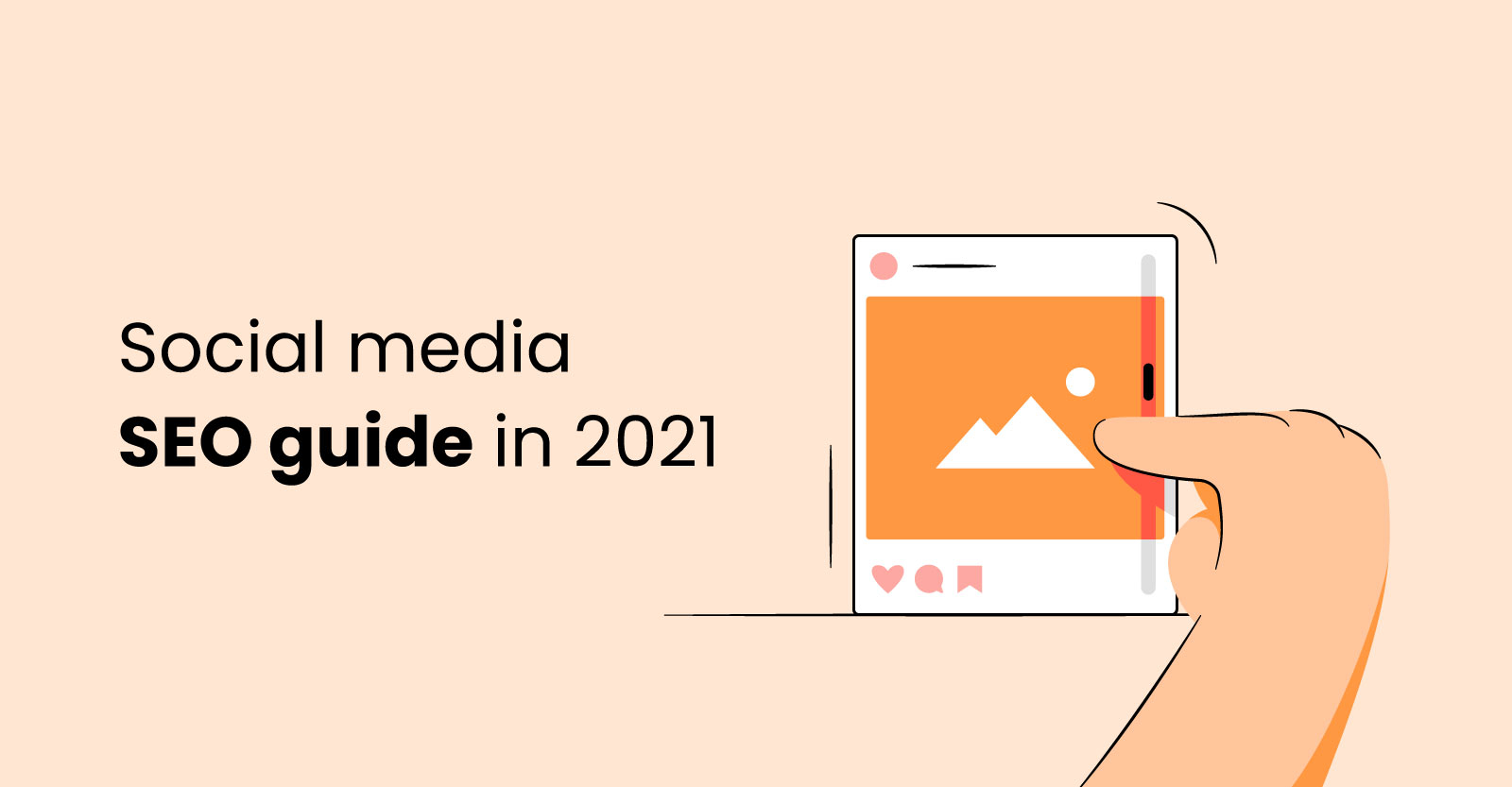 Today, over 3.78 billion people use social media, and the number is expected to increase up to 4.41 billion in 2025.
With that said, it is only natural that focusing on high-quality content is key, and implementing the best SEO practices is a sure way to achieve it.
Therefore, in this article, we'll discuss social media and SEO and will answer questions like:
how to improve your content on social media, so it ranks better in SERPs?
How to get the most value from SEO?
What practical steps could you take to improve your content today?
What are some of the specific tips for different social media platforms?
Would you like to know how you can improve your Shopify store SEO? TinyIMG app can help you with that!
Get started Now!
Do Social media impact SEO rankings?
Let's start by saying that social media doesn't directly impact SEO rankings. However, the way you create the content (e.g., attaching links to your brand website, blog, product pages, etc.) increases your brand awareness.
Here's how:
when you share content on social media platforms, you increase the chances of users clicking on the links included in your posts;
Google reacts to the engagement to your posts (e.g., likes, comments, shares, etc.) and notices that your content is valuable to your target audience.
Therefore, while social media is not a direct ranking factor, it does impact, and you should focus on getting the most SEO value with social media.
How to get the most SEO value with Social media?
As social media has the potential to drive high-quality traffic to your website or Shopify store, it is important to make the most of it.
Some tips you should consider applying on social media to improve SEO:
Always focus on the reader, and think about what kind of information would be the most useful and interesting to him/her.
Think of creative ways to encourage a reader to click on your post - catchy CTA, powerful visuals, or a personal story can be really powerful.
Tag other people or companies so that your post is seen by more people on social media platforms.
Best strategies to optimize your Social for SEO
Let's now move to some of the most effective practical steps you can take to improve your social for SEO.
1. Profile optimization
Generally speaking, social media SEO starts from the basics: optimizing your social media profile.

What does that look like?
Choose an appropriate profile picture. If you go for a person's profile, make sure you upload a photo where your face is seen clearly, and the overall quality of an image is great. For your brand's profile, choose your logo.
Provide all the necessary information. Filling in the information correctly includes your contacts, your about me section, describing your basic goods, and some extra information that may benefit your readers.
Include relevant links. On your profile, make sure you include a link that will guide your audience to your Shopify store or any other channel where users might convert to your product or service.
2. Make sure you're posting regularly
If you want to repeat the benefits of social media for SEO, uploading content regularly is key.
Create a content calendar and prepare your texts and visuals in advance to make your life easier.
We highly recommend you give apps such as Trello or Asana a try. With them, you'll be able to easily manage and track your content.
By the way, keep in mind that posting regularly does not mean that you have to be on social media 24/7. In fact, for most platforms, 2-3 high-quality posts will do just fine, and will help you build your presence online.
3. (Unique) content is king
One of the best ways to stand out among your competitors is by creating unique content.
To do that, research what your main competitors are posting, and think of how to prepare content that is more engaging and unique.
If you feel like you are running out of ideas, consider some of the following ones:
tell the story of how you started your business;
encourage a discussion about a recent trend in your niche;
use the content your customers create for you (e.g., a review of your product);
write a celebratory post on a special event, celebration, etc.
Another thing that makes your content more unique is adding images - and not those free images that many other bloggers use.
The thing is that free pictures can cause problems for your social media SEO.
Google identifies unique content and images with no problem. Therefore, when the search engine catches you using that the same image is used on many other websites, it may rank you lower.
Hence, whenever you can, choose Stock images, make screenshots, or take the pictures yourself. To do that, you don't need a professional camera - your mobile phone will do the job just fine.
Unique images will not only improve your social media SEO, but they will also make your overall content feel more authentic, interesting, and captivating.
To learn more about images for blog posts, read our blog post on this topic.
4. Engage with audience
One of the biggest mistakes you can make when creating social media content is thinking that your job is done after publishing the post.
That's exactly when your real job starts. That's when you start engaging with your audience by replying to their comments, answering their questions, asking for their tips and insights.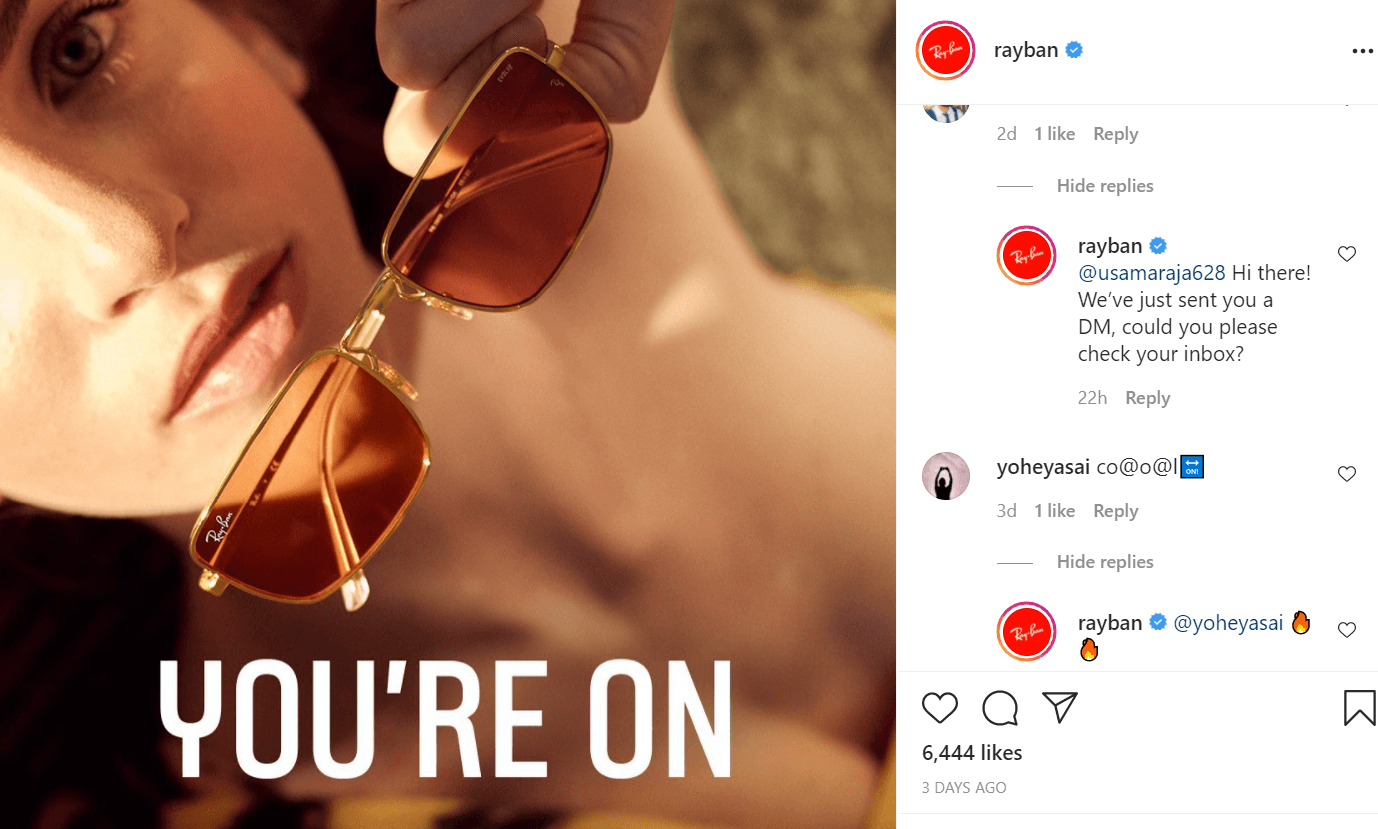 Doing so not only builds a stronger connection to your followers but also sends a signal to Google that what you are posting is interesting and captivating.
5. Use CTAs to encourage visits to your website
To make the most of your social media posts, make sure you add a CTA at the bottom.
If you want the reader to visit your website, say so. If you need them to buy the product on your Shopify store, let them know!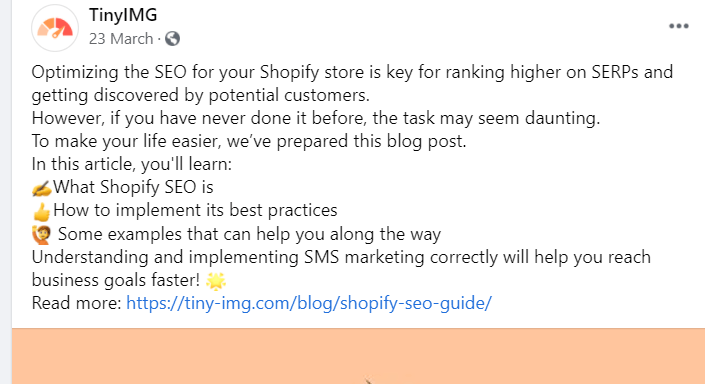 A CTA will increase the chances of your content getting noticed and your readers staying with you for much longer.
To create a powerful CTA, consider applying the following tips:
Start your CTA with a strong command verb (e.g., GO, DO, CLICK, BUY).
Use positive emotion-provoking words (e.g., benefit, discover, enjoy).
Give your audience a reason why they should visit your website or buy from you (e.g, tell how your product will make their homes cozier, etc.)
Find a FOMO opportunity (e.g., tell that your audience is going to miss an excellent opportunity if they won't buy from you).
Think outside the box. As cheesy as this may sound - get as creative as possible. If you'll manage to capture your audience's attention, you are more likely to convince them to buy from you.
Add social media feed to your website
Last but not least, make sure you add your social media feed to your website to increase the chances of your users visiting the platform.

More often than not, brands choose to upload their Instagram feed at the bottom of the page to spark interest - just like women's linen fashion brand Son de Flor does.
Extra ideas for specific social platforms
Now that we've discussed some general social media strategies, let's quickly look at some of the social media platforms and learn some tricks that could help you out.
Facebook
Facebook is the best platform for guiding your audience to your Shopify store or your website.
You can share unique and interesting information in your posts and add a CTA that will lead your audience to your website.
Moreover, make sure you update all the necessary contact info and relevant links to your bio.
Twitter
Twitter is all about speed and shortness. Therefore, it's also one of the best platforms to quickly capture your audience's attention and then guide them to your website or any other link relevant to your business.
On Twitter, you can also take advantage of adding images to make your post more noticeable and SEO-friendly.
Instagram
More often than not, Instagram's feed is on the brand's website. Therefore, aside from taking care of the basics (e.g., high-quality profile picture, clear description, etc.), put some extra effort into the overall look of your feed.
That is of particular importance if you are in a more creative type of business.
Some of the ways your Instagram feed could look like include:
chess type of feed;
minimal feed;
same color theme;
etc.
Also, Instagram's bio is an ideal place to insert relevant links that could lead your audience to other websites, like your Shopify store.
To make your Instagram bio even more powerful, add a strong CTA, encouraging your audience to take the next step, and click on the link.
LinkedIn
When it comes to LinkedIn, the key here is your profile's optimization.
Whether you are a person who is seeking new job opportunities or a brand that is trying to promote their business online, having a clear profile description is key.
Make sure you present your business in an engaging and easy-to-understand way.
Also, use pictures that represent you like a professional.
One extra thing that usually passes the mind of many is updating your LinkedIn URL address.
To do that, follow these steps:
Go to your LinkedIn profile.
Click Edit public profile & URL on the right side.
Under Edit your custom URL on the right side, click the Edit icon next to your public profile URL.
Type the last part of your new custom URL in the text box.
With the customized URL, you'll look more professional and will be easily discovered by your target audience.
Youtube
When it comes to Youtube, make sure you update your video's information with precision.
That includes:
relevant keywords;
clear descriptions;
ALT texts;
adding captions.
When the video is ready, make sure you promote it on other social media platforms (e.g., Facebook, Twitter).
TikTok
While TikTok is still quite a new social media platform, here are some things that will help to make it more SEO-friendly:
Create a clear description of your brand - tell your audience who you are and what you do.
Use CTAs.
Use links in your TikTok bio.
Use relevant titles for your videos.
Bottom line
When it comes to social media and SEO, they should go hand in hand.
While there is no confirmed info that social media posts add up to higher ranking, they still send a signal to Google (and other search engines) that the content is interesting to a certain audience.
To do social media SEO right, take into account tips mentioned in this blog post and some practical tips for specific social media platforms.
Frequently asked questions
Is social media good for SEO?
It is! To create engaging and high-quality content on social media, understanding SEO is of major importance.
How do SEO and social media work together?
Implementing SEO practices is key for high-quality content on social media.
Choosing the right keywords, proper images, and their ALT texts is crucial for getting your social media content noticed
Is SEO still relevant in 2021?
SEO is still relevant in 2021. Because so many businesses moved online, implementing the best SEO practices is even more important.
What is the difference between SEO and SMM?
Search Engine Optimization (SEO) is a set of some of the best practices that make a website rank higher in different search engines (Google, Yahoo!, Bingo, etc.)
Social media marketing (SMM) is, in fact, a part of an on-page SEO due to link building. The SMM strategy is aimed at driving high-quality traffic to your website, landing pages, and blogs.