By purchasing through the links on this page, you are giving us the opportunity to earn a commission. Your support is greatly appreciated!

You probably know already that getting a user's attention is difficult, but keeping it? That's a whole different level of tough. The average user has an attention span of only eight seconds, so it's important to keep your audience engaged for as long as possible. A very effective way to do this is by using blog post images.

The majority of readers, especially in recent years, tend to scan articles, not read them word by word. As such, using relevant pictures will massively increase the chance that your content gets noticed.

So, we know that your content marketing is important, and we know a big part of that is using good photos while blogging.

The question is: where to find images for your blog?

In this article, we'll look into the best tips when it comes to using imagery in your posts. Ready to get started?
Why should you use images in your blog post?
Let's take a look at the key points:
User attention span is just 8 seconds – pictures that stand out can help keep your readers entertained, in the end, spending more time on your site.
Images help your audience digest content in a more simplified way – this can be particularly useful in cases where your text is fairly technical or complex.
Digestible content reduces the likelihood of boredom. Boredom is what kills your prospects, so avoid it at all costs.
Images help you rank higher in Google SERPs – but only if done right; more on that later.
Suggested reading
Most useful tips for blog post images
So, we've agreed that using images in your blog posts is a crucial step toward a high-performing piece of content, right?
Now let's discuss the most useful tips and best practices when it comes to uploading pictures to your articles.
Tip #1 Break up the text
In blogs, There aren't many things as frustrating as long, boring, tedious blocks of text with zero images. Subconsciously, this bores us without us even realizing it.
To avoid that, utilize photos to break up and separate blocks of text from each other. No need to go crazy about it, though, as with most things; balance is key here.
Take a look at the example above – referencing the content through imagery helps the reader keep his interest.
By using relevant images, particularly in lengthy posts, you keep your reader's attention for longer.
In addition, utilizing images that add extra interest will increase reader engagement. But, as we said, don't go overboard – ensure your images and content actually compliment each other.
Tip #2 Use faces
To use faces or not to use faces, that is, indeed, the question. Well, not really. In fact, it's quite simple. Use faces.
Not only are they proven to give your blog a more human feel, but seeing real people can increase a reader's trust in a product.
Now, you'll sense a running theme here; but don't go overboard with it.
Use images for your blog that match the content. If you're talking about golf, maybe don't use images of a goldfish.
But you should try and relate your images to the content in, sometimes, an abstract way. Let's say you're talking about how great your team at work is – try using something like the image above, giving the reader an immediate connection with whatever you're talking about.
This is an advantageous strategy, as you're killing two birds with one stone. Win, win.
Tip #3 Enforce SEO practices
An oft-forgotten part of SEO is ensuring your images are search engine friendly.
What does that mean, though?
Well, just like a blog post copy needs to be SEO-optimized to perform as well as possible, your images should follow suit.
When you're uploading your images, remember to:
Choose the correct image size, as bigger or more data-heavy images will negatively impact the speed your website loads at.
Implement image lazy-loading.
Correctly fill in the filenames.
Optimize alt-texts for your images.
Add a caption for your image to help the reader understand better what an image is all about.
By completing these steps, you'll be increasing the chance that your post ranks higher in SERPs – thus bringing more users to your wonderful website.
Tip #4 Explain content with images
In a lot of cases, a picture is worth a thousand words.
For example, if you have a cooking blog and want to explain how to make ratatouille, instead of writing what size your vegetables should be, add a picture.
By utilizing images, you give your readers more of a chance to stay engaged, as well as actually follow the instructions properly.
In addition, your recipe will be way more interesting to read.
Tip #5 Employ legal images
While it may be tempting to just grab an image from somewhere on the internet and use it in your articles, it's probably best that you avoid that practice.
Luckily, there are some ways to navigate around this issue.
There are plenty of free images available to you, but you need to know where to look.
You should also take into account the different definitions of legal images. Here are a few examples:
Royalty-free: Images marked this way aren't exactly free, as the name suggests. With a royalty-free image, you can usually use it as you choose, but you are not permitted to edit or resell it.
Rights Managed: With these pictures, you purchase a single-user license for the specific image in question. You then need to decide, prior to using it, how you plan to use it. For example, if you purchase an image with the intention of using it for a Facebook post, you won't be able to then use it in another article on your site.
Creative Commons: These are images that have been granted free rights to the public by the creator. Do bear in mind that, in most cases, you will need to provide attribution.
If you would like to buy pictures for your blog, you can use one of many online retailers; a good example would be Shutterstock.
If, on the other hand, you're looking for good quality free images, you should have a look at Pixabay or Unsplash.
Tip #6 Try using infographics
If you're looking to explain or provide information about a complicated process, infographics are your new best friend. Say hi.
They simplify your content, so it's more digestible, easier to understand, and, if done right, more entertaining.
For example, if you're writing an article about Formula 1 tire management, try finding an infographic that explains the complicated nature of the post in a simplified way. A simple picture of a tire adds no value.
Always try to ask yourself one question: does this photo add any value? If you're unsure, you already have your answer.
Tip #7 If possible and relevant – use screenshots
If you're attempting to explain how something works, screenshots are a really useful tool in your arsenal. Not only will you make life easier for your readers, but they'll also be far more likely to stick to your post with that extra engagement.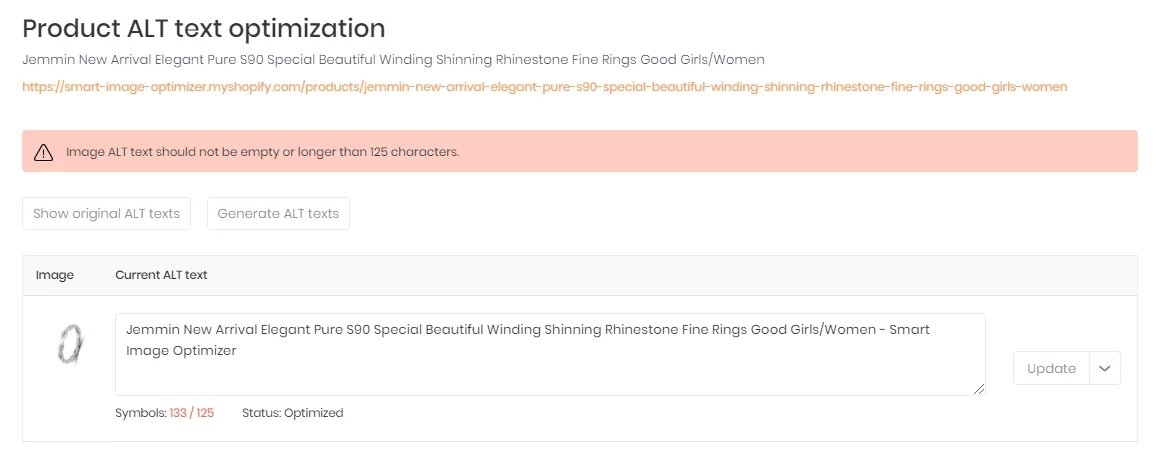 In the image above, you can see the screenshot from the TinyIMG app explaining how to use ALT texts for your images.
In this picture, you can see what your current ALT text looks like and what steps you should take to improve it.
Tip #8 Make sure your images are crystal clear
Imagine reading an article where all the images were not sharp and legible. You'd probably not spend too long on that page, would you?
It sets a bad precedent – if it seems like nobody cares about the image quality, your reader could probably assume you don't care about the content, too.
While images are very significant, it's vital that you use ones of high quality – as using bad, blurry, or otherwise unpleasant-to-view images is just as bad as not using any images at all.
How to find images for your blog
1. Make your own images
If you know some techniques and have the necessary equipment (a mobile phone with a good camera might be enough), you can easily make your own images for the blog.
Pros?
It's cheap, you'll get the exact image you want, and it will be unique!
If you need some guidelines, check out our guide on taking product images with your smartphone.
2. Buy or get free images on stock photo websites
There are plenty to choose from. And you'll find great images from professional and amateur photographers that can meet your needs.
We have just the list of stock image websites you can use right here.
3. Use Google Image search
Follow our tips:
1. Use search
Sounds a bit odd, absolutely, but by utilizing good searching skills, you're already halfway there. You can make this pretty simple. Say you want to find an image of a strawberry.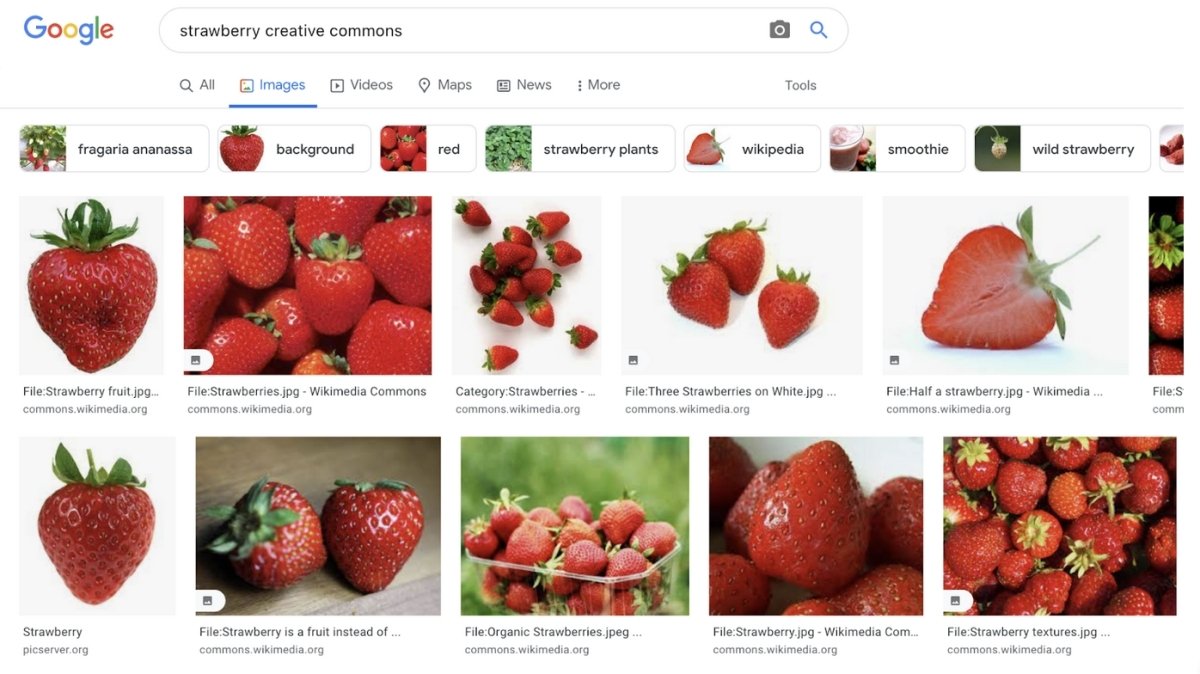 Instead of simply searching for that, add a little cheeky "creative commons" to the end of your search. That way, you're going to be first presented with results that are free, available to use, and of varying quality.
But there is a better way to do it.
2. Use Google tools
Do you see that little box – right under the camera and search icons? Press it.
You'll see a secondary menu appear below – click the one titled "usage rights," and you'll be presented with three options.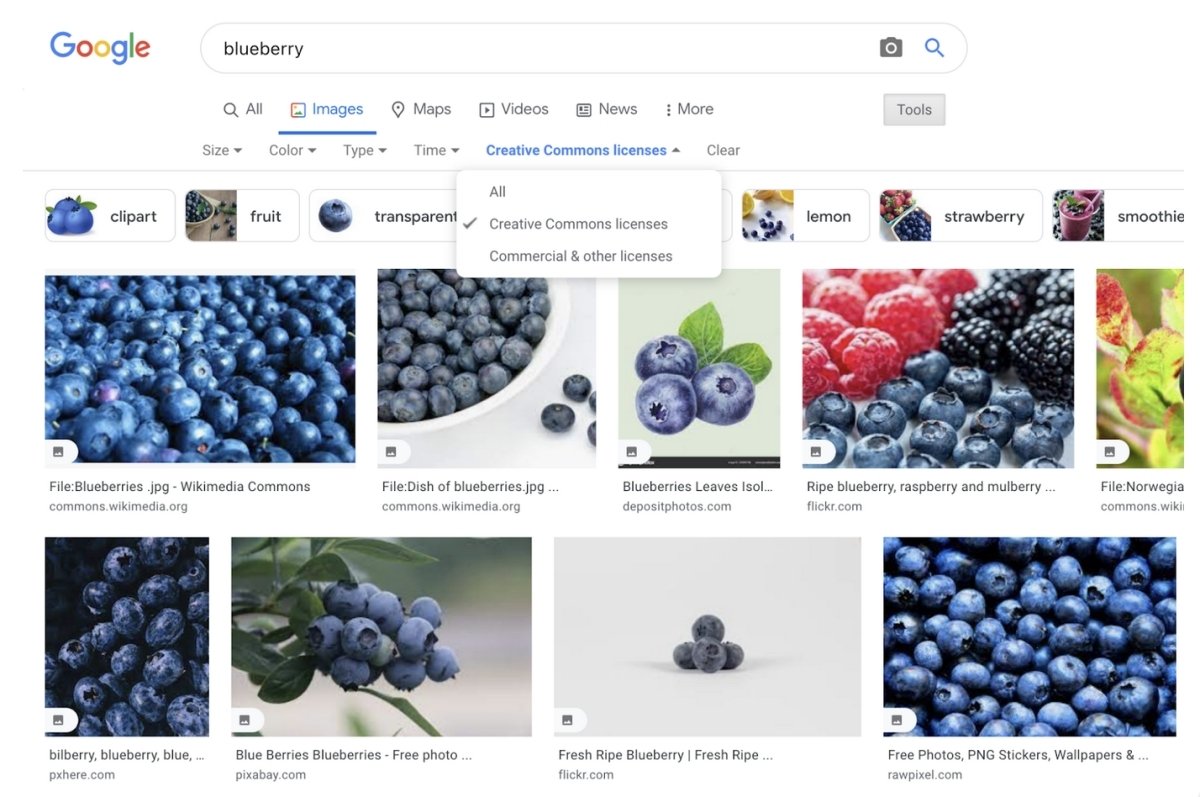 All, Creative Commons licenses, and Commercial & other licenses.
If you have been paying attention, you'll already know which one you'll want to click – for free images, press Creative Commons.
3. Refine your search
There's one extra step you can utilize to ensure you get amazing images for your blog. It's still in the Google tools menu – but goes a little further.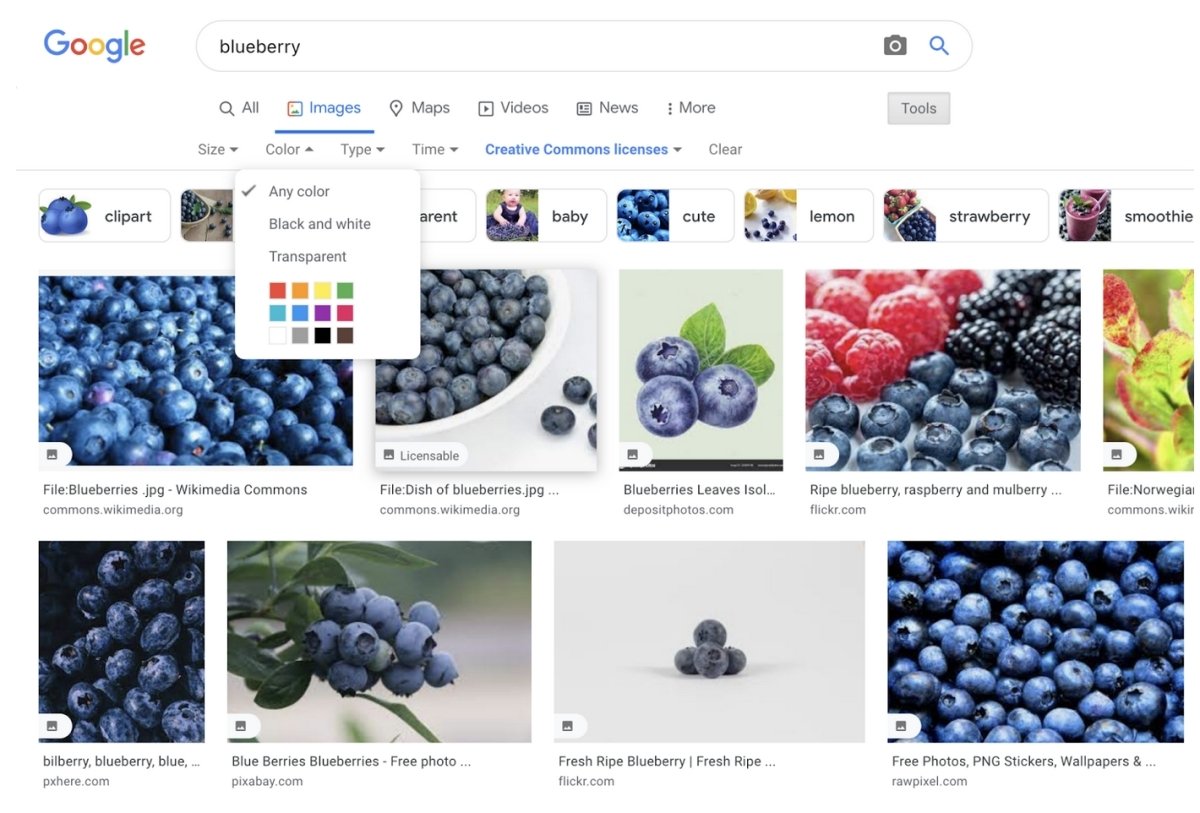 As you can see in the screenshot above, you can use filters to determine the size of the image, when it was uploaded, what type it is (GIF, Clip art, etc.), and, quite importantly, its color.
"What is a transparent image?" – thanks for asking, It's essentially the difference between a PNG and JPG file format, at least for this instance.

Notice how one of these images has a very obvious border? That's a JPG or "color" image – the background is part of the image itself. On the other, notice how it just looks like the apple is floating on the page? That is a PNG or "transparent" image.
By utilizing all the tools Google Image Search has to offer – you'll be able to ensure your blog has the best images it can.
Let's sum it up
Images are a vital piece of your website's content. They can be the difference between keeping a reader and losing one forever, so don't underestimate their importance. When deciding on the pictures for your blog, consider the tips we provided to give your posts the best chance of success.
Taking these tips into account will help you go a long way. Great blog post images will improve any copy and will make it far more attractive to anyone reading it.
Curious to read more? Check out these articles:
Frequently asked questions
You can use tools like Canva and Canva alternatives or simply purchase a stock image to upload to your blog post. However, try to avoid free images as they can negatively affect your SEO performance if you see them being used by many other websites.
You can use any type of picture relevant to the content on your blog posts, as long as you follow the tips we provided in this article!
As a rule of thumb, you should opt for images that are 800 pixels wide and 600 pixels high.
However, these are just some general guidelines. You should choose smaller size images to avoid bad loading speed that could encourage the users to leave sooner than you'd like.
Yes, you absolutely can, but ensure you are aware of their usage rights.