By purchasing through the links on this page, you are giving us the opportunity to earn a commission. Your support is greatly appreciated!

A Shopify blog integrated into your existing Shopify store can do wonders for your business. You can use a blog to declare your brand's expertise while engaging your followers.

What's more? Search engines love websites with blogs.

A search engine-favored store will rank high on search results as they push only relevant and valuable content to their users. Thanks to blogging, you can expect thousands of visitors a day to your store; without paying for any advertising.

Exciting, isn't it?

In this article, we highlight some of the top Shopify stores based on their blog traffic. We also cover the elements that make them stand out in a sea of competitors.

Improve your Shopify blog and overall store speed and SEO performance with one app

Install TinyIMG now
1. Urban Beardsman by Beardbrand

Beardbrand Shopify store boasts a small product range, focusing on establishing its authority in the beard niche.
Their blog – Urban Beardsman, is one of the best Shopify blog examples on the web. The blog focuses on giving men the freedom to choose facial hair styles.
To complement their mission, the blog also provides information on how to achieve the styles they love.
Other topics covered are product buying guides and product type comparisons for those interested.
Estimated blog traffic: 281K
Estimated traffic cost: $215K
Urban Beardsman blog design
Urban Beardsman does not have categories of articles. Instead, the overall structure is simple. Users can search for articles by keywords or scroll through the published titles.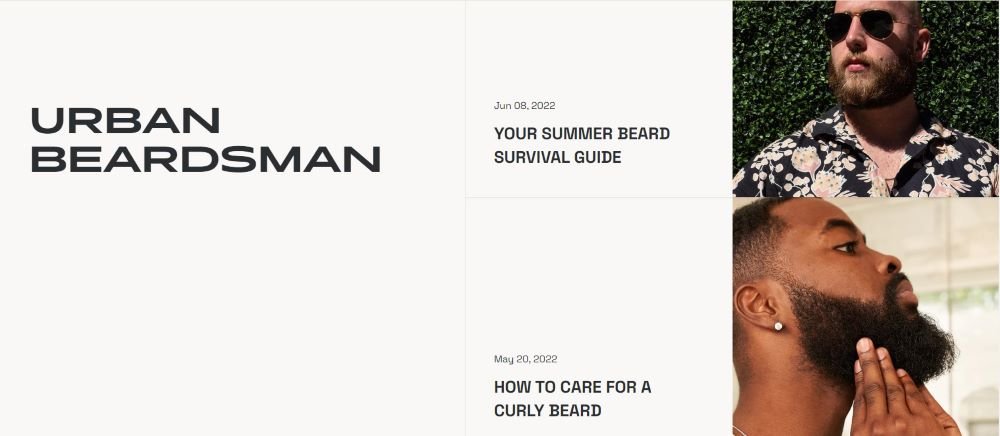 The topic of beards is simple but can be innovative too. Therefore, the Urban Beardsman has a very simplistic design with prominent branding. The latest titles are available at first glance, with an option to scroll through pages of older posts.
While the website and blog home page are kept simple, individual blog posts are the traffic drivers. Urban Beardsman includes Images, videos, internal product links, social media cards, internal post recommendations, and unique product recommendations from other brands in the articles.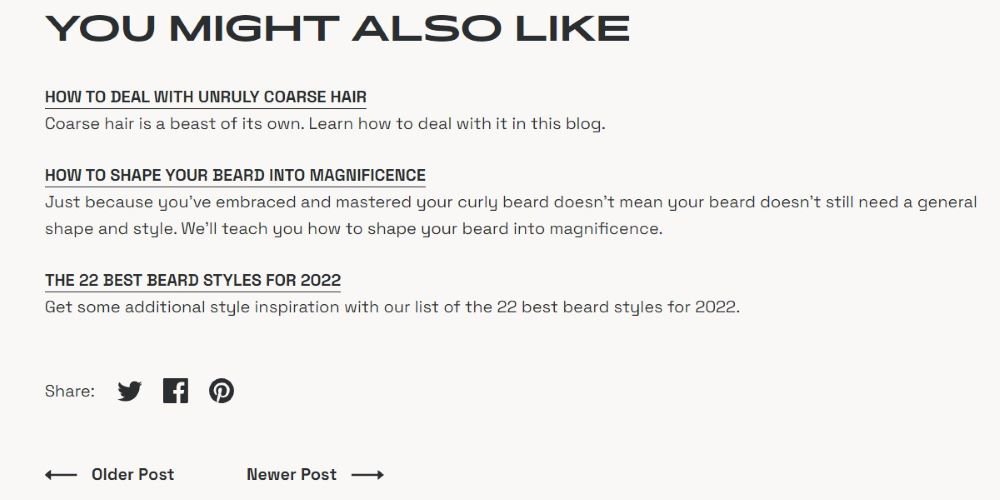 Urban Beardsman blog post types
The key to effective blogging is regularity. Keeping to the tune of frequency, Urban Beardsman publishes an average of 3 posts a month – in the beginning, mid-way, and at the end of the month.
The posts are long with engaging content with an informal and informative writing tone. Covering topics relating to the latest trends and seasonal guides, Urban Beardsman proves its expertise in the beard niche.
The posts are a mixture of topics from how-to guides, buying guides, latest trend style lists, celebrity style opinions, and others.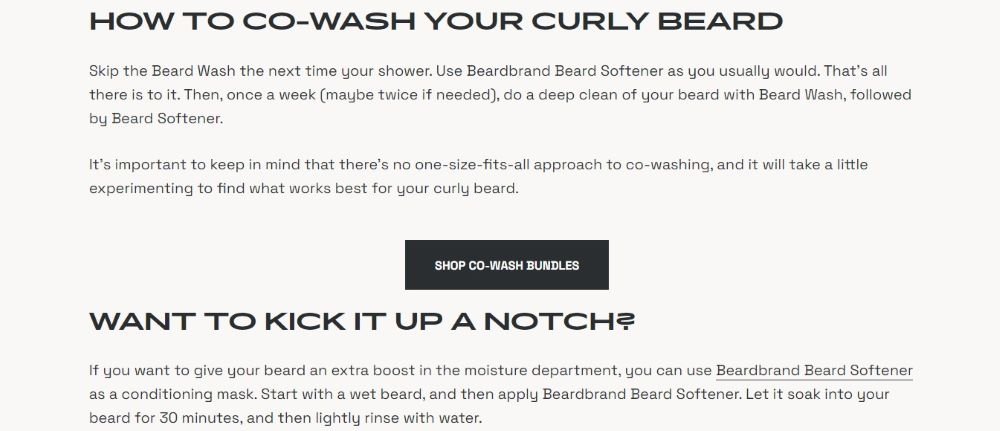 With a small range of products on the Beardbrand shop, it is easy for the brand to promote their products on their blog posts without hard selling. However, they also promote related products from other stores and affiliates to change things up.
Blogging tips from Urban Beardsman
Cross-platform sharing - Cross-platform sharing of brand content engages followers effectively.
Keep traffic on the blog with recommended posts - Using other related and suggested posts at the bottom of every blog post retains organic traffic.
The Luxy Hair Blog by Luxy Hair

Luxy Hair has a mid-weight product catalog of most things related to hair extensions and care.
The brand boasts the status of being the #1 rated clip-on hair extensions brand globally, thanks to its blog traffic.
Estimated blog traffic: 269.9K
Estimated traffic cost: $133K
This brand recognizes that the topic of hair is an ever-changing and trending subject. With many big players in the niche, Luxy Hair focused on pure SEO with their website blog – Hair Blog.
The topics covered on the blog span different types of posts and are not restricted to the hair extension niche. Luxy hair blog's best posts cover several areas, from hair care to hair horoscopes.
The Luxy Hair Blog design
The Hair Blog covers everything related to hair and is structured to fit several meaningful categories. Users can search for blog posts by keywords or click on the categories according to their hair interests.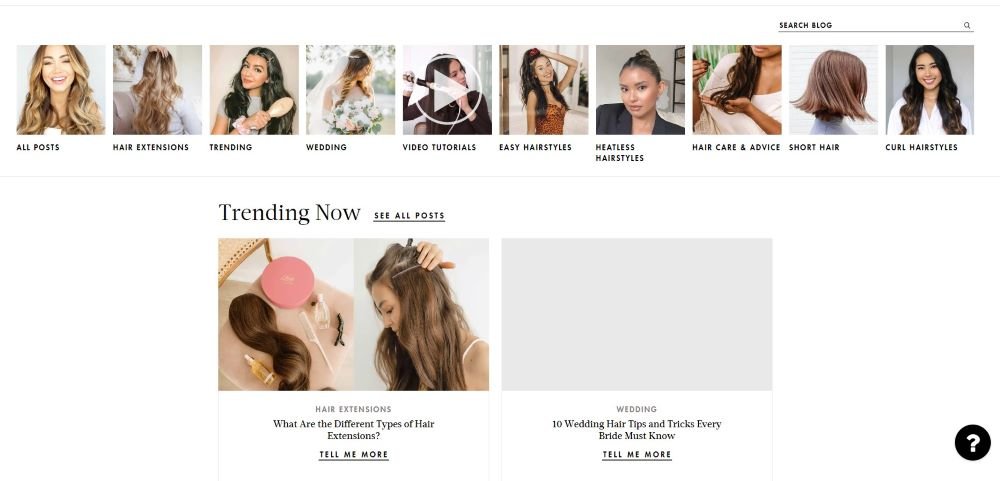 Be it trends, gossip opinions, how-to guides, buying guides, lists, etc. Hair Blog covers it all. The design of the blog is clean and professional. Users can find what they are looking for within the first 10 seconds on the page – thanks to the category structure.
The style of every blog post is engaging with images, embedded videos, sharing buttons, recommended products/posts, and social media postcards. These immersive visual tactics keep users engrossed and help with building a social media follower base.
The Luxy Hair Blog post types
Being an extensive niche with many topics and details to cover, there is an average of 4-5 posts a month on the Hair Blog. The chosen topics are unique and well-researched, addressing hair trends.
Every post is long-form and has a lot of information for users to process in one go. However, because of the visually engaging content, users can quickly scan through the parts that catch their attention and read.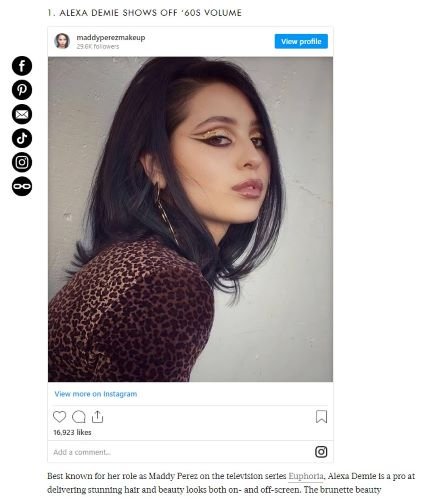 The wedding and lifestyle categories are the most popular posts on Hair Blog. With extensive how-to guides, buying guides, opinion posts, and trending hair fashion, Hair Blog keeps users coming back for more.
The product range available on Luxy Hair is extensive and, therefore, more actively promoted on blog posts. The posts are cleverly structured to promote their products naturally.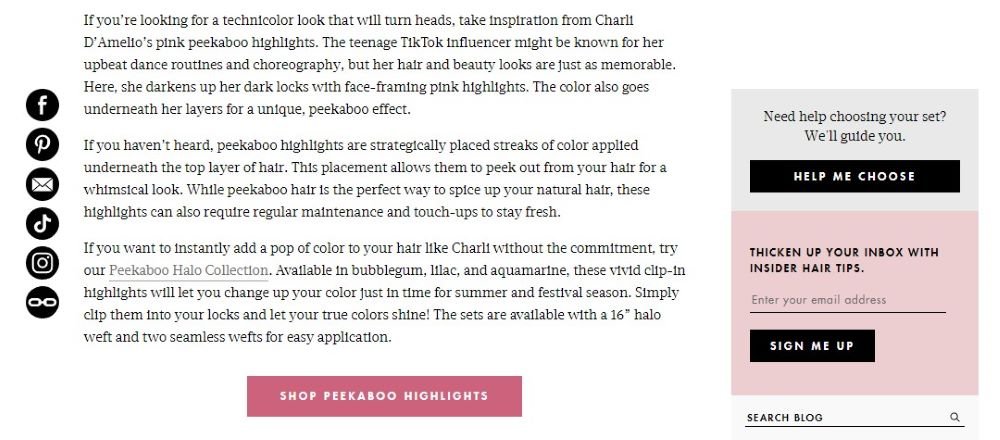 Blogging tips from Luxy Hair
Use visually engaging content - Visually engaging posts are popular. For example, use social media images, youtube videos, and social media postcards are popular.
Provide content that your users need – Rather than hard selling their products, give users what they came for – information they need and products that can help.
Create meaningful internal and external links – backlinking to affluent websites and internal links within the blog and collection/product pages is key to a loyal fanbase.
Mindful Matter by Holstee

Holstee provides users with tools and information to lead a mindful life through self-reflection.
Catering to the user who is looking to enhance their inner self, Holstee provides premium membership options for curated content.
Estimated blog traffic: 81.8K
Estimated traffic cost: $18.4K
The Mindful Matter blog is a complementary addition to the Holstee website. Mindful Matter is designed to provide users with a highly organized interface. Those following Mindful Matter can benefit from the blog by itself or choose to get more from the membership.
Mindful Matter blog design
Mindful Matter is designed in line with the niche. The light pastel shades of earth give all users a sense of calm when they visit the blog.
The category structure of Mindful Matter is divided into mainly two sections - Reflections and Themes.
Every year 12 mindful themes are chosen. Each theme is assigned to each month. These themes are available on the main Holstee website. Clicking on them takes users to Mindful Matter.

Fifteen posts are published every month on the assigned theme. Users explore the theme through art, creativity, and other self-reflective techniques.
However, a more detailed benefit from the discussed post can only be achieved by purchasing a membership.
The design is simple, and the format appeals to anyone who reaches the Mindful Matter blog. In short, users get what they came for – a conscious, calming, and reflective experience.
Mindful Matter blog post types
The Mindful Matter blog published 15 posts a month on self-reflective topics. Users can buy the premium membership or get quick snippets sent to their email by signing up.
Each blog post is designed to act as a quick read and give users enough information to process. The styles published on Mindful Matter are a blend of information articles and interviews.
All posts are designed to get people to sign up. At the end of each article, you'll find a subscription form with a carousel of the reader's reviews. As for the Holstee products, they are also promoted in a sidebar.

Mindful Matter is unlike other content published across the Holstee social media pages. Mindful Matter is designed to give users a fine taste of what they can expect from the membership.
Blogging tips from Mindful Matter
Explore monetization options – your content can also be a great source of Shopify revenue. Build a loyal community and the resources to bring them more value with your content. Engage with free articles and readers will be happy to pay for more.
Field Notes by Brightland

With a range of oils, vinegar, and honey from the heart of California, the Brightland brand is all about living off the earth.
The Field Notes blog by Brightland is designed to provide readers with a newfound culinary experience. Unlike other recipe websites, the Field Notes blog focuses on educating readers.
Estimated blog traffic: 61.6K
Estimated traffic cost: $22.5K
Audiences who visit Field Notes understand that there are several overlooked facts about oils and preserves. For the regular audience, Field Notes has a rich supply of posts. These posts cater to improving cooking experiences through recipes and inspirations to try.
Blog Design
When people visit Field Notes, they are greeted with a featured post and other popular posts. The blog's structure is broken down according to the target audience's interests.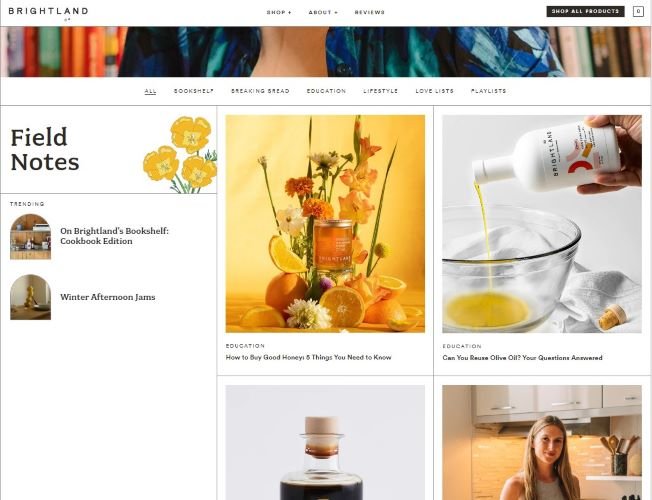 Field Notes is designed with a natural and earthy tone. With natural greens and shades of earth, Field Notes shows readers the brand's passion.
Posts are designed to grab attention with a quick tip/intro. Once the reader is hooked, images and inspiring content is presented. The blog posts also recommend the products by Brightland regularly with text and images to inspire their use.
Blog post types
Field Notes publishes curated posts to inspire its readers. With blog post lengths ranging from 2 to 3-minute reads, the posts are simple with a heavy focus on the brand's products.
The post formats are both educational and informative, with a semi-formal to formal tone of writing.
With posts featuring local artists and hidden heroes, Field Notes give readers the confidence to look beyond the surface.

Field Notes reders will find interviews, how-to guides, and buying guides on the blog. Posts about different oils available on the market and the most recommended oils for different uses are organic traffic magnets.
Products by Brightland are promoted across the blog. Real people interviewed also recommend their favorite products during interviews.

Blogging tips from Field Notes
Educate your target audience – do answer most popular questions, but don't limit yourself to them if you're a niche expert. Share advice and tips, bring other experts to the table - readers will appreciate it.
Suggest trending posts – In a unique niche, most of your target audiences follow a similar pattern. Therefore, suggesting other trending posts will keep them engaged.
Made In blog by Made In

Knowing about cookware is a niche topic that few people master, and Made In presents itself as an expert in the area.
The Made In blog is designed for everyone who has questions about buying and using cookware. Readers who decide to stick around the Made In blog are inspired to try authentic recipes.
Estimated blog traffic: 43.5K
Estimated traffic cost: $12.5K
Blog Design
The blog structure gives the reader more than just a shopping experience. The blog is equipped to inspire users to get more out of their cooking experience with the right tools, techniques, recipes, care, and culture.

The blog's design is professional, with food, cookware, and real chef interviews featured. The latest posts on the blog are suggested at first glance. Visitors, therefore, expect a lot of helpful information by signing up for their newsletter.
Where smells and taste are absent, Made In treats visitors to a visual overload. Videos and authentic food images are featured throughout the blog posts with sharing buttons and product cards.

Blog post types
The cooking niche covers a broad spectrum, but only some authentic information is available about cookware. The Made In blog covers all aspects of cookware and unique food creations to try.
On average, the Made In blog publishes around 25 to 30 posts a month. While not all the posts are in the cookware category, the posts regularly suggest purchasing Made In cookware.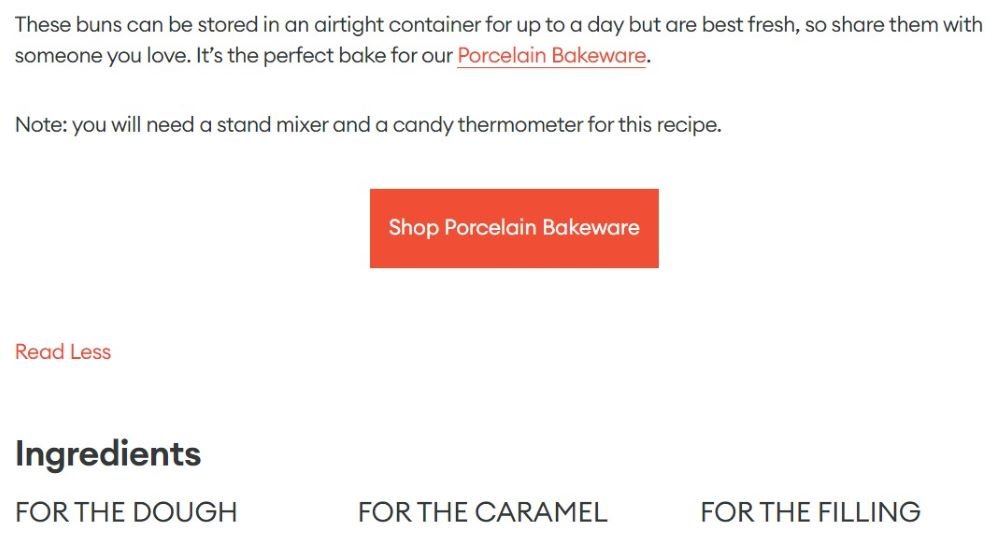 Interviews, buying guides, how-to articles, and lists are the posts featured on the Made In blog.
The size of each post depends on the type of article. In addition, each article has a recommended set of tools readers can purchase to recreate a dish or an experience.
Blogging tips from Made In
Regular posting is essential – while you may not post a blog piece daily, regularly posting is important.
Featuring products –this is an excellent tactic for shops in beauty, cookware, and interior design niches. If you share a recipe, makeup tutorial, or home redesign - highlight your products used to make it!
Coffee Talk by Death Wish Coffee

Death Wish Coffee targets true coffee fans around the world. By selling the world's strongest coffee with a bold statement, the brand uses unique ideas to lure a true coffee fan.
Coffee Talk is Death Wish Coffee's blog with topics covering all things coffee, from pairings to fitness benefits. Tapping into the fitness industry, Coffee Talk highlights the use of coffee to burn calories and stay fit.
Estimated blog traffic: 30K
Estimated traffic cost: $18.3K
Coffee Talk is also the platform used by the brand to highlight product launches and different ways to enjoy a cup of coffee.
Blog Design
The structure of Coffee Talk is not divided into individual categories. Instead, a mix of articles is available for readers to choose from.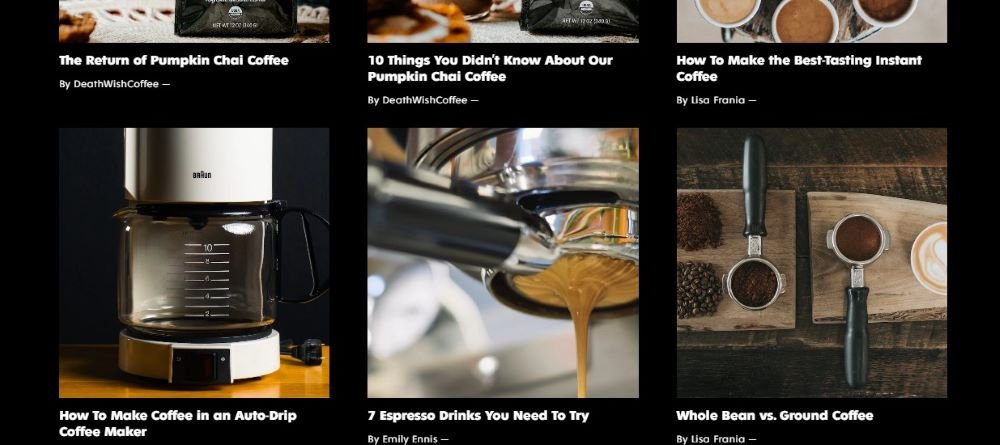 The website's design is dark to compliment the skull and bones featured on the logo.
With a name that suggests the end to the search for the perfect coffee. The style of the blog is rich with a modern dark theme and trendy.
Images and some videos are featured in the blog posts. In addition, visitors are offered a pop-up with a discount code to avail of their purchase of the world's strongest coffee beans.
Blog post types
On average, Coffee Talk publishes two articles monthly with high-quality images (often stock photos, but also original).
The length of the posts on Coffee Talk is medium to long-form articles with one or two images.
The writing style is informative and educational, with the correct terminologies to educate coffee fans.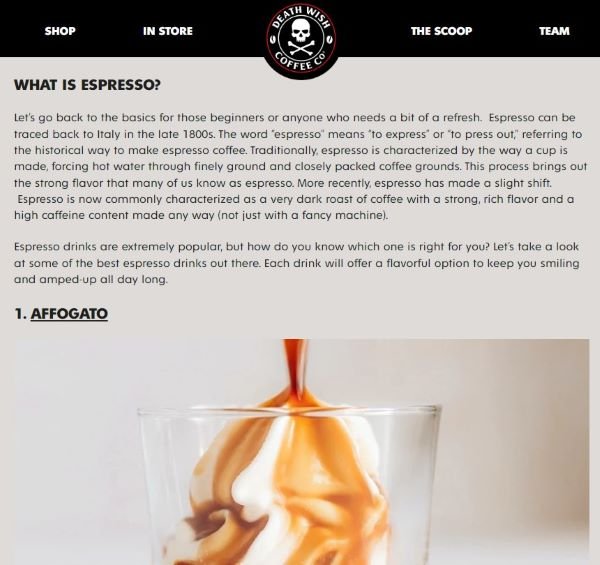 How-to guides, buying guides, interviews, etc., are the types of blog post features.
The products offered by the brand are promoted on some of the blog posts along with merchandise unique to the brand.
Related posts are highlighted at the bottom of the original post to keep the traffic from leaving the site.
Unique coffee recipes are featured on the blog for those who want to experiment.
Blogging tips by Coffee Talk
Use original photos – using authentic images with product placement reflects positively on your brand's authenticity.
Brand merchandise –if you build a loyal community, there's a high chance they'll buy not only your product but additional offers too! Explore this option.
The BURGA Reading List

BURGA is a brand where fashion meets mobile gadgets. Proudly proclaiming to bring the trendiest designs to your portable device cases and accessories, the BURGA brand stands out.
The products come in unique designs as part of collections.
The BURGA Reading List – BURGA's blog site focuses on answering all possible questions on phone and AirPod cases. Taking the approach of a troubleshooting site, the BURGA Reading List ranks high on Google's search results.
Estimated blog traffic: 34.8K
Estimated traffic cost: $1.6K
The top-ranking posts feature answers to AirPod devices' and mobile cases' usage questions.
Blog Design
BURGA Reading List does not have categories of blog posts readers can choose to read.
The design of the BURGA Reading List is clean and minimalist.

The blog posts are direct and to the point, focusing little on the BURGA brand. While several internal links and backlinks encourage SEO, the images used are mostly stock.
Blog post types
The BURGA Reading List doesn't seem to have a regular posting strategy, with an average of 5 to 6 posts a month and some months of no activity. However, that doesn't prevent them from generating more traffic to their site.
The articles are both long and short in length, depending on the topic they cover. Problem-solving articles like how-to guides are usually long-form, while news articles are short. Other popular articles on the BURGA Reading List are "Best-of guides".
The tone used in the blog posts is formal and intends to help visitors.
The blog posts also link to other posts that may interest the visitor and contain product links.
Blogging tips by the BURGA Reading List
Focus on SEO – Search Engine Optimization is essential to all content on the brand website, store, and blog. Concentrating on one topic and answering even the smallest questions can make you an authority in the niche.
Does every Shopify store need a blog?
Are you wondering if your Shopify store needs a blog to rank and increase traffic? The answer depends on some factors.
Consider creating a Shopify blog if these apply to you:
Your brand caters to a niche audience
There are many questions on your niche that you can address
You have the time and knowledge to write your blog, or
You have the money to outsource a writer
You may not need a Shopify blog if:
You have a general store
You don't have the knowledge to write a blog (or financial resources to outsource it)
How to start your Shopify store blog?
Are you ready to start your own Shopify store blog? Here are the steps to take to create a successful one:
Check your Shopify theme - make sure that the Shopify store theme you have chosen supports a blog. If not, consider changing your Shopify theme or using a page builder. In addition, ensure the blog has post recommendation sliders, product recommendation blocks, sharing buttons, social media posts and video embedding, etc.
Do keyword research –research the keywords for your brand and blog before producing content. Use free and paid keyword research tools to brainstorm before choosing keywords. Speak to your existing clients and research forums like Reddit or Quora to narrow down on focus keywords.
Analyze your competition – research your competitors and make a note of how they do things differently. Then, make your content stand out from what your competition offers their traffic.
Make a topic list – we recommend paying extra attention to "evergreen" topics in your content plan.
Create content - write your own content or outsource your writing for unique information with SEO in mind. Ensure that your content is unique, structured, and easy to understand.
Publish regularly – post regularly and consistently throughout the month.
Promote your articles – use social media, newsletters, and other channels to promote the content you create.
What types of articles work best for Shopify blogs?
There are a variety of blog post types that can make your blogging experience enjoyable. Also, keeping things fresh will positively impact your target audience. Here are some of the best article types that work well for Shopify store blogs:
Lists – Easy to read and easy to share posts. List-style articles are quick to read for people who don't have time. For example, 15 Celebrity Man Buns We're Currently Loving
How-to Guides – Show your authority over your niche by providing solutions to problems that your audience may encounter. For example: How to use shave soap
Interviews – The sharing potential is high with interviews, and the traffic to your blog is doubled quickly.
News – Audiences love to be the first to know information. Fresh news on your blog brings in new traffic and retains your loyal base. For example, Apple's global smartphone market share surges 20% YoY, leaving competitors behind
Curious to read more? Check out these articles: