By purchasing through the links on this page, you are giving us the opportunity to earn a commission. Your support is greatly appreciated!

If you want to start creating original content for your brand, you need to get yourself a good Shopify blog template.

Content writing is one of the best ways to increase traffic, find new customers, and boost revenue. Writing is a perfect outlet if you want to go into more detail about your product and establish yourself as an expert in a specific industry – which is great for SEO!

So, in this article, we'll review 14 Shopify blog templates and themes (free and paid) that will help bring your brand more traffic, authority, and revenue.
What to look for in a Shopify blog template?
With so many options to choose from, how do you know which Shopify blog theme to choose? Here's what we think you should be looking at when choosing one:
Necessary blog features. Make sure to carefully inspect the demo versions to ensure a blog template has features you need. It could be a custom author's name next to the article, social media sharing buttons, recent posts sidebar, tags, categories, comments section, and so on.
Clear navigation. Check the demo versions of themes to see if the store has clear navigation and easily accessible blogs.
Mobile optimization. We know it seems obvious, but make sure the blog theme is fully optimized for mobile viewing.
Your personal branding. Pay attention to colors, designs and layouts of templates. If you narrow it down to what personally works for you, you'll have an easier time picking the one.
Now that you know what to look for, let's start reviewing the top Shopify blog themes.
Top 5 free Shopify blog themes
Let's review our 5 hand-picked free blog templates for Shopify. From food to surfing, there's a fitting theme for everyone.
1. Taste – a bold blog template for Shopify foodies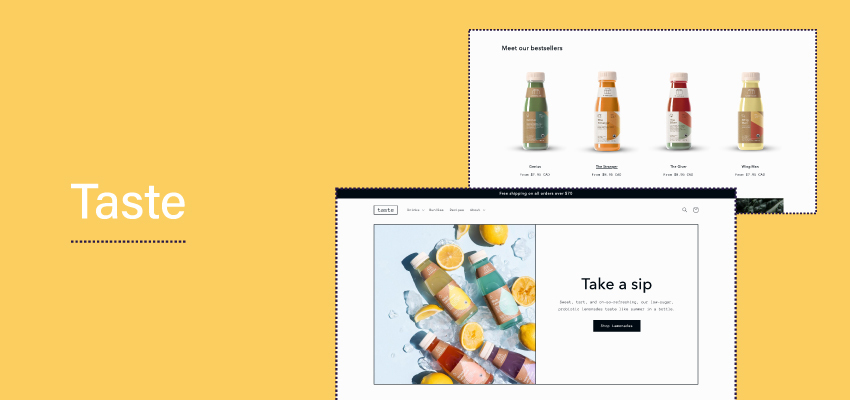 Taste offers a free Shopify blog template for your business centered around food and drink. This Shopify theme is bold, colorful, and perfectly fit for visual storytelling.
The blog section is set up as a place for recipes, but you could use it for anything you want. Whether it's tips, stories, or informational content about your products, Taste offers a minimal and flexible blogging space. You can also add a product to your article with an add-to-cart button, as well as a quick buy.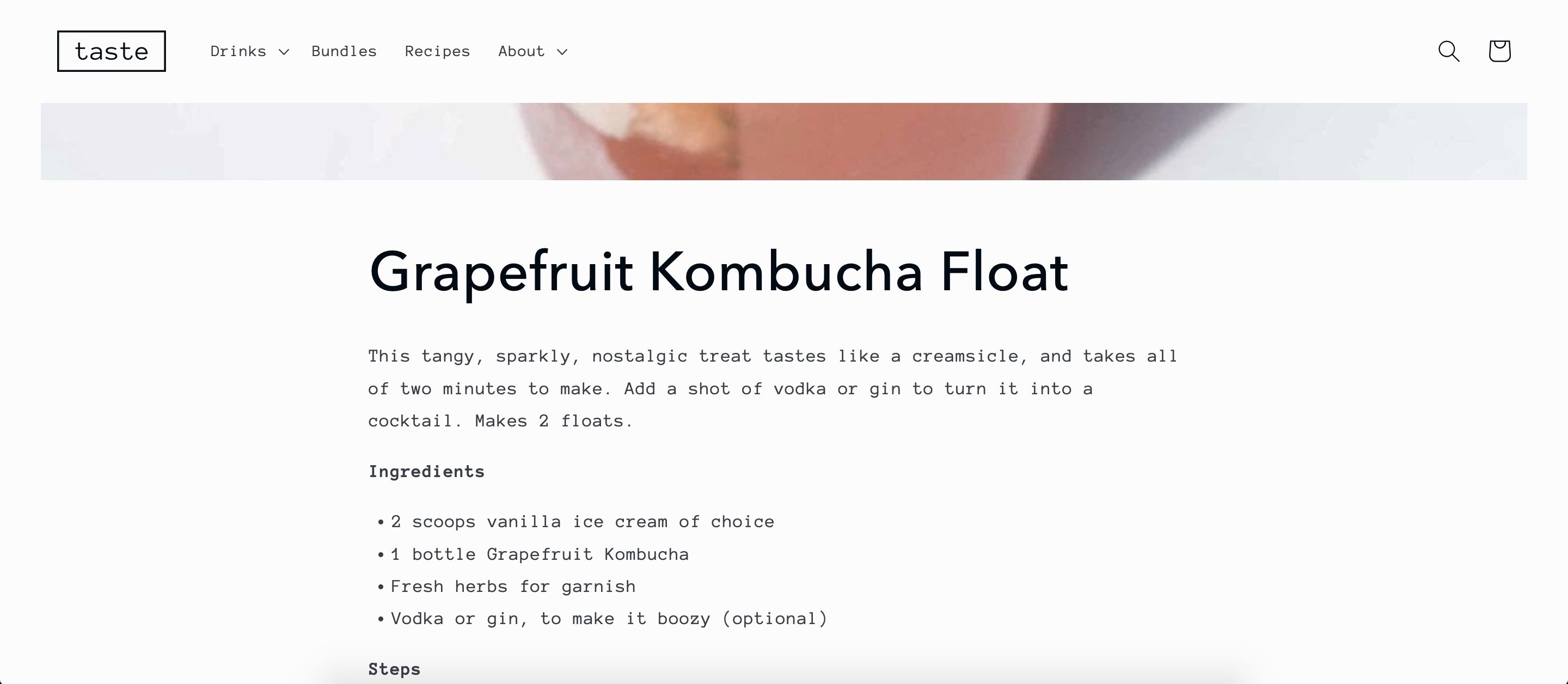 Main theme features:
Optimized for editorial content
Optimized for high quality images
Adjustable layout and styling
Speed-tested and approved
While the section for blogging doesn't offer a lot of features, Taste's bold, minimal design, and the ease of use makes it one of the better free options.
2. Craft – authentic design with a space for blogging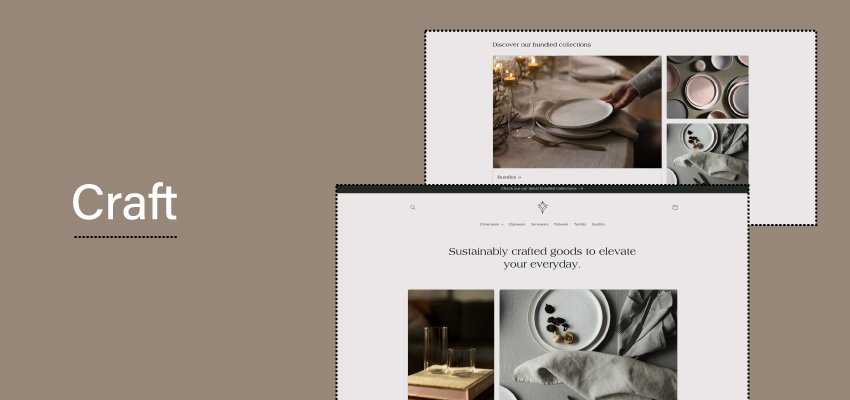 Craft's blogging space keeps it simple – with lots of white space, there are no distractions. While minimal and spacious, you get essential blog features, like leaving a comment and sharing the post.

Main theme features:
Designed for authentic storytelling
Flexible customization to all sections
Mega menu
3. Studio – a minimal Shopify blog template catered to artists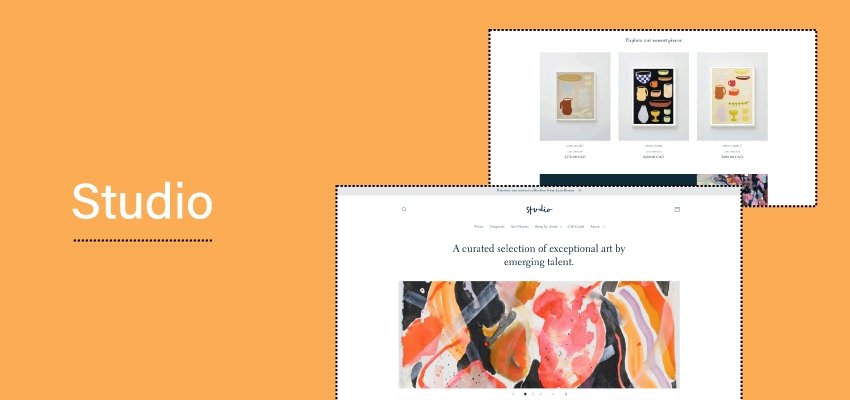 This theme is great for editorial content – it's optimized for longer format text sections which helps with brand storytelling.
Studio is easy to set up and cater to your style. You can adjust layouts and tinker with flexible design and customization options. However, the blog template itself is very minimal – if that's how you like it, then Studio is right for you!
Main theme features:
Optimized for editorial content
Optimized for high quality images
Enhanced search
Sticky header
If minimalistic design and focus on artistic expression are what you're aiming for, Studio is a good choice.
4. Sense – a fresh and bright design for your Shopify blog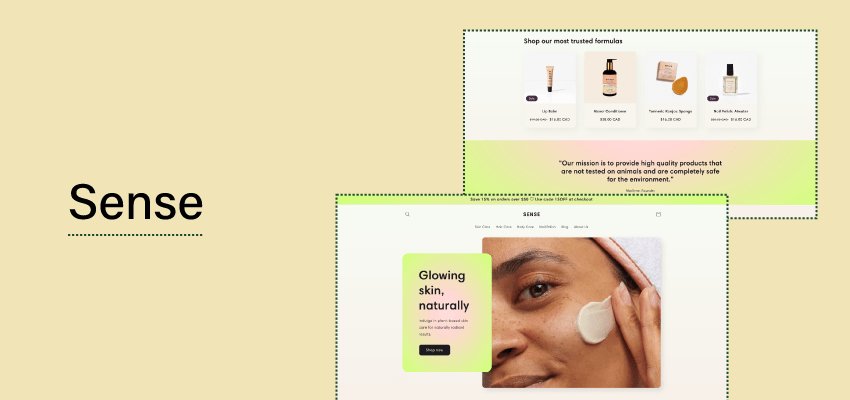 Just like all free Shopify blog templates, this one is also minimal – there's a possibility to share your article, add a date, as well as add high resolution images. The theme also offers a sticky header and clean design.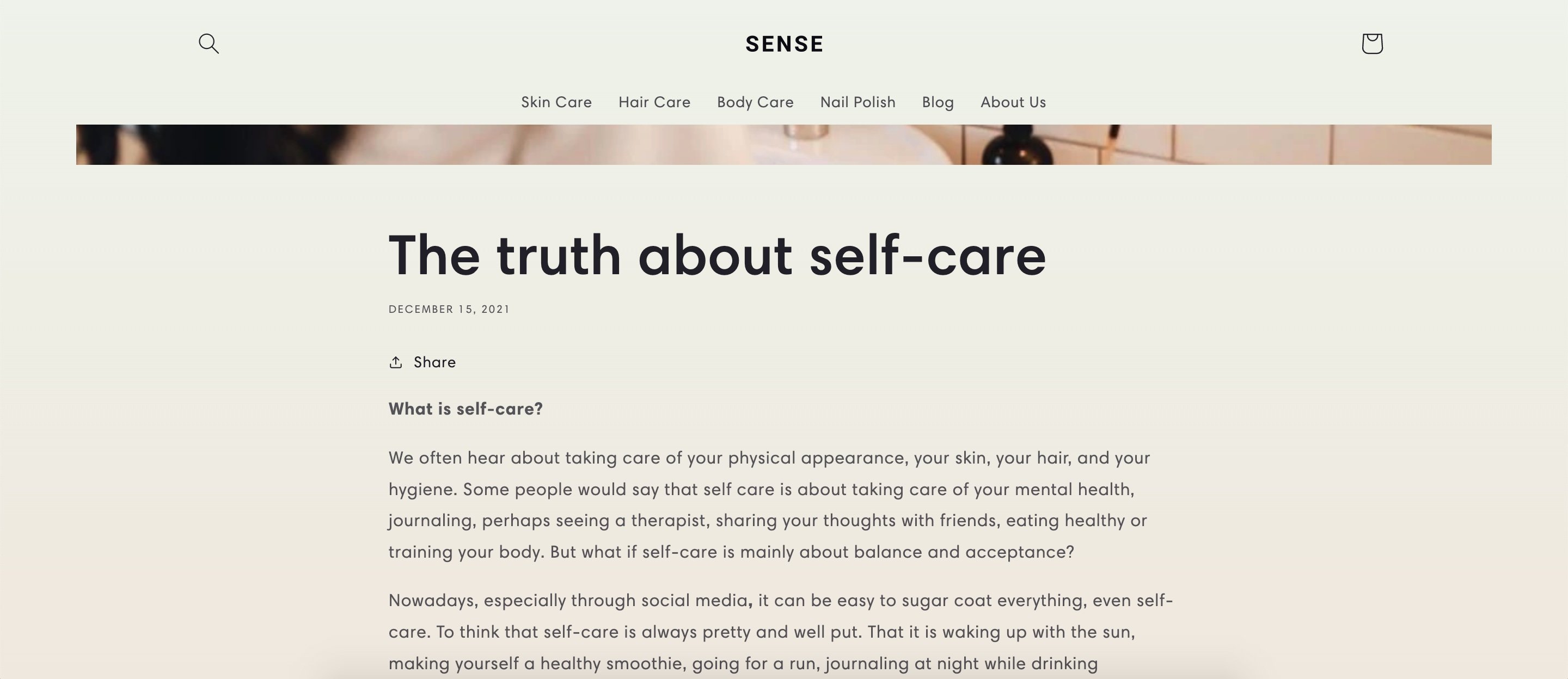 Main theme features:
Optimized for high quality images
Advanced customization options
Quick setup and launch
Minimal, fresh, and free – if that's something that works for you, go for this Shopify blog design.
5. Dawn – a chic Shopify blog template for your store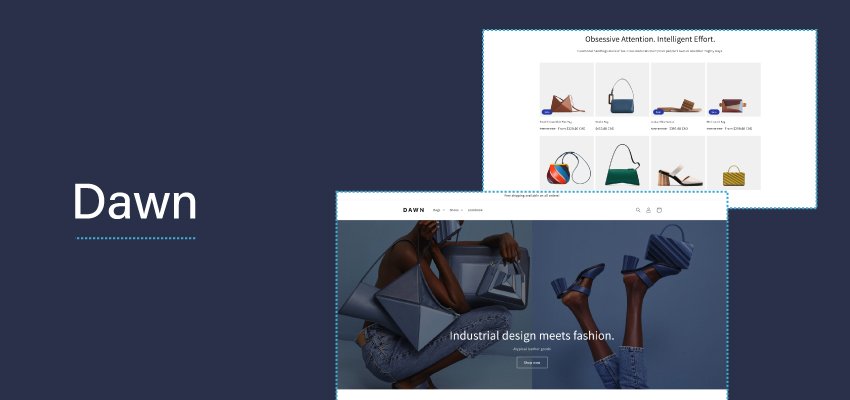 The blogging page in Dawn keeps it to the minimum, so it's perfect for announcing product launches or doing any kind of news content.
The theme is great for visual storytelling and is fit for several industries, including clothing, accessories, health and beauty, as well as home and garden.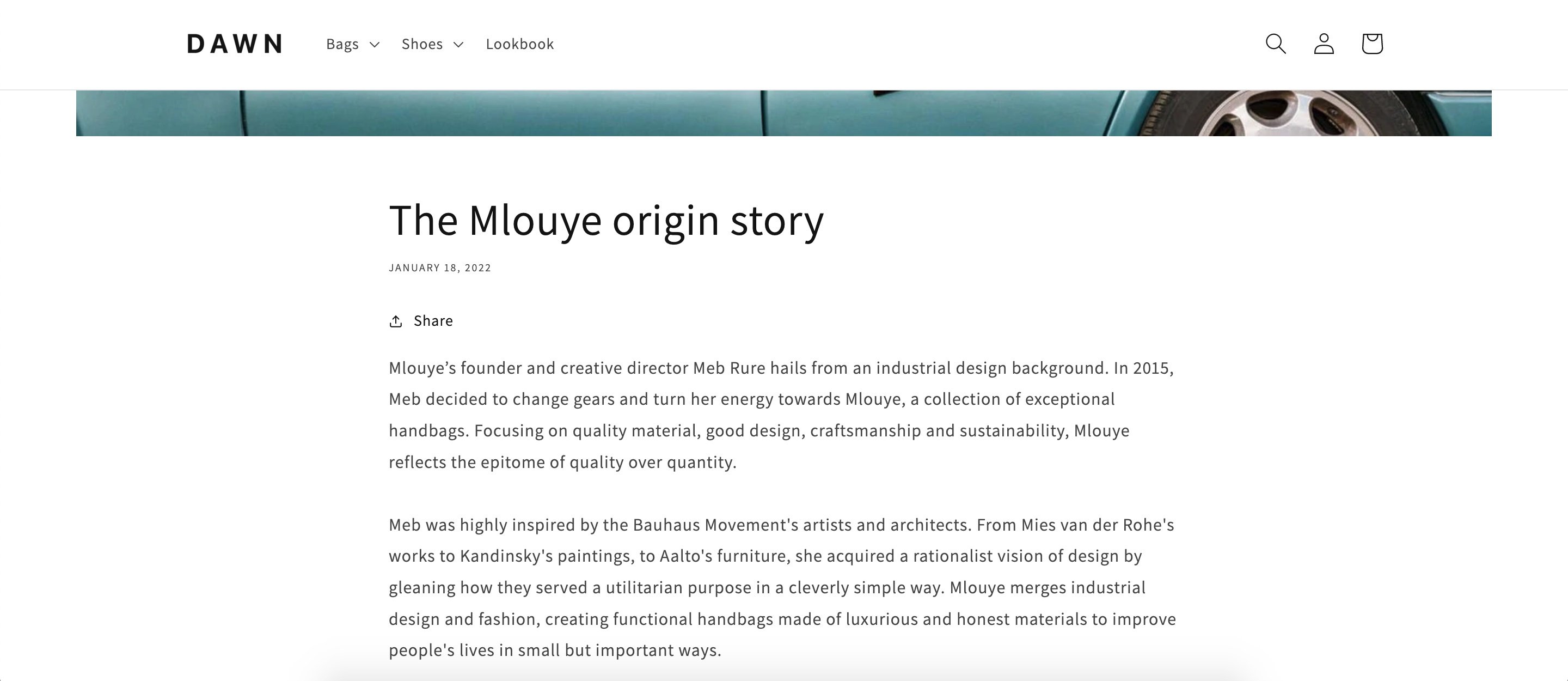 Main theme features:
Optimized for high quality images
Quick setup and launch
Advanced customization options
If you're looking for a Shopify blog template that would be fit for writing product news and updates, Dawn could be your choice.
Top 9 premium Shopify blog themes
Now that we've reviewed the best free Shopify blog templates, let's get into the premium ones.
6. Yanka – a versatile Shopify blog template with premium features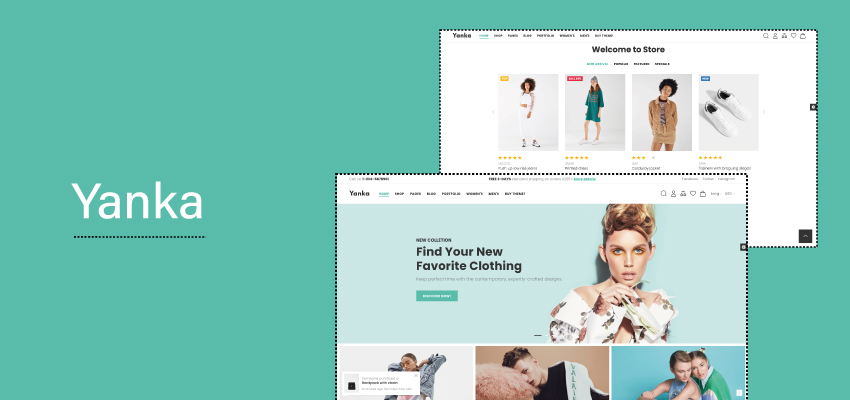 Yanka is one of our favorite Shopify themes for blogging. The simplicity and the easiness of the design don't shun great features. You can easily share your articles to social media, add comments, author's name, tags and more.
The blog can be separated into categories and you can see a sidebar of recent posts, as well as a newsletter signup form.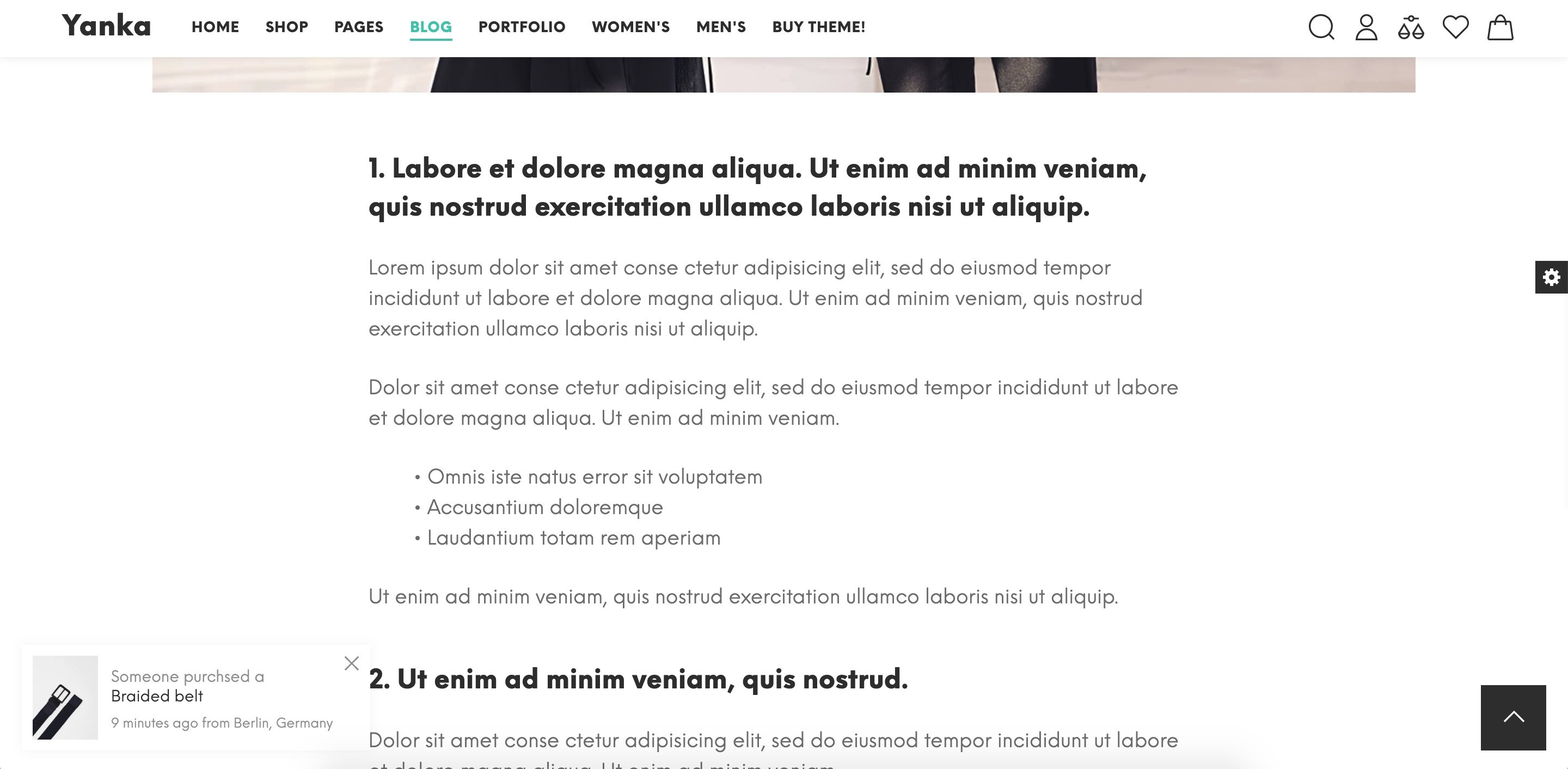 Main theme features:
5 available blog versions
Sticky header
Fast performance
Social share
Mobile optimized
Price: $48
Yanka is a well-rounded Shopify blog theme with all the features and design elements necessary to boost your brand.
7. Avone – feature-rich Shopify blog templates beloved by thousands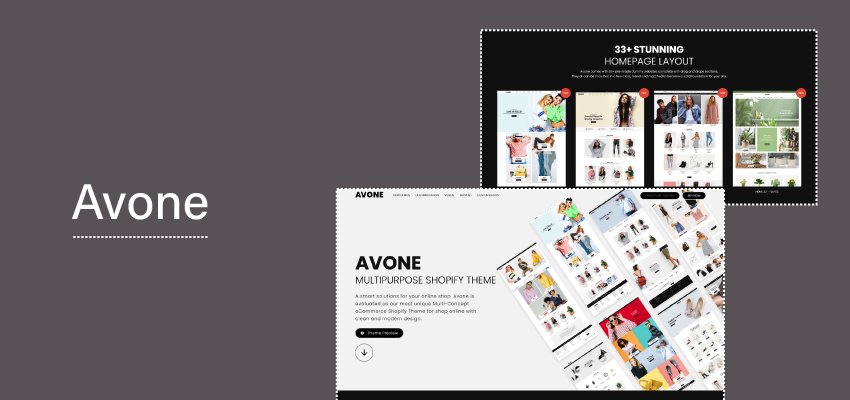 With seven different layout options for blogs, Avone surely stands out from the competition. You can choose whether you want to display several articles on the page, add a sidebar, or just have all the posts shown on the page full width one by one.
Apart from flexible customization options, Avone also has basic blog features like social sharing, comments section, categories, author's name, and more.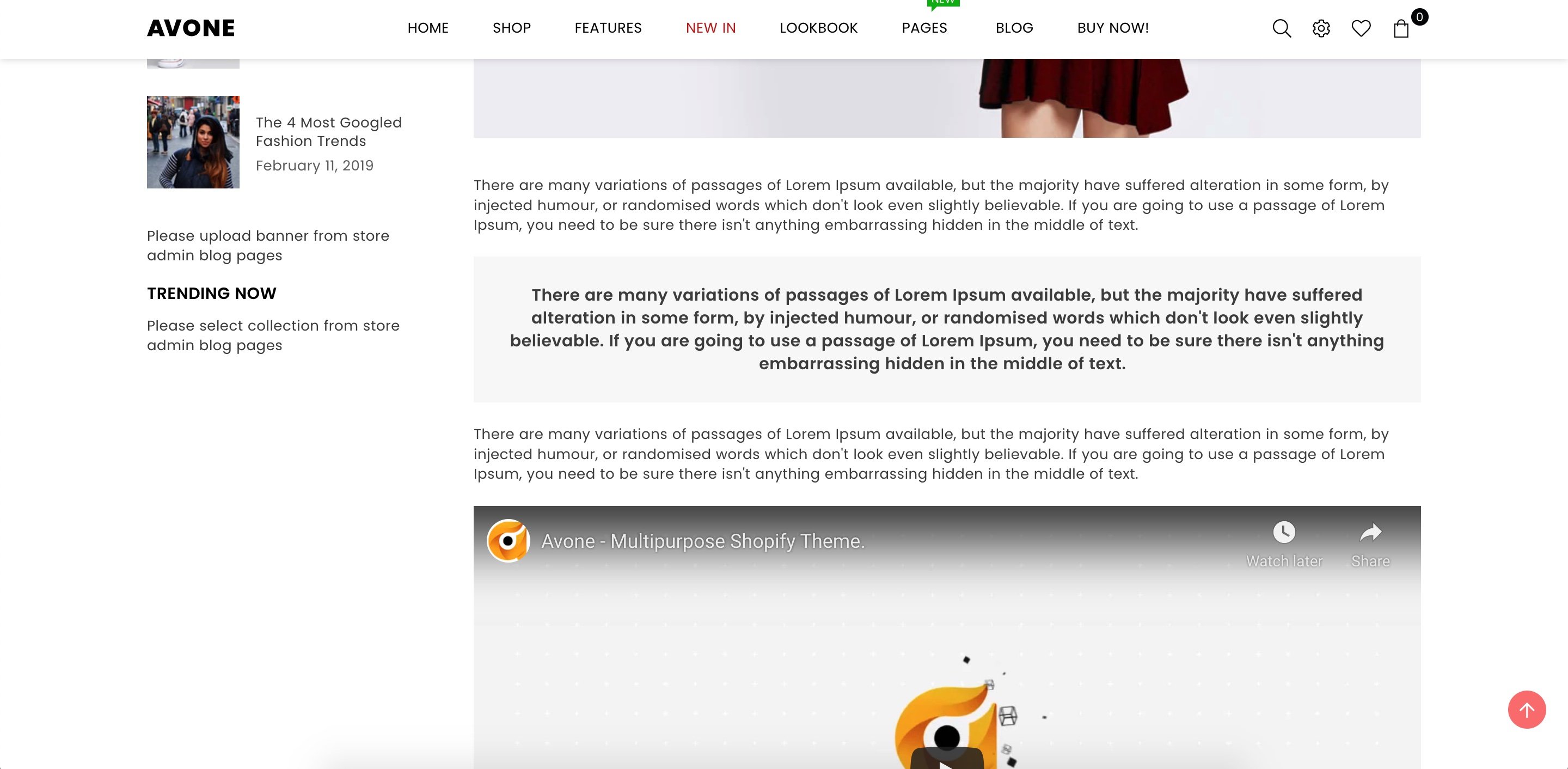 Main theme features:
Highly customizable
Mobile optimized
Sticky header
Video integration in blogs
Price: $79
Avone has a lot of customization options when it comes to blogs, as well as the rest of the website.
8. Ugo – a dedicated Shopify blog theme focused on high quality content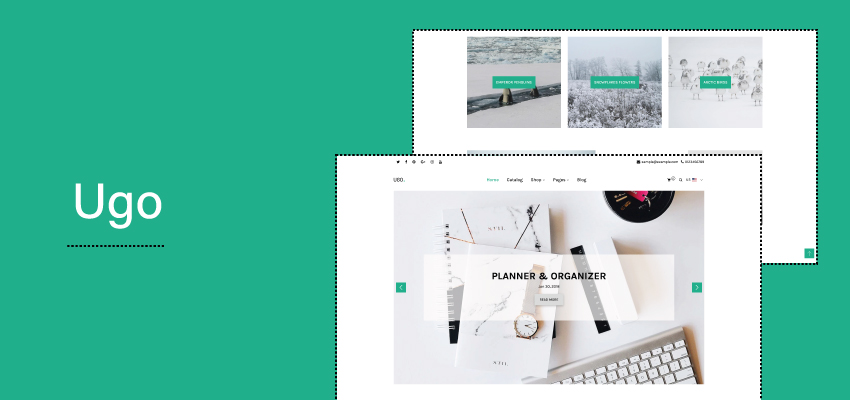 This ecommerce Shopify theme puts blogging front and center with its dedicated template. The structured and clean design allows you to easily navigate the blog with no clutter surrounding it.
When it comes to features, Ugo offers all necessary blogging functionality, as well as other sales-forward design elements to skyrocket your brand to new heights.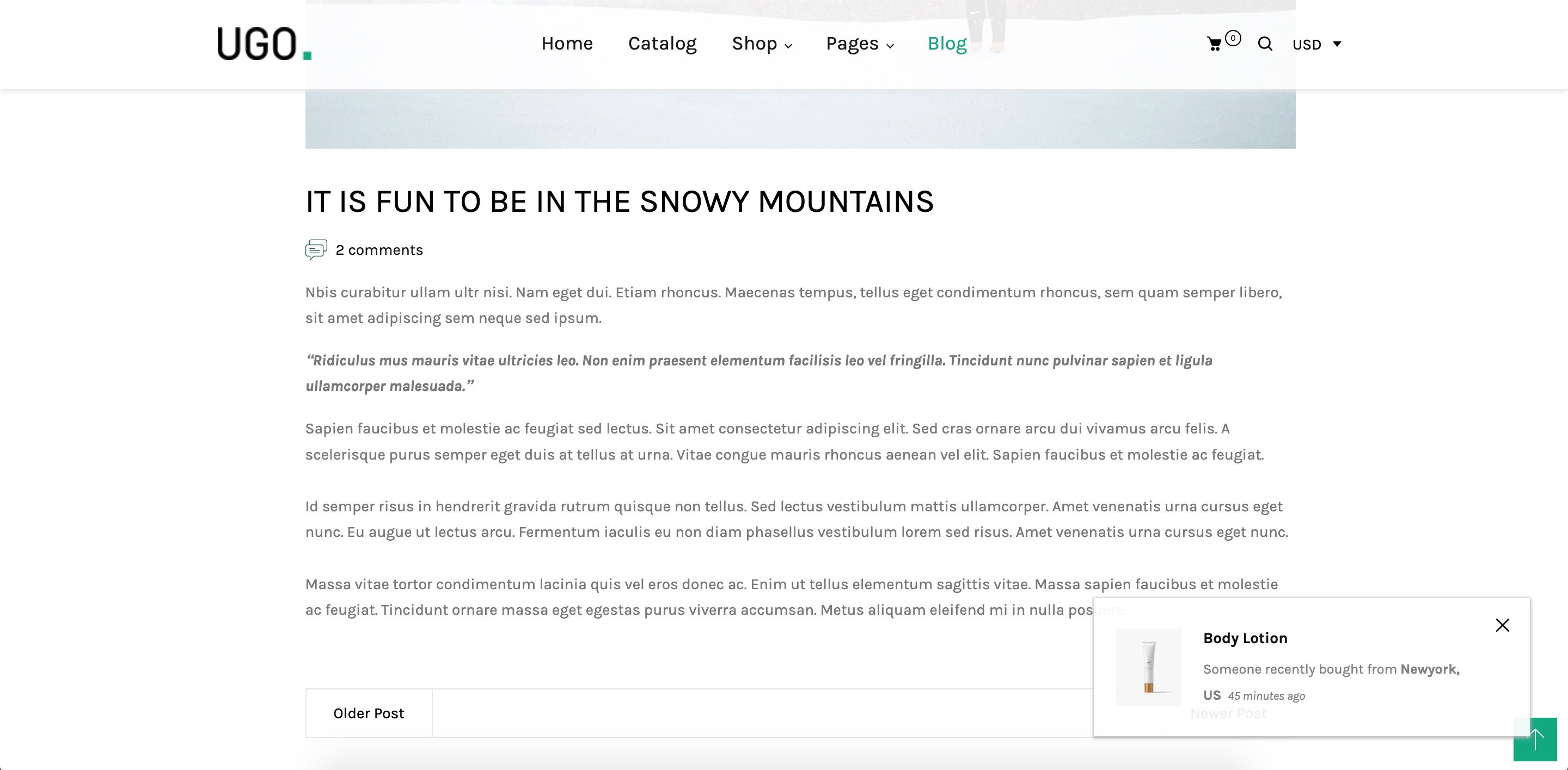 Main theme features:
Easy to customize
Fully responsive
Social sharing
SEO friendly
Price: $55
Ugo offers a magazine style look and tons of features to boost your blog and the entire store.
9. Zeexo – a maximalist Shopify blog theme for your products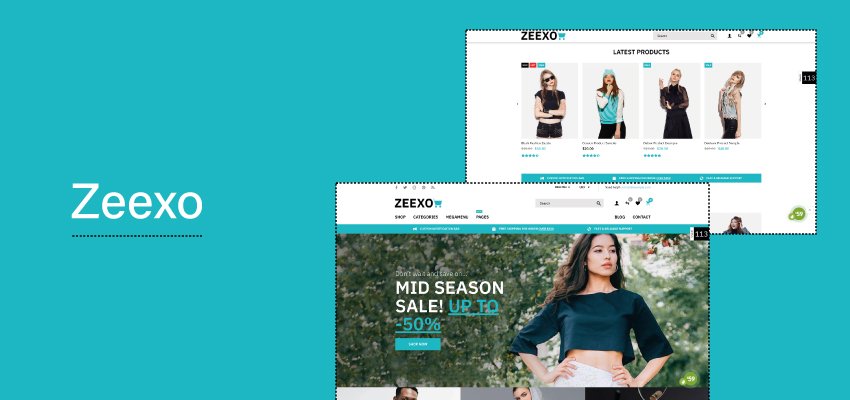 Zeexo offers a rather maximalist blogging space that's best for news-type content. It's a multipurpose theme with tons of features and a blog section. You can add tags, related posts, comments, and more.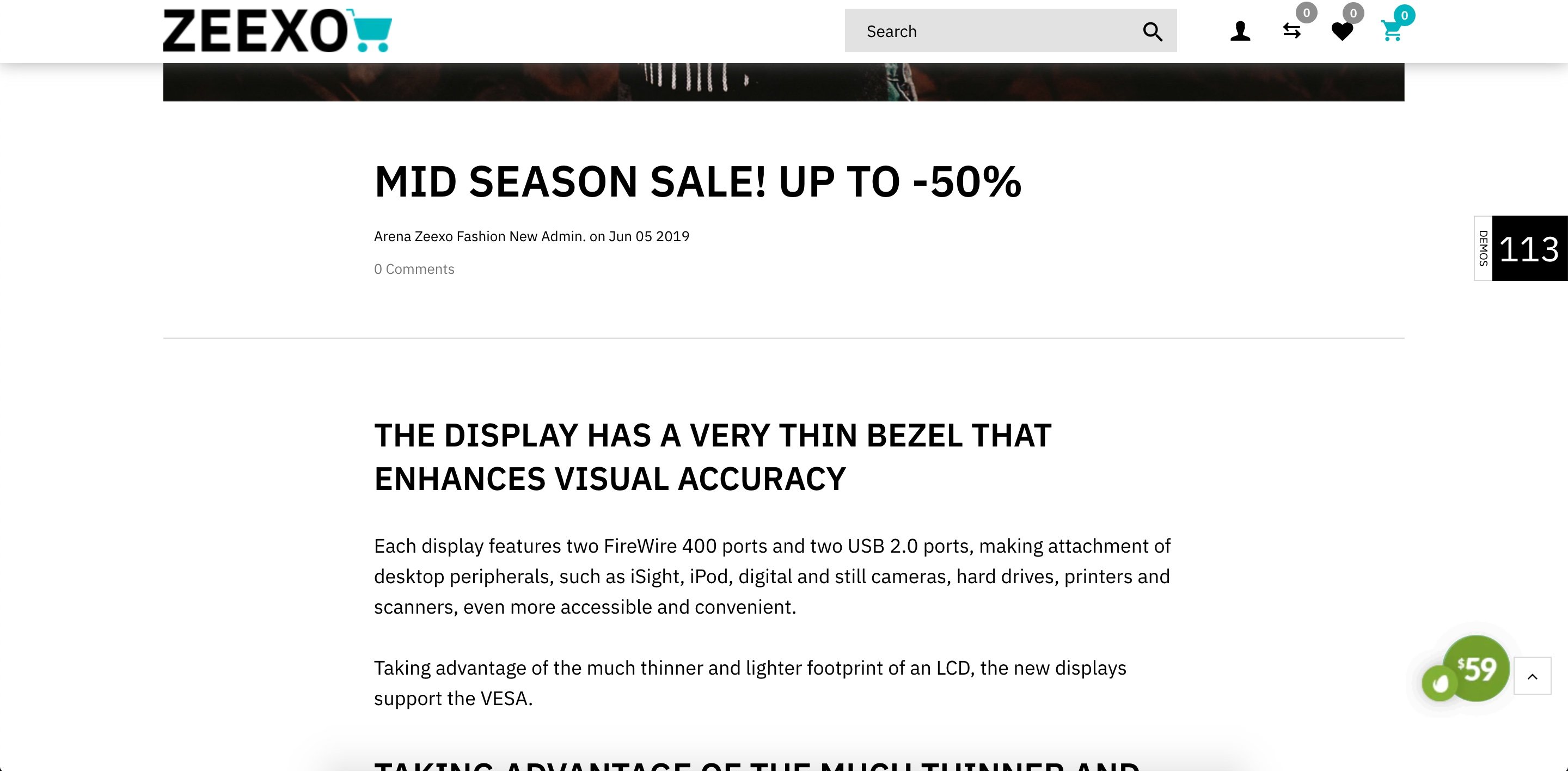 Main theme features:
SEO optimized
Full RTL support
Live builder and customization
Mobile optimized
Price: $59
While the maximalist approach may not be everyone's cup of tea, Zeexo has tons to offer when it comes to the best Shopify blog themes.
10. Icon – a chic Shopify blog design for image-forward brands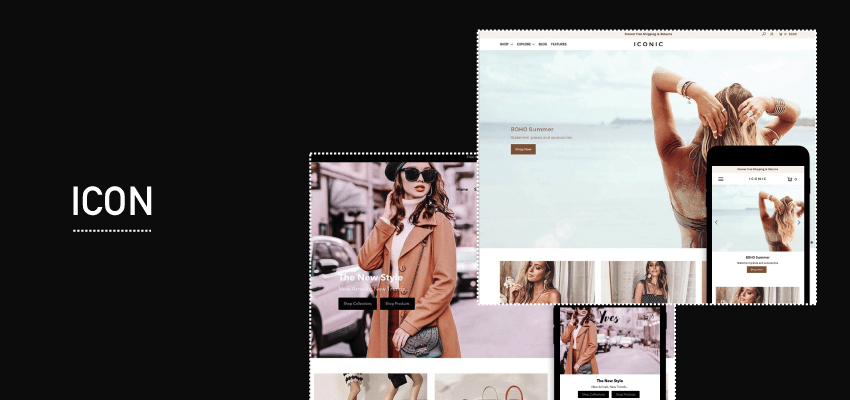 Icon has four theme styles, and they're all bold, stylish and minimal. The blog doesn't offer a lot of features, but it has the basics you need to fill your readers in. You can share articles straight to social media with dedicated buttons, and add high resolution images.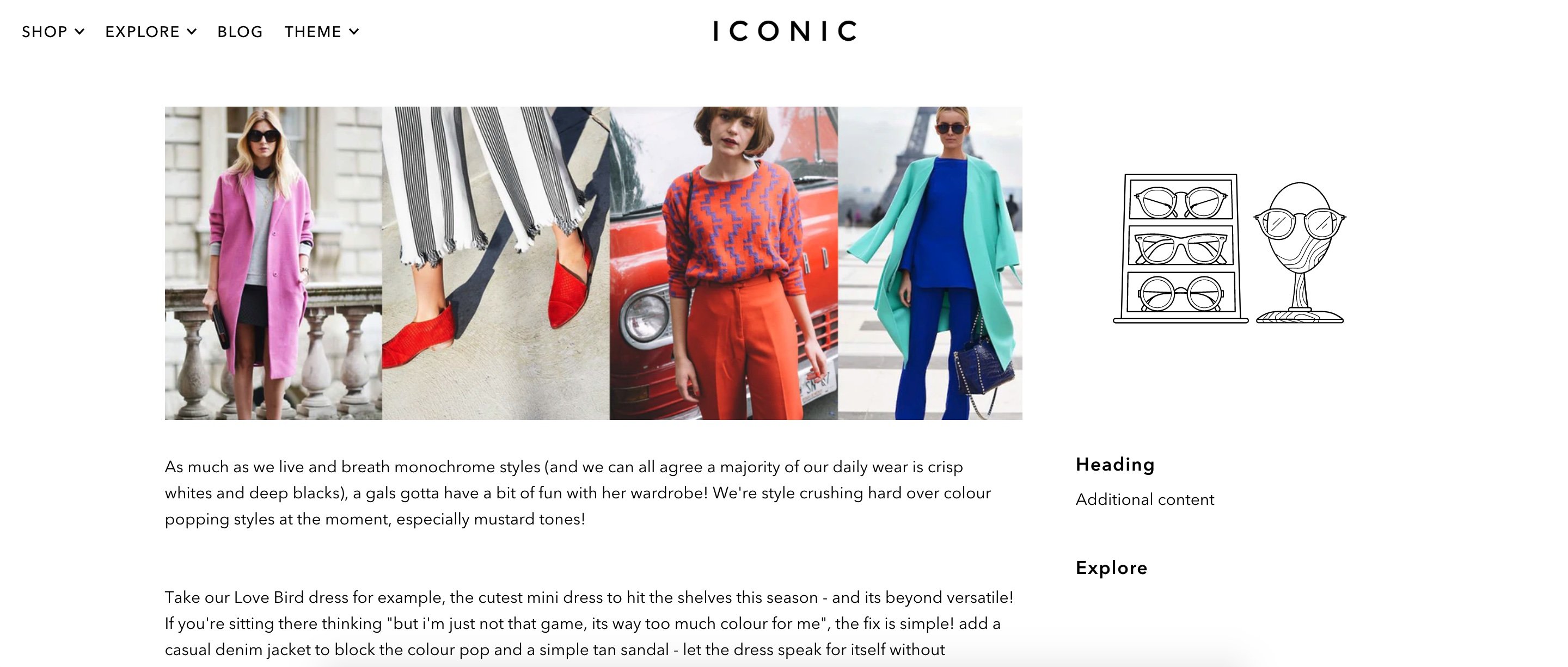 Main theme features:
Quick setup
Optimized for high quality photos
Sticky header
Speed-tested and approved
Price: $280
If you want to fill your blog articles with images, Icon is perfect for that.
11. Trendway – a multipurpose Shopify blog theme for trendy content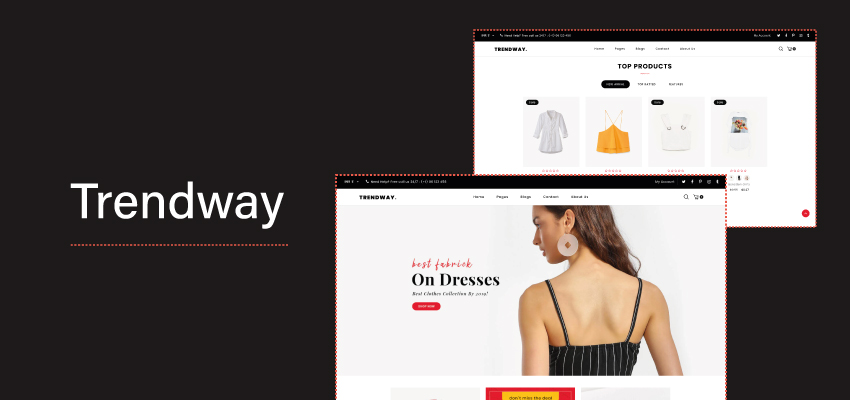 Trendway takes a minimal approach to the blogging space. There's a comments section, author's name, and a publishing date. However, we did not notice social media sharing buttons next to articles.
Apart from that, this theme is generally feature-heavy, and has all you need to boost traffic and sales to your store.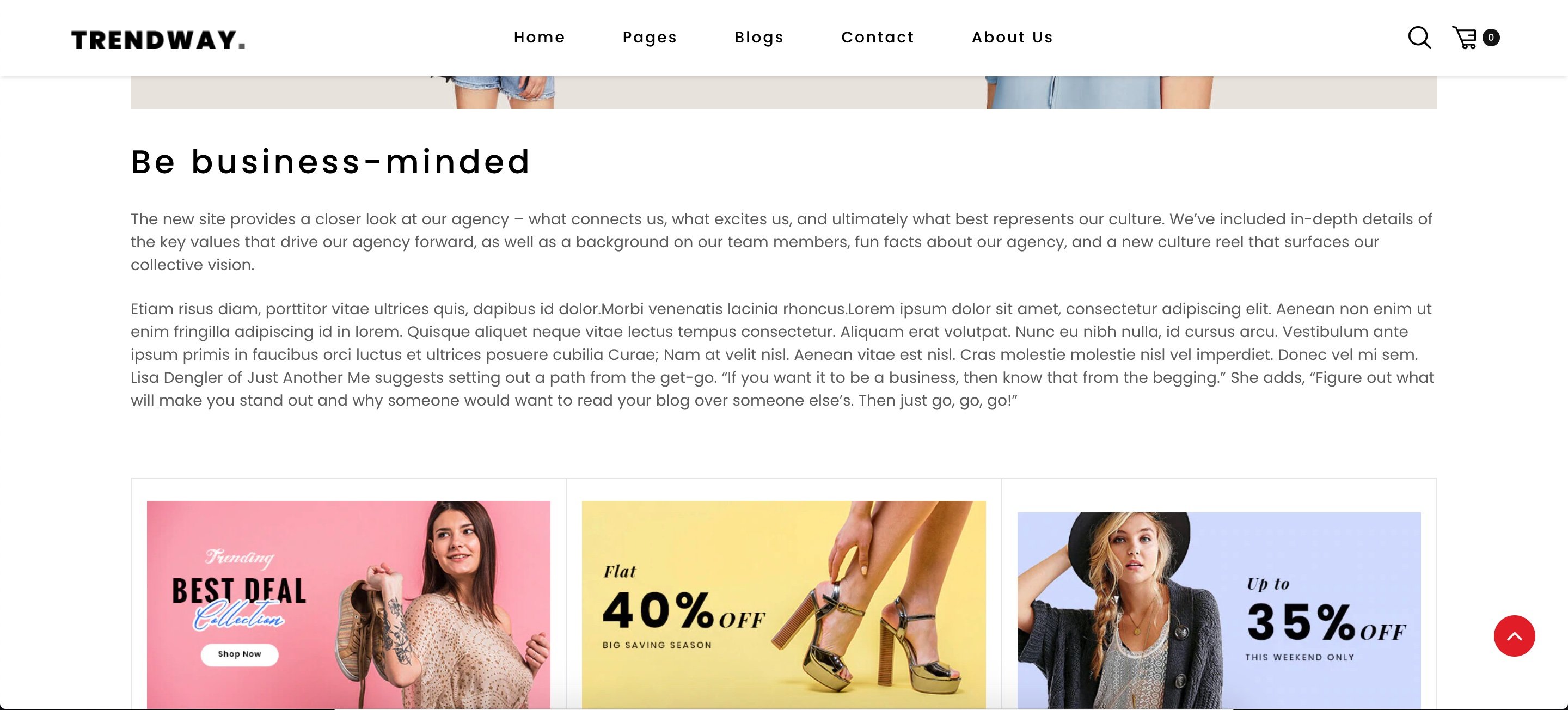 Main theme features:
SEO friendly
Drag-and-drop sections
Fully responsive
Multiple language support
Price: $32
Priced at just $32, Trendway is one of the better deals on our premium blog theme list.
12. Woodstock – a traditional Shopify blog design that gets the job done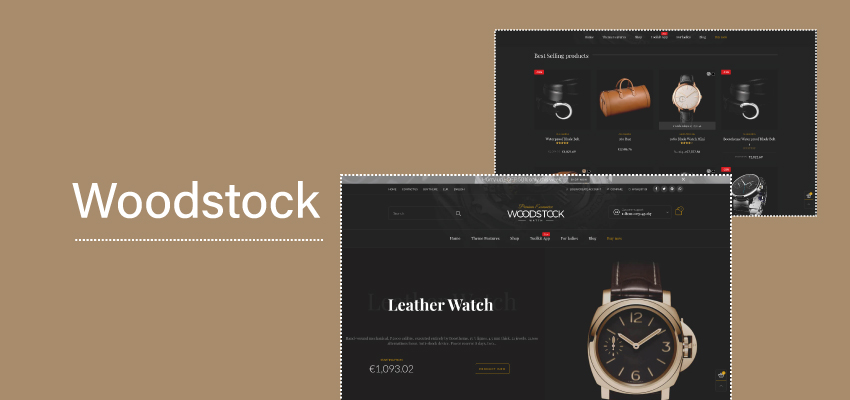 Woodstock has three layout options for your blog, so it makes it easier to personalize it to your brand. Apart from that, there are social media sharing buttons, search bar, a sidebar with recent posts, filters, and more.
If we compare it to other Shopify blog templates on the list, this one lacks a comments section.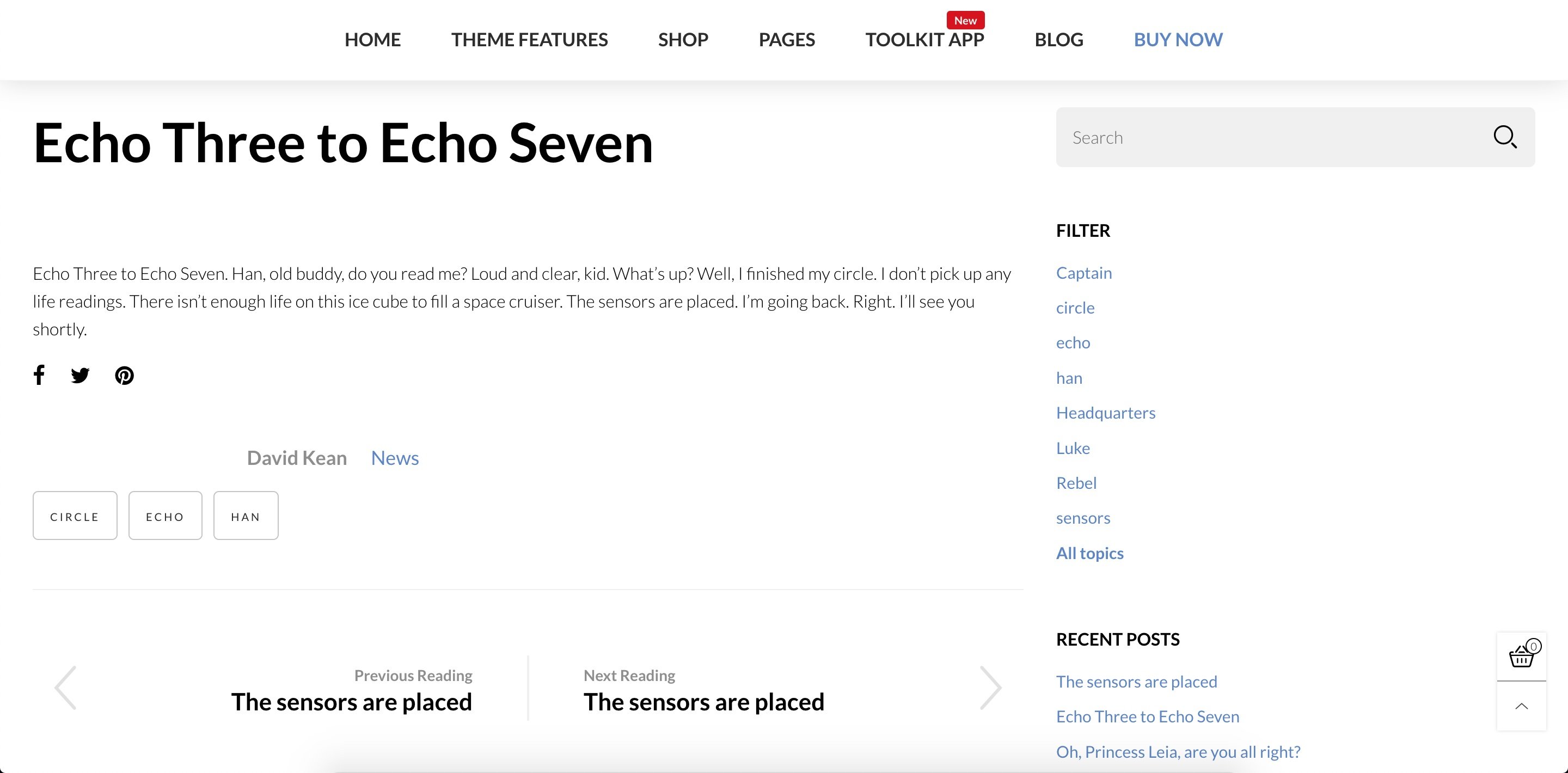 Main theme features:
Multiple language support
SEO friendly
Drag-and-drop mega menu items
Lots of customization options
Price: $59
If you're looking for a flexible, customizable blog template, Woodstock could be your choice.
13. Corano – a classic eCommerce Shopify theme fit for blogging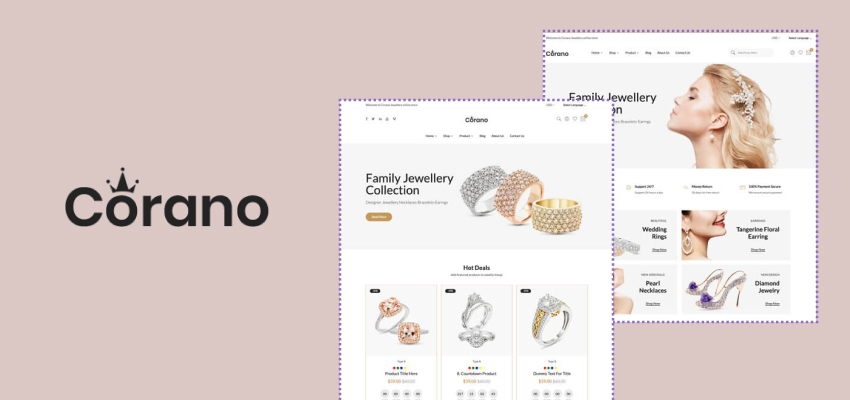 This theme offers what others on the list don't – article archive section in the blog sidebar. There's also a search bar, recent posts field, tags, and other necessary functions like custom author's name and the comments section.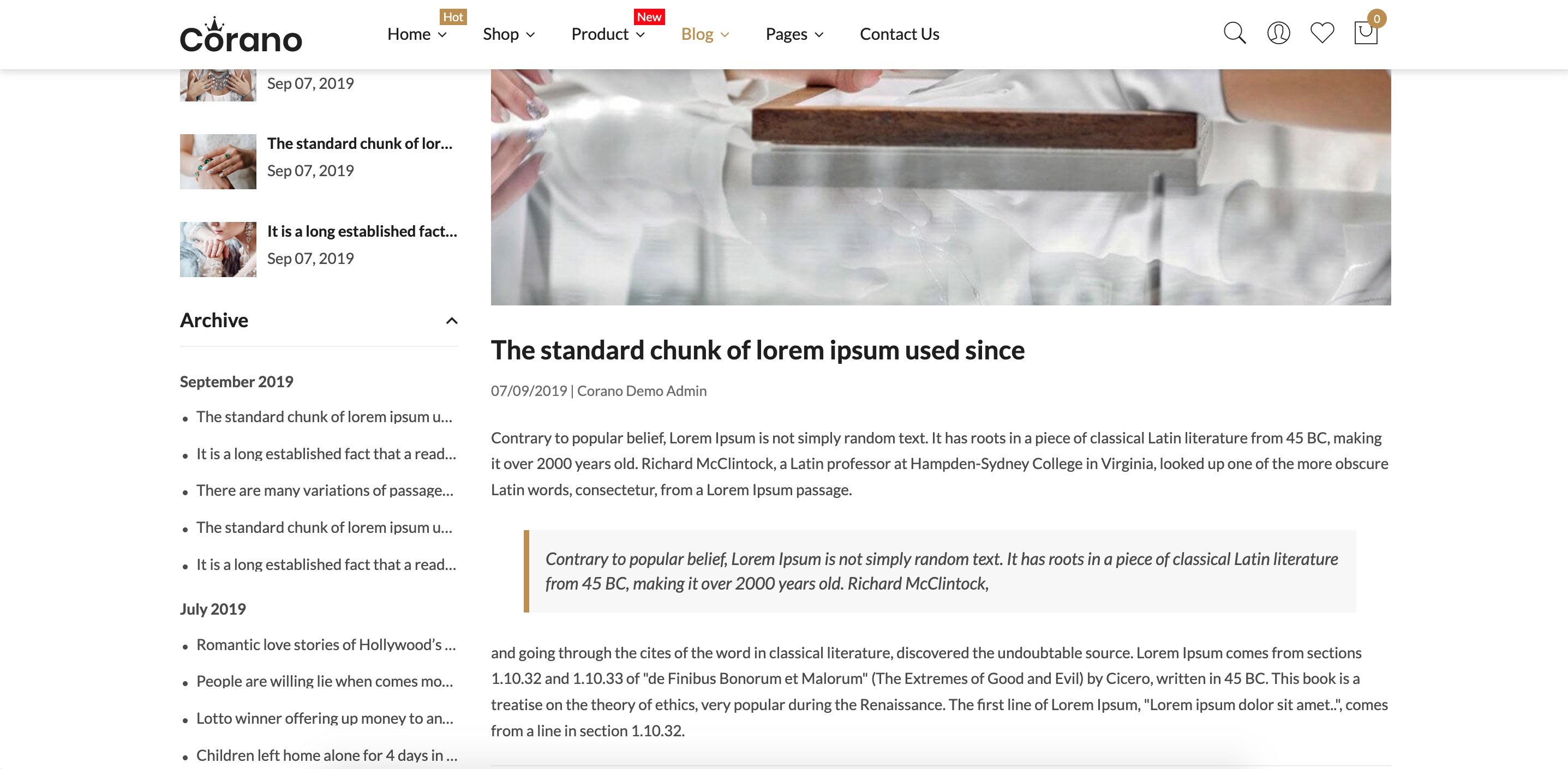 Main theme features:
RTL support
Fully responsive
Drag-and-drop sections
Easy to customize
Price: $59
If you have a big ecommerce store and wish to also maintain a blog, Corano might be the choice for you.
14. Boost – an engaging Shopify theme focused on editorial content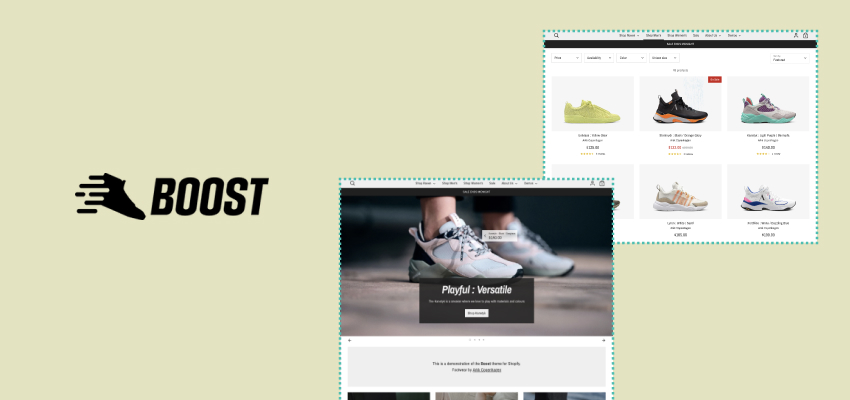 The blog design allows you to add your products to the article, that's why we say this blog theme is sales-focused. It also has the ability to display the author's name, publishing date, tags, comments section, and dedicated social media sharing buttons.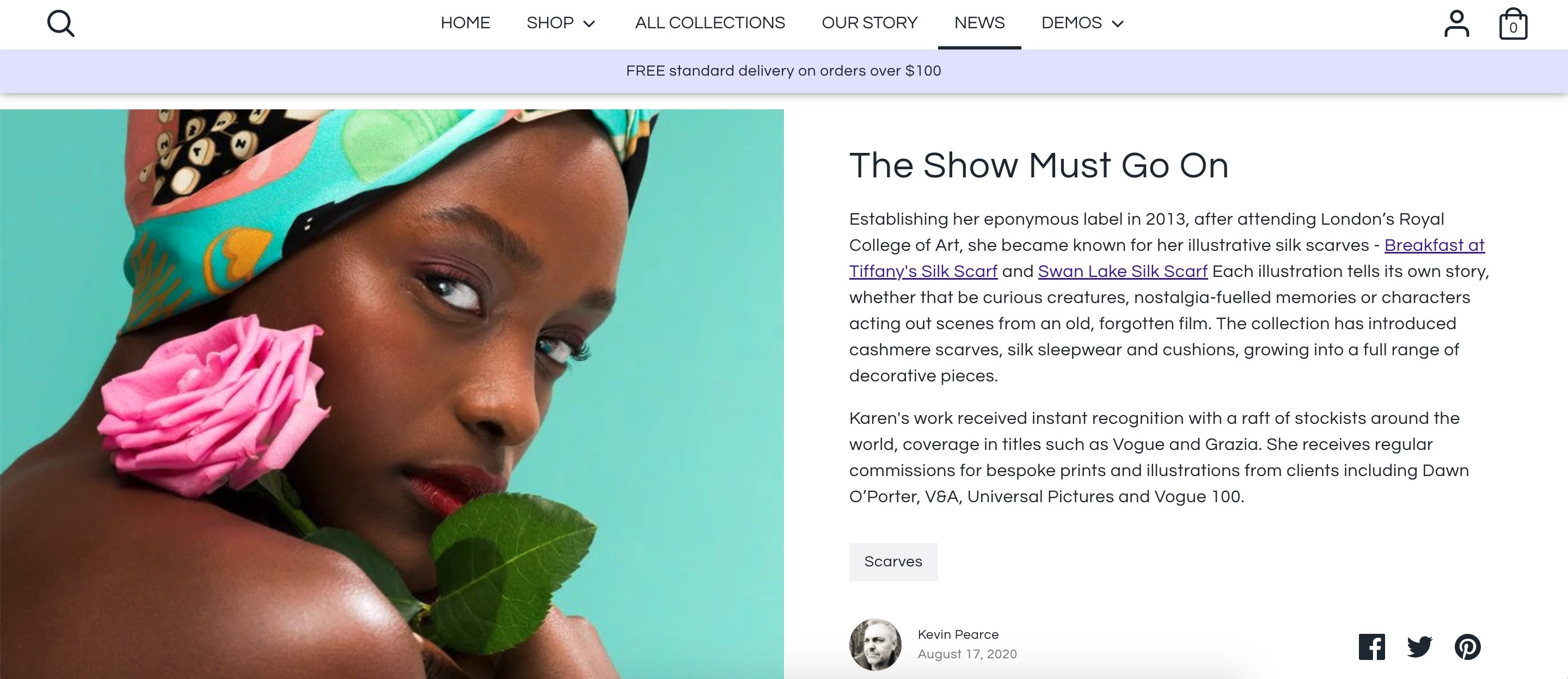 Main theme features:
SEO friendly
Optimized for large texts
Sticky header
High-resolution images
Price: $320
With four theme styles, Boost offers flexibility in design and functionality for your business.
Advantages of having a Shopify store blog
Investing time in maintaining a blog might seem like a pretty big commitment, but there are a multitude of advantages that come from blogging. Here are some:
A blog brings your brand more visibility.
You can use the blogging space for product-related news that are useful to your customers.
A blog can help bring more organic traffic through smart SEO.
A blog can be a space to share useful tips and advice related to your products and/or the industry.
Sharing articles on social media can bring you closer to your audience and help SEO efforts.
All in all, we advise you to take advantage of all possible marketing activities – and that includes blogging.
Shopify blog theme alternative – a page-builder app
While getting a Shopify blog theme to do all the work is a very smart decision, perhaps you want to make your store more unique? You can easily do that with a Shopify page builder app – and we have a whole article dedicated to the best ones.
Don't be scared, a page builder doesn't mean you'll need to dabble in code. All it does is that it offers more tools, custom templates, sales-friendly design features, and tons of elements that allow you to personalize your store.
Page builder apps are a solid alternative to pre-made Shopify blog themes, and the prices are very similar. So, why not give it a try?
Summary
Whether you decide to run a blog for news-related content, sharing tips and tricks, or promoting your products, you need a good blog theme to go with your plan.
As we conclude our list, we can say that there are plenty of options to choose from. Ranging from free and minimal Shopify blog templates, to more customizable and feature-heavy designs, those themes have everything for everyone.
For us, Yanka and Avone stand out from the premium list, while Taste and Craft are solid free choices. And now it's time for you to make your decision.