By purchasing through the links on this page, you are giving us the opportunity to earn a commission. Your support is greatly appreciated!

With such an abundance of Shopify stores, getting customers to shop at your store in particular is a challenging mission. We're in this with you! To ensure most visitors turn into customers, we compiled a list of best converting Shopify themes.

Why is a theme important for conversion? Because your conversion rate is largely based on ease of navigation and purchase completion at the store, which is exactly what a good Shopify theme is designed to do.

We will present you with a shortlist of all-time best-converting Shopify themes, in-depth reviews of 15 Shopify themes known to turn visits into sales and give you a rundown of the criteria for a Shopify theme that converts.

Let's get to it.

Beautiful store theme is not enough. Optimize your pages for the best speed and SEO performance

Install TinyIMG now
Best converting Shopify themes: overview
If you're not particularly interested in the nuances of conversion rate optimization or don't feel like reading through detailed reviews, don't worry. We have a list of top 5 Shopify themes you can always count to bring in conversions:
Here's a rundown of some of the best converting Shopify themes in 2023:
Excited to read more? Let's get straight to our detailed reviews of Shopify themes that convert.
15 best converting Shopify themes: reviews and recommendations
These 15 Shopify themes will ensure that your store visitors turn into customers.
1. Booster - best converting Shopify theme in 2023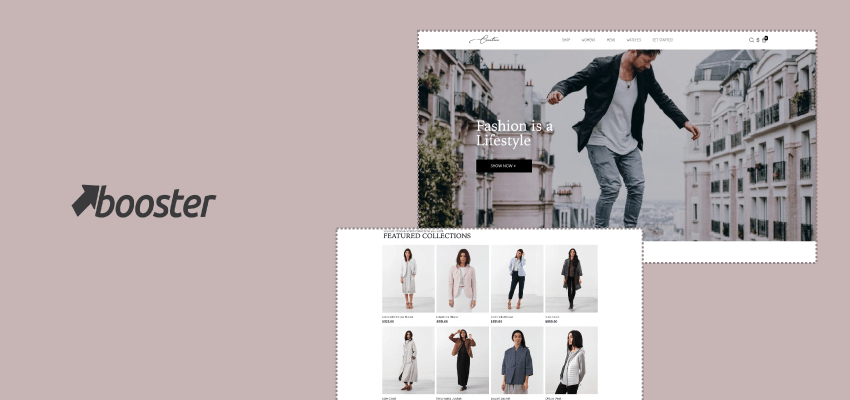 Yearly $259/year, Lifetime $399
Booster is more than a super customizable Shopify theme. With amazing sales tools, it's a full-fledged marketing platform, trusted by over 45,000 stores.
This theme offers over 40 different conversion-optimized marketing tools, and claims to bring up to 277% conversion rate increase. It's highly focused on raising your average order value by grouping frequently bought products together as well as utilizing recently seen and recommended product widgets.
What's even better, Booster Shopify theme's services and functionalities are completely zero-dependency, built and managed by the company itself. So, forget about additional app management or numerous customer support requests. Booster sites will also load seriously quickly, thanks to automatic image optimization, minimized server requests, and modular JavaScript.
You can get lifetime access to Booster theme for $399. Alternatively, if you're not ready to commit, you can opt in for a yearly plan that comes down to $249.
How it converts:
Automatic Free gifts feature
GEO-IP currency and language conversion
Direct to checkout
Design by screensize functionality
Suggested reading
2. Electro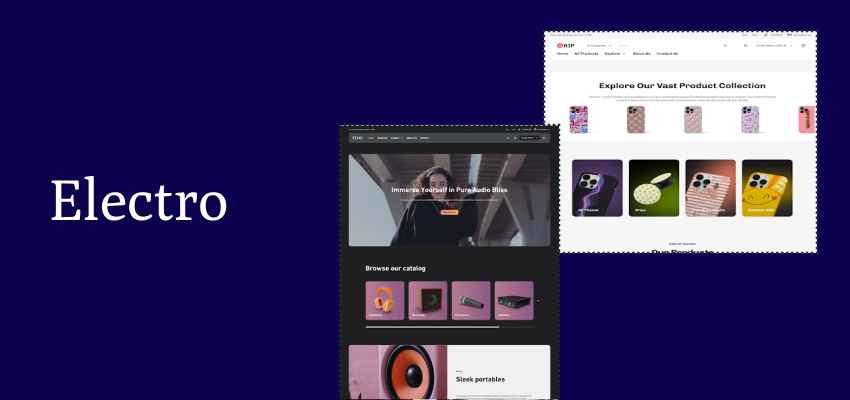 Electro - ultra-fast and high converting Shopify theme
The Electro theme is a powerful and versatile theme specifically designed for electronics and high-tech stores, but it can be customized to meet the needs of any online store. There are 3 styles to choose from in Electro themes: Gadget, Audio and Surveillance.
What truly sets Electro apart are its robust features, primed to elevate your store's conversion rates and scalability:
Product Comparison: This feature allows visitors to compare multiple products side-by-side, giving them more information about the products before they make a purchase.
Unique Product Page Navigation: Electro claims as the sole theme to offer Product Sticky Bar navigation, which helps visitors navigate more easily through your product page.
Intuitive Hotspots: This feature enables you to showcase multiple products or content in a single image, encouraging engagement and driving conversions.
Fast page speed: All Electro's demo stores score 90+ on PageSpeed Insights, even for mobile, guarantee an enjoyable browsing experience for shoppers no matter which devices they use.
How it converts:
Smart display of product information
Unrivaled page speed
Mobile-first design
Intuitive navigation
3. Debutify - good converting Shopify theme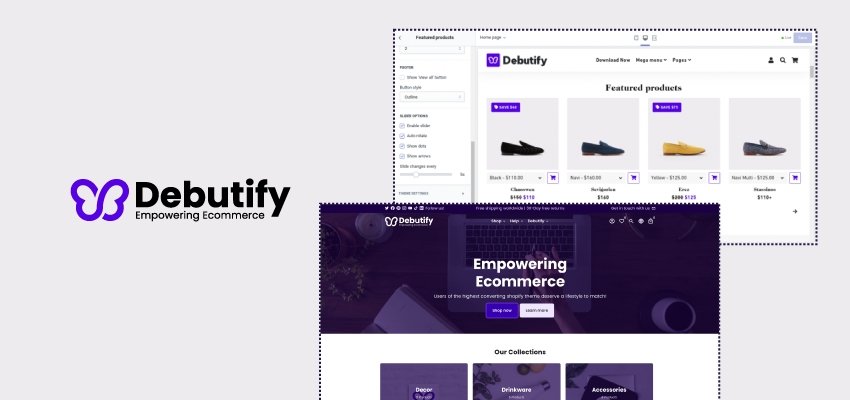 Four options, from Free to Enterprise $149/month
We love Debutify because it's more of a highly-converting marketing powerhouse than a simple theme. It is trusted by 8-figure brand owners with their store conversions because Debutify pulls all pieces of the puzzle together, from slick design to highest-level conversion technology.
On top of having time-tested strategies implemented into their design, Debutify also features over 50 "conversion boosters". These are add-ons designed to help your store conversions scale as you grow, in that way making Debutify suitable for any store size.
Basically, Debutify serves the function of numerous Shopify apps without the need to install and manage them. A true gamechanger, Debutify deserves to be at the top of the best converting Shopify themes list.
The price range for monthly plans is quite big, however, cheaper options are available for those willing to commit and get charged yearly.
How it converts:
Ensures clean code and fast website loading speed
Intuitive navigation
Built-in testimonial slider
Guarantee bar
4. Flex – powerful theme with the most flexible layouts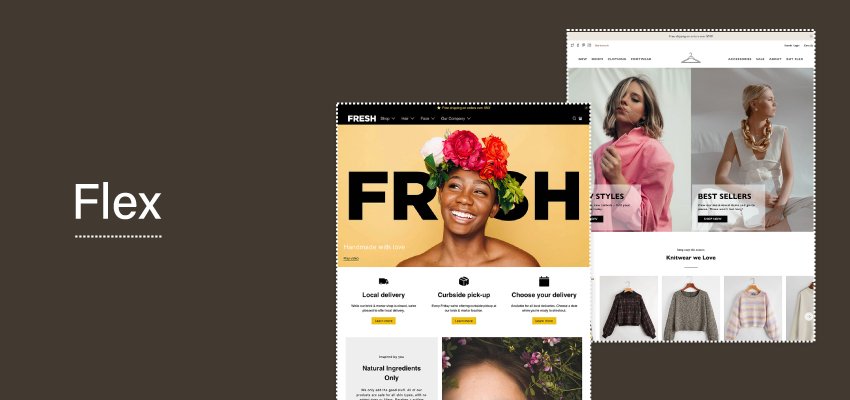 Flex is a very powerful Shopify theme in terms of customization. You have the ability to add custom CSS to any section within the Theme Editor. This gives you an opportunity to get creative and build a strong and unique brand. As of writing this, there are 13 styles you can choose from to help you start building your website.
Flex theme users praise its vast possibilities, swift and helpful customer support, and frequent theme updates. Unrestricted flexibility is definitely the strongest attribute of this Shopify theme. There are also powerful mega menus to choose from, hero images & videos, integrations of content marketing support features, quick view feature, and more.
While quite pricey, you only have to pay a one-time fee for unlimited access to features, customer support and theme updates.
How it converts:
Newsletter popups
Quick buy
10 mega menu options
CSS customizations
5. Turbo – premium theme with powerful speed optimization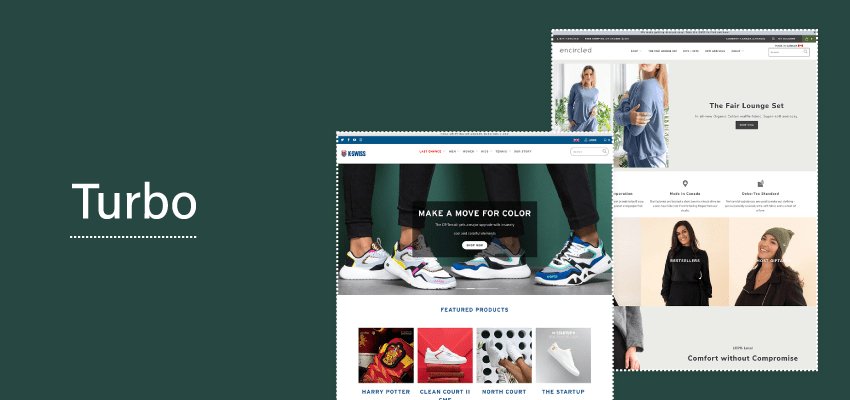 Turbo offers its users a premium theme with some of the best speed in the game. Its smart page preloading automatically predicts where visitors will click next and preloads the page immediately.
Besides its performance-first design, Turbo also offers crucial conversion-focused features, like predictive search, newsletter popups, lookbooks, advanced mega menu layouts, and more. It's a professional theme, beloved by experts and merchants who use it. There are some powerful layout tweaking options as well, including CSS customization in the Theme Editor which allows you to customize sections designs.
While Turbo is on the pricier side, you only have to pay a one-time fee in order to use all of its features, get theme updates, and get help from customer support whenever needed.
How it converts:
Smart page preloading
Predictive search
Newsletter popup
Lookbook feature
Suggested reading
6. Doni - highly-customizable Shopify theme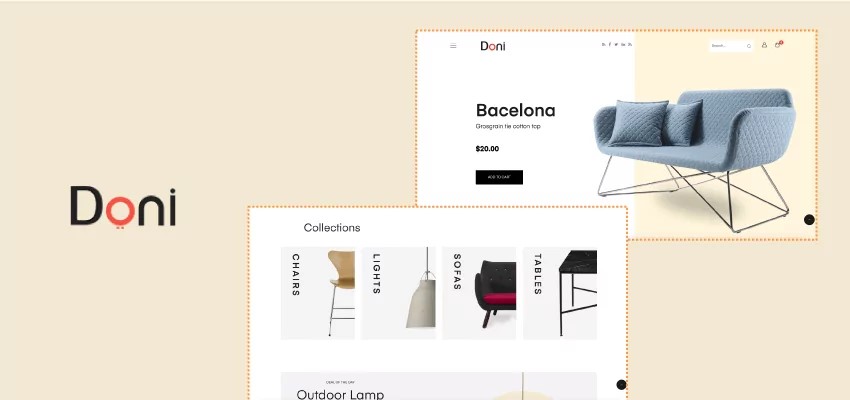 Firefox, Safari, Opera, Chrome, Edge
Doni is an intuitive drag-and-drop ready Shopify theme. Although the customization options are vast, the theme will always come into a coherent whole, effectively optimized for conversions.
This responsive theme goes past the regular options, such as sliders or header and footer styling options. Doni comes armed with a full range of additional solutions for your store's design, such as unlimited Google Fonts, Instagram images slider and products carousel.
What's best, Doni is available for a single $56 fee with 24/7 support included for 6 months. Should you choose to extend it up to 12 months, you can do so for an additional fee.
How it converts:
"New", "Sale", "Hot" labels
Layered navigation
Customer reviews
Wishlist
7. Symmetry - powerful storytelling theme for good conversions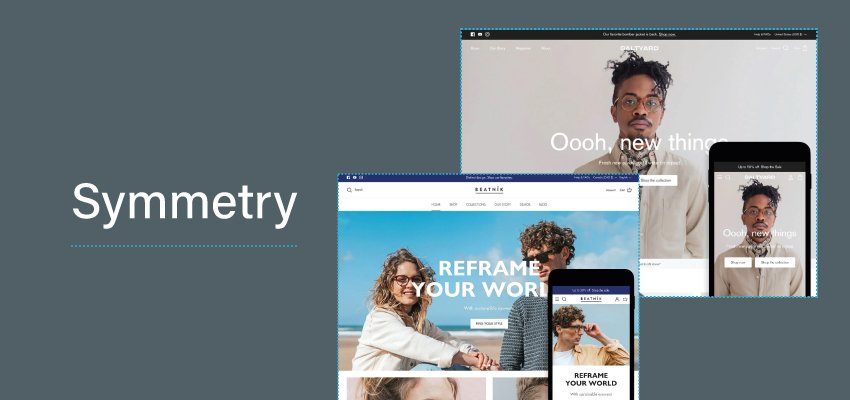 Another drag-and-drop theme for a highly converting Shopify store, Symmetry is prepared to boost your sales in no time.
With Symmetry, your store will stand out in multiple ways. However, we highly recommend this theme to stores that rely on visuals to achieve good conversion rates.
Symmetry has been designed to promote a visuals-first narrative of your brand. With numerous sliders, zoom and rollovers, high-resolution images of your stunning products will stand as the most effective conversion strategy.
With Symmetry, you get to try all of the features out for free in demo mode for as long as you wish. Whenever you feel ready to make your store live, you can do so for $250.
How it converts:
Product reviews and promo banners
Recommended products
Visual-first design
8. Parallax – stylish layouts with conversion-focused checkout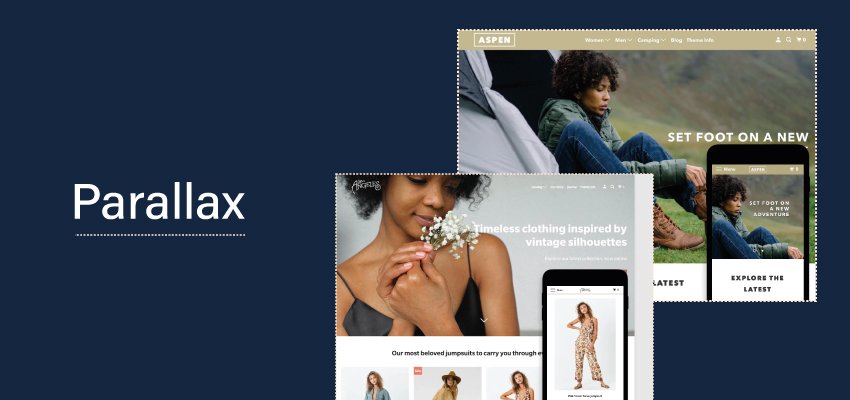 Parallax Shopify theme focuses on simplifying the checkout process. Features like slide-out cart, quick shop, promotional banners, and sticky dropdown navigation makes the buying process more effective. The theme also offers a unique design layout with its smooth parallax scrolling effect, making the shopping experience more engaging.
This theme is also designed for dropshippers and can handle high-volume stores. There are also integrated EU translations that help you reach international audiences and build your brand overseas with ease. There is a lot more that this theme can offer, so make sure to visit their page to see the full capabilities of Parallax.
How it converts:
Quick buy
Back-in-stock alert
EU translations
Product reviews
Promo banners
9. Korando - top-converting Shopify theme for dropshipping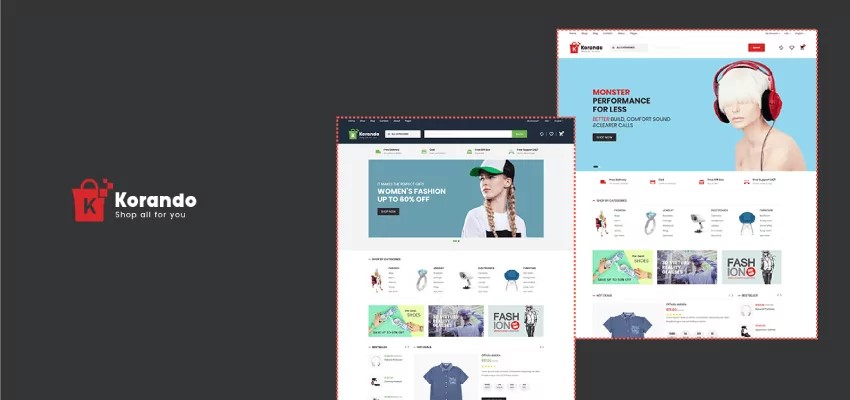 IE11, Firefox, Safari, Opera, Chrome, Edge
Korando is a well-converting Shopify theme that is designed with fashion and electronics brands in mind. It has 5 premade homepage layouts to offer you numerous choices on how you want to greet your shoppers.
This responsive and mobile-optimized Shopify theme is created around an intuitive drag-and-drop page builder. It's great for fashion and electronics brands because the product display options are numerous, from single product section to product lists, grids and tabs.
Korando is also extra suitable for dropshipping stores and is known to be very easy to customize. Keep in mind that you will need to use additional CSS for customization. However, the support is very helpful and will walk you through everything you're not familiar with.
How it converts:
QuickView
Testimonials
Multiple banners
Wishlist
10. Wokiee - an empowering Shopify theme optimized for conversions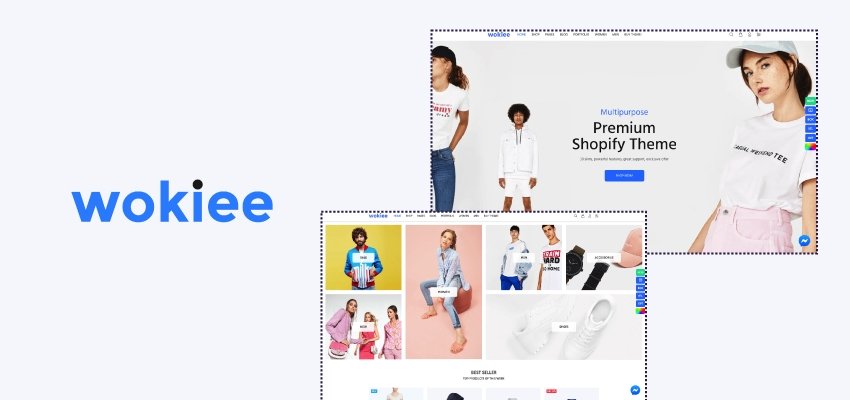 Firefox, Safari, Opera, Chrome, Edge
Wookie is more of a design tool than a simple Shopify theme. Perfectly optimized for mobile shoppers, it offers 86 homepage layouts and numerous stylistic choices for store design.
With Wookie, you have access to your own Content Management System, where you can take charge of everything from site content to navigation.
Because of its customization capabilities, Wookie is a multi-purpose Shopify theme designed to accommodate the needs of any store. To help you make the most out of its extensive features and capabilities, Wookie comes with an amazing resource knowledge base - detailed documentation, access to support forum and video tutorials.
If your store offers a variety of product types or you haven't decided one very specific look you want to commit to, Wookie is your go-to Shopify theme.
How it converts:
RTL and localization opportunities
Megamenu functionality
QuickView
Intuitive filter
11. Responsive – mobile-focused theme with product-popping features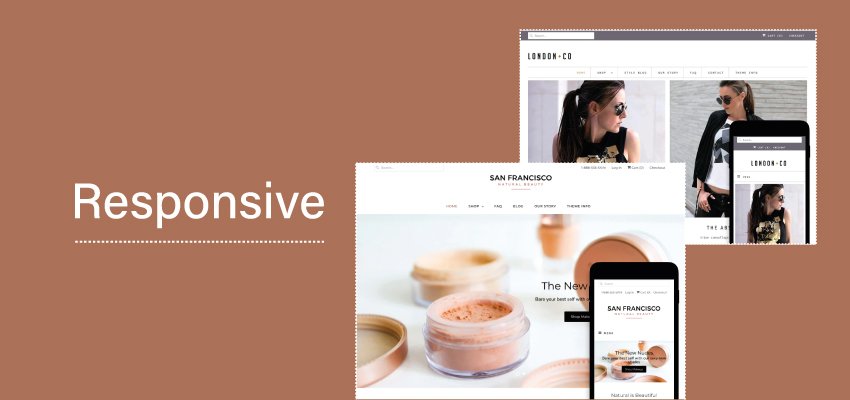 The Responsive Shopify theme focuses on editorial content, paying the most attention to product-popping features. It's a great theme for stores that sell one product or just one type of product, e.g. bikes. By giving you space to talk about the product's features, this theme helps customers make an informed decision.
The theme includes great marketing and conversion-focused features like quick buy, pre-orders, slide-out cart, back-in-store alerts, EU translations, product badges, stock counter, product reviews, and much more. To see the full list of features, make sure to visit Resposnive's page.
How it converts:
Hero videos
Promo banners
Mobile-focused
Highly customizable
12. Boost - best theme for replicating in-store experiences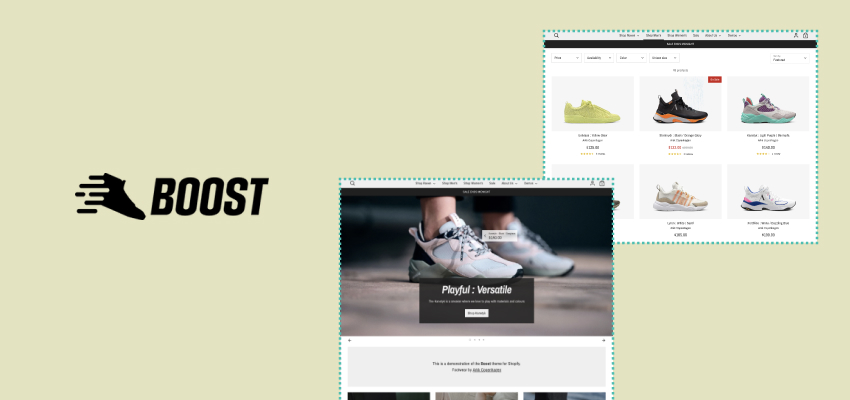 Boost Shopify theme was designed to produce an in-store shopping experience. The homepage offers multiple variations of product display with the possibility to stick product labels directly onto images, just like you would in real life.
Their handy "Get the look" section allows you to put together up to six products into a coherent whole and suggest complete fashion looks or furniture sets to your customers. Menu promotions and custom promotion tiles will ensure that all of your customers are looking at the right products at any given point of their browsing journey.
Bigger stores will certainly benefit from Boost's live search functionality, which allows people to browse through product pages and articles in real time.
How it converts:
Video background
Multi-currency checkout
Story page
Tag groups
13. Shoptimized - powerful Shopify theme created by eCommerce professionals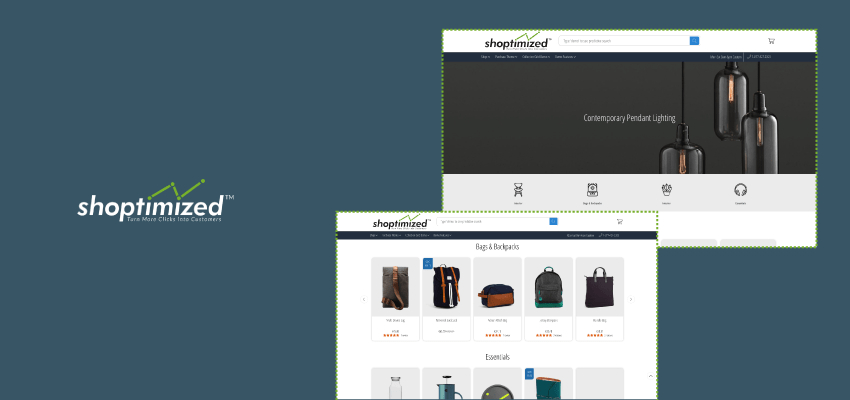 Basic $167, Pro $197, Ultimate $597
With Pro and Ultimate plans
Shoptimize is yet another entry of our best converting Shopify themes list that goes beyond being simply a theme. Shoptimized is more of a community of e-commerce professionals who decided to take their conversion and growth strategies into their own hands.
Even with an array of conversion-oriented features, Shoptimized boasts an unmatched, under-one-second page load time, placing it among the fastest Shopify themes. It is built for mobile first and includes numerous functionalities that would otherwise require aditional Shopify apps.
While Shoptimized is on the more expensive end of the spectrum, it is a one-stop shop for most of your marketing needs and an incredible opportunity for quickly growing stores.
How it converts:
Scarcity markers and urgency timers
GEO-IP recognition
Social proof popup
"Skip the cart" feature
14. Flow - great for international conversions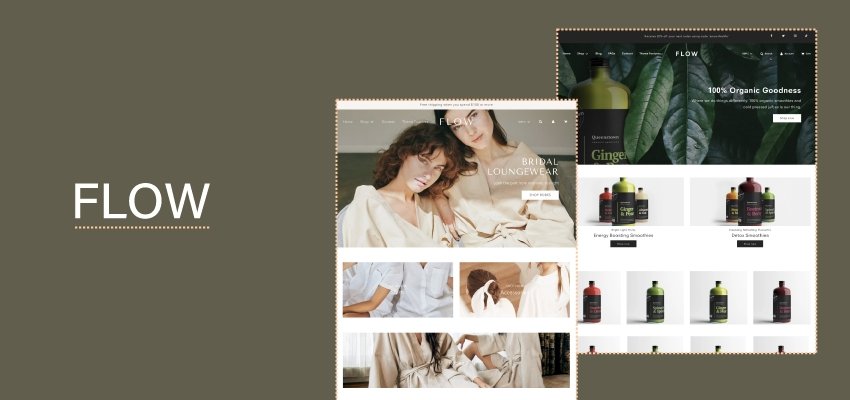 Everyone understands what a good product looks like when they see one. By being a visuals-first theme, Flow is a great option to convert international audiences.
If you're selling clothing, accessories, food or anything else that is largely based on visual appeal, Flow Shopify theme could be your easy answer to quick conversions.
It has three pre-designed presets as well as drag-and-drop functionality to customize any of your store's pages without coding. On top of that, Flow offers exceptional navigation structure from sticky header to enhanced search to breadcrumbs and megamenu.
How it converts:
Quick Buy
Flash sales feature
Recommended products section
Product video integration
15. Retina – a refined theme focused on building brand trust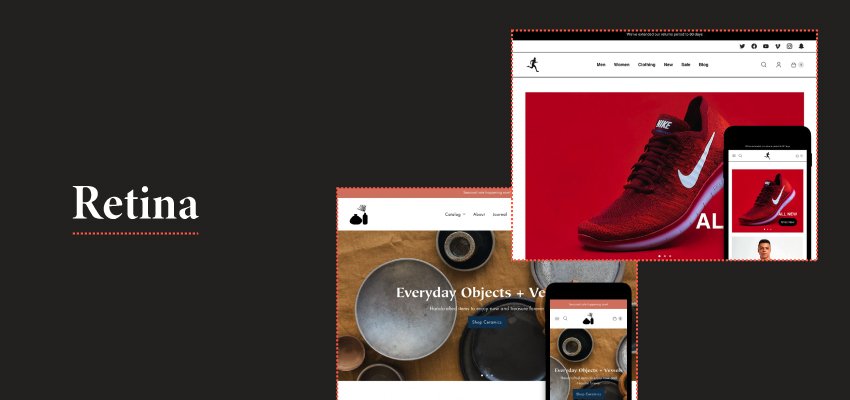 Retina is a gorgeous Shopify theme that puts focus on building brand trust by adding beautiful testimonial sections and product reviews. It's a pretty minimal theme with simple setup and easy customization options.
Apart from elegant design, you also get great marketing features, including countdown timers, quick buy, testimonials, recommended products, promotional banners, slide-out cart, and much more. The theme also has advanced product search and filtering options with smart collection page navigation, enhanced search capabilities, and breadcrumbs.
As a final note, the theme creators also put a lot of effort into developing a smooth and professional mobile design, so you can be sure you won't lose audiences that shop on their phones.
How it converts:
Testimonial sections
Focus on building brand trust
Quick buy
Countdown timer
Recommended products
16. Pacific - great for conversion of big stores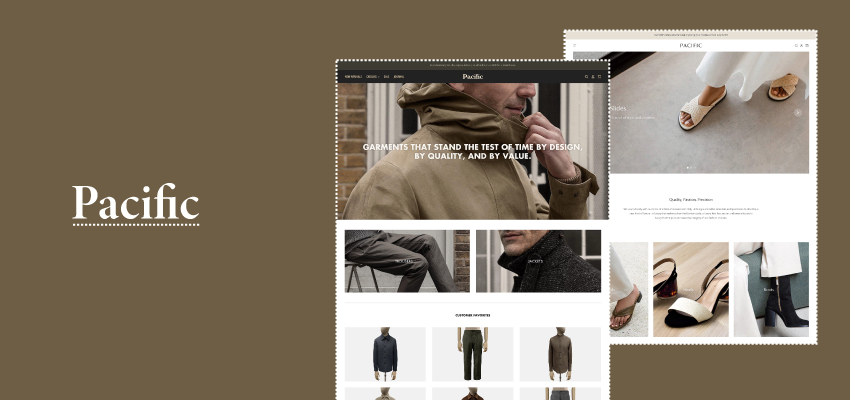 Pacific theme is among Shopify theme classics. It is eye-catching, it is mobile friendly and it's certainly easy to customize - it ticks all the boxes of a highly-converting Shopify themes.
Most importantly, however, it is largely designed to cater to large stores and catalogs. Multi-column menus, site-wide promotion tiles, and multiple product page layouts will all help you manage stores with large quantity of products and showcase those that your customers need to be looking at for the moment.
Built-in styles and color palettes are of great variety and will ensure your store never looks dull.
How it converts:
Homepage promotional blocks
Contact forms
Dynamic checkout buttons
Instagram feed
7 signs of a highly converting Shopify theme
To pick top converting Shopify themes, we have strict criteria. All the themes we listed in this article pass these requirements with flying colors.
However, if you didn't quite find the perfect match for yourself and decided to keep looking, let us help you out. To make the shortlisting easier, here are some tips to choose the best converting Shopify theme:
1. Delightful and seamless user experience
First things first, you need a theme that has smooth navigation and a user experience to make shoppers want to return to your store. So, while looking for a theme, don't just go by aesthetics, but look for one that is also functional.
A well-converting Shopify theme should:
make it a breeze for shoppers to get from one page to another
allow to easily wishlist and compare products
provide access to detailed product reviews
Allow shoppers to create their profiles, make changes, and save payment information.
2. Lightweight design
Ideally, your Shopify site should take not more than 2-3 seconds to load. However, most Shopify themes these days have fancy navigation, multiple scrolls, too many carousels and videos, and a whole lot of heavy pages due to which the average page load times tend to increase.
Therefore, select a theme that is lightweight and optimizes for reduced page load times so you don't lose out on any frustrated shoppers. You can also use apps like TinyIMG to ensure thorough image optimization, keeping your Shopify store load time in check.
3. Dedicated and high-quality support
Support from the theme developer is critical to help you troubleshoot any issues you might face later on. Therefore, make sure you study enough detailed reviews of each of the themes you have shortlisted so you pick one by a developer known for providing hands-on support whenever needed. You can look for reviews on software customer review websites and make an informed decision.
4. Short and hassle-free checkout process
You don't want your customers to have to navigate a complex and long checkout process to make a purchase from your store. That's the number one reason for cart abandonment. Look for a theme that offers:
a straightforward checkout process
easily noticable checkout buttons
guest checkout
a progress bar to indicate the number of steps remaining
option to save personal information
provision to review items before checkout
5. Built-in language and translation support
Do you sell internationally or plan to extend your product availability to customers all over the world in the near future? In that case, you need to plan in advance and opt for a theme that supports internationalization features.
The team should allow for translation into languages other than English and have different currencies so you can attract buyers from multiple countries.
Don't overlook GEO-IP functionality, you want your theme to be able to recognize which part of the world your customer is coming from and display content accordingly.
6. Integrated SEO features
There is little use for a highly-converting theme if people don't come across your Shopify store in the first place. Look for a theme that offers at least some of the basic SEO features, you need them to ensure your pages rank well on Google.
Desirable SEO features include:
SEO title and headers
metadata
functionality for featured snippets
generating sitemaps
broken link analysis
7. Mobile-responsive design
Many people skip this point while purchasing a theme and it ends up costing them a huge number of mobile shoppers. Be sure to evaluate the shortlisted themes on mobile so you can assess what the navigation looks like on mobile, whether the images are fitting in the mobile screen, whether the CTAs are appropriately sized or not, and generally how the theme behaves on smaller devices.
Other tips to maximize your Shopify store conversions
It's true, a Shopify theme optimized for conversions will do most of the work for you. But you might still be wondering what are some of the extra steps you can take to see booming conversion rates.
We compiled a list of additional tips that will skyrocket your Shopify store conversions:
Have large photo galleries with high quality images. Let visuals do the work.
Don't overlook website speed. No one buys from a website that does not load fast. Use Shopify apps for image optimization such as TinyIMG to reduce image size and noticeably speed up your store.
Push photo reviews. Customers are a lot more likely to convert if they see a good product review from another customer accompanied by a photo of the item in real life. You can get more photo reviews by setting up automated review request campaigns.
Be creative where it matters. Don't go too wild experimenting with page layouts, it can confuse customers and they will leave your store. Instead, get creative with typography, descriptions, and other on-page elements that will help you shape your brand and convert consistently.
Run A/B tests. If you have more than one idea for a CTA button, you don't need to commit to anything. Test your options and find out which one brings in the most conversions.
Curious to read more? Check out these articles: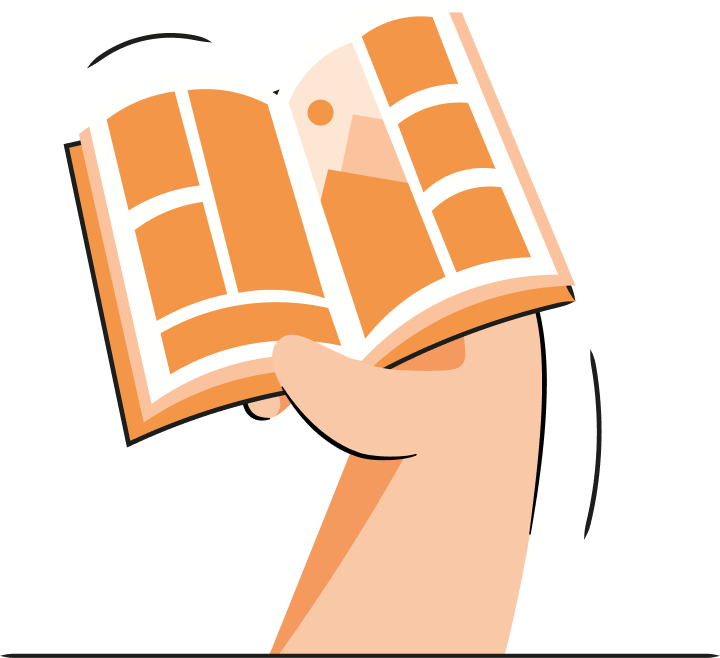 Frequently asked questions
Overall, we suggest Debutify as the best converting Shopify theme. It has a range of features that cover every part of your website and drives conversions based on tried-and-tested strategies.
Anything over 4% is a good conversion rate for Shopify. However, it depends a lot on your niche and amount of store visitors.
Yes, you can change your Shopify theme in the "Themes" section of your navigation panel.