By purchasing through the links on this page, you are giving us the opportunity to earn a commission. Your support is greatly appreciated!

Visuals are an incredibly important part of every online store. But if you're not a professional photographer with expensive gear, years of experience behind your belt, and time to burn, getting good, high-quality images for your site can be difficult.

This is where stock images come in handy. Websites full of professional images, licensed for commercial use are a quick, easy way to get beautiful visuals on your online store. With beautiful visuals, you can increase your credibility and stand out from the crowd.

With so many stock image websites available, which is the best? This is where we come in – we browsed through all major stock image site options, and found the best stock photo sites, full of great visuals for your site.

Optimize your images for the best Shopify store performance with TinyIMG!

Get TinyIMG NOW
What are stock image websites?
Stock image websites are online libraries, full of images already captured, edited, and tailored to be used by you and your business. Images are created by professional freelancers and companies, and on the websites, they are all separated into different categories – so you can easily browse through the library of thousands of professional pictures.
No two such websites are entirely identical. But generally speaking, stock image websites can be separated into two different categories: premium, and free.
Premium stock image websites will require you to either sign up for a subscription or pay for each photo separately in order to be able to use it commercially.
Free stock image websites, of course, are entirely free. They might have fewer pics and have objectively worse standards of quality, but they're perfect for businesses just starting out.
Best free stock photo sites for your business
The websites on this list offer plenty of excellent free stock images for commercial use. They're excellent if you're just starting out your business, or are just looking for a few simple images to finish your page. Here are the best free stock image sites, offering free images for commercial use.
Envato Elements
Are you the kind of person who values practicality without compromising on your artistic aspirations? If so, Envato Elements is for you.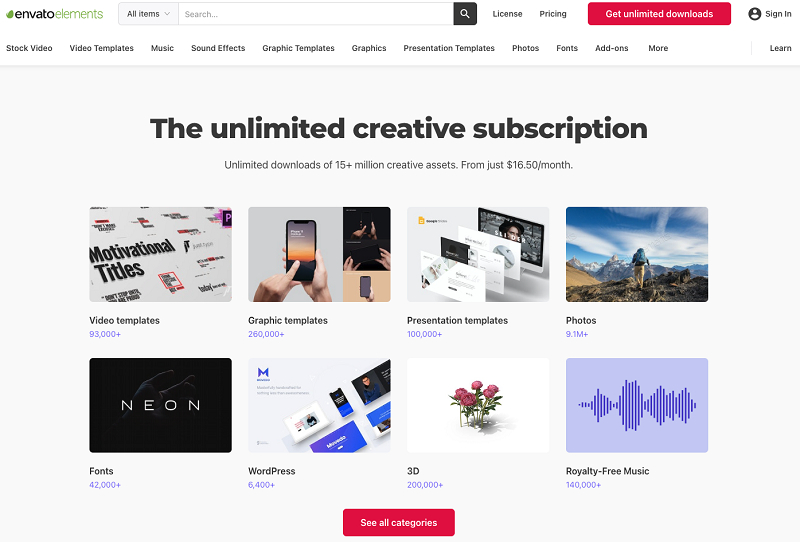 This all-in-one subscription opens doors to a realm of 15 million assets, meticulously crafted by a global community of professionals. Whether you're fine-tuning a YouTube video, revamping a website, or crafting captivating social media content, Envato Elements is your creative sanctuary.
Image library: ~8.8M images
Image types: Photos, vectors, videos, fonts, templates, music, add-ons
License information: Visit Envato Elements
Optimize your images for great Shopify store speed and get top SEO insights with TinyIMG!
Get TinyIMG NOW
Shopify Burst
Launched by Shopify in 2017, Burst is an excellent royalty-free image resource for small businesses.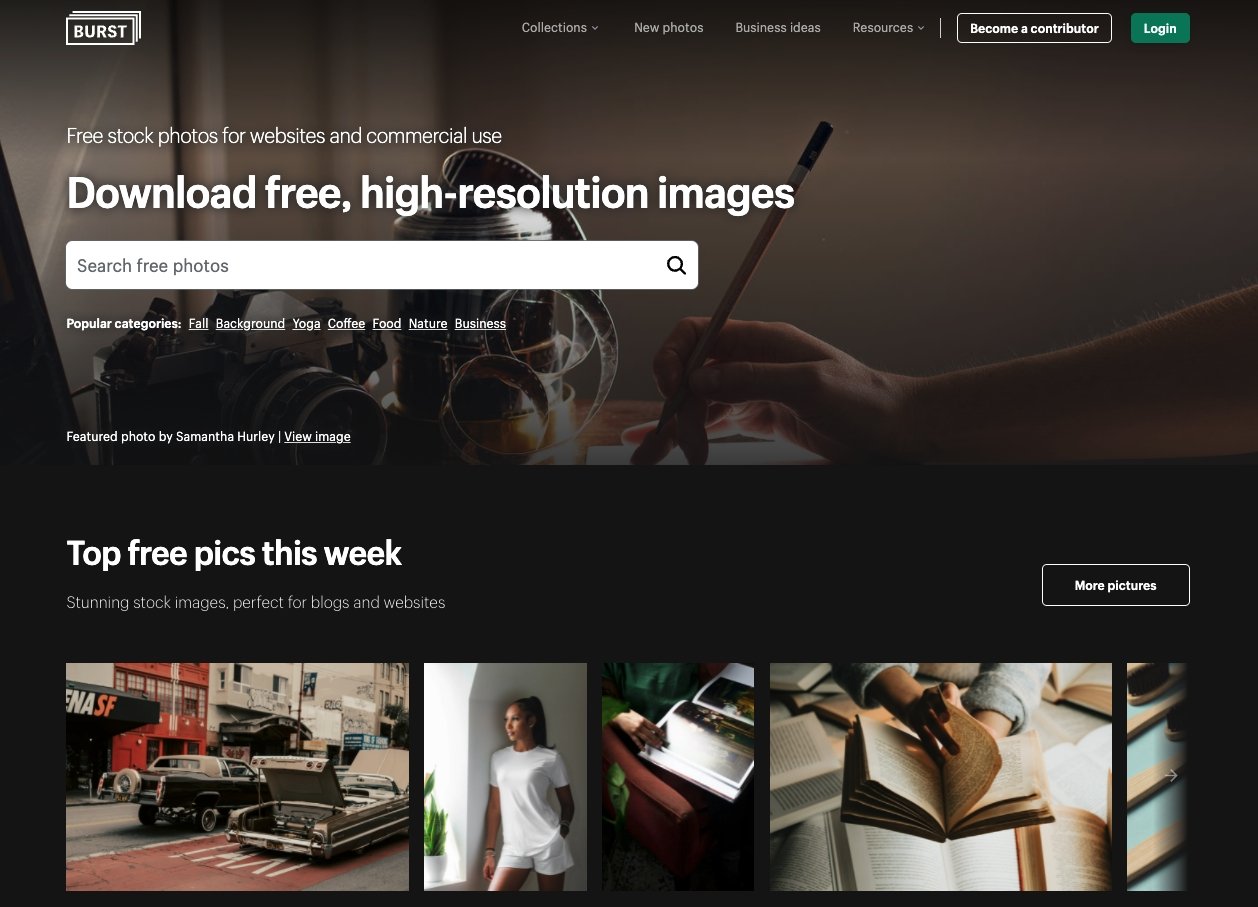 Despite being created by Shopify, this resource can be used by literally everyone, no logging in required. There are several libraries of images, separated into businesses and general categories, and we've been seriously impressed with the overall quality. You can download your images in either a high-resolution, or a smaller, much more compressed format.
In addition to that, we loved the "Business ideas" section on Burst, offering you not only images, but also offering ideas for your next business, and offering excellent stock images to match.
Unsplash.com
With over 2 million stock images available, Unsplash is one of the biggest and best stock photo sites online.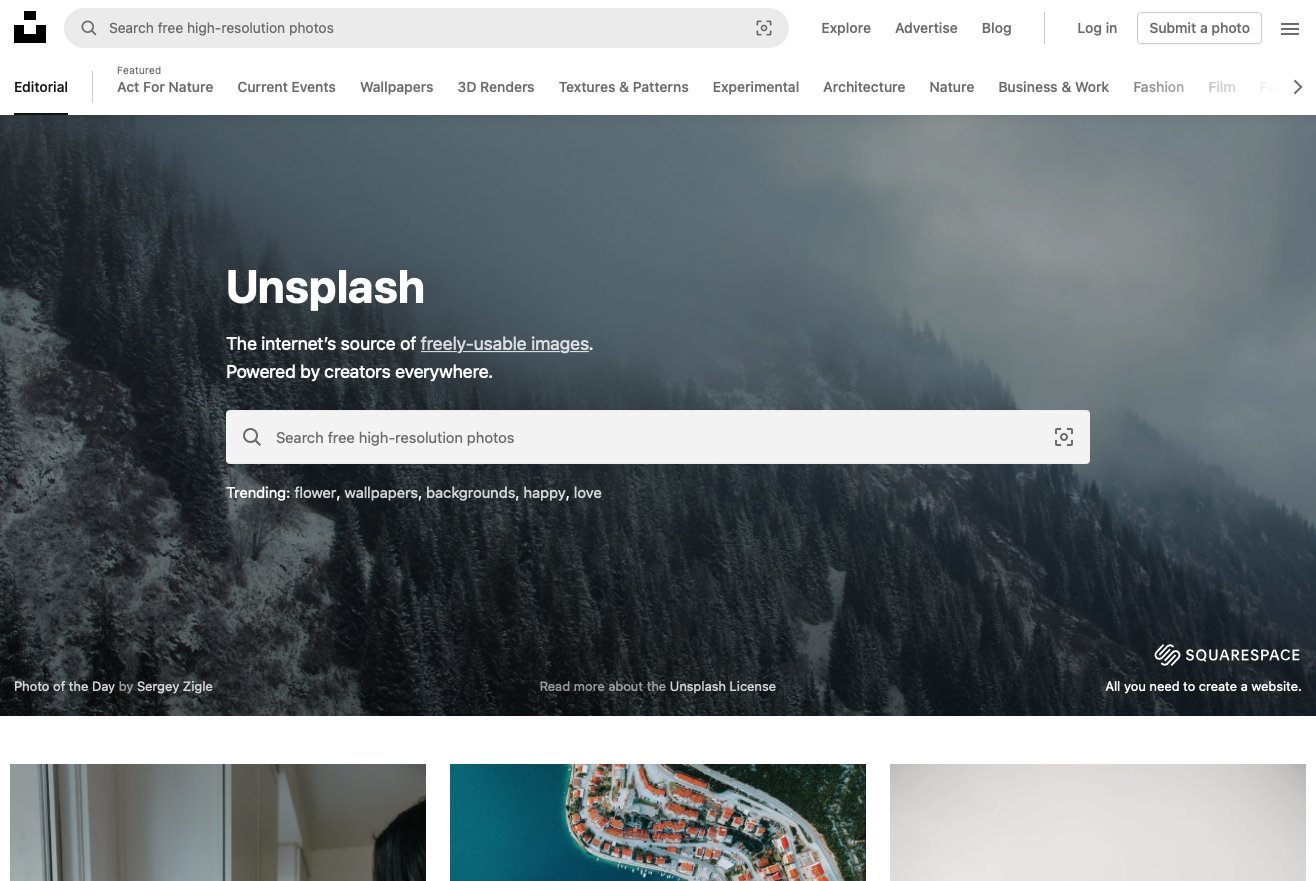 With so many options available, there might be some issues when choosing the right option. Unsplash goes around that, separating top images into several different categories and also offering the Editorial feed on the home page, featuring the best new submissions for you to use.
The Unsplash license lets you use all these images for free, for commercial and non-commercial use, as long as you don't try to sell these images without significant modifications.
Image library: Over 2 million
Image types: Photos
License information: Visit Unsplash
Moose
Icons8 is a large library of both free and paid stock photos, where you can find awesome visuals for your projects! You can browse images of people, objects, nature, cars, food, and many more there. You can also change these images' backgrounds to make them perfectly fit your idea.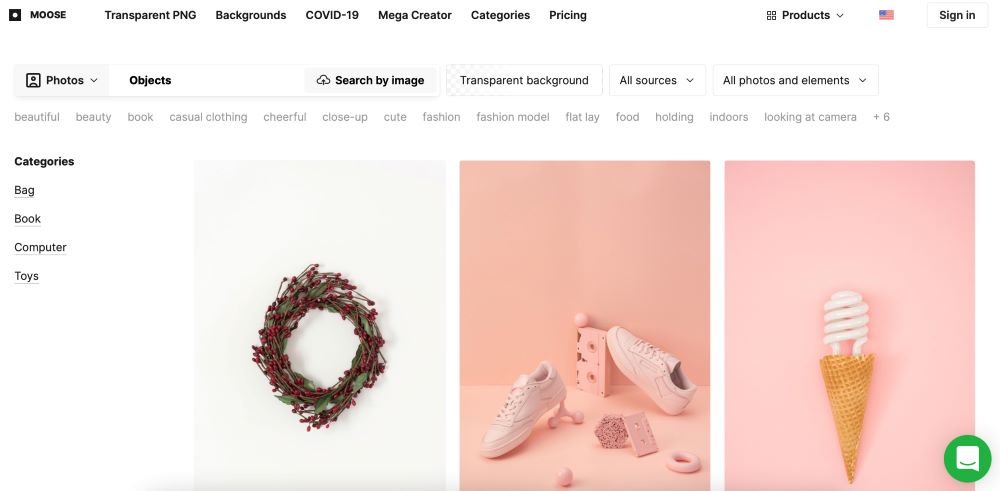 There's a free membership, which lets you download all the photos that are marked as «free» for a link back to Moose. If you are looking for access to premium photos, you have two options. You can download all the premium photos for free, but they will be in low-resolution JPG. Or, you can get a paid subscription for either $13 or $119 per month and have access to thousands of high-resolution photos with no need to attribute.
Image library: Not disclosed
Image types: Photos, Icons, Vector Illustration, Music
License information: Visit Icons8
Stocksnap.io
Stocksnap.io is one of the best stock photo sites – offering many image categories and a powerful search feature to make finding the right picture easier.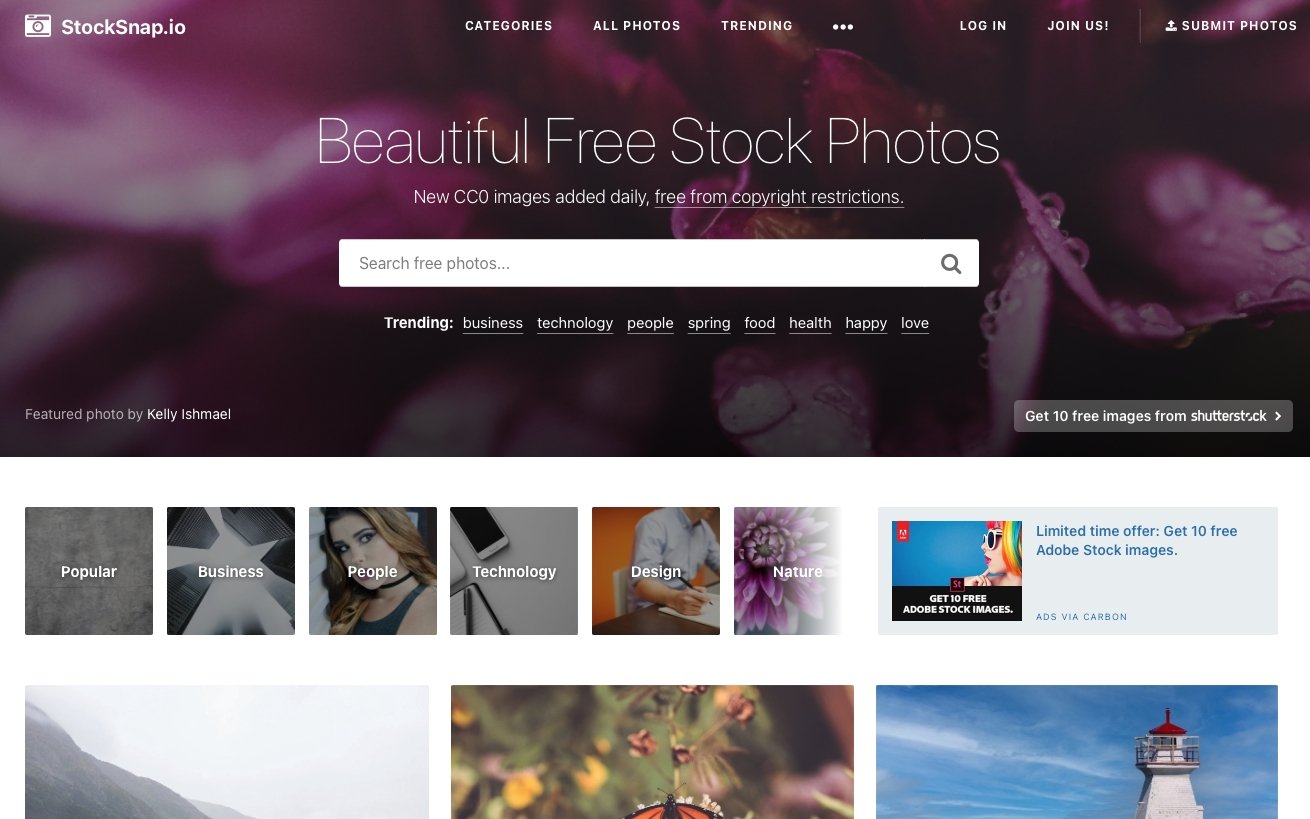 StockSnap does not provide a number of images that it offers to the users. But what we do know is that each image request gave us hundreds of high-quality pictures. Plus, all of them are given several different tags, so you can mix and match them to find the perfect solution.
Plus, the consistently-updated Trending tab will show you the best newest pictures on that platform.
Vecteezy.com
Vecteezy offers not only free images for commercial use – as its name might tell, the platform is also an excellent source for professional vector graphics.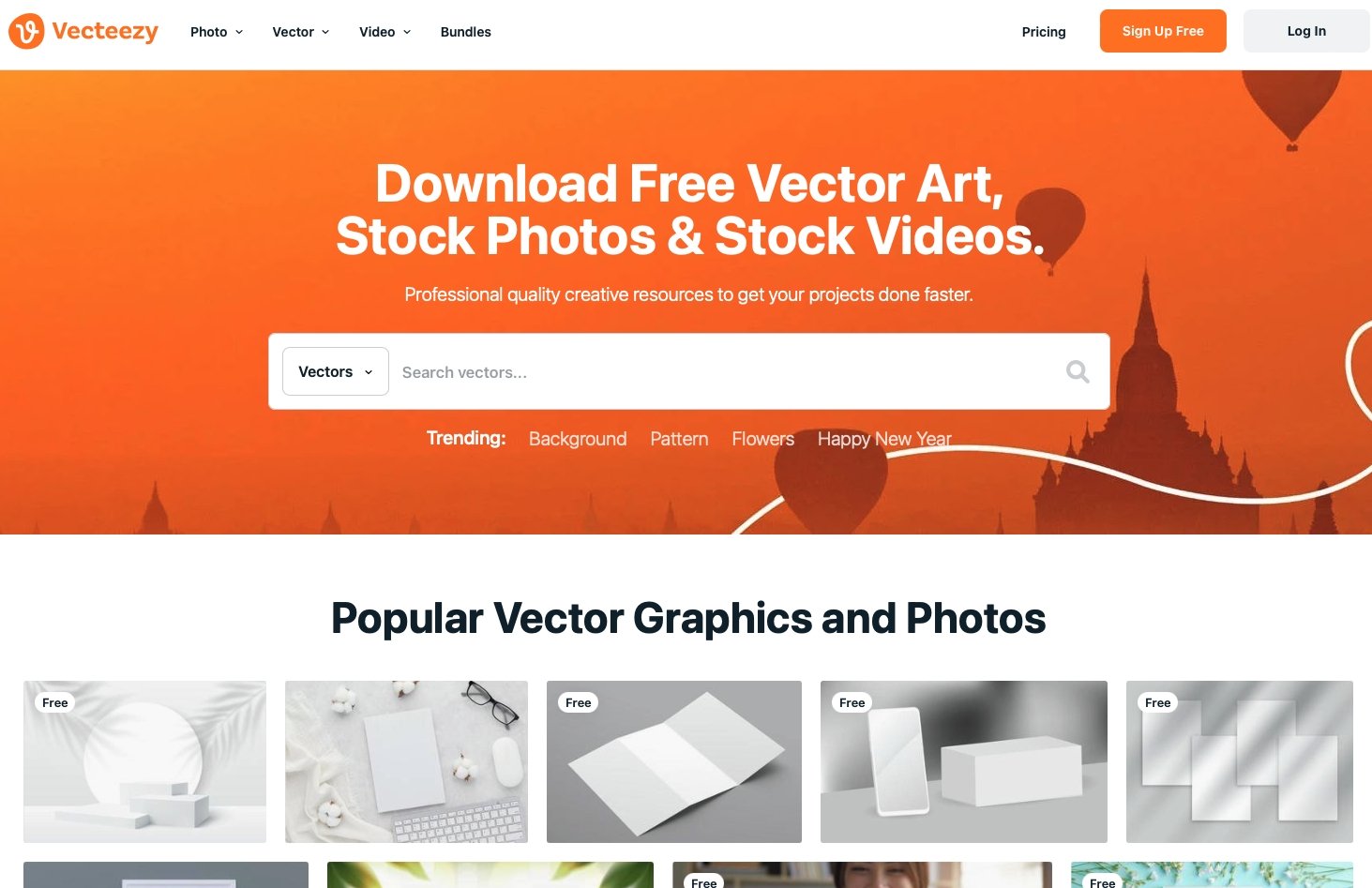 Vecteezy is a great source for designers. With a solid library of vector graphics, it can serve as a good starting point for making completely custom art.
With icon, image, and even entire product packs, you can not only jazz up your existing website, but also build a completely custom online identity. Build it all with patterns, backgrounds, landscapes, and many more designs – as well as an excellent regular stock image library.
Image library: Not disclosed
Image types: Photos, videos, vectors
License information: Visit Vecteezy
Gratisography.com
Gratisography claims to be unique and whimsy. We don't know about the whimsy – but it sure is unique, offering entirely original stock images.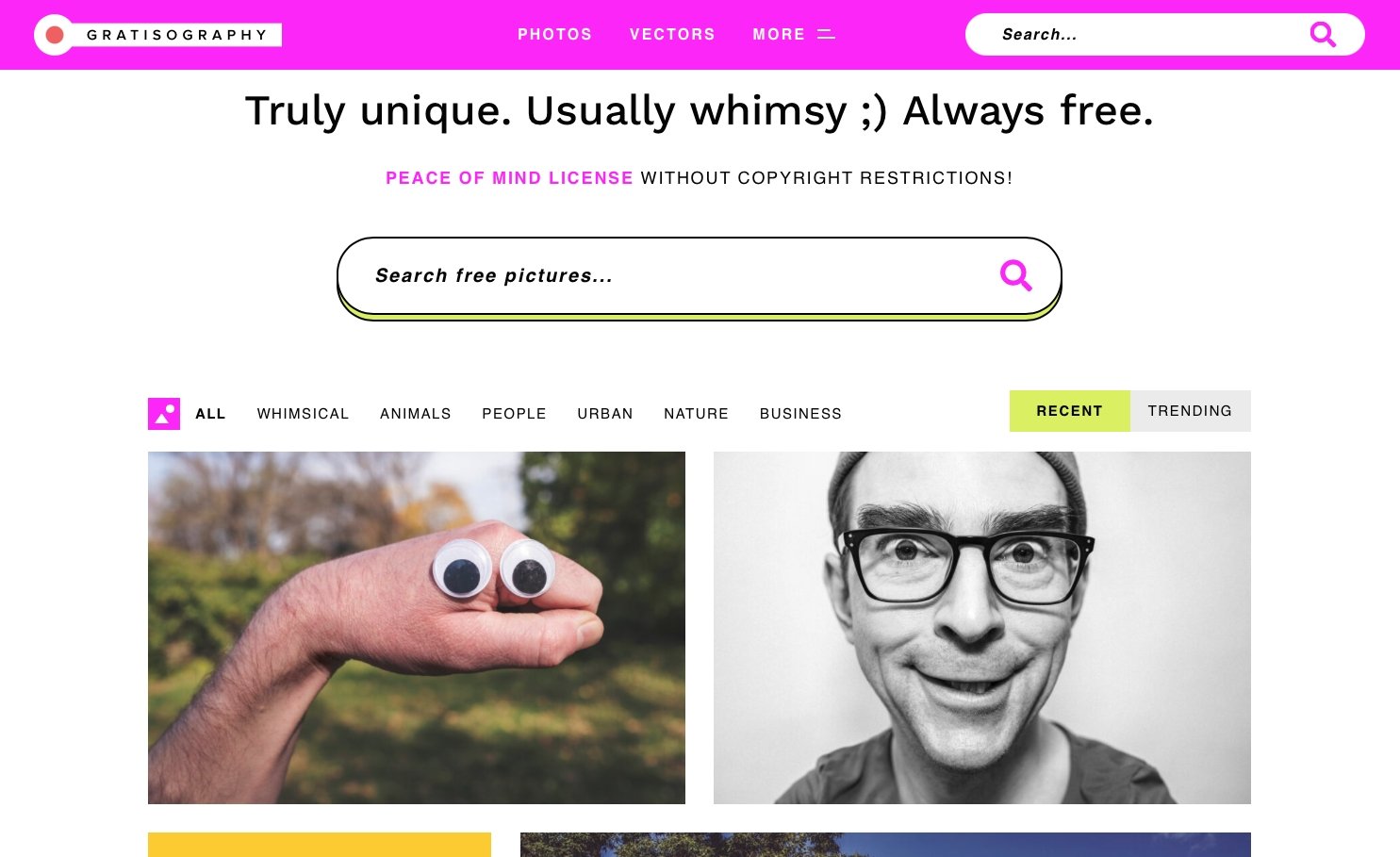 If you've ever browsed stock photo sites and thought "Wow! This sure is boring and just like the last one!" then Gratisography was made exactly for you. Nothing about the stock, but all about the images, the massive library here offers many different types of stock images.
Different compositions, styles, body types, and ideas are great if you're looking for something both unique, and completely copyright free.
Image library: Not disclosed
Image types: Photos, vectors
License information: Visit Gratisography
MorgueFile.com
Morgue File, meaning a collection of inspirations & reference images kept next to a creative project, is also a great free stock image website – and a community for creators.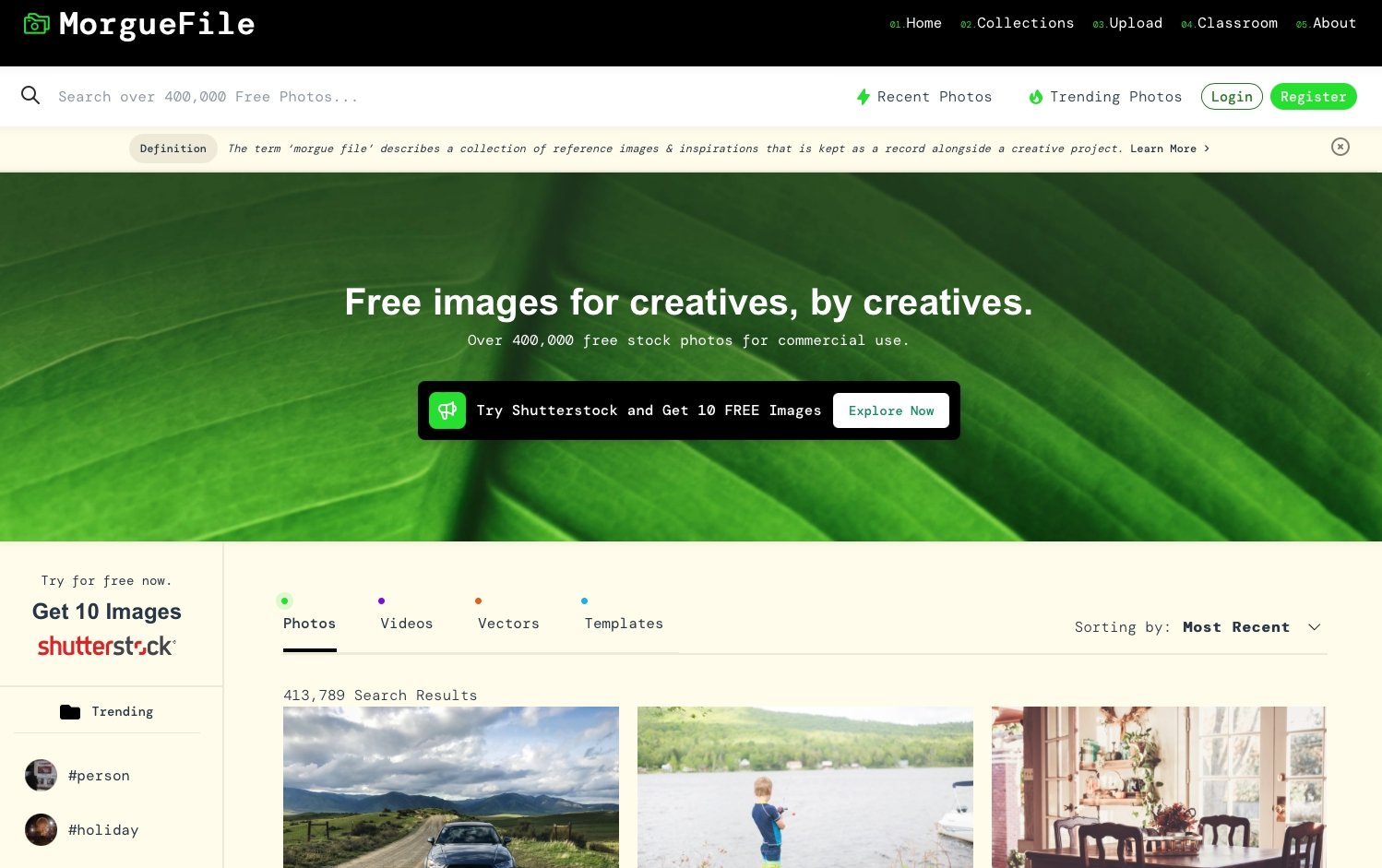 With over 400,000 images, MorgueFile offers a solid library of all types of vectors, photos, videos, and templates. The solid library is also kept moving by a vibrant community of registered users. They use the mobile app, take part in Quests, and do photo assignments – often giving away their creations for you to use for free!
This is where a lot of the platform's great original content comes from. It's a very interesting concept, and if it got your attention, be sure to check it out.
Image library: ~400,000 images
Image types: Photos, videos, vectors, templates
License information: Visit MorgueFile
Pixabay.com
The massive Pixabay image library offers plenty of copyright-free visual and audio content – as well as a powerful search functionality.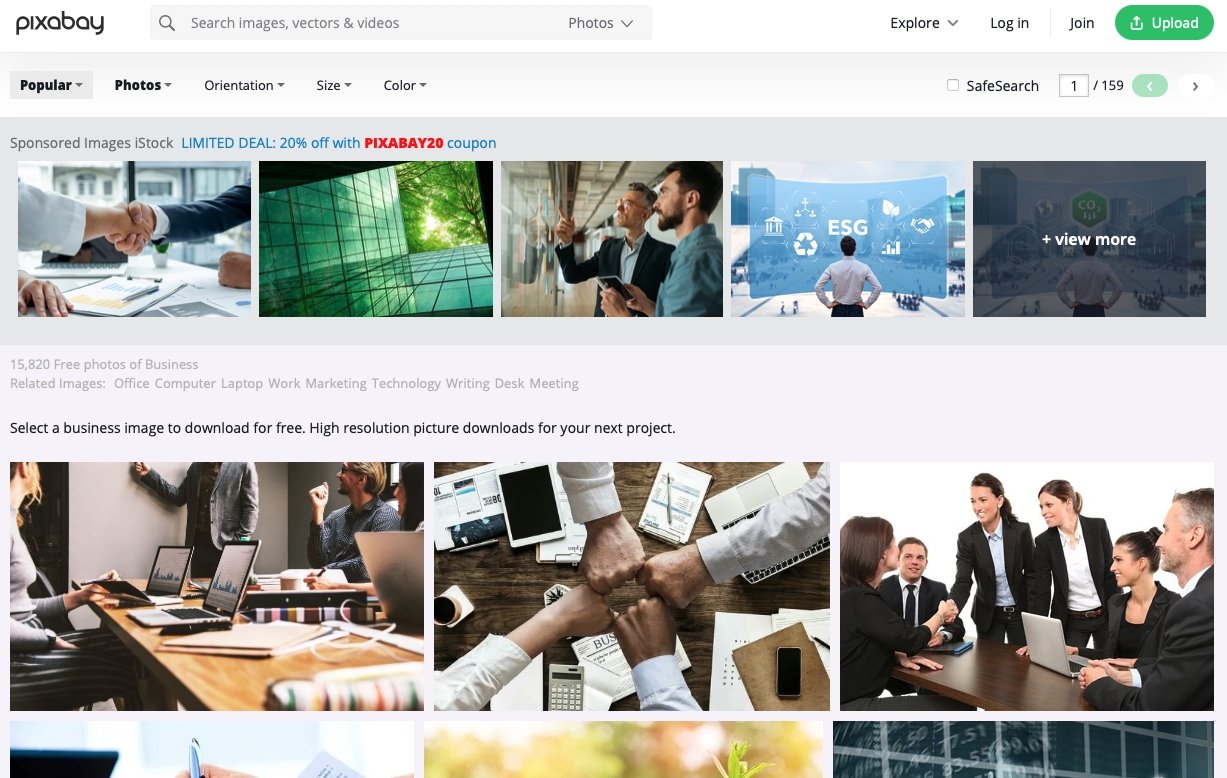 Pixabay is one of the most popular stock image websites in the world. It offers some of the best supporting images for content, and also great options to sort images for style, orientation, size, and color.
But on top of the regular images, Pixabay has much more – this includes a massive variety of vectors, video content, and even sounds. It's an excellent all-in-one package.
Image library: ~2.5 million
Image types: Photos, illustrations, vectors, videos, sound
License information: Visit Pixabay
Rawpixel.com
Rawpixel offers both free and premium images, fonts, art, and PNG elements – everything you need to build an online presence.
Offering to provide an "authentic design resources for everyone", Rawpixel fulfills the promise by offering libraries of just about all types of visual art. This also includes some premium options – so not everything you'll see there will be available to you for free.
But if you're looking for mockups, PNG elements, or just great inspiration to kickstart your next visual rebrand, Rawpixel is an excellent option to try.
Image library: ~1,000,000 images
Image types: Photos, PNG elements, art, fonts
License information: Visit Rawpixel
Reshot.com
Super simple and straightforward, Reshot is a great source for illustrations, photos, and icons – with no fuss involved.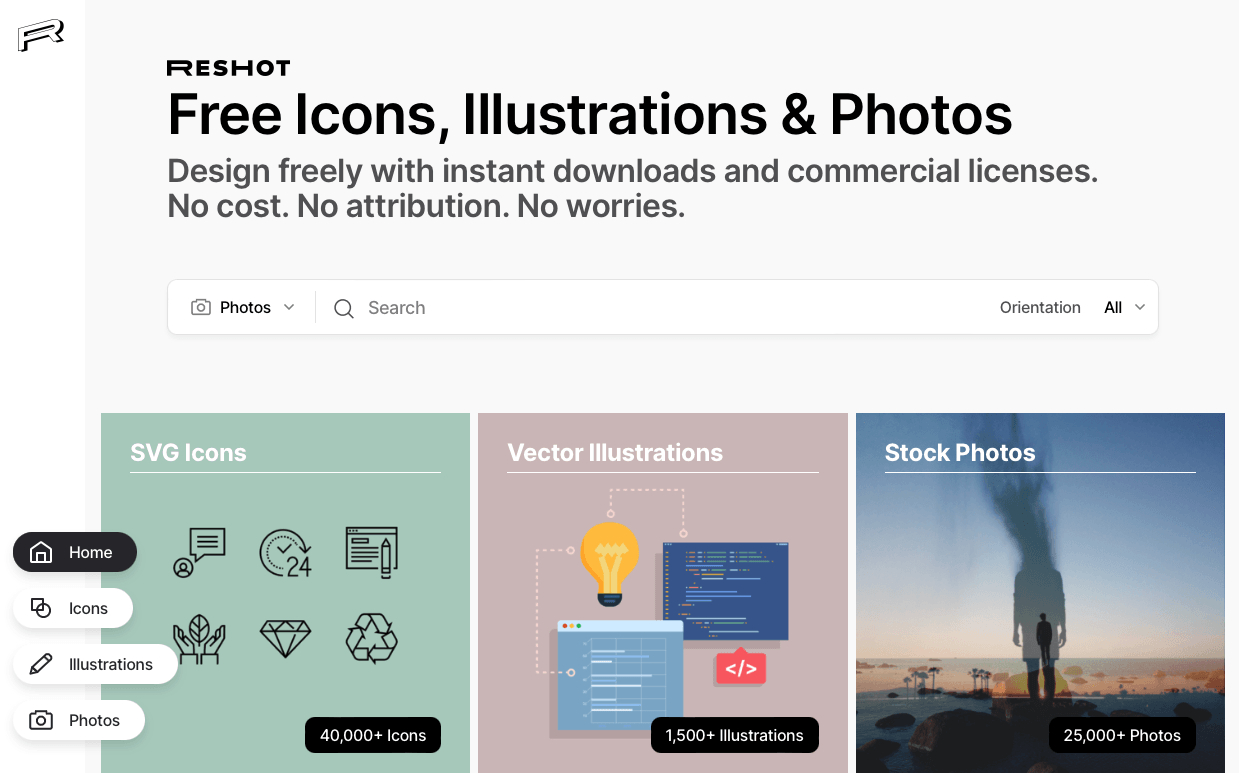 When stock photo websites try to do too much of everything, it can get a little confusing. Premium plans there, different licenses there – juggling through all of this can be time consuming, especially if all you want is a couple of pics for your business.
Reshot's commercial license is valid for both commercial and non-commercial uses. With only around 25,000 entries, there isn't a massive variety of options, but they're all super high quality, and certainly worth your time.
Image library: ~25,000 images
Image types: Photos, icons, illustrations
License information: Visit Reshot
Same.Energy
Same.Energy is not a classic stock image website – it's a visual search engine that uses artificial intelligence tools to give you the biggest library in the market.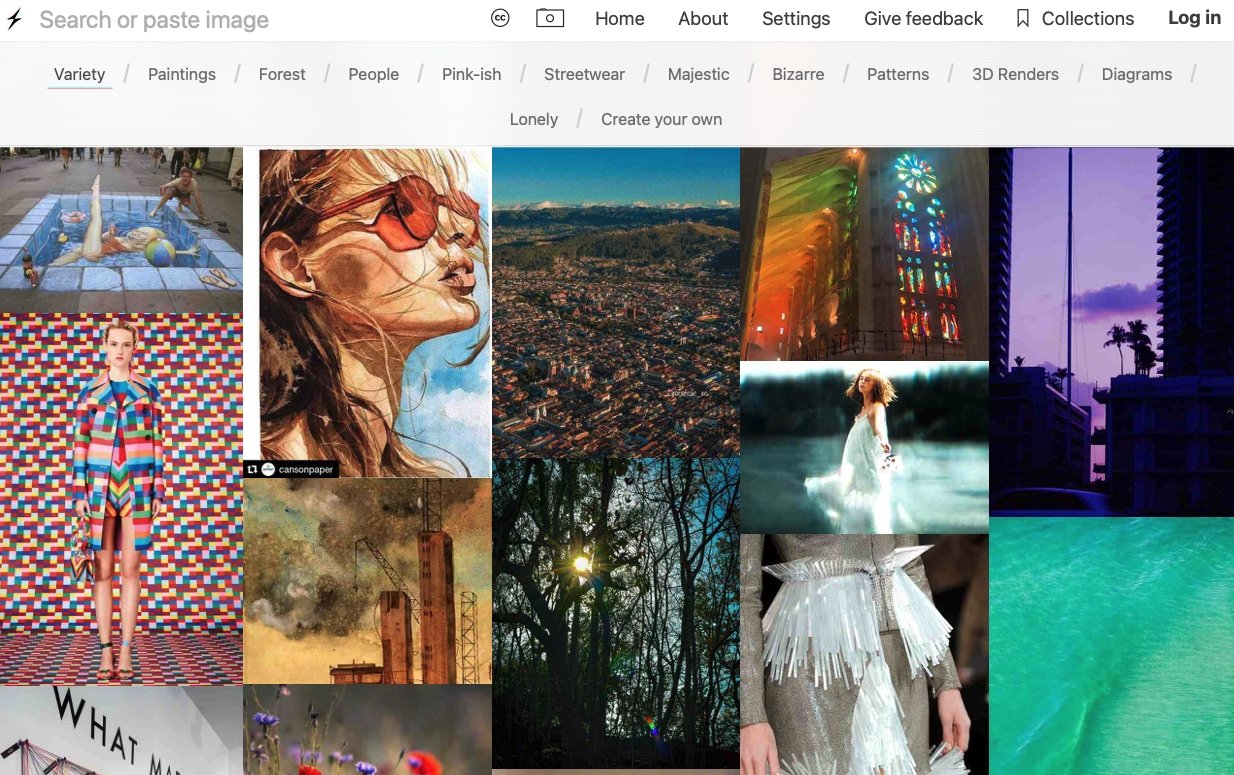 19 million images is a lot. So perhaps it shouldn't surprise you to hear that the lead curator of this website is a deep learning bot. By adding images that you like to your collection, you can use this curator's help to get plenty of images, similar to those you like in their style.
Of course, as the images are picked from everywhere, the copyright rules are not as straightforward. You can filter the images to show the Creative Commons license options, but you can only see each image's copyright status by visiting it individually.
Image library: ~19 million images
Image types: Photos, art
License information: Visit Same.Energy
Best premium stock photo sites for commercial use
If you're looking for a better variety of professional pictures, you need to go premium. These right here are the best premium stock photo websites, offering you to purchase images for commercial use.
Shutterstock
Shutterstock is one of the world's most popular stock media sites – offering a massive library of just about anything.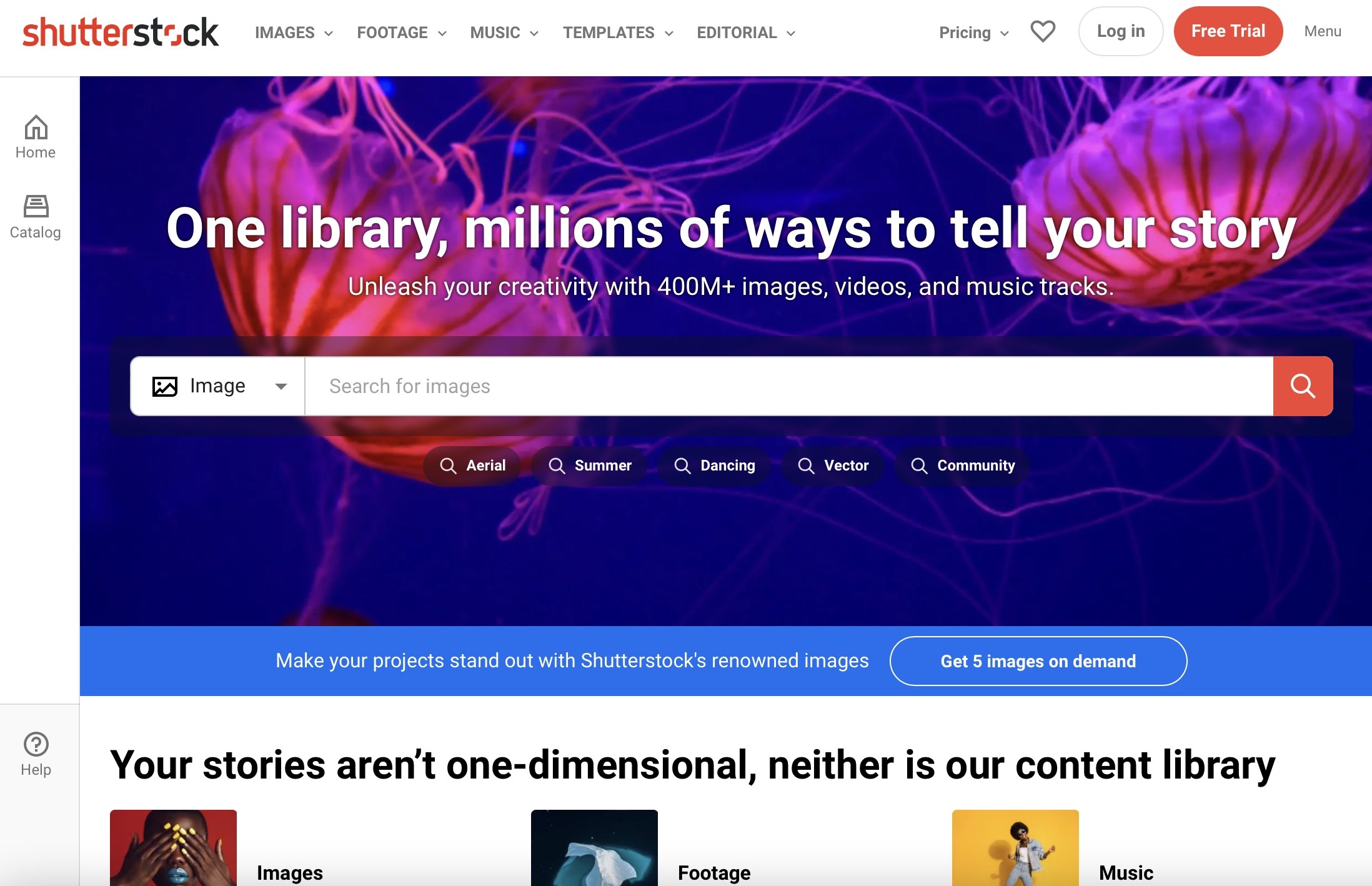 If you can think of an image, it's probably already on Shutterstock. That's what 400 million images will give you. It's a massive platform, used by news agencies, online businesses, artists, and more.
A premium subscription gives you access to a certain number of media you can use – it's as simple as it gets.
Image library: ~400M images
Image types: Photos, videos, music
License information: Visit Shutterstock
EyeEm
Eyeem is a stock image website and photography community, directly connecting professionals with businesses.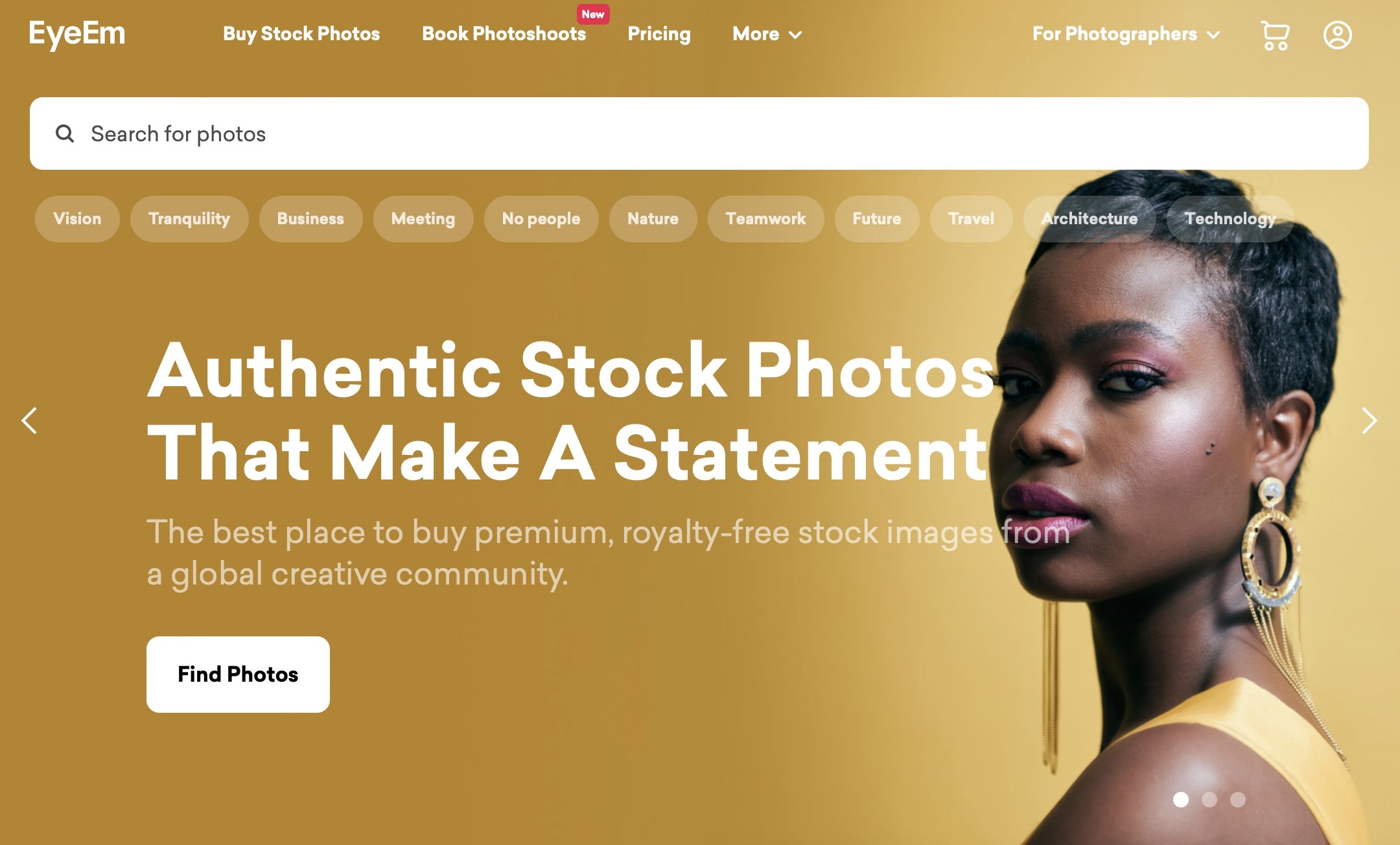 EyeEm lets you not only tap into a global market of photographers making beautiful and unique content – but also to book them in order to make something tailored entirely for you. If you're looking for a truly special way to build your business' online identity, that's a good way to go.
You can either pay for an image separately, or purchase a bigger annual subscription.
Image library: ~30M images
Image types: Photos
License information: Visit EyeEm
iStock
iStock tries to offer just about everything you might need: including images, vectors, templates for ad campaigns, and even a video editor.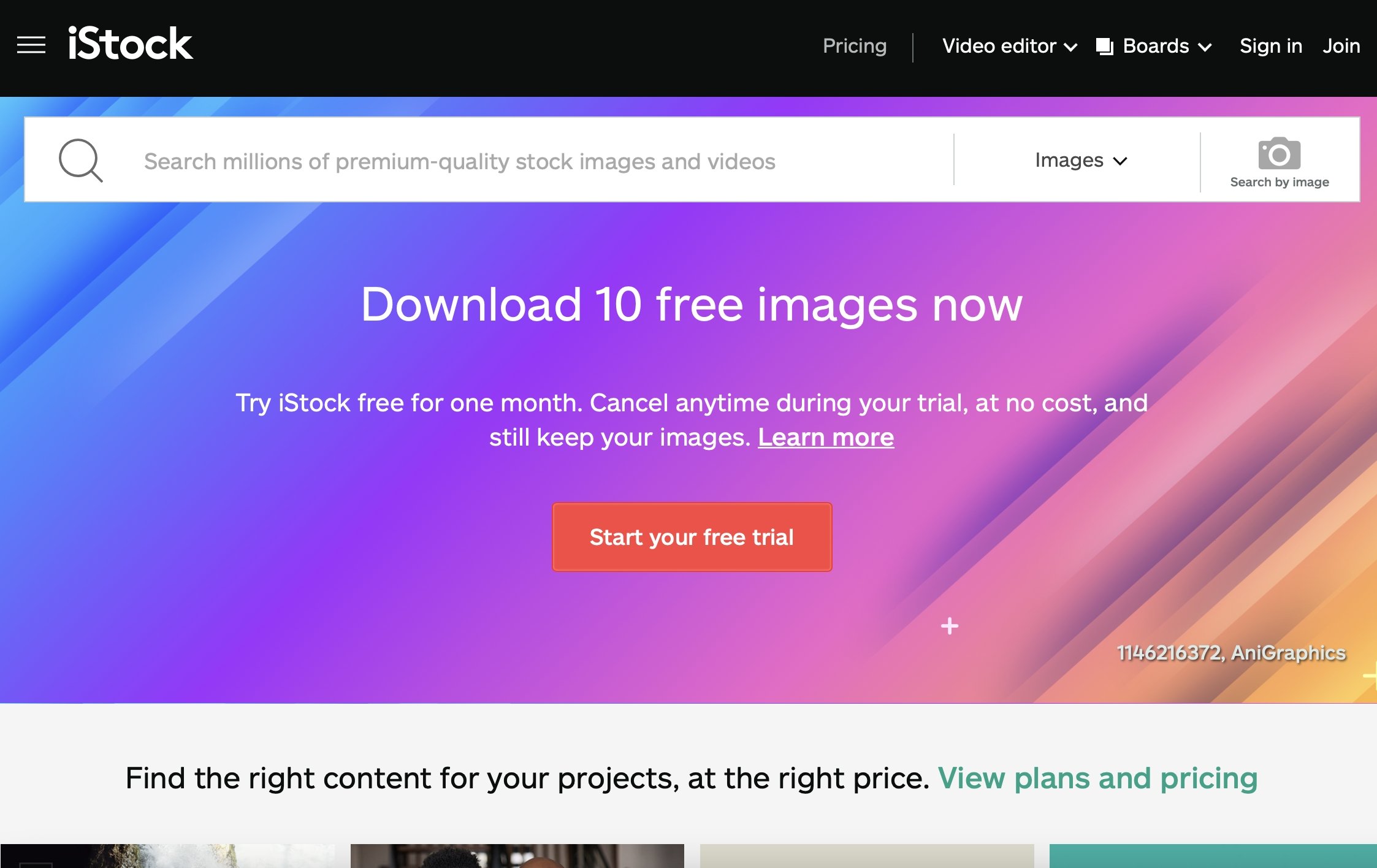 If you could only choose one stock media platform to work with, iStock would be a brilliant option. It's a great pick for small business owners, looking to tap into loads of pre-made content. Ads for social media, posters, and videos are all there. Just like the video editor for completing all of your in one platform.
Image library: Not disclosed
Image types: Photos, videos, vector art, templates
License information: Visit iStock
Adobe Stock
Adobe Stock is an excellent sidekick if Adobe products are an essential part of your daily creative routine.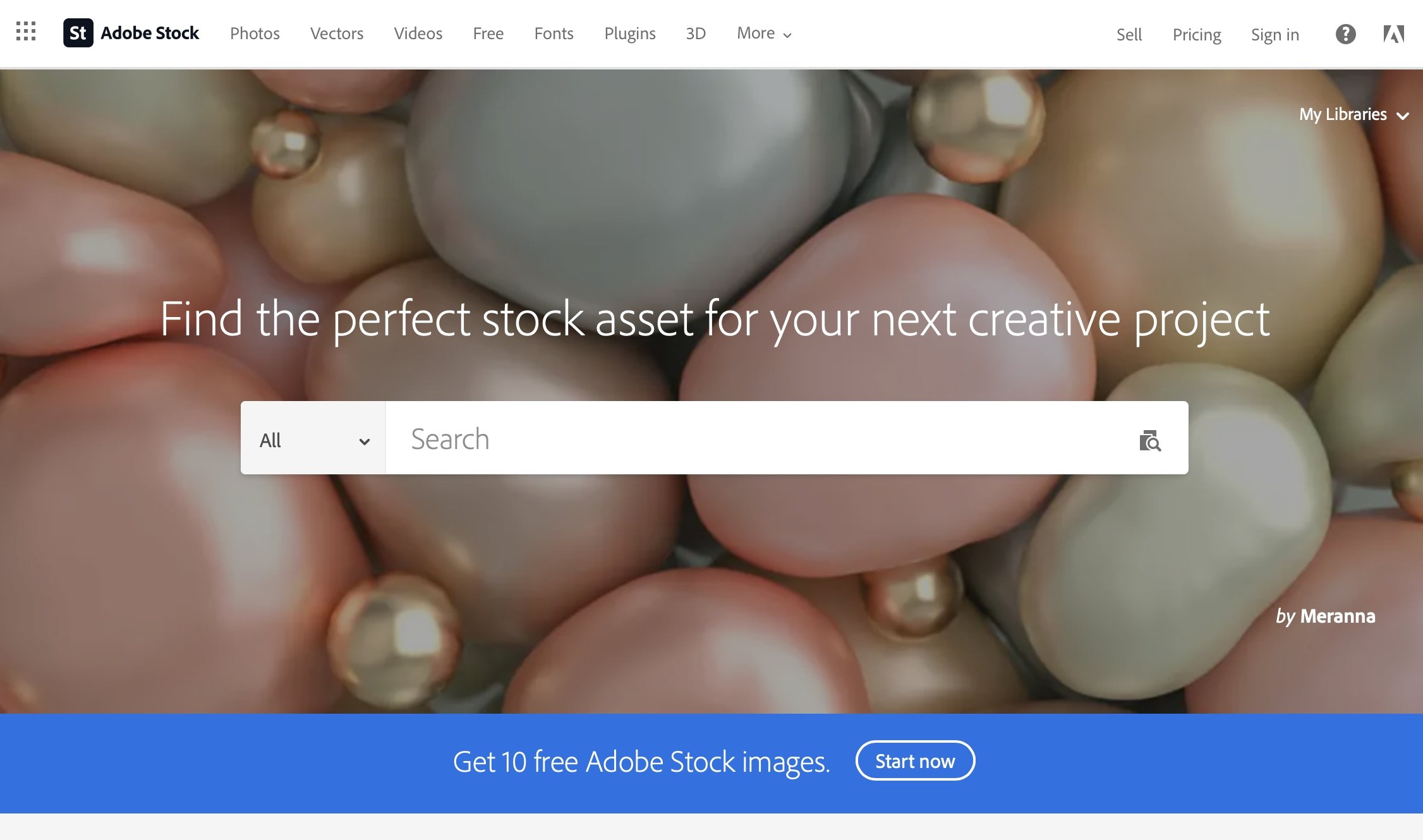 Many of Adobe's top products are made to work with visuals. Adobe Stock is where you get them. There's not only premium images for you to choose – which you need to buy separately – you can also find all sorts of art, fonts, and even templates to work with your preferred Adobe software.
Image library: ~60M images
Image types: Photos, vectors, videos, fonts, templates
License information: Visit Adobe Stock
Getty Images
Getty combines creative and editorial images – making it a perfect platform for original and new current event visuals.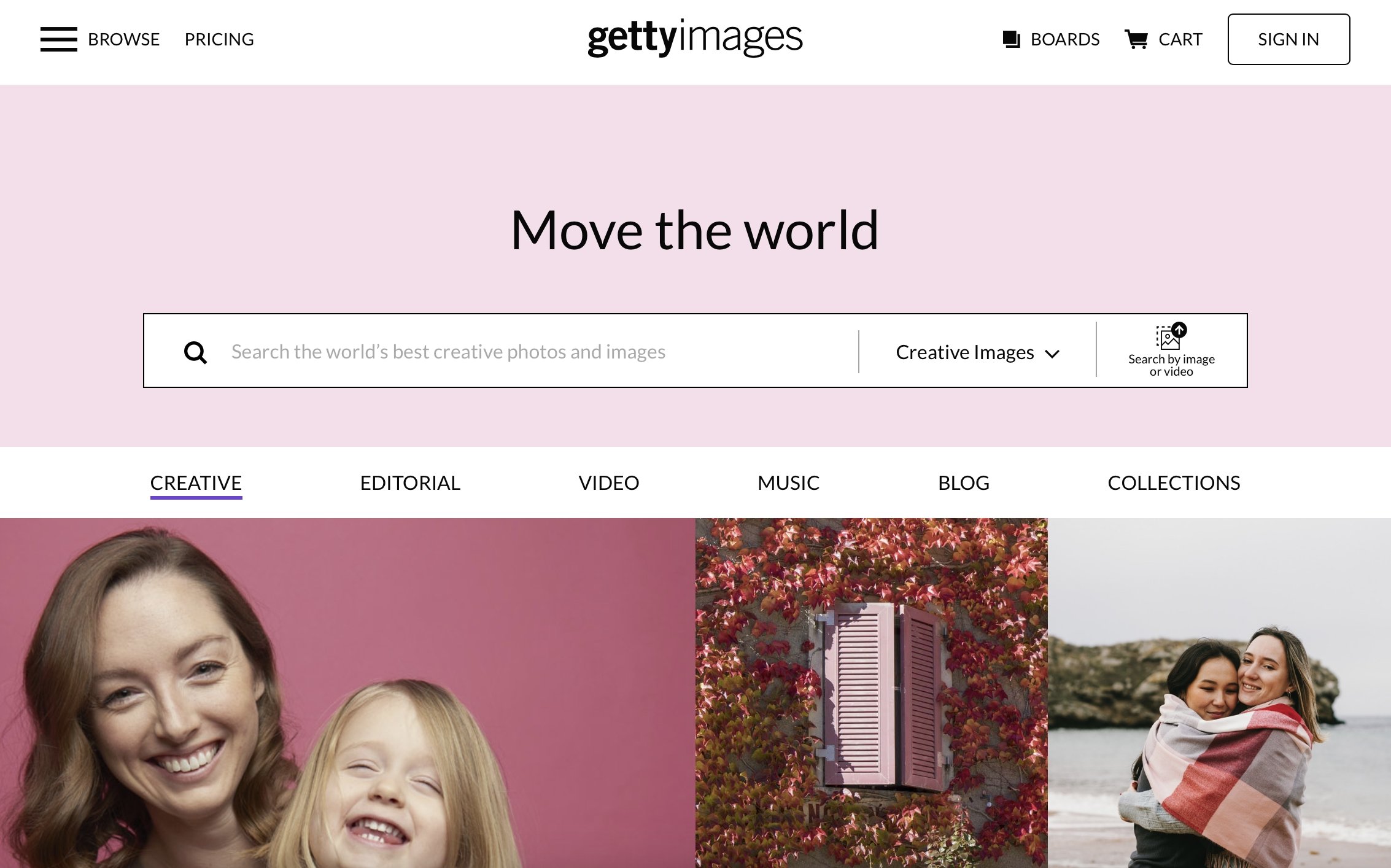 Ever wonder how news sites are loaded with high quality photos from all across the world? Getty Images is the answer. A massive library, updated every second, gives you access to commercial use stock photos and live-action snaps from all across the globe, covering major sports, culture, and political events.
Flickr
Flickr is a massive photography community – letting you choose just about any picture, with just about any copyright license.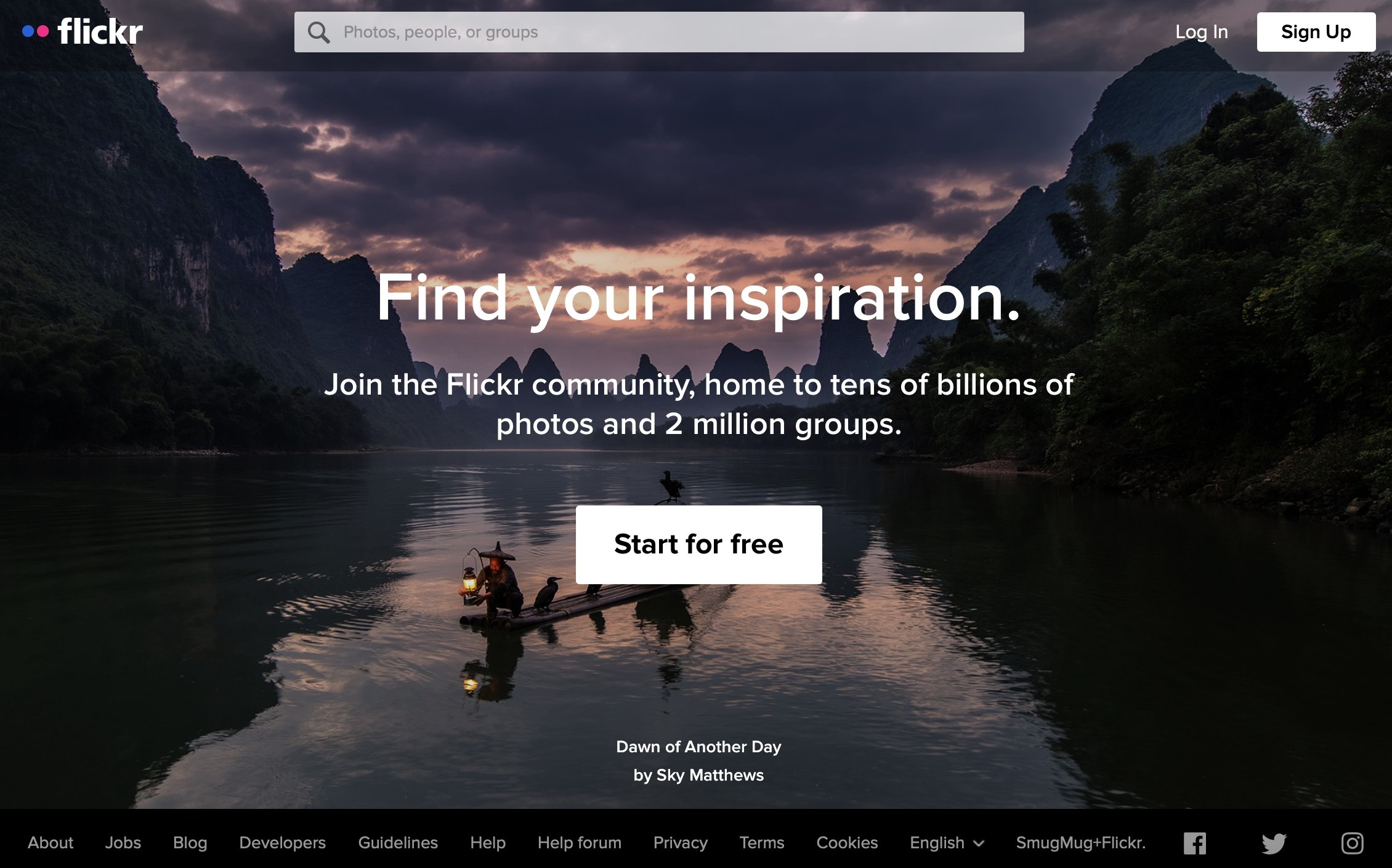 Flickr sees millions of pictures uploaded to it every day. Its powerful search function lets you filter the options you can use for your business, and get some excellent original pictures from a massive library.
Image library: Not disclosed
Image types: Photos
License information: Visit Flickr
Canva
Canva is not just images: it's everything for your next presentation or a sales pitch, in one super simple package.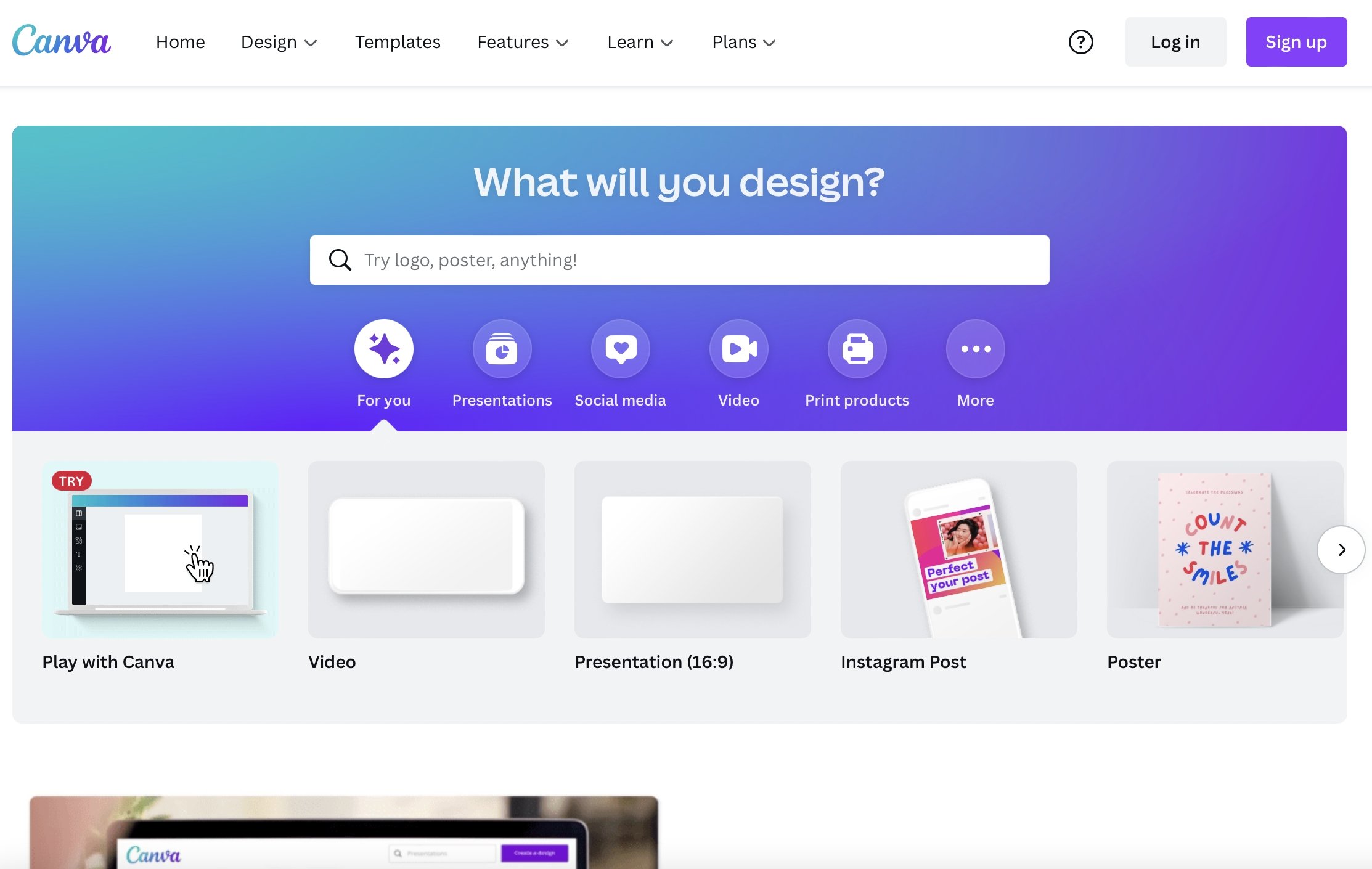 If you're looking to create or build something using stock images – Canva is an excellent way to get started. A super handy Canva Pro package combines image editing tools, millions of units of stock content, and all the features to build your own unique brand.
Image library: ~100M images
Image types: Photos, videos, audio, templates
License information: Visit Canva
Snappa
Snappa makes building online graphics quick and easy.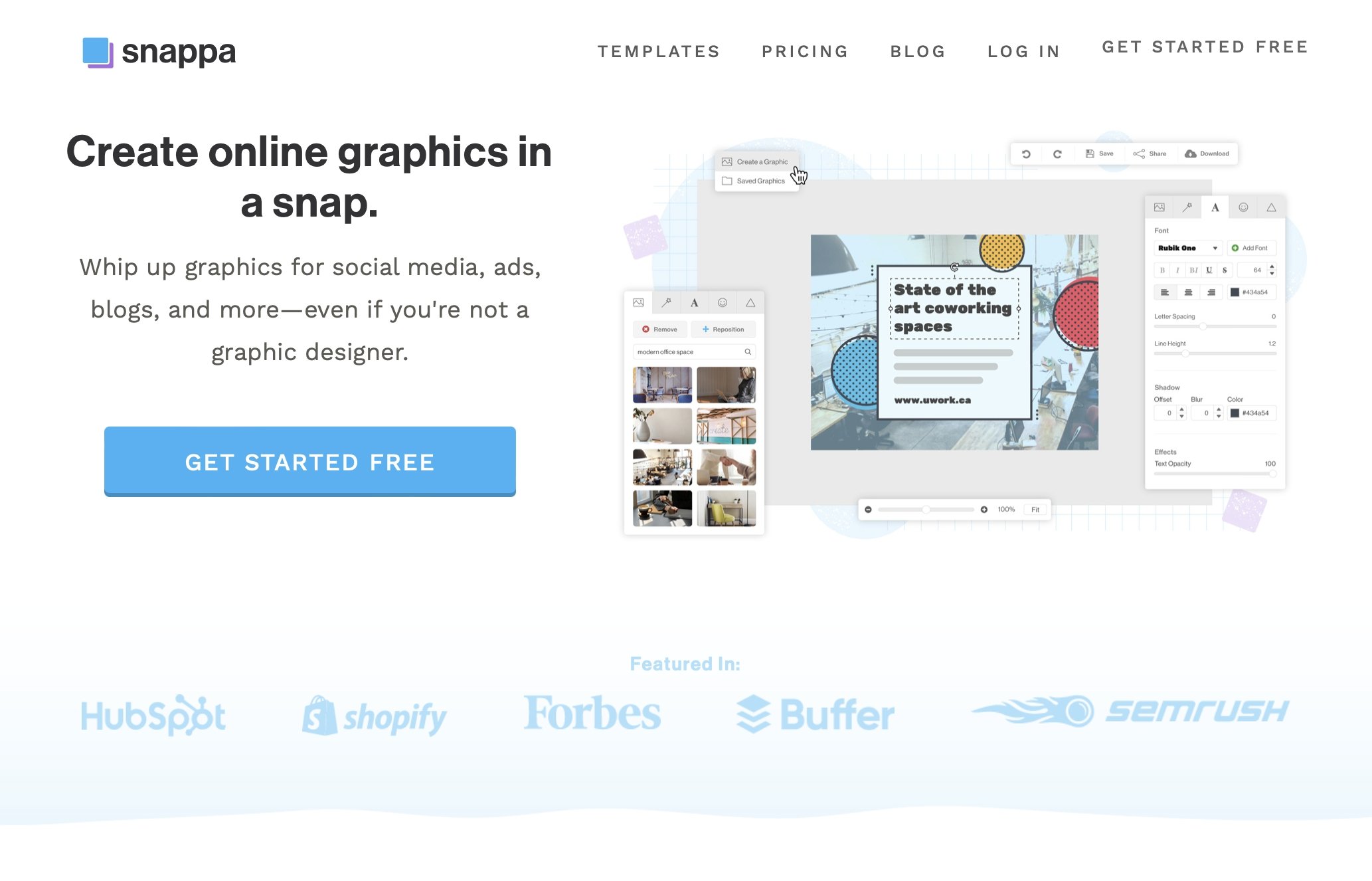 For menus, collections, beautifully displayed text and more, Snappa focuses on online graphics that make your website pop off. Plus, with a massive library of stock images included, you'll always have top supporting content on these graphics as well.
Image library: ~5M images
Image types: Photos, templates
License information: Visit Snappa
Bigstock
A staple among stock photo websites, Bigstock offers a massive library of affordable images.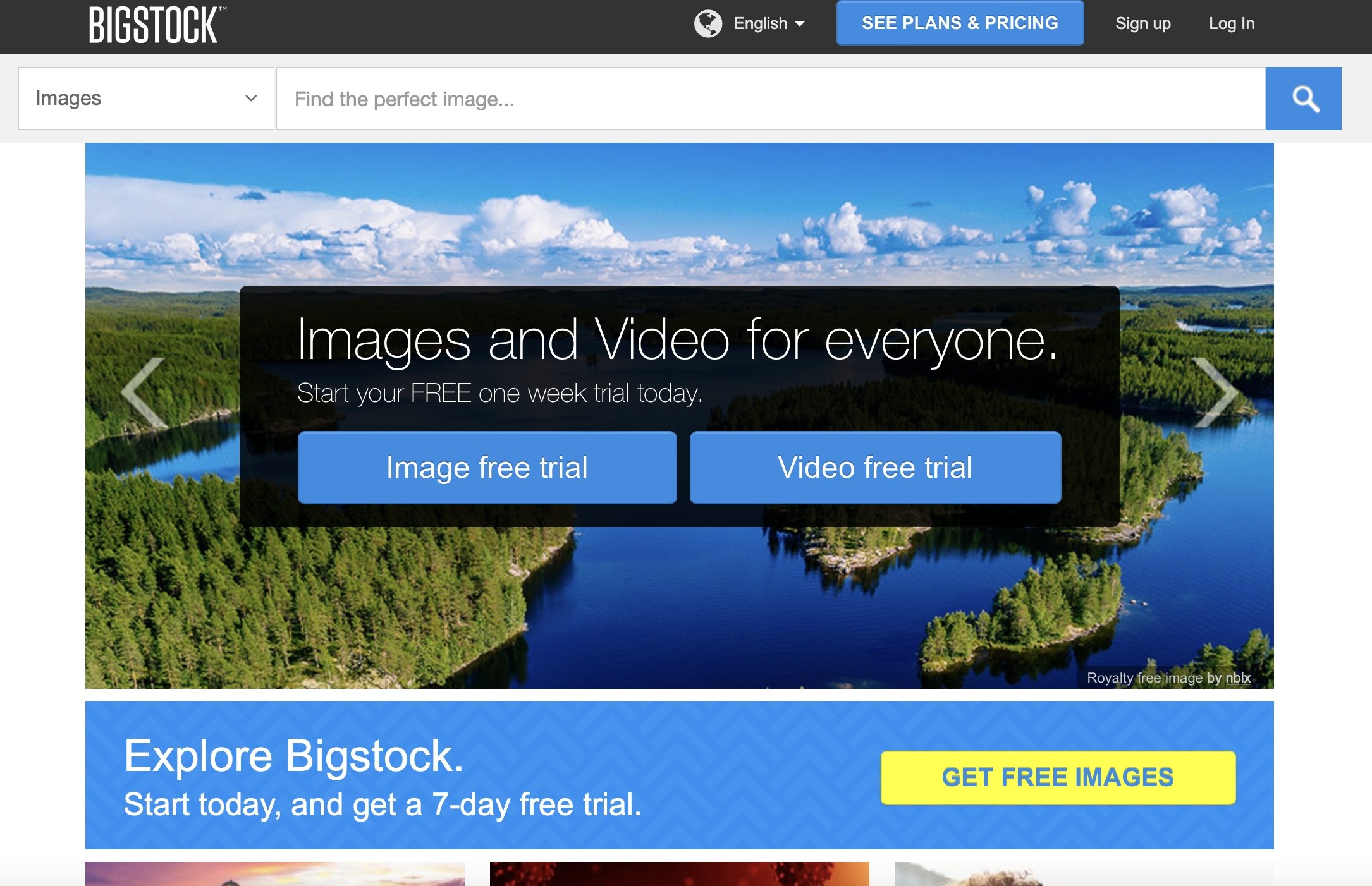 In business since 2004, Bigstock is a simple, classic, yet seriously massive stock photo site. With prices starting at $0.33 for image, you can get some seriously good value here.
Image library: ~100M images
Image types: Photos
License information: Visit Bigstock
Death to Stock
With completely original and unusual stock images, Death to Stock announces, well – death to boring, cookie-cutter stock images.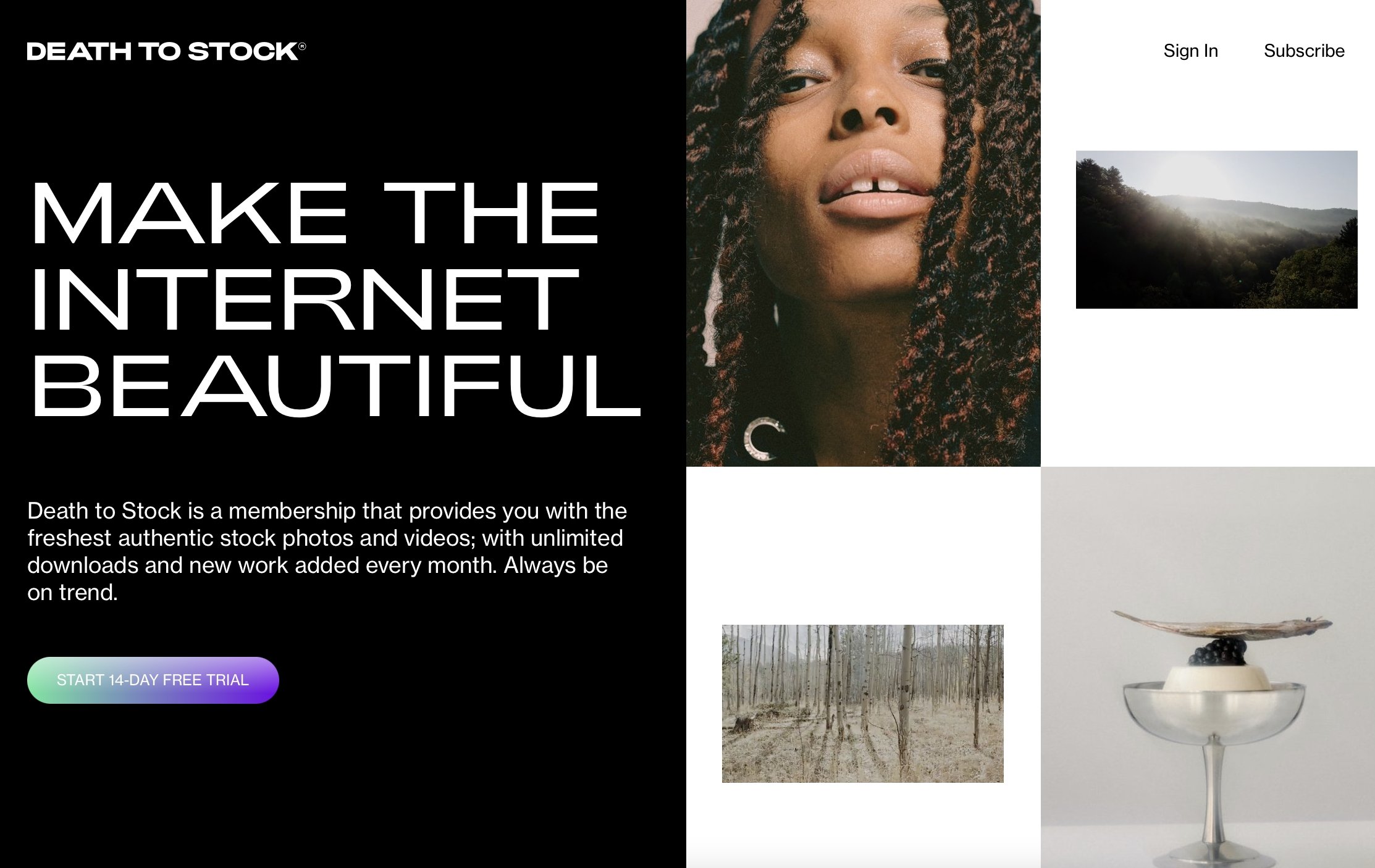 Death to Stock's library might be the smallest here, but it's certainly the most unique. The platform is funding independent creators to make striking, unusual stock images – letting you get something extra, verging to extraordinary. A monthly subscription gives you access to a monthly-updating list of new visual inspiration.
How to use stock images for your eCommerce business?
Stock images are used for marketing or website design purposes. For an eCommerce business, there are multiple approaches to using professional photos and getting the best out of them.
Of course, finding images is easy (very!) – but using them is a whole different game. Here are some general ground rules for beginners to know:
For product images, you can use a stock photo to add additional context and atmosphere to the product image background.
For banners, go for something simple and memorable.
For collections, go for striking, exciting images. Everyone's seen everything already. Try to be different.
For blog images, don't search for basic terms. Everyone's doing it. Try different terms and original approaches.
For emails and social media, try to form your own unique style, and pick images that reflect it.
Pretty much all businesses use stock image sites: they all have access to the same platforms. It's not easy to separate yourself like that, but it's possible – try to see what angle your business can take, and what can you do to separate it.
Also, make sure you choose the appropriate image size for your website, depending on where you use it.
Which image licenses are good for commercial use?
All stock image sites have their ground rules set up, that regard exactly how you can use the images hosted there. Usually, they follow the Creative Commons system.
However, the best way to know the exact image license rules is to visit the stock image platform yourself. In one way or another, all of them include a "License" section, in which you can see exactly how you can use the images.
For commercial use, you get the most liberties with the CC0 image license. This means that all image rights are fully waived, you can use them as you see fit.
Curious to read more? Check out these articles:
Frequently asked questions
You can use stock photos for commercial use, as long as they are labeled as legal for commercial use. This might differ depending on your stock image platform.
You can modify, retouch and edit free stock images and adapt them to your needs – doing so will let you use these images for commercial use, as long as that's allowed by the official Creative Commons labels.