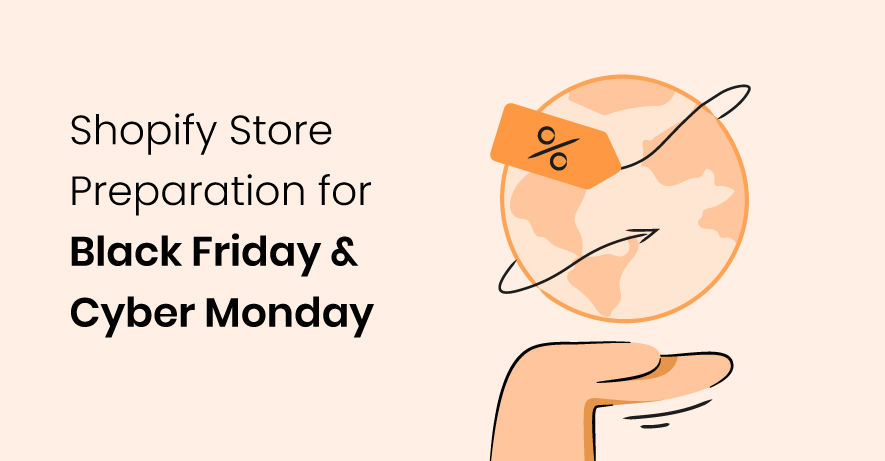 Black Friday and Cyber Monday are among the busiest periods of any Shopify seller, now more than ever. In fact, Shopify recorded an all-time-high of $5.1 billion in Black Friday and Cyber Monday sales in the 2020.
Are you ready to capitalize on all that Black Friday and Cyber Monday 2022 potential with your Shopify store?
We created this guide to help you get the most out of Shopify BFCM. We discuss Black Friday and Cyber Monday dates, strategies, provide you with a checklist for a successful Shopify Black Friday store and much more.
Prepare for Black Friday 2022 in advance
In 2022, Black Friday falls on November 25th and Cyber Monday - on November 28th.
But make sure you start preparing early! From inventory and logistics to marketing campaigns, all needs to be in order way before the end of November.
We're here to walk you through it all and make your Shopify store Black Friday ready.
First - make sure your store is well optimized already! Reduce image size, increase page speed and improve SEO performance
Install TinyIMG now
1. Add new products to sell
If your store is running smoothly as it is, Black Friday is a great time to introduce some more variety to it. New products accompanied by jaw-dropping deals can help your store stand out.
If you're worried about handling the logistics, consider dropshipping. You won't need to take care of the inventory and shipping, but you must find reliable sellers to ensure a smooth process.
Lacking ideas on what you can add to your Shopify store for BFCM? Consider expanding your shop's product selection by choosing items from trending categories of the past years:
Shopify Black Friday bestseller categories:
apparel and accessories
health and beauty
home and garden
2. Plan your BFCM inventory and logistics
This point will make or break your Black Friday period. You can have the most creative marketing campaigns or the best deals, if you run out of products or your shipment process is hindered by the increase in sales, your Black Friday profit margins will suffer.
Take care of these three aspects to ensure your store is running like a well-oiled engine during BFCM:
Check inventory and suppliers
Whatever you sell, have enough of it in stock. Analyze your store's sales reports, especially Sales by Product as well as your Black Friday 2020-2021 bestsellers to forecast which products are going to skyrocket in demand.
The previously mentioned dropshipping alternative can apply to your existing offers too, especially because dropshipping suppliers are extra prepared to handle surges in order amounts.
Tip: Take a look into Inventory Planner, an app that will help with purchase orders and seasonal trend management.
Take care of shipping and returns
To a large extent, shipping is out of your control, but it will determine the success of your BFCM campaigns nonetheless.
Plan for shipping delays and add notes about that to the shipping sections of your product pages.
A good idea is to diversify your shipping options. Consider introducing warehouse pick up possibilities or set up same-day delivery agreements with courier companies for sales over a certain amount. Offer free gift wrapping to complement the extended shipping times.
The bottom line here is to manage sales forecasts and customer expectations about delivery and return times very carefully.
Ensure top customer service
From product pricing to store design, Black Friday is a period of changes. Naturally, people will face issues and have questions, and it's going to happen at a rate you rarely see.
To ensure your customer support is running as smoothly as every, consider taking these steps:
Troubleshoot the purchasing process and remove potential blockers
Introduce live chat option for that period, even if you cannot support it full time later on
Invest into a chat bot or hire temporary staff
We want to double down on the live chat. Shopify found that in 2020, all those who received support within 5 minutes on Shopify Ping were 75% more likely to covert. These are astounding numbers, don't miss out on this opportunity.
Tip: if you have multiple customer support channels, consider consolidating them for the Black Friday period using Gorgias Shopify App.
3. Decide on your BFCM discounts
Black Friday is synonymous with discounts. However, it's not that hard to go wrong with how you approach Black Friday discounts for your Shopify stores.
Don't introduce overly complicated voucher codes or too many steps to claim those vouchers. If people need to waste time on claiming their discount codes, chances are they will leave your store immediately.
Another practice to avoid when setting up Black Friday sales on Shopify is multiple discount sources and codes. If you have many discounts available at your Shopify store, how they stack and what they apply to can cause complete chaos for eager shoppers and consequently your customer support.
Now let's discuss how you can leverage discounts to your advantage.
Examples of BFCM sales you can run
Struggling to come up with an effective BFCM sales strategy? Consider one of these tried-and-tested approaches to Black Friday discounts:
One deal an hour. We cannot recommend this Black Friday sales strategy enough, but you have to be prepared to handle consistently increased website traffic. Offering deals on different products every hour creates a sense of urgency and has people returning to your Shopify store many, many times.
Order value discounts. Shopify promotion research has shown that giving discounts based on order value gives BFCM profit margins a good boost.
Buy one get one free. This type of approach is extra effective when you pair one of the best selling items with something cheaper and relevant, yet not as popular.
Flash sales. Running huge 70-90% flash sales for a few hours will have people flocking to your Shopify store for exceptional Black Friday deals.
How to change price for Black Friday in Shopify?
Not sure how to introduce discounts to your Shopify store?
Let us help you change your product price for Black Friday:
1. Click Products and select those products which you want to discount.

2. Click Edit products and adjust Price and Compare at price. Compare at price will show up as the original one while the amount under Price will be the amount offered to your customers as Black Friday discount.

3. Click Save. This is how the price change will show up on your website: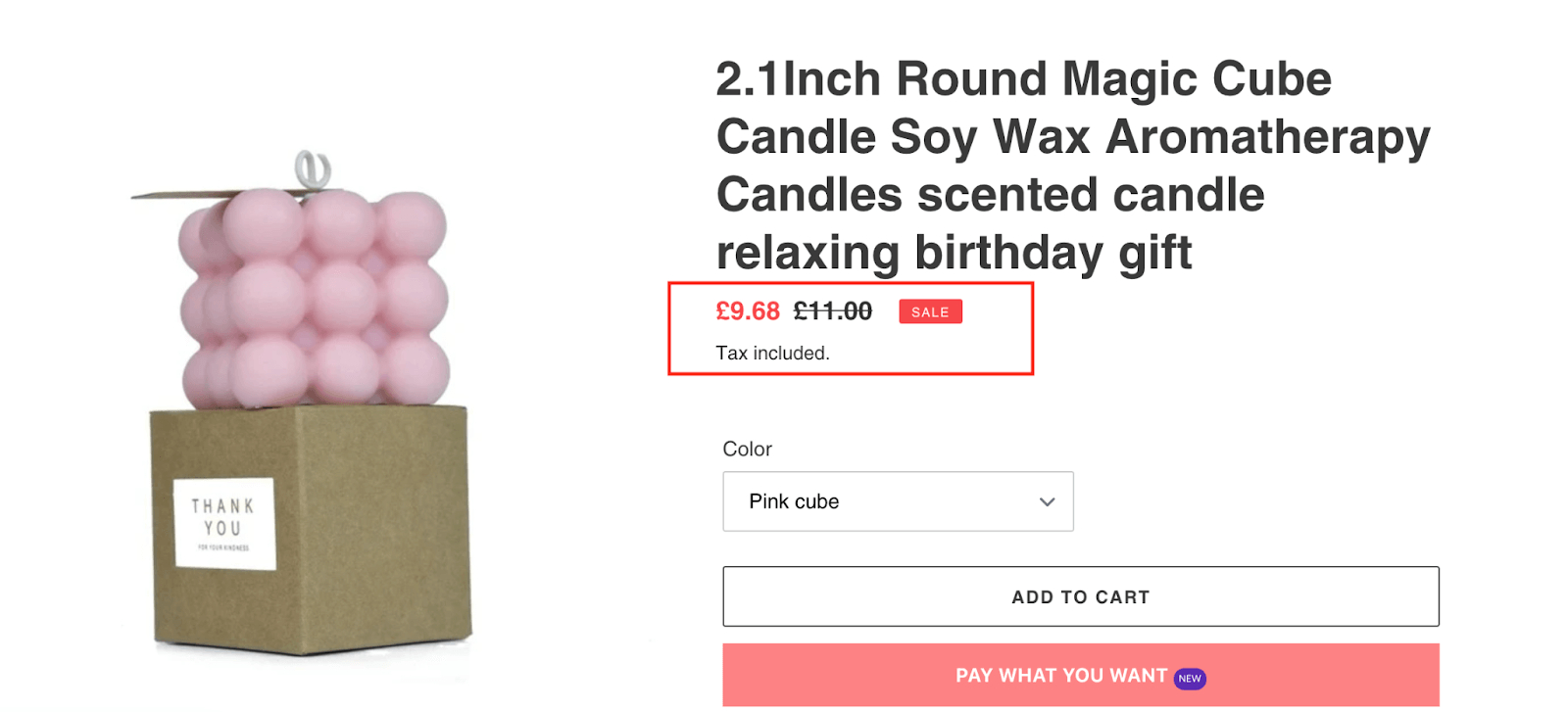 Tip: Do you want to apply the same discount to the entire store? Save yourself time with an app such as Bulk Discounts Now to apply store-wide discounts.
4. Prepare your Shopify store Black Friday design
When it comes to a Shopify store, people indeed judge the book by its cover. Use that to your advantage by turning your store into Black Friday shopping powerhouse with effective BFCM design.
Here are some general tips about visuals and design to prepare your Shopify store for Black Friday:
Customize your Shopify theme for Black Friday
Make sure all visuals are optimized for fast website speed
Troubleshoot navigation and other UX-related aspects. You want your customers to find what they're looking for with minimal effort.
Now let's dive into each visual aspect of your Shopify store in more depth.
BFCM Shopify themes
If your store does not scream "Black Friday", one of the biggest sales periods of the year might not go that well. This is where effective BFCM Shopify theme practices come into play.
Here is how we suggest to think about Shopify theme's preparation for Black Friday:
Don't switch themes right before BFCM. If you don't think your Shopify theme represents your store well, plan a switch to a new one months before Black Friday. This will allow for troubleshooting and a smooth transition process.
Customize your theme. Adjust colors, banners and other on-page elements across the site to support your Black Friday effort.
Remember that theme customization is oftentimes not a small task. Here you have to take into account how much work you can do by yourself and how much input you need from professional developers.
There are costs involved in both, time or money-wise. Plus, if you pay a developer to do some heavy customizations, you will need their help after BFCM as well.
BFCM store homepage design
As the face of your store, the homepage deserves extra care and attention for Black Friday period. It is also one of the easiest ways to ensure conversions.
Here are some best practices for BFCM home page design:
Use a countdown timer to create urgency
Mention free shipping on all orders if you offer it
Introduce sales banners designed for conversions
Have bold and well-visible CTAs
Tip: We recommend using Add Announcement Bar app to showcase your best offers quickly and effectively.
BFCM product page design
This is where Black Friday magic happens. You can have the most creative and effective ways of getting people to your product pages, if they're not designed for Black Friday conversions, it will be empty traffic.
We recommend to organize your BFCM product page design this way:
Update your product pages with Black Friday product photos that are well optimized
Update shipping information with notes about possible shipping delays
Consider including Black Friday-related questions into your product page FAQ
Ensure you're following the best conversion rate optimization practices
Install TinyIMG and take care of image optimization and automatic compression on all your product pages
Get TinyIMG now
5. Start your marketing campaigns early
Black Friday and Cyber Monday are more of a shopping season than a weekend. Customers begin their BFCM research early and you want to be in the back of their mind at all times.
To achieve this, follow some general best practices:
Organize a 360 degree campaign. It means make sure your social media, banner and email marketing campaigns as well as store design work hand in hand.
Personalize. Make sure people know there is a person behind this store.
Capitalize on top performing marketing channels. According to Shopify's research on Black Friday 2020, email marketing and organic search brought in the best-converting customers.
Now let's look at tips for a couple of most effective BFCM marketing channels.
BFCM newsletters
Being one of the most personal ways to get in touch with your customers, emails are an extra powerful BFCM tool. Use them to your advantage and email marketing will be at the forefront of your Black Friday conversions.
We suggest a four-step BFCM email marketing strategy:
Send out an early email regarding Black Friday. Get creative with it. For instance, you can send a quick survey asking your customers which of your products they would like to see discounted the most. Not only will you have good open and click-through rates, but also gain insights into your customers' expectations.
Send an email with an exclusive deal one day before Black Friday. Have a timer element to create a sense of urgency.
Reduce cart abandonment rates with well-crafted cart abandonment emails.
Send out personalized notes of gratitude for those who make a purchase.
BFCM social media
When strategizing for Black Friday, social media is your not-so-secret weapon. The way you handle social media BFCM marketing will determine your visibility and people's interest in your Shopify store.
Some tips to make the most out of your BFCM social media effort:
Update cover photos and descriptions. People notice them, so this is the way to give your discounts that well-deserved spotlight.
Pin messages. Having messages pinned to your profile on Twitter will help you get your promotions across.
Create enticing promotion posts. Reach big audiences and inform customers about upcoming deals.
Provide social media customer support. After you share your deals and promotions, people will message you about them on your social media accounts. Reply to comments and messages in a timely manner.
How to balance marketing and inventory for Black Friday Shopify?
Your Black Friday marketing campaigns will have a wide reach. We have some tips that will help you find the balance between marketing and inventory to avoid discrepancies:
Plan based on trends. Marketing and selling trending products will help you gain traction during Black Friday.
Market what you stock up on. Running out of inventory during Black Friday sales because you marketed limited goods too heavily is a misuse of marketing effort.
Put emphasis on last years' leftovers. Do you have some items piling up that you can't seem to sell out? Calculate minimal profit margins, discount them heavily and turn them into your Black Friday bestsellers.
6. Make use of additional apps for Shopify BFCM
Shopify is famous for helping sellers with, well, everything. And if there is something you feel like you lack, there will be a Shopify app for it.
We have compiled a list of BFCM Shopify apps for every occasion. Even better, for some of them, we're prepared to offer you Black Friday Shopify app deals.
Take a look at our top list of BFCM Shopify apps:
PageFly - an invaluable solution to improve conversions, PageFly is an affordable solution for product and sales landing page creation. They have an extensive Element Library, numerous content display options topped off with 24/7 live support.
Firepush - automated SMS, email and web push notifications in one dashboard for promotional campaigns and reducing cart abandonment. Taking advantage of push notifications during BFCM has never been this easy!
TinyIMG - long store load times can easily ruin all of your Black Friday effort. Achieve up to 70% faster loading times with image compression using TinyIMG. Plus, the app will help you improve your Shopify store's SEO.
LAI Reviews - with 18 layouts and 12 color scheme templates, LAI Reviews is designed with dropshippers in mind. It allows importing reviews from AliExpress, Amazon, Oberlo and Eprolo straight into the store.
Loox - another top tier solution for gathering photo and video reviews from satisfied shoppers with customizable email campaigns.
Wiser - for just $49/month, you can begin offering recommendations based on your shoppers' browsing history. It's an invaluable tool for bringing relevant product suggestions to your customers.
7. Analyse your store performance
Make data-driven BFCM planning by analyzing the performance of your store during previous Black Friday periods.
Let's take a look at performance aspects you can turn into actionable BFCM strategies:
Understand your most profitable channels. While overall organic traffic and email marketing tend to be the most effective marketing channels, analyze how the best converting customers come to your store specifically. Consider investing more into those marketing channels for the Black Friday period.
Use Shopify discount report to make conclusions on how effective your BFCM discount strategies were. The discounts that brought in the most sales throughout previous years are probably worth re-implementing for 2022 BFCM as well.
Analyze your inventory. If specific items have not been selling despite good discounts and effective marketing, invest your Black Friday effort somewhere else.
Shopify Store BFCM Additional Trends and Tips
We covered quite a bit of aspects that will help any Shopify store make the most of Black Friday.
Here are a few more BFCM insights to help you go the extra mile:
Test your website performance. While Shopify has made sure your store is prepared to handle increased website traffic, double check your Shopify Store Speed Report to avoid any seller's worst nightmare - an unexpected website crash during Black Friday.
Show the person behind the store. People want to support small businesses and independent sellers. Capitalize on that by showing your customers that there is a person behind these Black Friday sales, you will inspire trust.
Avoid releasing new store features. Technical difficulties are bound to happen and the BFCM period is the worst time to test them.
Accelerate Black Friday check out. Use Shop Pay to create a seamless check out experience.
Follow the best sustainability practices. People care where their Black Friday goods come from, how they are made and shipped.
Perfect your mobile experience. Overall, mobile shopping grew by 25% from 2019 to 2020 and this trend is not going anywhere. Avoid cart abandonment by providing a smooth mobile Black Friday experience.
Make use of the Thank You page. Don't let people leave your store right after they make a purchase. Thank You page is a great way to cross sell or suggest social media shares about the purchase, all of which extends the customer's Black Friday journey in your store.
Personalize your suggestions. To ensure every visitor is seeing just the BFCM deals they need, use one of Shopify's personalization apps.
Preparing your Shopify store for BFCM 2022 - takeaways
There you have it - strategies, tips and ideas to help your Shopify store reap the benefits of Black Friday.
We discussed:
Black Friday inventory and shipping
Effective BFCM store design and marketing strategies
Top Shopify BFCM apps
Black Friday performance analytics
By now you should be ready to tackle any challenges Black Friday and Cyber Monday bring in 2022 and make your store shine.
Frequently asked questions
What is a good Black Friday discount on Shopify?
Overall, the best-performing Black Friday discounts on Shopify start at 50%. However, the effectiveness of your Black Friday campaigns depends just as much on your conversion strategies and marketing effort as it does on the actual discount.
How long should Black Friday sale be on Shopify?
While technically Black Friday lasts only one day, it's wise to have various sales running for around 2 weeks in that time period.