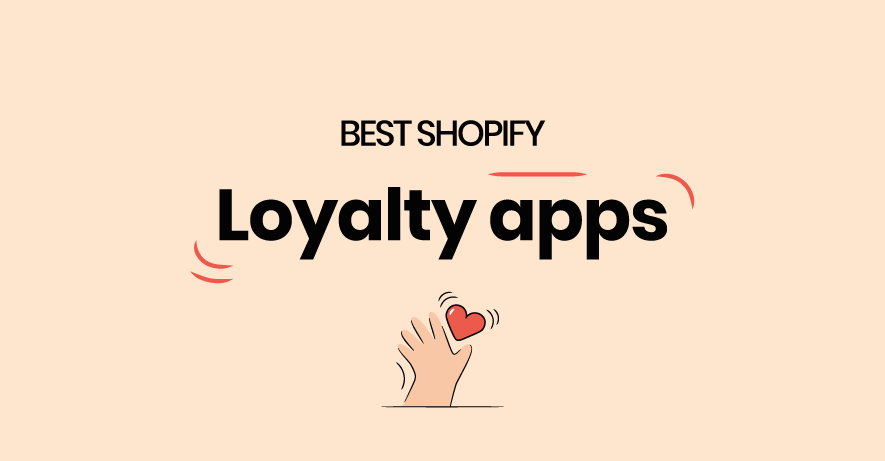 By purchasing through the links on this page, you are giving us the opportunity to earn a commission. Your support is greatly appreciated!

Looking for a Shopify loyalty app? As a business owner, you definitely know: the best customer is the returning customer. Client loyalty guarantees you consistent sales, and word-of-mouth references give you additional free marketing all along the way.

Building client loyalty isn't easy. Luckily, there are some excellent Shopify loyalty program apps out there, that can help you keep those visitors coming back – and your profits piling up.

We've reviewed some of the most popular Shopify loyalty apps and picked out the best ones. In this post, we'll cover the top options, and give you some tips on how to implement loyalty programs on your Shopify store for the best results. Let's roll.
Top 5 loyalty apps for Shopify for 2023: overview
Better user experience leads to more loyal clients. Improve your Shopify store speed with TinyIMG
Try TinyIMG for free
Let's take a look at these top Shopify loyalty apps in detail:
1. Rivo Loyalty

Referral program, loyalty page builder, VIP user platform
Rivo Loyalty lets you make an advanced loyalty program system – using nothing more but your Shopify account and one simple app. With baked-in points and referral platforms, you can easily start building your local customer base that gets rewarded not only for the purchases, but also for bringing in new clients for your business.
There are also options for building an entirely custom loyalty page, using the Rivo page builder. With fully customizable banners, icons, and page elements, you can give your site a fully custom, professional look. Rivo will take care of everything else in the background – it's super simple to use.
This app offers a pretty powerful free plan, allowing 250 monthly orders, full loyalty, rewards, and loyalty program features, as well as no limit on your members. The most expensive plan at $429/month allows for 2,500 monthly orders, VIP tier options, and a dedicated account manager to make sure everything is going as smoothly as it should.
2. Loox

Review collection, discounts, coupons
$9.99/month – $299.99/month
Loox is a Shopify loyalty app that focuses on your relationships with the customers: and their excellent experiences with your products. It starts your customer loyalty trip by asking happy customers to share their photo reviews. Genuine and trustworthy, these reviews help generate more excitement about your brand, heavily increasing your conversion rates.
You have an option to offer coupons and discounts to happy users. So, they shop again, sharing their experiences with additional reviews along the way – and the cycle goes on. With beautiful and customizable product review display options, you can make them look perfect on your site.
Loox starts at $9.99/month, including 100 monthly review request emails and discount codes for photo reviews. The highest-tier plan at $299.99/month offers unlimited requests via email or phone and all the features for your business growth. With a 14-day free trial, Loox is an excellent Shopify loyalty app you can try with no risk.
3. Smile.io

Customer points features, VIP rewards, on-site reminders
Smile.io can help you boost your new and repeating sales, using a plethora of loyalty features – such as referrals, rewards, points, and more. This app is super customizable, letting you build just the type of loyalty program you wish to have. Fully editable panels can perfectly match the style of your website, and with special VIP reward tiers, you can incentivize your most loyal users to buy even more.
On-site reminders, called Nudges, activate at just the right time, reminding them of the possible rewards, increasing overall user loyalty. Smile rewards can even connect to other Shopify apps, giving your customers additional loyalty points if, for example, they leave a review or donate to a non-profit organization of your choice.
There's also a free plan – allowing up to 200 monthly orders, and including basic points and referral features. The most expensive plan for $599/month gives you API access, VIP program, and all the premium features Smile.io can offer.
4. BON Loyalty Rewards

Multilanguage features, social media rewards, VIP tiers
BON is a simple loyalty app, offering some pretty solid premium loyalty features. There are points your users can get for purchases, as well as referring a new customer. Plus, VIP tiers, allowing your users to get more, the longer they're with you, are an excellent way to build customer satisfaction.
With full multilanguage features, you'll be able to reach your loyal customers in over 250 different languages. Social media sharing features can also be applied in order to reward your customers for sharing your business on their social media accounts.
BON Loyalty rewards app has an entirely free plan to use. It's a good app to get started if you're looking for something simple, and are on a budget.
5. Growave

Wishlist, product review collection, loyalty and rewards
Growave is an all-in-one app, combining loyalty features, with tools for increased website engagement, sales, and conversions. It has only one mission in mind – making sure your store sells more. Excellent loyalty features are a part of that, as Growave offers point rewards and discounts for sales, referrals, and sharing your store as social media.
Growave even helps collect user reviews on autopilot, sending requests to satisfied users, asking to share their feedback. With the right discount and loyalty bonuses offered, you can easily get a lot of repeating happy customers, sharing their experience for everyone to see. There are also point expiration reminders and nudges to make sure the visitors use their bonuses – and become your loyal clients along the way.
Growave starts at $9/month – allowing for up to 75 orders, offering rewards, reviews, wishlist features, as well as social media login options. The most expensive plan at $49/month offers up to 500 orders.
6. Yotpo Loyalty & Rewards

Paid membership system, email integration
Yotpo offers excellent loyalty features, letting you set up your system – just the way you want it. With over 15 unique loyalty actions, including purchases, reviews, Instagram follows, birthdays and more, you can set up a fully custom program to reward your visitors. Full email integration will also let you easily reach out and promote the benefits to all customers you have on your system, at a click of the button.
Classic loyalty features, like a referral program, points, and VIP tiers get followed up with an option to create an Amazon Prime-like paid membership system, offering your customers exclusive loyalty benefits for a recurring payment. Scheduling options will also let you easily run special promotions for holidays, or other special events, without having to worry about any manual work.
Yotpo is free to install – with the plan allowing for under 100 monthly orders, 10+ reward campaigns, and a simple email capture tool. The top-tier Gold option is $249/month, with $0.20 per order for every monthly order over 800, and offers rewards page templates, deep email marketing integrations, and full customization options.
Why do I need a Shopify loyalty app?
There are plenty of reasons why you should consider using a Shopify loyalty app for your online store. Here are some of the main ones:
Returning customers – increased sales. This one's simple. Returning customers become attached to your brand and become regular clients for a long time.
Word-of-mouth marketing. By using a Shopify app to build a loyal customer base, you create your brand ambassadors who will spread the good word about your company, without you having to actively market for them.
New marketing options. Loyalty apps offer new avenues to grow your business. Affiliate marketing opportunities and active communication with your best customers can help you increase your profits even more.
What makes Shopify loyalty app the best?
There are plenty of Shopify loyalty apps out there. Here's what features make an app seriously good:
Customizable reward actions. You don't want to be stuck with an app that does too little. An app that can reward customers not only for sales, but also for social media interactions, referrals, and more is an absolute must if you're looking to grow your loyalty program.
Special loyalty features. From subscription loyalty plans to smart on-site reminders and everything in between, there are a lot of excellent features to choose. Each app tries to invent its very own "special sauce" – and some of these ideas are seriously excellent.
Smart, editable design. You want your loyalty program to merge seamlessly into your website. That makes your business and your loyalty program look tailor-made and respectful.
Integration with other Shopify apps. You want your loyalty program to work seamlessly with everything else going on on the website. For example, loyalty apps seamlessly integrating with your mailing provider will automatically promote your special loyalty program features to everyone on your mailing list.
How do I create a Shopify loyalty program?
Here's how you can create a loyalty program, using nothing more but a solid Shopify loyalty app:
Pick a name for your program. A nice name is easy to communicate – and gives you plenty of marketing opportunities in the future.
Set the reward actions. What do you want to achieve? You can start rewarding your customer for making sales, interacting with your social media pages, or doing referrals to their friends. Being clear and consistent is very important.
Pick out the app that does what you need. We reviewed plenty of apps here – go for the one that suits your needs the best.
Launch a test run. Theory is always great – but you need to see your program in action. Get your first customers and work towards building loyalty!
Analyze the data. Once your first numbers are in, see what works and what doesn't. See which actions give you the best results and whether that's attainable for you in the long term.
Stay consistent. Once all the creases are ironed out, it's incredibly important to stay consistent, deliver on the promises, and maintain a solid feedback loop with your customer.
Check out more useful Shopify apps:
Frequently asked questions
What is the best loyalty app for Shopify?
There are plenty of excellent loyalty apps for Shopify. Options like Rivo Loyalty offer plenty of customizable options, Loox helps you get user engagement via photo reviews, and Smile.io lets you fully customize just about everything to create a fully bespoke user experience.
Does Shopify support loyalty programs?
Yes, Shopify supports loyalty programs. You can easily set one up by using one of the many available Shopify loyalty and rewards apps. With plenty of customizable actions, VIP tiers, subscriptions and more, you can set everything up just the way you want it.