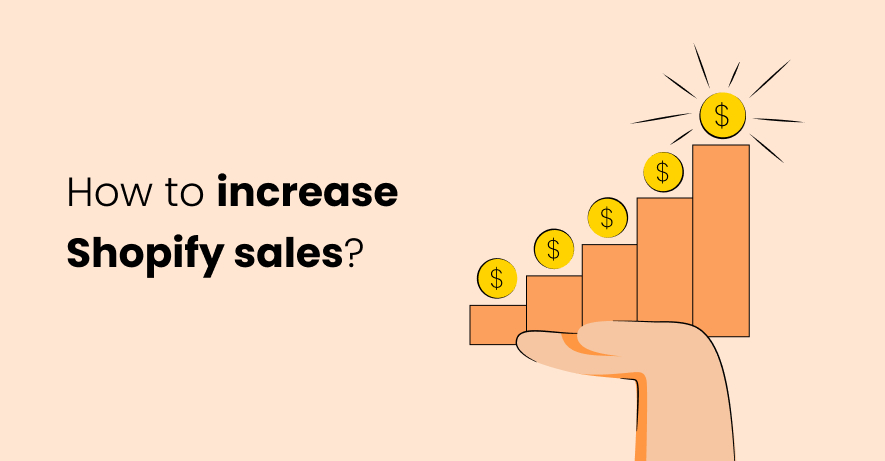 By purchasing through the links on this page, you are giving us the opportunity to earn a commission. Your support is greatly appreciated!

To say that eCommerce is competitive would be an understatement, so how to increase sales on Shopify is at the forefront of every merchant's priorities.

Just don't dive head first. Proper Shopify sales growth strategy is imperative for long-term results.

We've compiled a list of tried and tested ways to increase Shopify sales. We'll evaluate them based on time- and cost-efficiency, expected results and provide action steps to implement them.

Pick and choose tactics to increase Shopify sales that promise the biggest rewards for your business model and reap the benefits in no time.
4 general ways to increase sales for any store
If you're here, it means you've already done the groundwork and generated your first Shopify sales. In this article, we'll discuss the bigger picture of constantly increasing Shopify sales.
Before we dive into specific and actionable tactics, let's look over how we should think about Shopify sales growth in general.
Over the course of this article, we'll focus on these four main sales growth pillars:
Get more customers to your store. Use SEO, paid ads, social media campaigns and other channels wisely to ensure you're constantly driving traffic to your Shopify store.
Increase amount of transactions and average order value. Upsell, cross-sell and increase trust to turn more visitors into high-value customers.
Optimize your website for conversions. Product descriptions, CTAs, website navigation - all must work together to guide your website visitors towards making a purchase.
Focus on retention. Customer acquisition can be five times more costly than retention. Focus on nurturing loyal relationships and returning customers.
Now let's dive into the details.
How to increase sales on Shopify: 21 advanced tactics
1. Write a blog that actually helps
An eCommerce blog that brings actual value is a great way to increase your Shopify store sales long term.
You'll grow your organic traffic, educate and provide solutions to your visitors. Helping people make the right choice builds trust and authority in their eyes, meaning more sales!
That being said, writing a blog yourself is a massive time investment, whereas paying someone else to do it can take a toll on your marketing budget. You have to plan wisely and set clear milestones in order to see worthwhile results. With every post, think about your audience's problems and come up with creative ways to address them.
Depending on what you sell, you can do unique research and case studies, create PDF resources and infographics.
But at some point, this is the right step forward for every business. If you're feeling ready, get inspired by these Shopify blog examples, calculate your budget, make a content plan based on keyword research and take your niche over by storm!
Time investment: High
Difficulty: Moderate
Costs: Varied
Impact on sales: Moderate
Solid on-site SEO is key to an eCommerce blog that ranks and brings in Shopify sales. Use TinyIMG - an automated solution to SEO tasks that will transform your store's performance!
Improve SEO with TinyIMG
2. Create an exceptional email marketing strategy
eCommerce email marketing is a gold mine for increasing Shopify sales. Results vary, but as a general rule email marketing return-on-investment is over 100%. That's because if you get your campaigns right, you can deliver the perfect offer to the exact right potential client.
The two key factors if you want your emails to bring sales is to understand email campaign types and segment recipients.
There are four main types of emails:
Promotional - exclusive deals, sales announcements and such. These emails are your direct opportunity to convert readers with convincing copy and easily visible CTAs.
Informational - onboarding, newsletters, educational emails meant to nurture and inform your audience about your niche, product and company.
Transactional - functional emails you send to incentivize or inspire your clients (e.g. cart abandonment, post-purchase).
Transactional and promotional emails are a must for every business, whereas informational email campaigns fall under a good-to-have category.
When it comes to audience segmentation, divide your audience based on the information you have about them (e.g. potential customers vs people who have already made a purchase) and think carefully about what's relevant for them. Craft offers and text that people will respond to.
Must have flow triggers for certain audience segments to grow your sales are:
Cart abandonment - remind people who left your store at the last step before purchase what they're missing out on
Post-purchase emails are your opportunity to offer subscription, cross-sell related goods
Recommendation based on wishlist saves or previous searches to inspire further shopping
And remember, compared to social media, email is a very personal means of reaching your clients. Be respectful of their time and never, never spam their inbox.
Time investment: Moderate
Difficulty: Low
Costs: Low
Impact on sales: Moderate
3. Launch loyalty and reward programs for better customer retention
Perhaps you're struggling to increase sales on Shopify because you don't have a customer retention strategy?
Change that - launch a loyalty program!
Two most common loyalty programs include:
Point-based loyalty programs. Give points to your customers for specific actions (e.g. signing up for a newsletter, making a purchase) they can then exchange for rewards. Example: Chubbies loyalty program.
Tier-based loyalty programs. Upgrade your customers to higher tiers with more benefits based on a value system (often points or total amount of money spent). Example: Sephora's Beauty Insider.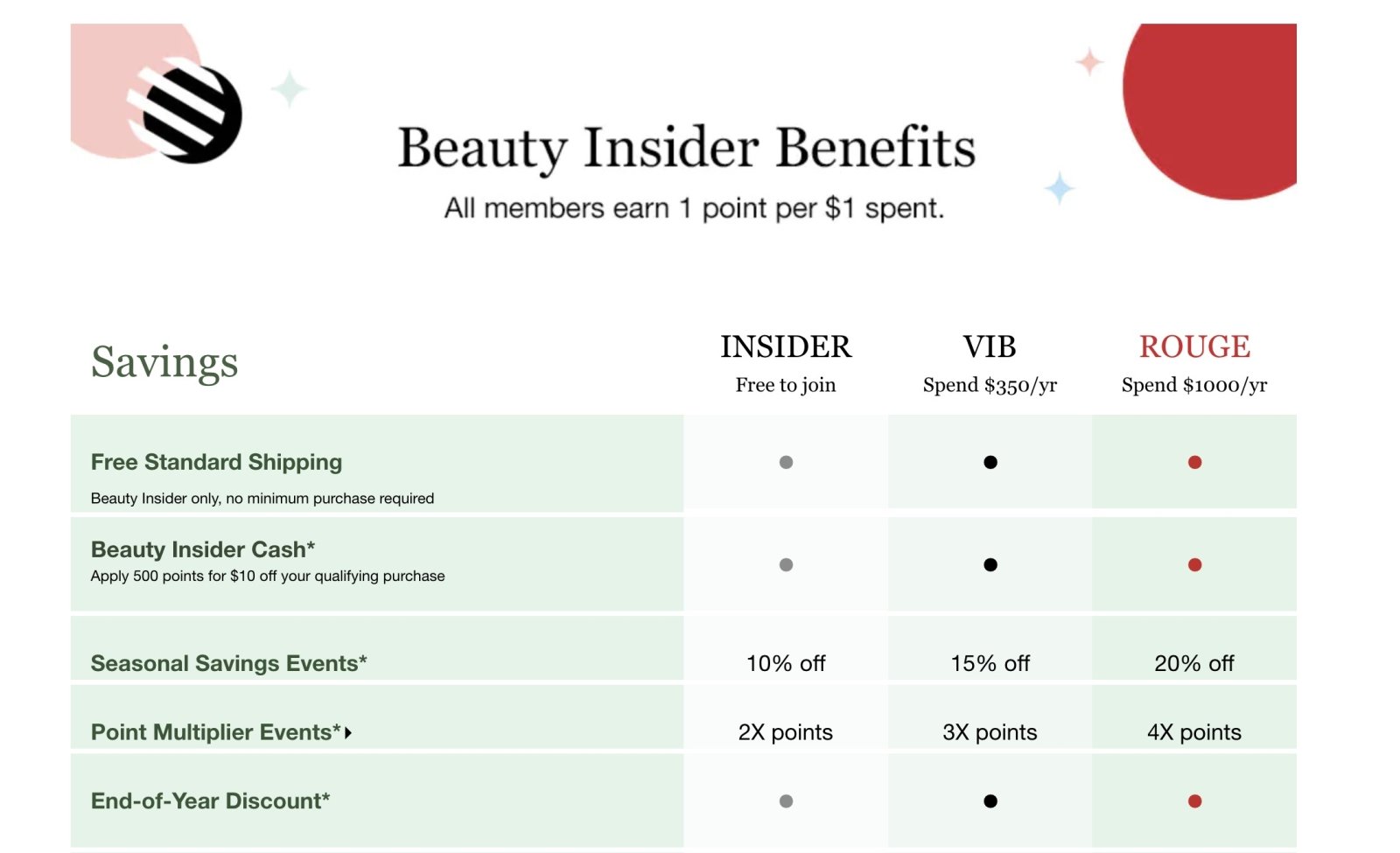 You can take a huge load off your shoulders if you choose a Shopify app for loyalty programs such as Rivo. These apps are designed to help you navigate loyalty program launch and end up with the most profitable solution.
As a side note, give paid loyalty programs a careful thought. Research by McKinsey & Co shows that paid loyalty programs encourage people to spend up to 62% more on the brand after becoming members. However, you have to evidently show the benefits for people to sign up.
Gift cards can be an incredible incentive to climb the loyalty program ladder. Offer them as part of your loyalty program perks or as a separate product to expand your customer reach. If you decide to do so, a dedicated
Shopify gift card app
will save the day.
Time investment: Moderate
Difficulty: Low
Costs: Low
Impact on sales: Moderate
4. Sort and categorize products effectively
An easy way to increase sales on your Shopify store is to make shopping easier. Enabling customers to browse your eCommerce website conveniently is your sure way to do so.
Here is how you can use product sorting to your advantage and grow Shopify sales:
Take full advantage of product collections. On top of the functional product collections (e.g. gender, product type, season), come up with creative ones that would inspire people to make a purchase. For example, group different products based on color or mood, give the collection an extraordinary title and spike curiosity.
Create sub-collections for crowded collection pages. Additional grouping can help people settle on exactly what they're looking for.
Enable search functionality. If your potential customer already knows exactly what they're looking for, do not stand in their way.
Take advantage of product tags. If used effectively, tags improve search functionality results and allow for automated collection creation.
Within collection pages, you can enable product sorting in a variety of ways - lowest to highest price, best-selling, alphabetically and more. However, it's not all that advanced or convenient. If you wish to unlock the full power of product sorting, consider a dedicated app such as Flexible Collection Sort.
5. Launch referral programs to get more brand advocates
Word-of-mouth recommendations are among the most impactful ways to grow your income on Shopify.
Launch a referrals program that rewards people who recommend your products to their friends or family for a low-effort, high-reward revenue stream. Plus, it's as easy (and cheap) as ever with one of these great Shopify referral apps.
Time investment: Moderate
Difficulty: Low
Costs: Low
Impact on sales: Moderate
6. Collect and display social proof to increase trust
It all comes back to the question of trust - there will be no Shopify sales without it.
Getting the very first reviews is crucial to increase your Shopify sales. Don't be afraid to ask your friends or family (who actually used and liked your products) to say a few words you can then proudly display on your website.
Anything past that is best handled with a social proof Shopify app. Depending on the app you choose, it will automatically generate post-purchase review requests, import reviews from other sites to display on product pages, show product count bars and offer many more useful tactics to help you make Shopify sales.
Time investment: Moderate
Difficulty: Low
Costs: Low
Impact on sales: Moderate
7. Run paid social media and Google ads
Paid social media ads could be one of the most impactful ways to generate Shopify sales, but the success will depend largely on how well you have segmented your users and how well you understand those groups as well as the demographics of each social media platform.

Fundamentally, people find ads annoying. Until they see the exact right one.
Crafting you paid ad campaign is not a very easy task - take a careful look at the basics of paid advertising on social media and think everything through before launching them. Poorly designed or mistargeted ads can do more harm to your brand and your budget than anything else.
When it comes to Google ads, the success lies in picking the right keywords. If you target the wrong audience and people don't end up buying anything after clicking on your ad, the pay-per-click model will drain your marketing budget to no avail.
Time investment: High
Difficulty: Moderate
Costs: Varied
Impact on sales: Moderate
8. Optimize every single one of your images
When people think about their Shopify sales strategy, images often get overlooked. No more!
Image optimization for SEO doesn't just make the site faster, correct filenames and good image alt text can help with image search rankings very substantially.
And you know what customers who get inspired by images do? Make purchases.
Time investment: Low
Difficulty: Low
Costs: Low
Impact on sales: Moderate
TinyIMG will optimize all of your images, quickly and automatically, starting as low as $2.49/mo.
Install now
9. Optimize CTAs to perfection
Good CTAs can unlock a lot of untapped potential. Many people browsing your Shopify store are actually ready to make purchases, they just need a correct nudge.
Get them on board with personalized CTAs that evoke emotions and help people see the value of your offer. Make your CTA buttons stand out and put those action verbs in there!
Not sure what that means practically? Browse good CTA examples and come up with the perfect ones for your store.
Time investment: Low
Difficulty: Low
Costs: Low
Impact on sales: Moderate
10. Implement structured data to capture rich snippets
Structured data is a way for search engines to better understand your content and display it in a more informative way. And listings that people click on bring Shopify sales.
You can use schema markup on your Shopify product pages to capture listings that include reviews, price and other useful information about the product. They are called rich snippets and they can do proper magic to your click through rates and sales.
Implementing structured data is very beneficial for your sales, but it's a difficult and technical process. Leave everything to apps like TinyIMG that are designed to help you implement schema markup in a few clicks.
Time investment: Low
Difficulty: Low
Costs: Low
Impact on sales: Moderate
11. A/B test your design and copy whenever you can
Are you getting a solid amount of well-targeted organic traffic to your store, but your conversion rates are miserable?
Understand what's stopping you from making Shopify sales with effective A/B conversion testing.
Run A/B tests on your homepage and product pages to test page layouts, CTA placement, pop-up and side banner effectiveness, pick what works best and start seeing the sales you expect.
Time investment: Moderate
Difficulty: Moderate
Costs: Moderate
Impact on sales: Moderate
12. Enable alternative payment methods
Shopify Payments is powerfully optimized for conversions, but if you're not accepting alternatives, you might be missing out on revenue.
Why might someone want to use an alternative payment method?
Their primary wallet is in cryptocurrency
They prefer online payment methods like Amazon Pay, Apple Pay or PayPal
Currency exchange, geographic location and more
Plus, a Shopify store with a variety of payment methods signals reliability to all customers actively trying to prevent credit card fraud.
Enable a variety of payment methods on your store with a guide from Shopify and grow Shopify revenue by capturing every potential client.
Tip: Remember, you will be charged third party transaction fees for purchases that weren't made through Shopify Payments. How big they are will depend on several factors, such as your chosen Shopify plan and your geographic location.
Time investment: Low
Difficulty: Low
Costs: Moderate
Impact on sales: Moderate
13. Provide stellar customer support experience
You don't want people getting stuck towards the end of their purchasing journey. In fact, solving this issue will increase your Shopify sales immediately.
Live 24/7 support is one of those strategies to grow Shopify sales that's complicated to measure in hard numbers, but the value is unquestionable.
People don't like to search for information or feel confused. And when it comes to eCommerce, people usually can't wait. By investing into an opportunity for them to always clarify their doubts, you can take them by the hand and guide them to the purchasing point.
Tip: Invest in a Shopify live chat app such as Tidio to combine communication channels, use smart chatbots and overall simplify live support management.
Time investment: High
Difficulty: Moderate
Costs: Moderate
Impact on sales: Moderate
14. Upsell and cross-sell your products
Upselling, cross-selling and sometimes even dowselling are among the most underrated strategies to increase Shopify sales. These sales tactics are built on offering higher value, additional or more suitable products to interested customers.
Basically, these sales techniques are designed to make the right product suggestion at the right time.
Take a look at this widget on Speedo's page suggesting additional products that pair well with the chosen one: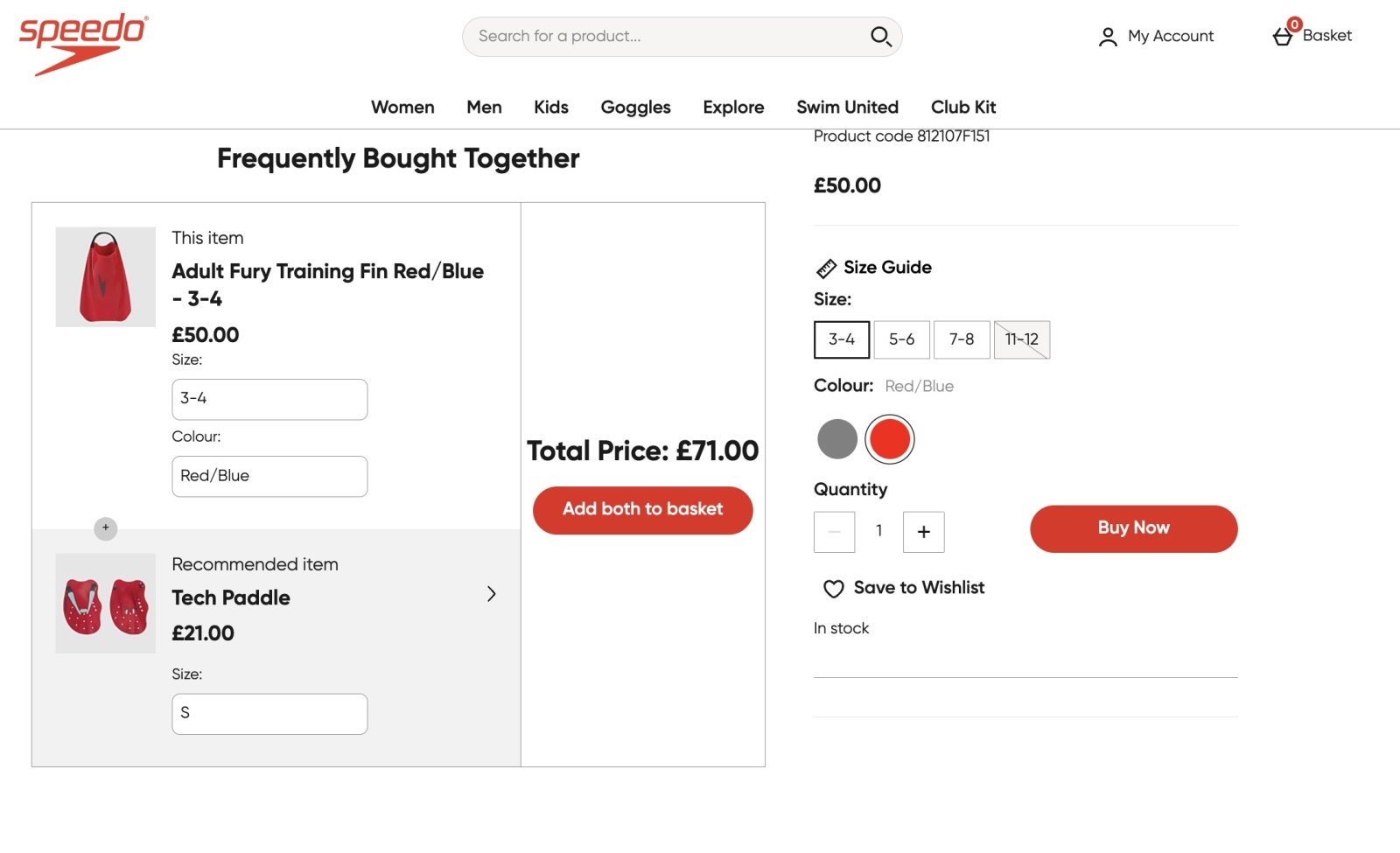 A great thing about upselling is that for the most part, you don't even need to do anything. Any good Shopify upsell app will analyze customer behavior and generate additional product suggestions personalized to them.
Time investment: Low
Difficulty: Low
Costs: Low
Impact on sales: High
15. Enable wishlists and customer accounts
Some people just aren't ready to make the purchase at the moment, so give them an easy opportunity to come back.
Customer accounts and wishlists accompanied by an occasional email reminder are a great way to stay in the back of doubtful customers' minds and eventually make those Shopify sales.
Just make sure that the app or tool you choose to enable customer accounts handles sensitive personal data with great care, you do not want to get exposed to any liabilities.
Time investment: Low
Difficulty: Low
Costs: Low
Impact on sales: Moderate
16. Allow product subscription for recurring revenue
Do you sell supplements, drinks, cosmetics, or anything else that's needed on a recurring basis?
Do yourself a huge favor and enable product subscriptions. With the help of the right Shopify subscriptions app, it's literally a three-step process.
Not only will you get a regular and quite reliable revenue flow, you will encourage customer retention, loyalty and brand visibility.
Need some inspiration? Subscription model is what helped get Better Booch off the ground - their store revenue grew rapidly and at this point, 70% of their orders come from subscriptions.
Time investment: Low
Difficulty: Low
Costs: Low
Impact on sales: Moderate
17. Add product labels and badges to promote products
Product labels help Shopify sales. How?
There is no better way to make use of FOMO than scarcity badges
Sale and discount labels create a sense of value
Descriptive product labels help direct people to their perfect product
Select a Shopify product labels and badges app with the right functionalities to start highlighting your offers effectively and in that way increasing sales on your Shopify store.
Time investment: Moderate
Difficulty: Low
Costs: Low
Impact on sales: Moderate
18. Create product videos for better visualization
As one of the most powerful storytelling tools, videos help people envision themselves wearing or using your products. If you do it right, you move one step up and start selling not just the product, but an emotion or a lifestyle associated with it. That might be just the right type of nudge for many questioning shoppers.
And it doesn't even need to be a super expensive project! These days, anything is possible with a decent smartphone and a touch of creativity.
Time investment: Moderate
Difficulty: Moderate
Costs: Low
Impact on sales: Low
19. Learn about your customers with quizzes and surveys
Who can tell you better about your customers' preferences than the customers themselves? Grow your revenue by catering to personalized needs with quizzes, surveys and interactive guides.
How to convert more visitors and increase salesusing these methods:
Implement an interactive guide/quiz on your homepage that guides visitors to the perfect product for them (and make sure you have clear CTAs to convert them)
Email a satisfaction and feedback survey with your post-purchase email
Tip: To get the most out of your surveys, you have to analyze the responses effectively. Instead of staring at the information and trying to make sense out of it, have one specific goal in mind (e.g. what type of negative feedback is given most often) when looking through the answers and repeat this over and over again.
Time investment: Moderate
Difficulty: Low
Costs: Low
Impact on sales: Low/Moderate
20. Use a retail calendar to organize your marketing effort
If you're a seasonal business that relies heavily on the holiday seasons for sales, you might be missing out because you're not preparing and timing your offers correctly.
A retail calendar will not only save you a lot of planning effort, it will improve overall sales because you will be ready for every high season in advance, with full inventory and early marketing campaigns.
Time investment: High
Difficulty: Moderate
Costs: Low
Impact on sales: Moderate
21. Diversify your platforms to capture multiple audiences
Do you feel like you've exhausted all opportunities to further increase your Shopify income?
Perhaps it's time to look at the bigger picture. Although it's very unlikely you'll hit a hard ceiling with your Shopify store revenue growth, other platforms might be what you need to revive the flow of income.
Consider becoming a seller on marketplaces like Etsy, Amazon or eBay. Most of these have very loyal audiences that have committed to perks like Amazon Prime. Because of that, the platform will be their first choice when shopping.
Since you already have an established brand, inventory system and marketing materials, diversifying your eCommerce platforms shouldn't be a massive undertaking. Make use of a Shopify marketplace app for an easy integration.
Time investment: High
Difficulty: High
Costs: High
Impact on sales: High
Final thoughts
In order to see constant increase in Shopify sales, you must ensure growth of store visitors, conversions, order value and customer retention. We've covered 21 ways to handle these eCommerce revenue growth pillars with walkthroughs, tips and additional guides.
Pick and choose those Shopify sales growth tactics that will bring immediate benefits. Then, build on top of that with long-term, higher investment strategies to seal the deal.
And then watch your Shopify sales increase!
Don't leave it off here though, continue improving your store and growing revenue with these guides: