By purchasing through the links on this page, you are giving us the opportunity to earn a commission. Your support is greatly appreciated!

Shopify related products section is something all of us have seen. It's that widget on the side that nudges you to pick up an extra item or two that you didn't even know you needed.

While a customer has more wholesome shopping experience, you as a merchant benefit from increased order value and get your inventory moving. It's a win-win.

In this article, we'll take a closer look at how Shopify related products function, why they are beneficial for both ends, and learn to implement them in a Shopify store.
What are related products?
Shopify related products are additional suggestions that are displayed next to a chosen product on a product page or a checkout page. Related product sections encourage people to keep exploring the store and create the perfect opportunity for merchants to upsell and cross-sell.
Related products vs complementary products
Shopify Online store 2.0 themes have two sections to display recommendations on product pages, Shopify related products and complementary products.
While they do serve similar purposes, think of it this way:
Shopify related product section will automatically display a mix of additional recommendations and product variations based on an algorithm.
Shopify complementary products are supposed to be main product add-ons and can be selected manually.
Let's say a customer is looking at a pair of running shoes. The related products section will automatically display different sneaker alternatives, fitness trackers, and rain gear. Complementary products in this case would feature shoe cleaning kits, athletic socks, or sneaker bags.
Of course, this distinction is not set in stone because with the right tools you can customize each section to your and your customers' preference.
Benefits of having a Related products section
Related products section should be in every product page of your Shopify store, and this is why:
Shopify sales increase. Personalized product recommendations can do real magic. Different sources report varying increases in revenue, but it's anywhere between 38% - 310%.
Stellar customer experience. People expect a personalized experience anywhere they go and spot-on product recommendations generated based on customer behavior patterns are your best shot at offering that.
Cross-selling opportunities. Research on product recommendations shows that 49% of customers admit they have purchased an item they didn't initially intend to because it was recommended to them.
Improved SEO. Search engines often reward websites with well-structured and relevant content, and a thoughtful recommendations section is exactly what you need for good Shopify store SEO.
Reduced bounce rate. People frequently land on product pages that don't interest them. Shopify related products encourage them to keep exploring and that way reduces bounce rates.
Smart inventory management. Shopify recommended product section is your perfect opportunity to promote products that need to be sold quickly or highlight overstocked items.
Fewer abandoned carts. Shopify product recommendations can appear in checkout pages as well and be the push that some customers need to complete their purchase.
At this point it's probably evident how massive a benefit Shopify related products sections bring. So let's jump straight into their implementation.
How to add related products in Shopify: step-by-step
Shopify offers related products as a native functionality with all Online store 2.0 themes. If your Shopify theme dates back a bit, you will need to upgrade it to access the related products section.
Here is how you add related products from Shopify admin:
Access your Shopify admin and click on "Online Store".
Go to the "Themes" section and select "Customize".
At the top of the page, click "Home page", then navigate to "Products" and choose "Default product" or whatever product page template you're using. Editing this template will add a Shopify related products section to every product page it is assigned to.
Scroll down to "Template", click on the "Add section" button and select the "Related Products" section.
Click save and your related products section is live!
Alternative ways for adding related products
If the native Shopify functionality doesn't suit your fancy, you have alternatives. Generally they are more empowering and allow greater widget customization.
Use a Shopify app for related products
Shopify product recommendations can be a generous revenue stream, so you might consider investing a bit for advanced customization opportunities and more powerful recommendation algorithms.
Most of these apps have built in analytics, A/B testing, some feature powerful predictive models and even email integration, none of which you can achieve from Shopify admin.
The prices range anywhere between free to $400/mo, it really comes down to what you need.
For new stores we recommend Wiser as they are completely free up to a certain amount of purchases, while enterprises should take advantage of Dialogue AI automations.
For a full list, explore our Shopify product recommendation apps guide.
Create a custom section with Liquid file
If you want to show product recommendations anywhere that's not a product page, you will need to dabble with the Liquid file.
Essentially, we would recommend a dedicated app in these cases unless you're proficient with Liquid. If you insist on trying, here is a great Stack Overflow thread for that. And don't forget to duplicate your theme for backup before you begin!
How to manage related products section
Now that your Shopify related products section is live, let's review all functionalities and management opportunities.
Show related products automatically
If you're using the native Shopify section for your related products, it is automatic by default. Shopify algorithm generates it using customer purchase history, related collections, and product description. It's supposed to get smarter the longer it is live.
As for Shopify apps, pretty much every single one offers some kind of AI automation for product suggestions. Some are truly impressive and adapt to customer behavior live.
Set related products manually
Unfortunately, you cannot use the native section to set related products manually. Here, you have two options:
Implement a complementary product section instead which allows manual product management.
Choose an app for product recommendations, pretty much every single one allows you to select recommended products for Shopify store manually.
Hide related products section
If you don't like what you're seeing as product recommendations, it might be that the algorithm needs a bit more time to understand your customer behavior.
Your best option here would be to hide the Shopify related product section from the page instead of completely deleting it. That way you're not frustrating your customers with irrelevant and spammy content and give the algorithm time to gather necessary data.
You can hide the related products section by going to your theme customization window, finding your related products section in the product page template and clicking on the eye icon.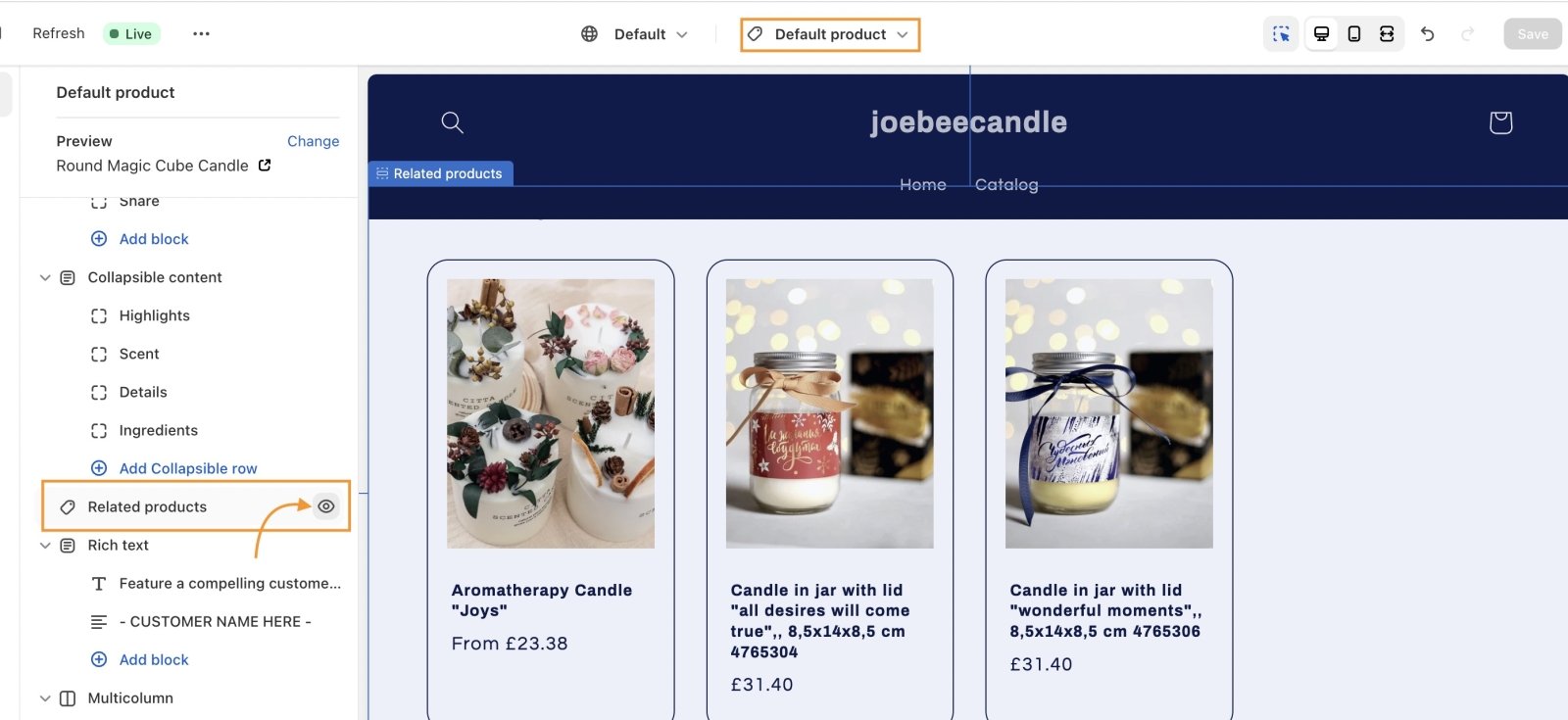 Customize related products section
Native Shopify related products widget has pretty decent customization opportunities - from color scheme to image shape and even hover effects. You can find a full list here.
For extremely advanced customization and usability options, you'll need an app like Honeycomb. Not only will you get a lot more control over your widget, you'll also have built in A/B testing features and more.
How to boost your sales with related products
Simply adding a Shopify related products section will do a lot for your revenue. But since we're here, why not make the most out of it?
Here are 10 tips that will skyrocket your related product sales:
Relevance is everything. A widget with random items will simply annoy the customers. If the algorithm isn't doing justice, pick out relevant product recommendations manually. Also, remember to adapt your related products section to seasons, trends, and holidays.
Good product content. A widget with attractive, good quality images and eye-catching product names will get more clicks than one with randomly cropped visuals and no text at all.
Clear CTAs. To convert in general, people need evident call-to-action buttons. Same applies to your Shopify related products section. "Add to cart" or "Shop now" buttons in contrasting colors is a good place to start.
Limit the number of recommendations. Go with 3 to 5 related product variants to avoid overwhelming your customer with options followed by decision fatigue.
Widget placement. Your widget should be placed prominently, ideally somewhere around the main "Add to cart" button.
Responsive design. Often widgets added manually or through poor quality apps shift page layout or break on mobile devices. Avoid that at all costs by checking app descriptions carefully.
Dynamic content. Keep recommendations fresh and relevant with dynamic content that updates and segments in real-time based on the customer's interactions. For example, LimeSpot offers dynamic curated collections with their Premium plan.
Discounts and Promotions. Take this opportunity to stack an item with add-ons that don't sell well and offer them as a bundle with a discount.
Consistent Branding. Some external app widgets will look like they were drawn onto your product page using MS Paint 2003. Maintain visual consistency and encourage clicks with a seamless widget from a reputable app.
Show customer reviews. Displaying positive customer reviews will certainly influence the purchasing decision. Choose star rating to produce full effect without sacrificing too much screen space.
Final thoughts
Shopify related products section is among the best, if not the best, sales strategy for revenue growth. Through upselling and cross-selling you provide a wholesome shopping experience and grow your average order value as well as clean out overstocked products from your inventory in the process.
We learned multiple ways to implement related products sections to your Shopify store, reviewed the best related products apps for many business needs, and learned best practices that will ensure maximum income from product recommendations.
But don't stop here! Keep improving your product visibility and sales strategy.
Curious to read more? Check out these articles: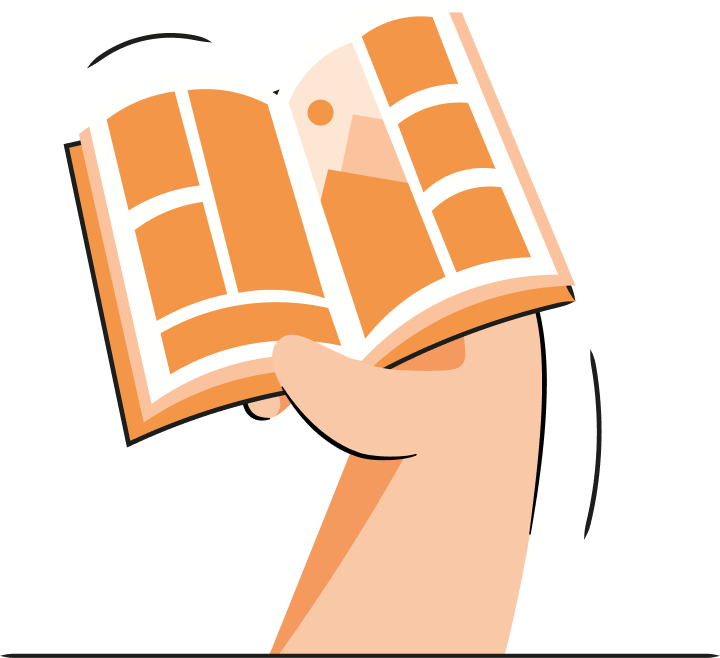 Frequently asked questions
The easiest way to get related products on Shopify is by adding a related products section to your theme in Shopify admin. Follow the step by step walkthrough in our guide for a detailed explanation.
You can hide or delete your related Shopify products section in Shopify admin. Go to "Themes" -> "Customize", then find the product page template. Click "Hide" or "Delete" and your related products section will disappear from your product page.
If you're using the Shopify native section for related products, you can only customize the basics, such as image type and color scheme. For more powerful customization opportunities, you'll need a Shopify app.
Shopify related products section displays the recommendations automatically. To select manually, you will need to implement a complementary product section or install a Shopify app for product recommendations.