By purchasing through the links on this page, you are giving us the opportunity to earn a commission. Your support is greatly appreciated!

Product recommendations are an easy way for anyone to sell more. All you need to do is to offer your visitors the best products to buy! But how can you do so? Luckily, there are plenty of top product recommendation apps for Shopify stores that offer top product suggestions and quizzes on your home page, product page, and even the check-out cart.

In this article, we'll cover a wide variety of Shopify product recommendation apps – and help you choose the most suitable solution for your business.
What are product recommendations?
Product recommendations are an amazing way for you to increase your store's sales. There are plenty of ways to do so – with both Shopify product recommendation apps, as well as some excellent Shopify upsell and cross-sell apps.
Here are the main product recommendation techniques businesses use:
Related items. Also known as "frequently bought together", or "related items", these recommendations offer additional items for your visitors to purchase.
Product upsells. After adding an item to the cart, a visitor may get a suggestion to purchase additional items – often, something that works perfectly with an existing item.
Item quizzes. A simple quiz acts as a personal salesman. By asking questions, it applies predetermined logic and suggests the most suitable item to your visitors.
Category page recommendations. For visitors, browsing through your category pages, you can recommend specific related products to buy.
New arrivals. You can improve your sales by showcasing the latest and hottest products, tailored specifically to your visitors' interests.
Shopify product recommendation apps: our shortlist
Withought further a-do, let's look closer at these and 3 more apps to choose from.
Top-8 product recommendation apps for Shopify stores
1. LimeSpot

LimeSpot is an AI-powered platform that offers your visitors a fully personalized shopping experience. With this app, you can deck out your website with a massive variety of customized collections, products, and content – all to help you make plenty of sales along the way.
This app offers options for upsells, cross-sells, item bundles, related items, "frequently bought together" items, and more. You can place recommendations on your home page, product pages, cart, or even reach out to your buyers after they've completed the purchase. The suggested items will be selected using the logic set by both you and the AI system. Snackfully here uses LimeSpot to offer related items to add to your cart.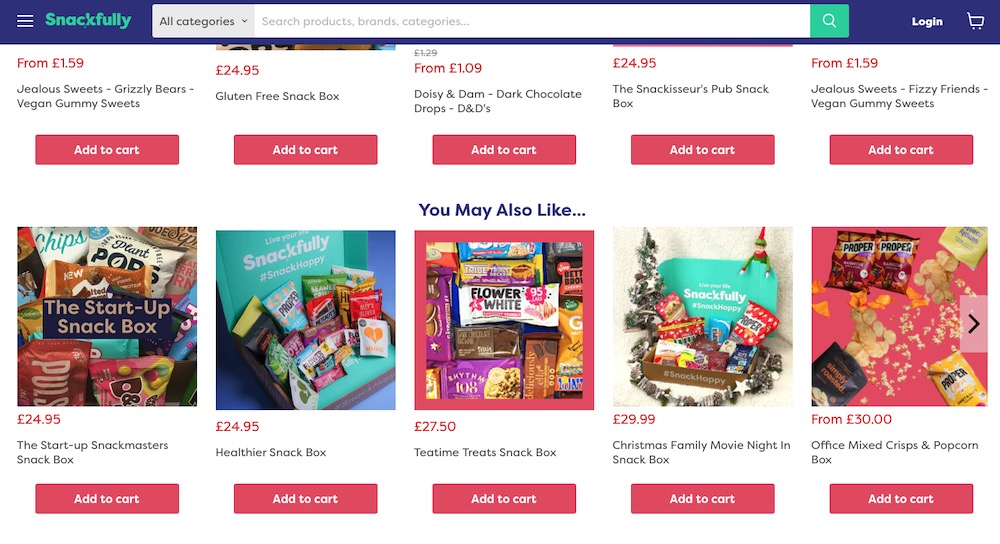 LimeSpot doesn't offer a free plan: instead, there's a 15-day free trial. Premium plans start at $18/month – additional fees will apply depending on your store's additional revenue.
2. Dialogue AI

Dialogue AI is a very powerful product recommendation solution, used by several massive international companies. However, any business can benefit from this platform's automated product recommendation and upsell features.
The powerful personalization engine lets you use the data to offer automated upselling and cross-selling, shoppable stories on Instagram, "shop the look" recommendations, as well as suggestions for trending, related, and frequently bought together products.
A helpful dashboard will let you set up a fully custom shopping experience, letting you place a variety of recommendations at any stage of the purchase.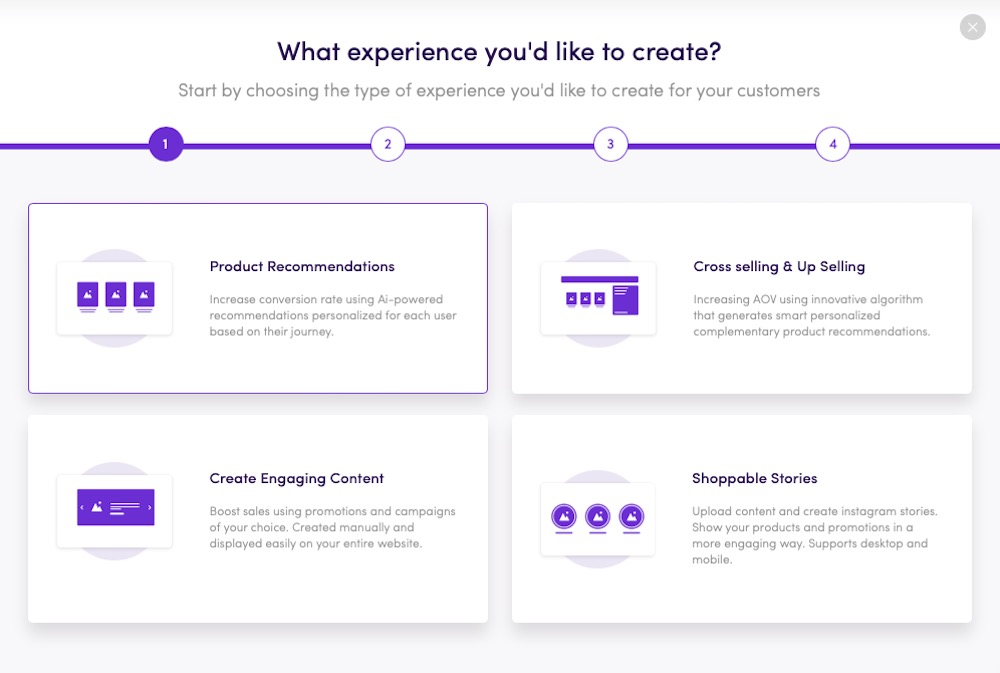 How will you use Dialogue AI, depends entirely on your needs – Nexbelt here uses Dialogue AI for additional upselling in the cart.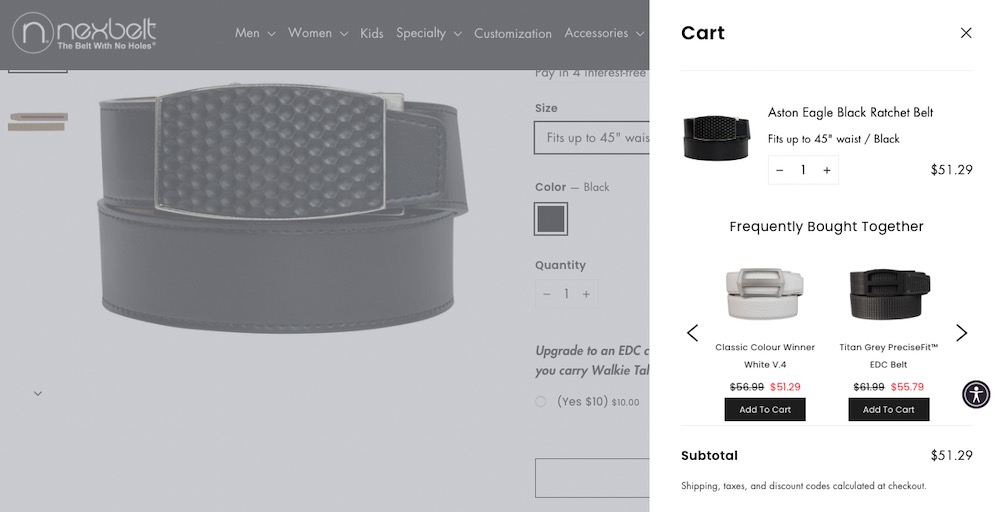 Free Dialogue AI offers limited recommended product assets and includes a watermark. For premium recommendation and sales features, premium plans range between $19 and $399 a month.
3. Shop Quiz

Shop Quiz offers easy-to-build shoppable quizzes, which help your customers make smart and informed purchases. This very simple platform acts as your personal salesman, keeping your visitors engaged, and turning them into customers.
By giving your first-time visitors a personalized product recommendation, Shop Quiz immediately boosts sales. This app will also collect email addresses: increasing your leads, and recovering abandoned carts, as the quiz results are automatically sent into their inboxes. This is an excellent Shopify product recommendation app, that keeps visitors engaged – and increases your sales.
American bodybuilder Mike O'Hearn uses Shop Quiz for his personal course recommendations – and the app works perfectly.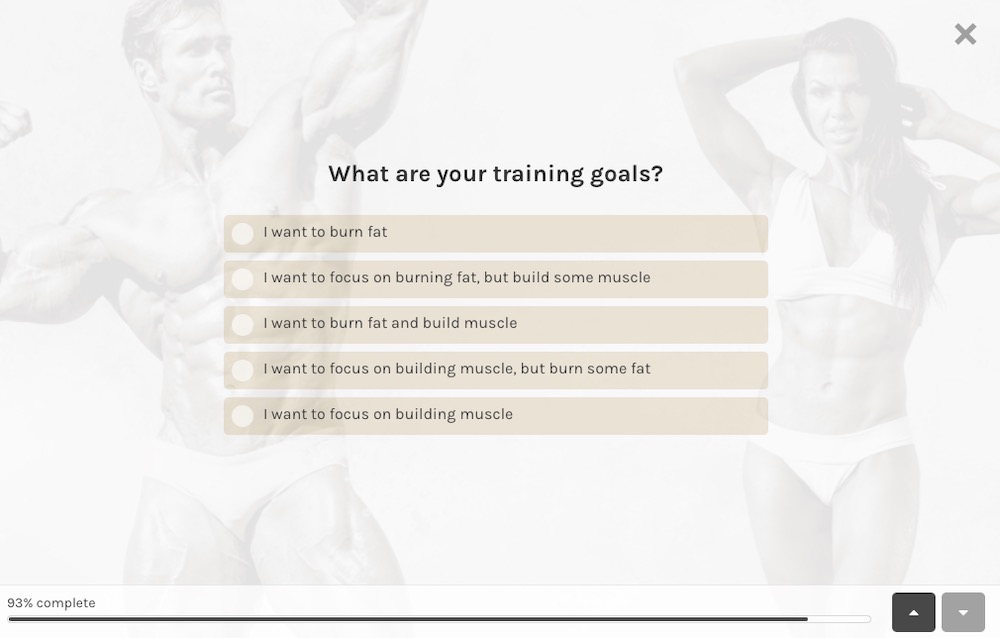 Free Shop Quiz app offers extensive quiz functionality and works with your mailing and analytics apps. However, it's limited to 100 monthly quiz completions. If you wish to get more quiz completions, functionality, and analytics options, there are two premium plans at $39 and $99 month.
4. Wiser

Wiser combines several product recommendation techniques in one excellent, easy-to-use package. Adding recommended products in your website, cart, and website popups, it's a great way to quickly increase your sales.
Wiser's AI engine sees what items your visitors are most interested in, and includes suggestions based on browsing experience. "Frequently bought together" functionality lets you sell in bundles, basing the suggestions on previous shopper purchases. Also, "recommended for you" items in the slide out cart encourage visitors to add additional items to their purchase.
The Leprosy Mission Shop uses Wiser to suggest you interesting items to purchase to help fund their cause: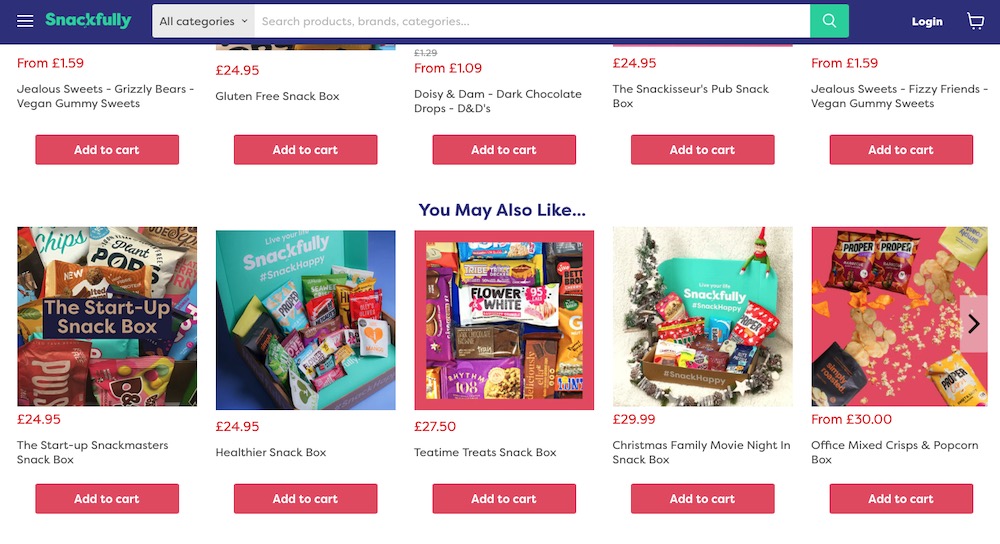 Wiser offers a free version, but it only has basic functionality. To access all sales-generating features, choose a free plan – ranging from $5 to $199 a month.
5. Glood.AI Personalized Recommendations

Glood.AI is a very powerful Shopify product recommendation app, offering not only recommended products on your site – but also including personalized email recommendations, and popups with the best-suited items.
This app uses a sophisticated AI logic to offer the best items for your customers to buy. However, there's also an excellent interface to match, which lets you override the suggestions and create custom rules. This very same interface also includes a visual editor. This way, you can choose where the items are displayed, and how everything looks on your site.
Lambretta uses Glood.AI to offer matching accessories to your watch purchase: helping to increase the sales by offering suitable items.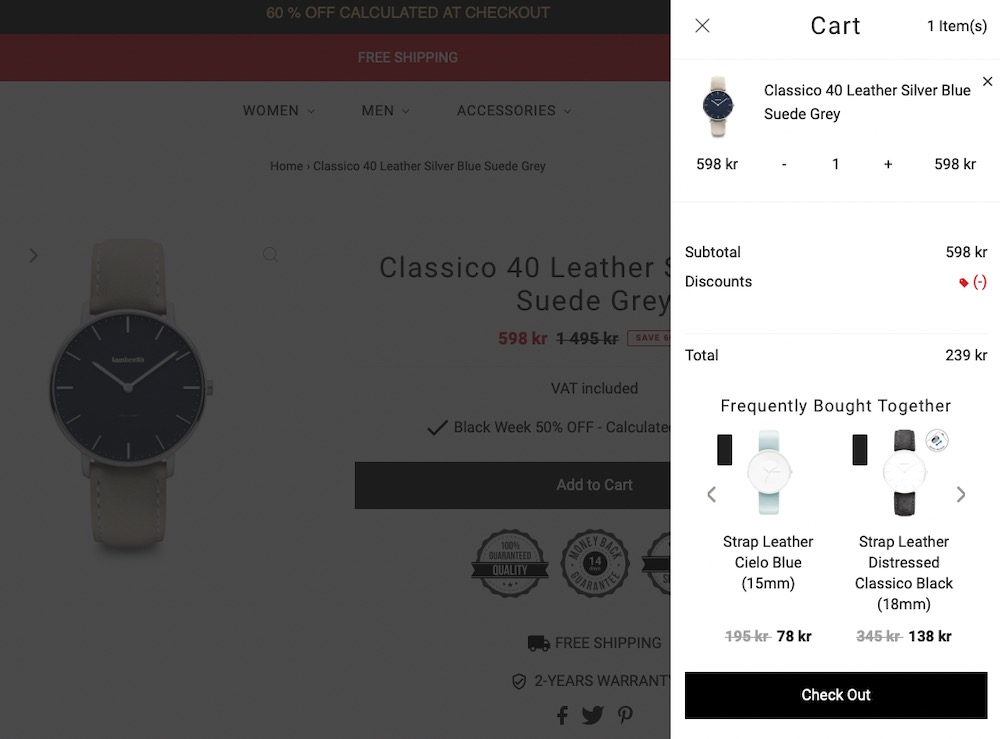 Glood.AI offers a free plan, but it focuses only on manually selected product suggestions. For personalized recommendations, similar products, and "bought together" options, premium plans range between $19.99 and $299.99 a month.
6. Candy Rack

Candy Rack offers a super easy one-click upsell option. Easy to implement in your site, this app is a great way to recommend products to your users and increase your sales.
This app offers one-click and AI-powered smart auto-upsell options, based on your existing inventory, product descriptions, and purchase history. There is also an option to include additional paid services – so you can easily include extended warranty, gift packaging, and more. Everything works well on desktop and mobile interfaces, so you won't miss out on shoppers using any device.
Slidely uses Candy Rack to offer additional discounted products after you add something in the cart – making it really hard to pass on an excellent deal.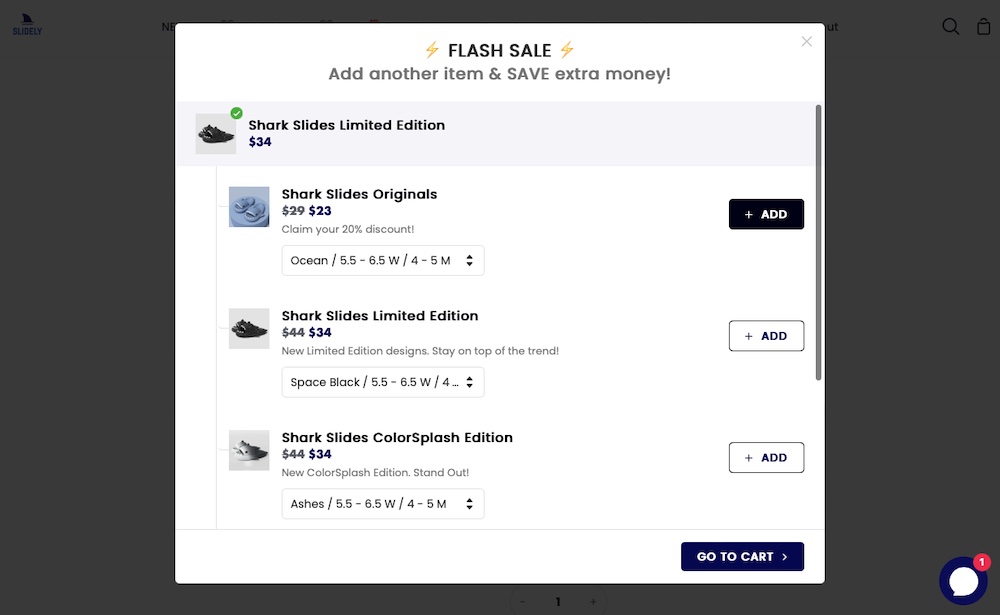 Candy Rack offers a 14-day free trial: then, premium plans will range from $29.99 to $199.99 a month, depending on your existing Shopify plan.
7. Recomatic

Recomatic improves and simplifies your store's browsing experience, by offering personalized recommendations. The app analyzes your existing user data and product base, and suggests related items much better than Shopify's own "Related Products" section.
However, much like Shopify's section, Recomatic blends in perfectly with your existing store theme, making the setup process completely seamless. Plus, all the information on the extra money that you've made is available on a simple custom dashboard.
Recomatic is used by WallFillers – and this app does a great job recommending similar-styled paintings and prints, suggesting you art similar to the one you clicked on.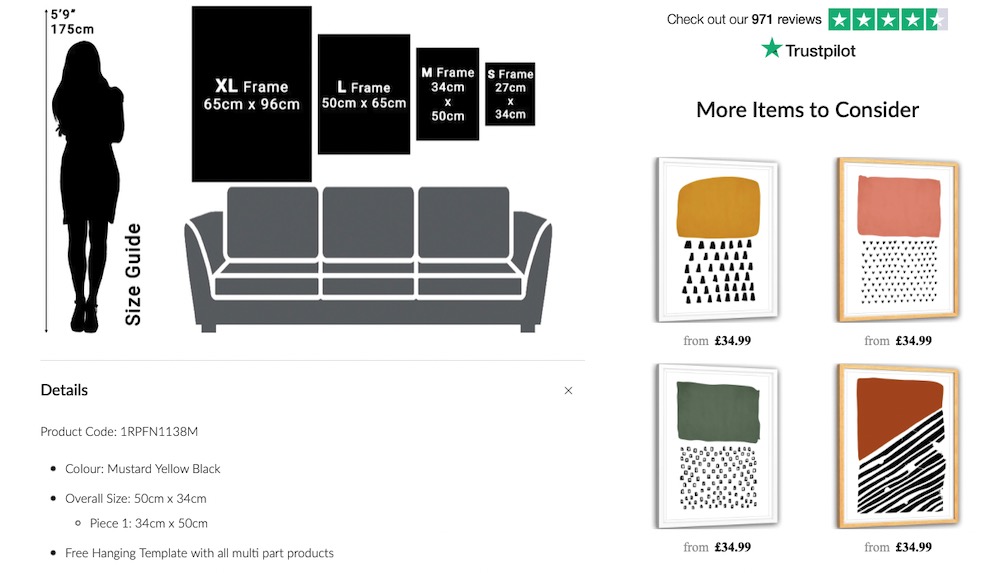 Recomatic offers a 14-day free trial, and the premium plan comes at $69/month, plus $230/month for Shopify Plus accounts, and offer reduced fees for multiple store setups.
8. Presidio Quiz Kit

Presidio Quiz Kit is a powerful product recommendations solution – offering highly-customizable product quizzes for your customers. Offering several pre-made quiz templates and custom result page layouts, it's an easy way to engage with your visitors and help increase your sales.
Presidio Quiz Kit helps you collect your visitors' email address, helping turn them into leads. Full integration with Omnisend, Klaviyo, MailChimp allows you to integrate your data into an existing workflow. Personalized recommendations can also be placed just about anywhere on your site. Plus, full CSS and JS controls let you personalize these quizzes even further – making the quizzes completely custom.
The Golden Secrets uses Presidio Quiz Kit to offer the best skincare options: and even gives a little coupon code at the end to increase the sales even more.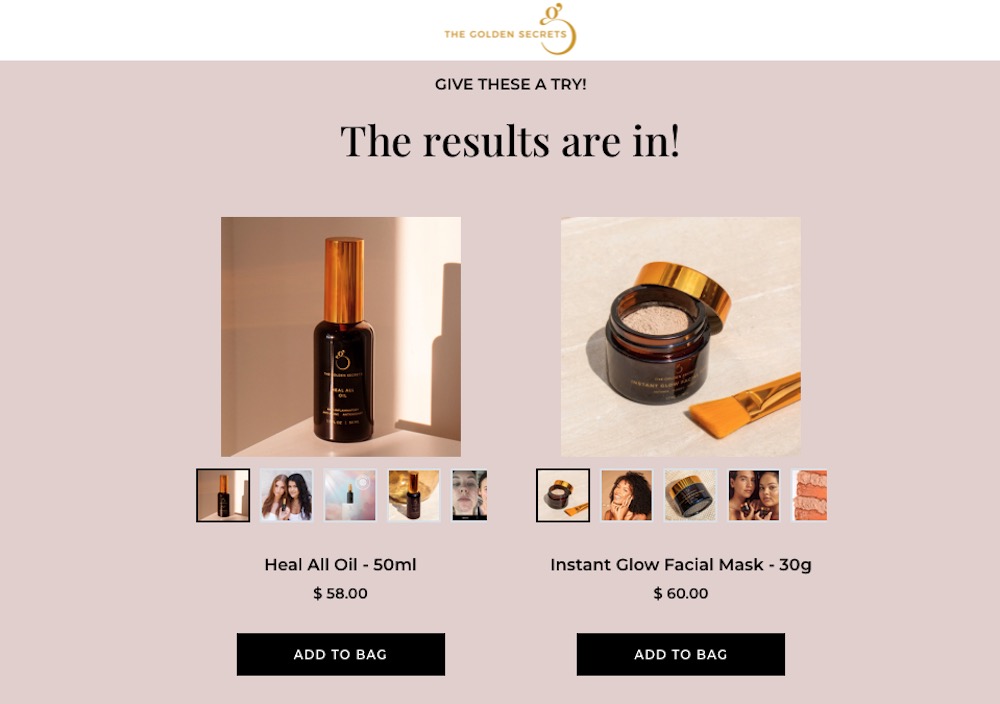 How to choose the best product recommendation app for Shopify
Product recommendations is a very broad concept – and there are plenty of apps offering their own spin on it. If you're looking to choose the best product recommendation app for Shopify, here's what you should consider before buying:
Are my items "personal"? If you're offering something that's right for a small audience – choose an app with a quiz functionality. This way, you will not only form a connection with your visitor, but also get plenty of email leads for further communication.
How much can I upsell? If you can offer additional accessories, interesting small additions, or gift wrapping, look for an app that focuses on upsells in the cart, and post purchase.
What can I offer for impulse purchases? Smart AI functionality apps can offer interesting related items that will focus on your customer's needs and prior store browsing history. Also look for apps that provide "frequently bought together" options for bundles.
Does Shopify have in-built product recommendation functionality?
Shopify offers built-in product recommendation functionality. Here's how to access it on your Shopify 2.0 store theme.
1. Go to your Shopify admin, and choose Online Store -> Themes.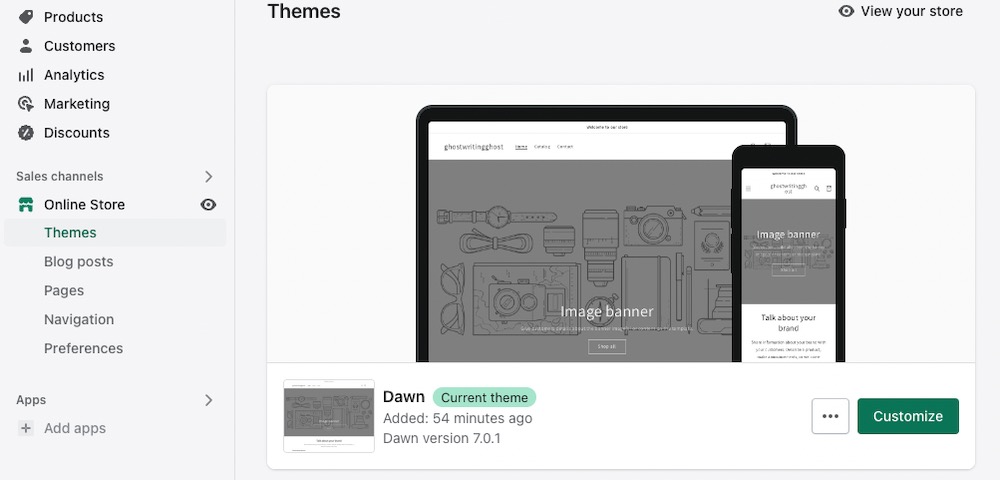 2. Click Customize on your theme to edit it.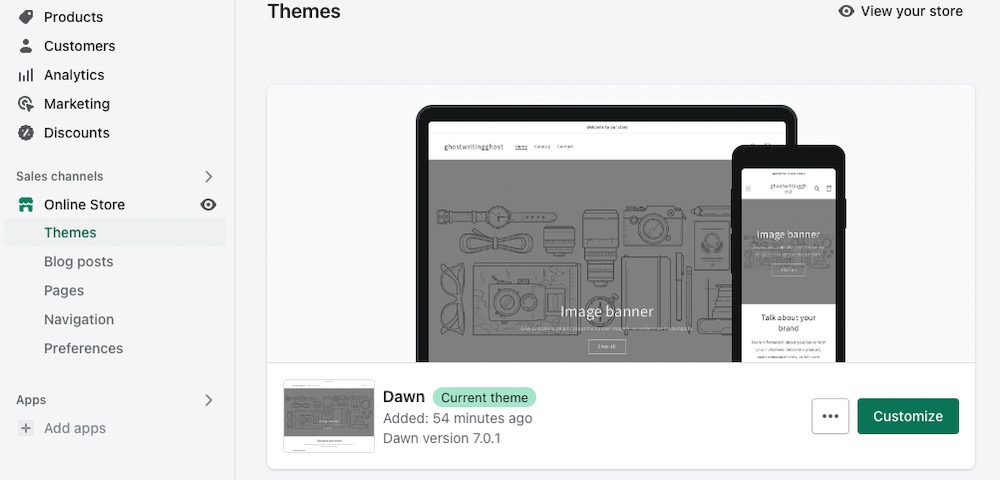 3. At the drop-down menu at the top, select Products and then choose Default product to load your product page in the editor.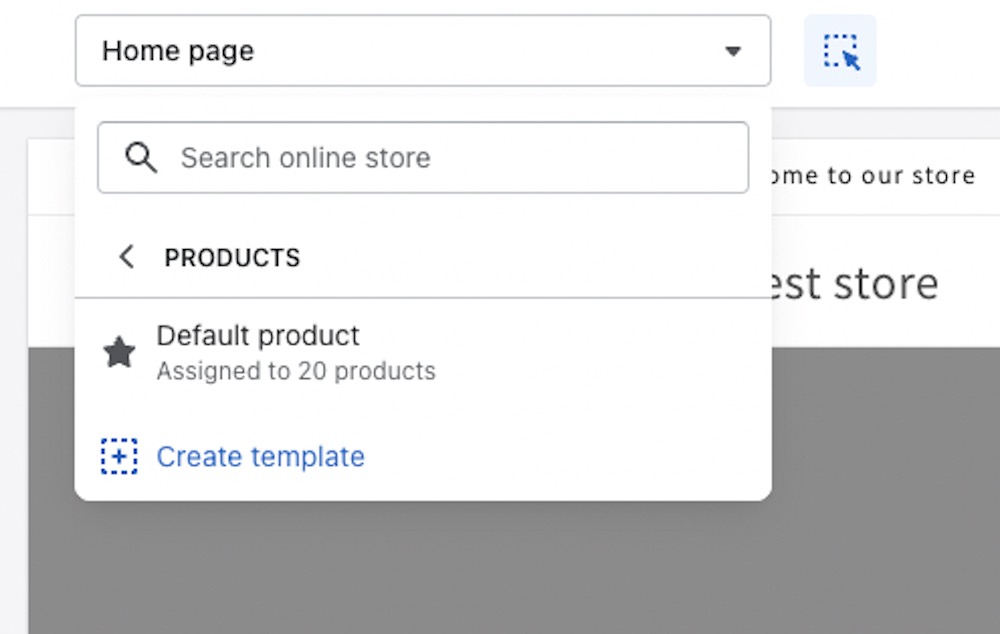 4. If your Shopify 2.0 theme has a built-in Product Recommendation section, scroll down on the side menu and locate the section.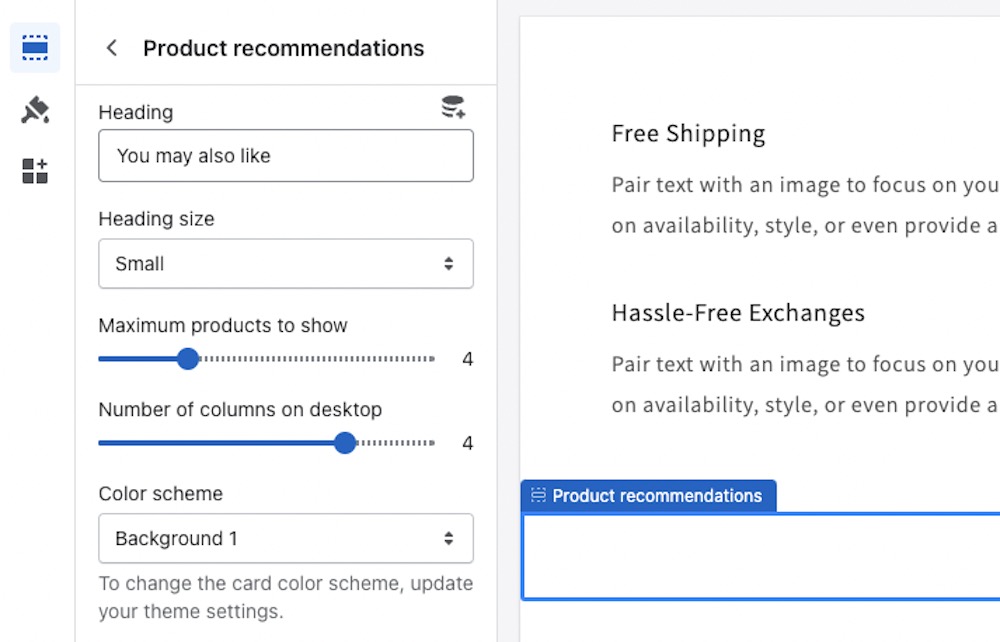 5. If your theme doesn't include it, just choose to add a new section – you will find the same Product recommendations section in the list.
Should you use a recommendation app?
Shopify includes a recommendation functionality, however, it's significantly more limited than all the best Shopify product recommendation apps. Here are some of the key differences:
Better product display. Shopify's functionality only shows random products that come from the same collection. Third-party apps apply advanced logic to showcase the best possible options to your visitors.
Advanced analytics and testing. Top product recommendations apps let you see the difference your product recommendations make – and allow you to make informed business decisions, as well as test different approaches.
Improved functionality. Third-party apps let you run quizzes, get email leads, reach your visitors via pop-ups, suggest upsell options in the cart, and much more. They're fully featured marketing platforms that maximize your sales at every opportunity.
So, find the best Shopify product recommendation app – and go beyond what Shopify offers right out of the box. With the right platform, you can easily improve your sales and grow your business. Best of luck out there – keep on recommending, and keep on selling!
Looking for more apps? Check out these lists:
Frequently asked questions
Product recommendations are designed to increase sales. By finding and offering additional items for your store visitors, you will not only get more new clients, but will also encourage existing buyers to purchase additional items.
Your recommended products should be related to the needs of the customers, and relate to the most frequently bought items. Best Shopify product recommendation apps use customer browsing experience and AI logic to offer the most suitable product suggestions.
Using Shopify product recommendations apps, you can show product recommendations just about anywhere: home page, product pages, collections, as well as on the item cart and even website pop-ups.