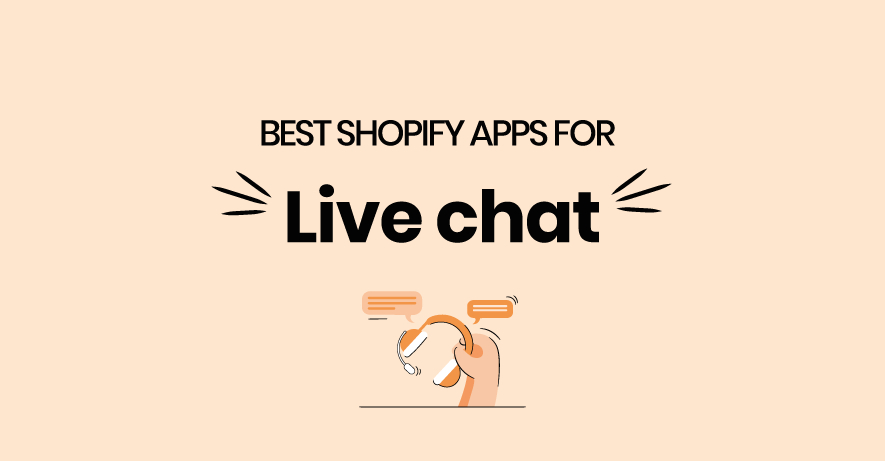 By purchasing through the links on this page, you are giving us the opportunity to earn a commission. Your support is greatly appreciated!

A live chat for your Shopify store is a necessary step when growing business. With an increasing demand, customers will need help – whether it's shipping, website issues, or questions about the products you're selling.

As with any other Shopify app for your store, you need to integrate a good live chat app. And since there are tons of live chat apps available, we're here to make your decision easier.

In this article, you'll find the 10 best live chat apps for Shopify, and also more information on how to choose an app correctly, the benefits of having one, and how to add it to your website step by step.
Top 10 live chat apps for Shopify in 2022: overview
Here's the shortlist of the 5 best Shopify live chat apps:
Tidio Live Chat – overall the best choice for a Shopify live chat
Willdesk Live Chat – a completely free live chat app for Shopify
Facebook Messenger Live Chat – a convenient live chat option for Shopify
Flowio Live Chat – all-in-one solution for helping customers via live chat and more
Chatra Live Chat – a great Shopify live chat with app, desktop and mobile integrations
Not many visitors to chat with? Improve your Shopify store's SEO performance and speed with one app
Install TinyIMG now
Now that you know the top 5, let's get into all ten apps and review them all in detail.
Tidio Live Chat– all necessary features in one Shopify live chat app

Tidio helps you solve customer problems with live chat, chatbots, and integrated Messenger and Instagram live chats.
Chatbots, real-time customer monitoring, all-device support
From $19/month (free plan available)
With Tidio, you can combine all communication channels (i.e., Messenger, email, Instagram) into one place for convenient customer service. You also have an option to "employ" customer service chatbots, so your customers can solve issues even when you're asleep or away.
If you went for a free plan, you'd get these features:
3 chat operators
A chatbot for up to 100 visitors per month
A live visitors list
A desktop and mobile app.
However, with paid plans you get live typing previews, so you can reply to customers quicker, visitor's profile notes, unlimited chatbots, and more.
What do Tidio reviews say?
With overwhelmingly positive reviews, Tidio users praise easy integration, great features, and helpful customer support.
Willdesk Live Chat – a free live chat app for your Shopify store

Willdesk helps you manage all customer support needs in one place.
4 plans, from Free to $9.99
With this Shopify app, you'll be able to see all customer messages from email, live chat, and Whatsapp in one dashboard. There's also a powerful order tracking widget that allows you to save time not responding to every question about shipping.
The app is completely free, so you get all the needed features at once. It can be a great start to try out live chats for your Shopify store. There's also no chatbot option, so if you want one, better go for a different app.
What do Willdesk reviews say?
Customers are impressed with customer support that goes above and beyond to help. They also praise the ease of use and the app's features.
Facebook Messenger Live Chat – ease-of-use and smart marketing features

Real-time conversations and live customer support can be easily achieved with a Messenger live chat plugin for your Shopify store.
Abandoned cart recovery, order update widgets, shipping updates in Messenger
$9.99/month (free plan available)
This live chat app for Shopify offers more than just an opportunity to solve customers' problems in real-time. With this app, you can also automatically remind visitors about their unfinished orders and send order tracking updates via a Messenger live chat.
The app has a free version with some necessary features, like live Messenger chat, customizable chat bubble, and redirect Instagram chat.
However, for $9.99/month you also get to set days/time when the chat would be visible for shop visitors and use the abandoned cart feature that could help with boosting sales.
What do Facebook Messenger Live Chat reviews say?
Reviewers seem to be happy with smooth app integration and simplicity. They also offer a lot of praise for the app's customer support.
Flowio Live Chat – all-in-one Shopify live chat app with an array of features

Flowio combines all communication channels into one place to boost sales and decrease workload.
Live chat mobile version, notifications about new conversations, automation
$19/month (free plan available)
Flowio offers tons of useful features to increase sales and build trust, and that includes a live chat. You can get all notifications about new visitors' messages to your email and respond on the go from the phone. There's also a live chat automation feature that reminds visitors about unfinished purchases.
You can get this Shopify live chat app for free or pay $19/month for more advanced features. For example, the free version offers basic automation and basic live chat, and the paid version has chat & email support. The paid version is more tailored to bigger sites with around 10,000 impressions a month.
What do Flowio reviews say?
People praise the user interface and the ease of use. Reviewers also pay compliments to the helpful customer support team.
Chatra Live Chat – feature-heavy live chat app for Shopify

Chatra offers a lot of useful features that will help you solve customers' problems quicker and more effectively.
Real-time visitor list, group chats, live typing insights
From $21/month (free plan available)
Chatra can help you reduce cart abandonment rate by contacting customers who haven't finished their orders. With this live chat app, you also get these features:
Facebook Messenger and Instagram chat integrations
Live typing insights
Group chats between agents
Conversation history
While this live chat app offers a free plan, it's pretty limited. They say you get "most features", but it's a bit unclear what exactly you get. With paid versions, however, you can have chatbots, Instagram and Facebook integrations, typing insights, and other marketing-friendly features.
What do Chatra reviews say?
The reviews are generally positive, customers say it's easy to set up and use. When it comes to more negative reviews, some say the free version could use more features.
Gorgias Live Chat – manage all live chats and incoming tickets in one platform

Gorgias is a great customer support platform for ecommerce businesses.
All-in-one support platform, repetitive task automation
From $60/month (7-day free trial available)
Gorgias allows you to centralize customer tickets in one convenient platform. That means you can see messages from Facebook, Instagram, Email, live chats, SMS, and even calls in one place.
One of the most useful features this Shopify live chat app offers is automating repetitive answers to questions like "Where is my order?". This helps cut customer support time in half and increase conversions and revenue.
The app offers a 7-day free trial, but they don't specify what features you get with it. Paid plans start at $60/month with unlimited customer support agents, 300 tickets per month, live chat, and customer service.
What do Gorgias reviews say?
Reviewers are happy with Gorgias' ticketing system, automation, and customer support.
Reamaze Live Chat – a powerful Shopify chat support app for all businesses

Reamaze offers customer service, chatbot, live chat, ticketing, and FAQ platform.
Centralize live chats, chatbot, access to customers' Shopify data
From $29/month (14-day free trial available)
Reamaze gives you an opportunity to set up your Shopify store chat for customers, and manage multiple stores easily in one place. It's a powerful customer service help desk that allows you not only to chat, but also to integrate email, social media, SMS, VOIP, and Whatsapp.
This Shopify chat app offers a 14-day free trial, but there are no specifics on what features you get with it.
Paid plans start from $29/month with a bundle of features:
Unlimited email boxes
Social integrations
Live chat and chatbots
Trainable intents
Workflows and macros
FAQ
1000 free push notifications
What do Reamaze reviews say?
Reviewers praise automation and workflow options. They're also pretty happy with the pricing model, fast setup, and professional look.
Bestchat Live Chat – a simple and fast way to connect with store visitors

Bestchat describes itself as the efficient bridge between you and your customers.
Privacy protector, flexibility & customization, reduced customer waiting time
Bestchat allows Shopify store visitors to reach you from any device or messaging platform, be it social media, SMS, or others. With this Shopify live chat app, you can measure how fast your agents reply to your site visitors and reduce that time to make sure people stay on your website.
You can integrate Bestchat live chat widget on any website and device. The app also allows for some customization to fit your brand style.
What do Bestchat reviews say?
People are happy with unlimited chats and the mobile app. Some reviewers also mention that it would be great if the app supported RTL.
Conzia Live Chat – connect with customers in real-time with a live chat app for Shopify

Conzia offers easy customer support solutions via live chat, Facebook Messenger, and Whatsapp.
Facebook Messenger integration, unlimited free version, centralized platform
From $4.99/month (Free plan available)
Conzia gives you an opportunity to have a branded live chat widget or a Facebook Messenger widget. Either way, you'll be able to solve your customers' problems easily and efficiently.
If you decide to go for the free version of this Shopify live chat app, you'll be able to use it for an unlimited amount of time. The free plan offers such features as:
Live chats
Messenger integration
Customized widgets
Email notifications
However, the free plan only fits smaller stores as it can handle just up to 100 visitors per month. If you want more advanced features, go for paid plans. Considering other options on this list, Conzia is one of the cheapest – it starts at only $4.99/month.
What do Conzia reviews say?
Conzia has overwhelmingly positive reviews as customers pay compliments to helpful customer support agents, and are happy with increased revenue.
Socialreply Live Chat – integrate Messenger to boost sales via live chats

Socialreply makes it easy for you to create orders for your store during a live chat with a visitor.
Place order in chat, centralized platform, saved message templates
With Socialreply, you can manage all your live chats from one place. You can also place a customer's order and send all relevant payment information directly to them while the conversation is still going.
This live chat app syncs your Shopify store with as many Facebook accounts as you need. This way, you can solve problems, reply to messages and comments, as well as create orders in one place. You won't need to go back and forth between pages and platforms.
What do Socialreply reviews say?
Reviewers are mostly happy with helpful customer support agents and mention that the app is easy to use and has plenty of features.
What is a live chat app?
A live chat app is a platform that helps retailers chat with online shop visitors in real-time. This way, they can solve problems and answer questions related to the order, products on the site, or the company.
For example, Shopify offers a lot of real-time customer support apps with varying features and pricing models, so that all business owners can find something that fits their store.
A live chat usually comes in a widget form and is displayed in a corner of your website. Depending on what kind of an app you install, the chat can pop up automatically, you can have automatic hello messages, and even have a chat bot answering most frequently asked questions using AI.
You can also use live chats to remind potential customers about unfinished orders and abandoned carts.
Generally, a live chat works as real-time customer support, helping e-commerce companies keep visitors on the website longer, increase sales, and build trust.
How to choose the best live chat app for Shopify
You might be asking, what should you look for in order to choose the best live chat app for Shopify. Here are our criteria:
Features. It's crucial to decide on what features are necessary for you before investing in the app. There are live chats that offer integration with Facebook Messenger and other messaging platforms, great AI chat bot systems, real-time visitor monitoring, live typing display, abandoned cart recovery, and many more.
Mobile accessibility. People shop on their phones a lot, so make sure your chosen app is mobile-friendly.
Free trial. Trying out an app hands-on is crucial – and it's easier to do that if you don't have to pay for an app immediately.
Pricing. Decide on what portion of the budget you are willing to allocate to a live chat app. What works for smaller businesses will not necessarily work for bigger businesses, and vice versa.
Reviews. Customers are always brutally honest, so make sure to read reviews. Pro tip: read one star-three star reviews as well, so you can see what issues people are having with an app, and if the developers responded to them.
All in all, make sure to go through the app descriptions, videos, and reviews carefully, so you can get the best live chat app for your Shopify store.
Why do I need a live chat in Shopify?
Do you really need a live chat app for your Shopify store? We say yes, here's why:
It builds trust with your audience. When they see someone on the other end replying and communicating with them, visitors will be more likely to trust your brand.
A live chat helps you increase sales. If you leave unhappy customers hanging, they will buy from your competitor. If they have questions they can't find answers to, they will exit and buy from your competitor. But if they have an agent helping them solve issues, they'll be more likely to stay – and buy!
It allows visitors to stay on your site longer. When visitors linger on your site, click around and interact, it sends signals to search engine bots that this site is legitimate. Therefore, it increases your chances to rank higher in SERPs.
A live chat app can help increase conversions. If a potential customer leaves your site after filling their cart – that's obviously bad for your business. However, a lot of live chat apps offer features that remind visitors about their unfinished orders. This way, you have a better chance to boost the conversion rate.
There are a lot of benefits to a Shopify live chat app. Even if you get a free version, it'll still be better than nothing!
How to add a live chat to Shopify?
Let's go through the process of adding a live chat app to your Shopify store. Spoiler: it's very easy!
1. Go to your Shopify dashboard and click on Apps.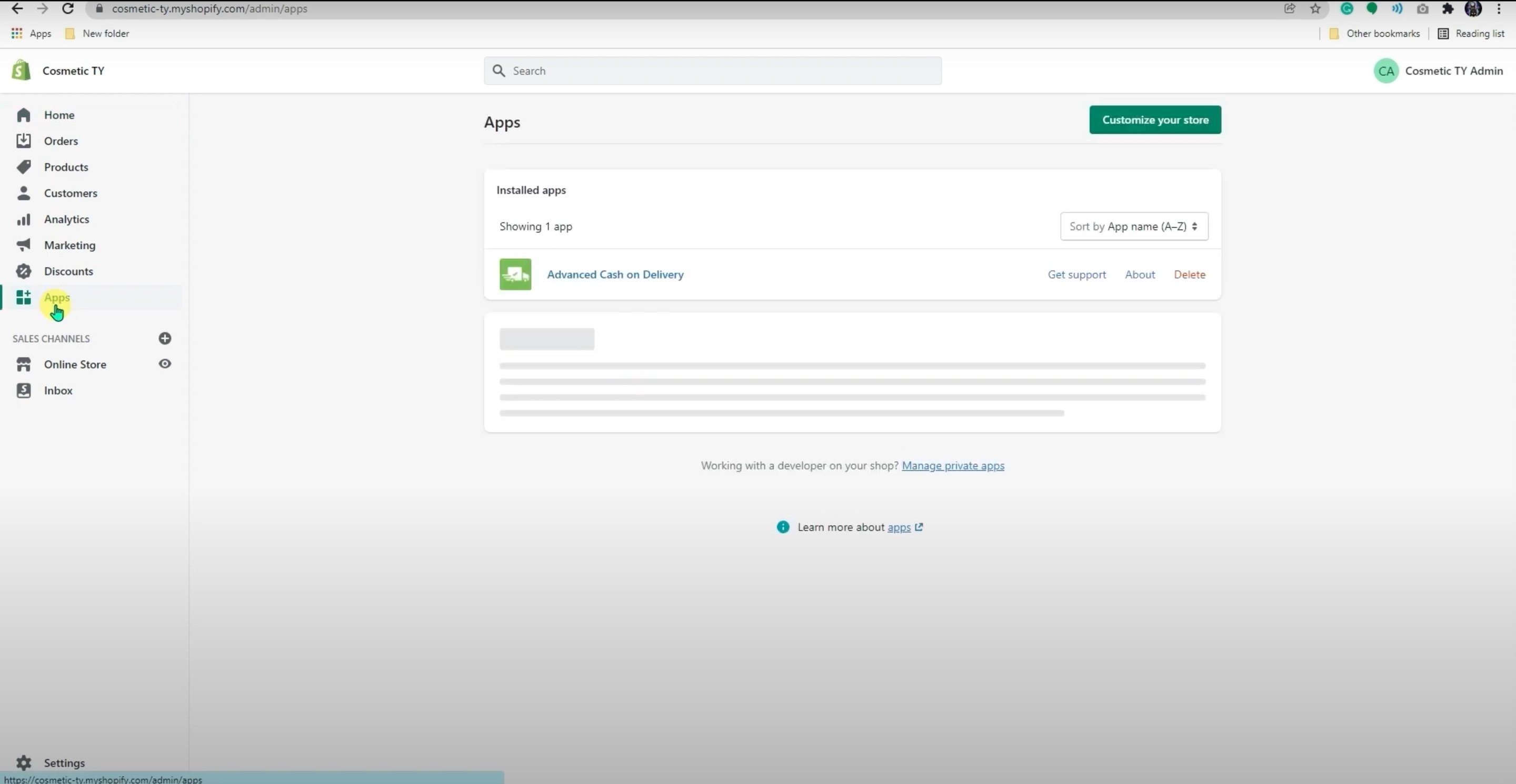 2. Click Customize your store.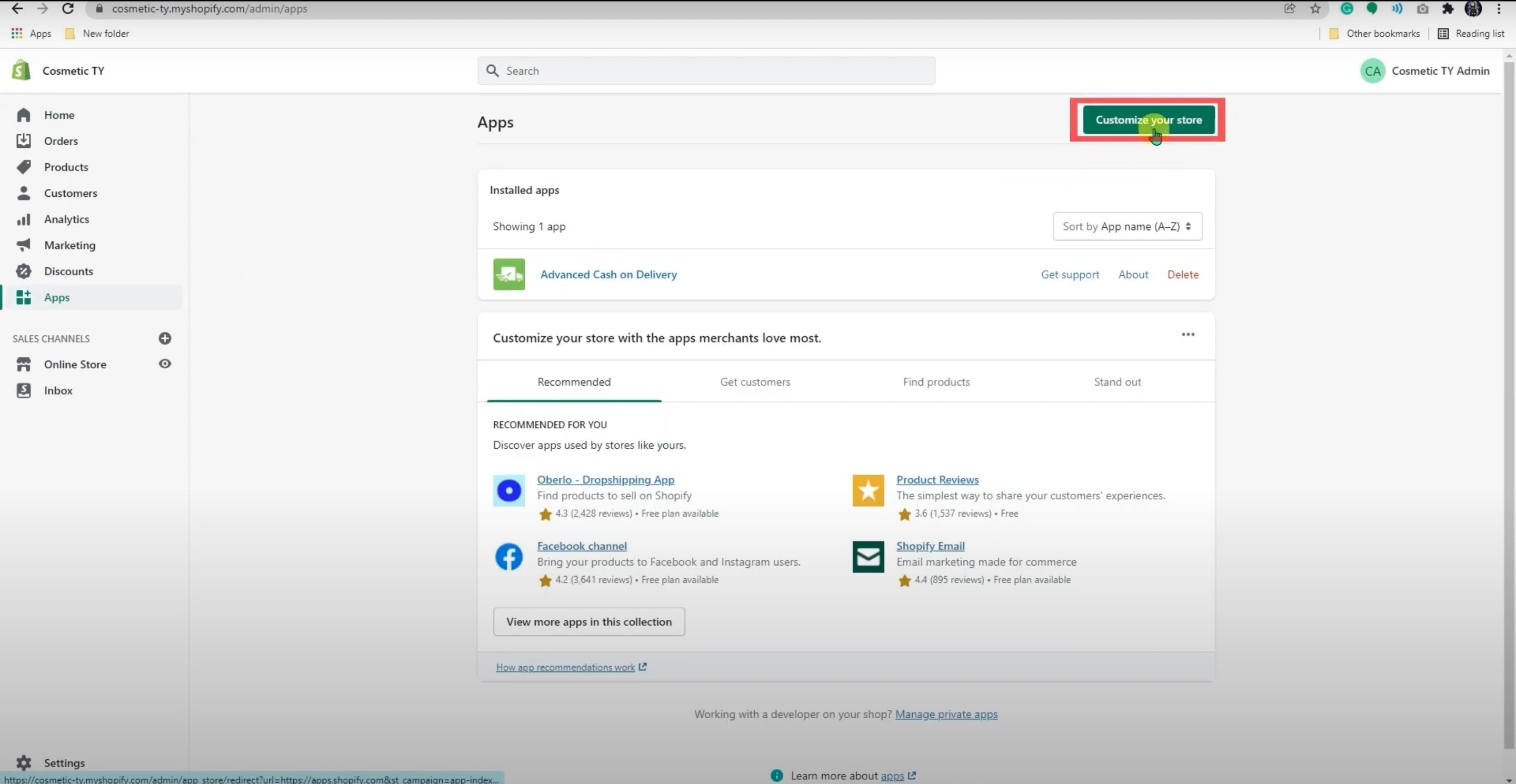 3. Go to Shopify App Store and, using the search bar, search for the Tidio Live Chat.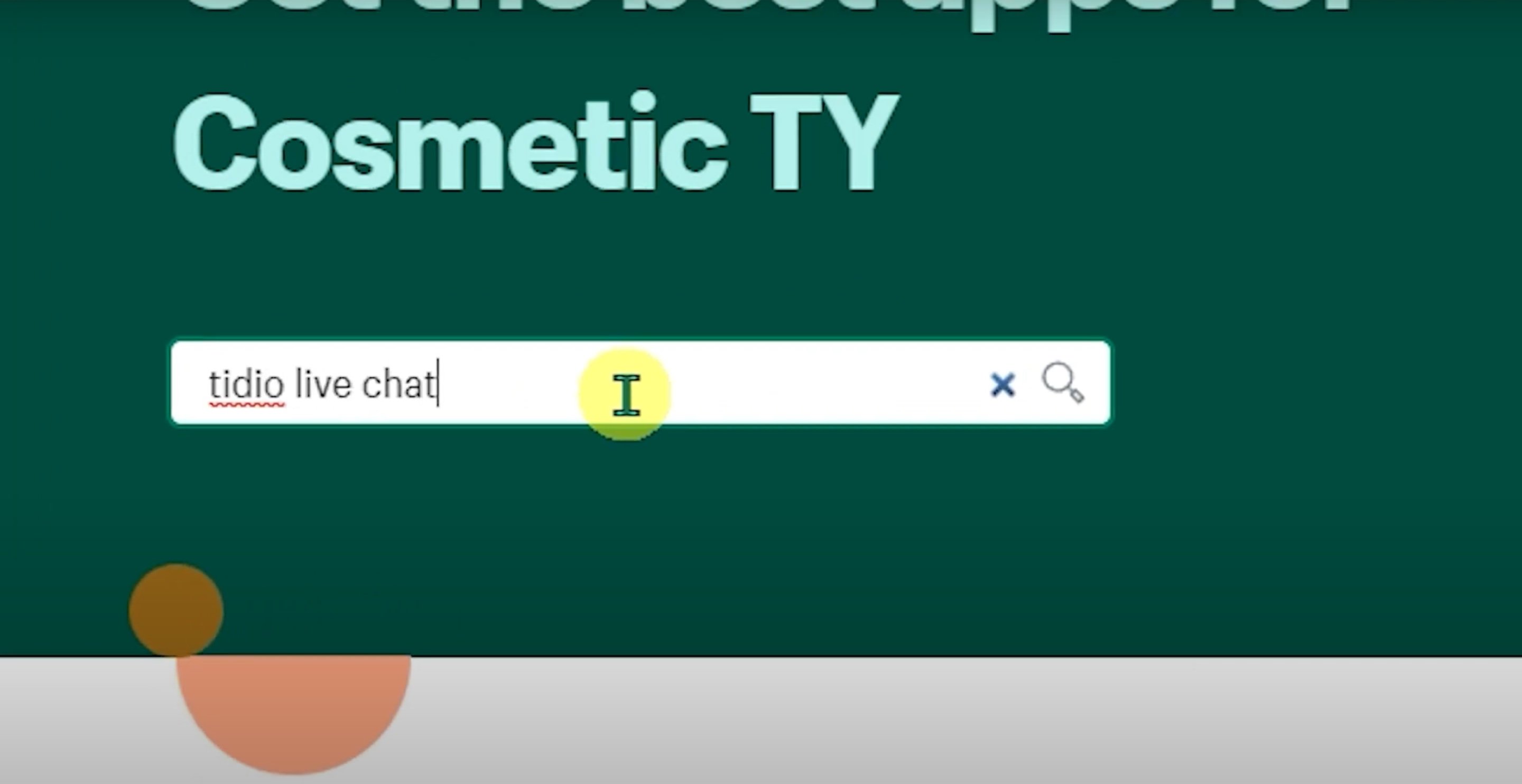 4. Open the app page and click Add app.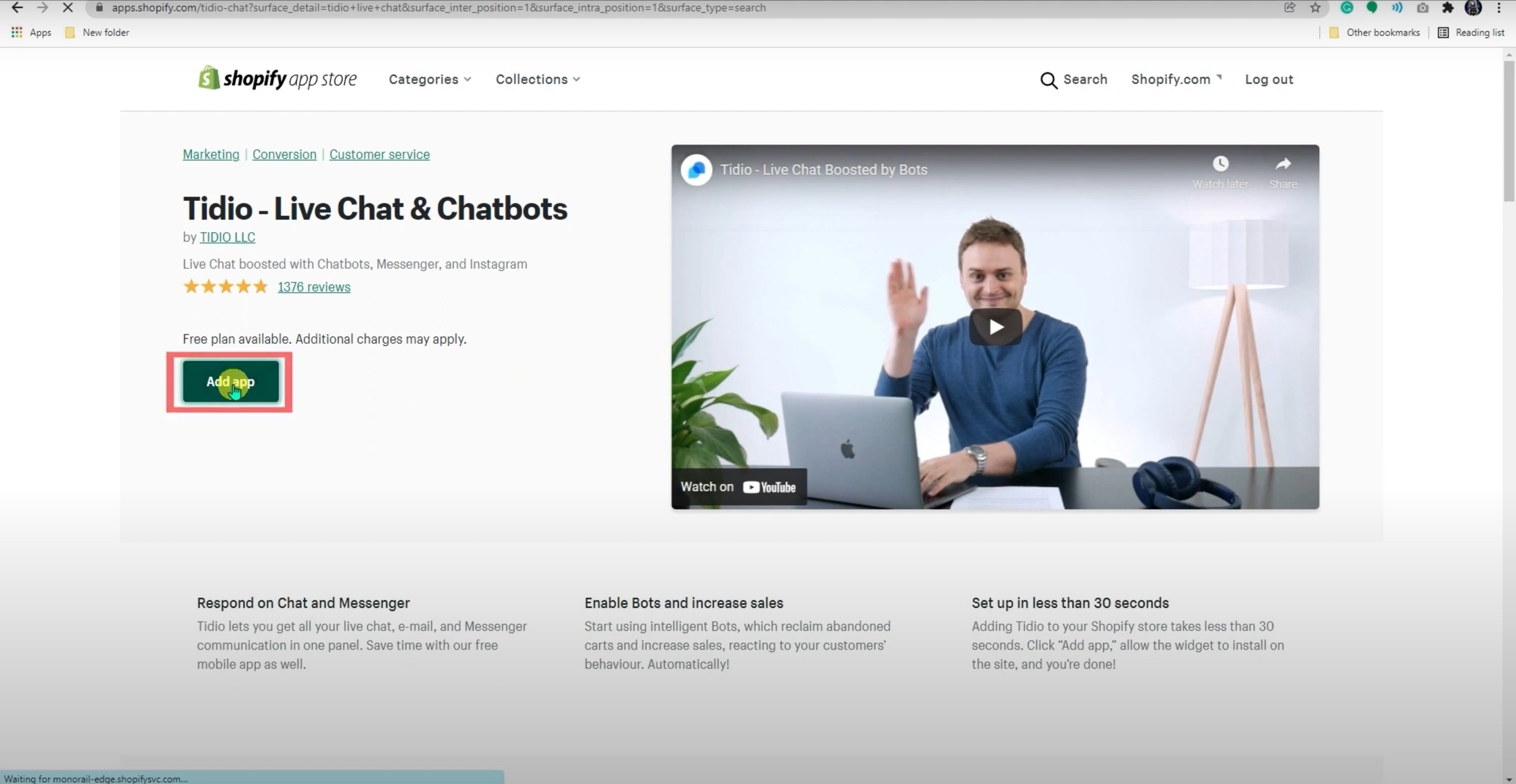 5. In your Shopify dashboard, click Install app.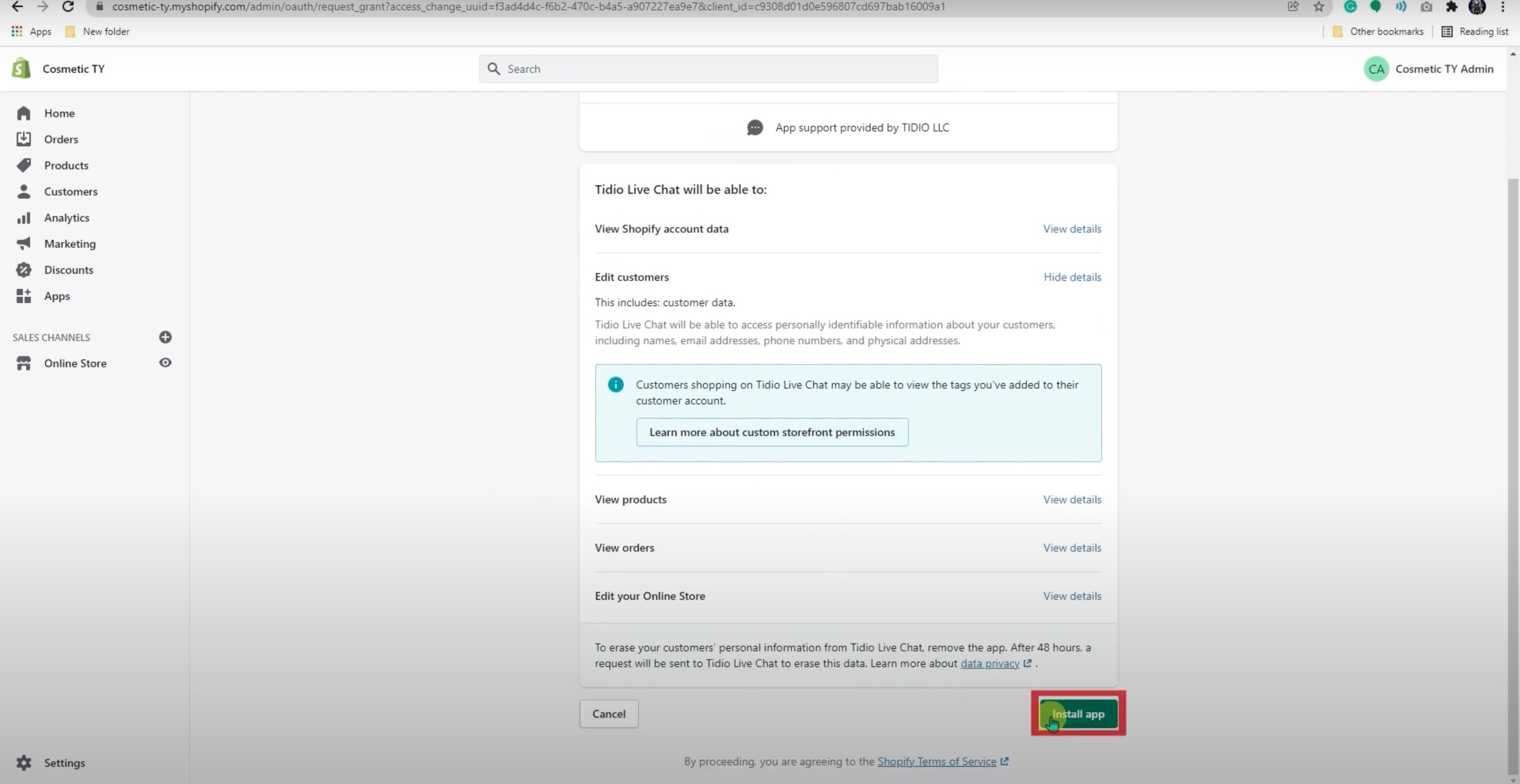 6. Configure your live chat by adding a name, choosing the chat color, avatar, and selecting language. Once you're happy with it, click Continue.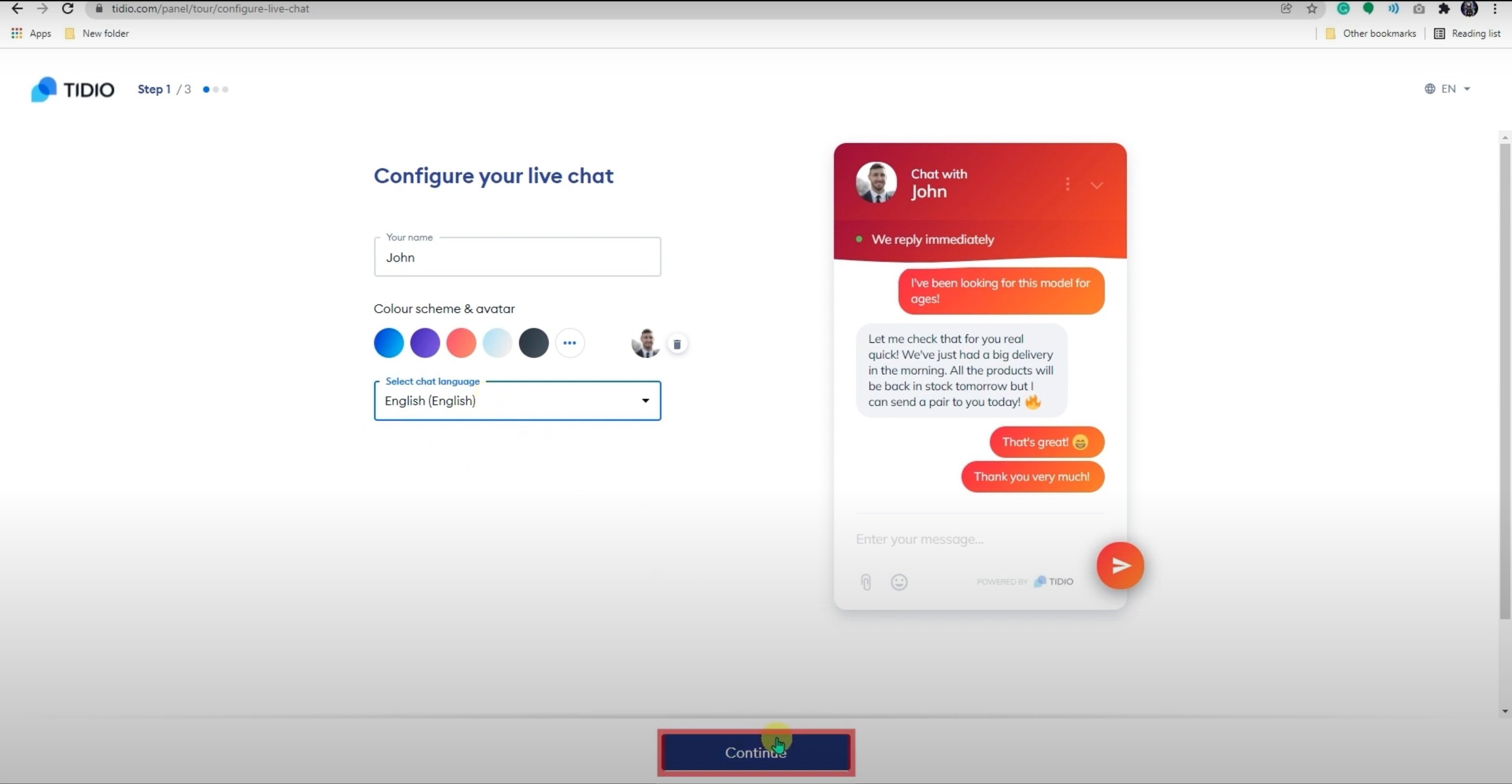 7. Fill in other details and select Live chat on the right. Once everything's ready, click Continue.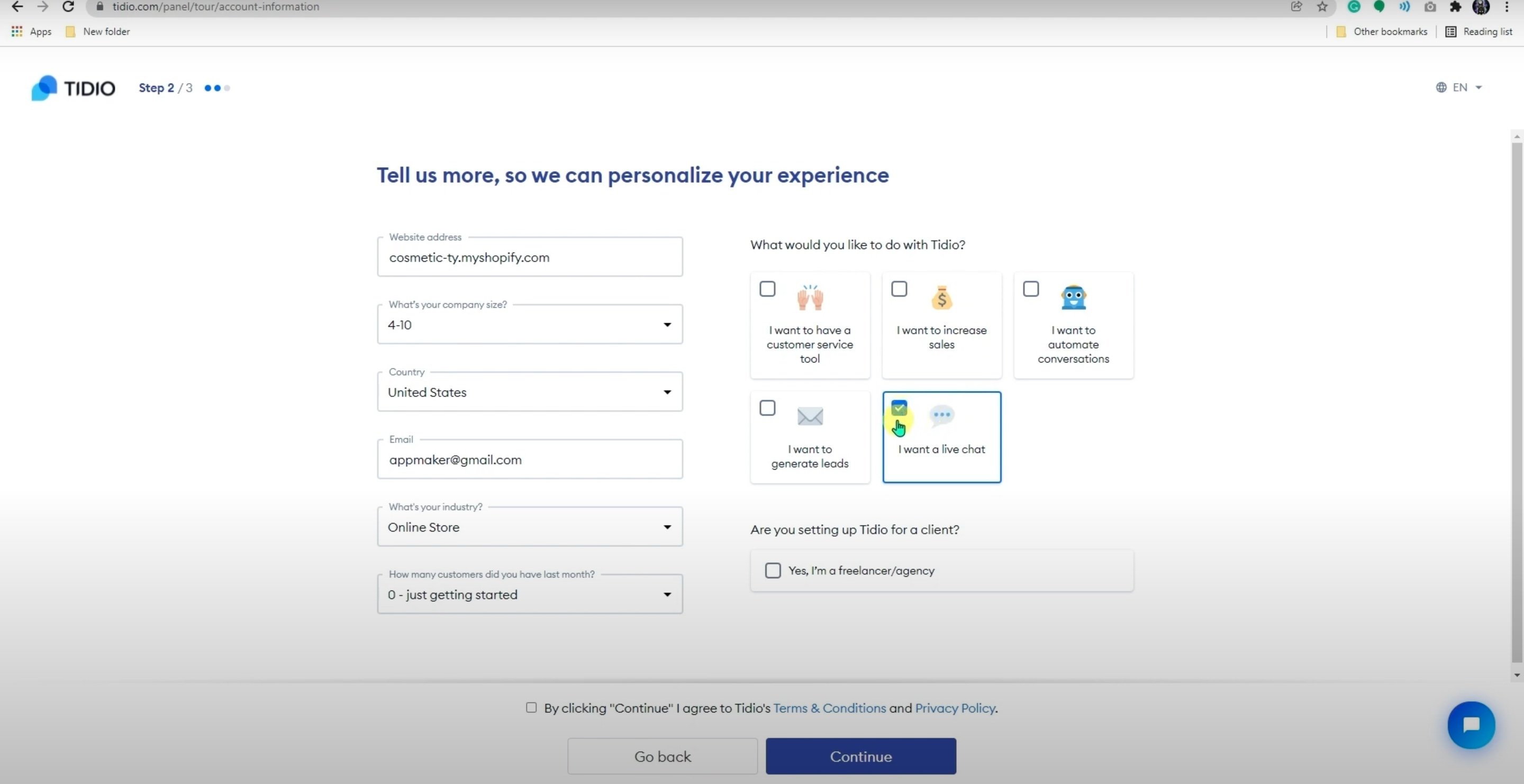 8. Set up your first chatbox, then click Continue.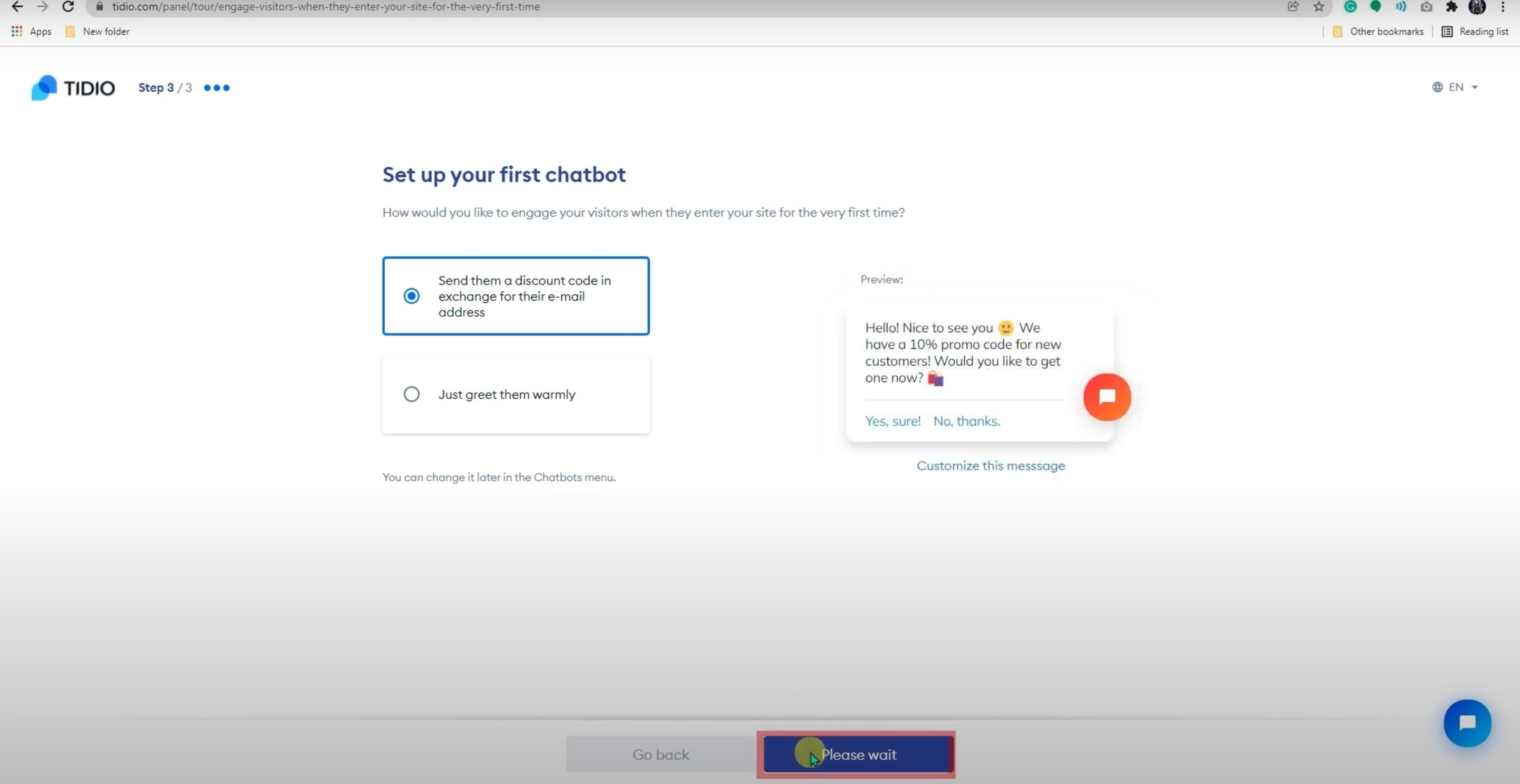 9. You'll be asked to set up your password. Once you're done, click Continue.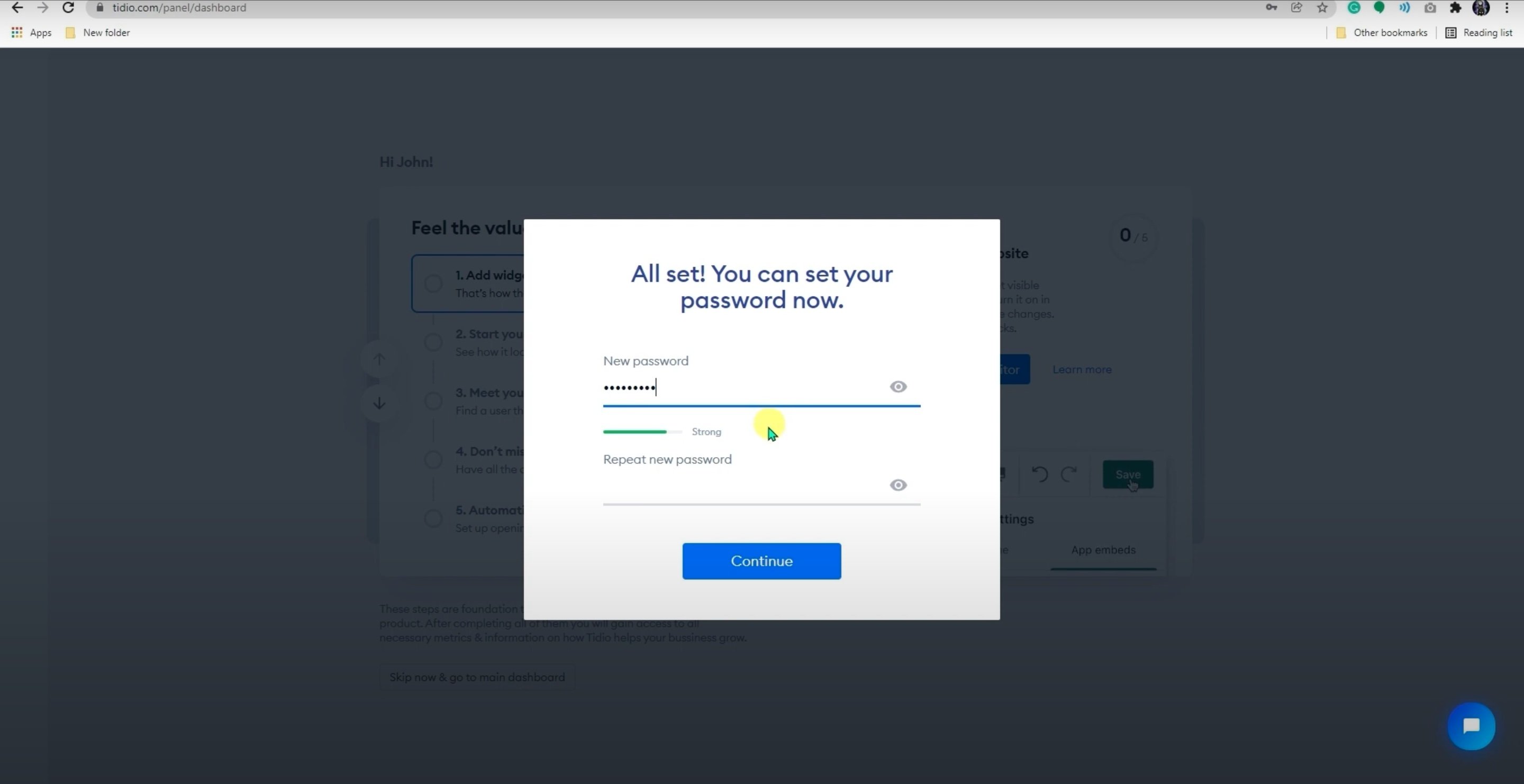 10. And now you've added a live chat to your Shopify store! To customize your chatbox, go to Settings from your Tidio dashboard (bottom left corner).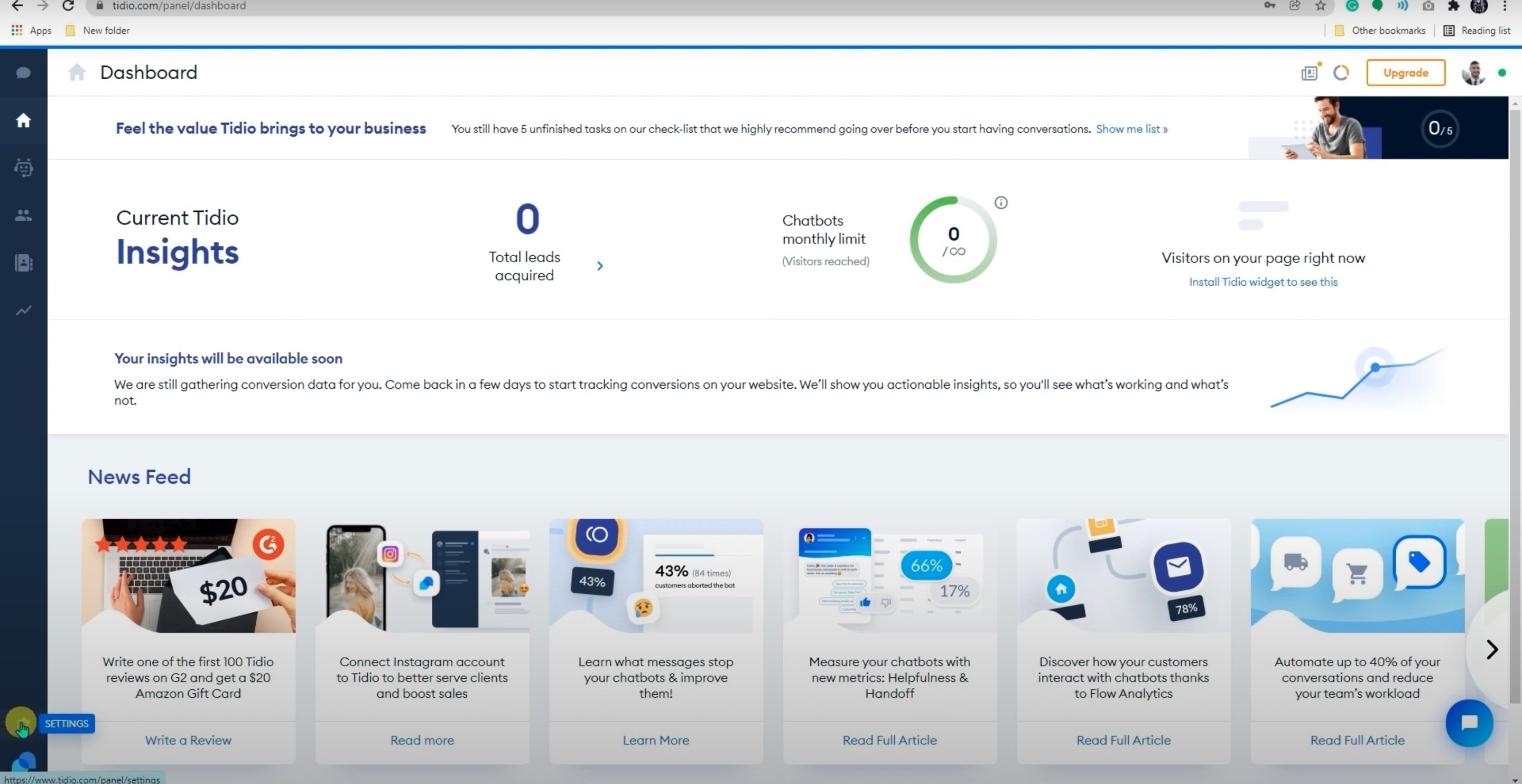 Conclusion
A live chat software is a crucial part of any e-commerce store. Not only does it help you connect with your visitors in real-time, solve issues and answer questions, but it also provides you with other useful and time-saving features.
Chatbots, abandoned cart recovery, live typing preview – all of these features can be a true lifesaver when it comes to keeping people on your website. A live chat is more than just a marketing strategy – it's a necessary part of online business.
We hope that our top 10 list of the best Shopify live chat apps will help you choose the best one for your store!
Want to find even more useful apps? Check out these lists:
Frequently asked questions
What is the best live chat app for Shopify?
The best live chat app for Shopify is Tidio Live Chat. It offers tons of useful features like chatbots, integrations with other messaging platforms, abandoned cart recovery, and more. You can also opt for a free plan and try this app out before investing money.
Is it safe to have live chat on Shopify?
Yes. It is absolutely safe to install a live chat app on Shopify. Just look for trustworthy apps with customer reviews, and you'll be good to go.
Can live chat increase my Shopify sales?
Yes, a live chat can help you increase Shopify sales. Having an option to talk to your customers live builds trust. And when you answer their questions or solve problems right away, they're more likely to stay and complete a purchase.