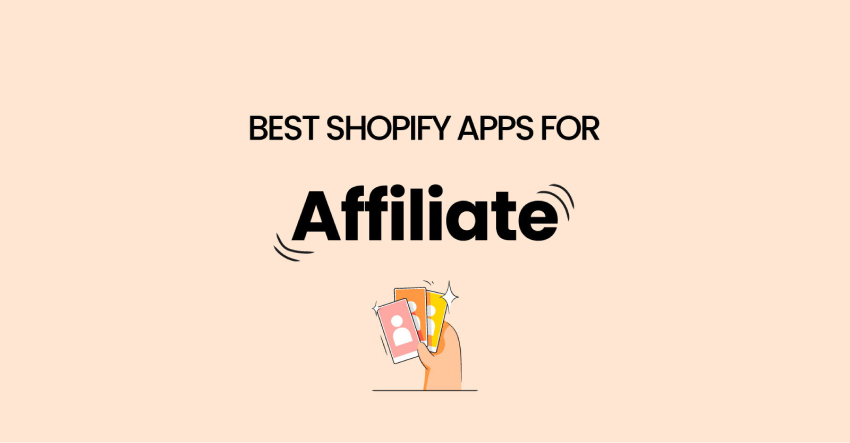 By purchasing through the links on this page, you are giving us the opportunity to earn a commission. Your support is greatly appreciated!

If you're reading this article, you most likely want to get your hand on the best Shopify affiliate app for your business. As there are tons to choose from, weighing their pros and cons yourself can be very time consuming.

That's why we did most of the job - below you'll find a list of the best apps, including their rating, price, key characteristics, pros and cons, and user review summary.

Generally speaking, Shopify affiliate apps help you monitor referral links and traffic in one place, as well as keep track of the sales and revenue made through affiliate marketing. Utilizing affiliate marketing is a good choice even for smaller entrepreneurs as it's cheaper and arguably more effective than buying Google, Youtube, or Facebook ads.

So if you're searching for the best Shopify apps to add to your store, and an affiliate app is on the list - read on!
Best Shopify affiliate apps: the shortlist
We decided to keep the app list quite short in hopes that it'll be easier for you to choose the best Shopify affiliate app.
UpPromote: the best all-round solution for everything related to affiliate marketing
Goaffpro: the best Shopify app to turn customers into affiliate partners
Refersion: the best app for unlimited affiliate partners
Automizely: the best Shopify affiliate app for small businesses as it's free
ReferralCandy: the best app for refer-a-friend program
Rise.ai: the best Shopify app for innovative gift card programs
Improve your Shopify store speed and SEO optimization today
6 best Shopify apps for affiliate marketing: Overview
Time to dive a bit deeper into every Shopify affiliate app and lay down pros and cons, the summary of customer reviews, official Shopify rating, price, and key features.
1. UpPromote

from $21.99/month (includes a 14-day free trial)
UpPromote Marketplace, reliable tracking, powerful management
UpPromote offers an easy, few-click setup process, from building the registration form to managing the payment system. You get an opportunity to turn your customers to affiliates automatically, and use UpPromote's marketplace to grow the affiliate network. Multi-level marketing options are there to help you grow your business exponentially, and a marketplace full of potential affiliate partners is there to let you get off the ground as quickly as possible.
The app gives you extensive performance tracking, including affiliate links, SKUs, coupons, and emails. Detailed reports of clicks, orders, and sales are also available.
Pros:
Easy setup
Precise tracking
Responsive customer support
Easy payout
Cons:
Slower growth for non-established brands
What do the UpPromote reviews say?
Users praise easy setup, clear instructions, and precise tracking. Customer support seems to get a lot of praise as well. However, some reviewers say that the app may be better for those who already have some affiliate marketers lined up.
2. Goaffpro

$24/month (includes a limited free plan)
Mobile optimized, customers to affiliates, real-time tracking
Goaffpro has an integrated partner portal that converts customers into marketers, making them a part of your brand voice. Customers can share links through social media and blogs, this way increasing visibility of your products.
The app also offers real-time affiliate order tracking and updates, as well as automatic coupon codes. Plus, the affiliate portal is fully mobile-optimized and includes intuitive Android and iOS apps. This lets you work wherever you are, and opens you opportunities to work with the widest range of partners possible.
Pros:
Extensive customization options
Real-time tracking
Available on Android and iOS
Cons:
Free plan doesn't include emailing options to affiliate partners
What do the Goaffpro reviews say?
Customers praise customization options and customer support. However, people had problems with setting up coupon codes and being unable to send emails to affiliates in the free plan.
3. Refersion

$89/month (includes a 14-day free trial)
Unlimited affiliates, individual dashboards, conversion triggers
With Refersion, you get a seamless affiliate onboarding process and a branded registration page. You also get access to the Refersion marketplace which is free to all app users. Speaking of affiliates, Refersion allows unlimited affiliate offers.
You can easily track all affiliate marketing offers, be it by links, coupons, or emails. With Refersion, you can also create a detailed report system and personalized affiliate dashboards. Affiliates can be paid out through various different means – including PayPal, gift cards, or even offline. And before you pay, you can check out recurring reports to see where you're doing well – and what can still be improved.
Pros:
Unlimited affiliate offers
Personalized dashboards
Easy onboarding process
Cons:
What do the Refersion reviews say?
People praise quick-to-respond customer support, an easy onboarding process, and a great Marketplace for finding new affiliates. However, some customers reported slow growth in the first couple of weeks.
4. Automizely

Refer-a-friend program, branded rewards system, one-click setup
Automizely offers a refer-a-friend program that helps generate more traffic, save money, and boost retention rates. A branded loyalty and reward system for advocates and new referrals helps to increase repeat sales, as well as bring in new ones. With redeemable coupon codes, custom reward programs, and beautiful pop-ups, there are a lot of interesting opportunities for growth.
Automizely's loyalty program seamlessly turns customers into brand advocates. The app also has an easy setup that doesn't require you to be tech-savvy.
Pros:
Refer-a-friend program
Beginner businesses friendly
Easy to set up and use
Cons:
Sparse customization options
Lack of features
What do the Automizely reviews say?
The users praise simplicity in setup and use. Customer support seems very helpful and responsive too. However, some customers note lack of customization and features.
5. Referral Candy

$49/month (includes a 30-day free trial)
Rewards system, marketing app integration, refer-a-friend program
Referral Candy offers an extensive refer-a-friend program that rewards every referral, creating motivation for referrals and loyalty amongst customers. The app also has a powerful dashboard that allows you to track referrals and sales. You'll find some excellent page and email customization features – giving you more opportunities to retain your referral partners.
With Referral Candy, you get convenient app integrations, like email tracking with Klaviyo and MailChimp, retargeting ads with Adroll, Facebook, and Google, as well as traffic tracking with Google Analytics.
Pros:
Refer-a-friend program
Post-purchase popups
Branded landing pages
Cons:
Limited customization options
Quite expensive for smaller shops
What do the Referral Candy reviews say?
Some users report problems with Klaviyo integration, but praise customer support for helping.
6. Rise.ai

Loyalty program, bulk gift cards, one-click checkout
With Rise.ai, you can start a loyalty program that helps to increase membership and LTV. By using advanced Credit, Loyalty points and discounts, you can incentivize referrals and reward your customers. It also allows you to easily manage rewards, cash back and loyalty cards.
A fully customized loyalty program will be excellent for businesses that know exactly what they want. Personalized rewards give you an additional level of control, and let you run your business your own way.
Rise.ai also gives you an opportunity to get the best out of their innovative gift card program. You can schedule and send gift cards one by one or by bulk.
Pros:
Scheduled gift cards
Loyalty program
Cons:
Some functionality is not intuitive for beginners
Bulk request has to be manually approved
What do the Rise.ai reviews say?
People have a lot of praise for customer support and their help. However, some users noted that the pricing system is a bit misleading.
7-step guide to launch your Shopify affiliate marketing
Reading about rewarding experiences with affiliate marketing can make you feel very tempted and excited to jump right into it. I don't want to diminish your enthusiasm, but before delving into your Shopify affiliate app of choice with full force, you should first build your strategy base.
But where do you start? For starters, follow this step-by-step guide:
Decide on what kind of affiliate commissions you want to offer (discounts, coupons, or something else).
Set up your budget range.
Think of what features you need in an app.
Read customer reviews (My tip: make sure to look at lower start reviews too).
Set up your communication strategy (automated emails, personalized emails, etc.).
Recruit your affiliate partners through the affiliate marketing app and find affiliates on their owned networks.
Track performances, sales, referral links, and everything else using provided dashboards.
Conclusion
Affiliate marketing is one of the most effective ways to drive sales and traffic to your website without doing too much work. And a good way to track your affiliate marketing progress is through a dedicated app.
Whichever Shopify affiliate app you decide to go for, make sure it meets your needs. Be sure to thoroughly study the pricing, features and read the reviews (especially those with lower stars). For a beginner business, start with affiliate apps that offer free plans. Even those with 14-day free trials are a great way to see whether app functionality is enough for you.
If your business is just starting up, though, we'd suggest first setting up other marketing strategies to give your Shopify store some visibility. Do some search engine optimization (SEO), for example. And once you have that head start, get your Shopify app for affiliate marketing.
Frequently asked questions
Can I do affiliate marketing on Shopify?
Yes, you can manage your affiliate partners and find new ones using affiliate program apps on Shopify. Amongst the favorites are UpPromote, Goaffpro, and Refersion.
How do I integrate affiliates with Shopify?
Here's how to get started with affiliate marketing on Shopify:
Choose the best Shopify affiliate app by checking out reviews, features, ratings, and pricing.
Go to your chosen app's Shopify page.
Click "Add app".
Start managing your affiliate partners.
Does Shopify charge for an affiliate program?
No, Shopify does not charge you for joining an affiliate program.