By purchasing through the links on this page, you are giving us the opportunity to earn a commission. Your support is greatly appreciated!

eCommerce is on the rise, but running a store start-to-finish can be an exhausting experience. That's why selling affiliate products on Shopify is a great alternative for those looking to make side income without having to manage inventory or logistics.

You can set up an independent store that sells only products from your affiliate partners. Alternatively, you can add affiliate products to your existing Shopify store to diversify your source of income.

We will walk you through both of these ways to sell affiliate products on Shopify.

Let's jump right in!
What is affiliate marketing?
Affiliate marketing is a commission-based advertising and business model.
It works this way: a third party, usually a website with good traffic or an influencer with a lot of reach, promotes products or generates leads for a company. Whenever a shopper makes a purchase through their channel, they get some form of commission.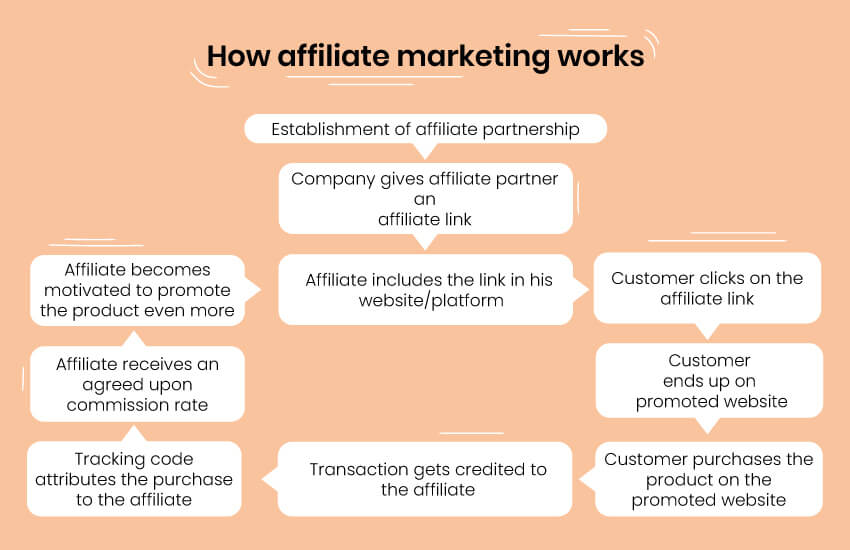 There are a couple of popular affiliate marketing program models:
Pay-per-something. The affiliate partner gets a one-time payment once a person they bring in clicks on something, turns into a lead, or makes a purchase. Very popular among companies that sell physical or digital products. Example: Sendinblue.
Revenue share. The affiliate gets a certain percentage from the purchase amount. More popular among long-term service providers or when promoted products range in price massively. Example: Amazon.
Hybrid. A mixture of both offered as different commission plans, usually offered by huge companies with varied services. Example: Fiverr.
How does all of that come together for someone working with Shopify?
Let's take a look.
Can you use Shopify for affiliate marketing?
The short answer is yes, Shopify affiliate marketing is very doable. You can go one of the two main routes:
Create an affiliate marketing program for your Shopify store. Many Shopify affiliate marketing apps will lend you a hand here and we will review the best ones in a bit.
Sell affiliate products on your Shopify store. If your store has good reach and could use some more product variety, reselling products for a commission-based profit is a good option.
Now we need to learn in-depth about both of these ways to do affiliate marketing with Shopify and make them work for your store.
Option 1: Sell affiliate products on your Shopify store
There is another option for those considering the affiliate marketing route. Instead of promoting your own store, you can sell affiliate products on your Shopify store for a commission-based profit.
Let's explore this option.
Join an affiliate program
As someone who owns a Shopify store, you probably already have an established customer base and specific product selection.
When setting up your Shopify affiliate store, make sure the product selection complements the existing concept of your Shopify store. Otherwise, the affiliate products will fail to find their shoppers and will go unnoticed.
For your and affiliate products to work together, it's crucial to join an affiliate marketing program that will work well with your Shopify store strategy.
The best affiliate program for Shopify store owners is Amazon Associates. You earn up to 10% from the purchases people make using your website and the qualifying product selection is as broad as it gets.
If you're looking to set up larger-scale affiliate partnerships, we suggest looking into sites like Affiliaxe or DFO Global.
Alternatively, you can explore multiple boutique affiliate programs available for online store owners.
Add affiliate product links to Shopify store
Once you get approved as a part of Amazon Associates or any other affiliate program of your choice, it's time to send those shoppers over there.
Placing affiliate products on your store is practically the same as featuring your own products, you only need to manage the affiliate links. You will receive custom links that were generated to track sales incoming from your website.
Here is how you place affiliate links on your products:
Download an app called Outlink.
Go to Online store -> Themes -> Actions.
Click Edit code and scroll down to Sections and find product-template.liquid file
Find the Add to cart button and include a link to your affiliate product in outlink file field underneath.
In case you get lost along the way, here is a video walkthrough:
Remember that your affiliate links are at the core of understanding your affiliate program's success. Don't lose track of them, otherwise, you won't be able to generate profits.
Take care of store optimization and promotions
Now that you have your store selection nice and wide, it's time to make sure the world knows about it!
Optimize your store for fast loading times, good conversions, and wide reach.
How?
Create outstanding product descriptions. The shoppers need to see that you're simply trying to make a profit, but actually believe in the value of the affiliate products you're offering.
Improve store loading times. Many products mean many product images. Optimize your store's images to remove dead weight and make your store faster. It will also serve your search engine rankings.
Follow best SEO practices. You want your store to be found on search engines. To get there, you have to ensure fast loading times, have meta tags and JSON-LD in place, fix broken links, and more.
Ready to improve your store's SEO and optimize images? Let TinyIMG take care of everything for you!
Optimize Shopify store
Pros and Cons of selling affiliate products on Shopify
Selling affiliate products on your Shopify store seems like a lucrative opportunity, and it indeed is. However, before you jump right in, take the time to understand the pros and cons of selling affiliate products on Shopify.
Pros
Quick to upscale
Low initial investment costs
Increased product variety
Easier load for your customer support
Cons
Lack of control (pricing, stock, product features)
Option 2: Set up an affiliate program on Shopify
This Shopify affiliate marketing approach is the most popular among Shopify store owners. It helps bring in more people into the store and increase sales on existing product selection.
Regardless of how big your store is, you can reap massive benefits if you set up your Shopify affiliate marketing program well.
How exactly?
We'll walk you through it in seven simple steps.
Choose product(s) to promote
The first step is to determine which of your products will be a part of your affiliate marketing effort.
Depending on how broad the product selection at your store is, you might want to include all of them. However, put the most emphasis on products with high average order value.
Why?
You can look at it from two sides:
Affiliates want to make their effort count. If you're offering a 5% commission from every sale, they will be a lot keener on promoting products that cost $100 than those that cost $10.
If you decide to go the route of a pay-per-sale model, offering it on low-value products is simply not profitable for you.
The bottom line here is to look at your products and design a Shopify affiliate program that is attractive for affiliates and profitable for you.
Have a vision of your affiliate business
Before you begin designing specifics for your Shopify affiliate program or recruiting your affiliate partners, you need to know what you want to accomplish with your Shopify affiliate business.
Here is a set of questions to help you with this process. Answering them will guide you towards an affiliate marketing model that will work perfectly for your Shopify store.
Your target audience: what is the ideal customer that comes to your store through this affiliate marketing program?
Your ideal affiliate partner: what kind of affiliate partner can help you find your target customers?
Your affiliate marketing model: would these types of affiliates be interested in pay-per-sale or revenue share? Why?
Store growth expectations: do you expect to gain a lot of reach and new customers through this affiliate marketing program?
Revenue expectations: what amount in sales do you need to consider the affiliate marketing program profitable?
Short and long-term objectives: what do you need to do now to successfully kick off an affiliate program for your Shopify store? What steps will you need to take to successfully manage it along the way?
Marketing channels: how will I attract the right type of affiliates?
As you jot down some thoughts around these questions, your affiliate marketing program vision will start coming together naturally.
With the following steps, we will address the specifics of affiliate marketing with Shopify.
Plan affiliate pricing and commissions
Deciding your fees will either make or break your Shopify affiliate program. After all, everyone wants to make a profit from this arrangement.
Deciding between percentage and flat rate commissions is key. To do this, you need to take the products you decided to promote and calculate profit margins with different affiliate commission models.
In general, most Shopify stores settle for percentage-based commissions. 10% in commission is a go-to for most industries. If you're curious to see the average for your industry and make more informed estimations, TargetCircle has a nice breakdown table in their article.
Don't forget that a hybrid commissions model is also a possibility. It's worth considering if the price range for the offered products is vast and might make the affiliate program attractive for a wider range of partners.
Tip: If you plan to organize your affiliate program around only a few but bigger scale affiliate partners, we suggest setting up individualized affiliate marketing plans for them based on the type and average value of the sales they bring in.
Use a Shopify affiliate marketing app
As a Shopify store owner, you can save time and effort by installing a Shopify affiliate marketing app.
These apps are tailored to cover all parts of designing, launching, and managing an affiliate marketing program for a Shopify store. However, you have to weigh their benefits and limitations against the needs of your store
We have a few recommendations to help narrow down your search.
UpPromote is our top suggestion. Among the most reviewed Shopify affiliate marketing apps, UpPromote boasts a 4.9-star rating and is a one-stop shop for most affiliate marketing programs. It has a simple three-step framework:
Affiliate shows interest in your program by filling out the registration form
They become a partner and receive an affiliate link containing a tracking code
UpPromote tracks affiliate performance and pays out based on your commissions model
UpPromote also lets you take full control of the onboarding process by customizing commission rates, registration forms, and adding branding attributes. Plus, it will power up your affiliate program growth with access to their exclusive Marketplace and an option to venture into influencer marketing.
Affiliate Marketing & Tracking as well as GoAffPro are two other Shopify affiliate marketing apps worth a mention.
Neither one of them is quite what you're looking for? Browse through our list of best Shopify affiliate marketing apps and you will find one that works for you.
Recruit affiliates
Getting affiliates to promote your store is a two-sided process. On one hand, you want your commission plans and products to look attractive enough so that your new affiliate program gains traction quickly.
However, you must maintain reasonable profit margins and ensure the affiliates you are landing can actually bring in customers you're targeting.
To take off fast and successfully, utilize these channels:
Social media. Run targeted ads or simply share the information about your affiliate program launch with your social network.
Your store. Design a conversion-optimized landing page for your affiliate program and turn interested shoppers with their own websites or social presence into affiliate partners.
Affiliate networks. Get proactive and search for potential affiliate partners on websites such as ShareASale that list partnership proposals.
Email marketing. Make use of your email list to send out personalized Shopify affiliate marketing partnership invitations for people who already have an interest in your store.
As you begin growing your Shopify affiliate partners list, consider adding testimonials about your affiliate program to your landing page and emails. Seeing the success of fellow marketers will easily help attract even greater interest.
And don't forget about training! Both you and your partners are interested in a good performance, so help them out.
You can offer marketing training programs or resources they can use to promote you to their audience, such as sales emails, ads copy, or banners.
Tip: To create a sense of exclusivity, consider introducing partnership badges. You can use your store logo or make custom designs and your affiliate partners would have the option of placing them on their website. It can help your affiliate program gain more reach and interest.
Track your affiliate performance
Even though the intention is there, many affiliates that sign up for your program won't actually do a very good job. You'll see that quite a few even fail to put up your Shopify affiliate links.
That's why you can never consider your affiliate partnership a success immediately after you sign a new partner. Make sure you're always on top of the revenue stream coming in from every single affiliate. If the numbers are concerningly low, check in and find a reason.
When it comes to the program as a whole, most Shopify affiliate marketing programs should keep tabs on:
Number of affiliates (total and new)
Affiliate sales (total and per affiliate)
Payouts (total and per affiliate)
Payout-to-sale ratios and profit margins
This is where the benefit of Shopify affiliate marketing apps mentioned above really shines through. They all have dashboards or dedicated pages you can use to access all these numbers and more in just one click.
Pros and cons of having your Shopify affiliate program
Starting an affiliate program for a Shopify store is not very complicated, but it's still a big commitment. Before you go down this route, let's break down pros and cons of a Shopify affiliate program.
Pros
Alternative revenue stream
Increased store exposure
Constant new customer base
Increased trust in your brand
Partially replaces in-house marketing effort
Cons
Can be complicated to set up and execute properly
No guarantee of revenue
No control over your competition
Can be difficult to establish a returning customer base
Requires good profit margins to pay off
Why should you do affiliate marketing on Shopify?
First and foremost, let's take a look at statistics. According to Statista, affiliate marketing spending will rearch a record-breaking 8.2 billion dollars by the end of 2022. Obviously, it's a profitable ship to jump on, no matter what kind of store you run.
If you want a breakdown of reasons to do affiliate marketing on Shopify, here is a shortlist:
It helps your store grow faster. It works as a marketing effort for your store - the more affiliates you have, the more people hear about your products.
It brings immense benefits if you have good customer retention rates. If the shopper was satisfied with what they bought, they will return straight to your store next time - you have a returning customer at no commission rate.
It's risk free. No matter if you have your own affiliate program or sell affiliate products, you make almost no initial investments and very few commitments so the risk is minimal.
Curious to read more? Check out these articles:
Frequently asked questions
Yes, you can definitely do affiliate marketing on Shopify. In fact, affiliate marketing with Shopify is rather straightforward. You can approach it from two different sides: set up an affiliate program for your Shopify store or sell affiliate products yourself.
To sell affiliate products effectively, you need to know your audience and what they're looking for, sign up for an appropriate affiliate program, place affiliate links and grow your store. More detailed description can be found in our article.
The single best affiliate program for Shopify is Amazon Associates. Use Amazon Associates for access to vast product selection and high commission rates. You also have alternatives like eBay Partner Network and ShareASale, or Affiliaxe for larger scope affiliate partnerships.
No, Shopify does not charge anything on top of your pricing plan even for affiliate products.
Sure, you can put affiliate links in your Shopify store blog. Just make sure they are relevant to the context and necessary for the shopper's journey.