By purchasing through the links on this page, you are giving us the opportunity to earn a commission. Your support is greatly appreciated!

Shopify plans and their pricing can be a real headache, especially for new merchants.

Monthly and transaction fees, feature variety, staff access and more need to be considered carefully. We're here to help you do exactly that.

We examined three main Shopify plans as well as their niche alternatives and we'll guide you through the selection process.

Towards the end, you'll be able to settle on a Shopify plan that caters to all your needs and makes sense financially.
Shopify Plans Compared: Overview
So, what exactly are the Shopify rates and options?
Here is a quick overview of three most common Shopify plans available to you:
| | | | |
| --- | --- | --- | --- |
| Costs | Basic | Shopify | Advanced |
| Price (paid monthly) | $39/mo | $105/mo | $399/mo |
| Price (paid yearly) | $29/mo | $79/mo | $299/mo |
| Credit card rates (online), USD | 2.9% + 30¢ | 2.6% + 30¢ | 2.4% + 30¢ |
| Credit card rates (in person), USD | 2.7% | 2.5% | 2.4% |
| SSL certificate | Yes | Yes | Yes |
| 24/7 support | Yes | Yes | Yes |
| Staff seats | 2 | 5 | 15 |
| Reports | Basic | Professional | Custom |
| eCommerce automations | No | Yes | Yes |
| Abandoned cart recovery | Yes | Yes | Yes |
| Market domains and subfolders | Yes | Yes | Yes |
| Duties and import taxes | No | No | Yes |
| Third-party shipping rates | No | No | Yes |
There is also Shopify Starter and Shopify Plus. Both have rather unique use cases, we reviewed them in this shopify review article.
Suggested reading
If you're still asking yourself "How does Shopify work?", read our general guide before diving into Shopify plans and features.
If you already see a suitable Shopify plan option, jump straight to that section. And if you're unsure, let's begin with the entry-level plan and go from there.
Choosing Shopify plan: main things to consider
Before we dive into the specifics of Shopify plans, let's take a moment to establish common ground.
To make choosing a Shopify plan easy, answer these questions about your store:
How much does your store make in monthly sales?
How many of your team members need regular access to the store?
How much data analysis do you need?
Is your client base local or international? If international, are different currencies and import taxes relevant?
Are eCommerce automations relevant or can you handle your tasks manually?
As we proceed with the Shopify plan analysis, you'll see that your answers will guide your decision.
Shopify Basic (USD 39/month)
Transaction fees: 2.9% + 30¢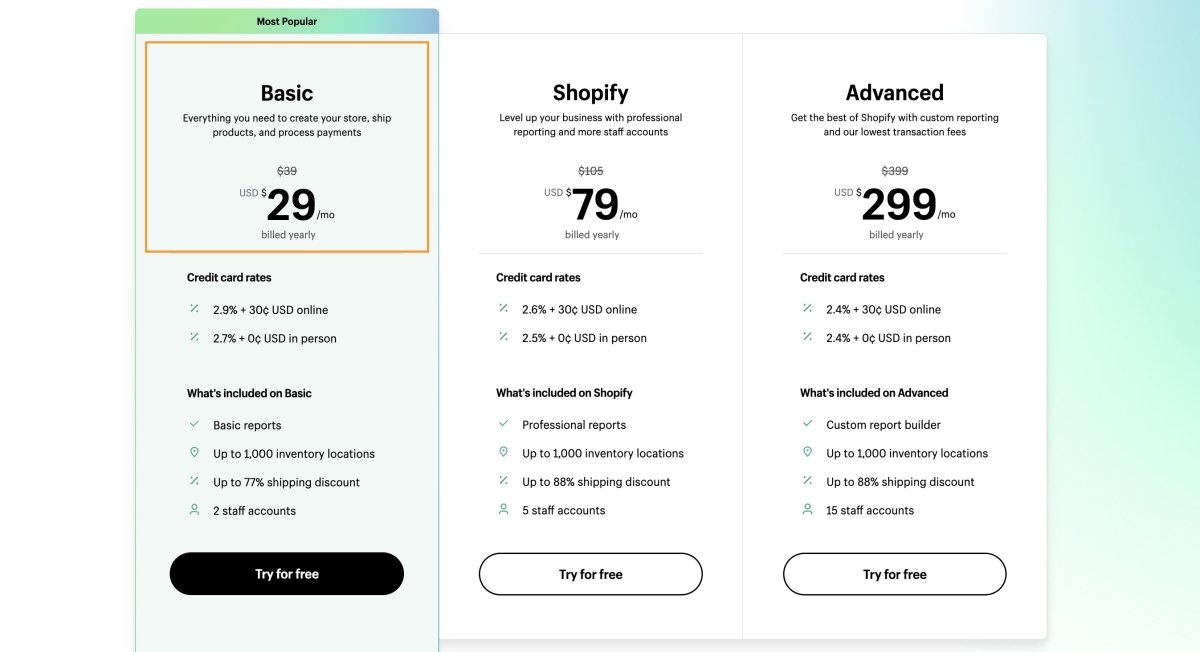 Shopify Basic is the entry level plan recommended to all new merchants (after all, you can upgrade at any point).
You get to create a full scale eCommerce store with unlimited products, up to 1000 inventory locations and a handful of marketing features. You also get to launch an eCommerce blog, although it won't be as wholesome as the one you can build with WordPress.
Also note that Shopify takes your business seriously no matter the size of your plan. If you're using Shopify Payments (which we recommend), you'll have access to built-in fraud prevention features starting with the Basic plan. Fraud indicators, third-party anti-fraud app support and recommendations will help prevent chargebacks, fraudulent activity and subsequent stress.
The limitations of the Basic plan begin with staff seats, reports and automations. With this plan, only two people can get access to the admin area of your store. Also, your store reports will show only basic analytics with no reports on orders, sales or profits.
What business is the Basic plan for?
Basic plan is sufficient for Shopify stores that:
make under $22,000/mo (if you make more, upgrading to the monthly Shopify plan will save you money because of the lower transaction rate)
have only 2 team members who need access to the store
do not require complex reporting to make conclusions
have limited management processes (product unpublishing, campaign scheduling) that can be handled manually
do not have a big international customer base
Shopify (USD 105/month)
Transaction fees: 2.6% + 30¢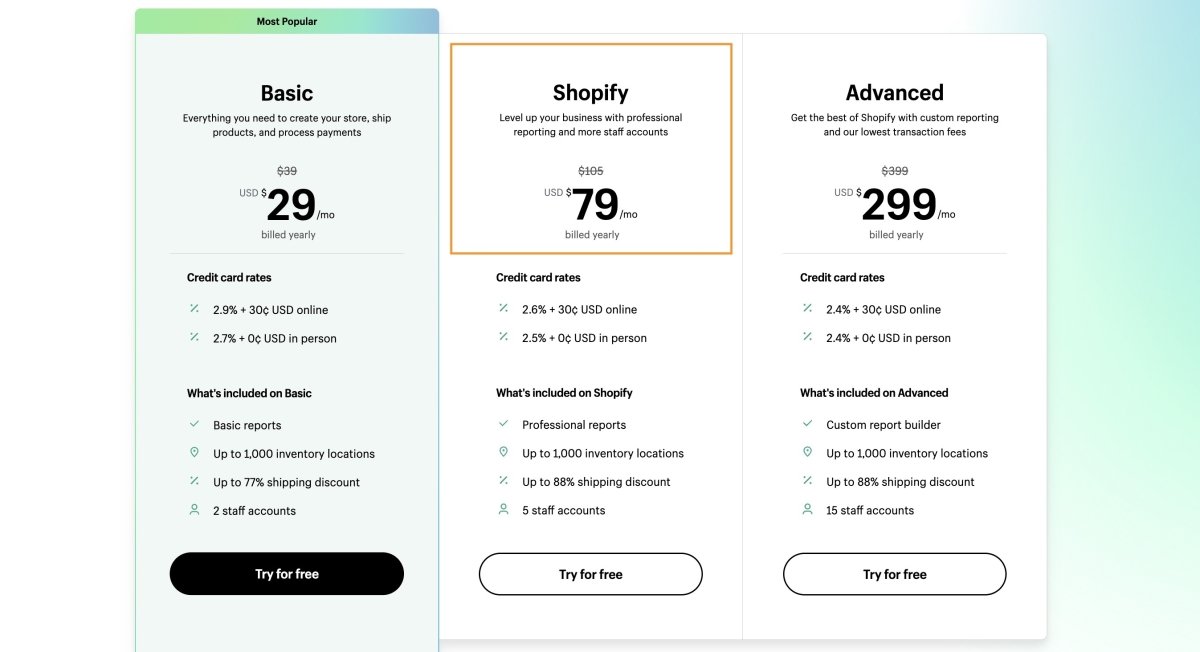 With five staff seats as well as comprehensive marketing, behavior and sales reports, the Shopify plan is a comfortable middle ground for most budding merchants.
On top of all other perks, Shopify plan lets you empower your team with eCommerce automations. No more menial tasks or inefficient workflows!
What business is the Shopify plan for?
Shopify plan is an ideal option for stores that:
make under $147,000/mo (anything over that and you'll save by upgrading to the monthly Advanced version that has lower transaction fees)
have 5 (or fewer) team members who need access to the store
will benefit from detailed reporting
want to automate repetitive store management tasks (e.g. out-of-stock product unpublishing)
Shopify Advanced (USD 399/month)
Transaction fees: 2.4% + 30¢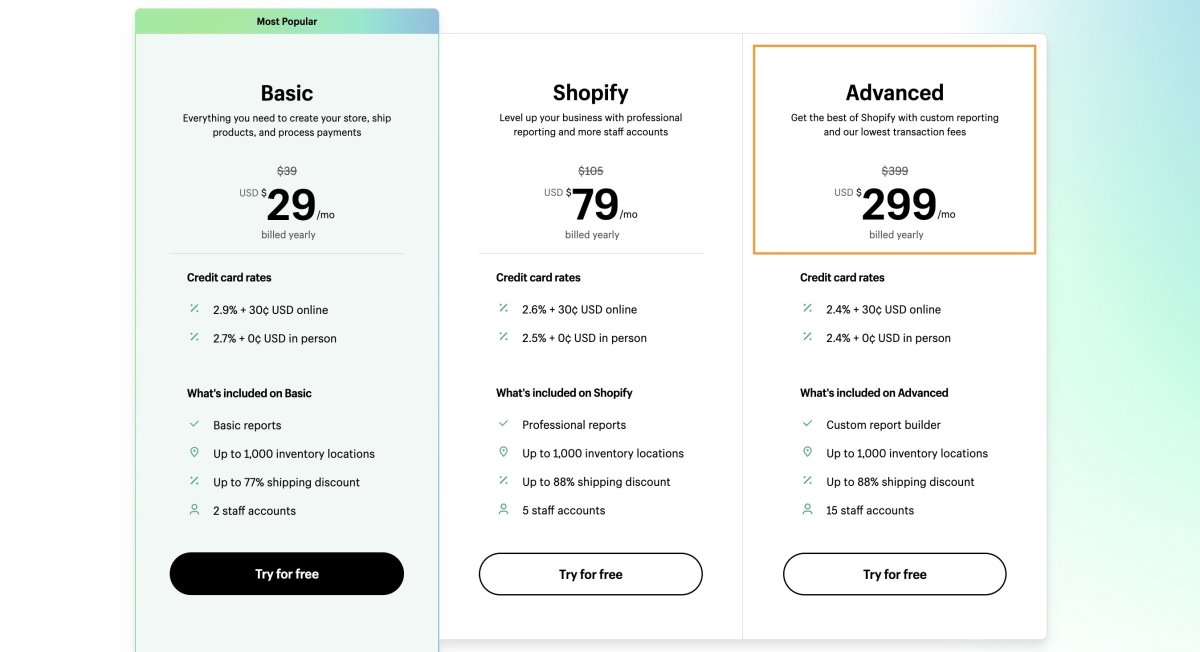 Shopify Advanced plan includes everything present in Shopify plan, but adds another dimension.
Big merchants with a strong international client base will benefit by displaying import tax calculations and third-party shipping rates real time. For customers that means a clear final amount and less frustration, for you - better conversion rates.
Note that if you're upgrading to Shopify Advanced but still use the monthly payment option, it would be a good time to commit to a Shopify yearly plan. Yearly Shopify Advanced comes with an impressive 25% discount, saving you around $1,200 per year on plan fees alone.
What business is the Advanced plan for?
Shopify Advanced is the pick for your store if you:
make under $640,000/mo (if you make more than that per month, it's time to enter the big leagues and get Shopify Plus)
have 6-15 team members that require access to the store
have a need for custom reports
have international clients with varying currencies and import tax rates
Shopify Plus (starting from USD 2000/month)
Transaction fees: 2.15% + 0.30¢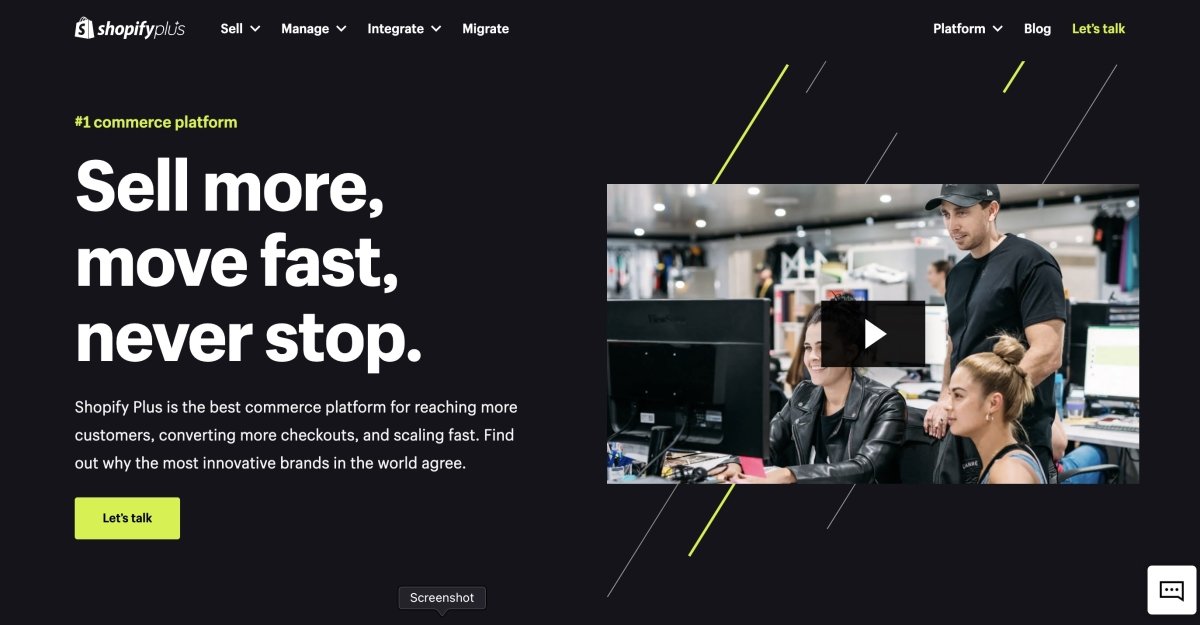 Shopify Plus is for the big players out there. It's not really a plan per se, it's a wholesome upgrade from all angles.
What does that mean?
Shopify Plus includes these perks:
Shopify Pay checkout - better and faster conversions
Shopify Audiences - data-targeted audiences on social marketplaces
10 storefronts - multiple Shopify stores for brand segmentation
Loyalty programs for customer retention
Advanced automations and product customization
Personal onboarding
And that's just the tip of the iceberg. Shopify Plus is a truly VIP experience for both your customers and your team.
What business is the Shopify Plus plan for?
Shopify Plus is a great choice for:
Big Shopify merchants ready to scale even more
Established stores looking to migrate from other eCommerce platforms
Shopify Starter (USD 5/month)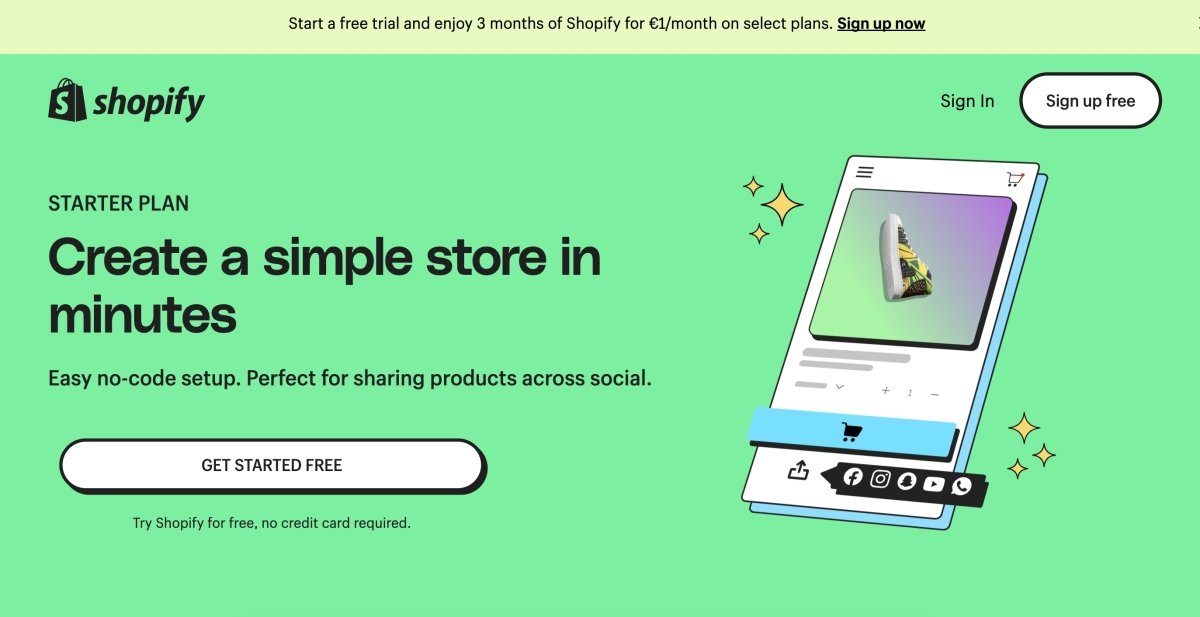 If you're just warming up to the idea of eCommerce, we have one last option for you.
Shopify Starter isn't exactly an eCommerce store like all previous plans. It's more of a page builder - with an image and a product description, you'll have a mini-store live in minutes.
You can integrate it into your socials - Instagram, Facebook, WhatsApp - for a smooth transition between browsing and purchasing.
Shopify Starter still offers order management and basic analytics, so on your end you're not missing out too much. You are, however, providing potential users with an alternative shopping experience that not everyone might enjoy.
What business is the Shopify Starter plan for?
Choose Shopify Starter plan for:
stores that plan to make most of their sales through social media
one-product stores than don't need a full eCommerce website
anyone looking to test the potential of eCommerce without big commitments
Is there a free Shopify trial?
You get to try Shopify platform for 3 days with absolutely zero commitment. Not even a credit card is required!
After the three days, you need to pick a plan if you wish to continue working on your store. We recommend starting with Shopify Basic and making a yearly payment commitment to get a discount on monthly fees.
During your Shopify free trial, you get access to all store management features, set up Shopify Payments and basically prepare your store for launch. If you decide to stick to Shopify and push your store live, all of your progress will be available to you.

If you're not 100% that Shopify is for you after the 3 days, you can opt in for their promotion and get Basic, Shopify, or Advanced plan at $1/mo for three months!
Start free Shopify trial today
Costs not included in Shopify plans
Remember that transaction fees and monthly Shopify subscription plans won't be your only expenses. In fact, many merchants will notice that additional costs exceed their base Shopify cost per month!
Let's review what additional expenses you might come across when running a Shopify store.
Additional transaction fees
Shopify has its own native checkout provider, Shopify Payments, and it's a great one.
If for whatever reason you're not satisfied with Shopify Payments and choose to use a third-party payment provider, you'll need to pay additional fees.

Shopify Payments is not available in certain regions. Check Shopify Payments supported countries in advance to avoid issues later on.
The rates will vary depending on your plan and your third-party provider might have additional fees on top of that.
Bottom line - we recommend sticking to Shopify Payments unless you have a very legitimate reason not to.
Domain name
Domain name is basically the main URL of your store. You want it to be memorable and most often be the same as your store name.
Unfortunately, domain name prices aren't included in Shopify plans. However, you can purchase a domain through Shopify to simplify the process.
Domains are purchased for a year and renewed annually, independently of your monthly Shopify fees.
The exact price will depend on what type of TLD (e.g. .com, .org., .co) you choose for your domain name. Most sit at around $15 per year, but you can get a better idea if you check with Shopify domain name generator.

SSL certificate is already included with all Shopify plans. You do not need to purchase it together with your domain.
Email hosting
Shopify does not provide email hosting, but you'll probably want one. Otherwise, you won't be able to communicate with your clients using your domain email address.
Host email externally with Zoho Mail (starting at around $0.90/mo) and Google Workspace ($7.80/mo).
These are two very different platforms, compare them to understand what meets your needs best.
Shopify apps
This one can get out of hand. Many merchants have taken an all-in approach and loaded up their store with apps they don't even use.
Don't do that. Not only do unnecessary apps add up in price, they will also slow down your store.
This is how you handle Shopify apps in a cost-efficient way:
Write down functionalities you must add to your store
Research and list good-to-have but not necessary functionalities
Explore best Shopify apps lists and look for apps that tick as many boxes as possible
Most stores can get away with spending $50/mo or less on Shopify apps. However, if you decide to get powerful apps for inventory backup or try a mobile builder app, you can be looking at hundreds of dollars a month.
Shopify themes
Let's start by saying that your Shopify theme doesn't have to cost you anything.
Plenty of free Shopify themes are optimized for speed, responsive and slick-looking. That being said, some stores might opt in for paid themes with necessary features or more support.
In that case, good Shopify themes will usually cost you somewhere between $89 - $200.
Of course, you always have the option of hiring developers to create a theme from scratch. While it sounds exciting, think very carefully because it might be hard to justify the costs.
How to reduce Shopify store costs?
We reviewed both base plan prices and additional fees. No matter how you look at it, the total Shopify cost per month does add up!
Let's summarize what we discussed and see what more you can do to get your Shopify fees down to the minimum:
Benefit from free trials
Opt in for a yearly discounted plans (save up to 25%)
Choose a free Shopify theme
Use Shopify payments to avoid additional transaction fees
Choose only necessary and multifunctional Shopify apps
Upgrade based on your monthly income to benefit from lower transaction fees
If you have a highly-seasonal business, don't be afraid to pause your Shopify store it in the downseason
Review and minimize your renewing charges
Put more focus on customer retention

If you're migrating from another eCommerce platform or want to upgrade to Shopify Plus but don't need all the features, consider Shopify composable stack with a custom fee.
Shopify plans and pricing: summary
We have learned quite a big about Shopify plans, rates and cost optimization.
At this point, you should have a clear idea which Shopify subscription plan to pick for your store and what your additional expense will look like.
What's next?
Explore our resources that will help you increase revenue and grow your store: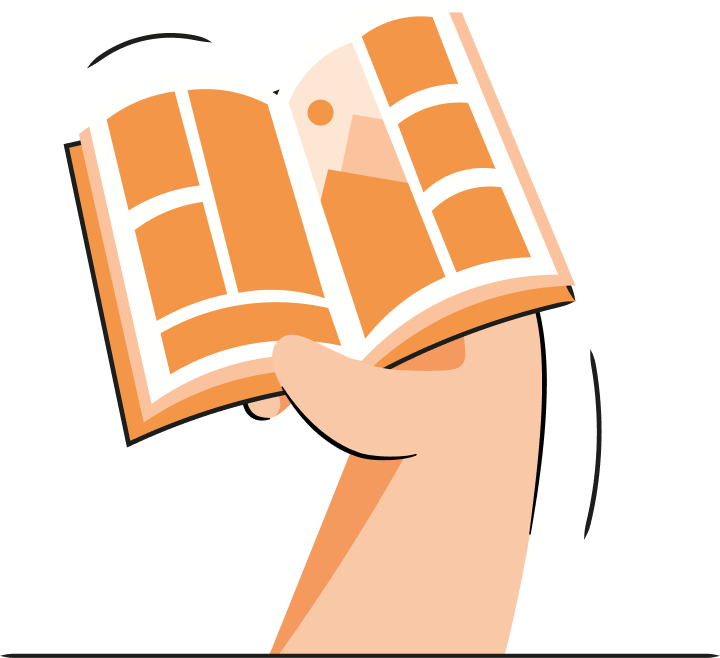 Frequently asked questions
Shopify store cost depends on store size. Small merchants with the Basic Shopify plan, free theme and a few apps should fit into $100/mo. For giant stores, the sky is the limit.
Depending on your chosen plan, Shopify takes anywhere between %2.9 - %2.15+ 30¢ flat fee per transaction.
Shopify is offering Shopify Starter, Basic, Shopify, and Advanced plans monthly subscription for $1/mo for three months. Afterwards, it will go up to the regular plan's pricing.
Shopify is one of the most affordable eCommerce platforms for both new merchants and industry leaders. However, you must be careful and not get carried away with additional expenses, like Shopify apps.