By purchasing through the links on this page, you are giving us the opportunity to earn a commission. Your support is greatly appreciated!

Shopify was created in 2006 by the founders of a snowboard equipment company. They felt that existing eCommerce platforms were lacking in many ways. So, by building Shopify, Tobias Lütke and Scott Lane created an innovative eCommerce platform.

Curious to know why Shopify became the most popular eCommerce platform globally? We cover all your questions about Shopify and how it can work for you.
What is Shopify?
Shopify is the most popular eCommerce platform for online and offline stores today. The friendly user interface makes it easy for shop owners to avoid setup delays and focus on sales.
Shopify offers different pricing options for setting up and running businesses online, between $5 -$2000 per month. Small, medium or large businesses can extend operations to reach a global audience with Shopify. Shopify allows store owners to sell both digital and physical products as a business.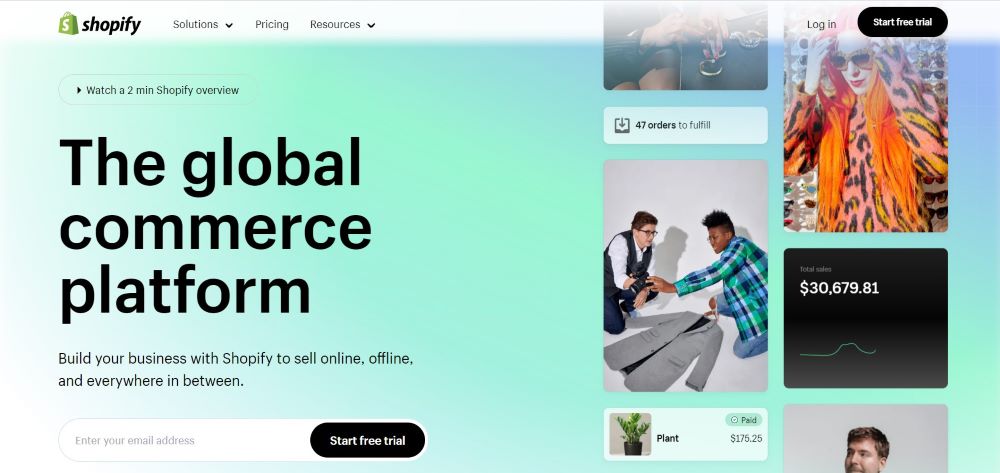 How does Shopify work?
Shopify helps businesses easily create and design their online store, manage inventory and streamline other business processes. And with the Shopify POS (Point of Sale) app, online stores can extend offline.
As a store owner, you have the flexibility to quickly set up a Shopify store and launch your website. To start with, you register with Shopify and choose a plan (or take a free trial). Then connect a unique domain if you already have one and start adding pages and products to your store.
On the Shopify platform, you'll have access to a functional admin panel with many features to manage your online store, from website design and SEO to inventory management and shipping.
Shopify does not require any technical expertise to build and manage a store. Business owners who choose Shopify can build their brand while streamlining business processes, as the platform makes a vast range of business operations easy to perform.

Turn your passion into an empire with Shopify
What are Shopify Themes?
A Shopify theme is a predesigned layout for all store pages that makes it easy for store owners to customize the appearance of their stores. Both free and paid Shopify themes are available to choose from. They are built using HTML, CSS, JavaScript, JSON, and Liquid. Therefore, with a technology expert, a custom theme can be built specifically for your store.
While the theme controls the store's layout, every store can reflect a unique storefront. On a selected theme, custom apps and essential features can be integrated. At the moment of writing, there are over 120 free and paid themes to choose from for any store size and type.

What are Shopify Apps?
Shopify apps are additional plugins that you can install in your online store. They can add more functionality and provide the solutions that Shopify itself doesn't offer (yet). Shopify apps can also simplify business processes like product sourcing, building trust and customer loyalty, Search Engine Optimization, and others.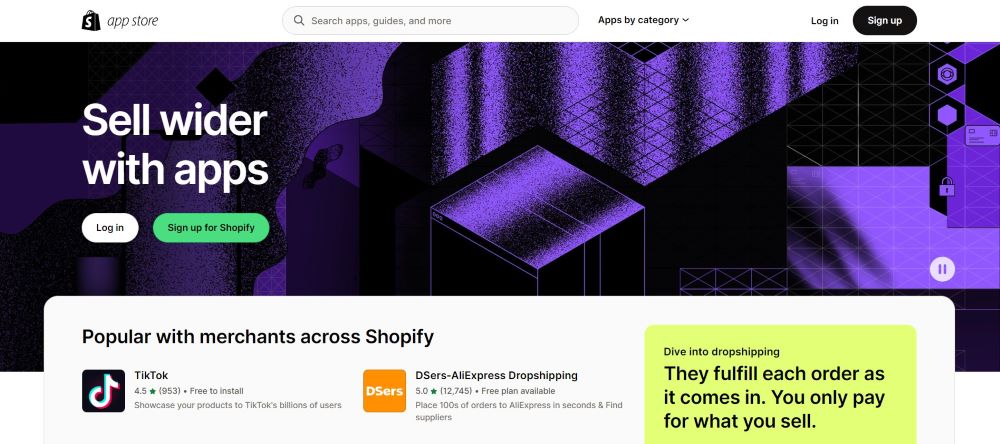 There are over 3000 apps that are available on the Shopify platform, and you can check out some of the top Shopify apps for your store in our guide.
TinyIMG is a one-stop app for a Shopify store's image, speed, and SEO optimization
Try TinyIMG today!
How Shopify works: common questions
Does Shopify provide hosting?
Yes. All Shopify plans have unlimited hosting and a free ".myshopify.com" domain.
Do you need a domain name for Shopify?
Yes. You need a domain name to identify your store/brand on Shopify. You can purchase a custom domain name through Shopify or use your existing domain. All plans come with a free ".myshopify.com" domain too.
"myshopify" is a sub-domain of Shopify. Users who sign up for a Shopify plan can choose a store name followed by the ".myshopify.com" sub-domain for free.
Does Shopify give you a website?
Yes, subscribers can create a website with a store using the Shopify platform.
Can you use Shopify with an existing website?
Yes. You can have an existing website and add a Shopify store to the website. The Shopify platform allows businesses to integrate e-commerce functions into an existing website. Store owners can also track their orders through Shopify admin when selling products.
How can you sell with Shopify?
Shopify has simplified the process for anyone to sell a product/service to a global audience. If you are a manufacturer or have a product that has a demand, you can subscribe to a Shopify store and start selling. Shopify offers small, medium, and large businesses with e-commerce functionalities to sell products.
Selling online on your Shopify store
Starting an online store is the most popular way of working with the Shopify platform. To begin, users must sign up for a plan to suit their eCommerce needs. The next steps would be creating all the necessary pages, adding products, setting payment gateways, and other things necessary for your business.
Shopify offers different plans to suit business needs. There are three standard plans to choose from when subscribing to Shopify. The features of the plans increase with the value of the plan selected.
Selling offline with Shopify POS
Shopify POS is an app that allows offline transactions to integrate with online transactions on Shopify. All Shopify plans come with free Shopify POS basic features. However, most businesses upgrade to the Shopify POS Pro version for more features.
Why would you need Shopify POS? Shopify POS helps businesses take their online store offline too. Inventory management, invoices, and transaction tracking are some processes that Shopify POS monitors. This information removes the need for separately managing online and offline sales.
Selling on other websites
Store owners can integrate their Facebook and Instagram stores with their Shopify accounts. By connecting the brand's Shopify store to other websites, product updates need to be executed only once. Any changes made to the Shopify store will automatically update all connected stores.
The other advantage is that Shopify stores can also be connected to Amazon stores. Integrating the two stores helps businesses that work on dropshipping business models. Syncing between the two platforms makes it easy to update products across e-commerce portals.
Today, most purchasing transactions happen over mobile devices. Businesses can reach a global audience through many platforms by integrating Shopify stores.
What to sell on Shopify?
Shopify has done more than just simplifying business processes and costs. In fact, Shopify has opened avenues for aspiring entrepreneurs to run businesses. Today, entrepreneurs don't need to be a manufacturer to sell products. Instead, there are several successful ways that entrepreneurs can source products to sell.
Here are some of the ways to sell products on Shopify:
Selling your own products - if you want to sell something that you're creating on Shopify - you can do so. It might be more time-consuming than other options, as you'll have to take care of product photography, figuring out the right pricing, work with the shipment, and other business aspects. But on the bright side, you'll have a unique product, unique images, and a quality you're sure of, all of which are valued by the customers.
Dropshipping on Shopify - you don't need your own product for an e-commerce store. By dropshipping, you can sell products that are manufactured by other companies for a profit. The products are also directly shipped from the dropshipping company to the customer. There is no need for you to consider warehousing and inventory costs.
Selling affiliate products on Shopify - many companies pay people for referring customers. Business owners who do not want to dropship or manufacture can market and sell affiliate products on Shopify.
Selling on Shopify: common questions
How old do you have to be to use Shopify?
To sell on Shopify, you need to be at least 18 years old. But it's also an option if you want a
job for 17-year-olds
and younger. In this case, parents can open a Shopify store on the young entrepreneur's behalf.
Does Shopify provide products to sell?
No. Shopify does not provide products to sell. However, you can sell products you make yourself, dropship products other companies make, or join an affiliate business and promote their products in your online store.
Does Shopify make your products?
No. Shopify does not make or manufacture your products.
Can I sell my own products on Shopify?
Yes. You can sell your own products on Shopify. Shopify stores offer an affordable and easy way to open an online store that can extend offline too. By creating an account and selecting your plan, you can start selling your own products on Shopify.
Can I sell services on Shopify?
Yes. You can sell services and digital products on Shopify. Using the Shopify for service business model, selling services online is easy.
What items are prohibited to sell on Shopify?
To know what products are prohibited to sell on Shopify, refer to the Shopify terms in the store location for a complete list of prohibited products. This might include alcohol, tobacco products, cannabidiol(CBD), weapons, high-demand items, and other products.
How Does Shipping Work on Shopify?
The shipping of products from an online store is one of the most complicated parts of a business. Shipping costs can also drive the product's price without a simple process in place. With Shopify, the process of shipping is simplified for all businesses.
Shopify uses many carriers like DHL, USPS, UPS, and FedEx, which offer special rates for Shopify customers.
Here is how shipping on Shopify works:
Admin panel - To set up shipping through Shopify, you can use the admin panel to kickstart the shipping process.
Shipping strategy - Planning the strategy for shipping will help customers look past extra costs.
Shipping rate - Choose the rate to include for shipping based on weight and/or size of items.
Print labels - Print shipping labels from Shopify to use on packages to be delivered. Barcode labels help track the parcel's location and are available through Shopify.
Choose carriers - Shortlisting the best carriers for your business in advance will help organize shipping. You can then drop off or assign carriers to pick up your products for delivery.
What are the Shopify plans?
Business owners can choose a subscription plan based on the size and structure of their business. There are three types of standard plans, Shopify Plus and Shopify Starter subscription plans available.
Standart Shopify plans
When creating a Shopify account, you will be required to choose a plan that best suits your business needs. However, for new customers, Shopify provides a 3-day free trial period to decide on a plan and 3-months period to use Shopify Basic plan only for $1/month.
Shopify has three standard monthly plans to choose from - Basic, Shopify, and Advanced.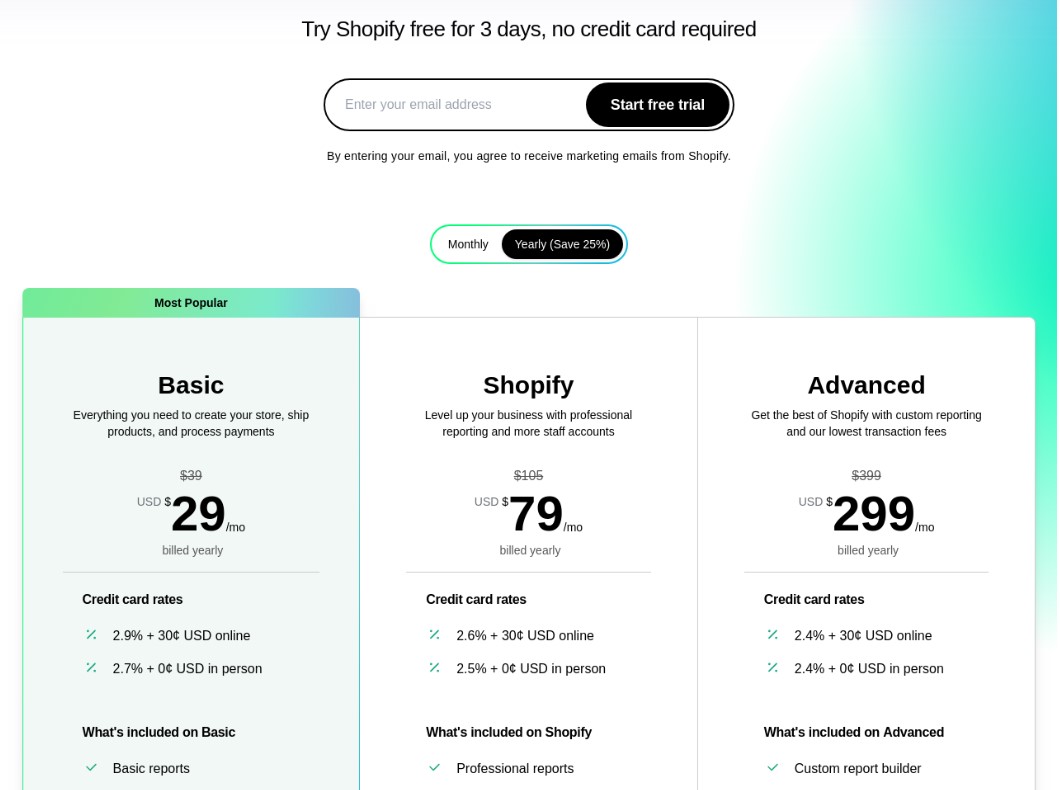 Basic - The basic plan costs $39/month ($29/month if your choose yearly subscription) and is best suited for new e-commerce businesses. The plan offers an online store with unlimited products, reports, and two staff accounts. Sales channels, security certificates, and customer segmentation are some of the features provided.
Shopify - The Shopify plan costs $105/month ($79/month if your choose yearly subscription) and is best for growing businesses. Apart from the basic plan features, extra shipping discounts and lower payment rates are offered.
Advanced - The Advanced plan costs $399/month ($299/month if your choose yearly subscription) and has some of the best features at low rates. Advanced is best for businesses that require in-depth reporting for product sales.
Shopify Starter
Shopify Starter is the cheapest Shopify plan that has a very limited set of features. However, Shopify Starter connects products from your existing site to the admin panel. Shopify POS features are also included in the Shopify Starter plan.
Shopify Starter is an excellent option for businesses that do not have a large customer base and are still growing. On this plan, users can build a very simple storefront, access Shopify apps, and add a "Buy" button to products on an existing website. For $5 per month, a few hand-picked features are available for businesses.
Shopify POS extends your online store to offline locations. With Shopify Starter, you can enjoy the benefits of the Point of Sale app by Shopify to accept payments anywhere. Shopify Starter also makes it easy to create invoices and orders directly.
Shopify Plus
Shopify Plus is a plan with all the bells and whistles for large-scale businesses. The plan starts at $2000 per month, and the available features are the best available on the Shopify platform. Established websites can migrate to Shopify Plus quickly and start selling without delays.
Another advantage of a Shopify plus plan is that it allows managing multiple Shopify stores under one account.
With low fees on shipping and extensive reporting, businesses that choose Shopify Plus may start succeeding in 90 days. Shopify Plus helps cut down the labor costs drastically without wasting time setting up and running. These customers enjoy the highest conversion rate on Shopify.
Shopify pricing: common questions
Is there a free version of Shopify?
Yes. There is a free trial version of Shopify that can be used for 3 days to get acquainted with the platform. Once you try the platform, you can decide if you want to sell on Shopify and which plan is best for your business.
Can you sell on Shopify free trial?
No. You cannot sell products during your free trial. However, you can use the free trial time to set up your store and evaluate which plan will suit your needs.
Shopify Pros and Cons
Shopify has some advantages and disadvantages like any modern platform. However, understanding the platform's shortfalls and perks can help you decide. Here are the pros and cons of Shopify:
Shopify Pros:
Quick setup - migrating an existing website or creating a new store is easy.
User friendly - the most enticing part of Shopify is the user-friendly interface offered. Anyone can start a Shopify store with or without technical knowledge.
Secure - all plans on Shopify get a free SSL certificate giving customers a seal of approval. Along with this, the security features of Shopify are great for all transactions.
Customization - store owners can build their Shopify store to look and feel like their brand.
Mobile friendly - Shopify stores are mobile-friendly to allow for purchases through mobiles.
SEO and marketing - Shopify itself offers some basic functions to promote your business, but you can also install one of the Shopify apps to make the most of your marketing efforts.
Optimizing images, speed, and SEO performance with a single app for your Shopify store.
Install TinyIMG today
Shopify Cons:
Cost - the cost of the plans can be steep for new businesses who are entering a market.
Free trial is limited -the free trial on Shopify is limited to setting up a basic store. However, the good themes are only available after choosing a paid plan.
Bandwidth - while all plans allow unlimited products, store management and upgrading can get tricky. Uploading many plugins and apps can slow the site down.
Reporting - while all plans have reporting functions, only the higher plans have in-depth reporting.
Is Shopify good for beginners?
Shopify is an excellent platform for both beginner store owners and experts. The user-friendly features of Shopify make it the most popular e-commerce platform today. Starting to sell on Shopify is quick and easy.
Many business process features can be integrated into your Shopify store. As a result, the time and cost involved in managing business processes can be reduced. So you can concentrate on strategies to make your first Shopify sales.
Beginners will need to sign up and choose a brand to start selling on Shopify. If you have an existing website with products, it can be easily linked to the Shopify admin. With the Shopify Starter plan, a button linked to Shopify is added to the products on existing sites.
Curious to read more? Check out these articles: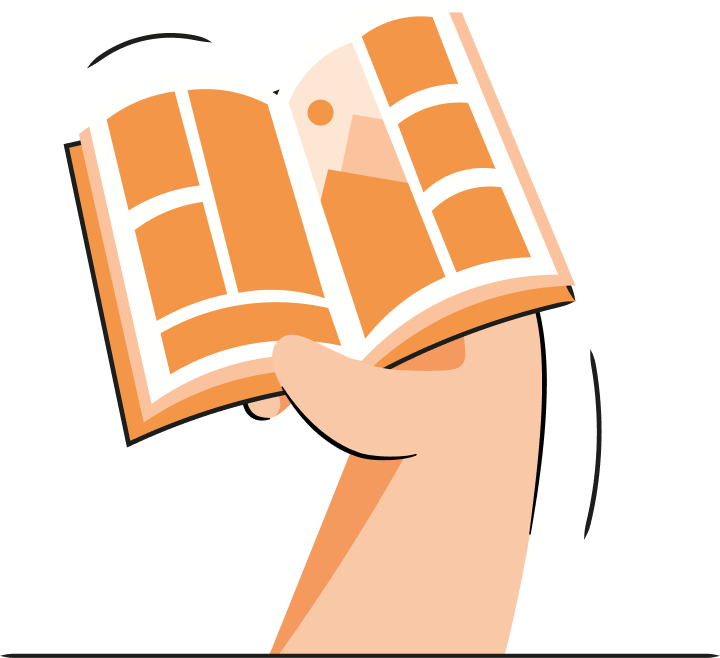 Frequently asked questions
No. Shopify is not a marketplace. It is a platform on which stores and marketplaces are built.
Yes. Shopify is great for small businesses. Depending on the business structure, store owners can choose a suitable plan.
Yes. Shopify offers a 3-day free trial to understand the platform. However, a paid subscription plan will be required to continue using the platform after the trial period. You can choose to continue with a Basic plan 3-month subscription only for $1/month. After that, standart rates are applied.