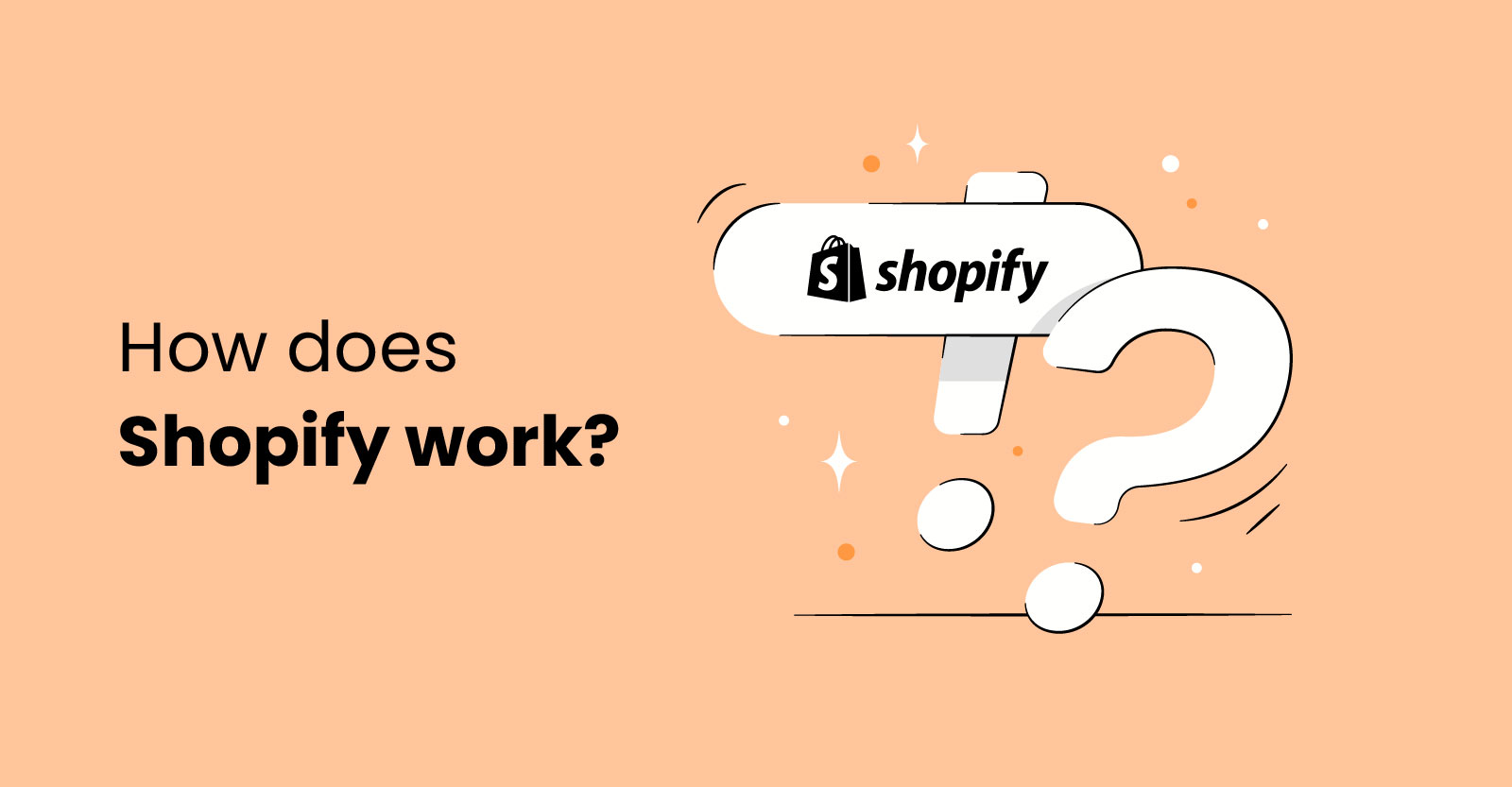 Are you considering e-commerce as a way to expand your business? Confused by all the platforms, software, and marketplaces? Need a simple solution through which to build your online presence and a one-stop-shop for your customers?
Shopify is one of the leading hosts for online stores - from choosing a domain name to picking a layout, it's the perfect destination to fulfill all your website needs.
Are you now wondering, "Shopify how does it work?"
Whether you want to start your store or simply understand how Shopify functions or what sets it apart from other similar platforms—we've got you covered. This nifty guide will help you understand the ins and outs of Shopify.
What is Shopify?
Before you understand how Shopify works, you need to know what exactly it is. Shopify is a Canadian e-commerce platform that allows users globally to host their online stores. Sellers can conveniently design their shop, organize and display products, track orders, account for inventory, accept payments, and do a lot more to run their business.
Though largely known as a website, Shopify allows you to sell online and offline with the Shopify Point of Sale app!
Whether you're a seasoned expert or new to the world of e-commerce, Shopify's user-friendly features make it accessible to everyone. It arms you with all the tools necessary to grow your clientele and maintain a distinct online presence that customers love. The only catch is that you must know how to use it efficiently.
How Does Shopify Work?
Shopify helps sellers host their brands' websites to facilitate an online store that is unique and user-friendly.
Each brand has its domain that customers can access directly through a link or third-party search engine.
Customers can easily place orders online through the website from the comfort of their homes. The seller then dispatches the products, and customers have their purchase conveniently delivered to their doorstep.
This brings us to our next question:
How Does Shopify Work for Sellers?
Shopify works in different ways, depending on how you wish to use it. Like all online platforms, it is meant to cater to your personal needs.
Once you subscribe to Shopify, it offers you all the tools required to create a website that ultimately reflects your style so you can run a successful page. You can make your store an extension of yourself, and use it to sell digital or physical goods, conveniently.
So how does Shopify work as a seller? It's simple. Shopify allows you to access a simple admin panel to add products, customize your design and domain, set up payments, and enter additional information about your store. Its software is extremely easy to use regardless of how much experience you have with e-commerce.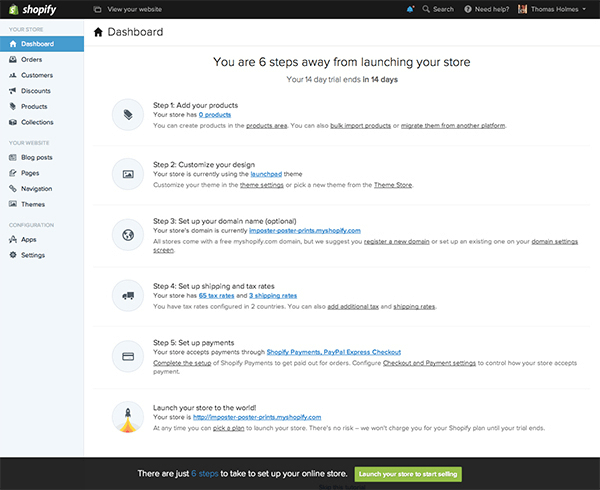 With Shopify, you can also customize the store's appearance by modifying the themes and layouts. This allows you to provide customers with a unique, personalized experience as each store has its signature style. Having a great, customer-friendly layout that is pleasing to look at is also an important aspect of what helps your store retain customers. This is an important element of what Shopify has to offer.
It also provides a variety of payment options and administrative functions, which include assistance with shipping labels.
You're probably convinced that Shopify is a great software to help you achieve your business goals, so now you just have to use it efficiently! Get started with TinyIMG and decrease your workload so you can focus on making your products the best they could be while we improve your SEO.
If you want to know more about how to sign up for Shopify and understand how it works before you make a call, read on!
Types of Shopify Subscriptions
Understanding that its customers have unique requirements, Shopify offers three subscriptions:
Shopify Lite
Shopify Plus
Shopify SOP
How Does Shopify Lite Work?
Shopify Lite is meant for merchants who want to add a 'buy' option to their existing website. They can use Shopify's features to view reports, issue gift cards, and split bills. It is also helpful for when they're looking to sell in person.
Essentially, Shopify Lite is a subscription for those who have already made their website but wish to turn it into a store. It doesn't allow you to make a website from scratch. For as little as US$ 9 per month, you can add helpful features to the website you've already made.
What is Shopify Plus?
Shopify Plus is an elevated version of Shopify. It gives you a dedicated launch manager, special control over shipping details, and also the ability to manage several stores from one place.
By allowing you access to the code, Shopify Plus offers you the freedom to make special customizations to your website. Expect to pay on average US$ 2000 per month for this bundle of services.
It is meant for flagship retailers and merchants with a high revenue who need the extra features to keep track of a high quantity of orders.
What is Shopify POS?
Shopify Point of Sale is a versatile way to unify your online and in-store retail business. For US$ 29 per month, you can access all the tools required to integrate your online and offline business—from reports and analytics to inventory features and sales options.
Shopify POS also seamlessly blends online shopping with an in-store experience.
With Shopify POS, customers have the option to browse in-store, then purchase online, or buy online and pick the product up from your retail store. If you're short on inventory at your store, customers can place their orders, and you can have the products delivered to them directly as well.
Main Shopify Features Overview
Essential tools for making and customizing a website, blog, or online store
Integrate sales with different channels such as Facebook, Amazon, Instagram, Pinterest, etc.
Supports several different payment gateways
Offers crucial help for easy shipping
Convenient and easy product posting and changes across all platforms
Helpful and reliable customer support
What Products Can You Sell?
You can sell all kinds of products on Shopify! You probably already know about the physical products that you can sell - from clothes to electronics to art. Here are some other things to consider as well:
Services, appointments, and consultations
Memberships and rentals
Digital products and gift cards
Tickets to different events
Event support
Classes, workshops, tutorials, and online lessons
Installations and quotes
How to Create Success With Shopify Stores?
Everyone wants their businesses to grow and their stores to be successful. If you're a beginner and need some help, here are a few tips to help you out!
Optimize your store to be compatible with mobiles and tablets - customers use their phones to browse through online stores more often than they use their laptops and computers.
Sell a wide range of products - the larger the variety of products you offer, the more likely customers are to flock to your store.
Work on Customer Retention - 65% of sales come from previous customers. Study your insights to attract a larger audience, but always work to appeal to your established customer base.
Enhance your marketing and build Client Connections - if you can create a bond with your customers and connect with them better, they're more likely to shop from you!
Shopify Apps You Must Try!
Whatever different aspects of your business you need help with—marketing to delivery—there's a Shopify App to help you out. Here are a few personal recommendations:
SEO and Image Optimizers such as TinyIMG - to make your products look amazing and grab your customers attention!
Cookie Consent Bar Apps - when people visit your store, you have to inform them about cookies. Free apps like TinyIMG Cookie Bar can help you make these messages look great!
Increase Sales and Conversion - with apps such as Loox and Growave. Need something to help track messages and or offer services to customers like cart recovery? Explore potential business solutions with FirePush.

Apps for sales Channels - Google Shopping and Etsy Marketplace Integration make it so easy to sync your store, import products, and manage inventory across apps!
Find products and manage inventory - with apps like Oberlo and Printful, running an online store will be easy and convenient.
Shopify Templates
Since there are several templates to choose from, it is easy to get confused. Here are a few amazing themes to get you started!
Multipurpose:
Ella
Wokiee
Fastor
Shella
Responsive:
With an abundance of choices comes the challenge of weighing pros and cons and identifying which template will work best for your business. Need a few more tips?Try our quick read on how to pick the best converting Shopify theme.
How Does Shipping Work on Shopify?
If you've ever wondered, "how does Shopify shipping work?" We've got the answers for you!
Shopify aims to help you fulfill orders quickly and easily. You can buy shipping labels directly through the website and print multiple labels from their shipping partners, to dispatch your orders quickly.
You can select your preferred mail carrier and offer different shipping rates and delivery timelines based on the rates. Customers can then pick the rate they are comfortable with and have the freedom to choose between standard and quicker deliveries if you offer the option to do so.
Shopify has partnered with services like USPS, UPS, DHL, and Canada post, which you can use for international shipping as well. You simply have to select your shipping on Shopify Shipping and schedule a pickup or drop your packages off at the carrier.
How does Dropshipping work on Shopify?
For those who prefer dropshipping, you can arrange for a wholesale rate with your manufacturer or supplier and control the price that your customers view on your online store. Your dropshipping shipment is dispatched directly from your supplier, so you don't have to invest in inventory.
Shopify doesn't just partner with your supplier. It also works with Social Media and Amazon!
Are you now wondering," how does Shopify work with Facebook?" or "how does Shopify work with Amazon?" Perhaps you have questions like "how does Shopify work on Facebook?"
Here's everything you need to know!
How Does Shopify Work With Amazon and Facebook: Shopify Integration.
As a seller, you can integrate your Shopify store with your brand's social media accounts. These pages will reflect any changes you make to your Shopify products as well. All your Shopify products are displayed in your Social media shops automatically, so you don't have to update them individually. Whether you have a Facebook Marketplace Shop or an Instagram store, Shopify seamlessly blends with them to make the process easy for you and your customers.
What's more? Shopify also makes it easier to make product listings on Amazon. Just like Facebook and Instagram, it integrates with the Amazon marketplace so you can sync inventory, create and edit listings, and fulfill orders easily. It also helps you reach a broader customer base.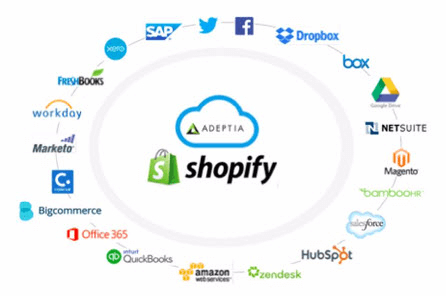 This is an incredible feature as your business needs to adapt to mobile e-commerce and social media - so your customers find it convenient to find your store and place orders with no hassles - whenever, wherever.
How Does Oberlo Work With Shopify?
Oberlo is an expert dropshipping service that helps you find products to sell easily. You can order products from Oberlo and have them shipped directly to your customers. This saves you the effort of packaging and stocking up on inventory.
Oberlo has a network of suppliers that package and ship products from their warehouses or manufacturing units, wherever you need.
Once you're connected with these suppliers, you can focus on using Shopify to enhance and market your website without worrying about the logistics of product delivery.
Shopify keeps your website up and running, while Oberlo helps your orders and deliveries function smoothly. It's the perfect team!
How has Shopify changed the game for sellers and consumers?
The volume of e-commerce and online shopping has increased significantly over the last few years. There has also been a notable increase in the number of businesses that are now turning to e-commerce. With less capital investment involved in terms of real estate property, entrepreneurs are encouraged to expand their businesses and harness the possibilities available with online stores.
Now that the cost of renting a store is sidelined to a large extent, businesses have an increased ability to advertise their products online and sell directly to customers. This decreases their costs and thus helps increase their profits. It also provides an opportunity for innovation - products are invented, and new companies are started all the time.
The downside to this is that there has been an increase in standardized online stores where products are listed in a boring, uninteresting format. From clothes and accessories to hardware and electronics to home decor and essentials—all of it looks the same. Customers don't enjoy the same immersive experience from visiting a mall or a store when shopping online, as the focus is more on selling a product than providing an experience.
Shopify changes this by making online shopping fun and convenient. With Shopify's variety of themes and layouts, brands can provide their customers with a signature style and experience by customizing their stores. Customers get their purchases delivered to them with no hassle. They get to browse an online store the same way they would at a brick-and-mortar shop. The only difference perhaps is that they wouldn't go out shopping in their pajamas!
Shopify: Yay or Nay?
Like all things, Shopify has its advantages and shortcomings. We've listed them to help you make an informed decision.
Pros:
User-friendly interface which is convenient for e-commerce beginners as well as experts
Quick and easy setup that takes the hassle out of launching your website
Reliable and secure
Vast customization options to let you fully personalize your store
Optimized for mobiles, which is very important to draw in customers
Efficient SEO and Marketing tools that help you grow your business effectively
Cons:
Can be expensive depending on your business profile
Most theme and font options are only accessible after payment
Speed slows down as additional plug-ins are installed
No drag and drop editor, which can be tedious
Setting up Your Shopify Store
Shopify offers a 14-day trial, so you have the opportunity to experiment and get a headstart before you have to start paying for the service.
Setting up your website is super easy. There's plenty of tutorials to help you out if you're struggling, but all you really have to do is:
Sign up and start a free trial with a unique store name.
Set up your store - this includes customizing, setting up payments, and shipping.
Pick a theme or layout - you can use the free ones provided or buy something you like.
Personalize your page with your logo and branding.
Upload your products with images. You can also set up collections of multiple products.
Pick payment gateways.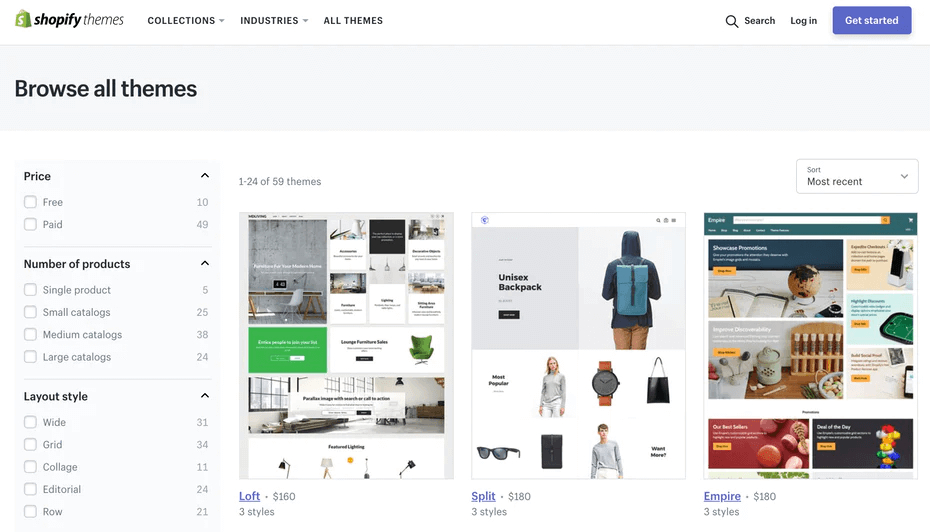 Once you're happy with the aesthetics and content on your site, you can let it go Live!
When it's live, you'll have to ship your products as the orders start pouring in.
Don't forget - the better your products look online, the more orders you'll receive!
Some Helpful Tips To Making The Best of Shopify
There are many different things to focus on to make your Shopify store the best it could be. TinyIMG has a lot of free resources like this quick read on building a successful online store. Need something shorter? Here are a few basic pointers:
Pick your theme/layout wisely
It's the first thing your customers will notice, and if it isn't attractive, nothing's stopping them from closing the tab!
Make sure your interface is easy to navigate and user-friendly
When setting up your website, highlight important action buttons such as "add to cart," "add to wishlist," and "checkout."
Know your customer base and understand how to appeal to your target audience
Depending on what you're selling, your website must have bestsellers or go-to products on the forefront so they're easier to purchase.
Always be authentic and upfront
Avoid hidden costs and earn your customer's trust.
Figure out your shipping details in advance
Do this preferably before your site goes live, as it will help give your customers an accurate approximation of shipping time and costs.
Sometimes, a few months into publishing your website, you may realize your store can do better—don't be afraid to make relevant changes. That's how you grow!
A Quick Summary
Shopify benefits consumers and entrepreneurs. When hosting an online store is this easy, entrepreneurs can focus their capital towards newer, higher-quality products and grow their business better.
On the other hand, customers get a vivid shopping experience at the tip of their fingers. Shopify makes online shopping convenient without having to compromise on a fun experience.
Shopify provides all the tools necessary to make your website.
It offers a 14-day free trial, so you get a headstart on your business.
With several shipping partners, you get to ship your products and fulfill orders with no hassle conveniently.
Customers get to enjoy an immersive shopping experience unique to the brand/company.
Sellers can fully customize their layout and theme to reflect the brand's style.
Shopify integrates seamlessly with social media such as Facebook and Instagram, and also with Amazon.
Changes made in Shopify reflect on the integrated pages automatically for convenience.
Frequently asked questions
How do beginners benefit from Shopify?
Shopify has an easy-to-use interface with low startup costs, and beginners can take advantage of the 14-day free trial period to make their website the best it could be.
How to price your products?
Before finalizing your price, you must take into consideration things like taxes and packaging costs. Also, add different rates for different shipping speeds and weights.
What are the most important things to focus on when making an online store through Shopify?
Selecting an attractive theme that will appeal to your customers.
Having a user-friendly layout.
Making buttons for important actions easy to access.
Highlighting relevant information about product details in the descriptions.