By purchasing through the links on this page, you are giving us the opportunity to earn a commission. Your support is greatly appreciated!

When you have a bunch of ideas brewing, or want to expand your existing business on Shopify, you may want to understand how to add multiple stores on Shopify. And it's possible to do just that by creating an account for each one, or spending the money for Shopify Plus to manage under one umbrella. In this article, we'll share all the details on how.
Multiple Shopify stores on one email
So we know it's possible to add multiple stores to Shopify, and there are a few different kinds of Shopify stores you might want to create — the two most common being either entirely different domains like blue-widget.com and green-widget.com or subdomains, like help.blue-widget.com and blue-widget.com.
Creating subdomains
If you're planning on global expansion, it's worth mapping out what regions you want to cover, because all Shopify plans (aside from Plus) allow you to add only 20 domains or subdomains to your store. If you choose to add domains, these will be automatically redirected to your primary domain. Subdomains can be configured to multiple purposes, including help & support forums or internationally targeted websites. If you're on Shopify Plus, you can add 1,000 domains or subdomains this way.
1. Go to Settings, in the lower left of your desktop admin.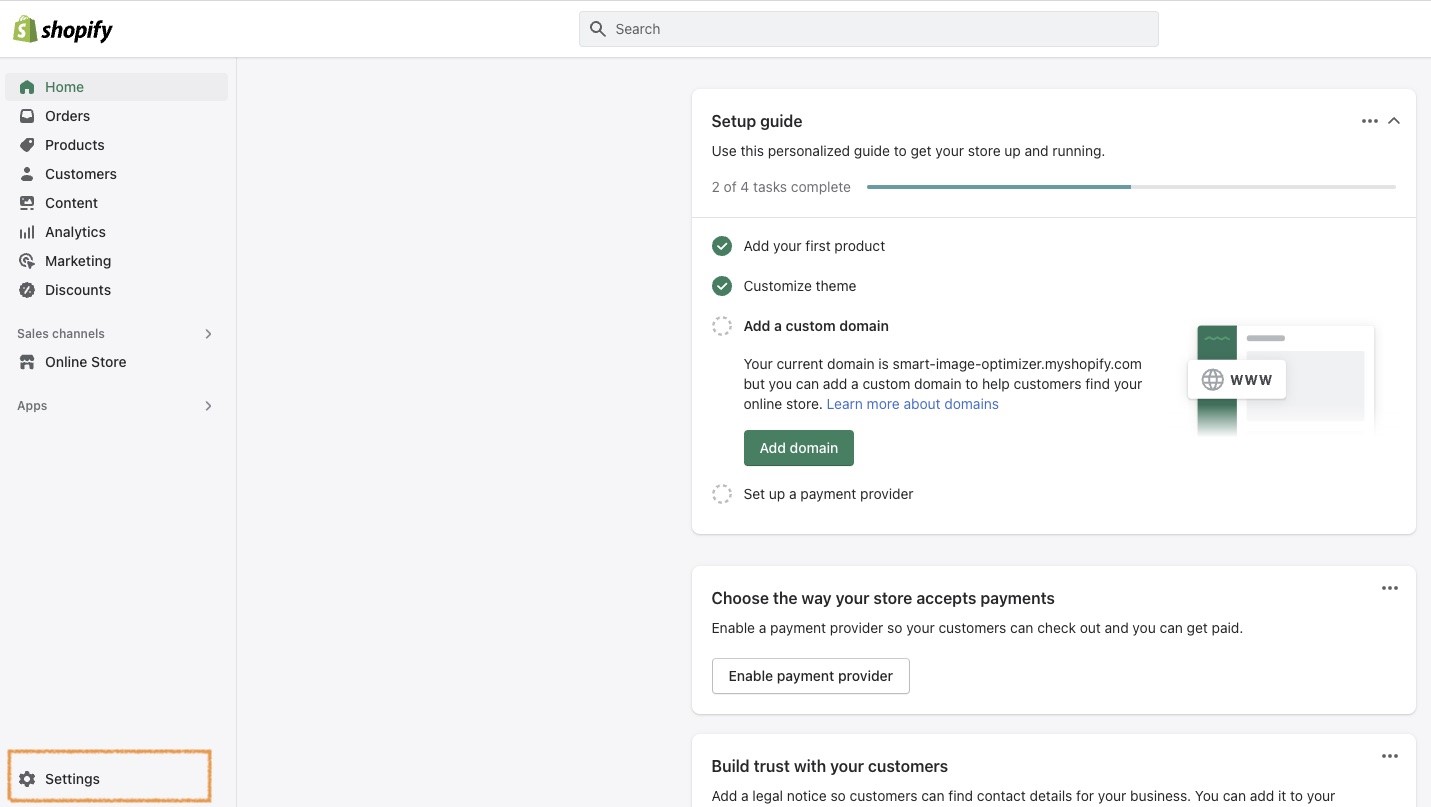 2. Click on Domains.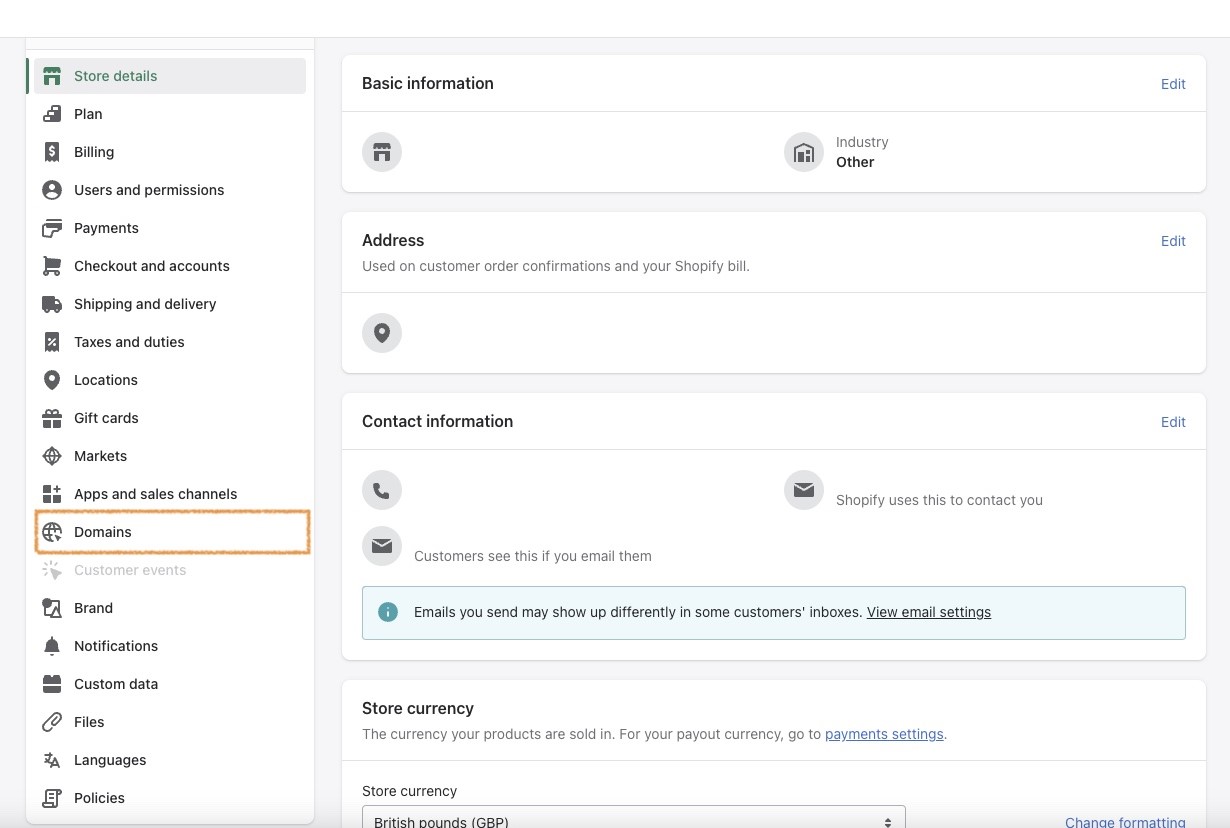 3. Search and find the domain you want to manage. Click on that domain.
4. Under Subdomains, click Add subdomain.
5. Enter the prefix you want to use. (Note: for international targeting, the recommended solution is to use a two-letter country code for your target market). If you're doing it for a different reason, enter in the subdomain you want, like blog or support.
6. Click on Add Subdomain.
Once you do that, the default Shopify CNAME is automatically added to your DNS settings. If you want to change that to target a specific market or otherwise, there's further configuration required.
Creating different stores
Creating different stores on Shopify is another way to have multiple Shopify stores. It creates more overhead for you, because while you can use the same email address (and should, for reasons that we'll explain in a moment), you aren't able to manage them all in the same admin. Each store will still have its own admin panel, separate and unique Shopify backend, and its own Shopify plan.
The reason you should register them all under the same email address (or at least consider it) is because then you'll get access to the store switcher within Shopify, assuming the email is verified for all stores. This means rather than continually having to log in and out of different store back ends, you'll be able to switch stores once you log in to Shopify. This only includes stores that are live — no frozen, paused or closed stores.
To do this you'll want to add stores to your store list. To do that:
From the app, click Store.
Choose the store from the list, and then click add or remove stores.
Decide which stores you want to add by clicking the toggle button.
Multiple stores on one Shopify account
If you want multiple stores under one account and managed altogether, the only option at the time of writing is to choose a Shopify Plus plan. The Plus plan out of the box allows for 9 stores in addition to your primary store (10 total). If you want more than that, it's $250USD per extra store.
When you have Shopify Plus and you have "Store Management" access, you get a new section of Shopify called "Stores", which is a consolidated navigation that allows you to see a list of all your stores, including: name, type, status, primary domain, currency and active sales channels.
A Shopify Plus plan is a robust solution geared toward large, international businesses that have complex shipping and inventory management requirements, as well as a high volume of sales, and its pricing reflects that. Pricing starts at $2,000USD per month.
Costs of having multiple Shopify stores
The cost of having multiple Shopify stores depends on the options you choose.
| | | | |
| --- | --- | --- | --- |
| Costs* | Sub-domains | Different stores (per store) | Shopify Plus (per store) |
| Plan fee | $0 | $39-$399USD/month | $2,000USD/month |
| Domain purchase | $0 | $20 | $20 |
| Theme purchase | $0-$350USD | $0-$350USD | $0-$350USD |
| Branding | $0 | $0-$5,000USD | $0-$5,000USD |
| Apps | $0 | $120USD/month** | $120USD/month** |
| Time | Big initial & slight ongoing | Big initial & big ongoing | Big initial & big ongoing |
*Estimated prices at the time of writing
**Based on an average cost of $20USD per app with a store owner having an average of 6 apps with monthly fees.
By far the most efficient way to have multiple Shopify stores is to use sub-domains, but it has limited use. Sub-domains are generally more appropriate for selling the same things as the main domain but in a different region.
If you want 2 or more entirely different shops, you're looking at a relatively expensive monthly cost, and it gets exponentially more expensive each new store you create and build. For each new shop, you'll want to consider things like the domain, the theme, branding, the apps you use, and how much time it'll take for you or your team to manage ongoing.
Benefits of having multiple Shopify stores
Having multiple Shopify stores does have its benefits, though. In one way or another it gives you the wiggle room to more specifically target your customers, which, when done properly is a tactic for SEO and should also help you increase your organic visibility.
This could be in a few ways: creating a subdomain to target a specific region, using local language and imagery that speaks more to those customers than in your primary country, creating a wholesale or outlet version of your website with different branding, or having unique branding for an entirely different product line or group of products.
Managing multiple Shopify stores
Managing multiple Shopify stores can be a bit difficult if you're not looking to purchase Shopify Plus. Earlier in this article we've already talked through the steps of turning on store switcher, which, when set up, will at least make accessing each store a bit easier.
There's also nothing stopping you from picking up a Shopify Plus plan if you feel your business can carry the expense — if you're looking to create more than 5 more unique stores on the Advanced plan, for example, you're basically paying what you would if you bought Plus, and Plus has a lot more support and features you wouldn't get otherwise.
Let's say, though, you aren't willing to spend the money to get Plus. There are apps that can make inventory management easier. Options include:
Syncio: $19-69USD/mo, based primarily on the number of products. Sync product fields and manage inventory.
Multify: $499-699USD/mo, based primarily on the number of stores. Syncs products and customers in a single interface.
When managing multiple stores, as well, you'd want to consider things like:
Whether or not to have a centralised customer support team
How or if you'll translate content into the local language
If you want or need to bulk copy your original site to work off to create your new site
Tips for growing your Shopify multistore business
Kicking off a global expansion through new domains or subdomains can be time-consuming and difficult, and require new expertise that you may not already have within your business. This includes:
Technical setup: When you're looking to expand globally, technical considerations around international targeting and Shopify SEO can be critical — imagine if you were a customer in India that ended up on the website for France because the French version was the one that showed up in their search results.
Targeting & content: It's important to understand your market when you're expanding. Just because your customers at home prefer product x doesn't mean the new market will. Plus, the visuals or the tone of the language you're using may not fit at all with local customs and expectations.
Language: While automatically generated translations are a place to start (for example, with the help of Shopify translation apps), they probably aren't going to be perfect. Is there someone you can hire who speaks the language to sanity check your website, and maybe throw in a few slang terms, rather than the (likely) more formal, auto-generated words you have?
Summary
Overall, remember it's a decently big commitment to create a multi-store setup in Shopify. Beyond the actual costs in invoices you'll need to pay, there's also the time that it'll take to set these things up and really set them up for success.
Much like your decision to re-brand or change the domain of your Shopify store, expanding your business is a decision to take seriously, and understand the time and effort you or your team will likely need to put in before you're able to really see progress. And if you're starting a new business entirely, you're essentially starting from zero in terms of your presence online.
Whether it's an all new store or a localisation of your existing store, it's a commitment and deserves true consideration before taking the plunge.