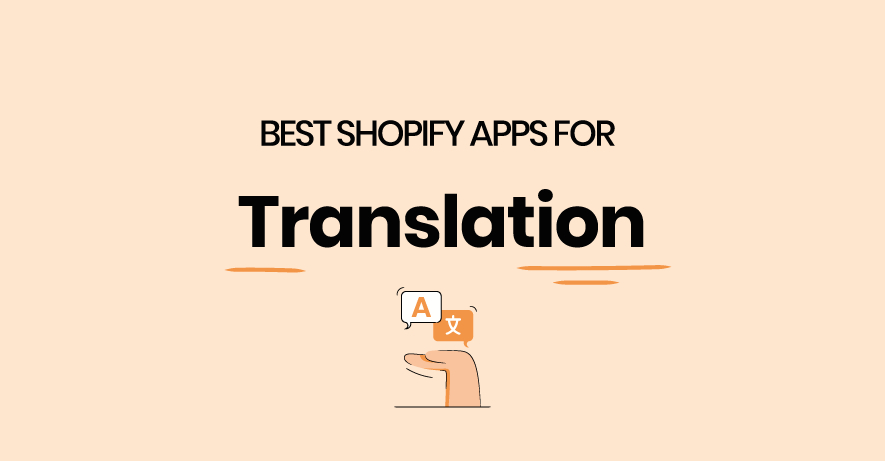 By purchasing through the links on this page, you are giving us the opportunity to earn a commission. Your support is greatly appreciated!

If you want your store to reach global audiences, you must make sure all pages on your website are multilingual. Since not everyone in the world understands English, you could be missing out on a lot of potential customers.

Making translations is no easy task, though – it takes a lot of time, effort, and money to do everything from text translation to currency switchers. That's why Shopify translation apps are here to make your life easier.

As with any of Shopify apps, there are a lot of translation apps available (many bad ones, too). That's why in this article, we've selected the best ones and reviewed each of them in detail. But before we go into it, let's talk about why you really need an app for translation.

Is your Shopify store optimized? Use the TinyIMG app for image compression, better speed and SEO performance

Install TinyIMG now
Why do you need a Shopify translation app?
This is why we think you must get a Shopify translation app for your store:
Reach a multilingual audience. Translating your store into multiple languages will help you reach an audience that wouldn't be able to find it if you only use your native language.
Boost SEO efforts. The more languages you translate your store into, the more organic traffic you will receive.
Build brand loyalty. If visitors see coupons or exclusive deals related to their target market, they'll be more likely to stay.
Use one platform for all translation matters. One dedicated app will allow you to manage everything related to translations in one place.
Save time, money and effort. Translation apps that offer AI services will not require you to put effort or money into translation agencies or manual translators.
With all that covered, let's get into our detailed review of the hand-picked best Shopify translation apps.
Top 5 translation apps for Shopify for 2023: overview
Before we go into the detailed list, here's our shortlist of the 5 best translation apps:
Now let's review each app to help you decide which one is the best fit for your Shopify store.
Transcy – the best Shopify translation app

Transcy is a Shopify translation app that will help you automate translation and automatically convert currency.
Auto-translation, multilingual SEO, currency converter, RTL
From $9.90/month (free plan available)
With Transcy, you can translate all your site's content into 111 languages. This will open your Shopify store to more audiences and boost SEO efforts.
The app also offers image translation and auto-translates newly added content, e.g. new products. The visitors will also be automatically taken to the version of the store that corresponds to their location.
The free plan Transcy offers is pretty limited, but you get unlimited words and pageviews, AI machine translation, and some other features. However, with the free version, you can only add one language.
What do Transcy reviews say?
Reviewers say the app is easy to set up and use. Most reviews also mention very helpful and professional customer support.
ETranslate – all features you need in one translation app

ETranslate is a top rated Shopify translator that helps your efforts in bringing in more revenue and organic traffic.
Multilingual SEO, automatic currency converter, AI translation
ETranslate offers a lot of useful features that help with translating all of your website's content into multiple languages.
With this Shopify app, you get localized URLs for different languages. Not only that, but you can also easily translate metatags and alt texts, and generate sitemaps with all published languages. All of this will be a huge boost in your SEO efforts.
You can choose to translate your store manually or automatically, using Google Neural Machine Translate API. There's also image translation, convenient currency and language switcher, as well as automatic location detection for your store's visitors.
What do ETranslate reviews say?
Reviewers mostly praise the professional customer support team. Most reviews are positive, although one recent reviewer mentioned that the currency switcher slowed down their website.
Translation Lab – a powerful Shopify language translation app

Translation Lab is a feature-packed Shopify translation app that allows you to seamlessly reach new markets.
Auto-translation, multi-currency support, Google NMT availability
From $9.99/month (free plan available)
This translation app offers all necessary features that will help you professionally translate your Shopify store into 130+ languages. With its currency switcher, you can sell products using more than 160 currencies.
Translation Lab works natively with Shopify's multi-language feature, meaning you don't need any coding knowledge to translate the pages. You can also choose whether to translate manually or automatically with AI, using Google Neural Machine Translations.
The app has great SEO support as well, allowing you to get indexed in every language you want. Translate metatags, URLs, and more.
What do Translation Lab reviews say?
People are happy with the variety of tools and features that this translation app offers. If you're looking to nit-pick, though, one reviewer would like to have more automatic functions.
GTranslate – easy translation with Google Translate automatic service

GTranslate is an app that will help you open new markets and increase sales through automatic or manual translation.
Multilingual SEO, auto-translation, metadata translation
From $9.99/month (free plan available)
GTranslate app uses Google Translation automatic translation services to bring your shop to new markets and customers. This helps you save time, money, and also lets you focus on other marketing efforts.
The multilingual SEO feature will ensure that you're getting indexed in search engines in different languages. Increasing organic traffic in non-English markets can boost conversion rate and bring in new loyal customers.
This translation app doesn't limit the number of languages in their free version (as well as word count and pageviews), which is a nice bonus.
What do GTranslate reviews say?
Reviewers say the app is easy to use and the support was helpful in solving any issues.
Weglot – translate an entire Shopify store in 5 minutes

Weglot is a Shopify translator app that combines all features into one platform for easy translation management.
Multilingual SEO, automatic & manual translation, metadata translation
Free to install (additional charges may apply)
With Weglot, you can automatically translate checkout and dynamic contents, as well as email notifications. All newly added content will also be automatically translated.
Get your store automatically indexed in the translated languages in search engines with multilingual SEO. You will also be able to create unique localized URLs.
Weglot provides you with an intuitive interface where you can manage and edit all translations. You can also translate inside your store with the Visual Editor.
When it comes to pricing, the app is free to install but charges will apply if you exceed 2000 translated words in 1 language.
What do Weglot reviews say?
Reviewers say the app is easy to use and understand. Those who had some issues, though, praise customer support for their help.
What is a Shopify translation app?
A Shopify translation app is a tool that helps you translate your store into multiple languages in minutes. That means that all pages on your website are translated, including checkout pages.
Some apps are more powerful than others, but generally, a good app can offer more than 100 language possibilities. Most apps offer some form of AI translation, which, of course, saves you time and money.
With a translation app, you can also add currency options to your checkout, which is incredibly useful for people that don't want to waste time converting currencies. With so much competition everywhere, customers can easily bounce between shops if an online store doesn't offer features they need.
All in all, to get a Shopify translation app, you just need to install it like any other Shopify app.
What makes Shopify translation app the best?
What features do you need to consider when choosing the best Shopify translation app? Here are our criteria:
Automatic translation. Professionally executed AI translation can look seamless, not to mention the time and money you will save.
Multilingual SEO. Make sure the app offers automatic metadata translation and unique localized URLs.
Number of languages. See how many languages and currencies the app offers translation services for.
Customer reviews. Check out customer reviews before committing to an app. Make sure to also read 3-star and lower reviews to see what problems people are having with the app and if the developers have addressed it.
Image translation. Not all apps offer image translation, but if you need this kind of feature, make sure to read descriptions carefully.
Geolocation auto-detection. This feature redirects visitors to the localized version of the website depending on their location.
Generally, what features you need depends on you and the size of your business. If you're unsure what is best for you, take advantage of free plans and free trials that most of the translation apps offer.
How to add multiple languages to your Shopify store
If you want to get started with your first Shopify translation app, go through this step-by-step guide. You'll get your store translated in no time!
1. Upon installing the app, go to the app's dashboard. Here, you will see the button that says Translate now. Click it. This will translate all selected pages in seconds.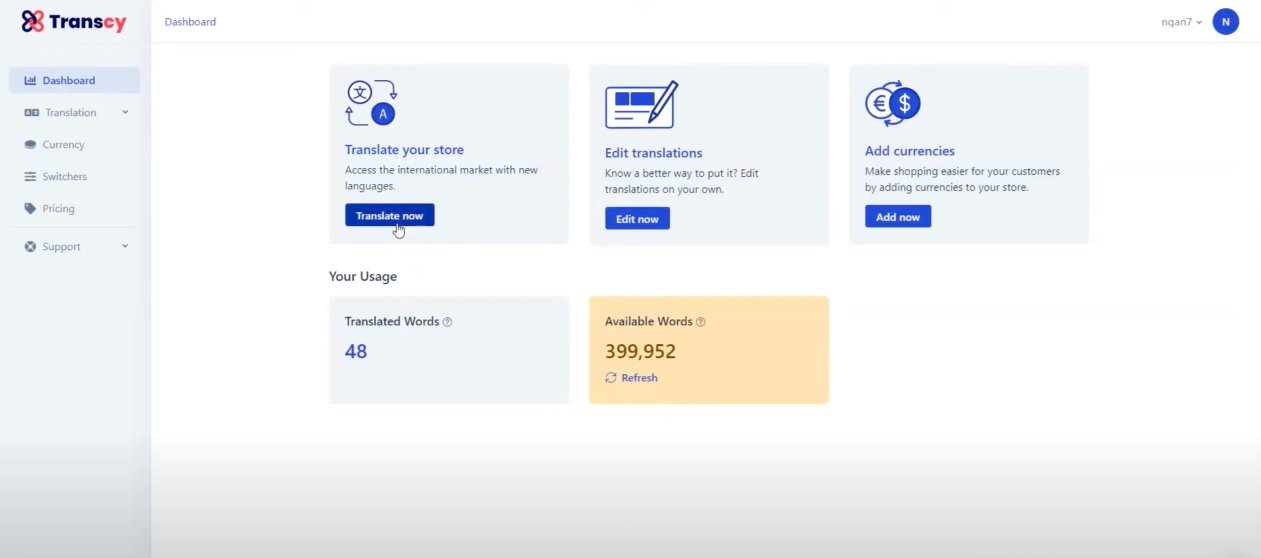 2. The pop-up will appear. Select languages you want your store to be translated to and click Translate.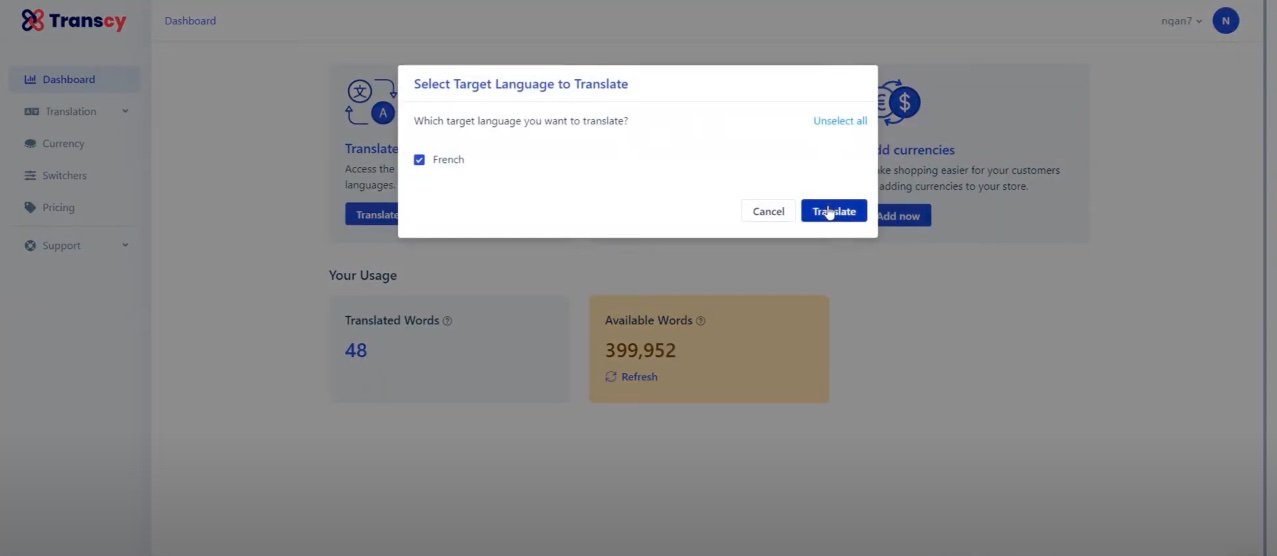 3. Select the items/pages you want to translate and click Translate. That's it!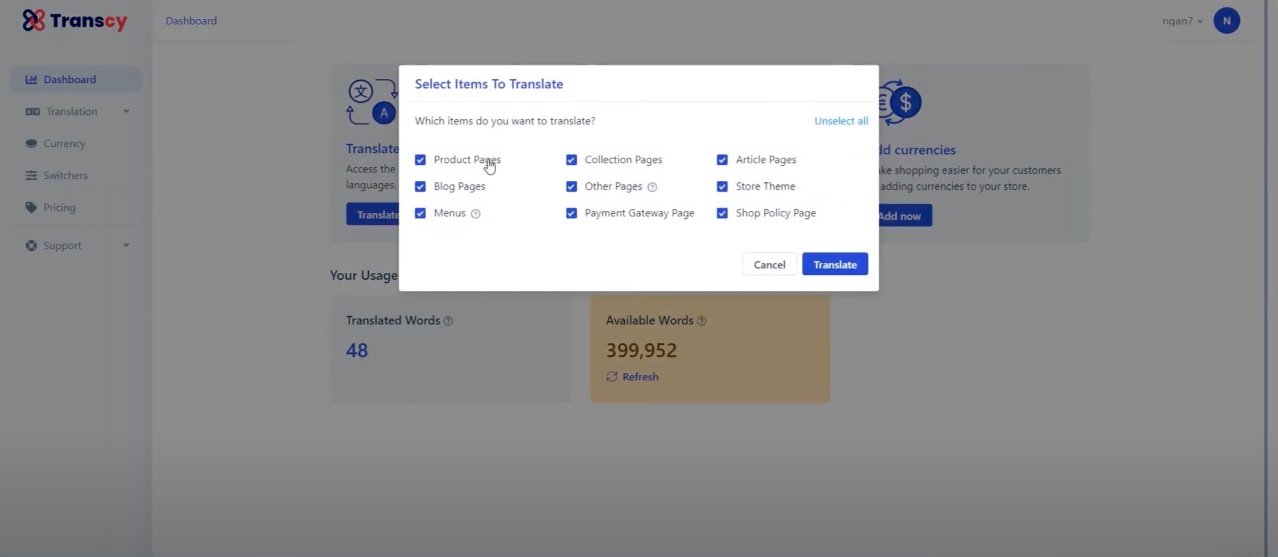 4. In order to translate specific pages, go to the Translation tab on the left and click Translate store.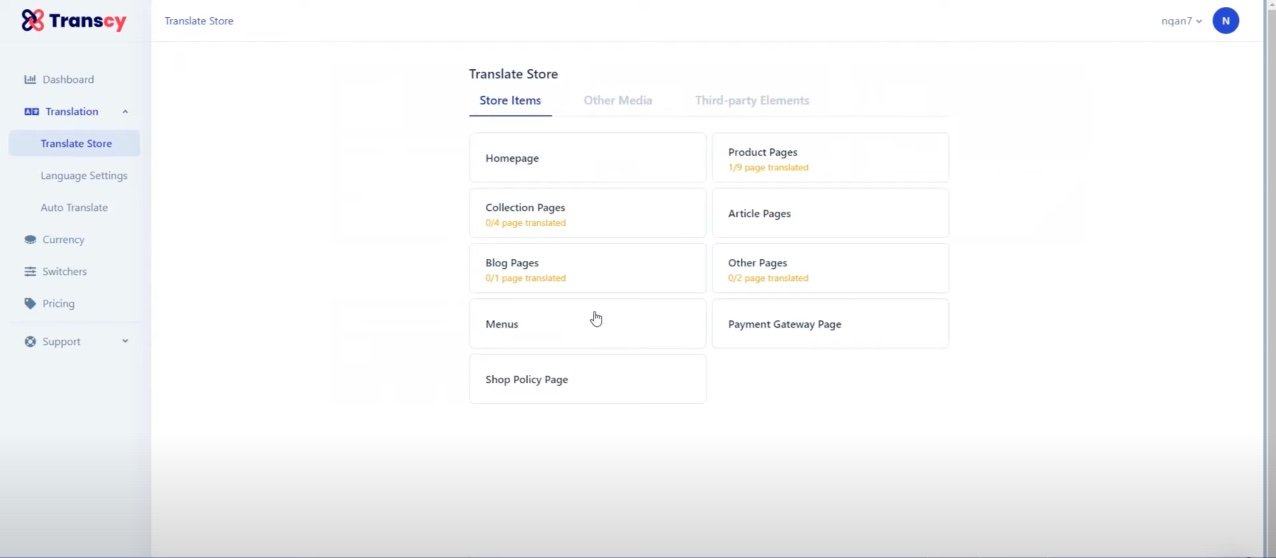 5. Click on the section you want to translate (e.g. product pages). Choose any page that is not yet translated and click Translate.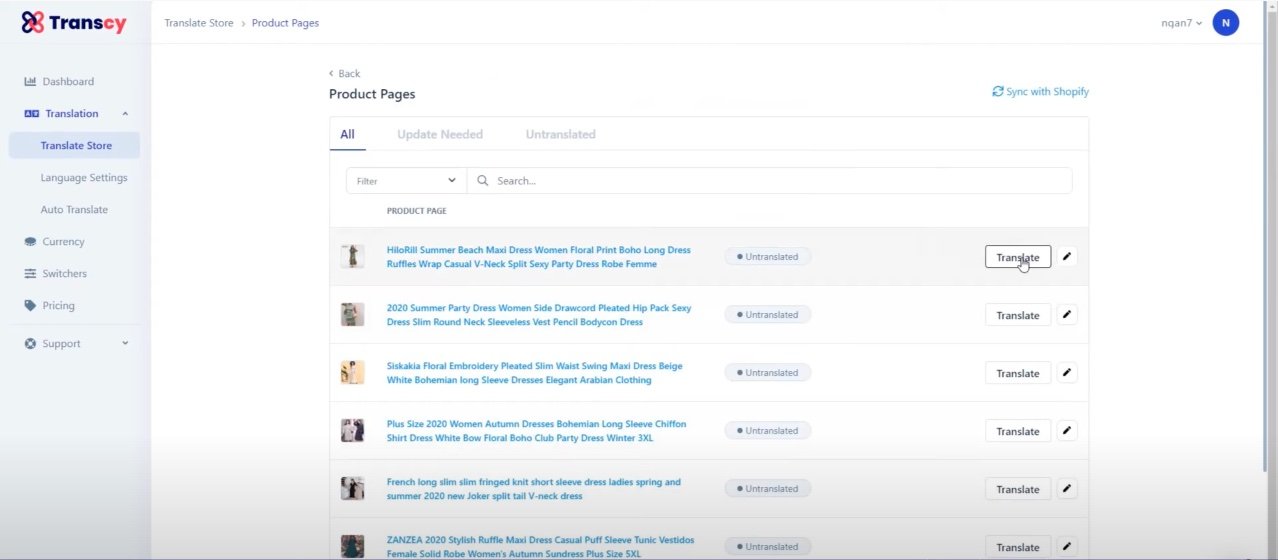 6. You can check and edit the translation by clicking on the pen icon next to the page. Or view how the page looks live by clicking on the eye icon.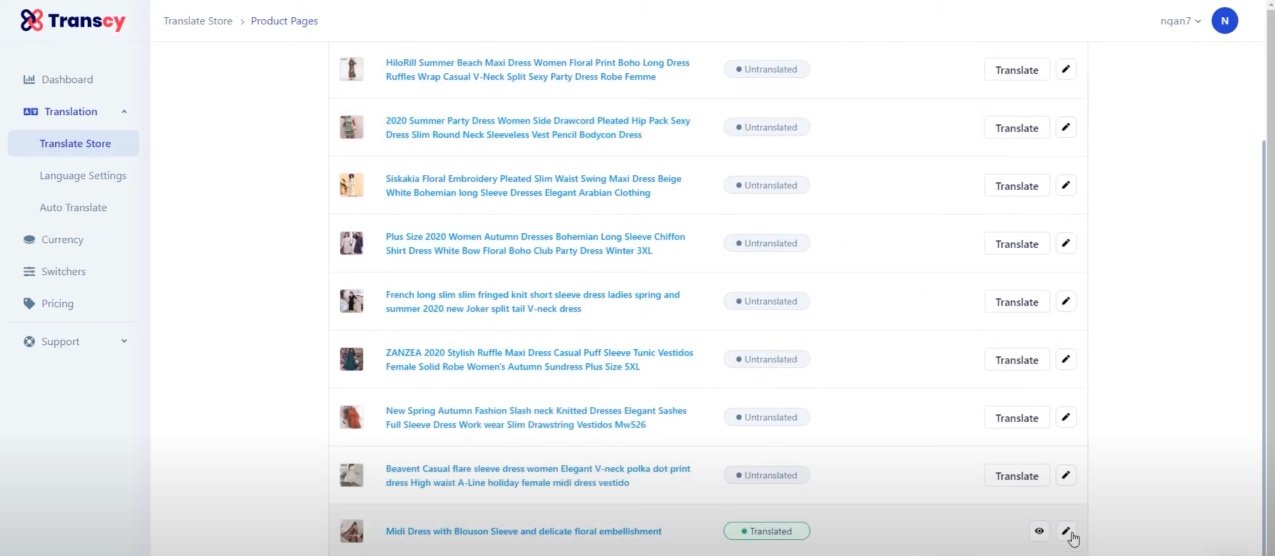 As you can see, the process is pretty straightforward. We hope you enjoy using your chosen translation app!
Conclusion
A multilingual store is key if you want to succeed in the global market, reach new customers, and increase organic traffic. While translating your Shopify store to hundreds of languages is bound to be costly, a translation app makes it all a bit easier.
We concluded that the best Shopify translation app on our list is Transcy. It's packed with great features, like professional AI translations, multilingual SEO support, image translation, multiple currency support, geolocation auto-detection, and more.
All in all, make sure to ask yourself, what you need in a good translation app and what features matter to you because there are no one-size-fits-all options.
Looking for more apps? Check out these lists:
Frequently asked questions
Does Shopify have language translation?
Yes, you can translate your store in multiple languages by going to your Shopify admin dashboard and creating separate URLs for translated content. However, Shopify's native language translation offers limited features, so we suggest getting a Shopify translation app.
What is the best translation app for Shopify?
The best translation app for Shopify is Transcy. It offers by far the most features and is rated high by its customer base. You can use AI translation to translate your store into 100+ languages (RTL included), convert currencies, detect visitors' geolocations, translate images, automatically update new pages, and boost SEO efforts by translating metadata and URLs.