By purchasing through the links on this page, you are giving us the opportunity to earn a commission. Your support is greatly appreciated!

Shopify can be a superb platform to start your service business online. Even though most merchants sell physical products there, you can create a service product on Shopify and sell it just as perfectly.

In this article, you will find everything you need to know about selling a service on Shopify. We will analyze how truly suitable Shopify is for a service business, how to sell your service successfully, and we will also walk you through Shopify business examples.

So, read on and get ready for incoming bookings!
Shopify for services: is it a suitable platform?
Shopify and a service business is definitely a possible combo. Although the platform is primarily used for selling physical products, multiple businesses have succeeded due to a flexible Shopify functionality.
First of all, Shopify makes sure you don't need to run around looking for a website builder, hosting service, or SEO optimization tools separately. All users can access its built-in features or an extensive library of third-party applications.
Shopify itself has been created for sellers that barely have technical knowledge allowing them to build and monitor websites effortlessly. There's an intuitive website builder with both free and paid templates that you can customize according to your needs.
Nevertheless, you may notice that a bigger part of integrated functions work better with physical items rather than with services. However, that's where third-party apps come in. You can implement bookings, appointment scheduling, service customization, and more with them.
Pros
Shopify can be a suitable way to air a service website for both beginning and advanced users in the field. In fact, using this platform comes with more than a couple of advantages, such as:
User-friendly. Shopify has been noticed as one of the easiest-to-use e-commerce platforms by users and experts together. The service mainly uses the left-side menus to build and manage your service listings and site overall.
Scalable. No rigid boundaries determine how much your service can grow while using Shopify. You can easily upgrade your subscription plan to add more business members to the service, expand your service listing, and update pricing, among other details.
Diverse app library. Shopify has an unmatchable selection of third-party applications to help you manage your service business effortlessly. You can get tools for SEO optimizations, scheduling your bookings, reviews, and other functionalities even for free.
Marketing assistance. There, you will find built-in marketing and SEO tools that will help you maintain or even grow your website's success in SERP, on social media, and on other platforms.
Professional-looking websites. With Shopify, you can select from over 140 templates overall and select the one that mirrors your business best. The platform helps you maintain a professional storefront. No wonder why companies like Gymshark or Sephora use Shopify as well.
Flexible payment options. Shopify is compatible with multiple payment integrations and works with various currencies, allowing you to work globally without worrying about threatful payments.
Cons
Despite a handful of factors answering to why is Shopify good for services, there are also some downsides too. Find them right below:
Focused on e-commerce. Initially, Shopify was built for merchants; hence, some of the features and functionalities are more suitable for selling products and not services. Yet, it's still possible to sell on Shopify without inventory with the help of integrations and third-party apps.
Complex service pricing listing. If your service website needs to use unusual price listings with unique structures, you may need to do additional customization.
Pricing. Shopify can be financially challenging for beginning businesses with a $29.00/month starting price and possible transaction fees that vary between 0.5% to 2%. Thus, it's important to weigh your capabilities versus the expenses of Shopify.
So, if you ever wondered whether you can sell services on Shopify – the answer is "yes, absolutely." The platform is excellent for inexperienced users as well as for large companies that are looking for an intuitive yet powerful tool.
Shopify service business examples
If you are worrying about selling your services on Shopify, you should know that many success stories have started from the point you're standing now. With some research, we were able to find multiple service businesses that chose Shopify as their platform to showcase what they offer.
mycoachguy
mycoachguy is a great example of how a successful entrepreneur seeks to help others grow their business. The website is simple but includes all the key details to inform potential clients about what they will likely receive.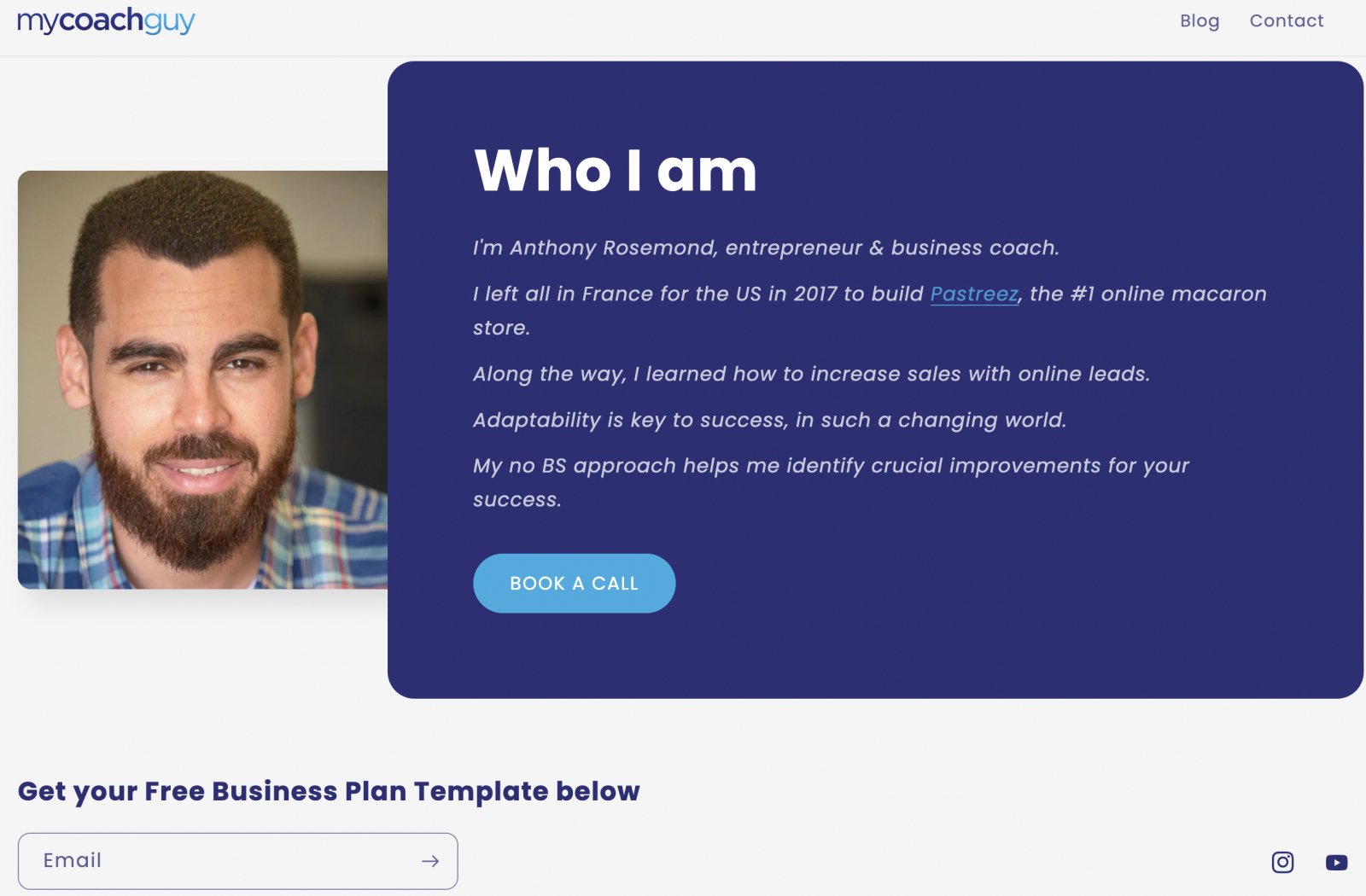 The business coach offers a free business plan template which can be a nice catch for startup businesses. There are also scenarios when this service is adaptable. And our favorite parts were the about us section and reviews from famous sources, like Semrush and Business Insider.
AK K9 Dog Training
Another prosperous business example offers dog training services for UK residents. At first glance, the website is minimalistic and nice to look at. But what's more important is that you receive lots of helpful information about what services are for sale and why you would need them.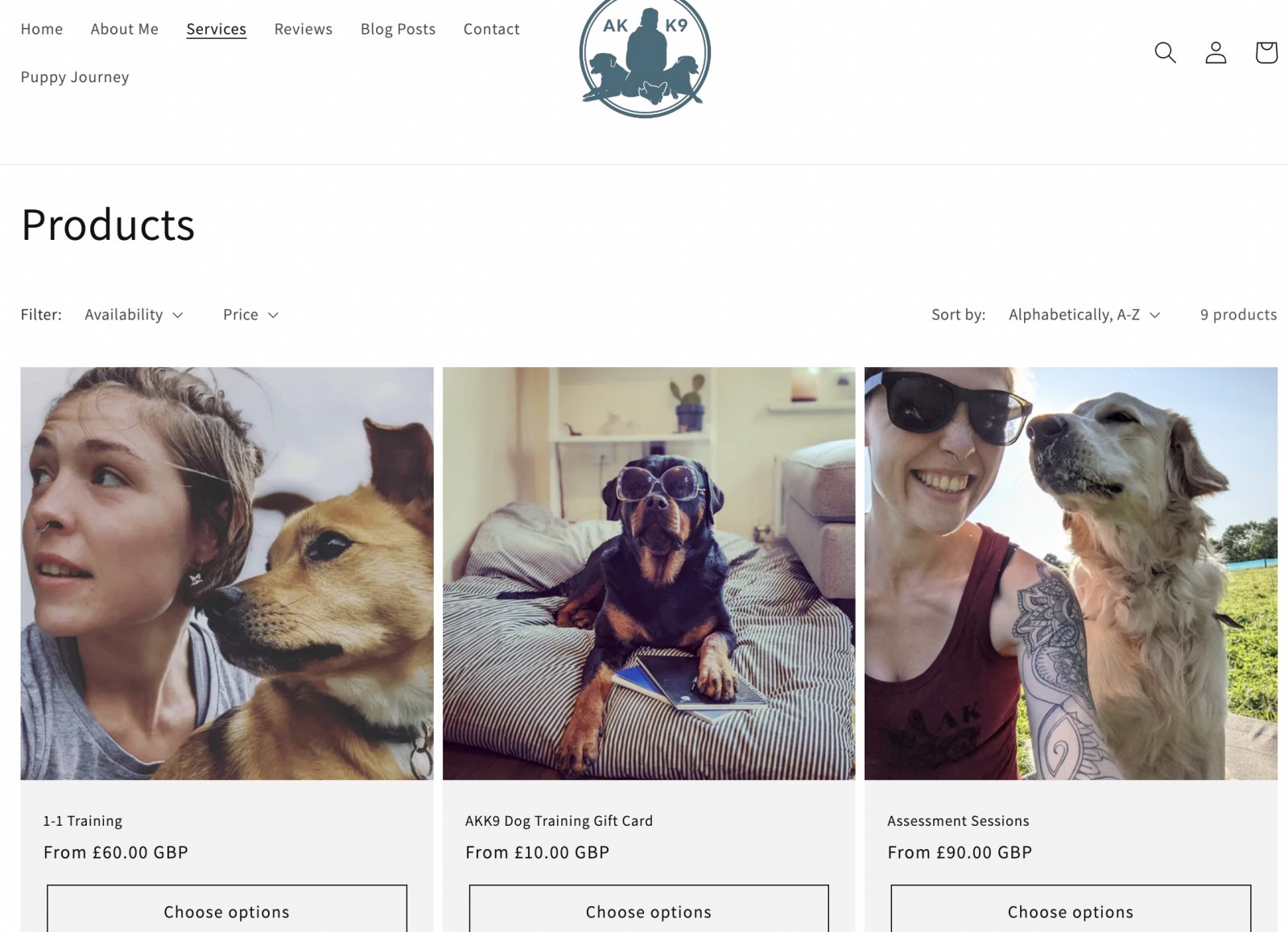 Scrolling through the service website allowed us to notice how passionate this dog trainer is thanks to an extensive blog and about us sections. Another nice touch is the service listing with different options available, allowing clients to customize their orders. Moreover, you can get additional information about what the service offers on social media too.
Douk Snow
Douk Snow is an excellent example of where selling products and services comes together. This Shopify store offers hand-crafted snowboards and maintenance service for them, even if you're located overseas from them.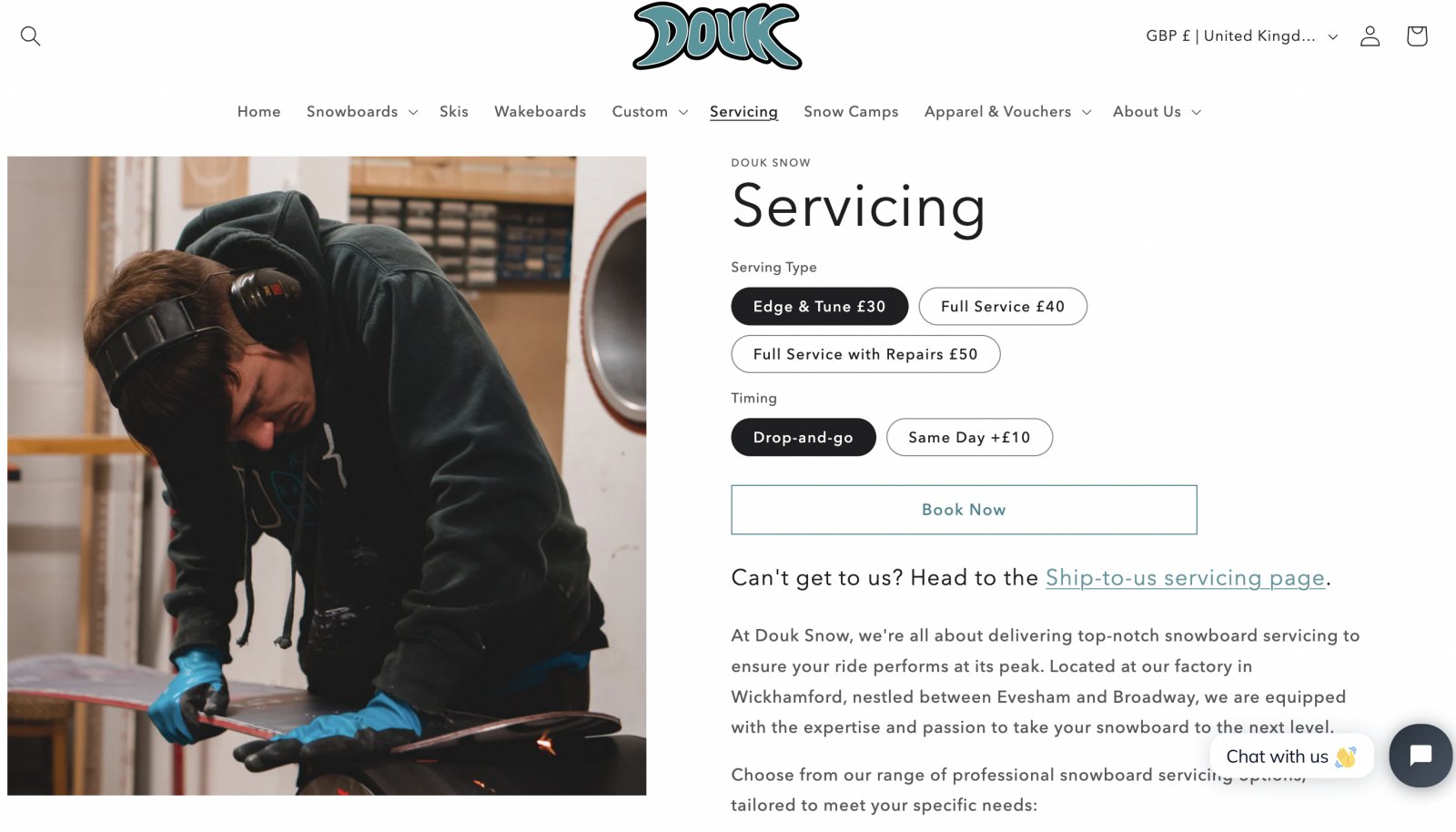 The webpage itself is eye-catching and perfectly represents the spirit of snowboarding.
Besides the design, Douk exemplary lists the servicing options and thoroughly explains what you receive in exchange for the price. The business uses multiple integrations, such as support chat, different currencies, various payment options, and social media platforms.

Turn your passion into an empire
How to sell your services on Shopify:
Shopify is one of the easiest-to-use e-commerce platforms on the market, making selling services on it rather effortless. There are many guides and tips on selling physical products, and luckily, the process of selling services is relatively similar.
If you have a store already and want to improve it – that's great, but in case you don't have a Shopify store yet, first, we'd recommend checking these guides:
Knowing specific toggles to enable or disable and what certain information to add is necessary. So, without further ado, let's walk you through how to sell your services on Shopify.
1. Add your service as a product
Adding a service as a product to your Shopify store doesn't differ much from what you would do if you were to add a physical Shopify product. In fact, the main change is that you need to uncheck the toggle where it says, "This product needs shipping" in the Shipping section.

The Shipping section itself can be found in your Shopify Admin when creating a new product in the Products section.
Then head straight away to the service description. This is where you should compel your potential clients while explaining your service and why they would need it. Additionally, you can look for top-ranking keywords related to what you offer. A keyword here and there can boost your visibility online.
Other steps, such as adding images, variants, and a fair price, are as important. Don't forget that eye-catching service stores with service variants available have a higher potential for profit.
2. Personalize your offer with variants
If you have started wondering why exactly we have pointed out service variants, the answer is that service customization and flexibility are major players in why your client chooses you.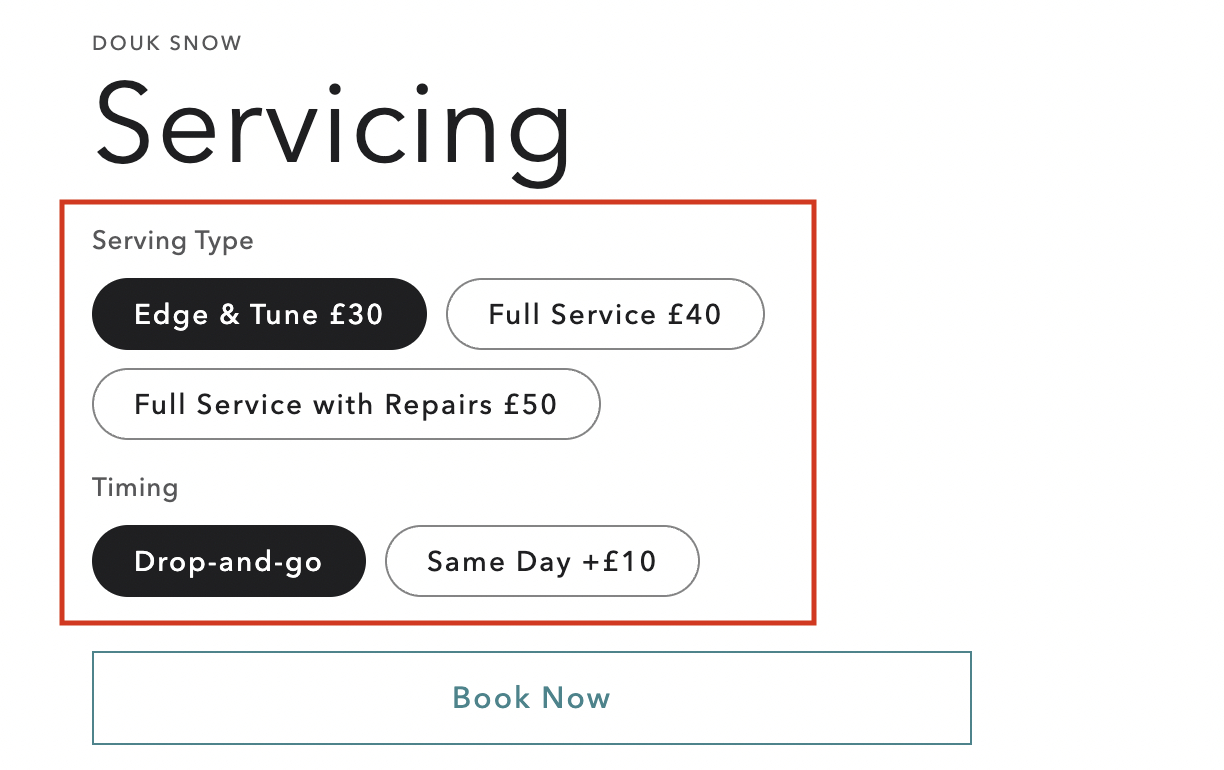 Allow your customers to choose different options of the service they can get. Perhaps you can sell them a shorter but more focused class, or let them choose whether they will come to you or vice versa. Leave some sections for individual customization and set different pricing, evaluating your effort.
3. Add necessary apps
Shopify's built-in features are great, yet adding additional third-party apps can noticeably improve your service store's performance and even ease of management.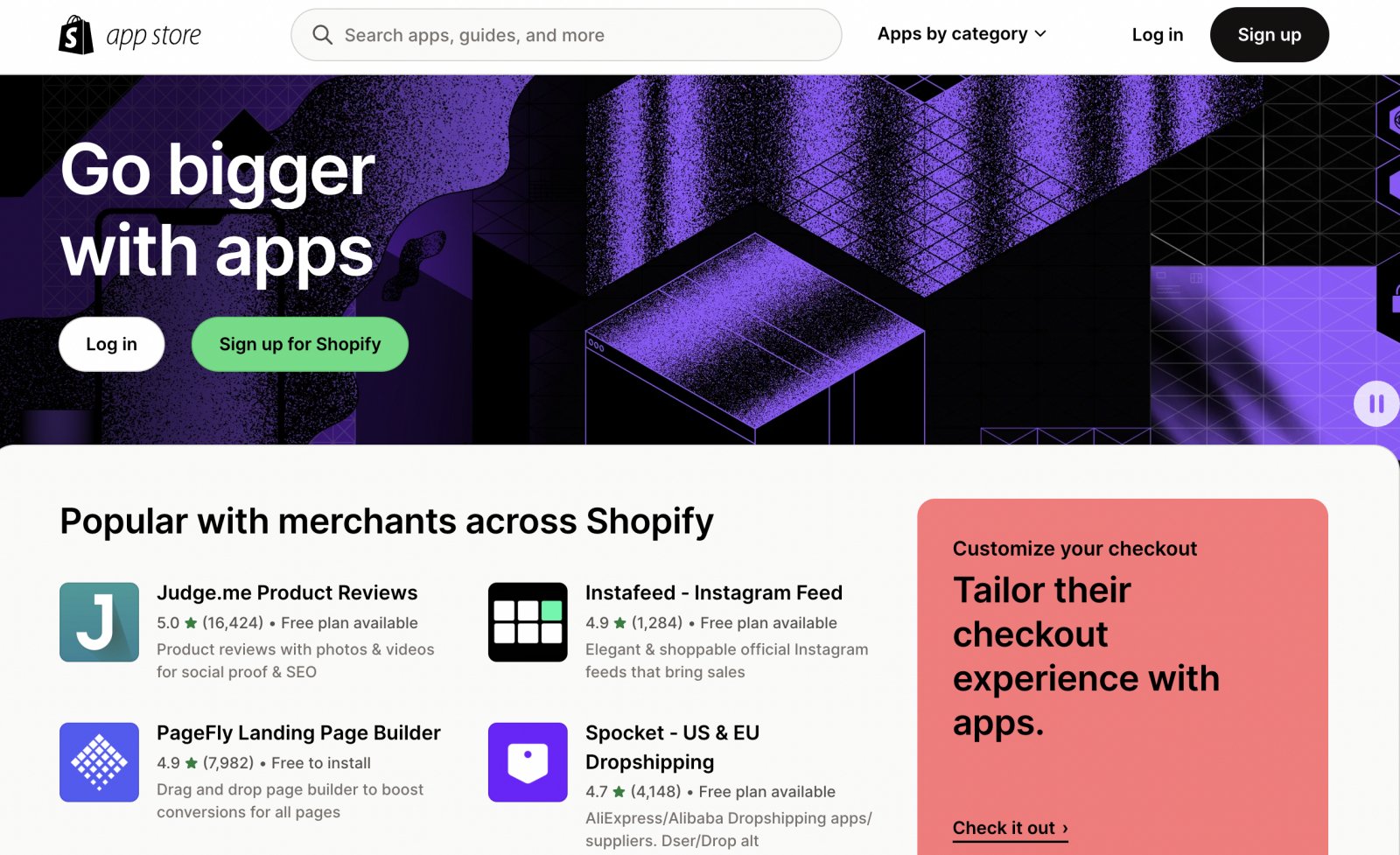 Here are some essential apps to use to sell services on Shopify productively:
4. Adjust your store's look
Adjusting your store's look starts with selecting a modern Shopify theme for a service business that mirrors your work field. Shopify offers over 140 themes overall, with 12 of them free of charge. Hence you have enough options to build a unique website.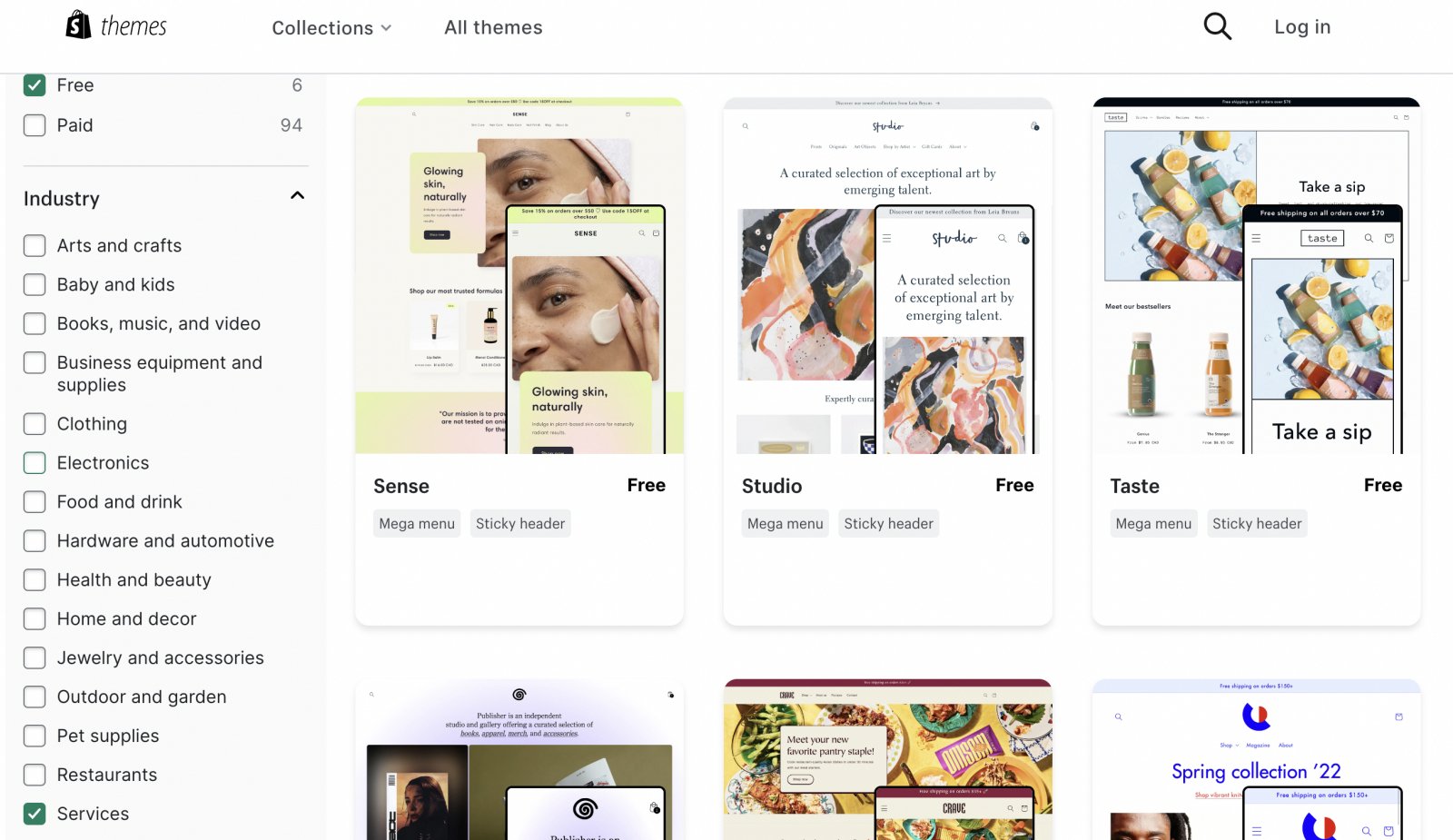 Besides the overall look of the website, we recommend putting even more focus on the homepage as well as the About us page.
The website homepage is where most site visitors land first, providing them with the first impression of your service. Meanwhile, the About us page is where they look for a sense of a person who offers the service. Hence, use nice images of your work and match the design with other pages.
You may also try out a third-party Shopify page builder for the best result.
5. Promote your services
Promoting services on a Shopify store doesn't mean you must go and look for a marketing specialist that will add ads about your website everywhere. Truth be told, it's more about what you can tell more to your customers about the service you are selling. This can be done through FAQs, blog posts, or social media posts, like reels on Instagram.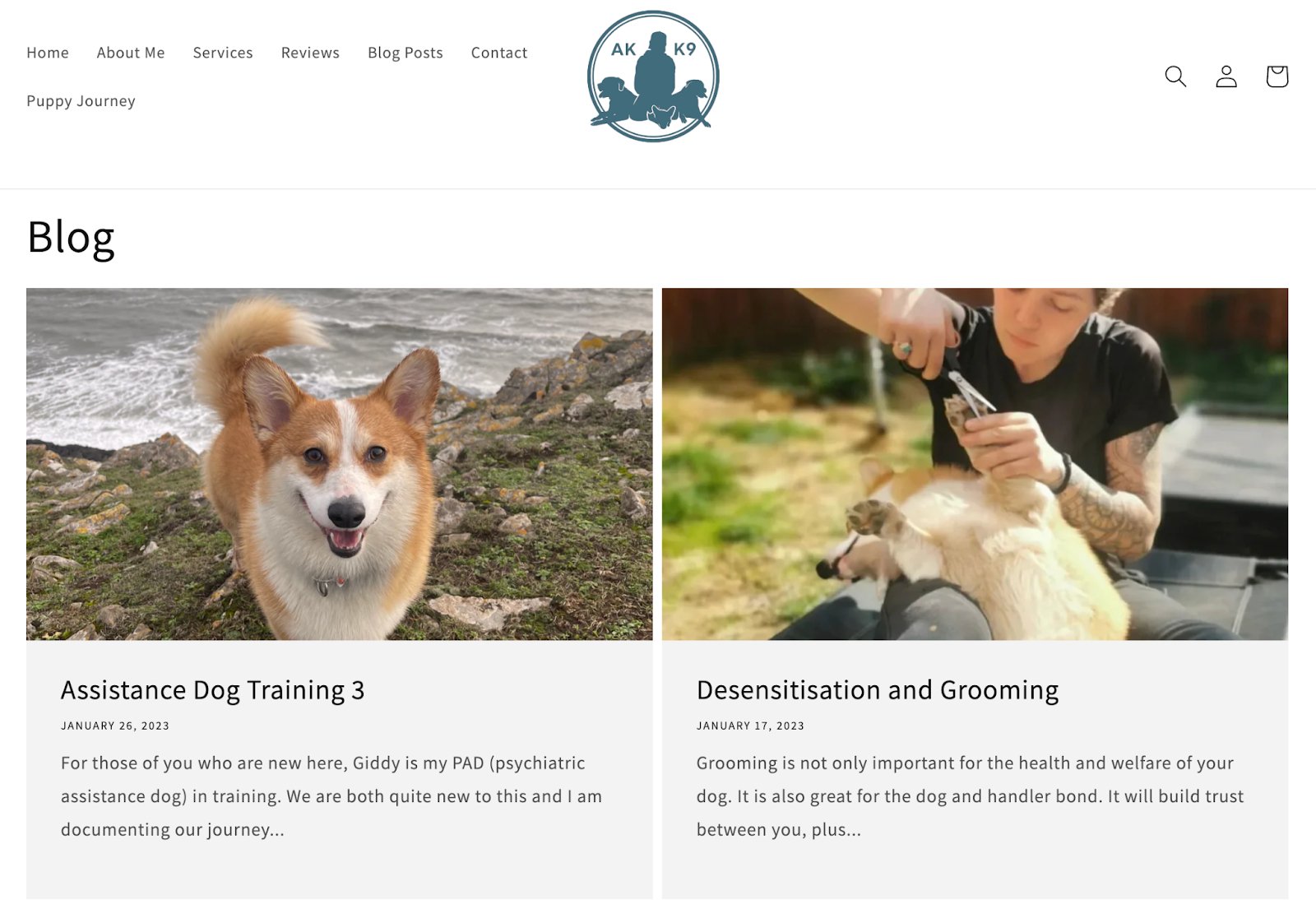 Nevertheless, although you don't have to employ a professional, the most successful Shopify store blogs still talk about various topics related to their field of work. This way, you are also showcasing your expertise and reliability.
And to make your posts (and other store pages) seen, it's important to implement Shopify SEO optimization steps. This is how you will know that both the search engine and the audience can see your content.
What services can you sell on Shopify?
Have you just dropped from your full-time job and have an aspiration to run your own business offering services? Or perhaps it's your side-work? Either way, Shopify is flexible with the types of services you can sell.
Here are some of the service options that you can sell on Shopify effortlessly:
Creative services. Running a successful business without a touch from a copywriter, graphic designer, web developer, or illustrator is impossible these days. If you have any of these skills, showcasing them through Shopify is a way to go.
Professional consultations. If you're a lawyer, a successful entrepreneur, or any other type of professional, you can easily help people in exchange for money. Use Shopify to present what you can offer on a website and become visible online.
Education. The world is cheering universal people, and now is the perfect time for selling your knowledge about specific hobbies or even science online. Sell workshops and online courses easily with Shopify.
Entertainment. Sell your service with the help of Shopify for people who want to have fun. Offer your DJ, animation, hosting, or other events-related services for corporations, weddings, and birthday parties, among others.
Beauty. With the selection of modern templates, Shopify is perfect for building an attractive website to sell beauty services, like skincare consultations, manicures, hairstyling, and such.
Health and wellness. Help people stay physically and mentally well by presenting your health and wellness services online via Shopify. You can easily build and maintain websites suitable for various therapies, yoga classes, fitness, as well as other spheres.
Repair and maintenance. With busy schedules these days, people don't have time to complete tasks around home. Thus, there's a need for a professional handyman. Allow people to book your mechanic, gardening, or other services through the Shopify store.
More tips for a successful service business
Using Shopify for services is already a great start. However, mastering service business takes more than just setting up your website using basic features. Here, you will find some extra tips for a successful service business:
Build an appealing website. From your homepage to the about us section – every corner of your site should be eye-catching and reflect your ideology. Invest in a modern template and play around with the Shopify editor to make your service website attractive to your customer.
Introduce yourself. Build an informative but easy-to-understand about us page. Your potential client should be able to feel how inspired you are to help them and why you started offering your services in the first place.
Optimize the website for SEO. You want to make your service website visible on the search engine result page. For this, you should use targeted keywords, optimize your images, or even write blogs about relative topics.
Adapt the website for mobiles. 67.81% of the total web browsing currently happens on mobile. Hence, optimizing a Shopify store for smartphones may bring you more site visits as well as clients.
Stay active on social media. Showcase your service business on social media platforms like Instagram, TikTok, and Facebook. Stay in touch with your existing or future clientage and combine the power of SEO and social media.
Use reviews. Positive reviews and testimonials can seemingly increase your reliability and grow the number of regular clients. Use product review apps to integrate the reviews section onto your service site and to send automatic review requests for satisfied clients.
Monitor your website's performance. Maintaining your service business visible online is one of the main keys to success. Ensure you regularly track dominating metrics, such as the satisfaction of your audience or the site performance in SERP. If that seems difficult for you, you can always choose one of the leading Shopify apps.
Shopify for service business: summary
Now you know that Shopify for service business really does work. And instead of getting a basic e-commerce platform with a website builder, you receive a robust set of tools for SEO, marketing, blogging, and everything else to successfully sell your service.
Remember that Shopify is also more flexible than it might seem at first glance, as you can easily install multiple third-party applications. With them, you can manage your bookings, add reviews, or optimize your website without technical knowledge.
And the main tip to follow to succeed in selling your service on Shopify is to continuously adapt to new business and marketing tendencies.
Curious to read more? Check out these articles: