By purchasing through the links on this page, you are giving us the opportunity to earn a commission. Your support is greatly appreciated!

An About Us page is a part of a website where an individual, company, or corporation introduces themselves to the audience. The section should be dedicated to showcasing your experience, presenting the vision you follow, and telling your history so that the site visitor would be confident about your brand.

Crafting an About Us page for a Shopify store is one of the first tasks you will do when building your online shop. It's also one of the top destinations for customers before making a final decision – they want to know more about the product and the people behind it. Therefore, we have written this guide on how to write an About Us page, what to tell in it, and how to add it to your store.
What is an About Us page on a business website?
An About Us page on a business website is both – a space to raise reliability in your work and a possibility for a powerful marketing engagement. Companies that neglect this part of a website may lose dozens of potential customers.
An About Us page shouldn't contain meaningless sentences and old pictures of your workers. It's an impactful section that should mirror your company's vision and experience so that the reader gains trust in what you do and chooses you.
Additionally, an About Us section on the company's website offers plenty of possibilities for boosting your website's ranking on the search engine's result page. By optimizing an About Us page for SEO, your business website may become relevant to a broader audience.
What to cover on the About Us page of an online store
As an online store owner, it's essential to cover information on your About Us page that allows potential customers to connect with your brand on a personal level. A well-built About Us section can help you make a positive first impression, showcase your history as well as goals, establish reliability in your production, and more.
You may ask what exactly you should mention on the About Us page as a merchant. Well, here is what we consider the most important details:
Introduction. You must tell your customer who you are and where you have come from. Meaning, it's important to mention your idea's origins, its purpose, and what it means for you as a seller. In a nutshell, it's the right space to showcase your store's value.
Definition of a business model. Let your customer know how you work and what processes come in the way of preparing the production you sell. If you're selling clothing, present the fabrics you chose, and if it's food – tell how you select your ingredients.
Persuasion. Considering your target audience, let the reader know how you can solve their issues by selling your product. The storytelling element here works well, as you can include more human touch combined with facts.
Visuals. Apart from the overall section design, which should match your whole website and brand, make sure you add videos and pictures that help the customer get the final image of where the product comes from. You may show yourself, your team, the materials you use for production, or anything that adds up to the final product.
Top 'About Us' page examples for Shopify stores
Each About Us page should be unique within a separate business or online store. But we also recommend having a successful example for inspiration so you don't feel lost in the middle of the work.
After going through the 50 best Shopify stores, we selected the top 5 'About Us' page examples, ensuring they were engaging and informative.
1. Hiut Denim Co. 'About Us' page example
This Shopify store has been ranked as the best shop on the platform for over two years in a row, and its About Us page is the most impressive we've seen.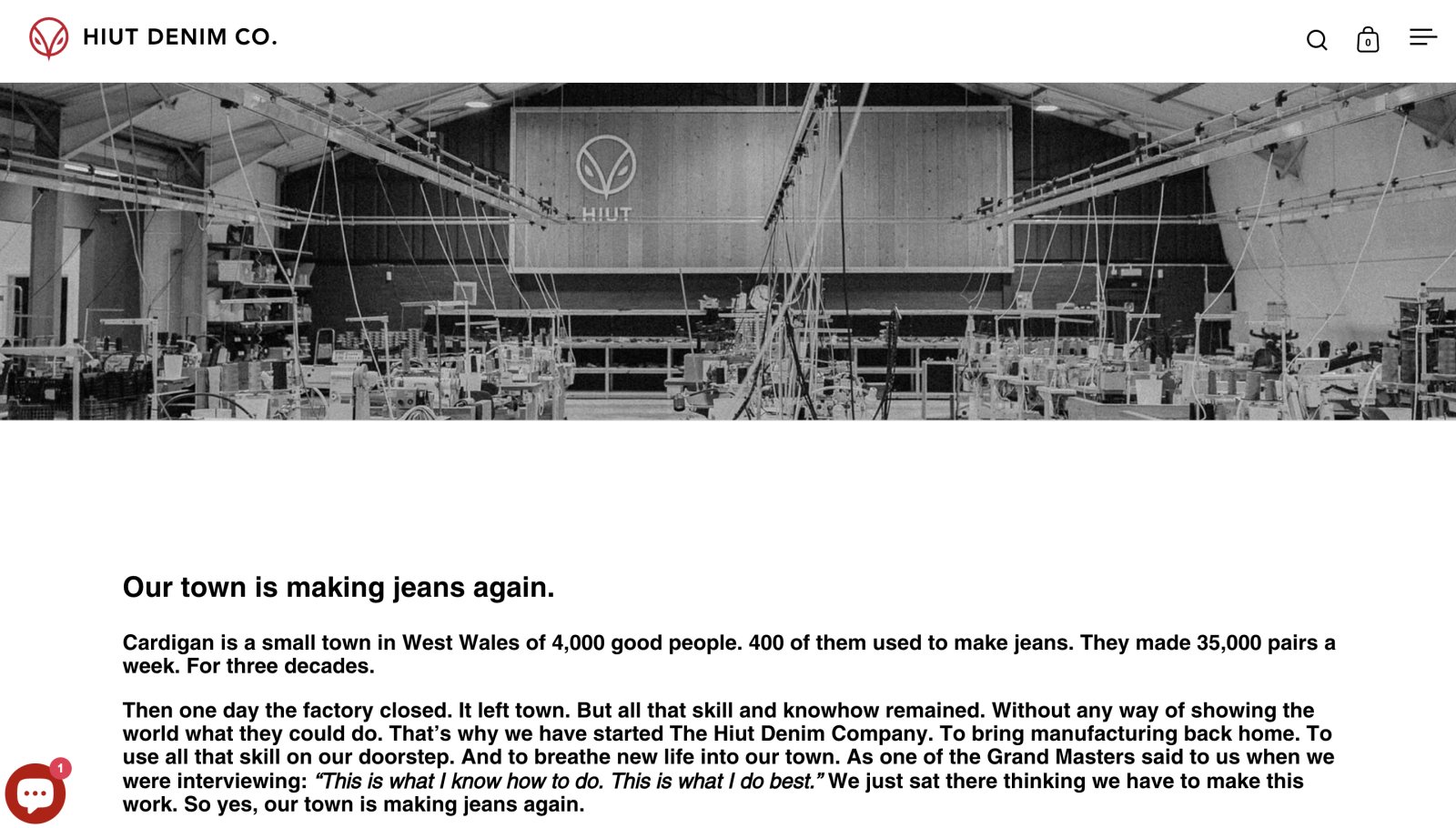 Whoever built this section for them – it's simply perfect. Within the very beginning, the customer gets to know their story from scratch, helping them to view a pair of jeans with more emotions and respect.
The whole About Us section covers the pre-history, the company's development, current production progress, and, most importantly, it clearly presents the core values of the brand. The design is no worse, making an excellent match with the whole store's look.
2. Naja 'About Us' page example
Naja is a Shopify lingerie store that invites women for a strike. This strategy may also work as the answer to female prayers, motivating them to rely on a product and buy.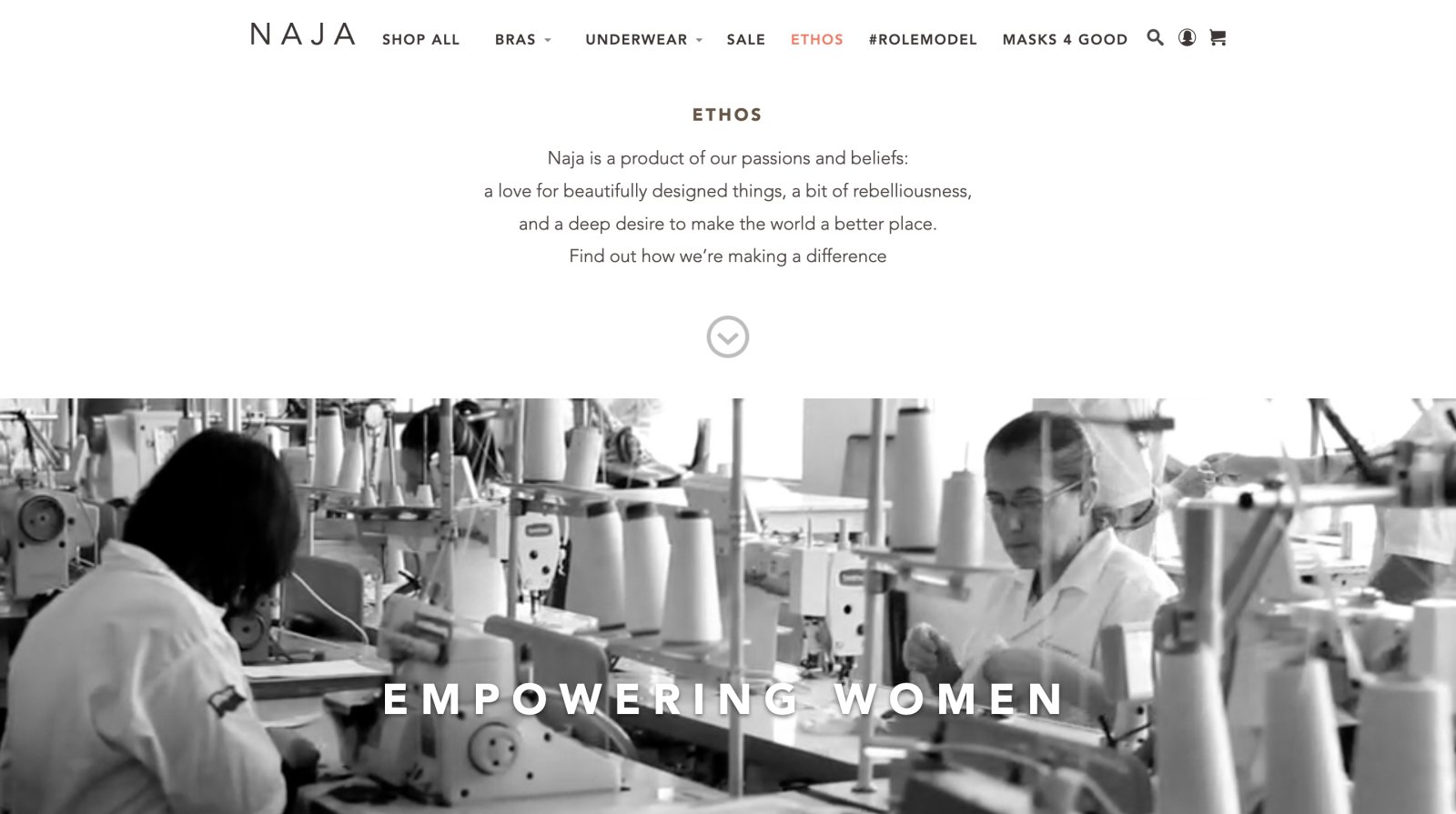 Naja's About Page is engaging and quite provocative, leading to a stronger bond with a potential customer.
Although it includes the core information to represent the company, the main focus is Naja's values, which are also worldwide dominating beliefs. Perhaps it's simply a marketing trick, but the audience will nod and rush into supporting this shop and buying its products.
3. Kirrin Finch 'About Us' page example
Kirrin Finch presents a simplistic but heartful About Us page for a very specific audience – trans and non-binary people who want to wear menswear-inspired clothes.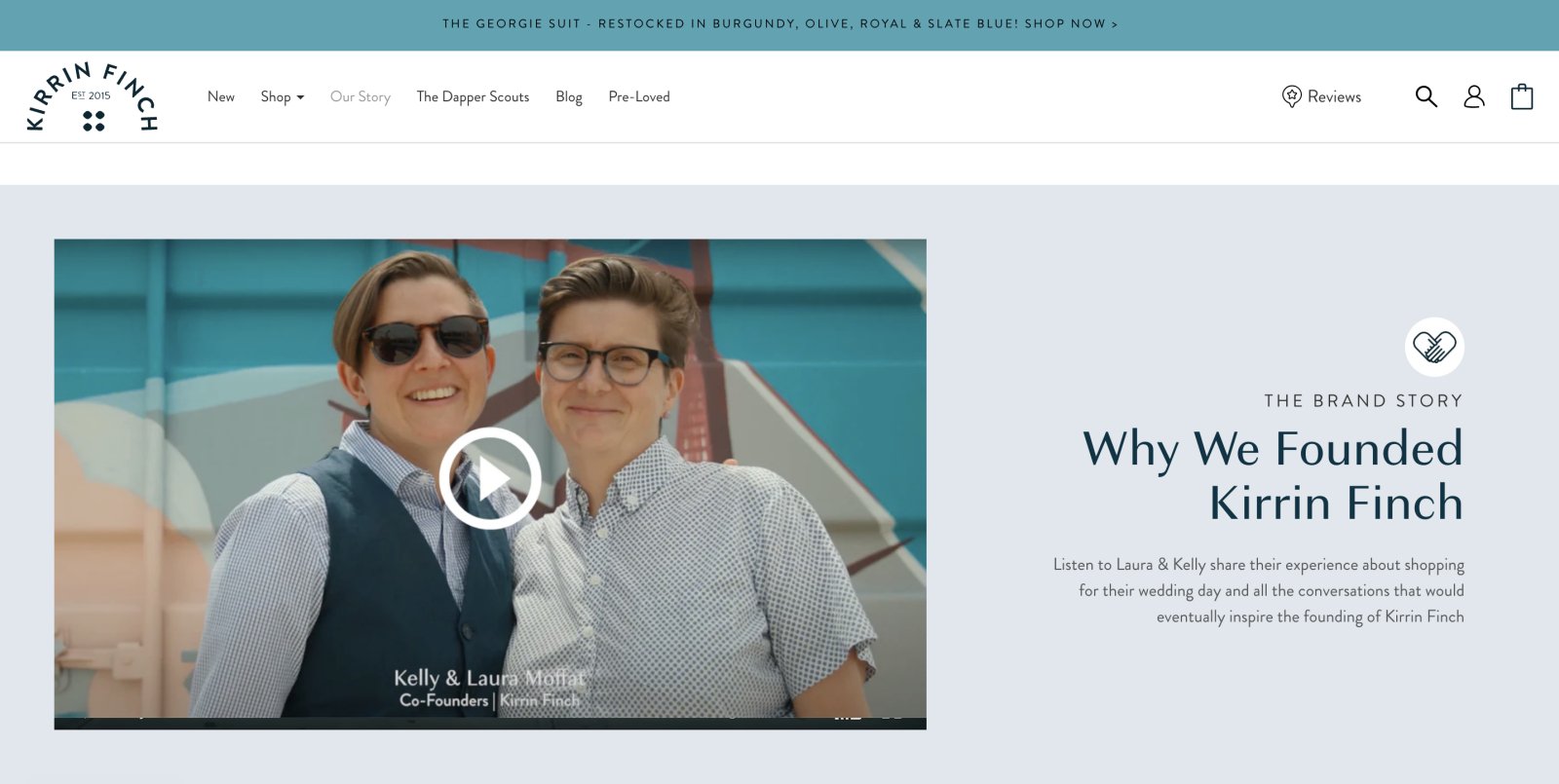 The company focuses on mainly one target audience, which needs encouragement from the outside world. To convince the customer, Kirrin Finch owners tell their personal stories in a video, which is the key element in their About Us section. Bringing in some sensitivity is an excellent tool for winning the audience's trust.
Another winning aspect of this 'About Us' page example is that the brand offers a solution to the LGBTQ+ community's problem - they want to be understood and accepted as who they are. Communicating about this issue and offering clothes that help showcase the true self is an effective solution for most of the audience.
4. The Outrage
The Outrage is all about activism and liberation from unfair social frames. This apparel store has a specific target audience in a unique aspect – it's for anyone who wants to be heard.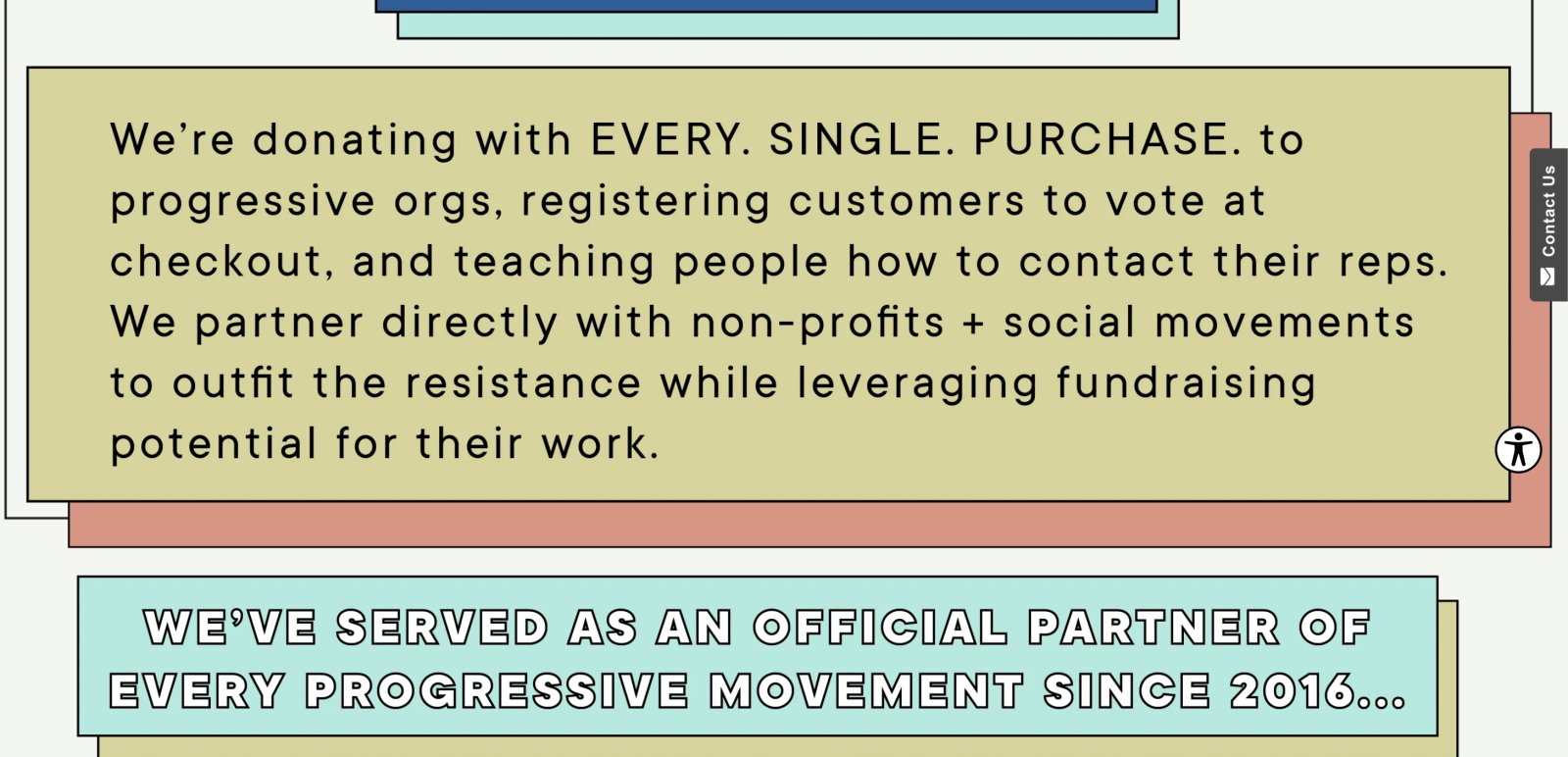 At first glance, The Outrage's About Us page is overwhelming, as there are many colors, heaps of photos, and a lot of text written in upper cases. However, this About Us page is a great example of how you should bond with your customers.
The Outrage strongly empathizes with the audience, providing information that builds trust and unity. Additionally, they mention some of the major movements, like the Women's March, which may also work as a powerful keyword.
5. Pela
Pela is another Shopify store that seeks to change the world into a better place. And after reading its About Us page we were one step away from buying a sustainable phone case Pela sells.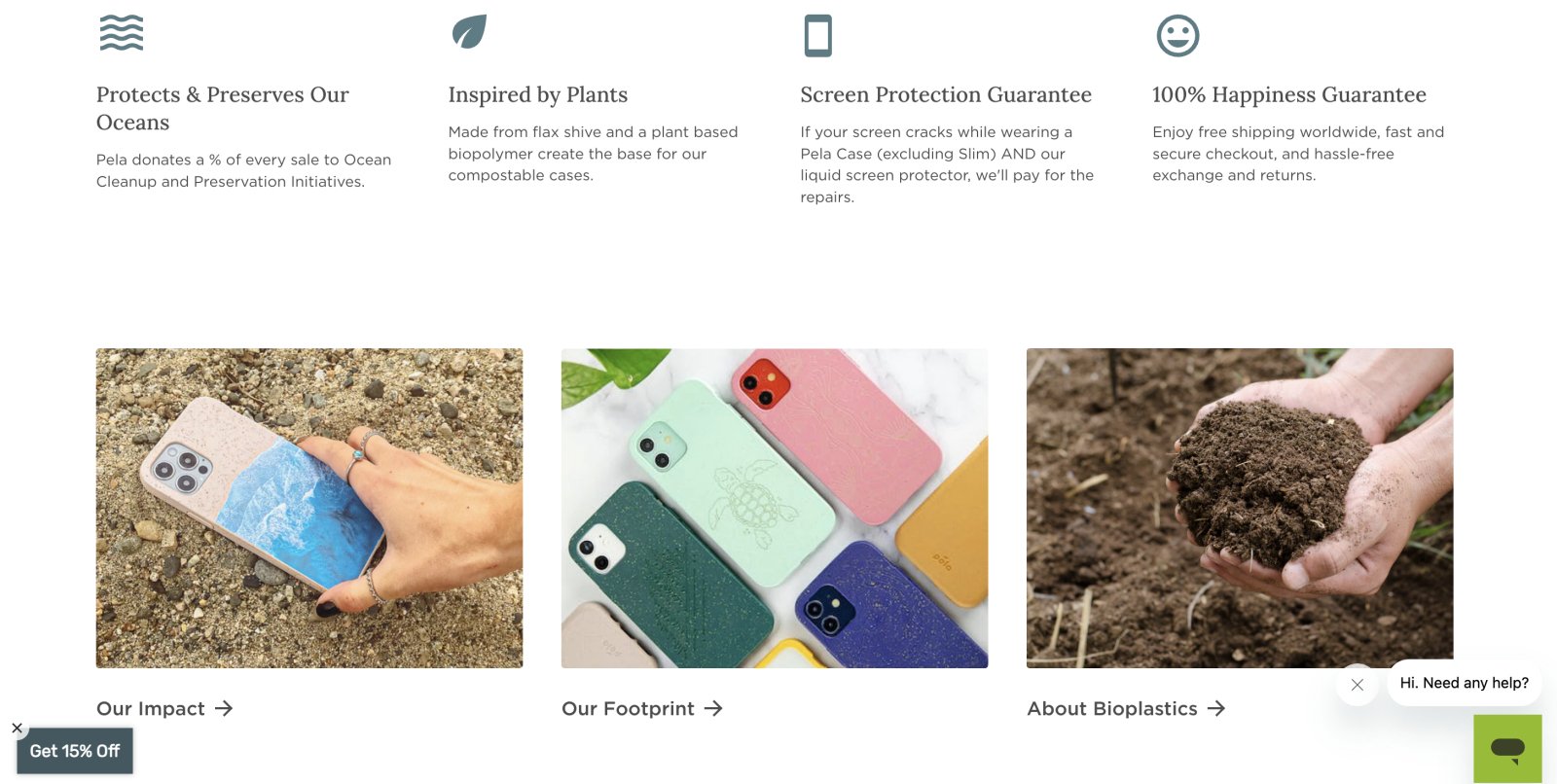 Pela's About Us page represents both a story for a human reader and SEO tactics. As a customer, you can find a touching story, compelling designs, and answers to all possible questions related to Pela's processes.
What we also liked is that there are references to related blogs about Pela's production impact, footprint, and bioplastics. This way, the organization motivates the customer to stay on the web store and boosts the feeling of confidence about the product.
How to add an About Us page on a Shopify store
Thanks to the user-friendly Shopify Admin interface, adding an About Us page to your store is seemingly effortless and quick (if you have your content prepared.) No coding is required, and even if it's your first Shopify store, you'll surely manage it.
Follow our steps provided below and add an About Us section to your shop in no time:
1. Head to your Shopify Admin, and on the left sidebar menu, click Online Store > Pages.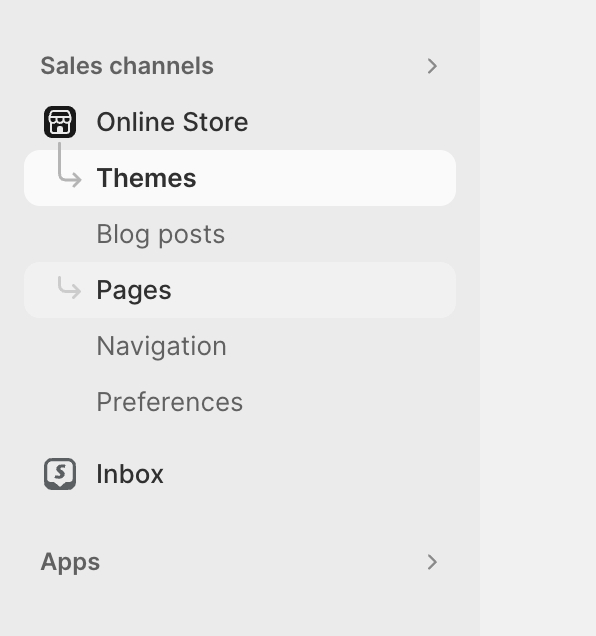 2. In the top right corner, click the Add page button.

3. Once the Shopify editor opens, choose the template you want to use, write or paste desired text, add visuals, and set other details according to your needs.
4. To complete editing an About Us page, click Save in the upper right corner.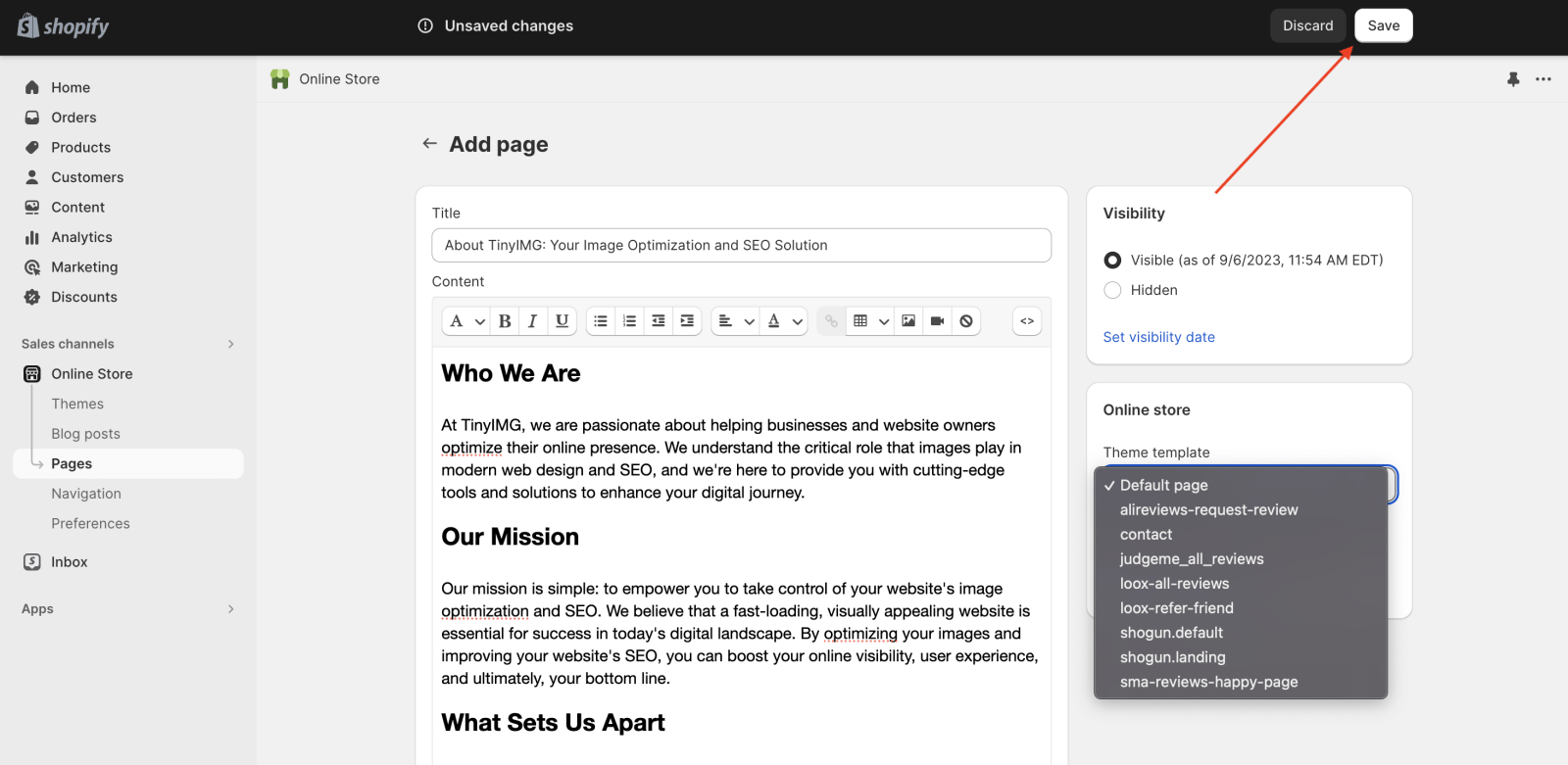 5. On the left sidebar menu, click Navigation under Online Store.
6. Choose where you want to place an About Us page: footer, main menu, or sidebar
7. In the Menus section, click Add menu

8. When the new window opens, select Add menu item, name your About Us page, and by clicking the Link bar, choose the page you want it to be linked to.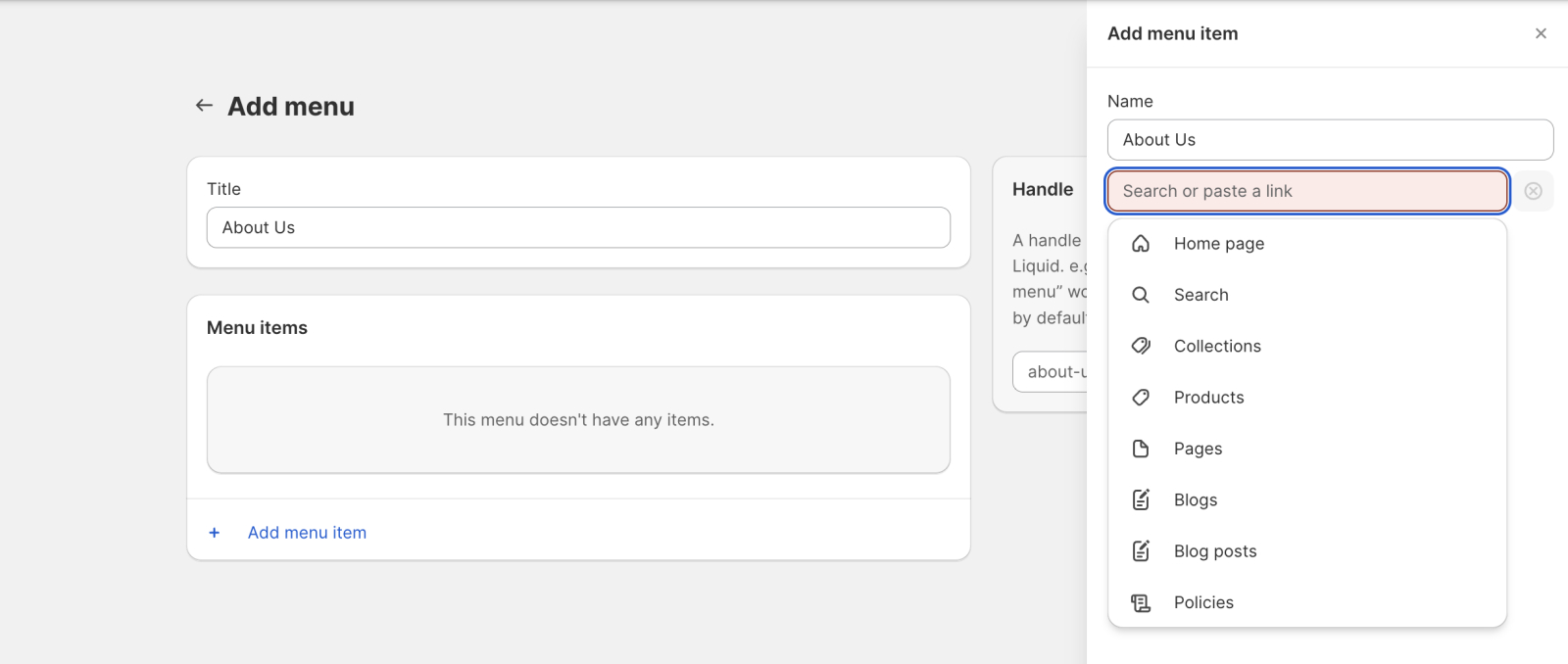 9. To finish adding an About Us page to your Shopify store, click Add and Save menu.
How to write an About Us page for your Shopify store?
If you're wondering how to write an About Us page for a Shopify store or another type of website, there are three main ways to go: do it yourself, ask for a professional, or use ChatGPT.
Writing an About Us page manually
If you don't want help from professionals or AI, writing an About Us page by yourself is also a great idea. Especially if you have a personal story to tell.
If you want an impressive About Us page design, we recommend using one of the best Shopify apps for building website pages, including an About Us page – PageFly Landing Page Builder. With it, you will be able to make an eye-catching page that matches your brand using an intuitive drag-and-drop builder.
Building an About Us page with a professional
For those who don't feel confident enough about writing persuasive content, an alternative option is to get help from a professional.
With comfortable freelancers' platforms, you can quickly find a creative marketing writer who will deliver an About Us page according to your details. However, the details are the most essential part, as you must help the writer to reflect your authentic brand.
Using ChatGPT to create an About Us page
With never-ending AI possibilities, ChatGPT is another excellent solution for creating a compelling About Us section.
However, you must be aware that it's easy to blend with your competitors when using an AI generator if no unique information will be added. Hence, when asking for ChatGPT to generate an About Us page for your online store, include specifications related to your brand only. Here's how to go with it:
Ask ChatGPT what information it needs to craft a compelling About Us page for your business specifically (you may also add the page structure you like.)
Provide the information that ChatGPT asked for.
Request to write a complete About Us page following your given details and specify the tone of voice you want the AI to use.
Once ChatGPT finishes crafting an About Us page for you, edit it to your full liking and post it on your website.
Online store's About Us page template
After analyzing 50 top Shopify stores' About Us sections, we compiled an About Us page template for Shopify online stores. To do so, we based on our top-rated Hiut Denim Co. About Us page example, as it delivered the best practices.
Wondering how to use it? Replace the bracketed placeholders with your specific information, and don't forget to customize it to reflect your brand uniquely.
# About [Your Store Name] 

## Our Story

[Your Store Name] was founded on the belief that [insert your mission or core belief]. Our journey began in [insert founding year or date] when [insert founder(s) name(s)] had a vision to [insert the reason behind starting the store]. Since then, we have been dedicated to providing [insert your product or service] of the highest quality, combined with exceptional customer service.

## Our Mission

At [Your Store Name], our mission is to [insert your mission statement]. We are committed to [insert key commitments or goals] and [insert what sets you apart]. 

## Quality Craftsmanship

We take pride in the craftsmanship of our products. Each [insert product category] is carefully [insert how products are made, e.g., handcrafted, sourced, etc.], ensuring that you receive nothing but the best.

## Sustainability

We are passionate about [insert your sustainability values and practices, e.g., eco-friendly materials, recycling, etc.]. Our commitment to sustainability drives our choices in every aspect of our business.

## Our Team

Meet the [Your Store Name] team – a group of dedicated individuals who share a common passion for [insert your product or service]. We are here to [insert your team's role, e.g., assist you, provide expert advice, etc.]. - [Founder/Owner Name] - [Team Member 1 Name] - [Team Member 2 Name] - [Team Member 3 Name] 

## Our Promise

At [Your Store Name], we promise to [insert your brand promise or commitment to customers]. Your satisfaction is our top priority, and we stand by the quality of our products.

## Join Us on Our Journey

We invite you to join us on our journey of [insert what you aim to achieve together with your customers, e.g., style, sustainability, etc.]. Together, we can [insert your shared goal].

## Contact Us

If you have any questions, suggestions, or simply want to say hello, we'd love to hear from you. You can reach us at: - **Email:** [Your Contact Email] - **Phone:** [Your Contact Phone Number]

Thank you for choosing [Your Store Name]. We appreciate your support and look forward to serving you on your [insert your product or service] journey. 

[Optional: Insert a call to action, such as "Shop Now" or "Explore Our Collections."]
What are the benefits of having an About Us page?
Whether you're a merchant, a businessman, or someone who wants to sell their services, adding an About Us page to your website develops your business's personality. But let's dig into deeper why it is worth having an About Us section on your business site:
Builds trust. Whenever a new visitor enters your online store or business website, introduction to your work is the first thing they do. The ideal scenario is that they head to an About Us page and find ideas that give them a sense of familiarity, motivating them to buy and trust your product no matter what. Without a heartful About Us page, a higher price tag could be enough for them to leave your site.
Humanizes your business. Humanizing your business is crucial as society becomes more aware of psychology and emotions. An About Us page is a perfect place to reveal your history, dreams, failures, and successes that may help a customer to empathize with you.
Space for showcasing your achievements. If you're a business website owner, it's essential to let the visitor know what awards you got and achievements you've accomplished in the field. Presenting your expertise in an About Us section can highly improve your credibility.
Opportunity to differentiate from competitors. You and your competitors might offer the same type of product. Yet, the story behind it may be a powerful selling point. For example, you're continuing your family's tradition and your competitor offers a cheaper version of an item. Every customer will choose to follow their value found in an About Us page when making a purchase.
Curious to read more? Check out these articles: