By purchasing through the links on this page, you are giving us the opportunity to earn a commission. Your support is greatly appreciated!

Every good eCommerce strategy is built on actionable data, not speculations.

We wanted to make this task easy for you (plus we were super curious), so we reviewed 100 Shopify stores from "Best Shopify stores" lists.

We took apart everything, from traffic they get and where it goes, to what apps and fonts they use.

The data we gathered will be useful for everyone from a complete Shopify beginner to a seasoned seller looking to freshen up their eCommerce strategies.

We'll start off with key findings, then dive deep into each section for detailed analysis. Towards the end you'll find detailed research methodology and limitations.
Best Shopify stores: key takeaways
Alright, let's get straight to it.
If you're here for a few juicy facts only, here is a rundown of our 10 key findings from the main research areas:
Vast majority of stores have custom-designed Shopify themes. Meaning that successful Shopify stores prefer to have full control over their website customization.
47% of stores select the same font for headings and paragraphs. This shows the importance of consistency in successful brand strategies.
Over 60% of stores have fewer than 10 detected Shopify apps installed, meaning well-performing stores do not go overboard with the amount of apps they use.
5 most used Shopify apps include Klaviyo, Back In Stock, Yotpo, Shogun Page Builder, and Route.
63% of analyzed stores get over 50% of their traffic to their homepage.
Product pages get little organic traffic across all stores. The traffic that they do get is usually from "brand + product name" searches.
Collection pages with descriptions generally perform better compared to those with no description, meaning collection page optimization matters.
78% of stores have a blog page, meaning successful stores invest in content.
Quite a few stores don't pass Core Web Vitals for mobile, which shows that larger stores struggle with optimization and don't load very fast.
58% of stores have their own YouTube channel. In general, social media effort is huge among these stores, proving the importance of community building and engagement.
Moving forward, we will break down our research into 5 main sections:
Each of these sections will have detailed research outcomes, tips, infographics and more that will help you draw actionable conclusions.
Store design
If there is one takeaway from this section, it's that best Shopify stores like to do things their way. Nonetheless, some patterns and common strategies could be noticed.
Let's take a closer look at how best Shopify stores handle their website design.
Shopify store themes
Interestingly, the vast majority of stores that come up in the "Best" lists are built on a custom theme.
Here is the breakdown of our findings:
Custom theme - 92 stores
Debut (free Shopify theme) - 4 stores
ShowTime - 1 store
Brooklyn (free Shopify theme) - 1 store
District - 1 store
Retina - 1 store
Building a custom Shopify theme is a lengthy and costly task, and so is the maintenance. The fact that so many stores have committed to it means that they prioritize the ability to customize and control all aspects of their website over convenience.
That's understandable if you consider their store size, needs and resources.
And yet, before you proceed with a custom theme, answer what problems you have that no existing theme can solve. If you can come up with a substantial list, a custom Shopify theme might be worth considering for your store as well.
Shopify store fonts
As expected, there wasn't one font that dominated the list. Every store went a distinct route that best matched their unique design.
A notable mention for headings is Proxyma Nova, it's used by 5 stores from our list. Roboto and its variations was a quite popular choice for paragraphs, 6 stores went with it.
An issue with custom or rarely used fonts is that some browsers might not support them. We found that many stores have set multiple font families in case the user's browser doesn't support their primary font. Helvetica (16 stores) and Arial (12 stores) were the most popular backup choices here, and "Sans-serif" was usually the last resort.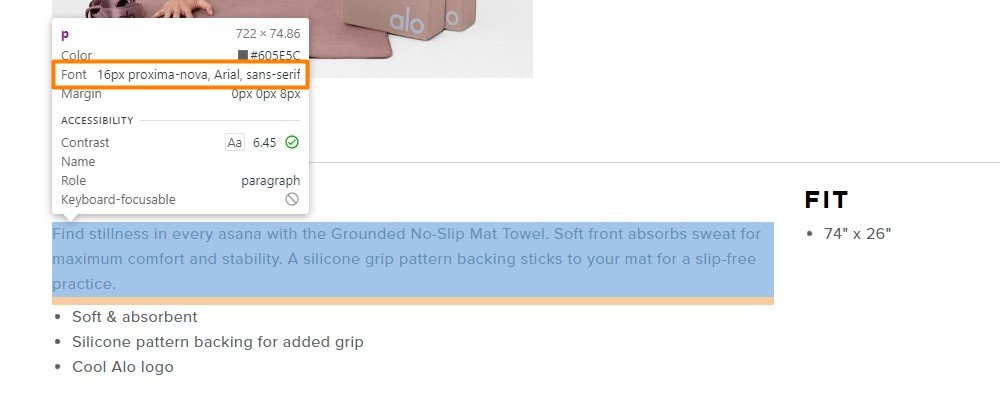 The most interesting part of everything we learned about fonts is that 47% of stores select the same font for the headings and paragraphs. Consistency provides comfort for the users and helps with brand memorability, and we can see that good websites consider that even when selecting fonts.
Product page URL structure
Next, we took a closer look at how these Shopify stores handle their URL structure. We mostly focused on product pages.
The findings weren't particularly surprising, but still insightful.
64% of analyzed stores decided to skip the collection marker in their URL path and link directly to a product page.
Here is an example:
https://www.peakdesign.com/products/small-wash-pouch
Remaining 36% had the following URL structure:
/collections/.*/products/.*/
A real life example would look like this:
https://www.bando.com/collections/clothes/products/short-sleeve-leisure-shirt-botanical
Now what can we take away from this?
In general, the best practice is to aim for shorter URLs with fewer physical silos. It is so because your home page is the strongest page of your website and you want all remaining URLs to be as close to it as possible.
Note that Shopify has a complicated URL structure set up by default. Shopify creates an additional URL for every product that is associated with every collection it appears in.
Look at the MORPHE example.
It's Continuous Setting Mist (with a default product URL https://www.morphe.com/products/continuous-setting-mist ) can also be accessed with these links:
https://www.morphe.com/collections/prime-set/products/continuous-setting-mist
https://www.morphe.com/collections/all-face/products/continuous-setting-mist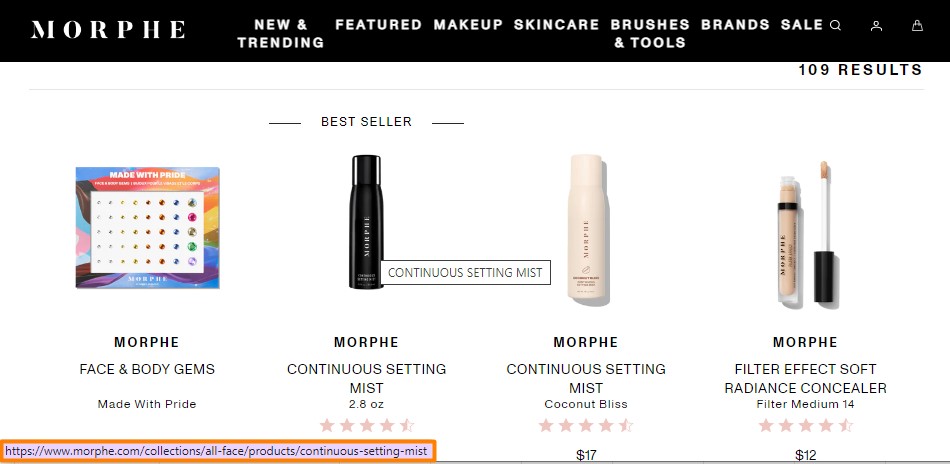 Despite rel="canonical" tags added to those URLs, they can still be indexed instead of the main one because Google can choose to ignore the user selected canonical.
That's possible duplicate content issues right there. To avoid them, we'd recommend linking directly to main product page URLs from collection pages.
Shopify apps
To get our hands on information about what Shopify apps these stores use, we used Koala Inspector, a Shopify store analysis tool. While there were some limitations (you can find them in the Research limitations section below), the tool detected and recognized 143 apps in total, which is a solid set of data.
Let's take a closer look at the findings.
Total number of Shopify apps used
The number of detected Shopify apps in these best Shopify stores ranges from 0 to 23.
Here is the breakdown: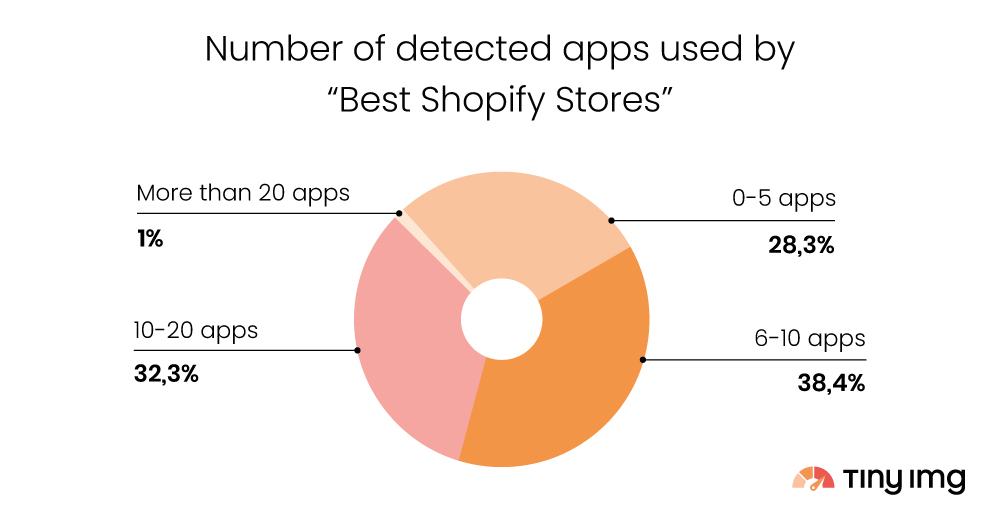 To be honest, the fact that 33% of the stores use more than 10 Shopify apps was quite surprising. Each app requires individual management and proper script loading setup to avoid slowing down the store. Plus, these days there are so many multi-purpose apps that using this many individual ones is often simply unnecessary.
However, the majority of the stores use fewer than 10 Shopify apps, which confirms the importance of consolidating your app usage to the most relevant ones.
Most popular apps
Let's take a look at some of the apps that appeared in majority of the stores: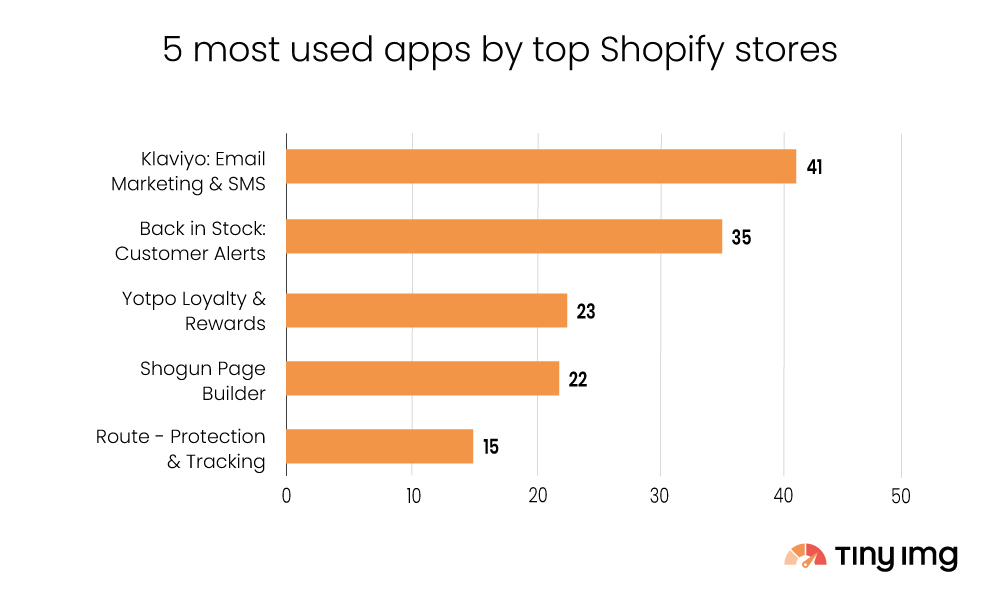 What are some of our takeaways?
First of all, if so many stores trust these apps, they are likely a must-have for pretty much every store.
We can also easily discern what areas of eCommerce these successful stores focus on heavily.
Clearly, email and SMS marketing as well as loyalty programs have a very important place in the marketing strategy. And if the stores are doing so well overall, these strategies must be working.
Another interesting thing to point out - in the world of multi-purpose apps, 35 out of 100 stores have this one very specialized app, Back in Stock. That means customer alerts for when their desired good is back in stock does wonders for successful eCommerce strategies.
And one last thing - every good store cares deeply about what happens to their products after they leave the warehouse, thus the popularity of Route.
Organic traffic analysis
Next we used the power of Ahrefs and looked at traffic distribution in these best Shopify stores.
Traffic to homepage
64 out of 100 analyzed stores get over 50% of their organic traffic to their homepage.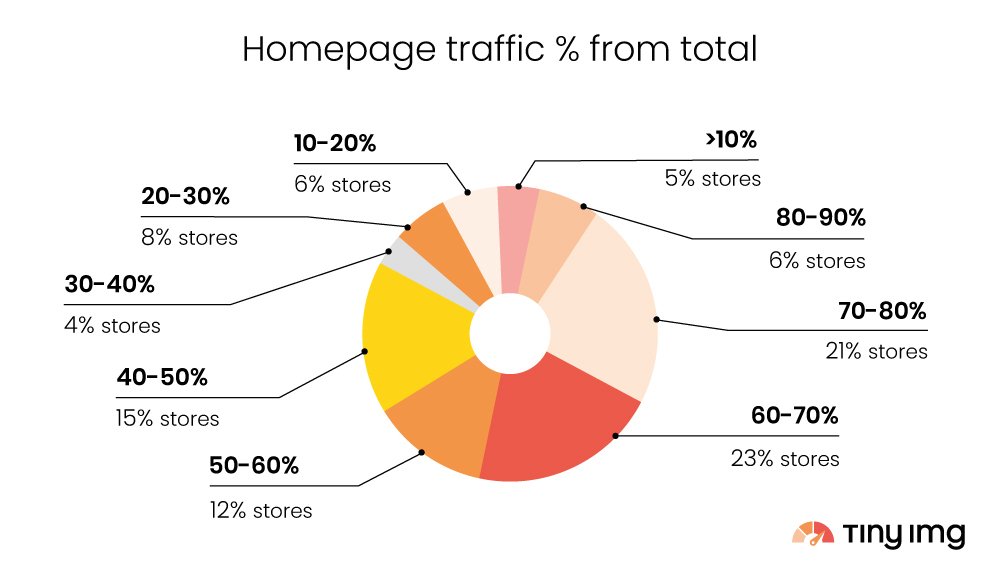 That's not very surprising - the homepage usually gets the most visits and the face of every eCommerce store.
It only goes to show that you should pour a lot of effort into your homepage, from design to navigation. Every good homepage should:
Make it evident what the store sells;
Conveniently guide visitors to anything they're looking for;
Feature latest arrivals, most popular products or collections;
Have a unique touch to it.
Traffic to product pages
Majority of the stores get a pretty modest amount of organic traffic straight to their product pages. Whenever they do, it's mostly thanks to an established brand presence as the traffic comes from queries "brand + product name".
Here's a breakdown of traffic to product pages: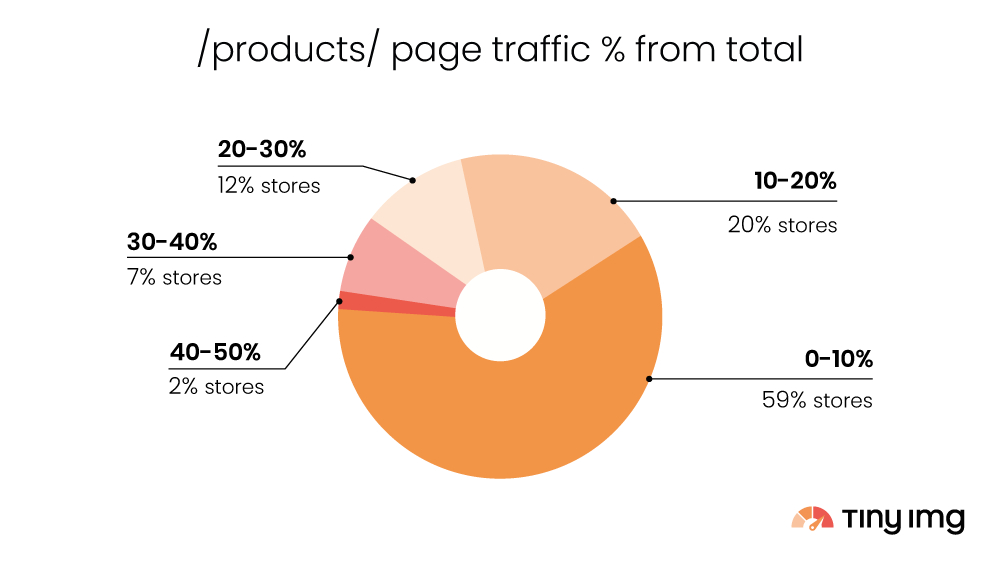 This traffic is among the most valuable and high converting though because product pages are the final stage of a user's buying journey. Create every product page carefully and with conversions in mind!
Traffic to collection pages
Almost 80% of stores analyzed get less than 30% of their total traffic to their collection pages. That's quite telling, but it begs the question - why is that?
We decided to analyze how well optimized Shopify collection pages are and whether there is correlation with the traffic they get.
Here are the results: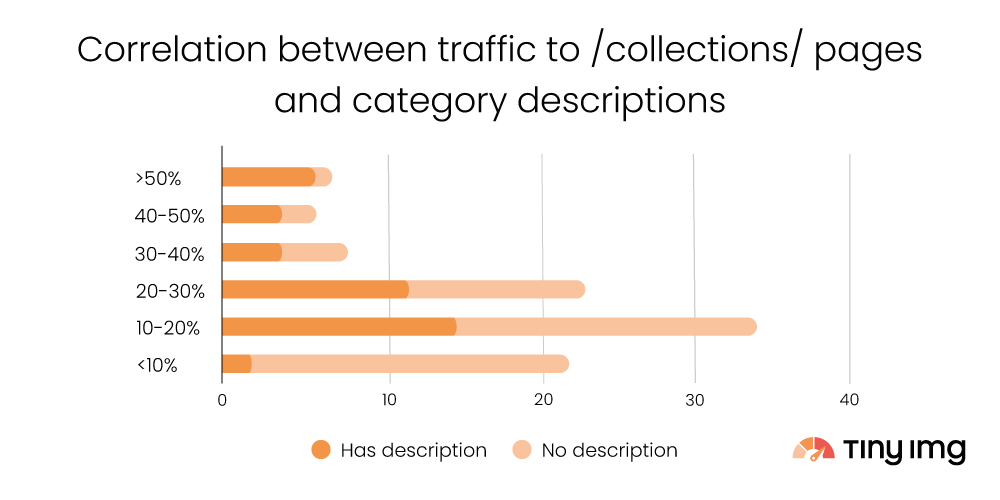 We can quickly notice that stores getting 40% or more of their traffic to collection pages have category descriptions and usually well optimized ones. It suggests that collection page optimization could be an easy win for stores that aren't yet doing it.
44 stores that have no descriptions in the category pages are all towards the bottom of the diagram, meaning the traffic they get to their collection pages is minimal.
There are a couple of stores that have no collection descriptions and still get significant traffic, so we took a closer look at those. These are some of the reasons:
As a side note, this is where the stores tend to place their category descriptions on a page:
Top: 17
Bottom: 21
Top and bottom: 6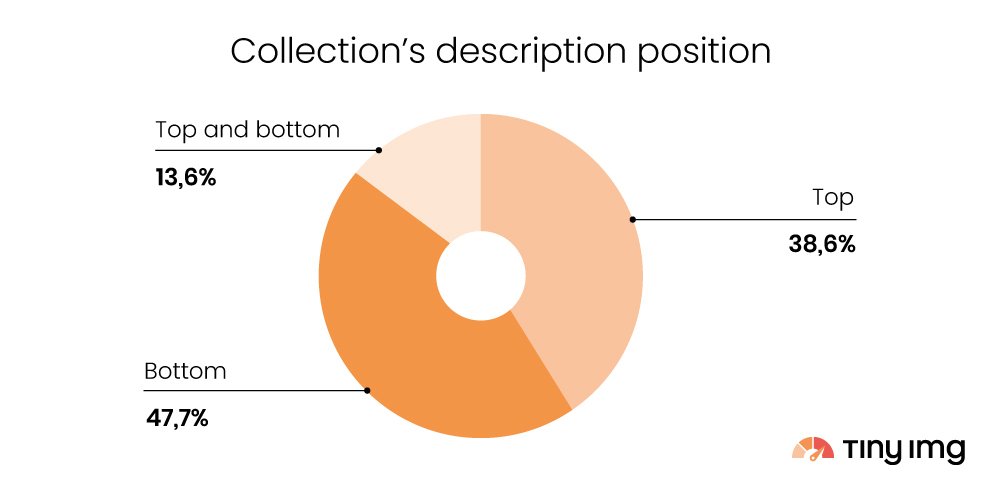 Traffic to blog pages
78 out of 100 stores have blog pages set up so that will be our data set for blog traffic analysis.
Most of them get less than 10% of their traffic to their blog pages. Here is the full picture: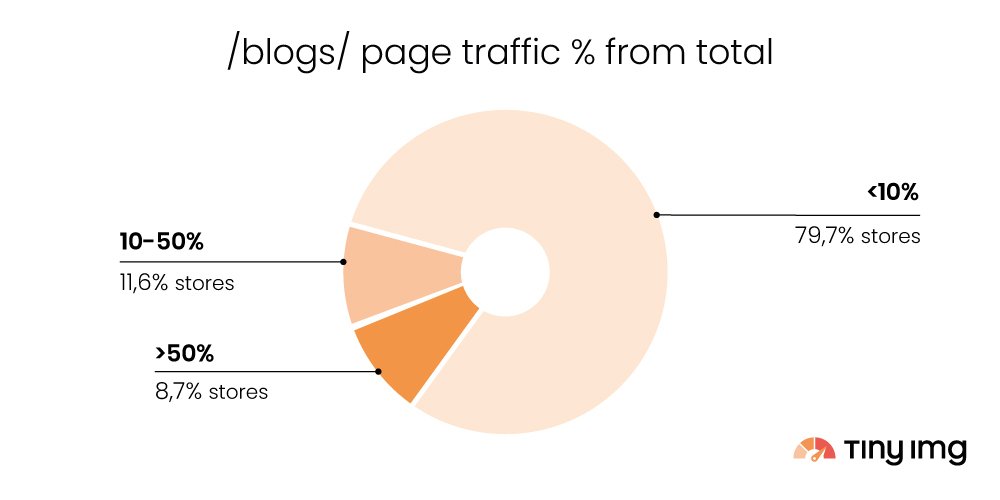 Let's note that even those 10% or less amount to around 2800 monthly visits on average. This many people gaining knowledge from your resources can do wonders for brand recognition, website strength and, eventually, conversions.
Blogs on subdomains vs blogs on subdirectories
Majority of the stores had their blog in a subdirectory. However, 9 out of 78 stores placed their blog on a subdomain and 1 store had different articles placed on /pages/.
Examples:
Our recommendation here would be to follow the majority. Google treats subdomains as separate websites, so having your content on a subdomain reduces your overall website authority and the topical authority of your content.
Bottom line is that you can never go wrong with having a blog on your Shopify store and producing additional value for your potential clients. It's a long game, but eventually it will serve you well in all aspects, from brand recognition to website authority, traffic and conversions.
Website performance (mobile)
Store speed is our speciality, so we took an extra careful look at this one. Since Google is mobile first, our data was based on mobile performance as well.
Before we dive into the findings, let's define what factors you can and cannot control when optimizing your store speed.
Factors website owners can't control:
customer's device, network and location
Shopify URL structure
CDN (Content delivery network)
Local browser cache
Server-side-page cache
Factors website owners can control:
Amount apps and script loading - the fewer, the better.
Theme optimization - choose a very lightweight theme.
Complex or inefficient Liquid code - hire a developer to clean up code.
Font weight - choose a lightweight font.
Images and videos - upload only necessary videos and images, optimize and compress them.
Now let's get to the results.
We crawled these stores using Screaming Frog SEO Spider Tool and analyzed three main Core Web Vitals metrics for each of them. These main metrics are:
Largest Contentful Paint (LCP) - how fast the store loads
Cumulative Layout Shift (CLS) - how much the store shifts around while it loads
First Input Delay (FID) - how quickly the store responds to user interactions.
Bottom line - major websites failed on most Core Web Vitals metrics.
Let's look at each one of them.
Largest Contentful Paint (LCP)
Benchmark: 2.5 seconds or less
To provide a good user experience, sites should aim to have Largest Contentful Paint of 2.5 seconds or less. Unfortunately, 30 out of 100 analyzed websites had poor LCP score - over 2.5 seconds.
Elements considered for LCP include images, videos and inline-level elements. Also, it's important to note that an element can only be considered the largest contentful element once it has been rendered and is visible to the user.
The most common issue with increased LCP on our analyzed websites were unoptimized videos and images that took a long time to load in the rendering process.
Cumulative Layout Shift (CLS)
Benchmark: 0.1 or less
Cumulative Layout Shift (CLS) stands for every unexpected layout shift that occurs during the entire lifespan of a page. To provide a good user experience, sites should strive to have a CLS score of 0.1 or less.
50 out of 100 analyzed websites were impacted by layout shifts. The most common problem of poor CLS were images without dimensions. Adding width and height attributes for images and videos would easily fix the issue and reduce CLS.
First Input Delay (FID)
Benchmark: 100 milliseconds or less
First Input Delay (FID) measures the time from when a user first interacts with a page (i.e. clicking a link).
Only 5% of our analyzed websites had a poor FID metric - impressive! To provide a good user experience, sites should strive to have their First Input Delay at 100 milliseconds or less.
One common reason for poor FID score occurs when the browser is busy parsing and executing a large JavaScript file loaded by one of the Shopify apps the store is using. Reviewing the apps you are using can fix this issue.
Additional takeaways
The majority of our analyzed Shopify websites (around 50%) were affected by CLS and LCP issues that could be easily fixed with the help of developers.
While other issues couldn't be fixed that easily, they can be avoided altogether by choosing a Shopify theme that is SEO-friendly, lightweight and built on high-quality code.
Another thing you should consider is reviewing the apps you installed. Removing unnecessary apps or implementing script control effectively reduces the number of HTTP requests and improves your store's page speed.
There are several tools you can use to find out how you're doing in the Core Web Vitals department. The easiest option is to look for the Core Web Vitals report in your Google Search Console.
Alternatively, you can run PageSpeed Insights or Lighthouse reports of a page on both mobile and desktop devices, and it will provide suggestions on how the page may be improved.
Social media presence
On multiple occasions we mentioned that some stores benefit from strong brand presence, especially when it comes to organic traffic. But how do they get there?
Surprise surprise - a lot depends on their social media presence!
We gathered data about most popular social media platforms among these best Shopify stores, here is what we found: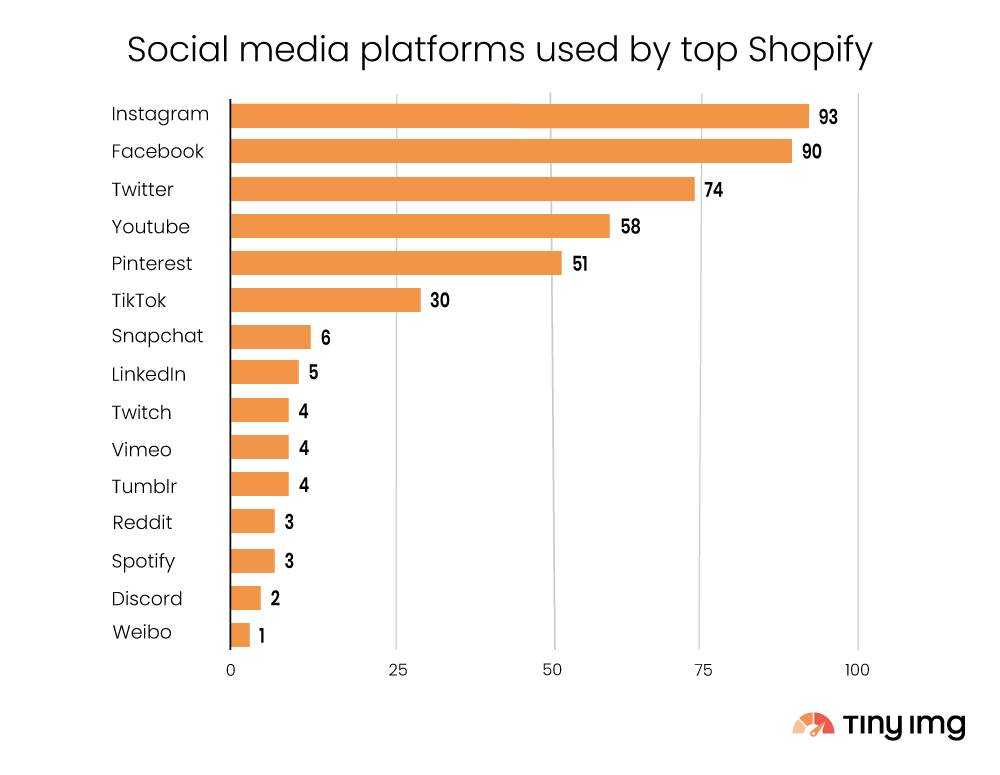 Top 3 is unsurprising - Facebook, Instagram and Twitter are pretty much a must for any business these days.
However, it's worth pointing out that YouTube is very, very high on the list. Investment into a proper YouTube channel is significantly bigger compared to most other social media platforms. It goes to show how much importance stores put on educating and engaging their audience using videos.
Loyalty and reward programs do wonders for brand recognition and community building. And there is no better place to reach that community than social media platforms. 440 Industries even did a case study on one of our subjects, Fashion Nova, so you can learn about effective loyalty program strategies from the best.
Tips for new sellers to compete with best Shopify stores
We thought it might be difficult to get something truly actionable out of this data if you're just starting your eCommerce journey. So we decided to include a section focused on the needs of new sellers in particular.
Here are some dos and don'ts if you want to start competing with best Shopify stores sooner rather than later:
Don'ts
Don't overthink store design. Use any lightweight theme you like, even a free one will do. Choose a simple, universal font and if you can't find a pairing easily, use the same font for the whole website. You can always come back to your design and make it more elaborate, start with something that definitely works.
Don't overdo it with the apps. It might seem that the more apps you use, the better your store results will be. Wrong. In fact, too many apps can cause issues with store performance. Write down all bases you need your apps to cover and then look for those that do as much as possible.
Don't overlook URL structure. Familiarize yourself with the default Shopify URL structure, decide how you're going to handle it and stick to it to avoid issues in the future.
Dos
Optimize your store to perfection. Store speed is a weak spot of most eCommerce giants, especially on mobile. You can get ahead by ensuring your store loads faster.
Invest time in social media. Start with one, maximum two accounts. Understand their audience, be creative with your content, carry out giveaways and build a strong community. If time is not what you can invest, you can always outsource social media management.
Optimize all pages for SEO. Your collection pages might be a hidden traffic magnet, don't overlook them.
Write a blog. Just do it. Even if it's not perfect, all visitors that find it useful are very likely to become loyal customers. Plus, it will help you build website authority and a strong brand.
Research methodology and limitations
Selection process:
We started off by creating a super long list of stores mentioned in Best Shopify lists.
Some stores in the older lists aren't on Shopify anymore, so we made sure to exclude those.
Then we took Ahrefs traffic estimations and filtered out 100 best performing stores. This way we can ensure you're only looking at data from stores that are doing things right.
Research scope and details:
Total stores analyzed: 100 best Shopify stores. If you're interested in the full list of stores we looked at, find it in the PDF file below
Store size: from 53 to over 5000 products.
Niche: wide variety (clothing, cosmetics, food, gadgets, and more).
Traffic: 14K - 6.5M monthly visits (on the day of analysis).
Find the list of all 100 Shopify stores analyzed for this research
Research limitations:
For organic traffic, we used Ahrefs. Ahrefs provides good traffic estimations, but these are not exact numbers. Only the stores themselves have access to such information.
To gather data on Shopify apps, we used Koala Inspector. However, the tool can only detect apps that add scripts to the Shopify theme or code, meaning some apps might go undetected.
Stores change and get updated by store owners over time. Thus, the data published in this article is accurate at the moment of its writing.
Sponsorship:
This research is completely independent, meaning driven by our curiosity and not sponsored by any Shopify apps or stores mentioned in this list.
Conclusion
There it is - our analysis of 100 best Shopify stores.
After reviewing all these areas we can confidently say that rising to this list involves effort and effective strategies in many, many areas of eCommerce.
We hope that our findings will help you shape or freshen up your Shopify strategies and get ahead of the competition.