By purchasing through the links on this page, you are giving us the opportunity to earn a commission. Your support is greatly appreciated!

Selecting Shopify store fonts that match store design, are easy to read and pair well is no easy task.

And fonts matter. You want user journeys to be smooth if you want good conversion rates and website typography contributes to how users experience your store.

Let's pick the best Shopify fonts for your store together!

In this guide we'll look over the best Shopify fonts to use, how to choose a font for your Shopify store and where to find pairings for it, tips on Shopify font size and more.

The font is important when there are visitors to your Shopify store. Make your store's SEO performance and speed better with TinyIMG!

Try TinyIMG today
Why is font important for your Shopify store?
There are two main reasons to care about your Shopify store font - efficiency and engagement.
Your conversion rates largely come down to how easy and enjoyable it is for people to make a purchase.
A correctly chosen font will minimize the effort needed to read website copy, such as button text and product descriptions. On top of that, you should make sure your fonts are consistent, go well with overall design and thus encourage visitors to keep reading. That will make your store more memorable and give you a competitive advantage.
There is one more thing to mention - selecting a lightweight font will help you keep an optimal store speed.
Best Shopify fonts to use
Let's take a closer look at a few specific Shopify store fonts that are widely used and for a good reason.
We'll talk about why they work, whether they're available straight from Shopify font library, and take a look at stores using them.
Montserrat - great for CTAs and menus
Available on Shopify font library: Yes
Variants: 18
Suggested Shopify font pairings: Roboto, Helvetica
Montserrat evokes a feeling of memorability and stability. It's a straightforward yet characteristic font that will reinforce pretty much any Shopify store design choice.
While not too many Shopify stores choose to use Montserrat for the entirety of the store, it's a wildly popular choice for buttons and menus.
Take a look at GymShark rocking Montserrat on their new collection title and CTA (paired with Roboto for the description):

Helvetica/Helvetica Neue - complements risky store designs
Available on Shopify font library: Only Helvetica
Variants: 8
Suggested Shopify font pairings: Crimson, Areal.
Helvetica is a great Shopify font option for those that are taking risks in other areas of store design, such as unusual layout or color contrasts.
In fact, many graphic designers will opt out for Helvetica during their first projects for this exact reason. Helvetica is modern and simplistic, it supports rather than makes a statement on its own.
It's also one of the more widely used and recognized fonts. Seeing Helvetica creates a sense of comfort for your website visitors and gives them that "I've been here before" type of a feeling.
Helvetica Neue is very similar to Helvetica, but more recent and widely used. It has better proportions and minor aesthetic improvements.
Here is what Helvetical Neue looks like on Huel home page: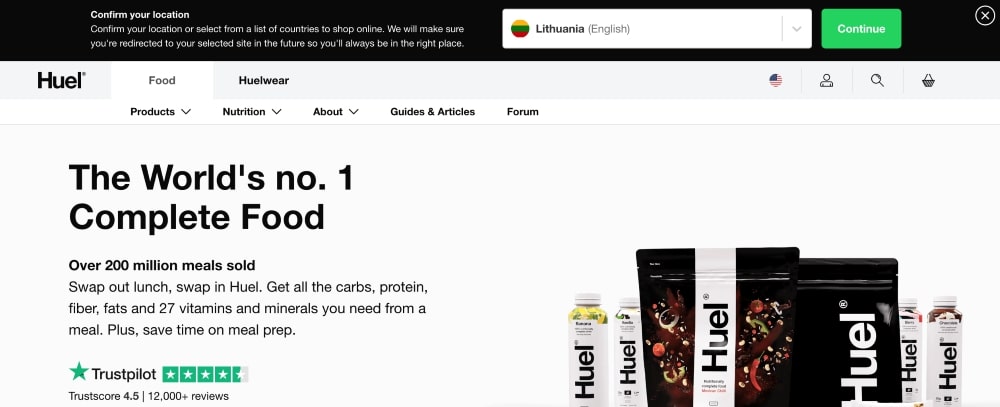 Proxima Nova - great for highly visual brands
Available on Shopify font library: No
Variants: 16
Suggested Shopify font pairings: Nunito, Helvetica Neue.
Created by Mark Simonson, Proxima Nova is a classic. It's lightweight, it complements pretty much any design and it's reliable.
Some might say that Proxima Nova lacks character, but we see it as an elegant, minimalist font. It complements more eccentric and expressive store designs meant to bring forth images.
Take a look at Fashion Nova's product page using Proxima Nova: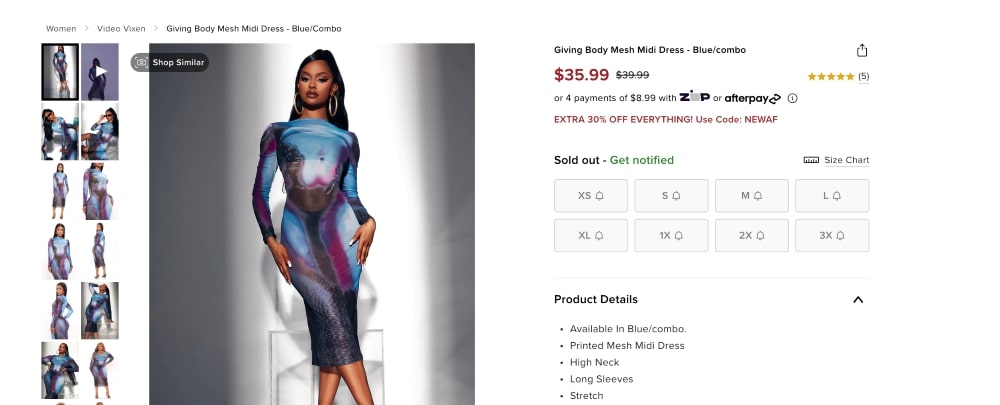 Open Sans - tech store favorite
Available on Shopify font library: Yes
Variants: 10
Suggested Shopify font pairings: Montserrat, Bitter, Georgia, Lato.
Open Sans is quite characteristic, pleasant to look at yet official. This font is loved by gadget and technology stores.
Another reason to choose Open Sans for your Shopify store is its incredible readability in smallest font sizes. If you want to squeeze quite a bit of information into your product pages or if the majority of your visitors use mobile devices, consider Open Sans.
Here is Goulet Pen product page with Open Sans, take a look for yourself: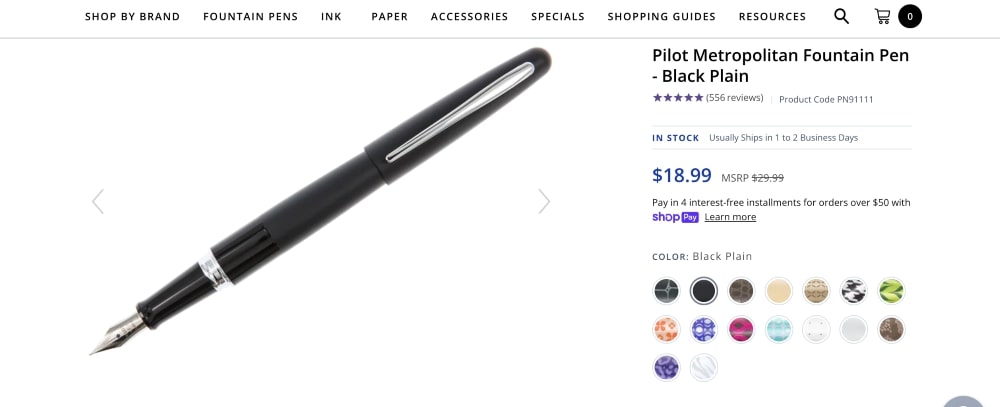 Roboto/Roboto Condensed - top UX font
Available on Shopify font library: Yes
Variants: 18 in total
Suggested Shopify font pairings: Lora, Nunito, Montserrat
First introduced in 2011, Roboto is a web-specific font. It was designed with maximized user experience in mind. It balances out spaces between letters to improve readability.
Roboto's readability has made it a very, very popular font for larger bodies of text whereas Roboto Condensed is a more common option for headings, buttons and captions.
In fact, some might say Roboto font family is so overused that it doesn't add much to brand identity anymore.
However, Culture Kings beg to differ as they're successfully using it across their website:

Lato - great for soft looks
Available on Shopify font library: Yes
Variants: 18
Suggested Shopify font pairings: Proxima Nova, Ubuntu, Georgia, Roboto/Roboto Slab/Roboto Condensed
Lato was created by a Polish designer and is meant to be soft and pleasant on the eye, easy to read. After all, "lato" means "summer" in Polish.
The success of this font is unmatched. It was released back in 2015 and as early as 2018 it was among top three most served fonts in Google Fonts.
Check out Bodega's product description using Lato to see what the hype is all about:

Futura - best for mobile-first stores
Available on Shopify font library: Yes
Variants: 13
Suggested Shopify font pairings: Lato, Open Sans, Trade Gothic, Garamond.
Futura dates back to 1927 Germany. It revolutionized German print and has close ties to the Bauhaus movement. Fun fact - Futura lives in space too as the 1969 Apollo 11 mission chose this font for the plaque they left on the Moon.
Futura is a crowd favorite up until this day. The geometric design and precise proportions makes it easy on the eye and modern-looking. Just like Open Sans, Futura has great readability no matter how much you shrink it and is amazing for mobile.
As for Shopify stores, Teddy Fresh is successfully using it for its awesome-looking product pages:

Brandon Grotesque - very characteristic font
Available on Shopify font library: No
Variants: 12
Suggested Shopify font pairings: Verona, Baskerville, Courier.
Brandon Grotesque is one of the edgier fonts in our best Shopify fonts list. Unlike most other highly creative fonts, this one is still lightweight and easy to read.
Brandon Grotesque is a great choice for any store looking to round up a minimalistic yet highly memorable design.
One of such Shopify stores is Burga, rocking Brandon Grotesque on their product pages:

Poppins - works great as solo font
Available on Shopify font library: Yes
Variants: 18
Suggested Shopify font pairings: Lora, Gravitas, Gotham, Playfair Display.
Poppins font is among the more popular sans-serif fonts among web designers. And for a good reason since Poppins was created specifically with UX and UI in mind.
It's not particularly unique or memorable, but will serve well any store that's aiming for a functional design over everything else.
18 variants means it goes well for body, headings, captions, footers and anything in between. Thus, Poppins is a very convenient option for stores that want to cover the entire website with one font only.
You can see Poppins Shopify font in action in SisterJane product description:

Lora - best curvy font
Available on Shopify font library: Yes
Variants: 4
Suggested Shopify font pairings: Roboto, Nunito, Merriweather, Lato.
Last but not least, Lora definitely has a spot on Shopify best fonts list. It maintains the perfect balance between readability and handwritten font styles.
Available only in 4 versions, Lora usually needs at least a single pairing. Brushed curves and overall mild look makes it a stand-out option for headings and titles, while body text commonly goes in Roboto or Lato.
Take a look at Holstee pairing Lora for headings and Lato for body text:

How to choose the best font for your Shopify store?
Fonts will play a bigger role in your store design than you might realize, so think carefully.
Best font for a Shopify store means something different for every store, but you can get close if you consider these aspects:
Your brand. Is your brand modern? Playful and bright? Or perhaps vintage? If you don't know where to start, start by Googling "fonts" with adjectives you'd use to describe your brand. Chances are something will catch your eye.
Store speed. Never, never prioritize fancy looks over store performance. No one will care about your exceptional font if your store loads so slowly people leave it before the font shows up. You can read more on how to optimize your chosen fonts here.
Versatility and pairing. Some fonts have many variants, allowing you to have one font for the entire store. If you feel the need to pair numerous fonts, which will usually be the case, trim your options down to a pair or two. Afterwards, create a demo page of your website using your options and settle on one.
Tip: If you're going for a custom or rarely used font, set secondary fonts for browsers that don't support the primary ones. This way you might not be able to show the design you were initially going for, but at least the text will be there. Popular secondary options are Helvetica and Roboto because of how universal they are.
Where to find fonts for a Shopify store?
You have two main places where you can find Shopify store fonts:
Shopify font library. All fonts on Shopify fonts library are free to use for Shopify sellers. The library boasts quite a few options and if you see some major font missing, it's likely due to licensing issues. The options available there should cover the needs of most Shopify stores.
Third-party websites. If you decide to go a custom font route or prefer a font that's not available in the library, you can always opt to go for a third-party option. Your most convenient option in that case is to upload the font files to your Shopify theme.
Where to find font pairing ideas for your Shopify store?
Let's begin by saying that there are no strict rules for font pairing. You can get great results by experimenting and seeing what sticks.
However, if you are struggling with best Shopify font combinations, try these websites:
Fontpair has quite a few ready-made font pairings for those who don't know where to start.
Typ.io - while the UX of this website is a bit questionable, they have pulled data from a lot of websites and provide you with popular font pairings and their visual examples.
MyFonts boasts a library of over 130,000 fonts with pairing suggestions and visual examples.
Google! That's right. If you search for "your chosen font name + pairing", you'll see the top suggestions out there.
Shopify font size and color tips
In terms of font sizes, we advise 16px as a minimum for the body. It ensures readability and presentable look across all devices.
When it comes to headings, you can be quite liberal with font sizes, just make sure everything is visually balanced.
The color of your font is 100% dependent on your background. What you want is sufficient contrast (dark on light or vice versa) and no color clash that causes headache (e.g. thick black font on a bright red background). Other than that, let the creativity flow.
How to change your Shopify store fonts?
If you're looking how to change fonts on Shopify and choosing from those that are already available in the Shopify font library, it's a super simple task:
1. Open Admin area. Click Theme, then Customize.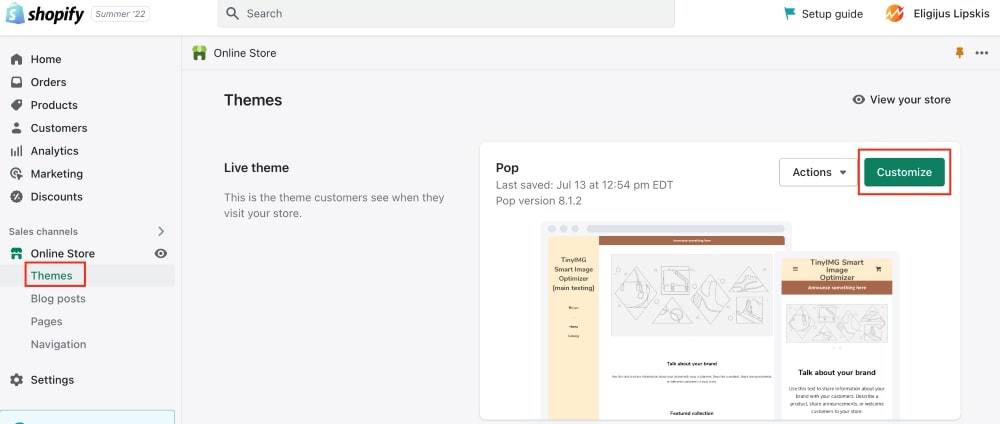 2. Click Theme settings towards the bottom of the page.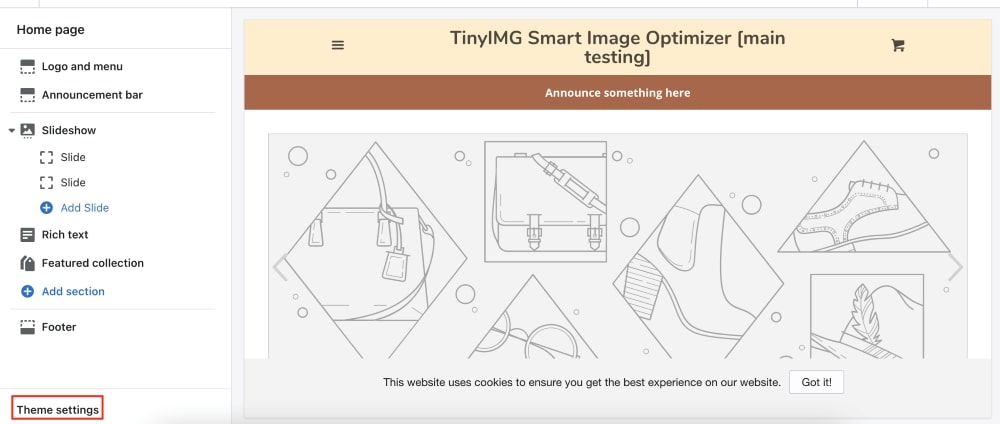 3. Click Typography, then Change and select the desired font from Shopify font list.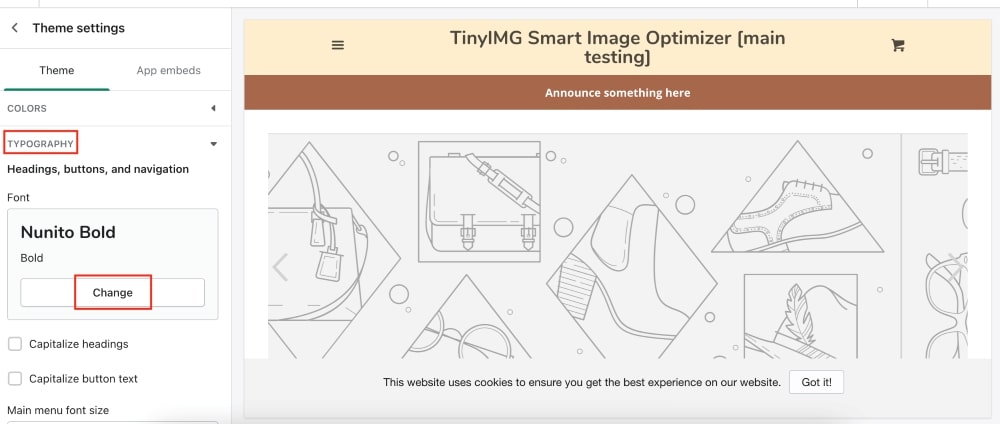 If your font comes from a third-party source, you'll need to upload it. To do that, you'll need to copy your chosen font's code (CSS rules), go to your Shopify admin area and click Edit code of your current theme.

You'll need to open the Assets folder, find theme.scss.liquid and timber.scss.liquid files, open them and replace appropriate lines of code. If you need a detailed walkthrough, take a look at this tutorial.
Tip: Always create a backup before making changes to your Shopify theme's code. You can do that by clicking Duplicate in the Actions menu and saving the existing theme file.
Conclusion
Shopify fonts play a massive role in store design. They contribute to brand memorability, website aesthetics and influence website performance.
Use our tips to pick a great Shopify store font, find good pairings, set secondary fonts and enjoy a beautiful Shopify store!
Curious to read more? Check out these articles: