By purchasing through the links on this page, you are giving us the opportunity to earn a commission. Your support is greatly appreciated!

As one of the best ecommerce platforms, Shopify offers themes for selling services too. You can find beautiful and functional service website templates that can support appointment bookings and other features necessary for these industries.

We've scoured the web, looking at the Shopify themes used by the top players in beauty, professional consultancy, self-help, and other service industries.

In this article, we will cover some of the best Shopify themes for services – as well as highlight the most important things when looking to pick one.

Without further ado, let's begin!
How to choose a Shopify theme for service business?
Shopify offers an incredible array of eCommerce themes to choose from. But not all of them are suited well for your service business website. Here are some of the main things to pay attention to:
1. Powerful product pages. Shopify is well-suited for selling services. The same can't be said about every Shopify theme. Look for theme options with advanced product variants, letting you sell your non-physical items with ease.
2. Advanced site customization. Either with Shopify 2.0 support or a great page builder, you need to have a way to easily edit and customize your entire website. This way, you can take any visually-appealing theme out there and customize it to be perfect for your sales.
3. Great website performance. A slow website means lost customers. Don't get lost in a sea of high-res images and animations – look for themes that deliver best-in-class speed.
10 best Shopify services themes - our detailed list:
These right here are the best Shopify services themes:
Your Shopify store can perform better than ever before. Make it fast and SEO-optimized with TinyIMG app
Make improvements today!
1. Highlight – top Shopify service theme with a striking design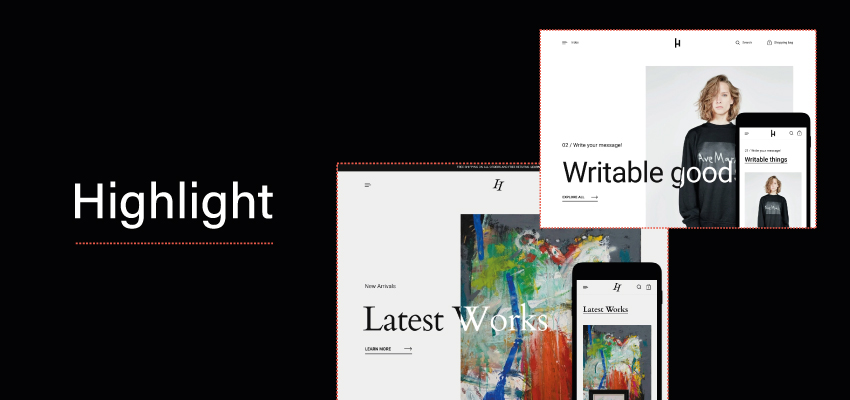 $300 (free trial available)
Compatible with Shopify 2.0:
Highlight is an excellent choice for Shopify service websites: with its modern parallax scrolling options and an asymmetrical design, it's a theme that will set you apart from the crowd and help you make a very exciting website.
This theme works especially well, if you don't have a massive array of services to sell. Its simple, scroll-first design lets you reveal the information at your own pace, showcasing your story and skill to each one of your visitors.
However, if you still have plenty of choices to offer, you'll be happy to see exquisite product pages, multiple options for image display, and powerful item sorting features. This is a very customizable theme – one Drops eCommerce agency used to its full extent, by making an excellent scroll-first site.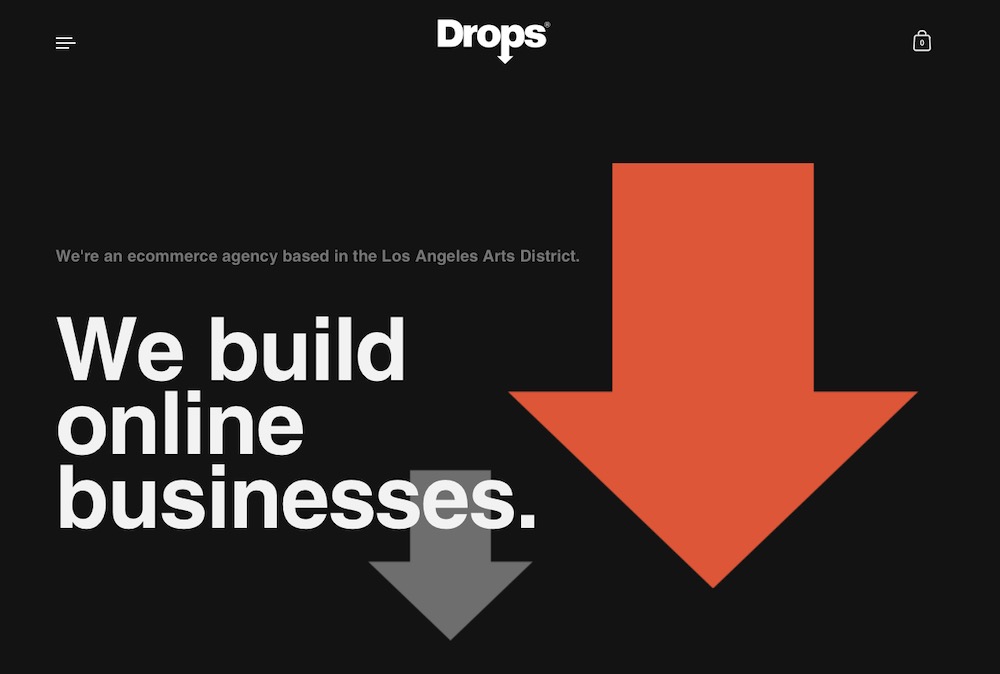 What makes Highlight a great service theme:
Parallax scrolling
Enhanced search, filtering, and sorting
Unique asymmetrical design
Promo banners and pop-ups
2. Symmetry – Shopify service theme with easy editing and great storytelling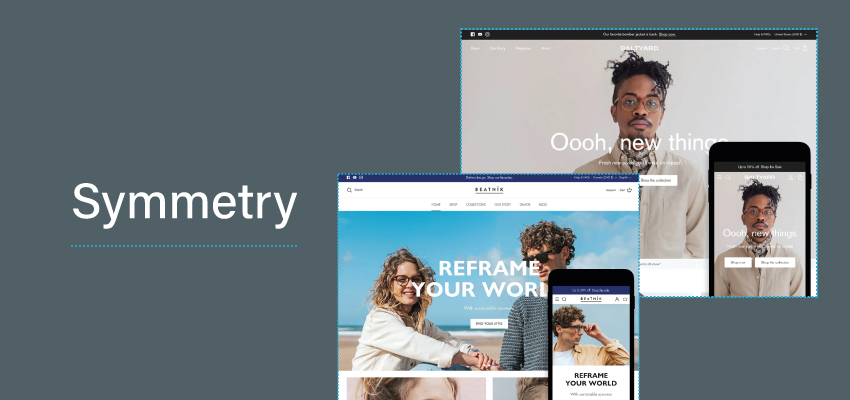 Beatnik, Chantilly, Duke, Salt Yard
$340 (free trial available)
Compatible with Shopify 2.0:
Symmetry is an excellent Shopify theme for services: it's suited for both online and in-person sales, offers great visual tools for better storytelling, and top sales tools for getting more conversions.
This theme is created by a very experienced group in Clean Canvas: and the creation stands up to the name. The clean website code means your Symmetry sites will load quickly, and a simple editing interface lets you make extensive site changes without breaking a sweat.
With a massive list of features, including badges, banners, slideshows, and extensive image galleries, it's a great theme for any business looking to stand out online. Just take a look at this modern, visually-striking appeal of the Tonic beauty salon.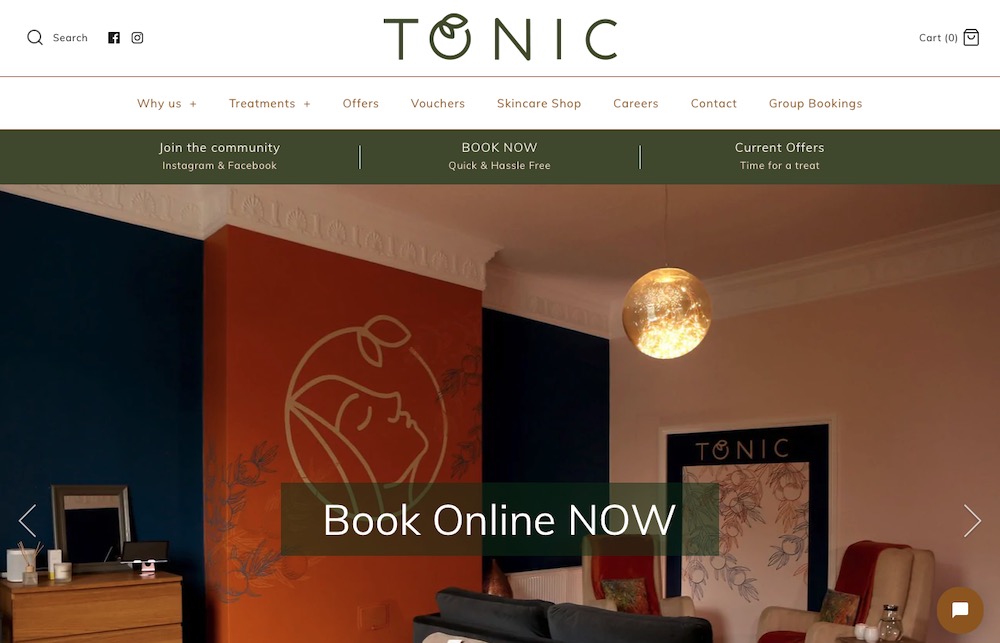 What makes Symmetry a great service theme:
Fast website performance
Easy site editing
Advanced product filtering and search
Customizable contact form
3. Dawn – free Shopify theme for those starting out in the service industry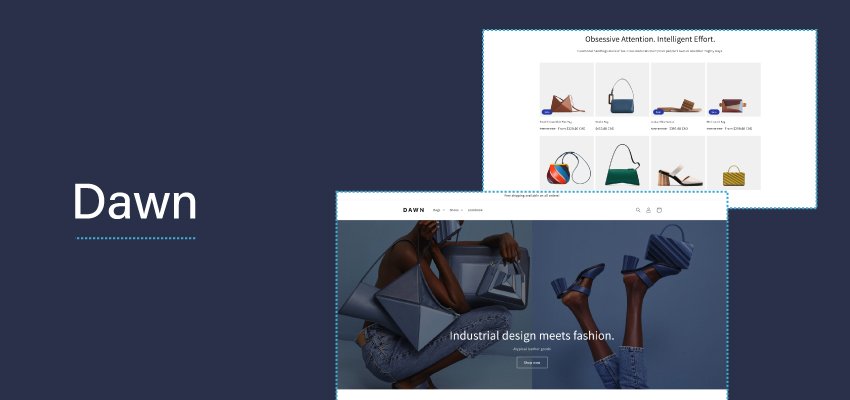 Compatible with Shopify 2.0:
Dawn is a Shopify starter theme. It's free, minimal, and at the first glance doesn't look like it would fit for a service website. While most Shopify themes are designed for selling products, they can be molded into service templates too.
If you're just starting out in the service industry, and you offer consultancy, wedding planning, tours, or anything else that doesn't require you to sell physical products, Dawn is a great choice.
There is a page for contacts, which we think is one of the most important features when it comes to service websites. You can also add testimonials from previous clients, write a beautiful About us page, and generally customize the whole website with an intuitive Shopify page builder.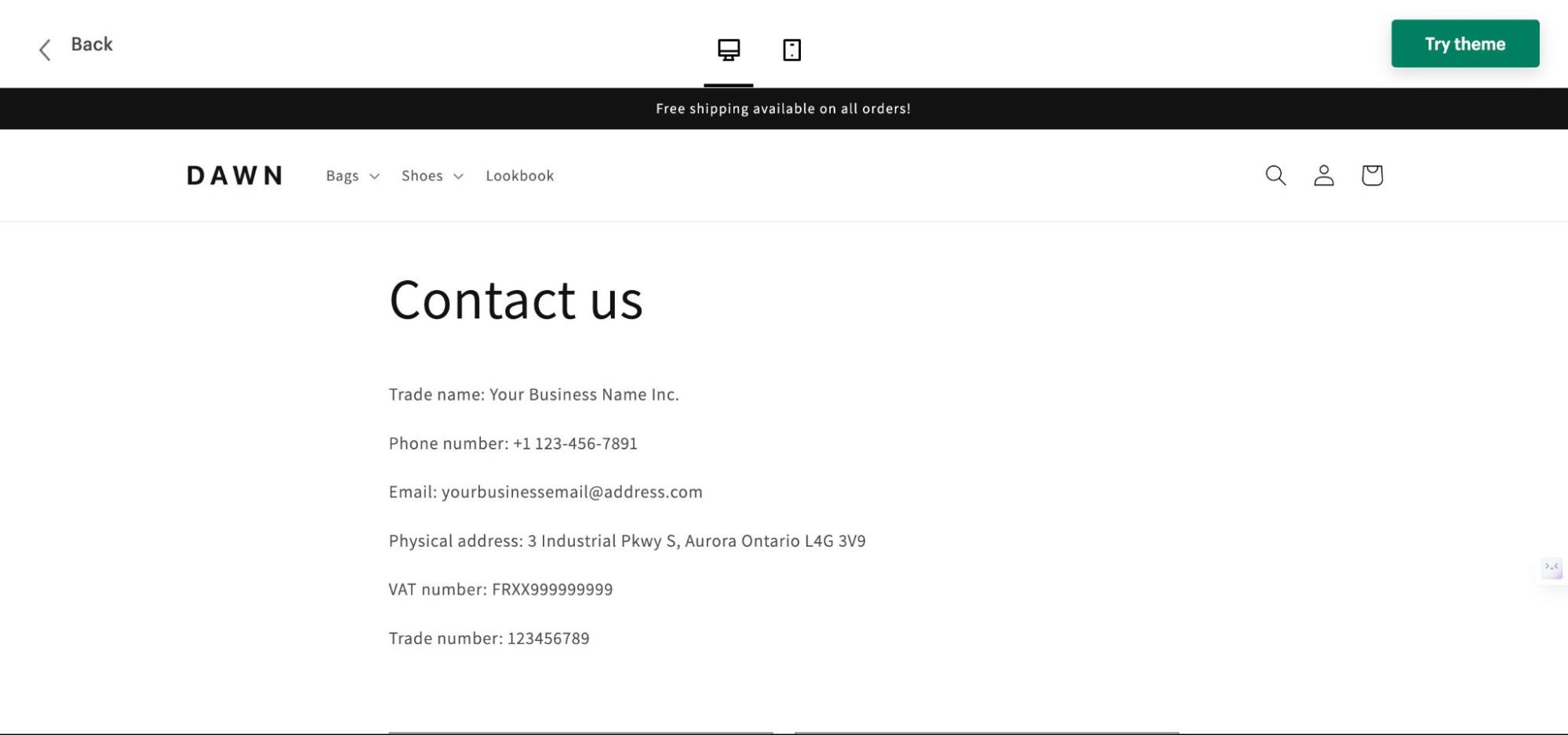 What makes Dawn a great service theme:
Contact form
Testimonials from clients
Advanced customization options
It's absolutely free
4. Showcase – highly customizable Shopify theme for barbers and beyond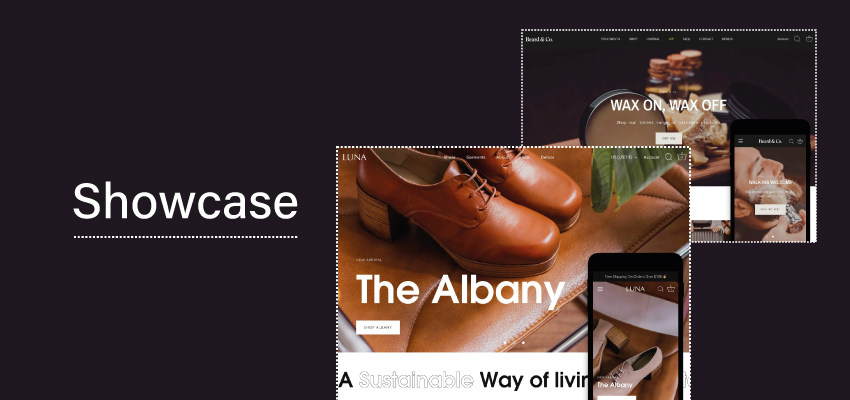 Native, Betty, Luna, Beard, Mila
$320 (free trial available)
Compatible with Shopify 2.0:
Showcase is an excellent Shopify theme for services – with a demo, built specifically for barbershops, it's a great option if you're running this type of business. If not, don't worry: this excellent premium theme is highly customizable, and can be used for just about any type of service website.
Smooth animations and good video integration make this a modern theme, and all of your media will look excellent on just about any device. 20 custom site editing sections are also available for making your site completely unique.
With a full Shopify 2.0 support, you can easily use both in-house and third-party Shopify services apps, and they will seamlessly adapt to your site and its design language. All in all – a great service theme.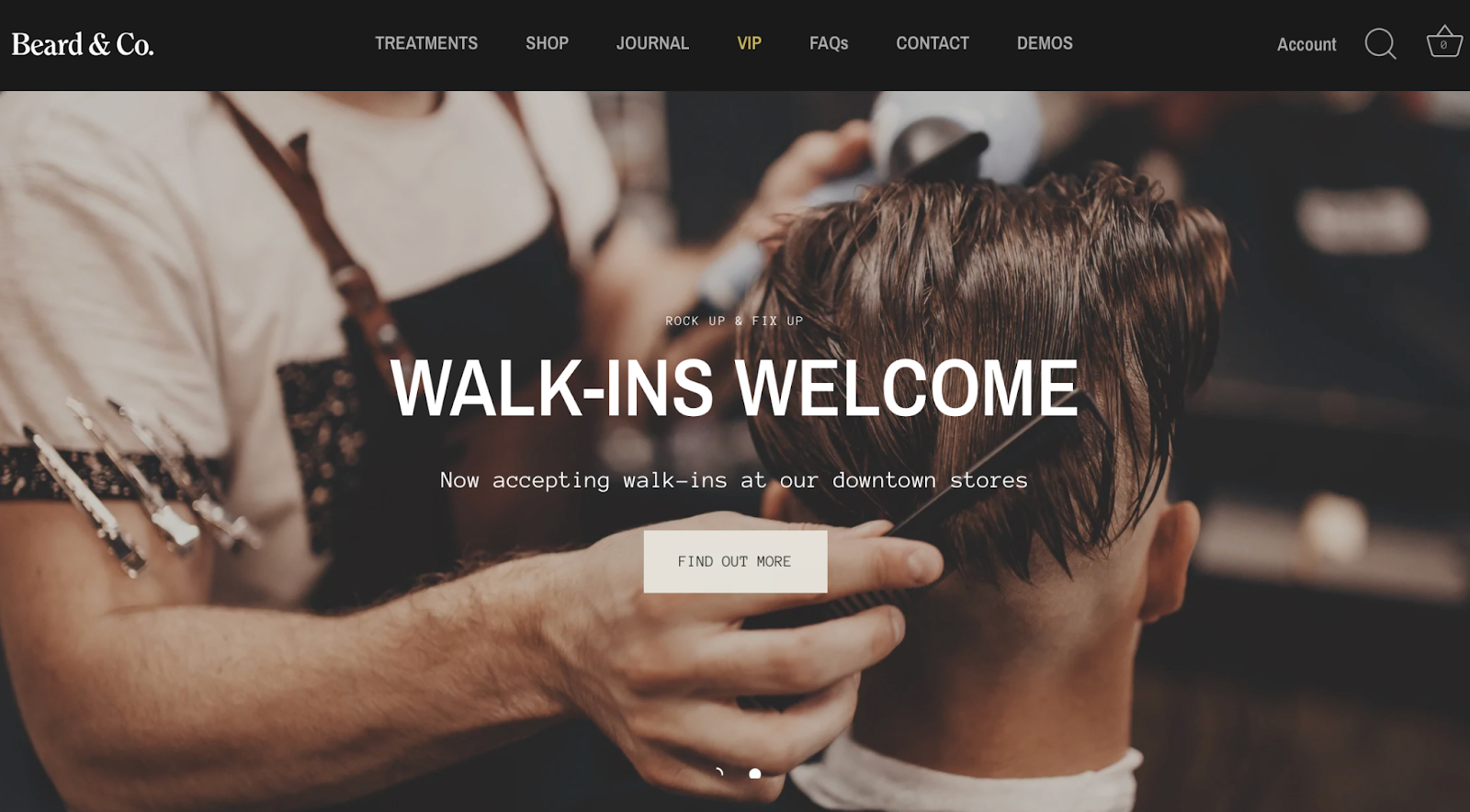 What makes Showcase a great service theme:
Several promotional tools included
Animation and video integration
Pre-made service demos
Powerful blogging functionality
5. Tailor – modern, copy-first Shopify service theme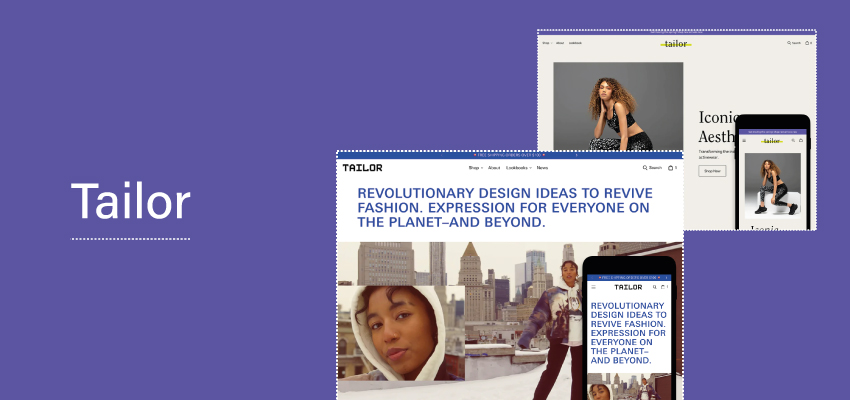 $190 (free trial available)
Compatible with Shopify 2.0:
Many service companies come with a story to tell. If your brand wants to do exactly that, Tailor is an excellent theme to go for. With excellent multilingual support, and a text-first approach, this is a great choice if your services are best described with words – not just images.
But of course, like all themes on the list, Tailor is a modern option: and this means support for interactive, full-scale imagery. With product options, tabs, and videos, you get a plethora of options on how you wish to display your services.
Full Shopify 2.0 support and extensive editing options are there for editing the site to your full wishes. Solid product filtering and a customizable mega menu are also there – for the best possible store navigation for your buyer.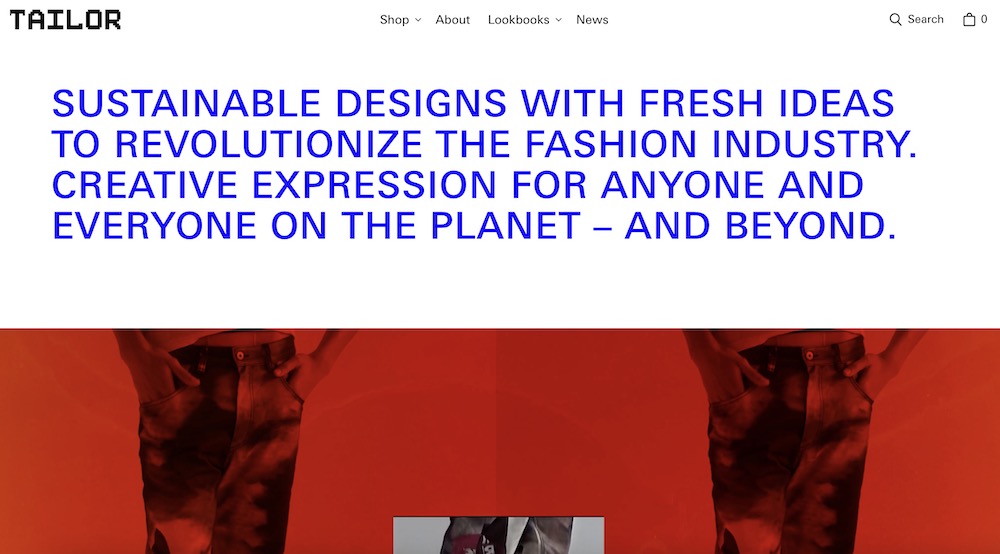 What makes Tailor a great service theme:
Copy-first design
Solid search and filtering features
Various service display options
Highly customizable
6. Triss – customizable Shopify theme for the beauty industry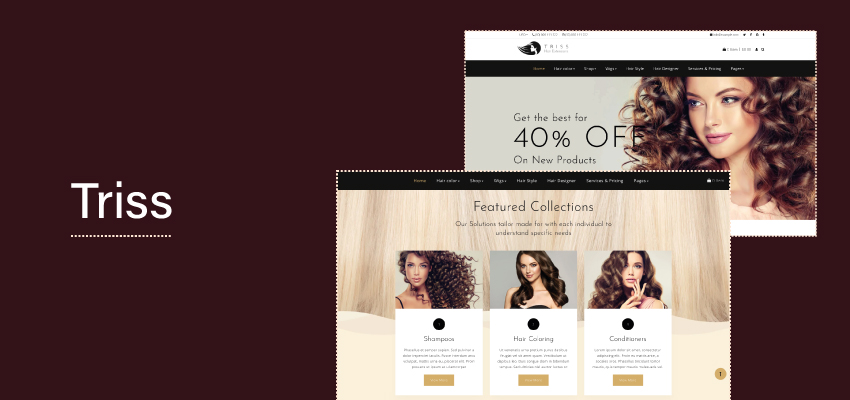 Compatible with Shopify 2.0:
Triss is a Shopify theme, focused on hair salons and beauty-related products. If you're a make-up artist, a hairdresser or running a similar business, this theme will be a wonderful starting point. It's fully flexible, with a custom slider functionality and top editing features.
Triss looks good on just about any device: automatically adapting to desktop, tablet, and mobile interfaces, it's fully modern and responsive. Sticky sidebar blog will let you talk about your services, and rank on search engines with useful blog articles: as well as seamlessly embed purchase links for your visitors to use.
Triss is an excellent theme, focused on the beauty industry – but it's also an incredibly adaptive theme, perfect for telling your story, and selling your services.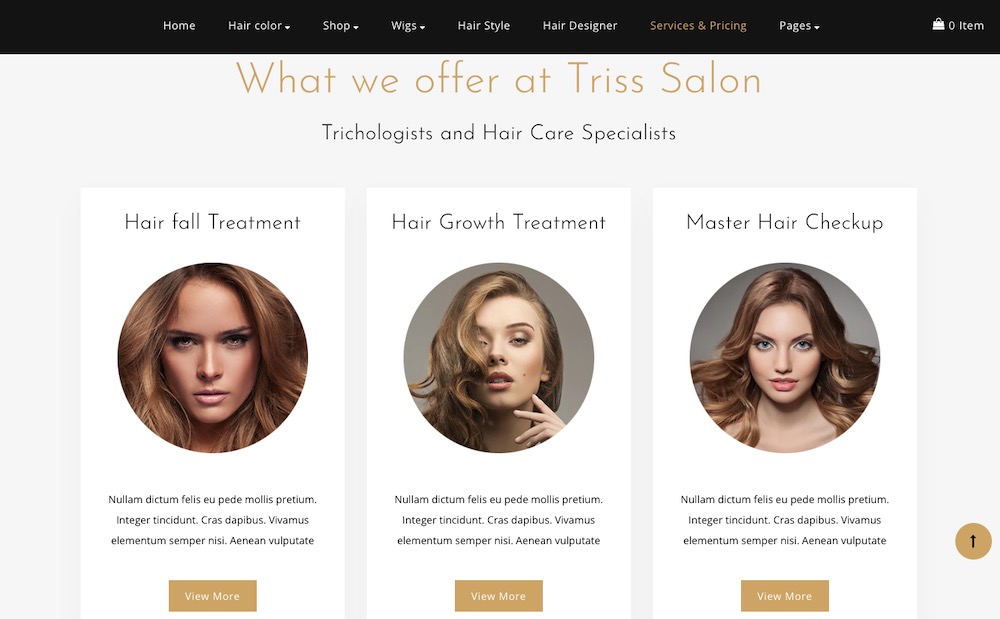 What makes Triss a great service theme:
Simple customization
Excellent blogging features
Modern design on all devices
Pop-up and sales boosting options
7. Retina – customizable Shopify theme with extensive visual elements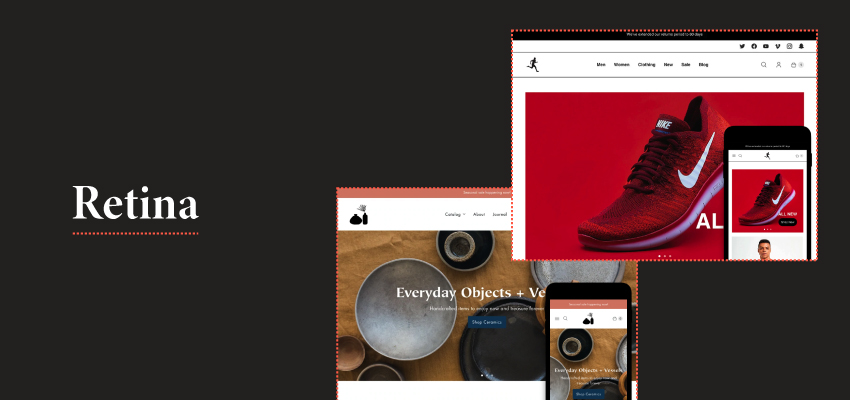 Austin, Montreal, Melbourne, Amsterdam
$220 (free trial available)
Compatible with Shopify 2.0:
Retina is an excellent Shopify theme for services. With wonderful testimonial sections and product callouts, it's almost purpose-built for you to tell your story – and get some people on board. It offers a modern, fully-customizable design, perfect for your website now, and several years in advance.
One of Retina's biggest selling points is its simplicity. An incredibly user-friendly editing interface is fully powered with Shopify 2.0, giving you both simple site editing and powerful layout options.
You can display your media with slideshows and intricate galleries. Meanwhile, your products will look great with tabs, dedicated videos, and customizable sales options. Service pages on Retina look sharp and modern – like the Buff Dudes store right here.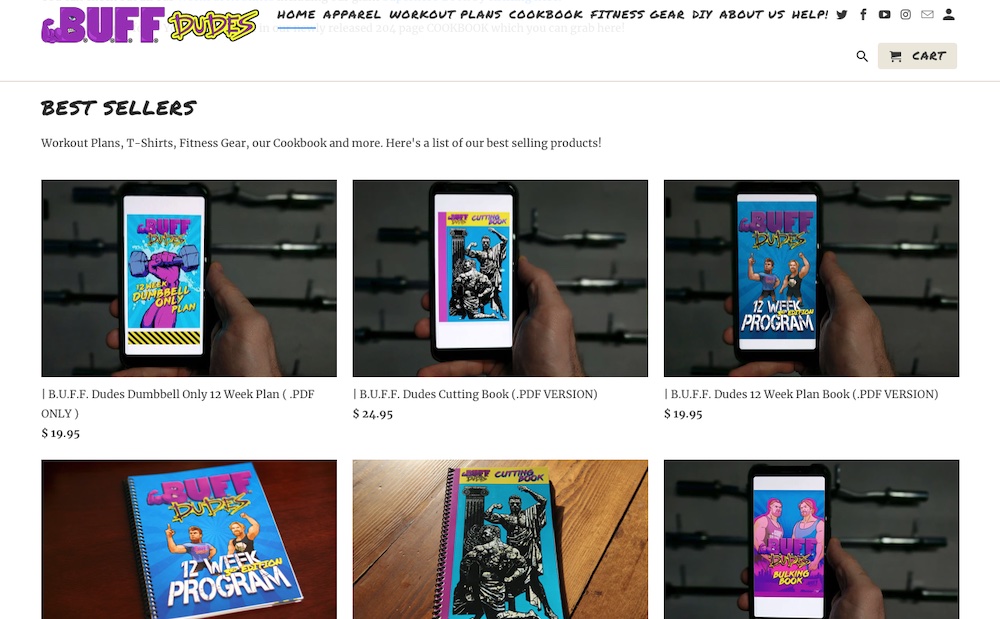 What makes Retina a great service theme:
Testimonial sections
Service callouts
Simple and powerful customization
Service options and tabs
8. Expression – promotion-focused Shopify theme for services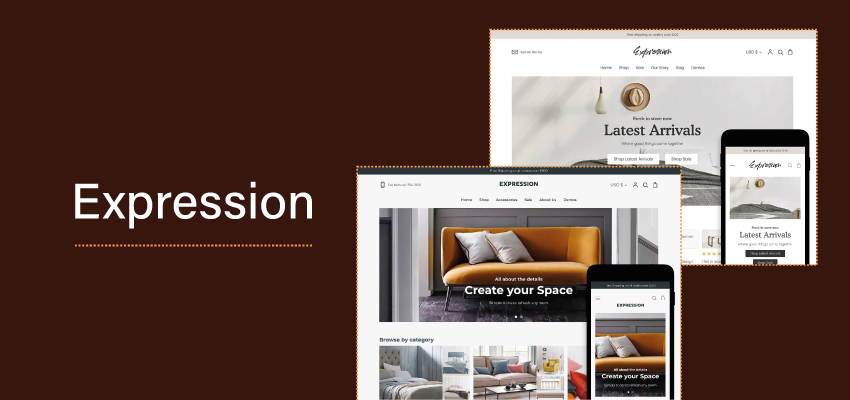 $240 (free trial available)
Compatible with Shopify 2.0:
Expression is a Shopify theme, focused on promotions: service stores can use this design choice to showcase new services, or highlight some of the best-sellers. Combine that with plenty of additional features, and you get an amazing theme for all Shopify service websites.
Expression features a modern content-focused design, which lets you share your story and your insights in the best possible manner. If you have something to say – this theme lets you do it in style. Plus, there are plenty of additional features, like SEO tools, flexible sections, promotions, and advanced product pages.
It's an excellent theme that lends itself very well to all types of service websites. Overall, a great choice.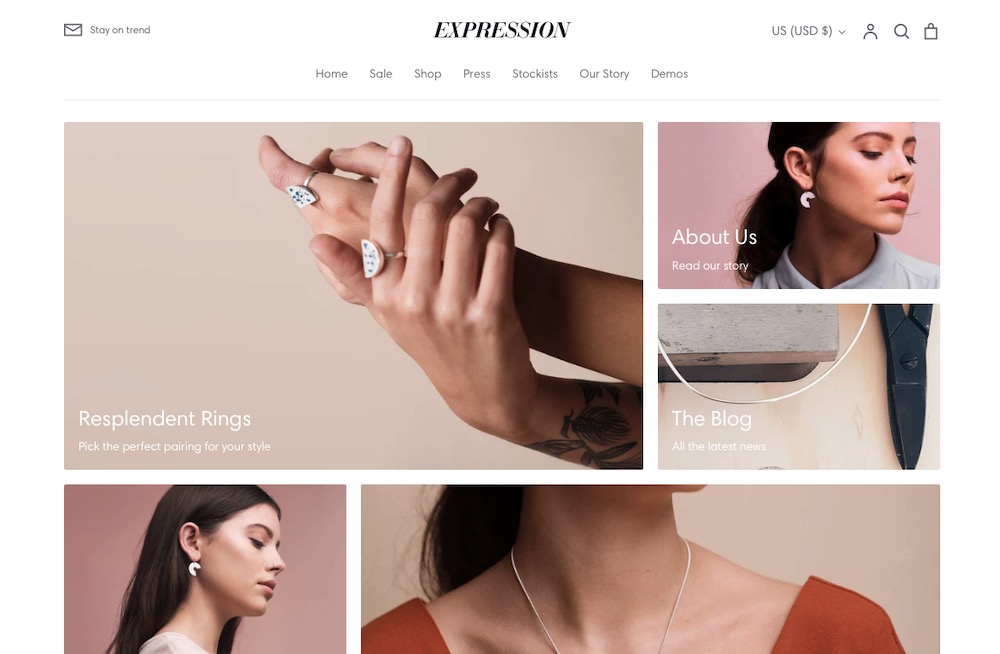 What makes Expression a great service theme:
Store locator feature
Focus on promos and star services
Flexible site customization
SEO tools available
9. Zeexo – service-friendly Shopify theme with plenty of demos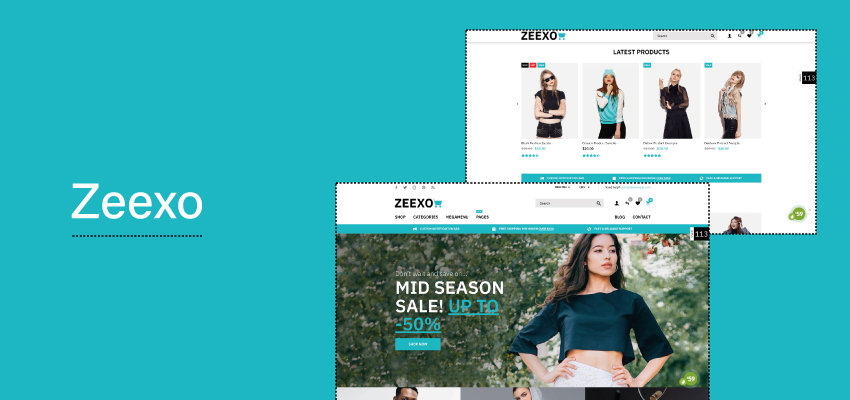 over 100 different layouts
Compatible with Shopify 2.0:
Zeexo is a great Shopify theme for services: with over 100 demos to choose from, there's no shortage of excellent starting points for your business. It's extremely multipurpose, and created to work with plenty of third-party apps – making this a great theme to take your website wherever you want it to go.
A custom live builder with plenty of custom blocks will let you combine hundreds of different elements. Advanced custom fields support will also let you add extra fields to your products, customizing them as much as you need.
To add more value to the deal, this theme also comes with additional sales, marketing, and multilanguage apps. In case you get stuck, there are plenty of YouTube tutorials to get you back on track. All in all, Zeexo is an excellent, highly-editable service theme at a great price.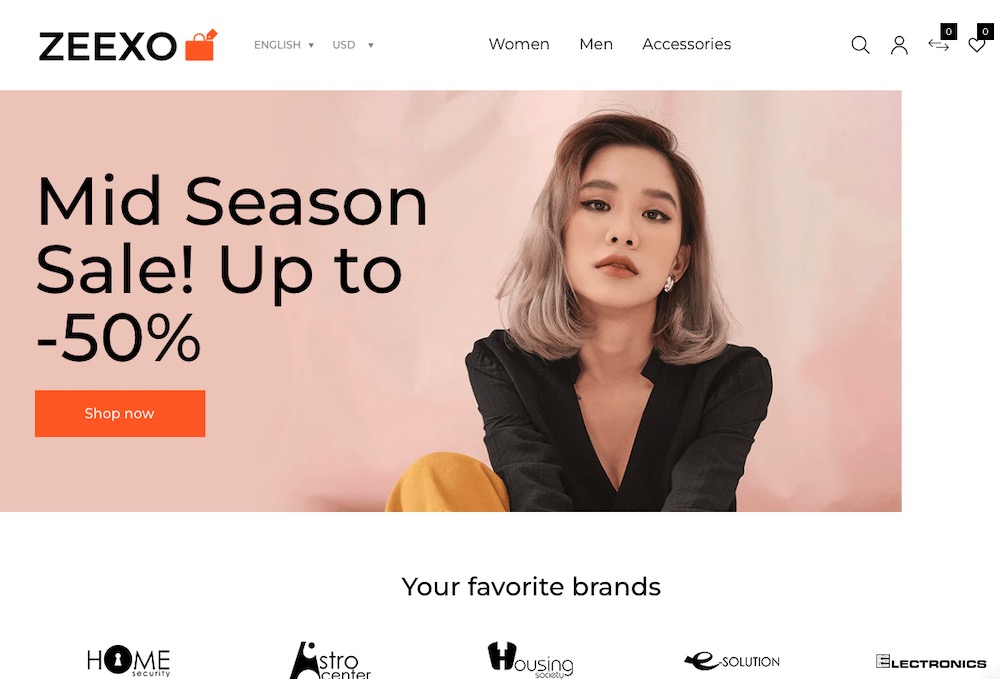 What makes Zeexo a great service theme:
Massive list of demos
Marketing and sales tools included
Easy to edit and customize
Fast website performance
10. Minimosa – highly-customizable and extensive Shopify service theme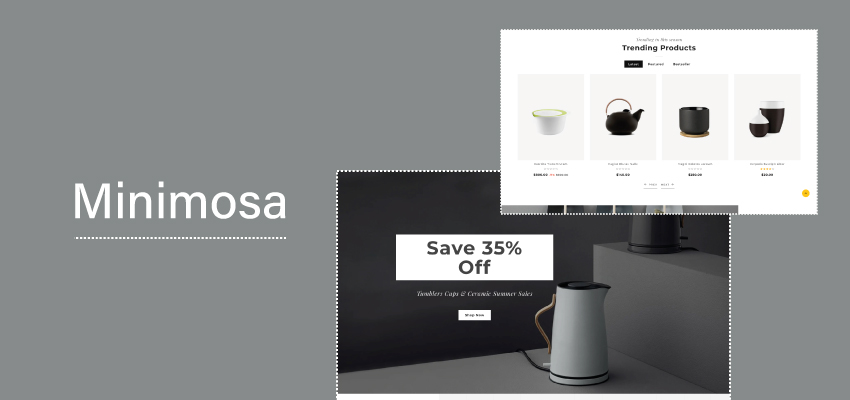 Compatible with Shopify 2.0:
Minimosa is an excellent multipurpose Shopify theme. Fully customizable, thanks to several pre-made demos and Shopify 2.0 support, it's a perfect fit for websites with very specific needs – so, it's a great option for just about any Shopify service website.
There's an extensive mega menu, options for client testimonials, a powerful blog module and functionality, as well as a solid review function for happy clients to review your services.
Minimosa is highly editable, with full HTML 5 and Bootstrap support, letting you edit this website for just about any type of a Shopify store. With plenty of additional features for sales and service promotion, it's an excellent deal.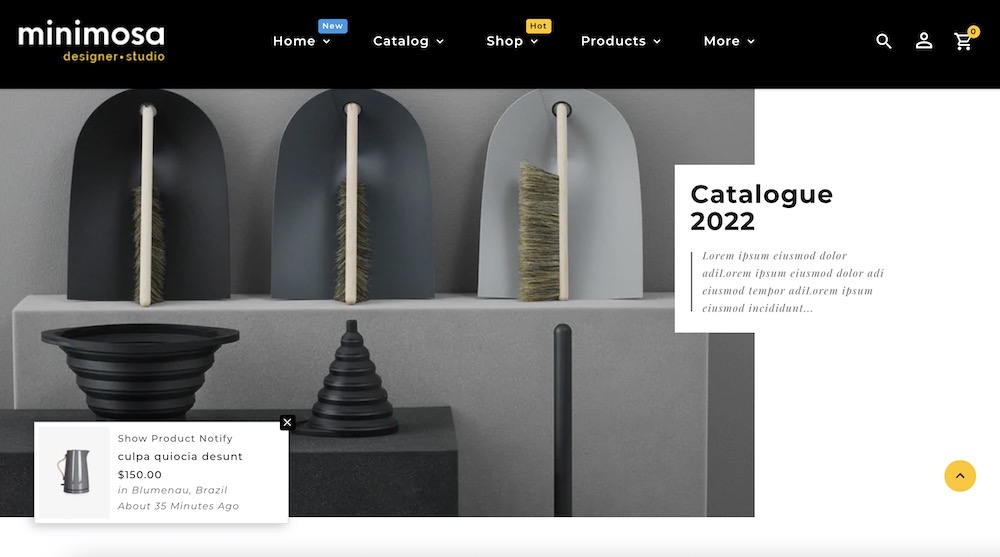 What makes Minimosa a great service theme:
Fully responsive
Highly customizable theme
Multilanguage support
Works well with Shopify service apps
How we selected these themes for selling services
There are thousands of great themes out there. This is how we ended up selecting these 10 as the best Shopify themes for services:
Excellent customization. It's no surprise: Shopify stores focus mostly on physical items, and so do the themes. We made sure to pick the themes that will let you edit them to your heart's content – adapting them perfectly for your services.
Room to tell your story. More than physical products, services often have to rely on storytelling to get people onboard. Themes on this list look sharp and modern – using both high-res images, and your charming copy.
Customizable product pages and third-party app support. There are plenty of ways to sell services on Shopify. You can use the built-in product variant functionality, or use of many existing apps. Whichever way you go, we made sure these themes will work perfectly with all the main solutions.
Final words
Finding the best theme for your Shopify service store can be challenging. Many themes focus extensively on physical items, and it can look that services are treated as an afterthought. However, selling services on Shopify is simple and convenient – and several successful businesses have done just that.
So, join their ranks: pick a powerful and versatile Shopify service theme, and make an online store of your dreams. Among our favorites are Highlight: a Shopify theme with a truly unique design. However, if you want to go for something more classic, Symmetry is a great modern choice, with lots of customization tools that will allow you to turn this product-centered template into a functional service website.
Check out these Shopify themes for service niches: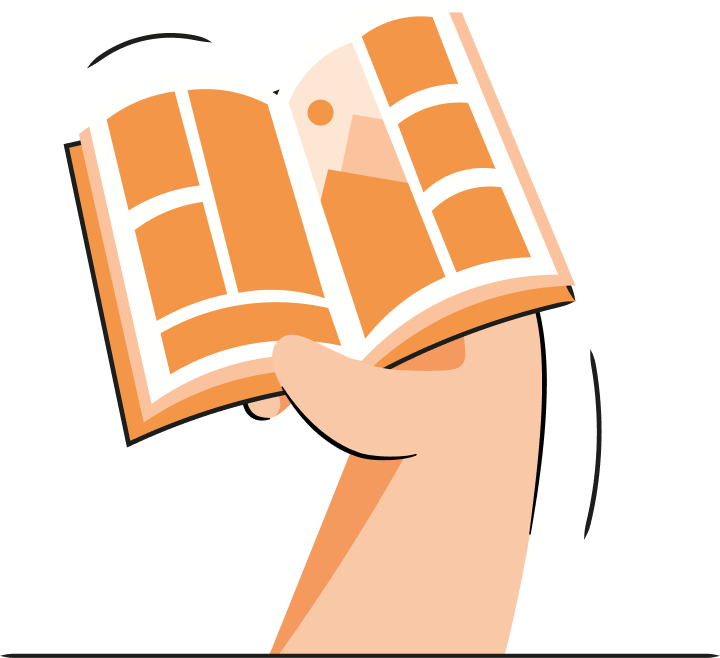 Frequently asked questions
Yes, you can sell services on Shopify. You can use product variants and other customizations on the existing Shopify infrastructure, or use third-party apps that will help you make selling services even easier.
Shopify is a great choice for a service business website. It offers a massive range of modern high-quality themes, as well as plenty of built-in and third-party tools for easier service selling.