By purchasing through the links on this page, you are giving us the opportunity to earn a commission. Your support is greatly appreciated!

A Shopify theme that is made to reflect the best qualities of your niche is important. With one of the entertainment themes you can build an online store for your business focused on music, games, events, etc.

The options for Shopify themes are endless – that is why we tested a bunch of them, selected only the best ones, and put them in a list.

In this article, we review 7 best Shopify entertainment themes, what makes the best theme for this niche, and who can benefit from it.
Top 7 entertainment themes for Shopify stores
Before we go into the detailed overview, here is our quick shortlist of the five best entertainment themes Shopify can offer:
Improve your Shopify entertainment website's speed and SEO performance with one app!
Try TinyIMG today
What makes the best entertainment theme?
What to look for if you want to create the best theme for your entertainment-focused business? We have a couple suggestions.
High resolution photos. Visual storytelling is important in the entertainment industry, so look for theme demos that showcase the quality of images.
Bold design. When it comes to entertainment, you want to attract – whether it's vibrant colors or a monochromatic scheme.
Video and audio integrations. If you're looking for a music theme, it's good to have features that allow you to showcase the products in the most fitting way.
Sales driven features. Newsletter pop-ups, product sale labeling, countdown timers – all those features can help you increase conversions.
Generally, we suggest always checking theme demos and playing around with them. That way, you'll see whether the theme you're eyeing is a good choice for your store.
Best Shopify entertainment themes for 2023 – our detailed list
Now that we've covered the top 5 list and the criteria for the best entertainment theme, let's get into detailed overviews of each theme.
1. Label – contemporary Shopify theme for music, fashion, & books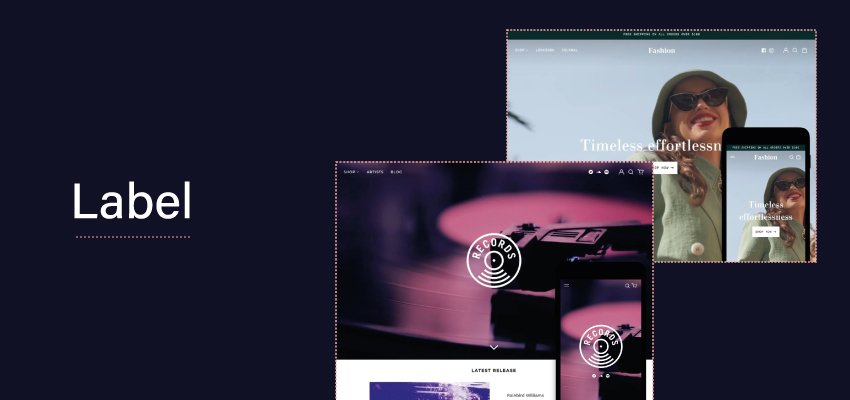 Audio/video player, product image slideshows, upsell feature
$300 (unlimited free trial)
Label Shopify theme was created by Switch for businesses in the entertainment industry, be it music, fashion or books. It's feature-packed and speed tested, meaning it will not only look good, but also will function smoothly as well. Label is a perfect theme for digital products, for example, tour tickets.
You can integrate an audio or video player into your product and home pages, which is useful for business owners who sell music products or just want to make a bold statement.
2. Pipeline – feature-rich theme designed for luxury brands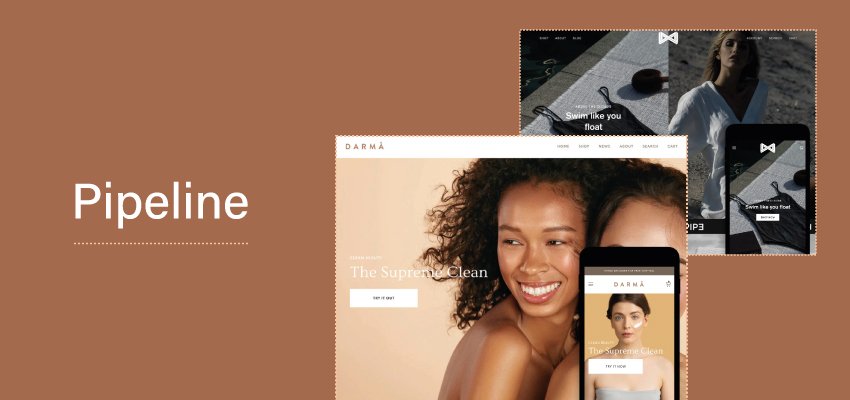 Mobile-first, subcollections and filters, drag-and-drop sections
$280 (unlimited free trial)
Pipeline Shopify theme was created by Groupthought to be mobile-first (because ecommerce is mobile too), but it's 100% responsive and looks great on any screen. It's clean and simple, allowing you to focus on visual storytelling. Pipeline is also highly customizable and packed with features – you don't need any technical or code knowledge to design your dream website.
Below, we've attached a screenshot from a music online store that uses Pipeline Shopify theme.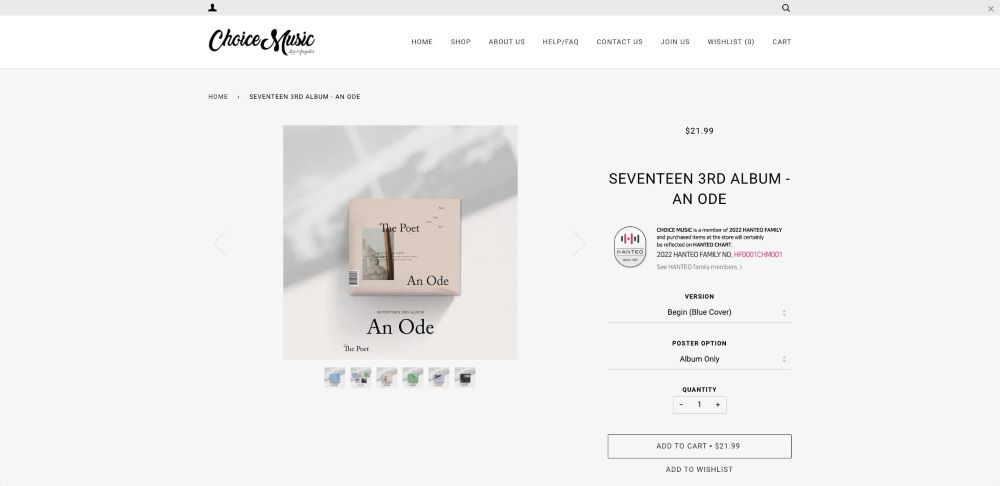 Pipeline is very visually appealing, which is important in the entertainment industry. You want your site visitors to get into the feeling and the look of your store.
3. Bookshop – Shopify theme for books & media online stores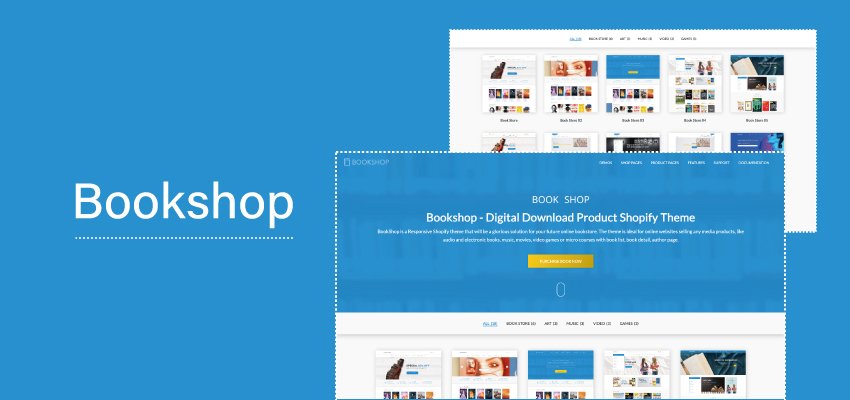 Mobile-optimized, RTL, smart image lazy loading
Created by Arenacommerce, the Bookshop Shopify theme is feature-packed and offers 15+ templates to design the store that perfectly reflects your business. It has pre-designed homepages for books, art, music and video industries. It offers a lot of customization and all necessary features to create a well-functioning and beautiful website.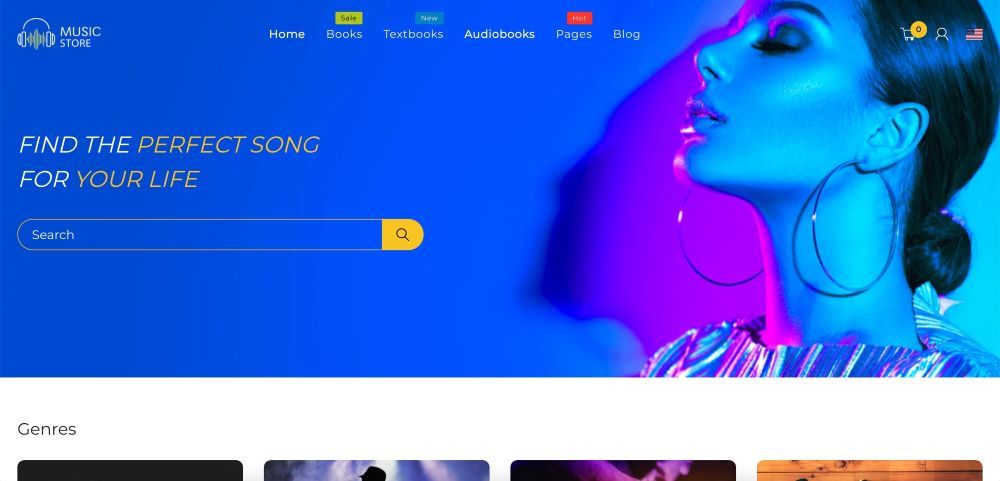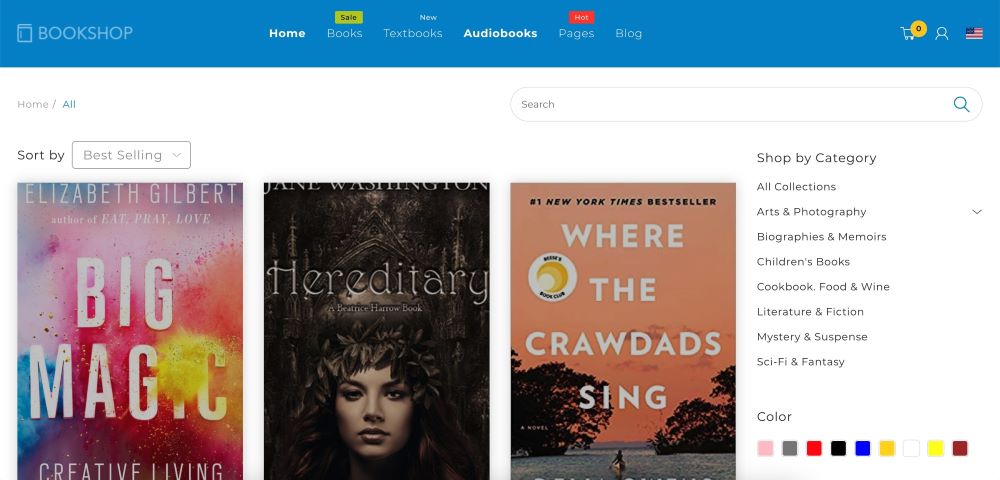 This theme was designed to help you increase sales with features like a countdown timer, product sale labels, product carousel, and more.
And since most people use phones to shop online, Bookshop is also 100% responsive and works well on any screen.
4. Symmetry – fashionable Shopify theme with powerful features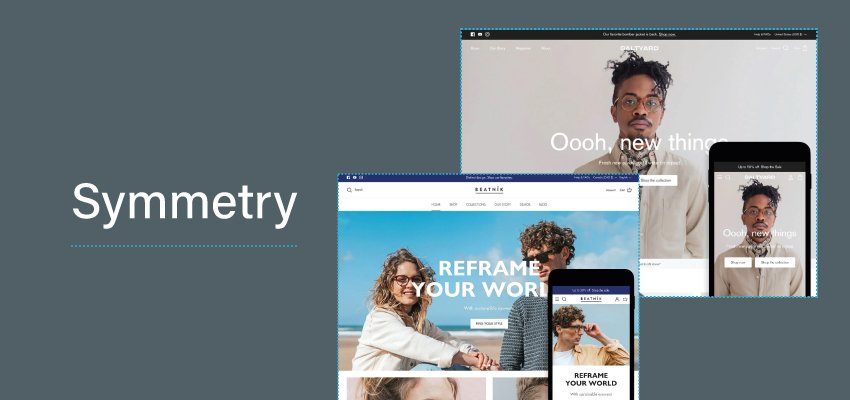 Highly customizable, conversion-focused, fit for high-volume stores
Beatnik, Chantilly, Duke, Salt Yard
Created by Clean Canvas, Symmetry is a versatile Shopify theme for high-volume stores. Its bold, modern look is perfect for visual storytelling and brand recognition. It gives you a lot of customization options and is focused on driving sales. Symmetry offers all features needed to create and design the store that will reflect your brand, as well as powerful filters that help reel customers in.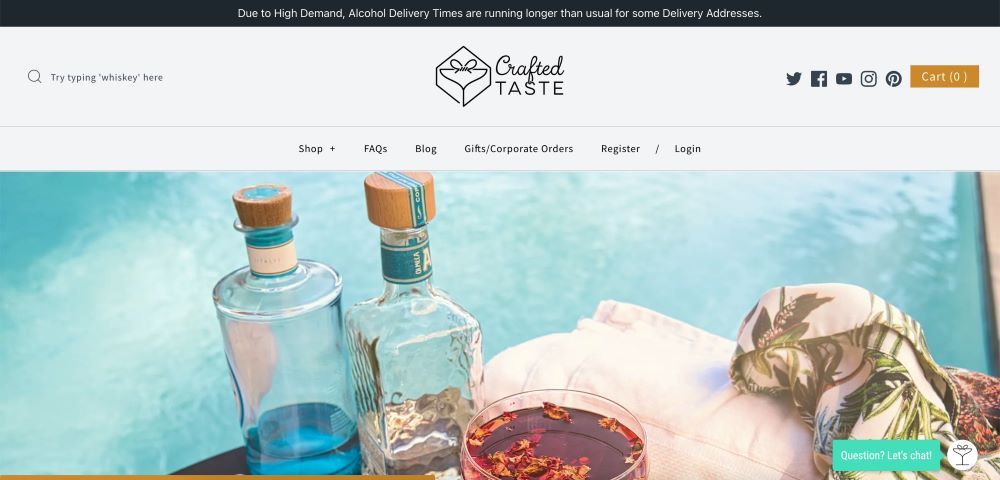 With Symmetry, you can design a good-looking homepage with videos, slideshows and more. It's perfect for businesses in the entertainment industry who are looking for striking designs, like the store example below that sells gift cards and cocktail subscription boxes.
5. O2 Club – highly customizable Shopify entertainment theme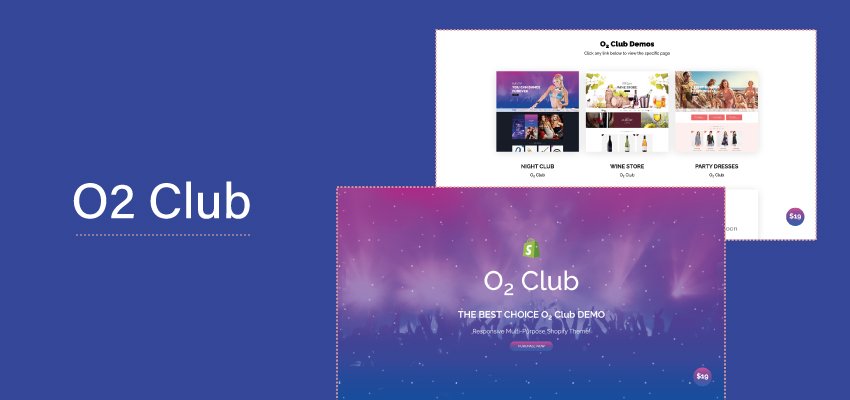 Mobile-optimized, newsletter pop-up, flexible layout options
Created by IT-geeks, O2 Club Shopify theme offers pre-designed templates perfectly fit for businesses in the entertainment industry. You can use presets for music, wine stores, party dresses, and video games. Despite pre-designed templates, O2 Club offers various flexible layout options and drag-and-drop features, allowing you to build the store you want.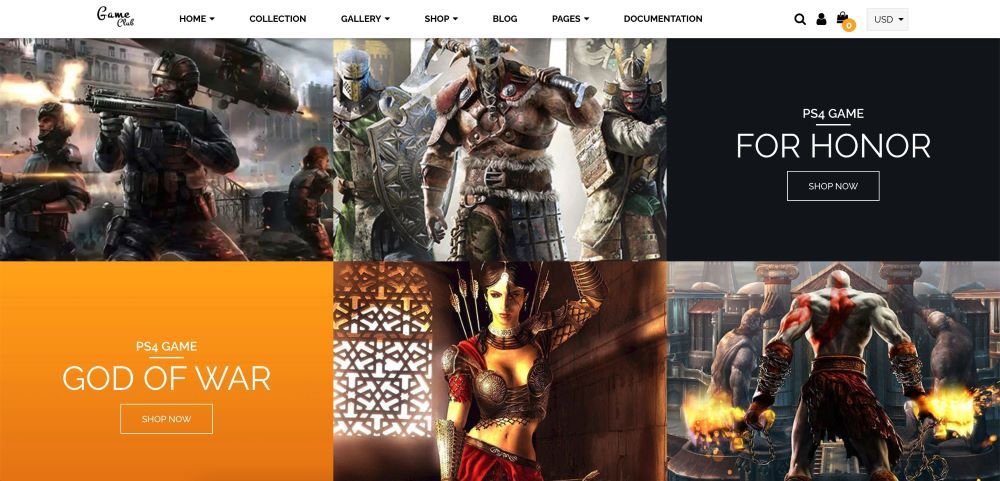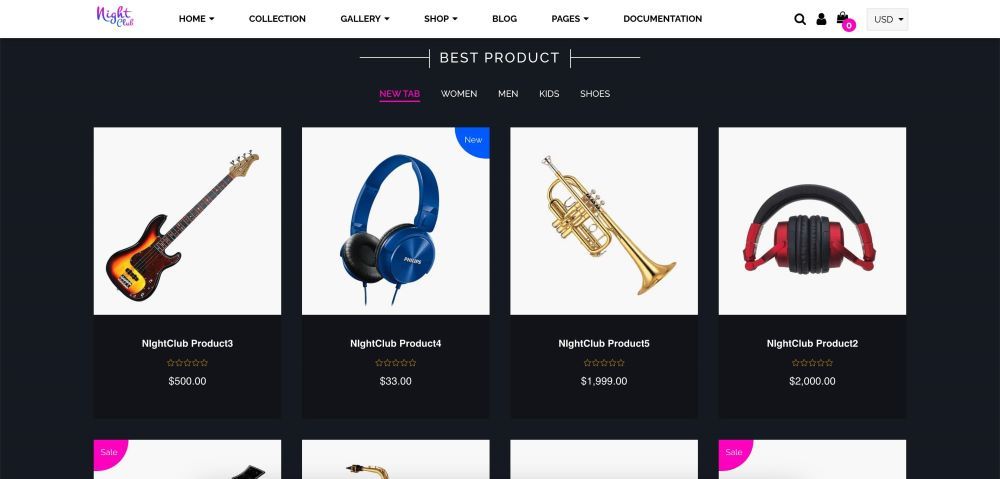 The theme is easy to install and set up, so it will take no time to get started with your website. Since the theme is versatile in its design, you can easily get started no matter your niche in the entertainment industry.
6. Entertainment Shopify template – responsive party theme for businesses
100% responsive, newsletter subscription pop-up, product carousel
From $79 (Personal license)
The Entertainment Shopify template was created by RockThemes. This theme is responsive and will adapt to any screen size – whether you're browsing on the phone, tablet, or computer. It offers a MegaMenu feature that will make the navigation easier for you and site visitors. The theme also offers theme color switcher, multi-currency option, newsletter pop-up, and more.
This Shopify theme was created specifically for entertainment – vibrant colors, modern look, and sales-driven features will help you sell more effectively.
7. Icon – Shopify entertainment theme for image-focused brands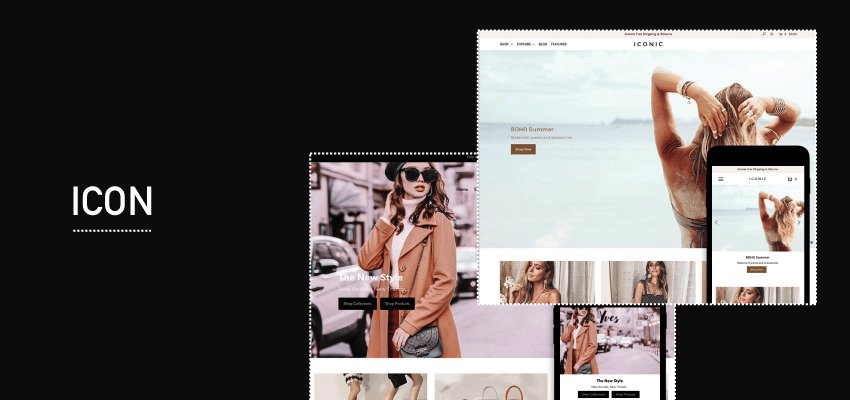 mage-focused content, upsell & cross-sell
Dolce, Yves, Christian, Vera
$260 (free before publishing)
Main features: Image-focused content, upsell & cross-sell
Theme styles: Dolce, Yves, Christian, Vera
Price: $260 (free before publishing)
Try theme: Try Icon
Icon is designed for visually striking brands, allowing you to personalize your entertainment store, whether your focus is music, arts, films, or pop culture.
The theme has useful upsell and cross-sell features, clean navigation and search. You can also incorporate animations, slideshows, image galleries, and more, in order to showcase your customers the products the best way possible. You'll also have EU translations, store locator feature, quick view, stock counter, and more.

Who can benefit from an entertainment template?
There are a lot of businesses that fall into the entertainment category. While music is a big – maybe even the biggest – part of it, there are a lot more. And who knows, maybe your business falls in these categories too. We list some of the most prominent ones below:
Music industry. For example, tour tickets, CDs, vinyls, and branded merchandise.
Party supplies. For example, balloons, decorations, cakes, fog machines and other party equipment.
Games. For example, video games, board games, outdoor game sets.
Books. For example, audio books.
Art. For example, paintings, performance art, digital art.
Movie industry. For example, cinema tickets, DVDs, and movies for streaming.
Gift cards and subscriptions. For example, subscription boxes for vines, beers, cocktails.
Tickets. For example, tickets to sports events, festivals, theater, concerts, cultural events.
As you can see, a lot of media and digital products go on that list, and they're all quite different. That's why it's very important to have a theme design that perfectly reflects your niche.
Conclusion
The entertainment industry is huge, therefore, standing out among the rest is important. We hope our list of the best Shopify entertainment themes helps you choose the one that reflects your industry the most.
Our top choice today is Label – it's feature-packed, good-looking, and offers upsell features to help you increase sales. And with video and audio players integrated into your homepage you are bound to attract attention and stand out.