By purchasing through the links on this page, you are giving us the opportunity to earn a commission. Your support is greatly appreciated!

Product descriptions can make or break your sales. Understanding what your buyers need from your Shopify product description should be at the forefront of your product page optimization efforts.

In this guide, we'll help you do exactly that.

We'll do a step-by-step walkthrough on how to write a Shopify product description. We'll dig deep - discuss what's effective and what to avoid, how to optimize for mobile users, how to automate Shopify product description writing and more.

Let's dive right in.
Why does Shopify product description matter?
We all agree that product descriptions matter. But what exactly do they give your store that makes them such a vital aspect?
Good product descriptions on Shopify stores ensure:
Great customer experience/conversions. For people to buy products, they need to understand their characteristics and unique selling points perfectly. Depending on your niche, product descriptions might serve your conversion rates even more than product images.
Effective SEO. Traffic coming straight into your product pages is of the highest value. Optimized, informative and well-written product descriptions can help ensure that people see your product specifically when searching for what they need.
Image and speed optimization are also important for Shopify store SEO performance. Use TinyIMG for this and more
Try TinyIMG today
Now let's take a look at how to bring these great Shopify product descriptions to life with a step-by-step walkthrough.
8 steps to write an effective Shopify product description + examples
1. Understand your target audience
This phrase gets thrown around a lot. But it's not only about having a buyer persona or purchase scenario, it's understanding how these people will interact with different stages and features of their buyer journey.
Before you begin writing, answer these three questions for yourself to get a solid foundation:
How much convincing does my customer need?
If we're talking about a product page of the newest iPhone, chances are the people who end up there are already very interested. In fact, chances are they have already made the decision to buy it, all they need is to understand whether the phone meets their expectations.
However, if you're selling a unique home decor accent or a new invention (let's say a selfie stick would count as one back in the day), the person likely needs that extra nudge. These types of products benefit from longer descriptions that help people envision these products in their lives, describe what will improve or change.
This tissue box cover would be a good example. While some vocabulary choices are a little questionable, they do a great job by seeing that their potential buyer needs to hear about authenticity, uniqueness and get a hint on where to place it: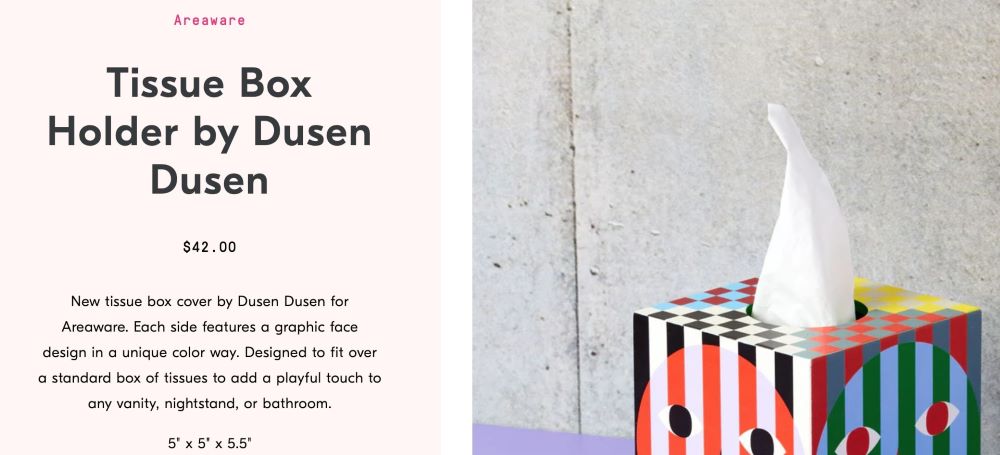 Understanding your buyer's motivation should guide how much you need to invest in helping people see the value of your product.
What is my customer looking to gain with this product/what are their priorities?
Purchase intent across eCommerce niches is drastically different. People buy to feel comfort, create a unique style, out of necessity or curiosity - the list just goes on.
To understand how to organize your product page, we'd suggest taking the benefits vs features approach.
Benefits. Stores that should focus on product benefits and feature them early are those that sell commodity goods or products with complicated specifications. Examples: home decor, cosmetics, style details.
For instance, take a look at Jeffree Star Cosmetics description for one of their lipsticks. It focuses on helping customers see themselves with that lipstick on. What you don't see at the forefront is lipstick's chemical composition, production processes or anything like that.

Features. Should be the focus for stores that sell necessity goods or products where functionality normally prevails over design. Examples: mobile phones, PCs and laptops, sportswear, furniture, organic food.
Made In Cookware did a great job with their frying pan description. It has sufficient detail, exact numbers, emphasizes functionality and durability instead of elaborating on how it will make you feel like a world-class chef.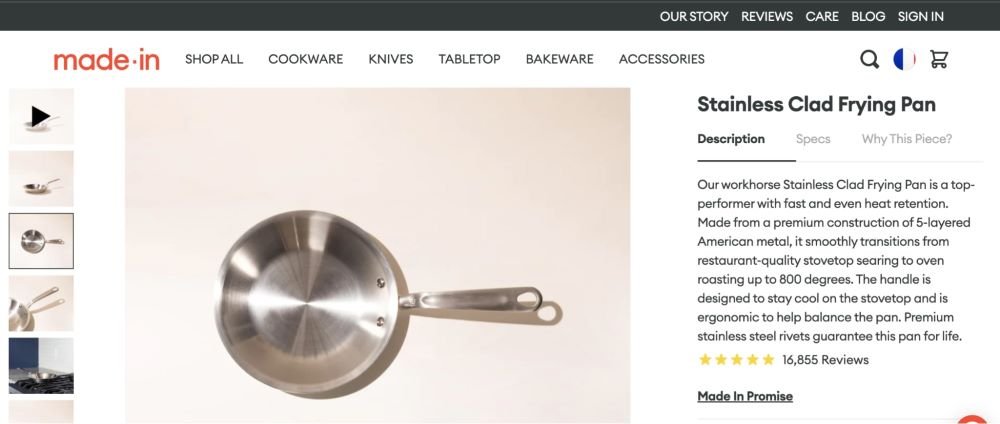 How does my target audience like to consume information?
People looking for gadgets will likely want short and concise information with functionalities emphasized. For instance, they would expect specifications of the product as bullet points or in table as early as possible. Take a look at how Quad Lock, a brand that specializes in phone mounts, jotted down their tech specs:

People looking to buy a cozy onesie for movie nights will likely expect a paragraph or two with emotionally loaded language that will help them imagine what wearing it will feel like.
If you answered these three questions thoroughly, you should have a general idea of how your Shopify product description will come together.
2. Choose selling points to feature
Let's start with the basics - what will go into your product description.
List down your product specifications, benefits, features - anything you can think of that matters.
Not all of them can end up in the final version of the description. After you put the essential specifications in there, pick 4-6 additional points to work with.
You want those that make your product stand out, emphasize its unique value and explain what makes it better than their competition.
3. Decide on effective structure
Now it's time to decide how to present your product description.
It's always a good idea to list your product selling points using a bullet list, include a paragraph or two describing the benefits of the product and introduce all other necessary details in a dropdown accordion below.
But there is no version that fits all! You know your audience best, so think about what will make the information as approachable for them as possible.
Let's take a look at specific examples from different niches.
Clothing stores often choose to put images alongside size and color variations at the top, followed by an accordion with description, shipping information, product specifications and other details. That way they put focus on visuals, which is essentially how people choose clothing.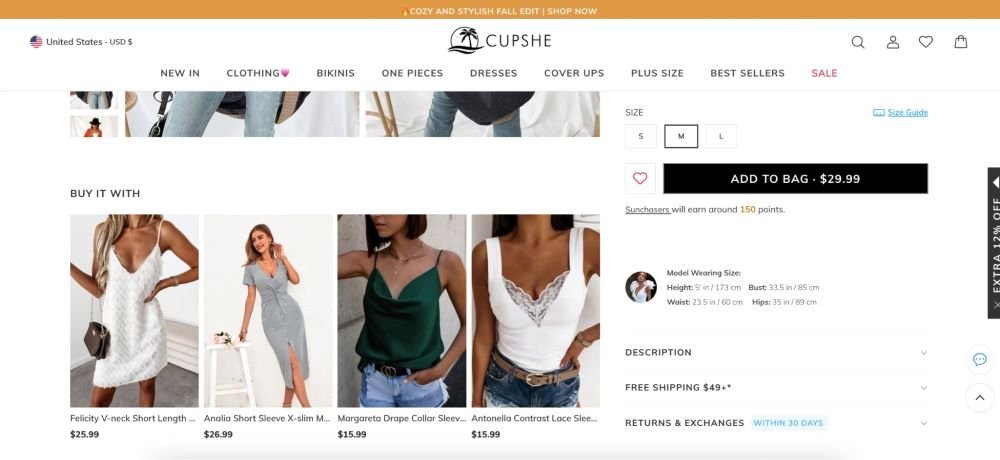 Stores that sell electronic device accessories usually lead with a paragraph or bullet list describing the benefits and specifications of the product. It's meant to give the product a competitive advantage and show what issue it will solve.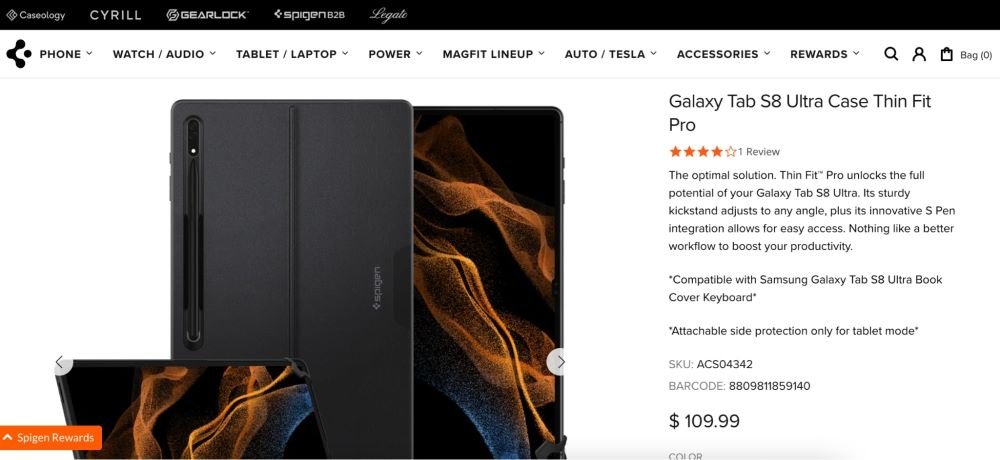 Cosmetics and accessory stores very often begin with a description paragraph full of sensory words and vivid descriptions.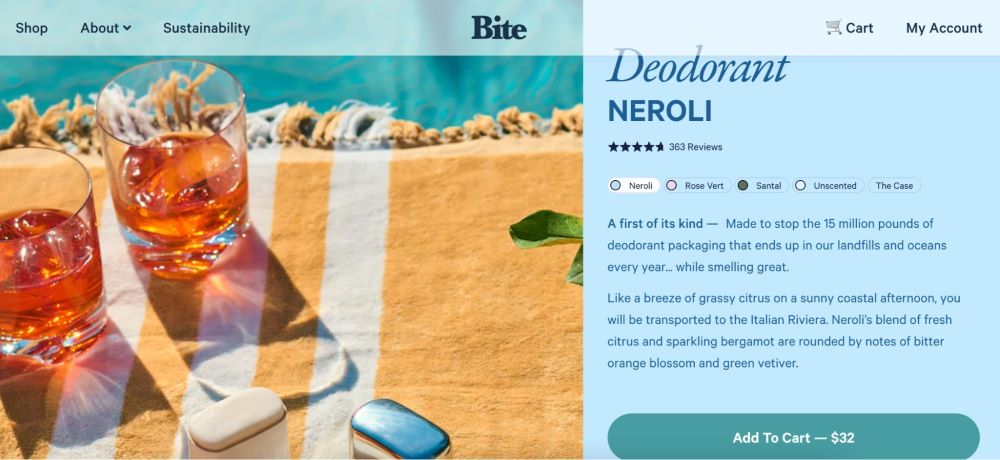 Keep your product images lightweight and high-quality for better conversions
Install TinyIMG now
4. Write the text
Think of your first draft as exactly that - a draft. Don't try to perfect your product description immediately. Instead, take your selling points, what you learned about your audience and bring it together by putting some sentences down.
If you find yourself overthinking the perfect version and unable to start, write a couple of variations instead of one.
The key here is to write instead of thinking. You'll find something you like at the end.
5. Optimize for mobile
Depending on your product, the majority of your potential customers might be shopping on their mobiles. And yet, sellers often overlook how their Shopify product descriptions will look on mobile because they craft them on their large PC screens.
Overall, you don't need to do that much additionally. Simply remember that everything is very condensed on mobile screens. Don't bold your entire product descriptions or choose a very heavy font for it if you want good mobile readability.
Speaking of mobile description's length, David Shreni, who has been designing mobile experiences for Walmart shoppers for years, has an interesting, specific framework for thinking about it. He recommends 150 words per 50$ of product value up to 450 words.
6. Comply with 4 Cs
A good Shopify product description should comply with the 4 Cs of effective copywriting.
Text on your product page should be clear, concise, compelling and credible.
Yes, that's quite vague and can be interpreted many ways depending on the products you sell. How to handle it?
Concise - take a fresh look at your product description and eliminate any unnecessary rambling.
Clear and credible - make sure all information present is 100% factually correct and easy to understand.
Compelling - ensure your description addresses customer's pain points and helps them see your product's value.
7. Revise tone and style
It's time to amp up your Shopify product description!
Product pages that convert contain power words, meaning words that make people feel, trust and imagine.
Take a look at sections for trust, motivation, and greed in this power words list to see if you can squeeze a couple into your description to give it that extra nudge.
Also, read carefully one more time for adjectives. If you find anything too abstract to produce a mental image or a feeling (beautiful, nice, different, etc.), replace it with a stronger one or eliminate it altogether.
Last but not least, make sure emphasis goes where it belongs. Take a fresh look at your finished product description and see what stands out.
Potential buyers should be able to immediately spot main specifications, selling points, availability and variations. If they can't, see what you should bold or put into bullet points.
8. Bonus tip: add instructions
Are there multiple ways to use your product? Or perhaps you have incredible combos to offer?
If you're selling something that isn't straightforward, consider including a section addressing how to make the most out of your product. Who knows, some people might get inspired to purchase it because you'll suggest something they haven't thought of themselves.
Things to avoid when creating product descriptions on Shopify
We went through the process of creating a Shopify product description that converts, but some mistakes might seep in nonetheless.
Here is a list of things to avoid when creating descriptions for your eCommerce products:
Vague phrases and adjectives. Unless it provokes feelings or creates a clear image in the shopper's head, you don't need it.
Very long descriptions. No one wants to read a novel. Tell people what your product will bring them, what it's like and how to use it in less than 500 words.
Copied descriptions from wholeseller's website. Resellers commonly believe that copying product descriptions from their wholesaler's website will save them time and effort. In reality, it can sink your product page SEO because Google will see that this is not original content. Even if you can't write a description as good as the wholesaler, write your own, your store will benefit from it.
Exaggeration. We've all seen that product description ensuring your entire life will come together in no time, you will become more healthy, wealthy and successful than ever. And it's for a mug coaster. It's always better to give people realistic expectations and explain how their problems will be solved than create life-changing scenarios where people aren't looking for them.
Mistakes. Few things tank an eCommerce store's reputation as much as grammar and spelling errors in their product pages. It happens even to the best of us, so proofread more than once. You can also use Grammarly, or even ChatGPT to make the process faster.
Inconsistency across many product descriptions. Most visitors start their journey on the homepage and wander into other parts of the store. They will likely look at way more than one product page and if they don't have the same elements in their descriptions, it will be hard for them to compare and make a choice.
Tips to write Shopify product descriptions quickly
Now this all sounds fun and games if you have 20 products. But how do you handle the product description writing process when you have 200 or 2000?
Obviously, you can't have every description taking hours, especially if your products change often.
Here are a few ways to make Shopify product description writing more efficient:
Use a Shopify product description template
When you have one or two perfect product pages done, you can produce the rest a lot easier.
Decide what are going to be the repeating components - bullet point categories, headings, etc. - and save them in a separate file. Now as you move forward, you only need to fill in the blanks.
That's still going to take up quite a bit of time though, so below is another suggestion if you're looking for a fully automated solution.
Automate the description writing process
For those with thousands of Shopify products, an automated description creation could really come in handy.
You have two main options:
Use a Shopify product description app. Apps like RightCopy Product Descriptions will generate your product descriptions using advanced AI tools. Proofread for accuracy and you're good to go!
Use an external generator tool. If it's a one time necessity, you might not want to install any apps and instead look for help externally. Websites like frase.io will generate product descriptions with a name and main details only. You can also amp up the creativity levels of the tools to introduce more variation, but be careful and reread.
You can also use ChatGPT for Shopify needs, including product descriptions.
Shopify product description SEO - do you need it?
If you want to ensure best possible rankings for your products, it's more about the overall product page optimization than about descriptions specifically.
Yet there are a few things you can do, such as minor keyword optimization. Find transactional keywords people would use to find your products and include them within the description once or twice, preferably in headings. But remember, no keyword stuffing - it's better to have an under-optimized description than one that looks like it was written by bots.
Conclusion
There it is, a guide on how to write Shopify product descriptions that sell.
How the final result should look depends highly on the niche of your Shopify store, but if you follow the steps above you should come out with a description that is effective, inspiring and converts well.
Curious to read more? Check out these articles: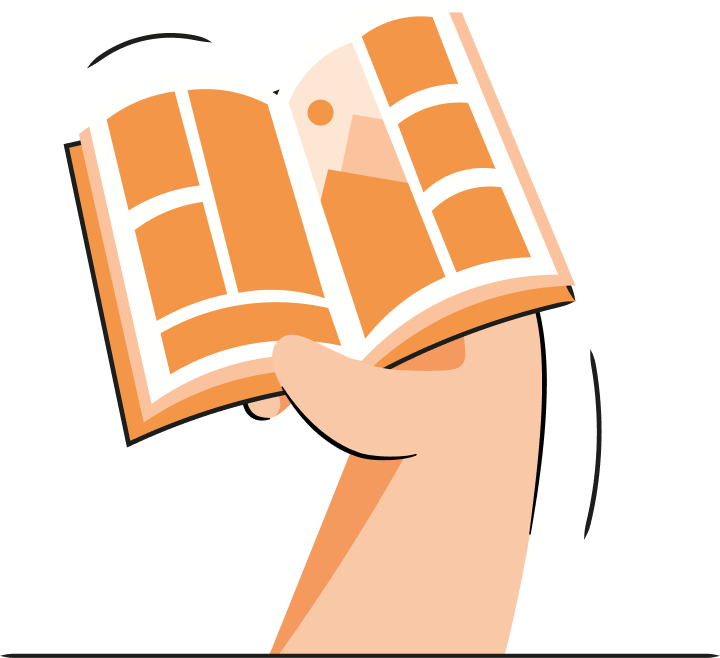 Frequently asked questions
Yes. If you think the product is important enough to be in your store, it deserves a product description. Product images might show a lot, but people need to know measurements, features and benefits.
If you take the time to craft your product descriptions carefully and individually, you can take them to the next level with apps like Advanced Product Descriptions. It provides great structure and their advanced accordion tabs are bound to help with search engine rankings.
If you have good product descriptions, your product pages will convert well. That's your ultimate indicator. If you're unsure though, we'd suggest creating a checklist from the steps mentioned above and seeing if you can tick all the boxes for your product description.
Up to 500 is the suggested limit for a product description length. But a lot of times - the shorter, the better.
Of course! Pages with detailed, unique information and well-selected keywords will boost your overall Shopify store SEO. Even if they don't rank individually, they will contribute to website authority.