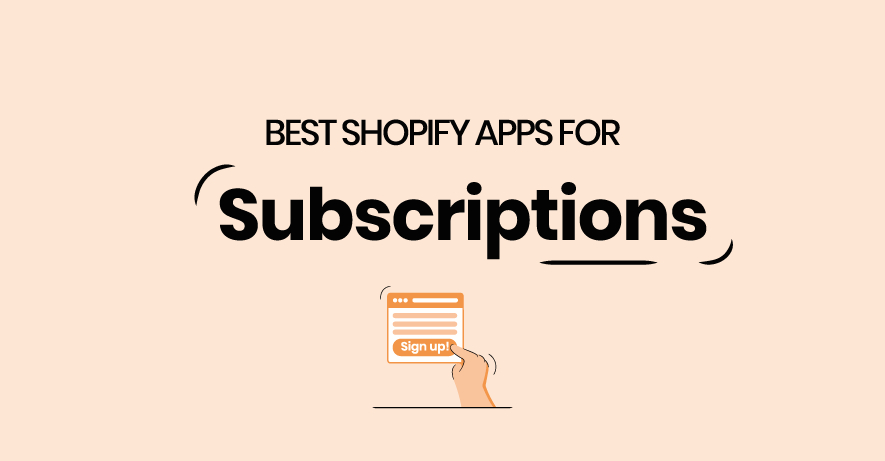 By purchasing through the links on this page, you are giving us the opportunity to earn a commission. Your support is greatly appreciated!

Do you want all of your loyal customers to have a recurring order option? It's time for a Shopify subscription app!

We handpicked 10 best Shopify subscription apps available on Shopify app store. We'll highlight their advantages, analyze their shortcomings and present suggestions to help you pick a Shopify subscription app that's perfect for your store.
What is a subscription app on Shopify?
Shopify subscription app gives you the possibility to set up recurring payments for your Shopify services or products. It adds a widget to your product pages where customers can select a subscription instead of making a one-time purchase.
Some subscription apps on Shopify app store also offer a little extra, such as subscription performance analytics, subscription discount tiers or an extensive amount of payment gateways.
Product subscription is an indispensable tool for customer retention, revenue growth and generally a more appealing shopping process for your customers.
A Shopify recurring payments app will do wonders for businesses selling consumable products, such as food or cosmetics, as well as any service provider.
Top 10 Shopify apps for subscriptions for 2023: in-depth reviews
Here is our selected top 5 Shopify subscription app shortlist:
Optimize your store for better speed and SEO performance to get more potential subscribers
Install TinyIMG now
Now let's take a more in-depth look at all 10 top Shopify subscription apps.
1.Appstle Subscriptions & Loyalty

Free - $100/mo, no transaction fees
Appstle Subscriptions & Loyalty is hands down the best subscription app Shopify app store has to offer. An array of features, reasonably priced plans catering to the smallest stores and Shopify giants alike as well as 0% transaction fee are a combo that's hard to come by.
Plus, Apostle offers quite a few niche perks, such as custom email domain, APIs and webhooks, shipment management and discount tiers.
After all, 1600+ 5-star reviews can't be wrong.
Pros:
Great pricing and plan feature range
0% transaction fee
Custom shipping profiles
Mailing list integration
Inventory tracker
Cons:
Several stores mention recent negative migration experience
Slightly complicated interface
Here is what your product page with Appstle subscription box could look like: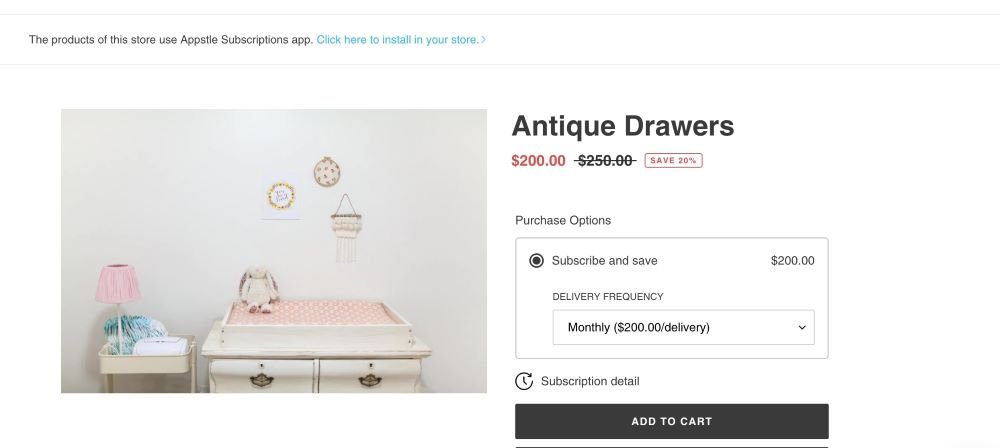 2.Seal Subscriptions & Loyalty

Free - $20/mo, no transaction fees
Seal Subscriptions & Loyalty come in strong as our second. They also boast a great range of features, such as intuitive customer portal and subscription widget customization.
Their competitive advantage, however, is how they handle their plan tiers. Most Shopify apps upgrade plans based on your store's subscription revenue, whereas Seal Subscriptions use the amount of subscriptions. That paired with the fact that Seal has no transaction fees makes this subscription app a very attractive option for stores with high order value.
Pros:
Great value for money
Plan ranges are based on amount of subscriptions, not sales
Educational video tutorials available
Customer portal where they can manage their subscriptions
Wide customization possibilities
Cons:
Free plan has very limited features
Want a better feel of the end result? Here is a product page with Seal Subscriptions & Loyalty subscription widget: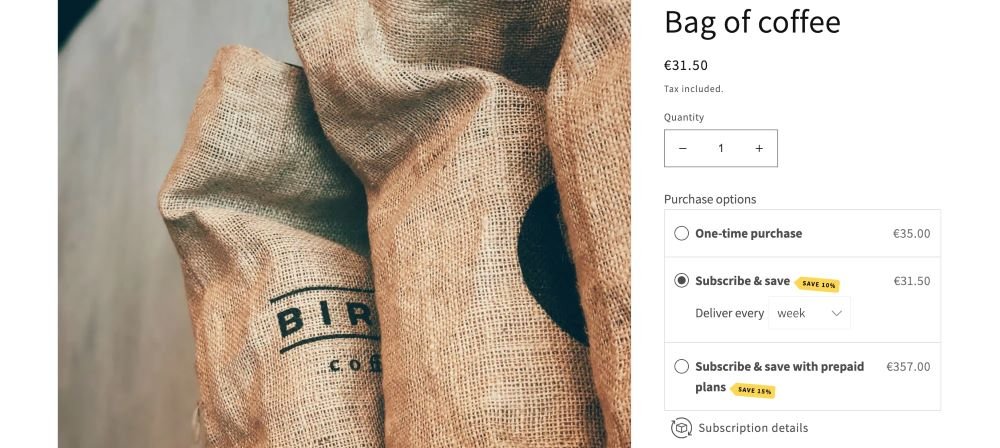 3.Subscriptions Recurring Orders

Free - $19.95/mo, no transaction fees
Subscriptions Recurring Orders is another great Shopify subscription app with native integration and no transaction fees.
It also has a subscription-based plan tier. What's most important though, Subscription Recurring Orders is the only app that makes all its features available with the free plan, you only have to upgrade if you reach the subscription limit.
Pros:
Subscription-based plan model
No transaction fees
A plan with unlimited subscriptions
Slick customer portal interface
Great cancellation, discount and dunning management
Mixed (subscription and one-time) checkout support
Cons:
Free plan applies only until 50 subscriptions
Take a look at this product page with purchase options that include subscription, special offer and discount management, all generated by Subscriptions Recurring Options: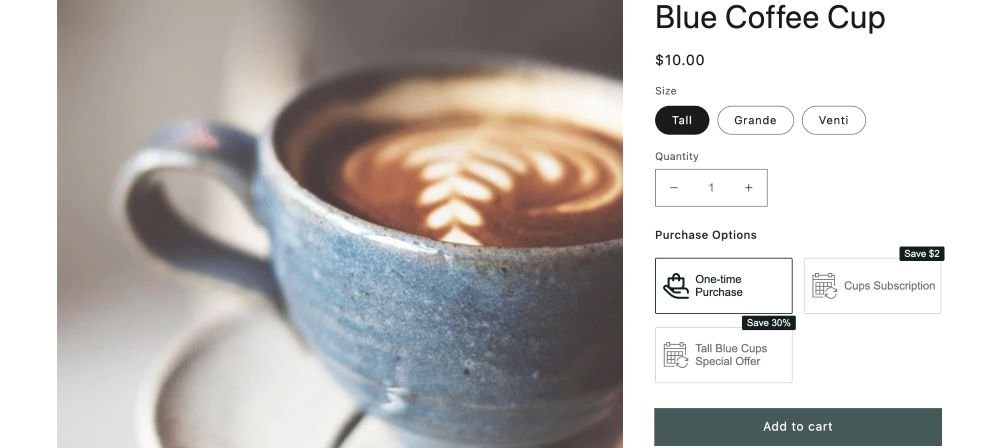 4. PayWhirl Subscription Payments

Free - $249/mo, transaction fees apply
If your customer demographics are wide and they need access to a lot of different payment methods, PayWhirl Subscription Payments might be the Shopify subscription app of your choice.
Unlike most other apps, they support Authorize, PayPal Express, Stripe and, of course, Shopify Payments. PayWhirl also offers decent performance analytics for your subscription revenue and a unique perk - phone support.
Pros:
Native integration (themes, checkout and Shopify customer accounts)
All plans have unlimited subscriptions
Customers can save payment options
Phone support
Cons:
High transaction fees on the free monthly plan
Here's an example of product page with a subscription widget featuring ongoing and prepaid subscription models: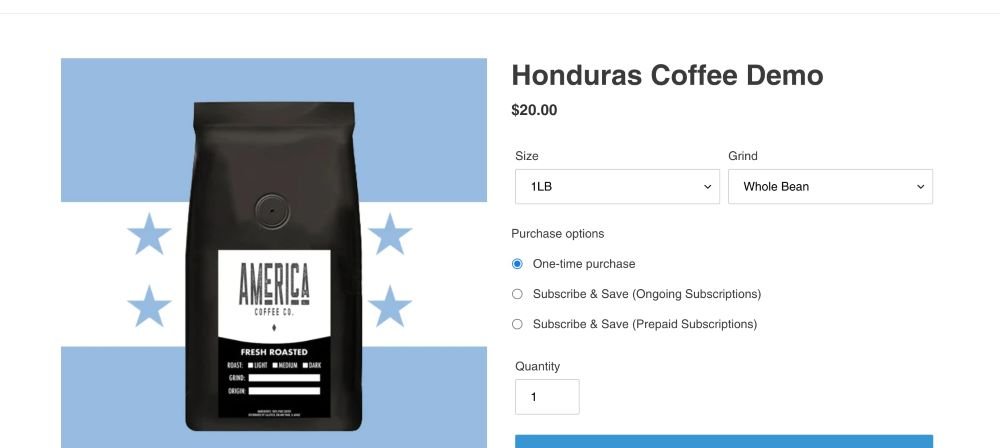 5.Skio Subscriptions (YC S20)

$399/mo, transaction fees apply
n/a (you can request demo)
If trust and reputation is of utmost importance for you when choosing apps for your store, look no further than Skio. Shiny reviews and numerous strong brands trust Skio's state-of-the-art tech and appreciate their perks, such as passwordless login (instead using a code as in part of the MFA process) for customers.
Skio really stands out in the performance analytics department - they have outsourced this part of their app to Source Medium, so you'll get all the information imaginable regarding your subscriptions.
It's really expensive, although you have the option to design a custom plan for your business on their website and request a demo.
Pros:
Trusted by known brands
Very powerful subscription analytics
Passwordless customer portal login
Gradual rollout migration option
Cons:
Take a look at an example of Skio's subscription widget: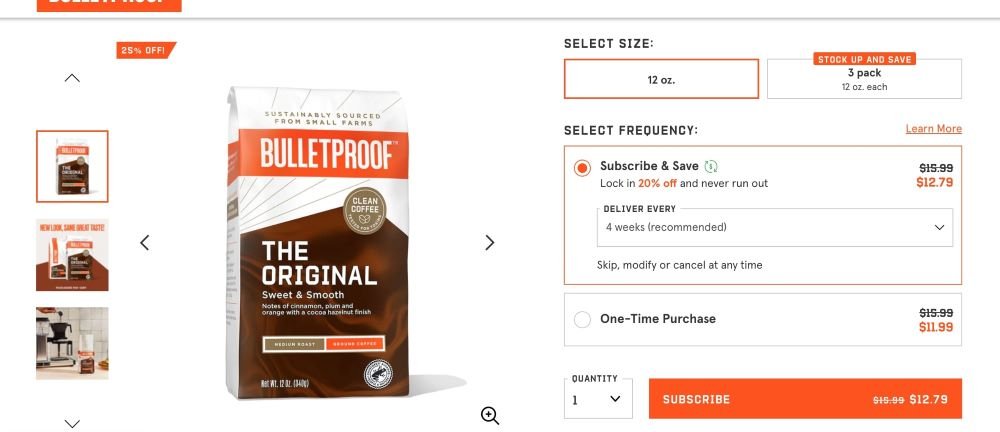 6.Yotpo Subscriptions

Free up to $500 in subscription sales, after that 1% transaction fee
Yotpo Subscriptions is a solid new alternative from a trusted app developer. All the features you would expect from a great Shopify recurring payments app are there, customer support seems on point and the widgets look great.
While Yotpo charges a transaction fee after you reach $500 in subscription revenue, the 1% that they take is very competitive compared to some other apps.
Pros:
Convenient subscription management for your clients
Comprehensive data analytics
Passwordless login for customers
24/7 live support
Cons:
Reported issues with email notifications
7.Subscriptions by Loop

Free - $399/mo, some transaction fees apply
Subscriptions by Loop haven't been around for too long either, but certainly earned a spot on the best Shopify subscriptions app list.
They have an attractive 50-subscriber free plan, with 0% transaction fee and sufficient features. Tiny Shopify stores can use it and take advantage of customer subscriptions without paying anything.
Their Enterprise plan features exceed expectations as you can even request custom feature development. Plus, this app has one of the greatest customer portals out there.
Their dunning system is quite advanced too - they have multiple solutions, such as smart recharge and email/SMS reminders to reduce failed payments.
Pros:
Customer portal that functions like an app
Great dunning and cancellation flows
200+ mobile-responsive widgets to choose from
Loyalty tiers to inspire customer retention
Cons:
Both monthly and transaction fees apply on paid plans
Here is Subscriptions by Loop widget with custom discount on subscriptions: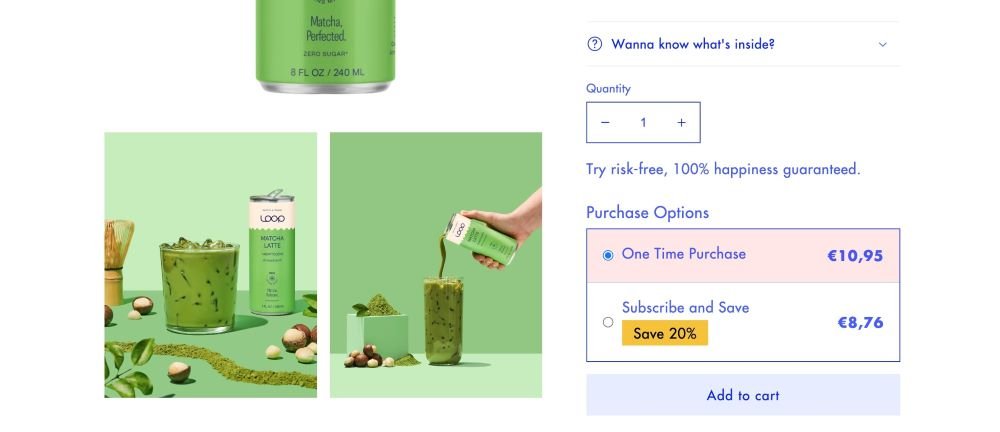 8.Subify-Subscriptions & Loyalty

Free - $49/mo, transaction fees apply
If you found deal breakers in some of the apps above, don't look past Subify-Subscriptions and Loyalty as they also have a sufficient feature variety.
The free plan has a variety of powerful features and only 1% transaction fee, so it's quite an optimal solution. Unfortunately though, their branding will be present on your widgets unless you upgrade.
Pros:
Customers can manage delivery schedule
Custom widget personalization upon request
Supports one-time and subscription products in one cart
Customer portal
Unlimited subscriptions on all plans
Amazing customer support reviews
Cons:
Subify branding present on free plan
Transaction fees on all plans
Here is an example of ongoing gym membership subscription widget powered by Subify: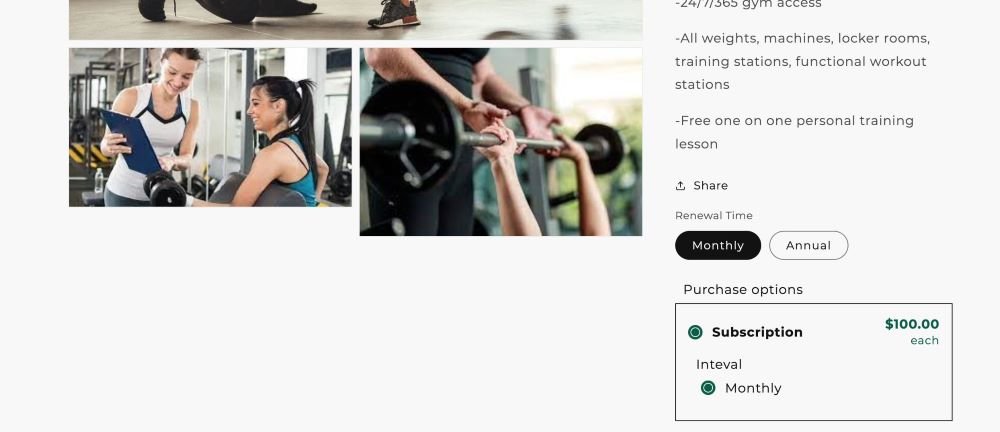 9.Ongoing Subscriptions

$99/mo - $299/mo, transaction fees apply
If you don't mind splurging a bit, Ongoing Subscriptions is a good Shopify subscription app to explore.
They have a wide range of subscription periods, outstanding analytics dashboards, various subscription discounts and most features you'll find among their competitors.
However, we're reluctant to recommend it higher up simply because you can find most of the same features and better value for money with other apps.
Pros:
Build-a-box feature
3 types of subscription discounts
Order history management and analytics
Long free trial
Great reviews about migration and installation processes
Cons:
No free plan, transaction fees on all plans
Lacks competitive advantage to justify the price
This demo product page was created with Ongoing Subscriptions widget, take a look: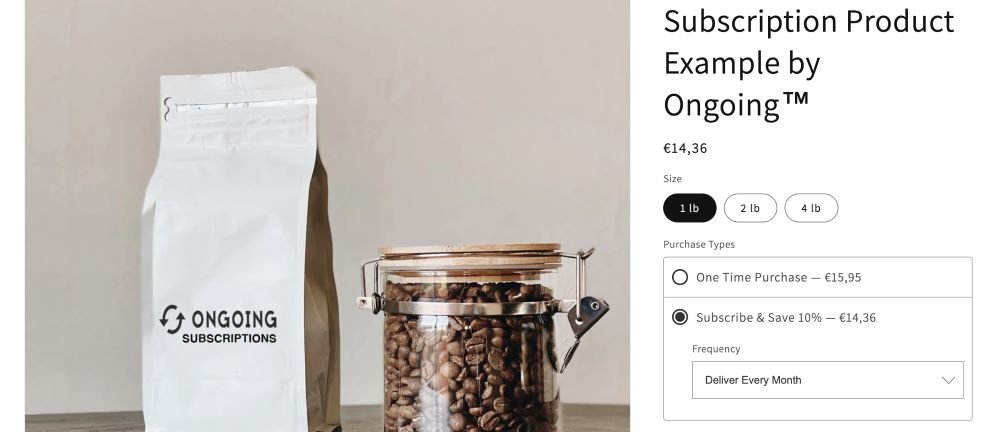 10.Recharge Subscriptions

Free - $499/mo, transaction fees apply
Our one last suggestion is Recharge Subscriptions. They surely have their own perks, such as subscription management using SMS and a wide range of eCommerce tool they integrate with.
Some might recommend this app as one of the top options because of numerous reviews collected over the years. However, some recent feedback has been concerning and we believe this app is starting to fall off significantly in comparison to its newer alternatives in terms of both pricing and customer service.
Pros:
Great UI
Exclusive customer portal
Possibility for customers to manage subscriptions through SMS
Performance analytics
Cons:
No fully free option, paid plans are expensive
Complicated pricing setup
Negative reviews regarding migration and customer support
Lack of automated solutions (e.g. you need to set up subscription for each product independently)
No replies to negative reviews
Here is a product page from a demo store Recharge built to showcase their Shopify subscription widgets: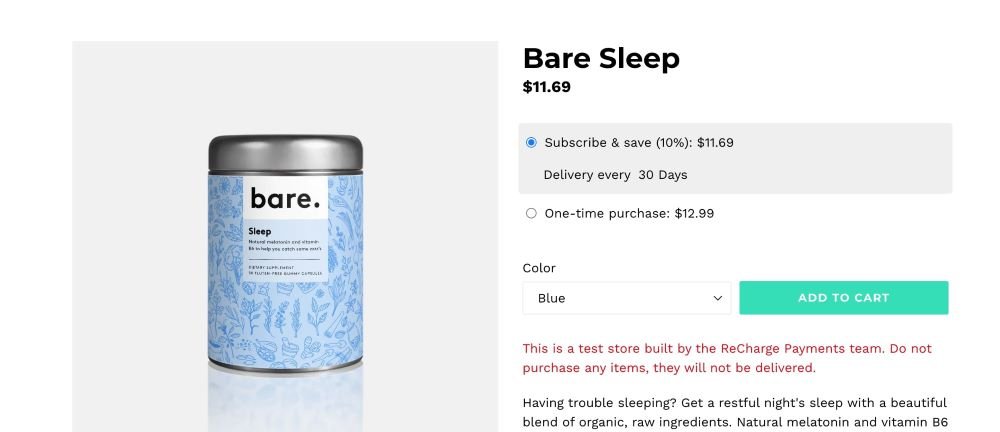 How to choose the best subscription app for Shopify
Now that you have all the options in front of you, let's settle on one.
The most important thing is to decide whether it makes sense for you to pay transaction fees.
Take your monthly revenue of the past three months or so, estimate your store's revenue growth rate and calculate how much approximately you'd pay in 1% transaction fees over the upcoming months.
If you see anything over $200 per month, we'd suggest picking from the top three apps on our list. They offer a flat monthly rate and no hidden fees.
A few more factors to consider:
Migration. If you're already using a Shopify subscription app and wish to migrate to a new one, choose an app with complementary migration assistance or great customer support reviews because likely you'll need a hand. Shortlist: Apostle, Skio, Subscriptions by Loop, Subify, Ongoing Subscriptions.
Shopify theme. All of the apps here work with up-to-date Shopify themes. If your store is running on a custom theme solution though, we'd suggest shortlisting apps with outstanding technical support and reviews. Shortlist: Apostle, Seal, Subscription Recurring Orders, PayWhirl.
Is Shopify good for subscription-based businesses?
A subscription app with all necessary functionalities will come a long way and choosing one should be a seamless and clear experience.
We hope this guide cleared any doubts you had about Shopify subscription app selection and helped you find your perfect fit.
Searching for more apps? Check out these lists: