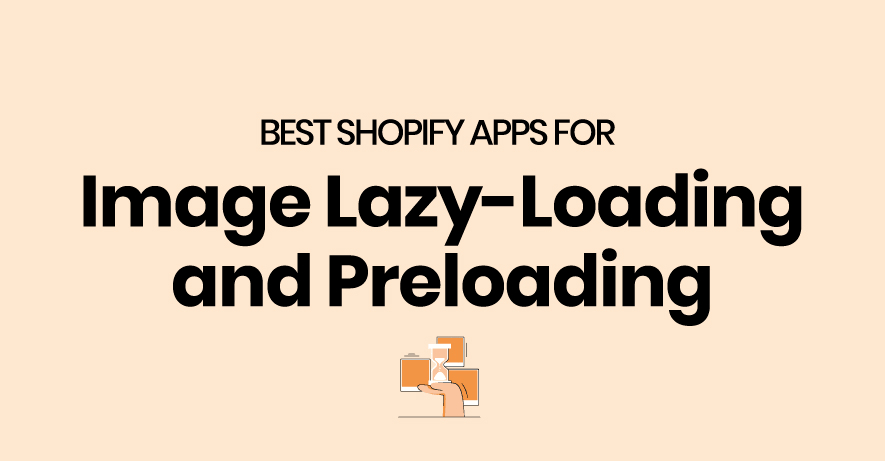 By purchasing through the links on this page, you are giving us the opportunity to earn a commission. Your support is greatly appreciated!

If you are running a Shopify store, but your store's pages are running slow, it can negatively affect user experience and your profit. Using a lazy loading or pre-loading app is one of the solutions to optimize the speed of your website.

Lazy-loading is a technique that defers the below-the-fold content until the user scrolls down and sees it. Then, only the actual content is loaded. As for preloading, it allows you to select which website's parts to load first. The easy way to implement these optimization solutions is by using an app. And there's a myriad of such applications to choose from.

We know that choosing from many speed-boosting apps is a tricky matter. That's why we're about to help you out. Here you'll find the best lazy-loading and preloading apps you can get at the moment. We selected these applications based on the users' reviews, price, and functionality.
Best Shopify image lazy-loading and preloading apps
A detailed apps overview
Now, let's take a careful look at each app, its features, and other characteristics.
TinyIMG

Image optimization, asset preloading, speed and SEO performance improvement, and more!
TinyImg is an excellent pick as it offers an abundant variety of functionalities that may help to boost your site's speed.
The app allows users to optimize their Shopify sites through preloading functionality. It's a part of the asset preloading functionality and can be used by all users, no matter their subscription type.
And on top of that, TinyIMG offers an auto-optimization service that will allow you to focus on other business-related matters while leaving the app to deal with image optimization concerns. It can resize and compress the store's images while keeping the quality intact.
Other features will help improve the store's speed and SEO performance.
Loadify

Compatible with all browsers, and customizable
This app is very versatile as it can work with any theme. Loadify offers several page transition options to keep your customers entertained while they wait for the store to load.
Loadify, due to cache technologies, reduces the excessive script loads, so your website won't lose its speed a bit. Most importantly, the app delivers a lazyload function, meaning your images will not load until the user scrolls to them. Therefore, helping you out in making your website faster.
With this app, you may choose several subscription plans. The larger subscription pack you choose - the more function you will get.
Lazyfy

One-click enable function
ShLazify is quite basic when it comes to its functions as it doesn't offer additional features like the previous two. Yet, it succeeds in aiding to render Shopify sites run faster.
The Lazify app is made just for lazy-loading, which is sometimes an excellent pick if you don't want to be bothered with the app's additional functions. Due to its simplistic take, it's pretty easy to use. For instance, it has a one-click enable function. It means that you can select which desired product images you want to lazy-load. The app offers just a single subscription plan with all stated functions.
Swift

Automatic image optimization, easy-to-use
The Swift app has some fantastic attributes created to help e-commerce professionals and beginners using Shopify.
First of all, it's easy to use this app as there's no need for coding; the only thing you need to do is to download it and add it to your website. You will be able to compress your images and choose which ones to lazy-load. Moreover, Swift can optimize your images continuously; the only thing you will need to do is to verify suggested changes.
The Swift app also assists users in making decisions regarding preloading the site's content based on your Google Analytics data. Swift offers paid and free subscription plans.
Bloggle

Automatic image optimization, SEO score analyzer
The Bloggle app is most suited for blogging websites. It enables the users to design, plan, and optimize their content pieces. This app permits determining which blog segments should be lazy-load. Therefore, it can play as an excellent tool for a blogger with a vast amount of content who seeks to keep one's website swift.
The app has only one subscription plan that includes all essential SEO tools. For more, it also has a toolkit that will allow boosting Shopify's website speed and content's aesthetic look.
Hyperspeed

Link preloading, image lazy-load & responsive sizing, image compression
Hyperspeed is another great app for Shopify users looking for means to implement lazyloading and preloading on their sites.
With this app, you will be able to improve your mobile and desktop site speed. You will be able to make your theme files smaller to supercharge the website's speed. Also, it will safely minify your store's JS and CSS so that they load quickly without rendering issues in their functionality.
Also, Hyperspeed will allow you to implement lazy-load and critical CSS inlining. On top of that, this app will help you compress images to improve your site's speed. And since it offers only one paid subscription plan, you will get all of its functions immediately.
Summary
There's no doubt that lazy-load and preload can help make your website fast and provide a better customer experience. However, to make your site quick and pleasant, you shouldn't ditch some help from the apps.
For the most part, all covered apps offer either or both lazy-loading and preloading functionalities. So, when it comes to choosing the best pick, everything depends on their useful functions. For example, the Bloggle app offers some nice content management functions for bloggers. But TinyImg - robust image optimization and SEO toolkit that can help you generate more organic traffic while boosting site's speed on the other hand.
Need more useful Shopify apps? Check out these lists:
Frequently asked questions
How to lazy-load images in Shopify?
Is lazy-loading or preloading images better?
Both preloading and lazy-loading techniques are good for images stored on your Shopify store, as they can help improve your site's speed and enhance the customer experience.