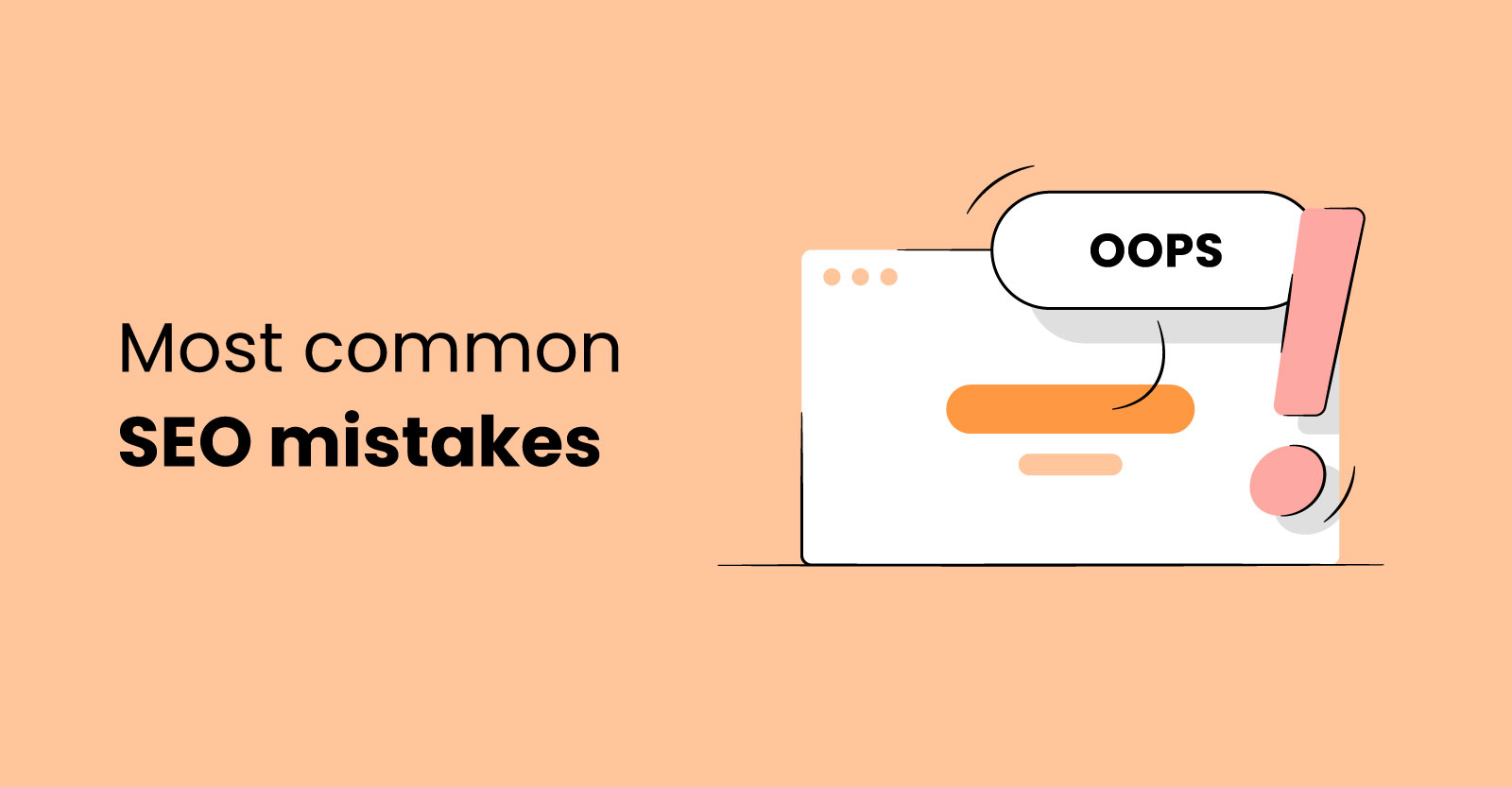 Keeping up to date with the latest developments in SEO can be challenging. However, it's crucial to ensure that your website is always running as smoothly as it can so that you get the most out of it. Luckily, with the right tools and info, you'll be able to pinpoint common SEO mistakes that many site owners overlook.
So, how do we do that exactly?
When considering how to optimize your site, it's important to have a basic understanding of how search engines work, and how they rank content. This is where SEO comes in. It can help you engage the right audience and maximize your content. Look out for these top mistakes to avoid wasting money - and start having big SEO wins.
To help you get started on rooting out these SEO problems, we've put together a list of mistakes you'll want to look out for ASAP. If you own an ecommerce store such as a Shopify store, we'll have extra pointers to help you further maximize your online presence and score bigger wins.
Mistake 1: Ignoring Site Loading Speed
One of the most important things to look out for when optimizing your site is its loading speed. It's simple: a slow-loading page would perform more poorly than a fast-loading one, no matter how great the content. Why? Because people's attention spans are short. So, you'll want to engage them right off the bat and make the visit to your site worth their time.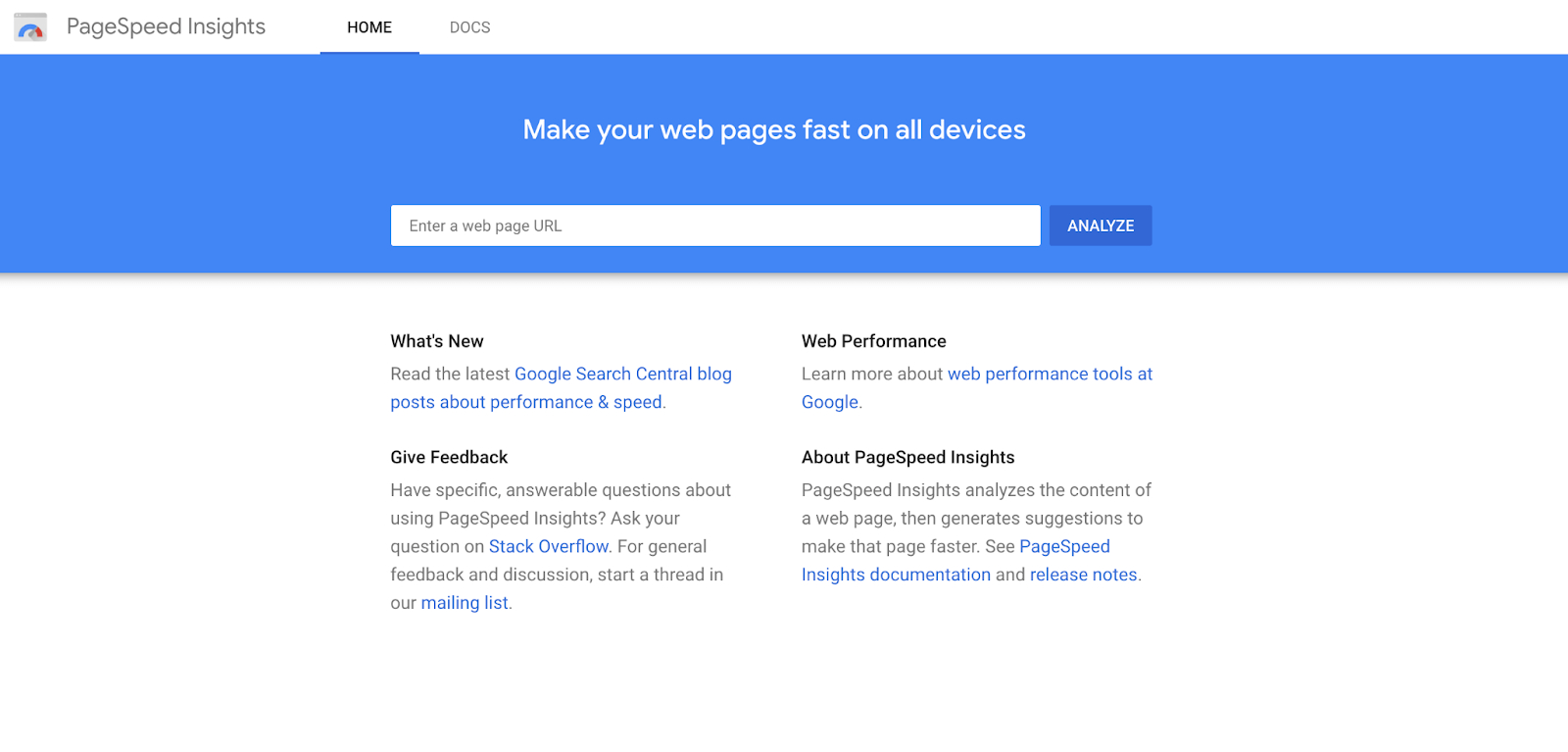 Plus, Google favors faster sites. Google PageSpeed Insights is a very useful tool that will help you understand how you can help your site load faster. PageSpeed Insights gives you helpful suggestions and pointers on how you can further optimize your site pages such as image size optimization and removal of unused JavaScript or CSS, depending on their assessment.
Click here to see what great image size optimization can do for your digital storefront.
Mistake 2: Ignoring Searcher Intent
When you search Google for a certain set of keywords, it returns with a couple of helpful videos, images, and articles, correct? Keep in mind that this can also be a valuable tool for you. How so? This is because Google's search engine results pages (SERPs) provide highly valuable and accurate information regarding searcher intent.
What is searcher intent and why is it important for your website? Simply put, Google's SERPs show you specifically what kind of information would be helpful and interesting to users who searched for a particular set of keywords.
For example, a quick search of 'top fashion trends 2021' yields images, listicles containing on-trend clothing items, and popular brands during the current season. Take note that it does not return search results containing the history of fashion, thought pieces on pop culture, or how to color block outfits - because these are not in line with searcher intent.
Likewise, you can use SERPs to your advantage by getting ideas for on-the-nose content for your site.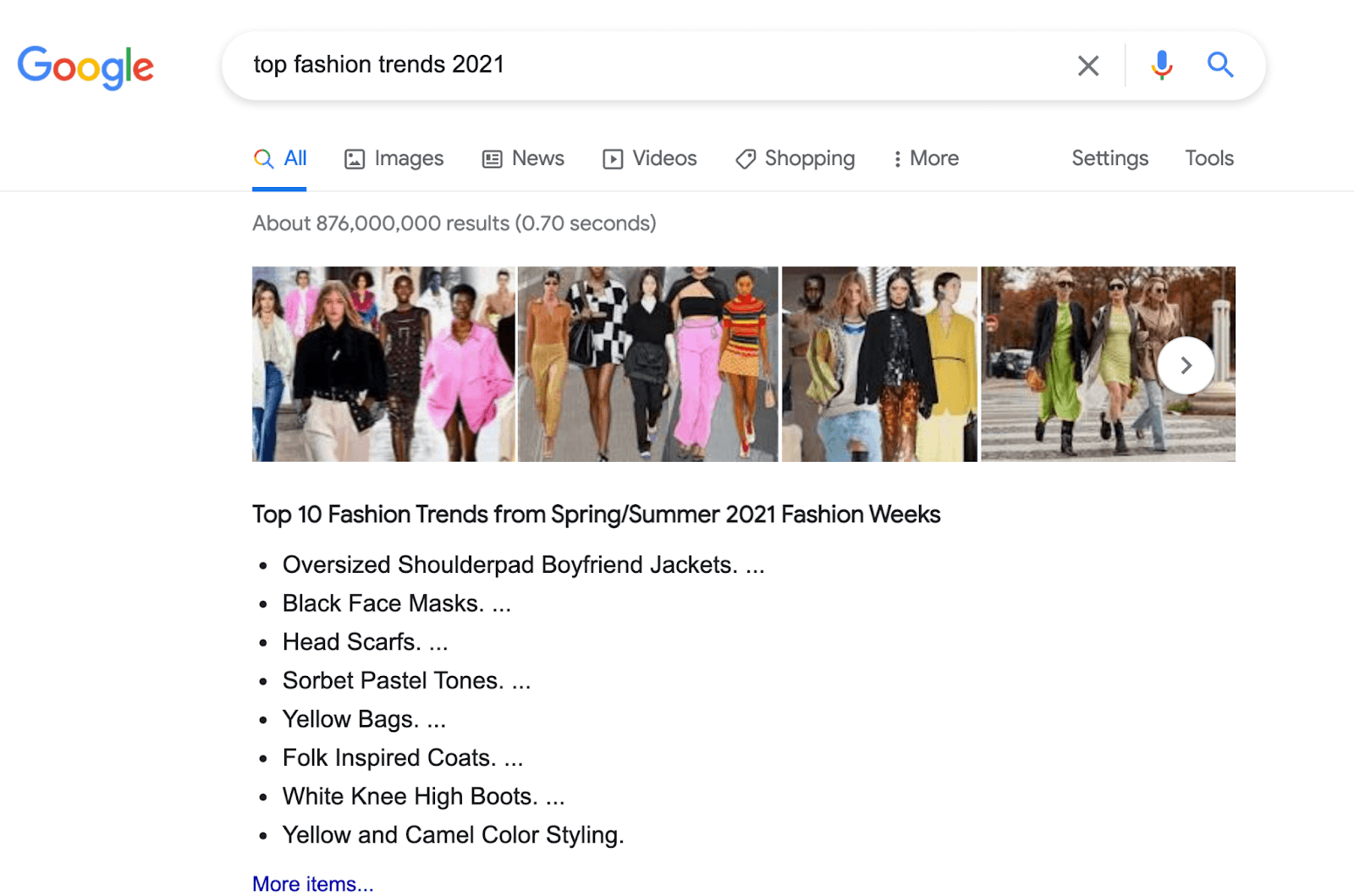 Let's say you have a Shopify store that sells face masks and athleisure wear. Using the abovementioned Google SERPs, you can create blog posts about current fashion trends and incorporate suggestions featuring on-trend products in your store. This also leads to satisfied potential customers and speeds up their user experience.
Mistake 3: Overlooking Metadata
Under-optimized meta tags are among websites' most common mistakes. This is important to look out for because meta tags help search engines identify what your page is about, and then link that page to keywords that searchers use.
Imagine if this link is missing: search engines would not be able to properly identify and link your content with valuable keywords that users search regularly. That's a missed opportunity!
Here are some common meta tag mistakes that you can easily fix:
Not Creating the Right Title Tags
When creating title tags, it's important to incorporate the right keywords to create an interesting headline that SERPs will recognize and readers will find click-worthy. Keep them unique, brief, and informative.
Forgetting to Create Meta Descriptions
Meta titles and descriptions are a great opportunity for you to sneak in extra keywords and make your content accessible via search engines. Remember to create them according to your target keywords - neglecting to do this will result in Google automatically generating these for you, which often results in mismatched results!
Missing H1 Tags
H1 tags are important because they let Google know what your page is about. Again, this is very easy to overlook but very important, as missing H1 tags will inevitably lead to gaps in how search engines understand the topic of your page.
Metadata is something that many site owners overlook. However, there are apps that can make tagging easier and more efficient. If you're a Shopify store owner, you can try the Tiny-IMG app which automatically generates good meta titles and meta descriptions.
Mistake 4: Publishing Unoriginal Content
Putting out content just for the sake of having content is unacceptable, and really, just a waste of your time. Merely duplicating content ideas from other websites is something that search engines penalize - your page will rank lower in search results.
Regularly investing in good quality content may require a bit more time and effort, but it will ultimately give your website higher chances of ranking, plus you'll gain the trust of your target audience in the long run.
Avoid churning out keyword-heavy content that offers little to no added value to your readers. Always make sure that your site offers well-researched, engaging, and unique content.
Mistake 5: Not Registering with Google Search Console and Bing Webmaster Tools
Registering your site with Google Search Console and Bing Webmaster Tools is a great idea, especially if you have a Shopify store. You're essentially telling search engines about the existence of your new website and ensuring it gets crawled.
After this, you should also submit your Shopify store's sitemap to help Google and Bing index your site. Helpfully, you can simply use Shopify's automatically generated sitemaps which can be found at www.yourdomain.com/sitemap.xml.
Mistake 6: Not Optimizing for Keywords and Content
Researching the right keywords for your niche is a must if you want to maximize your site's content. Focus on specific phrases that will help you rank higher and get you more qualified traffic, instead of using broad, generic keywords. As a rule of thumb, it's helpful to keep searcher intent in mind when finding the right keywords.
For example, if you're a business owner, you'll want to focus on more specific phrases that indicate searcher intent of wanting to buy something instead of just looking for general info (ex. 'Car dealerships in LA' instead of just 'car dealerships').
It's also important to optimize your content, not just for your keywords but also for your content.
Make sure that your articles are a good balance of having the right keywords and offering well-researched, valuable content that will pique your reader's interest.
Mistake 7: Buying Backlinks (Or Having No Backlinks At All)
Backlinks are an important site ranking factor, so you'll want to make sure you have high-quality ones. Refrain from having too many paid backlinks though - this is something that Google penalizes.
While this may seem relatively trivial, it certainly isn't to Google. Beginning with its Penguin Algorithm update in 2012, the company has cracked down hard on poor-quality backlinks through all 7 confirmed updates across the last decade.
Google recognizes sites selling backlinks and therefore, paying them does not actually boost your rankings. Talk about a waste of money - it even lowers your chances of ranking high on SERPs!
Instead of buying backlinks, make sure you link out to equally high-quality, reputable sites. You can also use SEO tools such as Ahrefs free Backlink Checker to help you ensure the quality of your backlinks.
Mistake 8: Not Being Mobile-Friendly
Being mobile-friendly is very important because it's one of Google's top deciding factors in terms of how high you rank. In 2018, they announced mobile-first indexing which meant higher rankings for sites that had mobile-friendly versions. Not to mention of course that a lot of users visit websites on their mobile phones, especially for online transactions!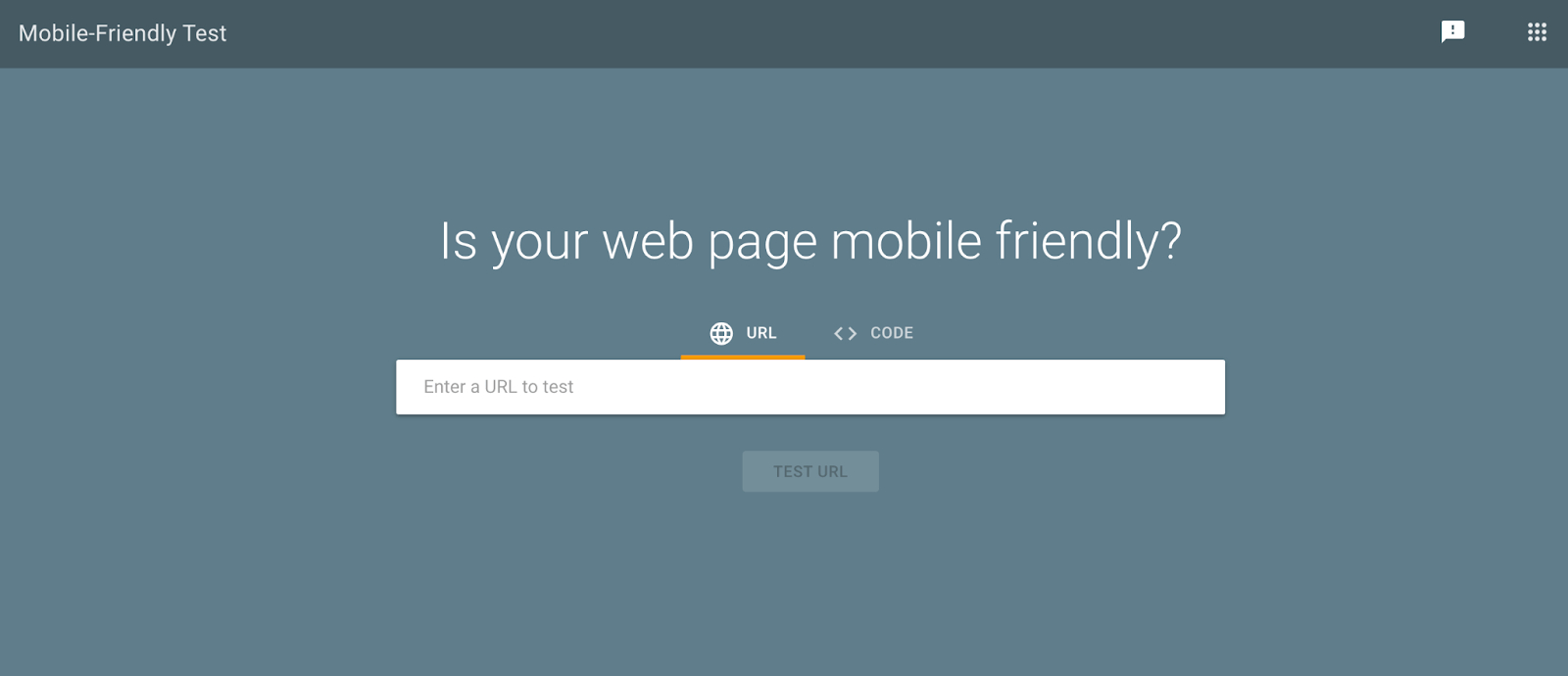 Make sure your site is mobile-friendly by using Google's free test. It's also a good idea to check your site on your phone - personally go through each page, click every button, and take note of loading time.
This makes sure that everything is running smoothly and looks great on mobile.
Mistake 9: Not Optimizing Images
This is a big one, especially if you have an image-heavy site, such as an online store. Images that are too heavy for the web affect site loading and performance, and you guessed it - a slow-loading page means you risk losing your potential client's attention!
This is often overlooked by site owners - it can be a tad frustrating to resize and compress each image manually.
For more tips on optimizing images for Shopify, read here.
You can easily address this by choosing the right file format for your image files (JPEG or PNG) depending on your needs and by saving for the web each time. For Shopify users, you can also opt for an image compression and optimization tool TinyIMG, which specifically optimizes your images for Shopify.
Mistake 10: Ignoring UX and Site Structure
Another once-ignored aspect of SEO, UX is now very much on the list of priorities of things to improve on if you want your site to rank high on SERPs. Google has recently included user experience as an important metric in their ranking algorithm, as part of their public call to evaluate page experience for a better web.
You can use Google's PageSpeed Insights tool to assess site performance in terms of page speed, mobile-friendliness, and overall user experience.
For Shopify stores, another smart move is optimizing your site and product pages using the right keywords. It's also very helpful to optimize your site structure itself - try to simplify it and make things visually appealing, while putting yourself in a user's shoes.
The cardinal rule is this: if your clients can easily explore your site and find things that might interest them, they'll spend more time browsing, searching, and buying! So don't overthink and overcomplicate things. Start with UX in mind, because a simply-structured page also makes search engines crawl your site faster. That's a win-win!
Some Helpful SEO Tools
SEO can be overwhelming at times. However, it's essential in ensuring site health and great performance to aid your business goals.
Thankfully, there are great SEO tools that can help you easily address the SEO mistakes outlined above while regularly providing suggestions for improvement:
Ahrefs is also a great SEO toolset including their multi-use Site Explorer, Keywords Explorer, Site Audit, Rank Tracker, and Content Explorer. Their trial plan with full access starts at $7 for 7 days.
The Final Gist
SEO can be your greatest ally, as long as you know how to use the right tools to save you valuable time and money. Remember that these common SEO mistakes may be detrimental to your site if left unchecked.
To ensure that your site is performing at its best, remember the main tips we've listed in this post:
Prioritize site speed and regularly check site performance to eliminate any broken images and links
Optimize for the right keywords and balance them with original and well-researched content
Don't get fooled by paid backlinks - focus on high-quality ones from credible sources
Optimize images and simplify site structure for clients and search engines
Focus on UX as well as mobile-friendliness
Frequently asked questions
What are the most common SEO mistakes in 2021?
Among the most common SEO mistakes are ignoring site loading speed, having too many paid backlinks, overlooking metadata, having unoriginal content, and not optimizing for the right keywords. It's also important to note that UX, mobile-friendliness, and site structure are important factors in ensuring site performance.
What are the don'ts in SEO?
The first thing you should not do in SEO is ignoring the seemingly small details that contribute to site health. A few unoptimized images, broken links, or spammy backlinks can eventually add up and cost you real money in the long run.
How important is SEO for Shopify stores?
The success of your Shopify store depends on getting your SEO right. SEO is an easy and cost-effective way for your target customers to find you. It supports the growth of the business by ensuring your product reaches a wider audience. Improving your SEO will also help you position your brand as a leader in a niche or industry. If you are a Shopify store owner, check out these SEO tips.