By purchasing through the links on this page, you are giving us the opportunity to earn a commission. Your support is greatly appreciated!

One of the main goals of SEO is to make your website easily discoverable. A Shopify sitemap contributes to that as it helps search engines discover content on your store.

In short, it's an XML file containing your Shopify store URLs and some extra metadata. But more on that later.

In this article, we'll talk about what a Shopify sitemap is, where to find it, as well as answering related questions and providing tips on the topic.
What is a sitemap in Shopify?
A sitemap is an XML file (a text file) that contains your Shopify website URLs. Sitemaps are generated automatically, and are used by search engine crawlers to easily discover your site's content. A sitemap also helps search engines to understand website structure.
Here's why a Shopify sitemap is important:
New pages in your Shopify store can be found and identified faster when they're in a sitemap.
Pages that are in the sitemap are crawled more often. It means that when you make changes to the page, the new version will be crawled quicker.
Understanding sitemaps and site structure is crucial if you want to improve Shopify SEO in your store.
Looking for a Shopify SEO app? Sitemap management, image compression, speed optiomization, and more
Install TinyIMG now
Where to find your Shopify sitemap?
You can find your Shopify sitemap by simply adding /sitemap.xml to the URL of your website. For example, the link should look like this:
myshopifystoreexample.com/sitemap.xml
In the next section, we'll explain what's in the Shopify sitemap and how to understand it.
What's in the Shopify sitemap?
You opened your Shopify sitemap – what's next? How do you read it? Let us explain it.
Index sitemap
The main sitemap (also often called a parent sitemap) is usually a relatively small XML file that contains categories of page types (child sitemaps).
Below, you can see an example of how a sitemap looks in a browser.

The index sitemap usually includes four links to more extensive, child sitemaps. A child sitemaps are sitemaps inside the main sitemap. In most cases, child sitemaps contain four page types:
Products (/sitemap_products_1.xml)
Pages (/sitemap_pages_1.xml)
Collections (/sitemap_collections_1.xml)
Blogs (/sitemap_blogs_1.xml)
These categories exist for better, more logical organization. It's possible for more child sitemaps to be generated if you surpass 5,000 URLs in your childmap. This can happen if you have a huge store with thousands of products.
Child sitemaps
If you want to see how the child sitemap looks, go to one of the generated URLs for product, collection, blog, or other pages.
Below, you can see the example of how a Shopify store child sitemap for product pages looks like.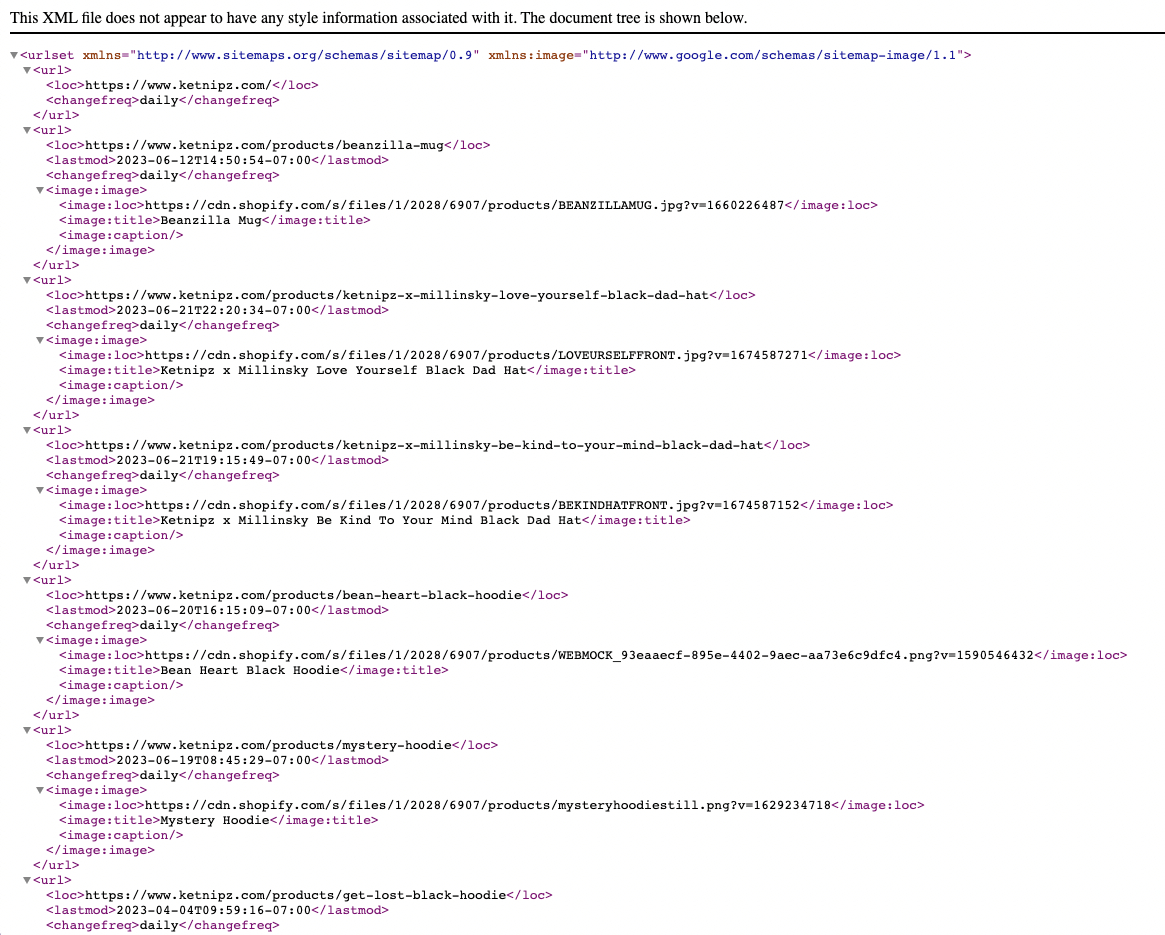 As you can see, it's a collection of all URLs that fall under the product page category. This helps search engines like Google discover your website's content without relying on your site's architecture.
Child sitemaps include metadata about specific pages, for example, their last update, or image metadata.

Here's a short explanation of different elements in a Shopify child sitemap:
<loc> is the URL of the specific page
<lastmod> is when the page was last modified
<changefreq> is how often the page is updated
<image:loc> is the main image of the page
<image:title> is the title of the page the image is on
How to submit your Shopify sitemap to Google?
Submitting your Shopify sitemap to Google Search Console is important for a search engine to index and crawl your website.
Note: Before submitting your sitemap to Google, you should verify your site in GSC.
Here are the steps for submitting your Shopify sitemap:
Go to your website's Google Search Console account
In the left menu bar, click Sitemaps
Enter your Shopify sitemap URL
Click Submit
Can you edit Shopify sitemap?
No, Shopify sitemap is generated automatically, therefore it cannot be edited.
If you want particular pages in your shop to not be indexed or have a nofollow attribute, you can install a Shopify app. For example, TinyIMG app can help manage page indexation, like making certain product or collection pages undiscoverable by search engines. This way, those URLs will not appear in your Shopify sitemap.
Suggested reading
Shopify HTML sitemap vs XML sitemap
Both HTML and XML sitemaps have a similar purpose: to include website URLs to help with navigation and discovery.
The main difference is the following:
Shopify XML sitemap is meant solely for Google and other search engines to understand your site's architecture, to index and crawl the pages.
Shopify HTML sitemap is meant for the users to find what they're looking for on your website easier. As they navigate to the desired location faster, it can greatly improve sales.
It's doubtful whether an HTML sitemap has any real benefits to SEO. It's a separate page that's usually linked from your website's footer. The page includes a clickable list of pages on a website and you can generate it yourself from your Shopify admin.
To sum it up, whether an HTML sitemap is useful or not, you won't hurt your Shopify store by generating one.
More Shopify sitemap tips and advice
Here's more tidbits about Shopify sitemaps that might be useful to you.
Submitting your sitemap to Google Search Console can boost the indexing speed from days or even months (4 days to 6 months) to hours (48 to 72 hours).
If your Shopify store is small (less than 100 pages), you don't have to submit your sitemap as bots can easily navigate a website that small.
If you have country-specific domains, Shopify will generate separate sitemaps for them.
It is possible to create a custom Shopify sitemap using tools like ScreamingFrog. The effort you put into a manual sitemap creation might be useful if - for example - you have different product variations that you want to be indexed separately.
Conclusion
A couple of important takeaways: 1) a sitemap's function is to help search engines find, index, and crawl your pages easier and faster, and 2) Shopify sitemaps are generated automatically, so all you need to do is upload the existing sitemap to Google Search Console.
As you continue your journey through Shopify ecommerce, make sure you always come on top by staying up to date with everything you should know about the platform.
Check out these articles: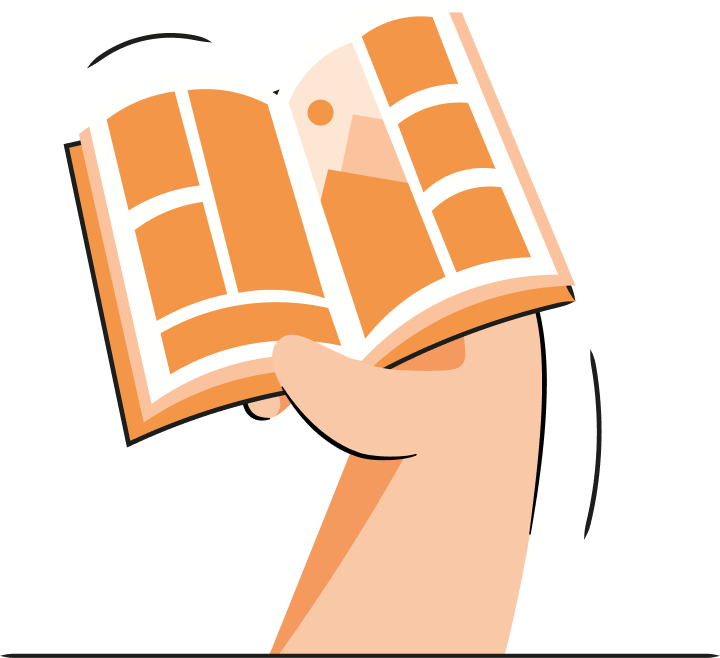 Frequently asked questions
You can find your Shopify sitemap by adding /sitemap.xml to your website URL.
You don't have to manually add a sitemap to your Shopify website, as Shopify automatically generates a sitemap for your store.
You cannot manually change your Shopify sitemap. However, if you want certain pages to not appear in your sitemap, you can add a noindex value to certain pages using Shopify apps like TinyIMG. This way, the page will not be indexed, therefore, won't appear in the sitemap.