By purchasing through the links on this page, you are giving us the opportunity to earn a commission. Your support is greatly appreciated!

Shopify for small business is irreplaceable; while those businesses may be small in size, their needs aren't and Shopify can meet them all.

Easy to use yet with plenty of features to support business growth, affordable and scalable, Shopify eCommerce platform is a great solution for small business owners.

In this article, we'll go over all Shopify advantages small businesses can benefit from, compare it to alternatives such as Etsy or Wix, discuss shortcomings and make recommendations.
Shopify advantages for small businesses
Shopify is the most coveted small business eCommerce platform because running daily operations on it is effortless, to say the least. All tools - store management, business growth and marketing, website maintenance - are in one place, simple yet impactful and accessible even with their "Basic" plan.
How exactly can a small business benefit from that? Let's take a look.
Ease of use
Creating a Shopify small business account takes but a few minutes and from there it's smooth sailing as well. The setup process is intuitive, the Shopify theme library is abundant and includes a bunch of free Shopify themes, plus a qualified developer is always at hand to help out.
Shopify runs all of the behind-the-scenes, techy or mundane processes for your online website, such as server maintenance, valid SSL certificates, software upgrades, payment fraud analysis and report creation.
And when it comes to those core business aspects, they're easy to access and control though your Shopify admin.
Unlike on other eCommerce platforms, your Shopify Admin dashboard isn't overcrowded with features. Instead, it gives you an overview of the most relevant data on your store's performance. It also ensures convenient access to all store management areas, sales channels and Shopify apps through a sidebar menu.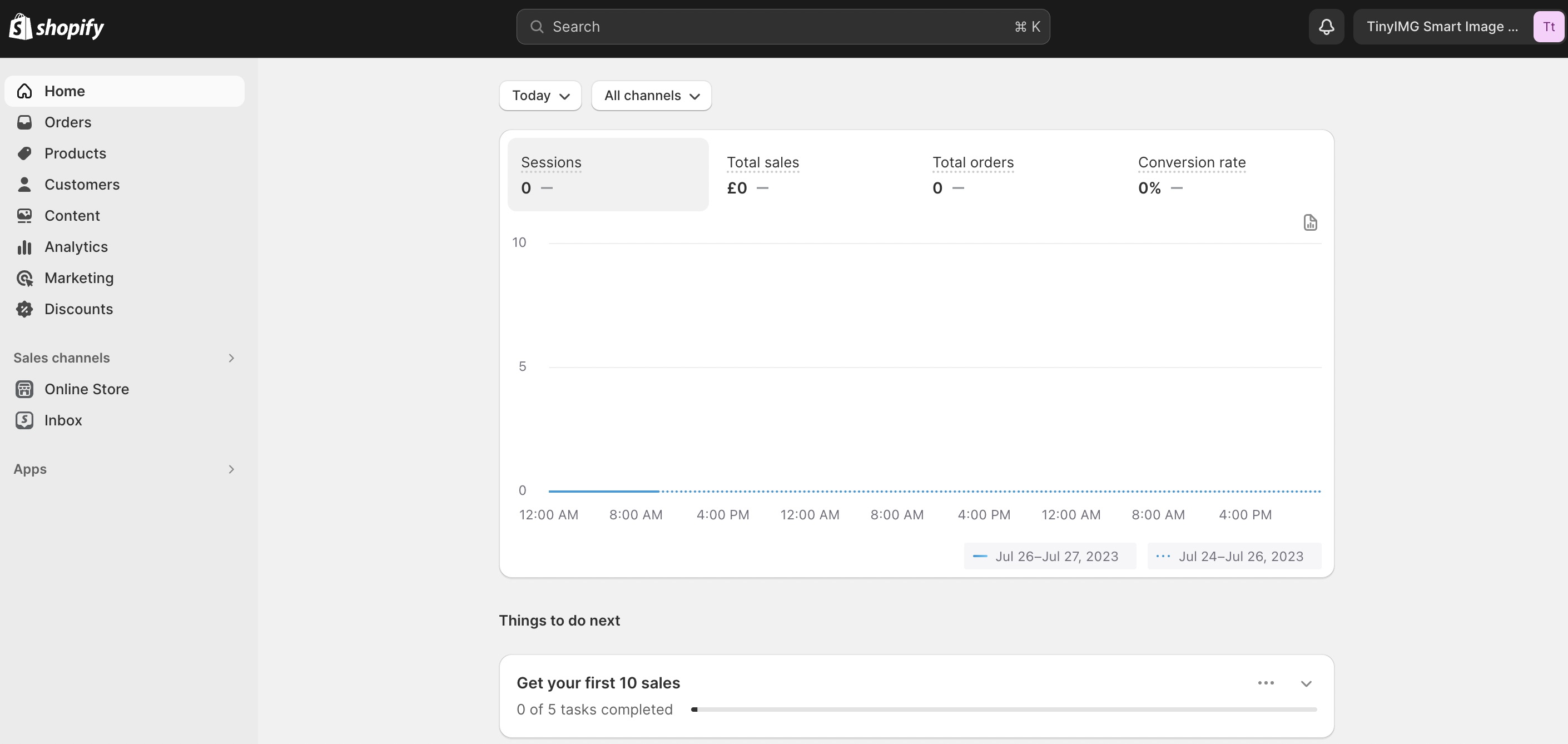 Marketing tools
Most small businesses opt in for Shopify "Basic" plan and even at that level Shopify is overflowing with marketing features to drive traffic to your Shopify store and increase your Shopify sales.
Every Shopify plan includes abandoned cart recovery features, gift cards, discount codes, and, most importantly, marketing automations to streamline your customer engagement.
And as for what's missing, Shopify has free native apps such as Shopify Email, Product Reviews, and Shopify Collabs. True, most of them have space for improvement, but for small businesses it's a great start while they take their Shopify online store off the ground.
And then there is always the Shopify app store with a whole bunch of great Shopify apps that won't break the bank.
SEO optimization
Shopify SEO is no small topic, even for a small business; doing SEO on a fresh website can be a reasonable financial toll. Luckily, Shopify is already highly SEO and performance optimized.
Shopify takes care of many technical SEO aspects, such as Shopify sitemap generation and a proper robots.txt file. It also serves all your images in WebP format, no matter how you upload them, to help browsers load your awesome product pages faster.
That being said, aspects like metadata, redirects, and image optimization you still need to handle yourself. But no worries, you can find all the best practices and advice in our guides:
Luckily, Shopify has an established base of Shopify SEO apps that offer free plans, SEO automations and other perks small business owners seek. An app like TinyIMG will be able to automate or at least simplify most of the remaining SEO tasks so that you get solid results with minimal effort.
Versatility and potential for business growth
The opportunities to make money on Shopify as a small business are endless; from an international dropshipping powerhouse to a digital print store to selling vintage thrift shop findings - Shopify can help you do it all.
Plus, Shopify allows small business owners to expand sales channels pretty effortlessly. Sell anywhere you want even with the most modest of plans as Shopify is tightly integrated with Instagram, Facebook, and Google Shipping.
Thanks to the Shopify apps and partners, it's easy to maintain a store that runs with no inventory just as much as it is one with a massive warehouse stock. It's adapted to help aspiring POD business owners, handmade craft sellers, fine art photographers and even service providers alike.
Plus, a separate Shipping Partner Platform ensures that once you're ready to expand internationally, you have the best transportation partners at your service.
Lastly, the mobile Shopify business app ensures that you can run your errands and run your store at the same time.
Payments
As long as you're eligible and meet the bank account requirements for Shopify Payments, it's the only tool you'll need to accept payments from avid online shoppers. You can manage every payment aspect and it even includes fraud protection.
Also, Shopify Payments is integrated with Shopify POS (Point of Sale), meaning any offline and online sales data is processed and can be analyzed together.
If for whatever reason your customers prefer external payment tools like PayPal, you can easily integrate them for a small third-party transaction fee.
Mobile-friendliness
As a small business owner, you already have enough to worry about. Wouldn't it be nice if mobile optimization wasn't one of those things?
Well, Shopify largely takes care of it for you. The team at Shopify knows that mobile eCommerce is growing rapidly and that Google is mobile first, so the mobile website version gets a lot of attention.
With absolutely minimal effort on your part, your Shopify eCommerce store will be responsive, fast and intuitive to navigate on a mobile device.
Want to get into details about your mobile store? Do that with our Shopify mobile optimization guide.
Free Shopify small business tools
With limited resources and few team members (but big plans nonetheless!), process and cost optimization is at the forefront of most small business owners' concerns. Luckily, a fleet of free Shopify tools for small business management and business growth is easily available.
Here is what you can achieve with free Shopify tools:
Easy business setup: business and domain name generators, logo and slogan makers.
Optimized revenue: profit margin, business loan and discount calculators for optimized revenue.
Simplified management processes: purchase order and shipping label template, invoice generator.
Business growth: wholesale marketplace access.
Support all around
When something goes wrong and you don't have a huge in-house team to rely on, you need help from customer support, well, yesterday. The Shopify team takes support very seriously and provides assistance via email, phone or live chat around the clock.
If the issue is not pressing and you're just looking to educate yourself on Shopify capabilities, head straight to Shopify Help Center - it's extensive, it's informative, and it's meant to empower all Shopify users, small business owners very much included.
Shopify disadvantages for small businesses
With all the advantages listed above, Shopify sounds so perfect for a small business that it might as well be the one and only!
Let's take a look at some disadvantages of Shopify to get a realistic picture:
No native email storage - if you wish to set up an email for your store, you'll have to find an external provider, which is frustrating and costly if you're a small business.
Transaction fees - depending on your chosen plan and payment setup, you might end up paying fairly high Shopify Payment fees and third-party transaction fees. Those fees tend to be higher with lower end plans small business owners usually opt for.
No native feature to sell digital products - if you wish to include download links on your product pages and require digital product copyright protection features, you'll need an additional Shopify app for digital downloads. Find some pointers and app recommendations in our guide on how to sell digital products on Shopify.
Limited content marketing capabilities - if you're looking to turn your brand into an empire, you'll find Shopify blog functionalities lacking. Nothing you can't fix with a good Shopify page builder app though.
Limited capabilities to manage your store in bulk - for example, if you upload hundreds of products and only then decide to enable product quantity tracking for them, you're in for an unpleasant surprise.
But we're only able to gather these because we're being nit-picky. The truth is, every service or platform will have its shortcomings, but if they're niche enough as to not affect everyone, it's usually not that big of a deal.
Shopify costs for small businesses
When you start considering Shopify costs for small business, obviously no definitive answer exists as to what they will be. It all depends on your chosen Shopify pricing plan, how many paid apps you install, whether you go for a paid theme or perhaps even hire a developer to code custom features for you.
If you're going with the "Basic" plan and budget wisely on apps, a reasonable estimation is a starting cost of $400 for the launch and monthly fees of around $150. That being said, consider increasing your starting costs to get yearly plans on Shopify and the apps, because they tend to be 10-30% cheaper.
Shopify alternatives for a small business
Still not convinced that Shopify has answers to all of your small business needs? Let's see how it compares to common alternatives that small, independent merchants like to choose.
Etsy vs Shopify for small business
The main difference between Shopify and Etsy is that Etsy is a marketplace of sellers whereas Shopify is a software that lets you create an individual online store.
Shopify is our recommendation for small businesses because Etsy falls short in a couple of major areas.
When it comes to fees, Shopify is practically unbeatable. It charges minimal transaction and monthly fees, where Etsy also charges for listings, payment processing, and more. All of that can add up to an amount that's hard to justify for a small business owner.
Etsy also doesn't give you access to your customers' emails, meaning you can't build a reliable subscriber list and benefit from email marketing (and as a small eCommerce business, you really want that).
Bottom line - if you want independence and unlimited business growth possibilities, go with Shopify. If you want an easy start and aren't too concerned with branding or business growth, Etsy is your answer.
Wix vs Shopify for small business
This is a tough one - both Shopify and Wix have gone the extra mile to cater to small business owners.
Wix offers a free plan (although a limited one), a free custom domain (you end up paying for it with the monthly fee anyways) while Shopify does not. That being said, Shopify has perks like native gift card integration and more storage space for digital products than Wix.
The reason we would still recommend Shopify over Wix for a small business is because Shopify is eCommerce-first. All 6,000+ Shopify integration opportunities, all 7,000+ Shopify apps, theme store and customer support is basically designed to support eCommerce business management and growth, whereas Wix is aiming at a more general audience.
Wordpress vs Shopify for small business
WordPress is unbeatably popular among keen website developers, and its WooCommerce plugin gives this open source platform all eCommerce store capabilities.
That being said, you will need to take care of website hosting, plugin maintenance, SSL certificates, and other chores, none of which you would have to worry about if you chose Shopify. Plus, a new store setup with WooCommerce is oftentime no joke, the overall process is not all that intuitive.
That being said, customization possibilities and extra functionalities, such as a powerful blog, are easily achievable with WordPress
Our verdict still stands with Shopify for a small business - it's easier to set up, maintain, and you will see results faster.
So, is Shopify a good choice for small businesses?
So we established that Shopify is a great option for small business owners. It's easy to set up and get a hang of, budget-friendly, has growth tools, a massive community and resource library - what else does a small business need?
We recommend you go on your journey with Shopify and grow from a small business owner to whatever your end goal is, because Shopify can indeed help you get there!