By purchasing through the links on this page, you are giving us the opportunity to earn a commission. Your support is greatly appreciated!

PageFly is one of the top 20 Shopify apps available on Shopify app store at the moment. This powerful landing page builder has garnered a lot of positive reviews, but what makes it great? Are there any drawbacks? And how does it differ from thousands of Shopify themes available to ecommerce merchants?

In this article, we answer all the questions and give you a detailed review of the PageFly Shopify app.
| | |
| --- | --- |
| 💻 App name | PageFly |
| ⭐ Notable features | Drag-and-drop builder, mobile optimized, 100+ templates |
| 🛠️ Ease of use | Suitable for beginners |
| 💵 Pricing | Free to install, paid plans from $24/month |
| 📥 Install app | Install PageFly |
What is PageFly?
PageFly is a drag-and-drop page builder app for your Shopify store, allowing you to build various types of Shopify pages, like a homepage, collection and product pages, blogs, and landing pages.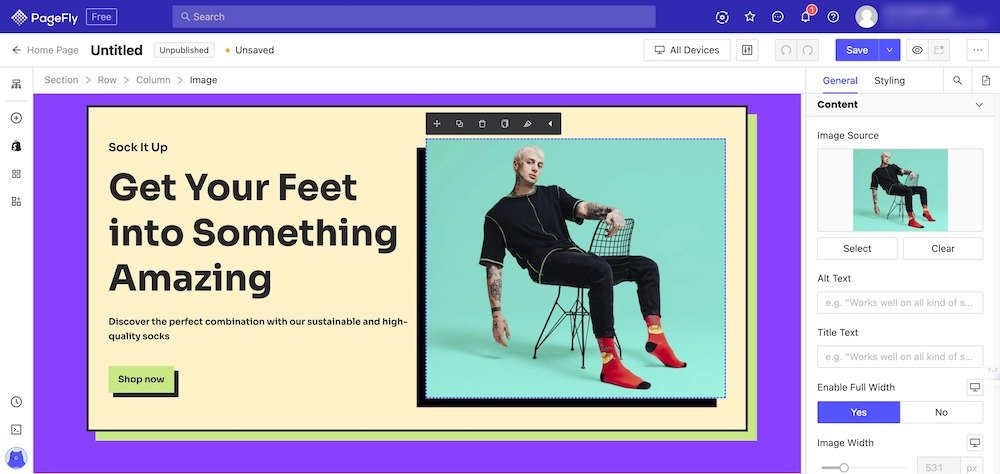 With PageFly, you can build your website from scratch or use one of the 100+ templates to help you get started. You don't need any coding knowledge – the only thing you need is a vision. This page builder gives you all the tools you need to configure all page elements to the smallest detail.
Founded in 2017, PageFly has become one of the most popular and well-received page builders for ecommerce websites.
PageFly app Pros and Cons
| | |
| --- | --- |
| PageFly Pros | PageFly Cons |
| ✔️ No-code drag and drop builder | ➖ Learning curve |
| ✔️ Mobile friendly | ➖ Quite expensive |
| ✔️ Wide app integration | |
| ✔️ 100+ templates | |
| ✔️ Compatible with Shopify themes | |
| ✔️ Smooth performance | |
| ✔️ 24/7 customer support | |
There is a number of things we really liked about PageFly:
Its intuitive and powerful page editor. Not only can you flexibly add and edit elements, you can also add rows, columns, and other elements inside each section. This kind of functionality allows you to be more in control over your online store.
Right in the page builder, you can also select what screen you want to build on, laptop, mobile, and tablet separately or all devices at once. You can choose whether you want PageFly to automatically optimize for mobile view, or create the design for mobile screens separately.
A wide array of Shopify apps available for integration straight from the page builder. You can find all the popular apps to add to your store to increase conversions and boost engagement.
Possibility to use PageFly on top of your existing Shopify theme, so you don't have to rebuild your store from scratch. You can freely use PageFly's flexible page editor to add and arrange elements in your store.
With PageFly, you can get your desired design results without dabbling in code because the app allows you to customize elements to the smallest details.
We were really impressed with PageFly, but it does have some shortcomings.
While PageFly is intuitive, it does take a little bit of time to get your way around it. It's more complex than Shopify's page builder, but – in our opinion – it's worth it just because of its vast customizability options.
Another thing is the price. With a lot of functionality comes a big price tag. However, you can use the page builder for free and publish one page, but if you want a functioning store, you'll have to opt for paid plans.
PageFly features
Let's explore some of the most prominent PageFly app features.
Page templates
PageFly offers 100+ professional templates that are designed to boost conversions. You can use templates for seasonal sales pages, landing pages, homepages, product and collection pages.
What makes PageFly great is that you can customize elements on your pages to the smallest detail. You can change button sizes and colors, attract users with animations, add accordion sections, and many other features that allow you to personalize your Shopify store and create a truly professional look.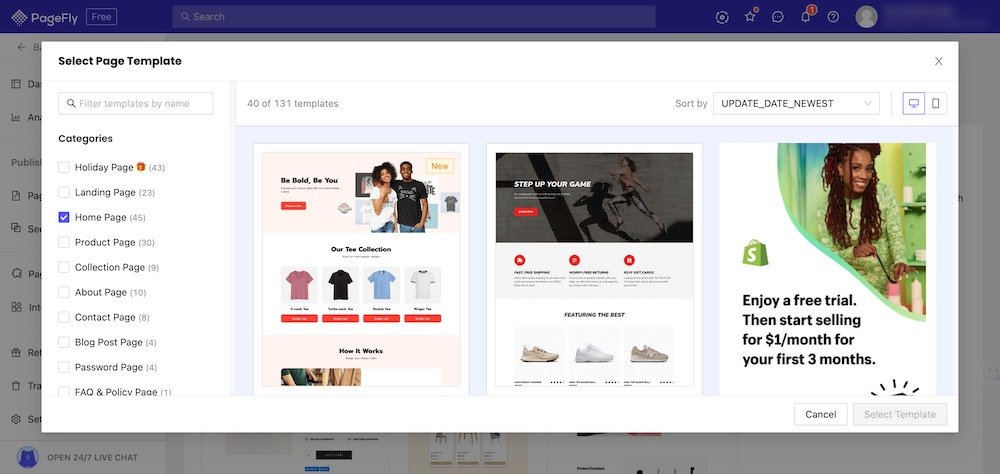 Drag and drop page builder
PageFly has a visual drag-and-drop page builder which allows you to add, edit, remove sections and elements and see changes in real time. It's a powerful feature that requires no coding knowledge.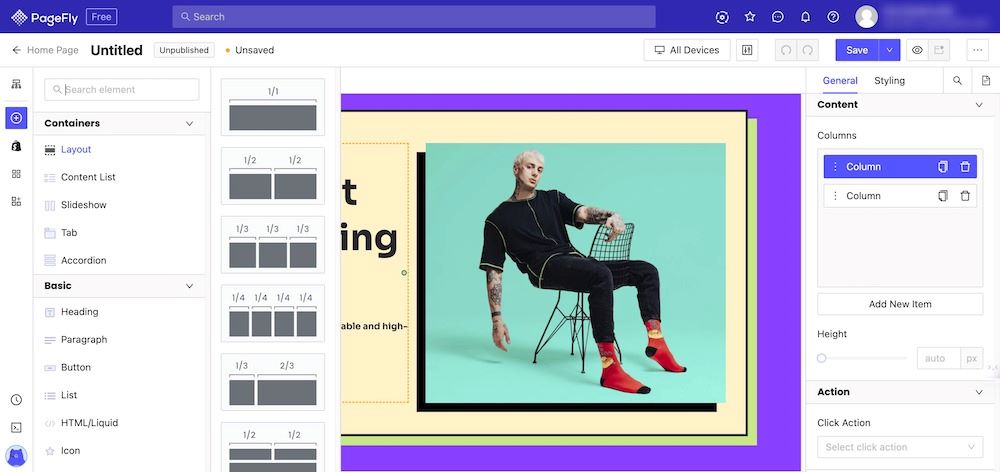 With PageFly, you can create and reuse section templates, and place them across various pages on your website. For example, a section that calls visitors to subscribe to a newsletter might be useful on a homepage and in collection pages.
You can also create your own elements and save them to use on other pages. It not only saves you time, but also gives your store a cohesive look across all pages.
And if you're comfortable with coding, you can use advanced styling options to edit the CSS code.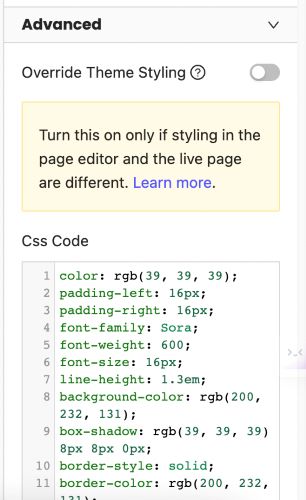 Analytics
PageFly has a separate analytics section that allows you to track how your pages perform. The app tracks such metrics as conversion rate, product views, visitor count, sessions, and revenue.
In the dashboard, you'll see separate sections for different pages on your website, i.e., home page, product pages, collection pages, blog posts, and password pages.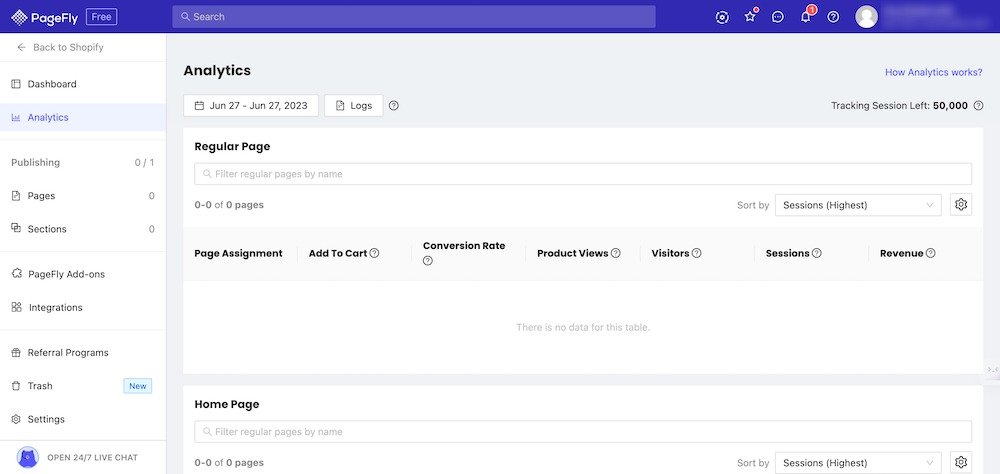 Integrations
PageFly is compatible with many leading Shopify apps that help you scale your business. The available apps offer tools for collecting, importing and displaying product reviews, incorporating upsell and cross-sell features, growing your email marketing efforts, and more.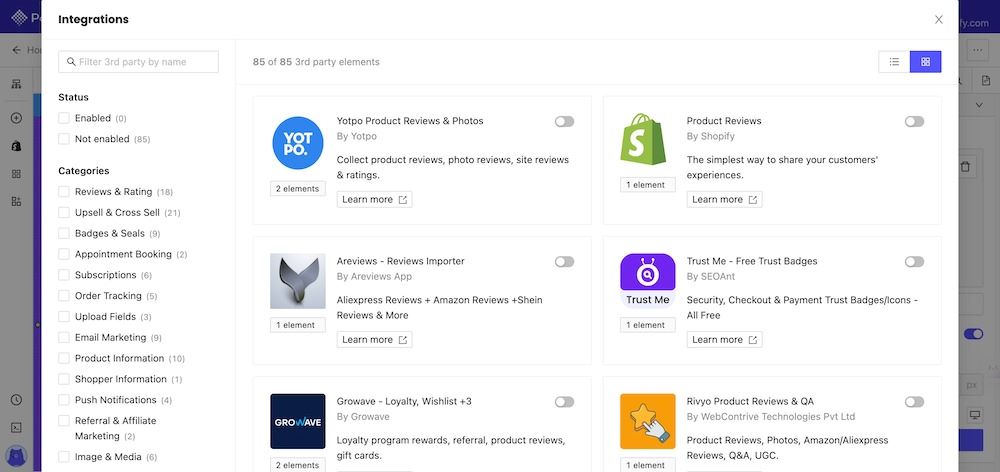 PageFly customer support
PageFly offers 24/7 customer support live chat, even for users on a Free plan. If you have questions or an issue you need help resolving, you'll get a quick reply and won't have to wait hours or days for someone to get back to you.
PageFly pricing review
PageFly paid plans start at $24/month, and the price increases as you publish more pages.
| | | | |
| --- | --- | --- | --- |
| | Free | Pay as you go | Enterprise |
| Price | - | From $24/month* | $199/month |
| Published pages | 1 | From 10 to 100 | Unlimited |
| All app features | Yes | Yes | Yes |
| 24/7 live chat support | Yes | Yes | Priority |
| Video call support | No | No | Yes |
| Unlimited tracking sessions | No | No | Yes |
| Speed optimization support | No | No | Yes |
| Unlimited blog post pages | $49/month | $49/month | Free |
*the price for 10 published pages
How does PageFly compare to Shopify themes
There are many great Shopify themes out there, with different capabilities, sets of features, and pre-designed templates. While there is plenty to choose from when it comes to Shopify themes, PageFly still comes out on top when it comes to functionality, features, and flexibility.
One of the biggest PageFly advantages is that the app offers almost unlimited customization possibilities, allowing you to customize elements to the smallest detail. Shopify, on the other hand, relies more on the pre-designed page templates that don't have a lot of customization options.
For example, you can edit button sizes, colors and styles with PageFly. It's a small detail but it can make a huge difference in conversions.
Another advantage is clean and optimized code - pages built with PageFly can have slightly better loading speed than those built with the default Shopify Page Builder.
Generally, Shopify themes are a good choice for those who don't want to spend time customizing their websites and are happy with the designs that this ecommerce platform offers. But remember that you don't have to choose one or the other because PageFly can be used together with Shopify themes to maximize your website building efforts.
PageFly client reviews
PageFly users praise the app's ease of use, beautiful elements and templates, and are happy with the control they have over their store's design. There's also some praise for the page editor. One reviewer says that you don't need any coding knowledge but it does help with understanding different properties of page elements.
Reviewers also say that the app's interface blends seamlessly with the existing Shopify interface. And, even though the app takes some time to get used to, it quickly becomes extremely easy and intuitive to navigate.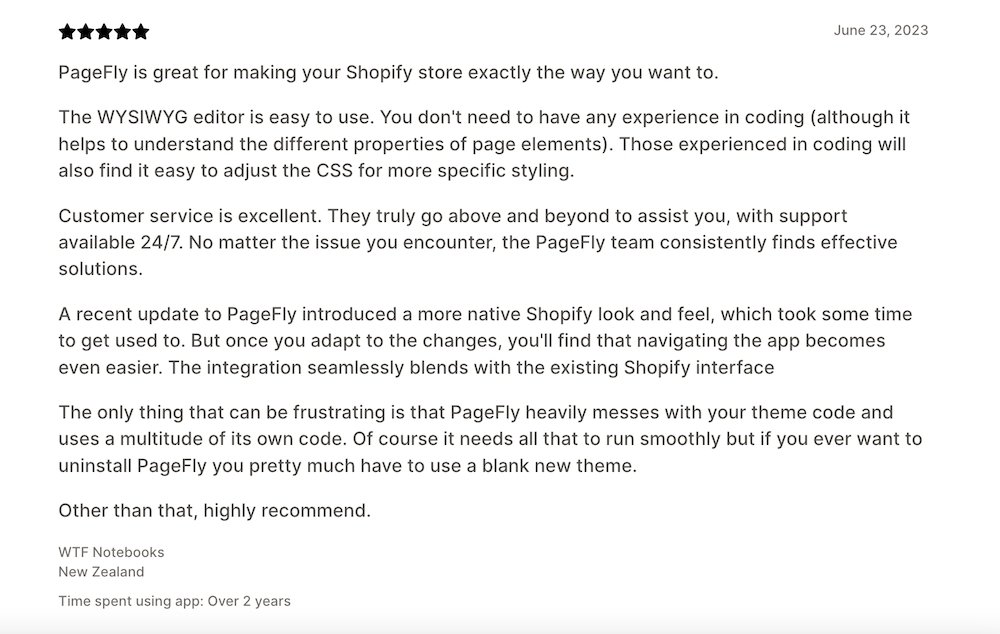 Another common sentiment is that PageFly really delivers where Shopify lacks, and that they would not be able to build a site they want without PageFly.
On the other side, there are some concerns that the users raise. Some people have issues with bugs, some wish there were more features, like being able to edit metafields. However, all reviewers praise customer support for their efforts in helping solve those issues.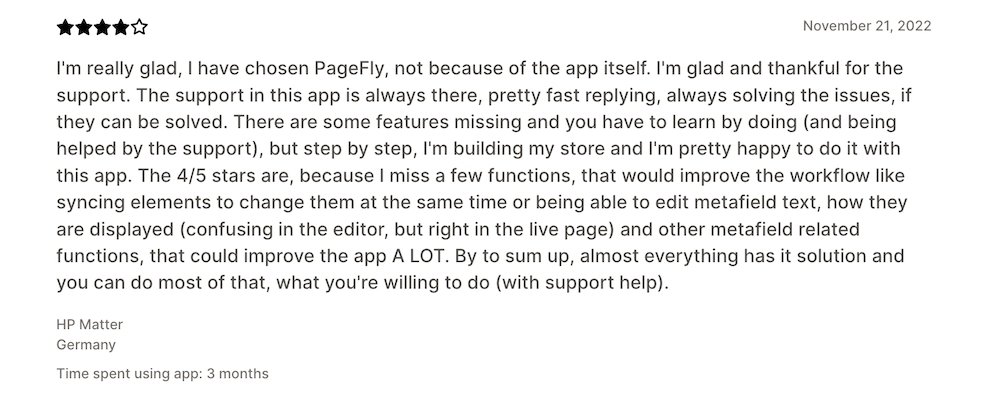 Overall, looking at the reviews, it seems apparent that the team at PageFly are very swift in responding to users' concerns, which signals that the app developers are keen on making the app better.
Not something you're looking for? Check out 6 more alternative Shopify page builders
PageFly review summary
PageFly is a powerful and versatile Shopify app that offers an intuitive drag-and-drop page builder for creating captivating pages.
It provides numerous features such as a wide array of templates, a customizable page editor, mobile optimization, and seamless integration with other Shopify apps. While there is a learning curve associated with using PageFly and the price can be relatively high, it offers extensive customization options and exceptional customer support.
Overall, PageFly is a valuable tool for Shopify merchants seeking to enhance their online store's design and functionality.
Curious to read more? Check out these articles: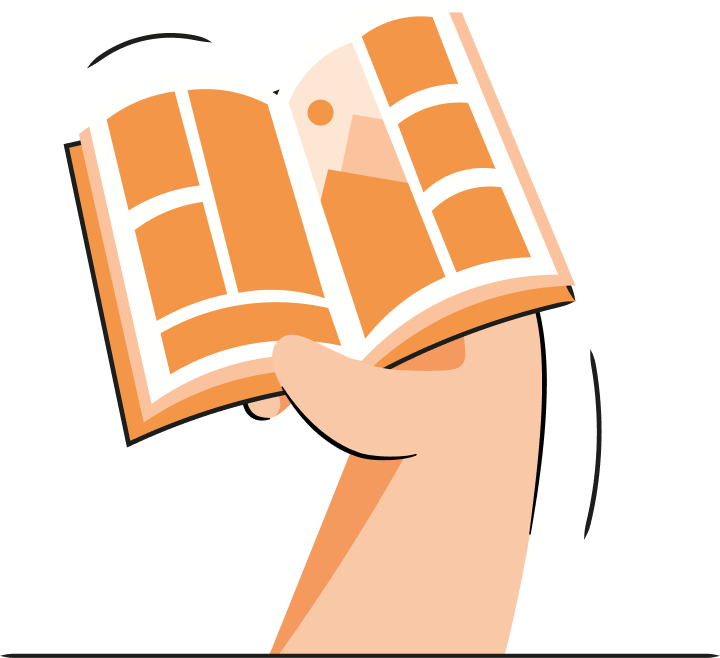 Frequently asked questions
PageFly is free to install and you don't need to enter any credit card details. With a free version, you can publish one page and get access to all app features and 24/7 customer support.
PageFly is worth it for Shopify merchants because it's very beginner-friendly and easy to use. The app also has a lot of features that Shopify currently lacks, so it's a well-rounded page builder for your Shopify store.
You don't need a Shopify theme to use PageFly. However, if you're already using a Shopify theme, you can use the PageFly app on top of it. PageFly has a lot of elements and sections that Shopify doesn't, so it's a great companion to your Shopify theme.