By purchasing through the links on this page, you are giving us the opportunity to earn a commission. Your support is greatly appreciated!

Starting a print on demand (POD) business is no easy task and the Shopify app you choose will largely determine your success. That's why you need to understand all the ins and outs of Shopify POD apps before you commit to one.

Let us help you by presenting 9 best Shopify print on demand apps. We'll look over their areas of specialty, advantages, shortcomings, interfaces and more. At the end, you'll be confident you know what's the right Shopify POD app for you.
What is a print on demand app on Shopify?
A Shopify print on demand app allows you to design your products, then prints and ships them when your customers place an order. It's been one of the most popular ways to launch a clothing line, jewelry brand or sell your art prints for a while.
A good Shopify POD app allows you to start a print-on-demand business with minimal investment. Moving forward, it's good if you don't remember you have it, meaning it takes care of all the manufacturing and logistics without your intervention.
The print on demand app you choose for your Shopify store will largely serve as a foundation of your business, so the margin of error during the selection process is quite small.
That's why we reviewed all the POD apps available on Shopify app store extra carefully and presented you only with the truly reliable ones.
Let's get straight to it.
Top 9 Shopify apps for print on demand: reviews
First, we want to highlight a shortlist of 5 Shopify POD apps that truly stand out in the crowd:
Now let's take a look at all 9 top Shopify print on demand apps in more detail:
1. Printful - best overall Shopify POD app

Available on live chat, email. Average reviews.
While the most Shopify app reviews don't automatically mean the best service, Printful lives up to the hype. Industry leader since 2013, Printful has been keeping up with all the newly-emerged competition and is the most well-rounded Shopify POD app.
Who should use Printful?
Anyone who wants a globally-recognized app with a variety of reliable features as their POD provider.
Why Printful is great:
Outstanding mockup generator
Sufficient product selection (anything from phone cases to leggings)
Product personalization available for the customers (uploading images, adding initials)
Many custom branding options (branded stickers, pack-ins and more)
3200+ 5-star reviews on Shopify app store
Big bonus: provides warehouse storing services for non-Printful products in the USA and Europe
Printful areas for improvement:
Does not have a good selection of niche products, such as coasters, pet supplies, yoga mats
Higher prices than in other fulfillment companies, can be difficult to calculate profit margins due to their pricing model
Products aren't always up to eco-friendly standards (e.g. paraffin candles)
Premium mockup generator and stock images available only with paid plans
What does working with Printful look like?
This could be your all-over-print duffle bag product page if you decide to go with Printful: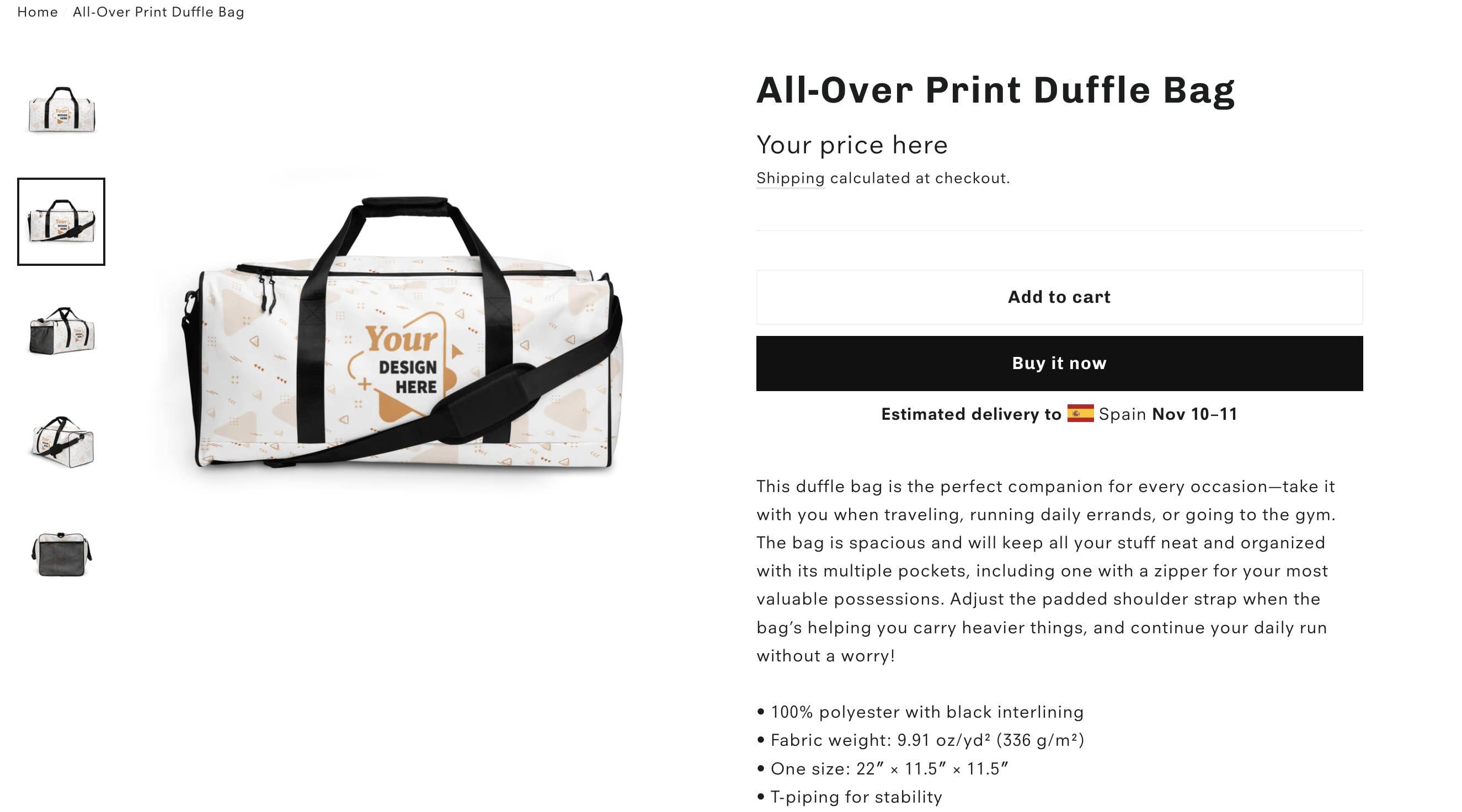 2. Printify - best app to run multiple Shopify POD stores

Live chat, email. Good reviews.
Printify is essentially an alternative to Printful. It's a huge and respected POD service provider globally and it's a safe option for pretty much any Shopify seller.
Who should use Printify?
Shopify sellers that run multiple POD stores and are interested in the most cost-effective alternative.
Why Printify is great:
Depending on the plan, you can run Printify on 5 or 10 Shopify stores
Catalogue of over 900 products
Best product costs on the market
Global printing partners (faster and more eco-friendly shipping)
Easy to use mockup generator
You can pick your preferred print provider
Constantly increasing eco-friendly product range
Printify areas for improvement:
No product personalization for customers
Reported delays on technical issue resolution
Reported recent issues with manufacturing quality
What does working with Printify look like?
With Printify, you can design everything in perfect detail and then preview a realistic mockup: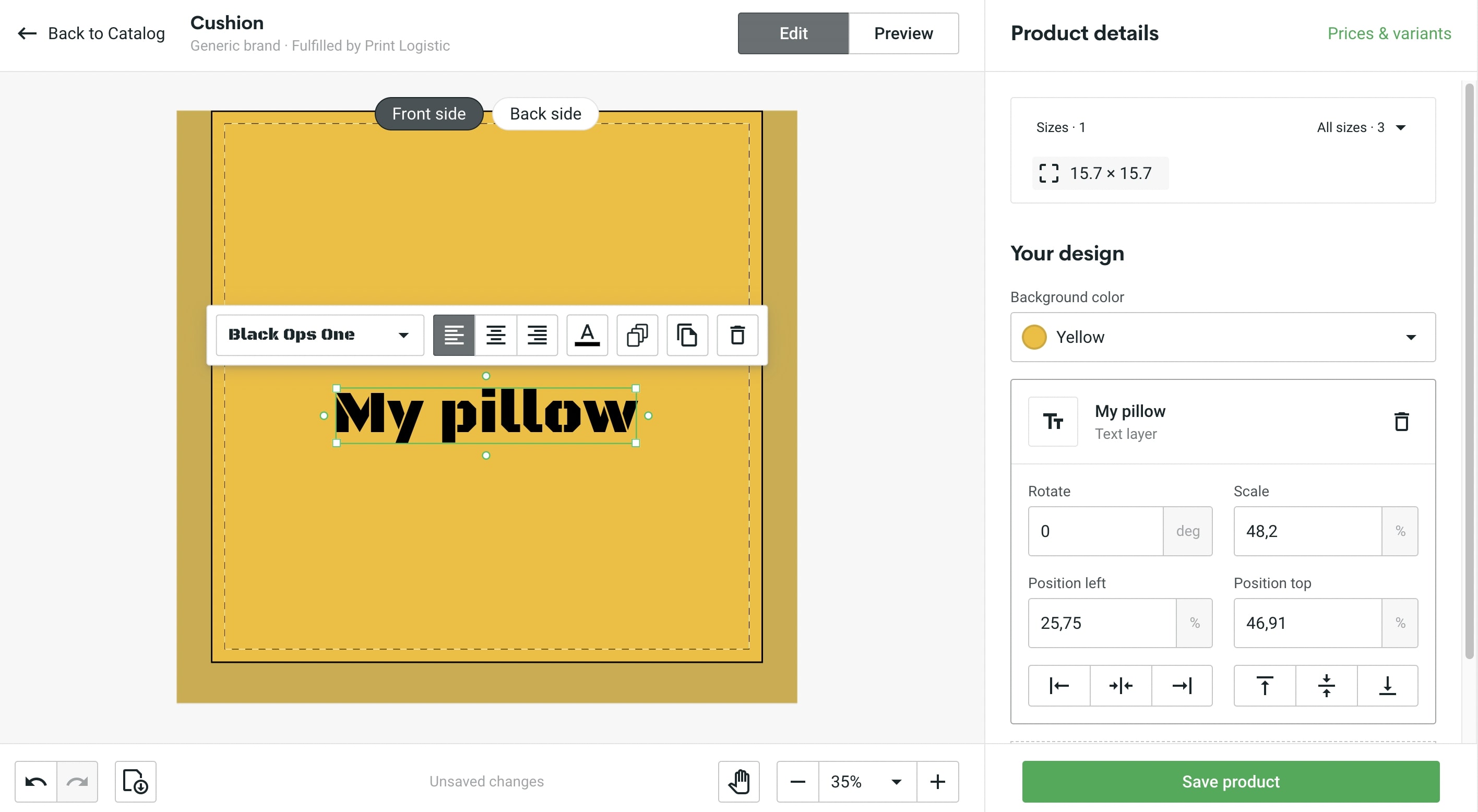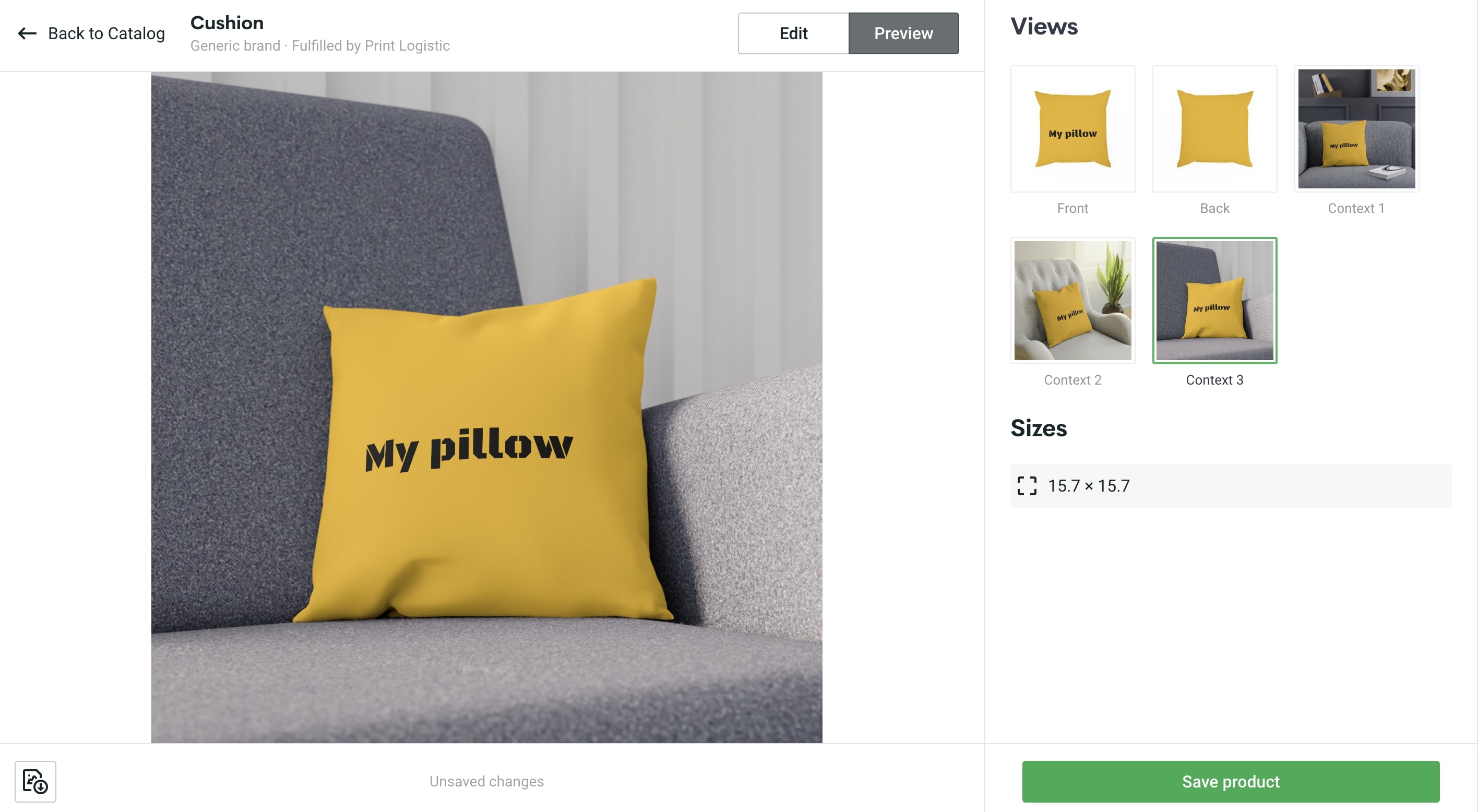 3. AOP+ - best for in-house printing

Available on live chat, tickets, email. Good reviews.
Most of the POD companies don't actually make the prints but rather contract external manufacturers. And whenever something goes wrong with your order, that's exactly whom they blame.
This would never happen with AOP+ because they are one of the very few Shopify apps that manufacture your POD orders in house. So while it is not the most popular POD app and yes, their interface could certainly use a facelift, it comes in second because they take full accountability for the end product.
Who should use AOP+?
Shopify sellers who prioritize reliability over everything else and want their entire POD process handled by one and the same company.
Why AOP+ is great:
In-house printing
Dropships worldwide
Unique product options (e.g. coasters, wall tiles)
Outstanding branding options for products and packaging (e.g. a branded heat-pressed neck label)
Additional pre-shipping quality assurance check
No minimum order volume requirements
Product discount tiers included with monthly paid subscriptions
No negative reviews in the past year
AOP+ areas for improvement:
Needs a better order tracking system
Slightly outdated mockup interface and website design
What does working with AOP+ look like?
This is how you design a product with AOP+: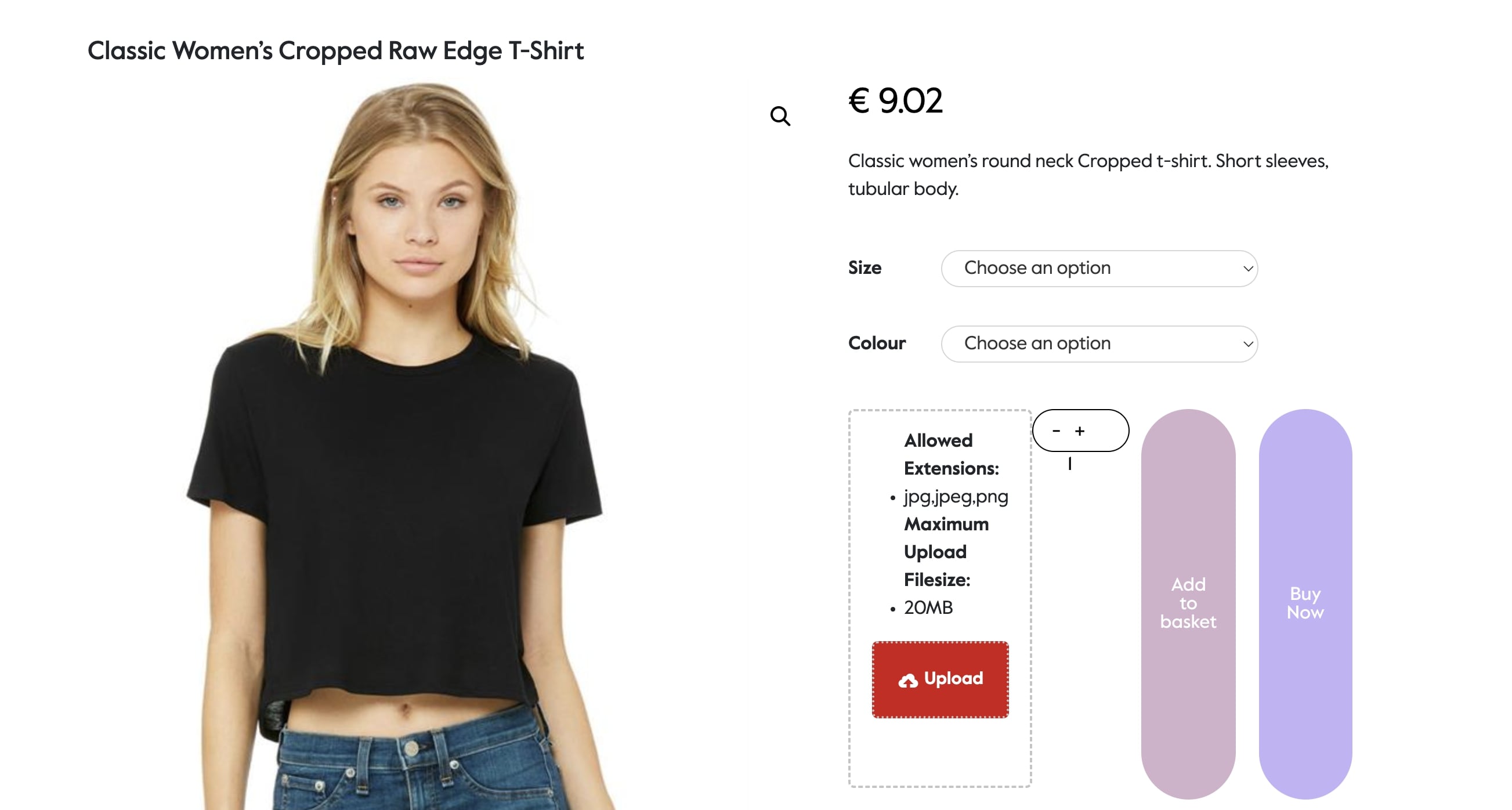 4. ShineOn - best for POD products with high profit margins

Available on live chat, email, phone. Outstanding reviews.
ShineOn picked their niche and they excel at it. It's a Shopify POD app that limits their product selection to jewelry and watches, but provides customization opportunities to turn them into works of art. Plus, they have unmatched customer support reviews and a training program to help you succeed with this unique POD angle.
Who should use ShineOn?
ShineOn is great if you're just starting out with POD or want to increase the product variety of an existing store. Running a POD business with big profit margins saves a lot of logistics headache plus ShineOn training is invaluable for new sellers.
Why ShineOn is great:
Allows running high profit margin POD business
7 business day delivery in USA and Europe
High-resolution product mockup tool
Comprehensive analytics (revenue, conversion rate, upsell and more)
Provides engravings
Individual training on app's interface and product marketing
ShineOn areas for improvement:
Limited jewelry styles and varieties
What does the final result with ShineOn look like?
Here is a ShineOn necklace product page example (these gift boxes add to the charm!):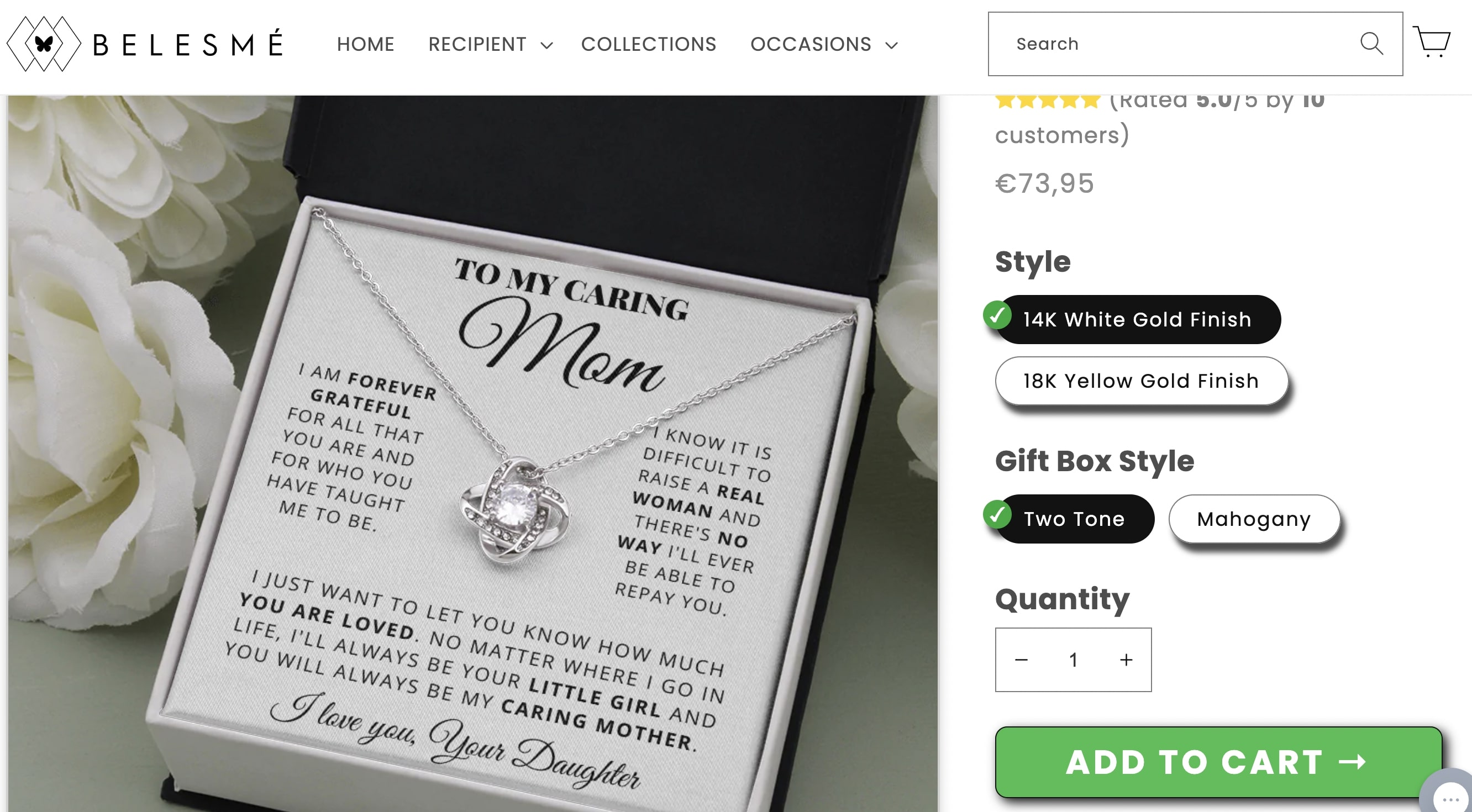 5. Apliiq - best for streetwear Shopify stores

Available on live chat (bilingual ENG/ES), email. Good reviews.
Apliiq is the leader of POD clothing providers. An unseen variety of clothes at lower and stable costs, extensive branding opportunities and solid customer support bring this app high on the list.
Who should use Apliiq?
Anyone who has or is looking to start a stylish clothing line on Shopify.
Why Apliiq is great:
Very wide printing options (includes embroidery and stitching)
Eco-friendly brand (puts emphasis on sustainable processes, all techniques are vegan-friendly)
Powerful brand customization (branded clothing tags, boxes, packaging paper)
Worldwide shipping (150+ countries using UPS)
Adds one new product every week
Only updated pricing once in two years
Apliiq areas for improvement:
Quite long shipping times (ships from USA only)
Interface could be more user-friendly
Apliiq website is quite buggy and loads very slowly
What does the final result with Apliiq look like?
Here is how you would design a POD hoodie with Apliiq: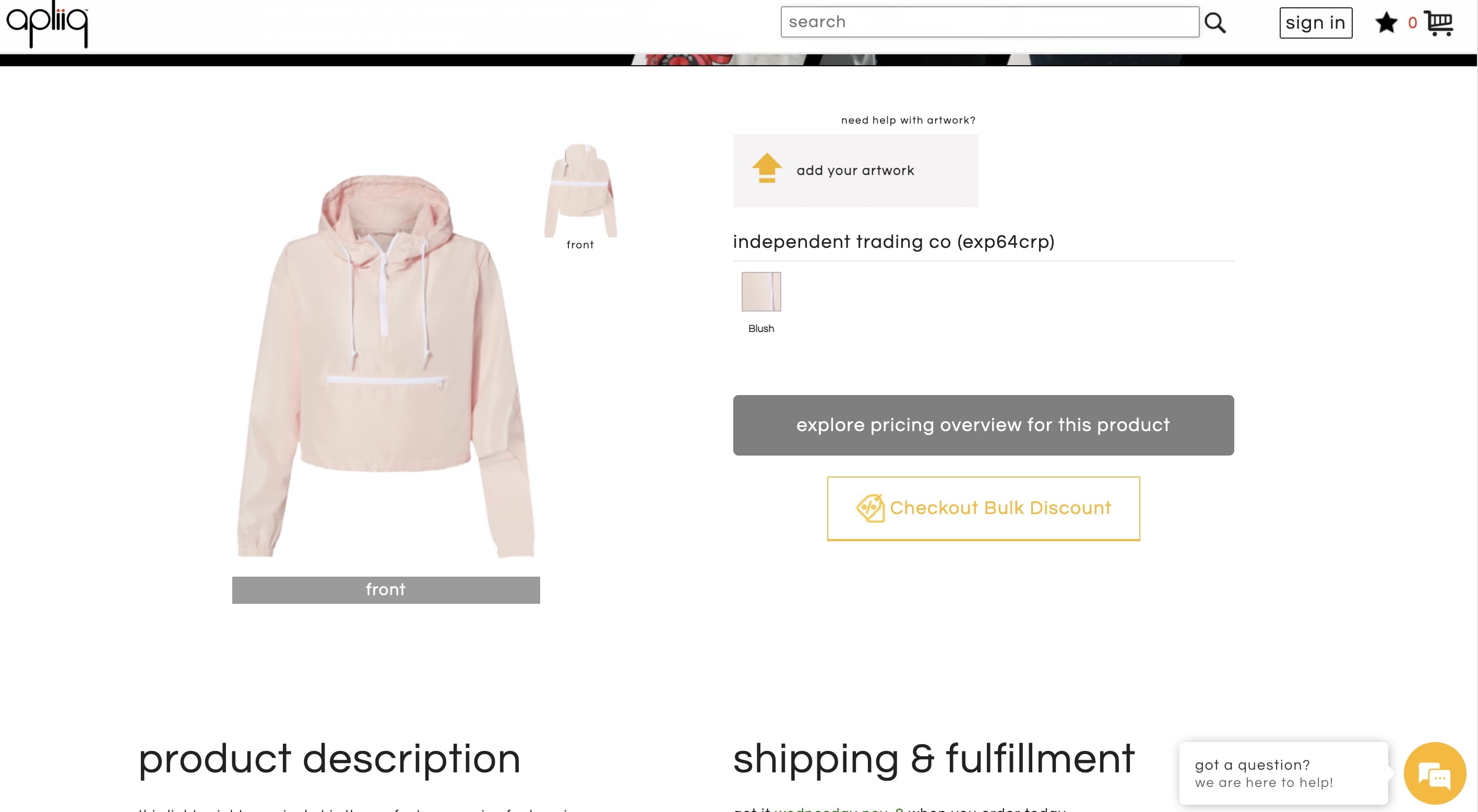 6. Gelato - Shopify POD app with largest production hub network

Available on live chat, email. Good reviews.
Gelato positions themselves as a POD service provider that supports local business, and rightfully so. They have production hubs in 33 countries, contracting local suppliers and ensuring the shipping distances are minimal.
Who should use Gelato?
Stores that have an international customer base and care a lot about carbon footprint related to shipping.
Why Gelato is great:
100+ local production hubs in 33 countries
Mockup, design and personalization tools (with premium plans only)
Shipping discount tiers on monthly paid plans
Easily apply the same design to many products
Gelato areas for improvement:
Some issues reported with shipment locations (did not ship from the closest location)
Only offers printing on front and back of the garments
Not too many products available (around 100)
Not evident what justifies $299/mo fee for the Gold plan
What does the final result with Gelato look like?
Here is a POD mug product page taken out of Gelato demo store: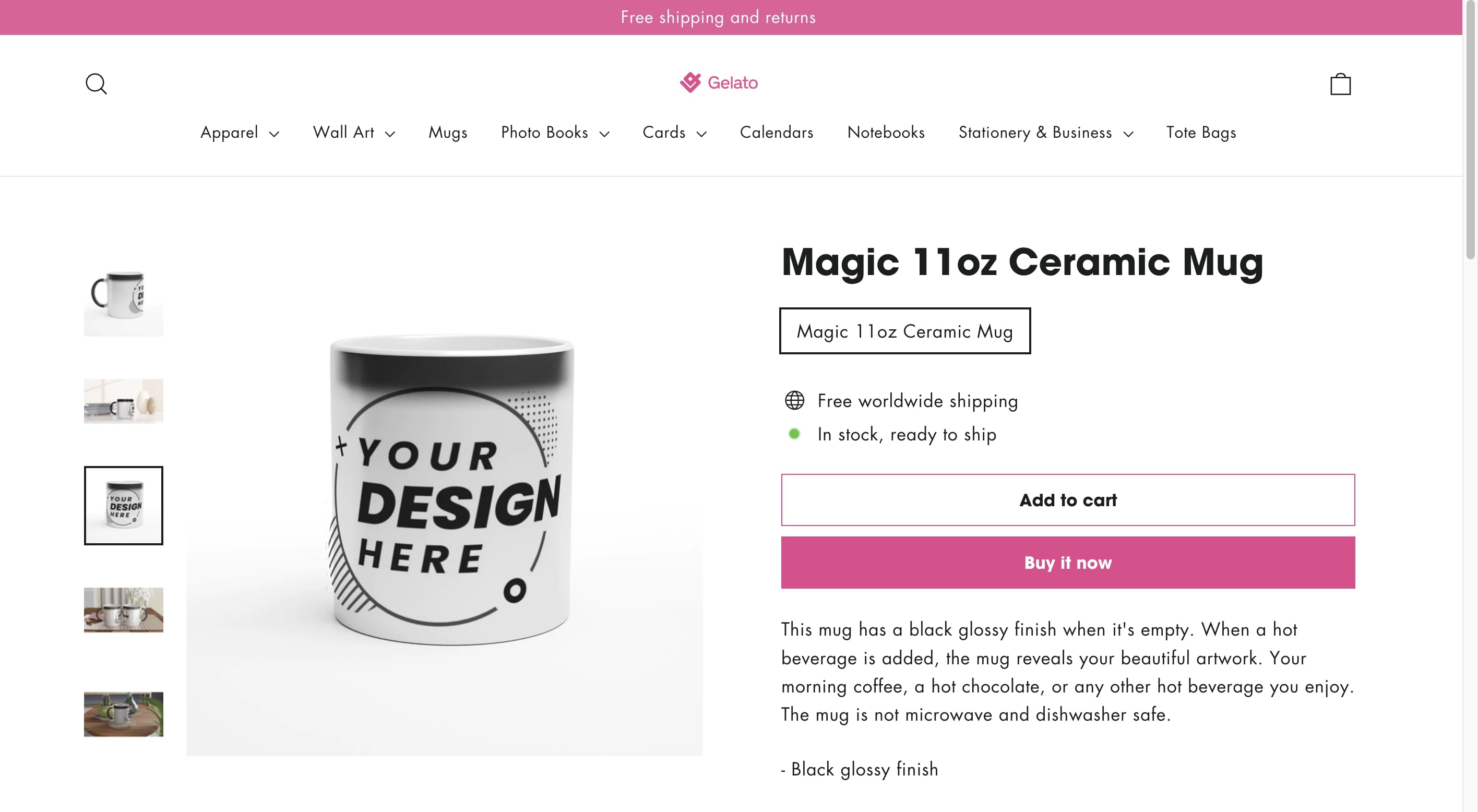 7. TPOP - best fully eco-friendly Shopify POD option

Available on tickets, email. Good reviews.
Now more than ever customers want to know where their products come from, how they were produced and what impact that has on the environment. With TPOP as your Shopify POD app, you can answer all of these questions proudly.
TPOP has everything you would expect from a great POD provider. On top of that, they put product quality and ethical production processes as their utmost priority.
Who should use TPOP?
Every seller that cares about our planet over everything else and wants to position themselves as an eco-friendly brand.
Why TPOP is great:
Rigorous compliance with eco-friendly standards on products, ink, packaging and shipping
No minimum order requirement
Branded packaging (multilingual packaging slips, pack-ins, gift stickers)
Very intuitive app interface
Bulk product creation functionality
TPOP areas for improvement:
Limited garment customization (e.g. issues printing on the front and back of the same piece of clothing)
Print longevity (reported cases of prints washing away rather quickly)
Product mockup tool isn't always precise
What does the final result with TPOP look like?
Take a look at a baby bodysuit product page from TPOP POD demo store: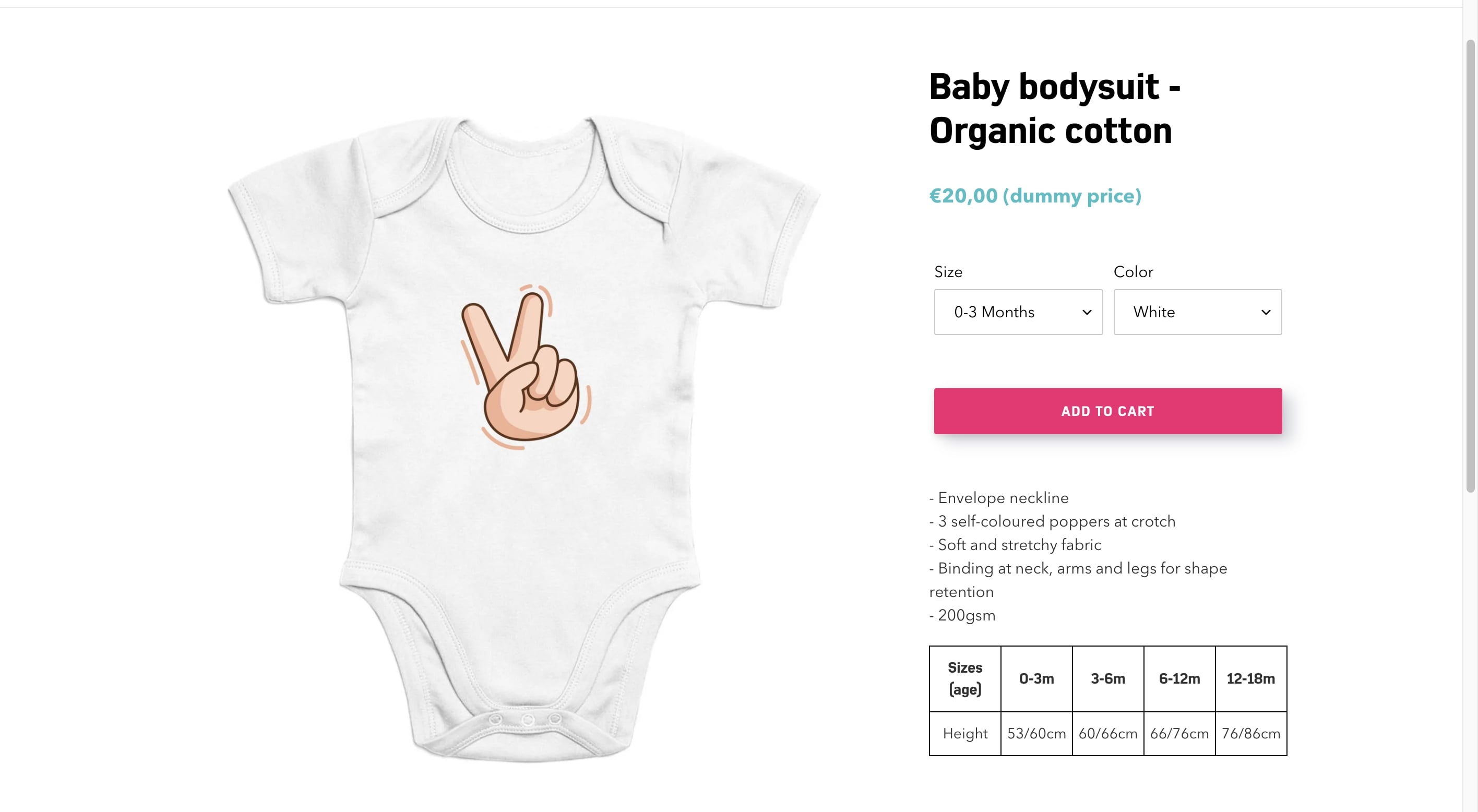 8. Creativehub - top Shopify POD app for art prints

Specializing in art prints, creativehub knows what creatives need and delivers on all bases.
Who should use creativehub?
Visual artists looking to monetize their artwork with a Shopify print on demand solution.
Why creativehub is great:
Flat rate global shipping (£7/8€/$9)
11 gallery-quality types of paper
Provides giclée for the most high-end art prints
White-label service
24-hour order fulfillment
Limited edition control
Can add certificates of authenticity to the shipment
creativehub areas for improvement:
What does the final result with creativehub look like?
Exclusive print collections created with creativehub: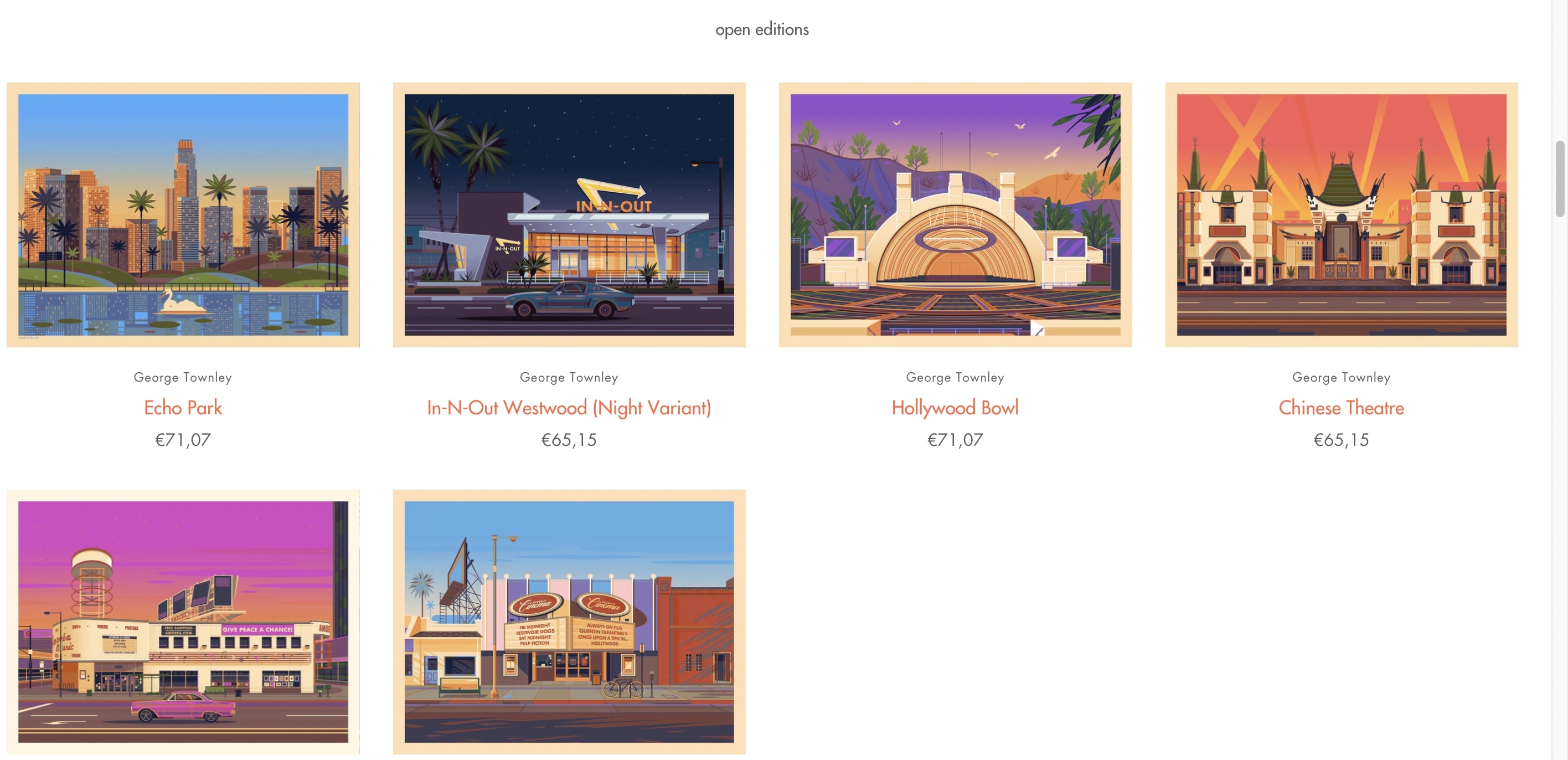 9. Prodigi - Shopify POD app that deserves more spotlight

Live chat, email. Average reviews.
Prodigi seems like an incredible Shopify POD alternative to all the bigger apps. Their features live up to the expectations and then some more, plus it's completely free. If Prodigi steps up their customer support game, they could easily compete with our top entries. For now, we're recommending it as a strong alternative if Printify or Printful don't meet your expectations.
Who should use Prodigi?
Anyone who wants a well-rounded global POD service, massive product selection and appreciates free samples.
Why Prodigi is great:
Very slick app interface and mockup generator
500k product variations
50+ printing facilities in 10 different countries
Has in-house printing facilities
Highly regarded art and photography prints
Free store setup for sellers with 20+ designs
Prodigi areas for improvement:
Customer support responsiveness
Promotion and marketing
What does the final result with Prodigi look like?
An example of a laptop case you could design with Prodigi: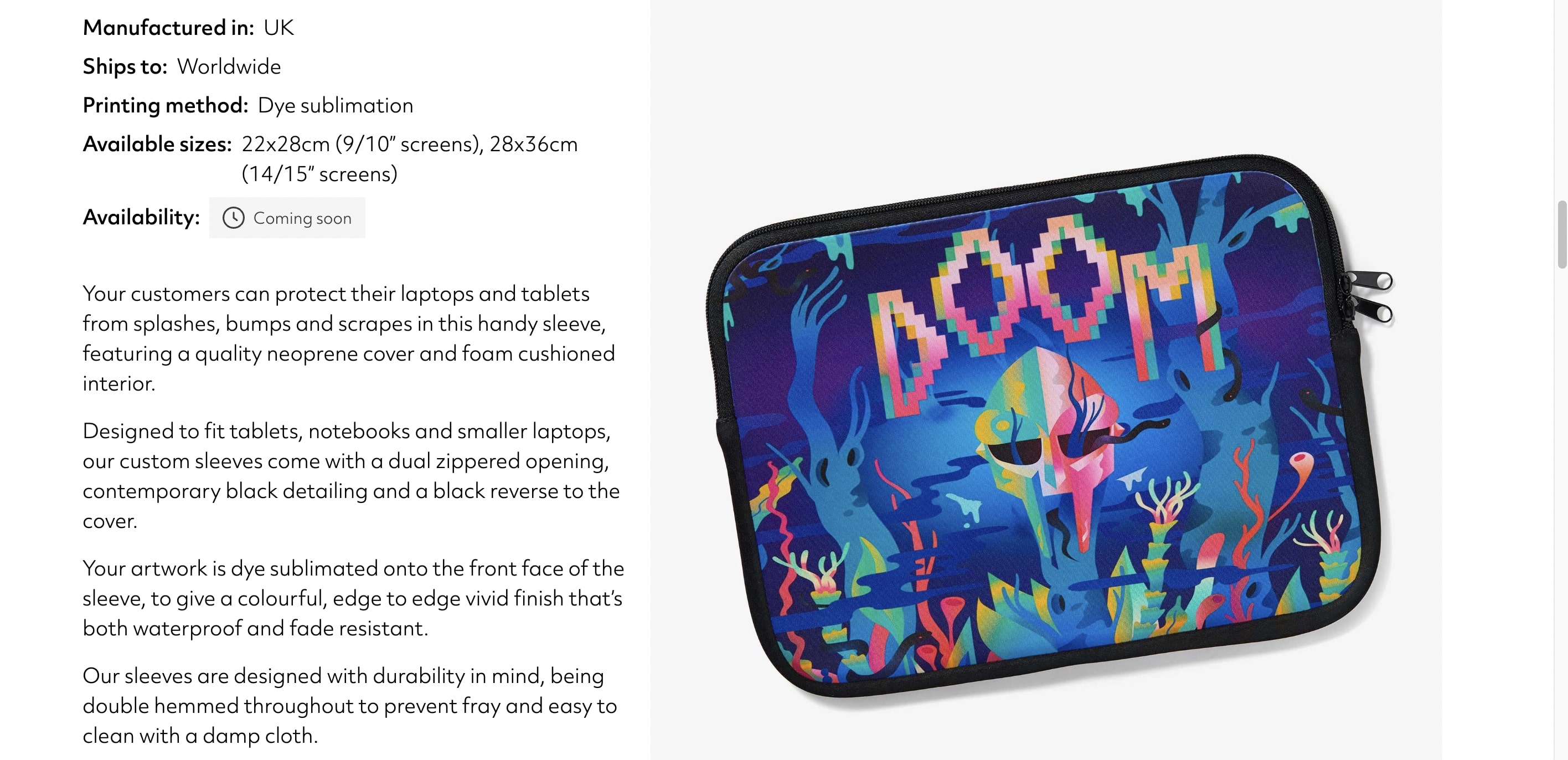 How to choose a print on demand app for Shopify
If you're still struggling to pick the one and only Shopify POD app for your business, don't worry. Look over these tips that will help you make up your mind:
In-house production vs supplier chain. In-house production of your printed products is what you would ultimately want from your Shopify POD app because it will take full responsibility for the end result. Apps like AOP+ or Prodigi manufacture in-house and could be an outstanding option for small local brands based in the same country. However, a global brand with an international client base will ensure short shipping times and avoid international shipping costs by choosing a POD app that contracts local production hubs (Printful, Gelato).
Product variety. Decide on what exactly you want to sell. It will help you narrow down your options significantly because there is a staggering variety of products available on different Shopify POD apps.
Trust and reliability. You always want customer support that's there for you, but with POD business, it's a must. Any mistake can be very costly and you want support that takes your business responsibly.
Sample order. Do it! You have to be the first to see the result, otherwise you can't honestly vouch for product quality in front of your customers. Conveniently, apps like Prodigi offer free samples.
Print on demand apps for Shopify: key takeaways
A Shopify print on demand app can make or break your POD business. That's why you can never do too much research before picking one.
We did a lot of it for you and at this point, you should have an easy time picking a reliable app with sufficient product selection and features that match your business needs.
Looking for more? Check out these articles:
Frequently asked questions
Yes, Shopify is great for starting a print on demand business. You will find some of the best options for a POD service provider among Shopify POD apps. Plus, it's a globally-recognized platform with a million perks.
If we have to pick one, we'd say that Printful is the top option for Shopify POD business. However, many other worthy competitors have emerged on the app store, so you should read our full list to pick the perfect Shopify POD app for you.