By purchasing through the links on this page, you are giving us the opportunity to earn a commission. Your support is greatly appreciated!

Squarespace is Anthony Casalena - the CEO of the brand's brainchild that started off as his personal project in 2003. The tool was then a simple drag-and-drop website builder, slowly gaining momentum by 2007 – and there has been no stopping since.

Today, Squarespace is the world's top five website builders for businesses like eCommerce to grow online.

So, if you're wondering if Squarespace is worth a try, the following in-depth review of the tool should help you take the final call.

Let's dig in!
Squarespace quick review
Here's a quick Squarespace overview in case you're in a hurry:
| | |
| --- | --- |
| 💻Ease of use | Suitable for beginners and professionals |
| 🎯Notable features | Custom templates, design tools, product merchandising, SEO, 24/7 support, POS, and analytics |
| 🛠️Apps and plugins | 36 plugins and extensions |
| 🖼️Themes | 140+ fully customizable themes |
| 💵Pricing | Starting from $16/month |
| ⭐Raiting | 8.9/10 |
What is Squarespace?
Squarespace is an all-in-one website designer and builder that aims to help creative small businesses, and solopreneurs build attractive sites.
The platform is known for its simplicity in building websites from scratch using stunning templates. Squarespace is also known for its built-in eCommerce functionalities, helping small eCommerce businesses to start their online store.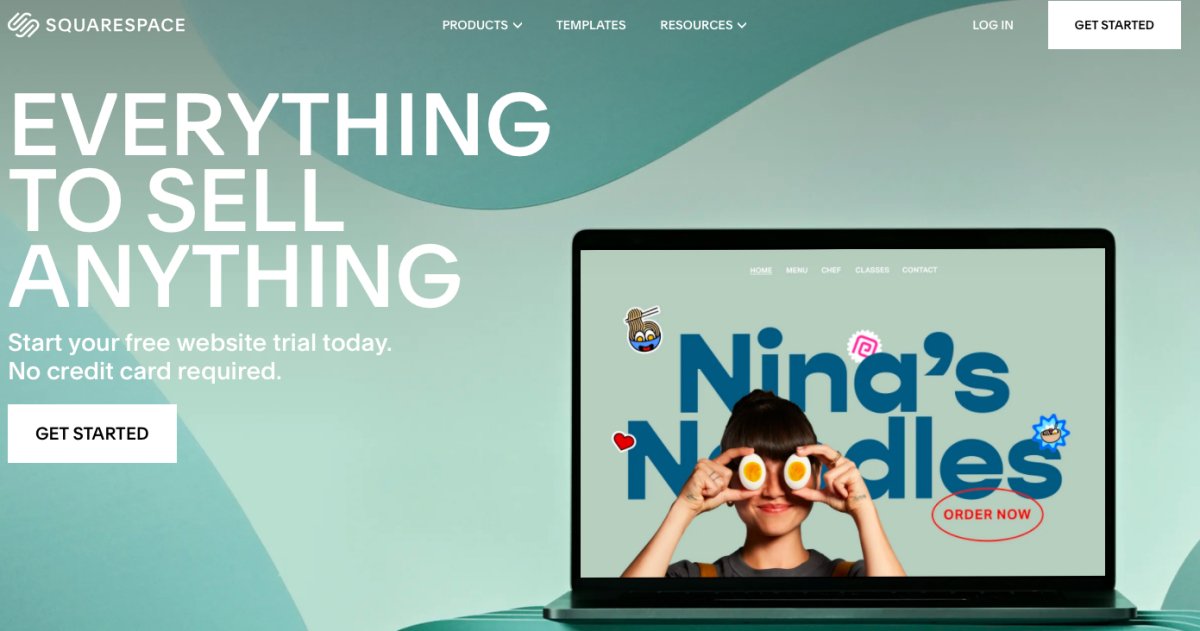 And like any tool, Squarespace has its set of pros and cons that you must know. Let's discuss them.
Squarespace review: Pros and cons
Here's a quick look:
| | |
| --- | --- |
| Squarespace Pros | Shopify Cons |
| ✔️ Clean, modern interface | ➖ No features for multi-currency selling for eCommerce |
| ✔️ Intuitive tool with a minimal learning curve | ➖ Occasional slow page loads |
| ✔️ Beginner-friendly and needs no coding skills | ➖ Limited plugins |
| ✔️ All-in-one tool for website hosting, designing, building, and marketing | ➖ Switching between themes is tedious |
| ✔️ A wide range of unique themes | |
Now if you're doing a comparison between Squarespace vs Shopify, let's take a look at some of the pros and cons of this platform.
What we liked about Squarespace:
1. A modern interface: Squarespace has a clean and modern interface that's easy for laymen to grasp. Its edgy designs give your website or online store a unique look.
2. Ease of use: The platform's drag-and-drop functionality offers a beginner-friendly experience and needs no coding skills. Also, the exclusive Squarespace Commerce features help eCommerce brands easily set up and run online stores.
3. Extensive themes: Squarespace offers over 140 unique themes for various business use cases. You could also test out the tool by choosing from a hundred free themes.
4. Design customization: Squarespace offers quick and easy customization of several design elements like images, texts, sections, page layouts, etc. The platform's latest Fluid Engine editor offers more creative control over the customization of themes, so you have a full-fledged website or online store in less time.
5. An all-in-one tool: Squarespace's all-around features, like website designing, eCommerce capabilities, website development and hosting, and marketing features, make it an all-in-one tool and value for money.
What Squarespace can improve:
Here are some downsides to using Squarespace:
1. Lack of multi-currency selling features: Compared to website builder tools like Shopify, Squarespace could include options for multi-currency selling for a more dedicated approach to eCommerce.
2. Occasional slow page speed: Users have complained of occasional page speed issues, especially on smartphones. In comparison, Shopify has launched online store 2.0 to offer increased speeds to all stores.
3. Limited plugins and extensions: You can only use about 36 plugins or extensions using Squarespace, which is extremely limited for a website builder compared to Shopify, which offers 8000+ plugins.
4. Difficulty switching themes: Users have found switching between themes tricky and time-consuming, leading to poor user experience. This disadvantage can also cost heavily for larger websites with deeper pages and vast layouts.
Squarespace pricing review
Squarespace is free for 14 days and offers four pricing packages – Personal, Business, Commerce (basic), and Commerce (advanced). So, if you're an eCommerce business, you can choose a plan with exclusive commerce tools and capabilities.
| | | |
| --- | --- | --- |
| Plan | Features | Price (billed annually) |
| Personal | Customizable templates, a maximum of two contributors, one free custom domain, extensions, 24/7 support, SEO features, etc. | $16 per month |
| Business | All of the above + unlimited contributors, advanced analytics, checkout page, professional Google email, CSS customization, fully integrated eCommerce, etc. | $23 per month |
| Commerce (Basic) | All of the above + merchandising, POS, product reviews, Facebook/Instagram selling, etc. | $27 per month |
| Commerce (Advanced) | All of the above + advanced shipping and discounting, subscription selling, abandoned cart recovery emails, Commerce APIs, etc. | $49 per month |
Points to note before choosing the perfect Squarespace pricing plan:
1. Personal plan
Suitable for solopreneurs or small businesses starting out with two or fewer contributors.
If you don't need advanced analytics to verify website performance.
For non-eCommerce businesses.
2. Business plan
Small to medium-sized businesses with many contributors that need no in-depth eCommerce features.
For advanced analytics on website performance.
Businesses needing an integrated Google professional email.
For CSS and JavaScript customizations.
3. Commerce (Basic) plan
Small eCommerce businesses on a budget needing limited functionalities.
If you don't need advanced eCommerce functions like subscription selling, advanced shipping, or tailored Commerce APIs.
4. Commerce (Advanced) plan
Tailored for eCommerce business use cases like abandoned cart recovery email reminders.
For advanced shipping (setting dynamic shipping rates or offering free shipping) and discounting (auto-qualifying orders for discounts).
Building custom eCommerce integrations and APIs.
For selling product or service subscriptions.
Is Squarespace easy to use?
With its extensive, ready-made templates, customizable themes, and simple interface, Squarespace is extremely user-friendly.
Its intuitive, mobile-optimized drag-and-drop functionality is perfect for beginners and small businesses who want to save time from learning coding or designing website components.
Squarespace needs zero coding or design skills. Meanwhile, the platform also makes it extra flexible for individuals who want to try their hands at coding and use custom code. They can refer to the platform's in-depth guides and video tutorials for help.
An in-depth look at Squarespace features
What makes Squarespace a leading website builder? It's incredible, abundant features!
Let's look at its most noteworthy features before you plan on testing them out:
1. Customizable website templates
Squarespace's website templates make website designing faster and more efficient with customizable templates that fit every need.
You can customize your website's look at the click of a button and take control of your page layouts, images, buttons, etc., without any coding.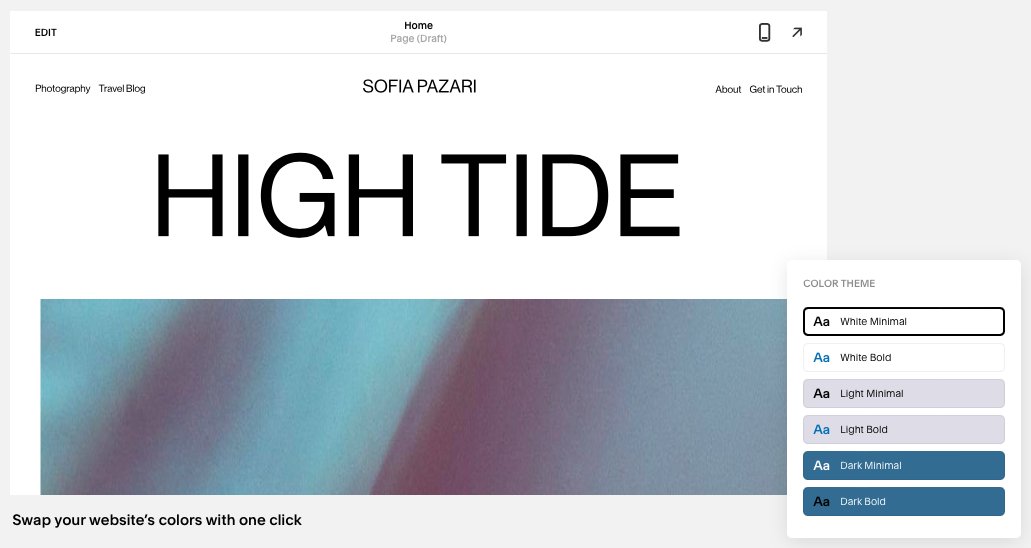 2. Design tools
Access custom color palettes, Google fonts, free HD images using Unsplash, easy built-in photo editing, animation options, and more.
The newest Squarespace version - 7.1, offers more advanced design and style-tweaking options, better fonts, introduces image blocks, etc., with less need to switch templates.
3. Product Merchandising
Use the drag-and-drop sorting tool, product tags, and categories to organize products easily. Create rich product offerings and displays and suggest relevant products to increase online sales.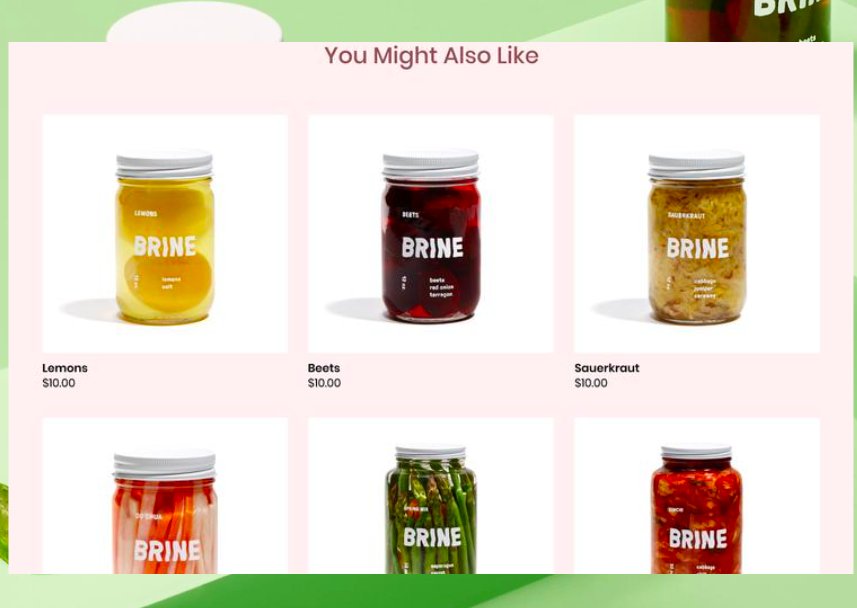 Squarespace also offers mobile-optimized eCommerce templates created by experienced designers.
4. Pre-built layouts
Need ready-to-use structures for specific website pages like Contact Us, About Us, Blog section, Portfolio, etc.? Squarespace has pre-built layouts for web pages with elements, letting you quickly create custom professional layouts.
5. The Squarespace app
You can now edit and manage your Squarespace website or online store on the go using the Squarespace mobile app on Android or iOS. From editing pages to adding new images and making style changes, you can do it all right on your mobile app.
6. Sell Products, Services, Subscriptions, Digital Content, and Merch
Use rich display options to showcase your products through your Squarespace site, let visitors browse products, and check out seamlessly.
Also, sell services and subscriptions easily with your Squarespace online store to grow your e-business further and make a mark. What's more? You can also sell custom merch and digital content like courses, music, eBooks, etc., and let Squarespace help you manage inventory and product merchandising.
7. Secure checkout on your domain
Squarespace directs your customers to a secure checkout page on your domain. For example, the URL can look like: "https://yourdomain.com/checkout." This way, your customers are not redirected to a default generic checkout page, ensuring a consistent shopping experience.
5 best alternatives to Squarespace
If you need more customizations and a wider range of extensions, you may be considering alternatives to Squarespace.
So here are the five best Squarespace alternatives to try:
Wix
Shopify
Weebly
BigCommerce
Webflow
Let's get to know them in detail:
1. Wix
Wix is a popular Squarespace alternative. It's widely known for its easy drag-and-drop editor and user-friendly interface.
Compared to Squarespace, Wix has a more advanced ADI (Artificial Design Intelligence), capable of suggesting layouts that fit your use case. Wix has a forever-free plan to build and host a Wix-provided domain website.
Wix is perfect for eCommerce businesses, too. It offers vast features, like multi-channel selling, POS, advanced inventory management, etc., to set up and sell using an online store.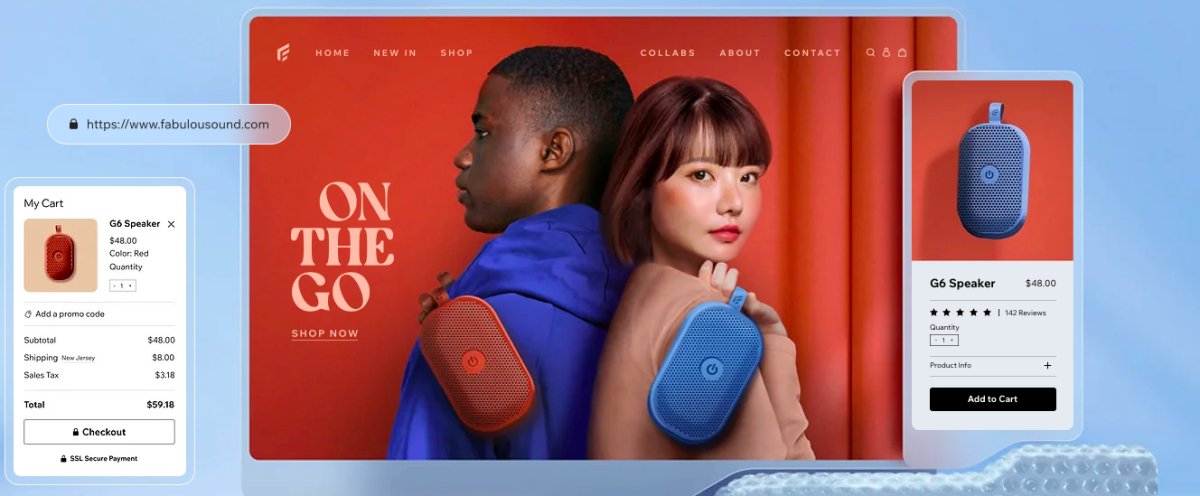 2. Shopify
Shopify is the best alternative for Squarespace if you're an eCommerce business owner or marketer. Shopify's next-level eCommerce functionalities, like inventory management, checkout processes, payment gateways, and more, make it the most sought-after website builder for eCommerce.
Shopify has affordable plans starting from $29/mo for annual payments. Compared to Squarespace's limited number of plugins, Shopify, on the other hand, has an extensive plugin and extension library of 8000+ apps.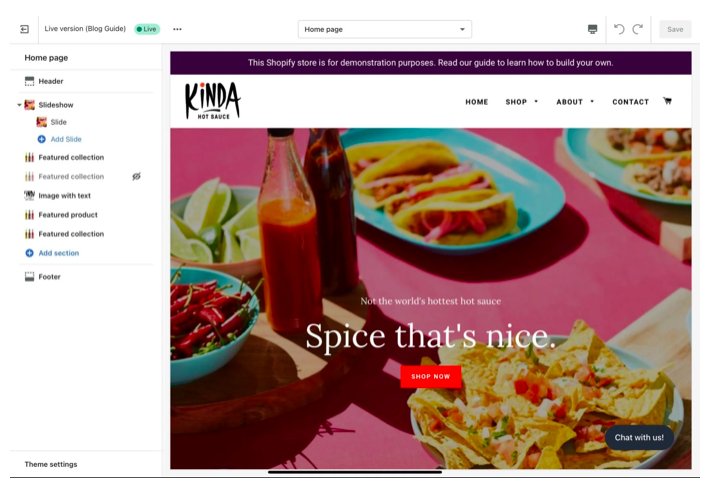 3. Weebly
Weebly, powered by Square Online, is popular among solopreneurs with no coding or design skills but who need an advanced yet affordable solution to website building.
Weebly's features include an easy drag-and-drop builder, stunning visual elements like maps, images, and videos, SEO, a fully integrated shopping cart and safe checkout, inventory tracking, and powerful customizations, to name a few.
The tool is cheaper compared to Squarespace, with plans starting from as low as $10/mo.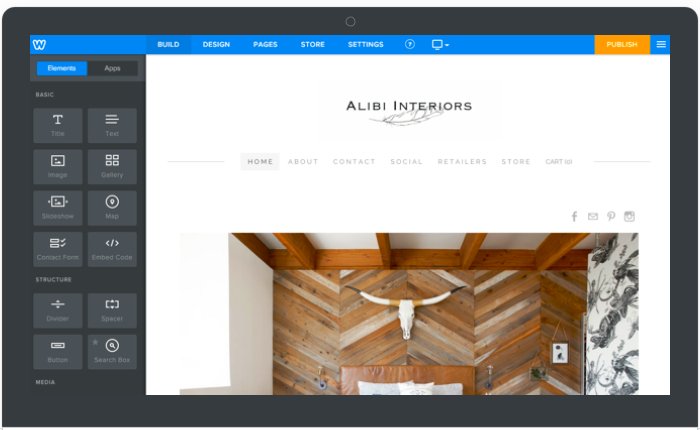 4. BigCommerce
BigCommerce is an enterprise-level online storefront builder that needs minimal design and coding skills.
BigCommerce Page Builder allows you to create and edit pages for your eCommerce store using its drag-and-drop visual editing tool. It offers advanced SEO tools and various integrations to scale your online business.
The pricing starts from $29.95/mo, which can scale based on the business size.

5. Webflow
Webflow is a no-code website builder with outstanding visual design prototyping. It's perfect for businesses without in-house designers who want to produce highly responsive website designs.
Webflow has an intuitive drag-and-drop interface and a CMS to design hundreds of pages simultaneously.
However, one major drawback of Webflow is its limited functionalities for eCommerce and complicated pricing plans.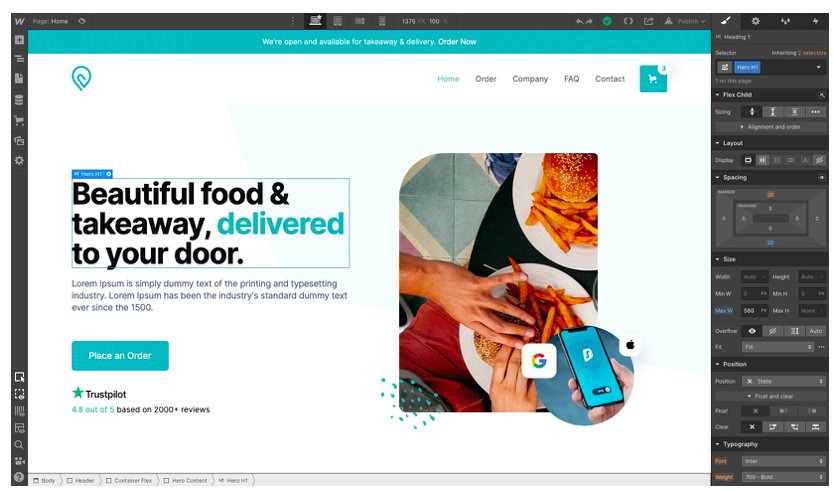 How to start your eCommerce store on Squarespace? [Easy Steps]
Follow the easy steps below to sell on Squarespace in 2023:
1. Sign up for a Squarespace account.
2. Choose an eCommerce website template to get started on the website builder.
3. Add products to sell by including product images and descriptions and enable collection and display of product reviews.
4. Connect a payment processor to collect merchant payments.
5. Find and add a shipping option that suits you.
6. Publish your online store and promote it by connecting your social accounts and adding Squarespace's Email Campaigns.
7. Use Squarespace analytics to track website and marketing strategies performance.
Read this guide for more help setting up your online store using Squarespace.
5 must-have Squarespace extensions we recommend using
Here are five Squarespace plugins and extensions you can try for an extra powerful website:
1. TinyIMG

TinyIMG helps optimize web page images to improve site speed and SEO performance. You can reduce file size without compromising image quality.
It also generates JSON-LD Schemas for your entire store and each product and blog post, thus helping Google find information about your e-store through rich snippets.
2. SuperGRID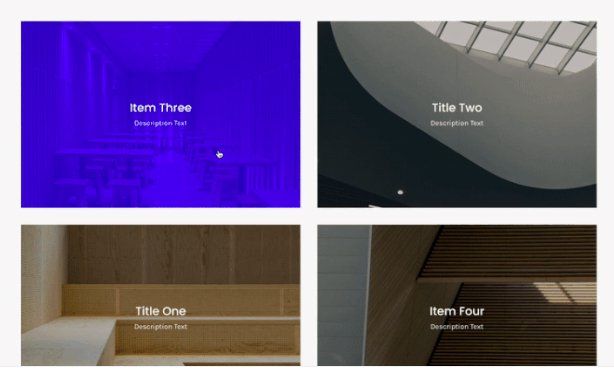 SuperGrid is a gallery plugin from Ghost Plugins that is useful for businesses needing a grid-like layout for displaying product graphics or videos.
3. Countdown Timer by Elfsight

A countdown timer is a great add-on to create product urgency and scarcity. Elfsight's Countdown Timer is perfect for your Squarespace webpage having limited-time deals or flash sales.
4. Smart SEO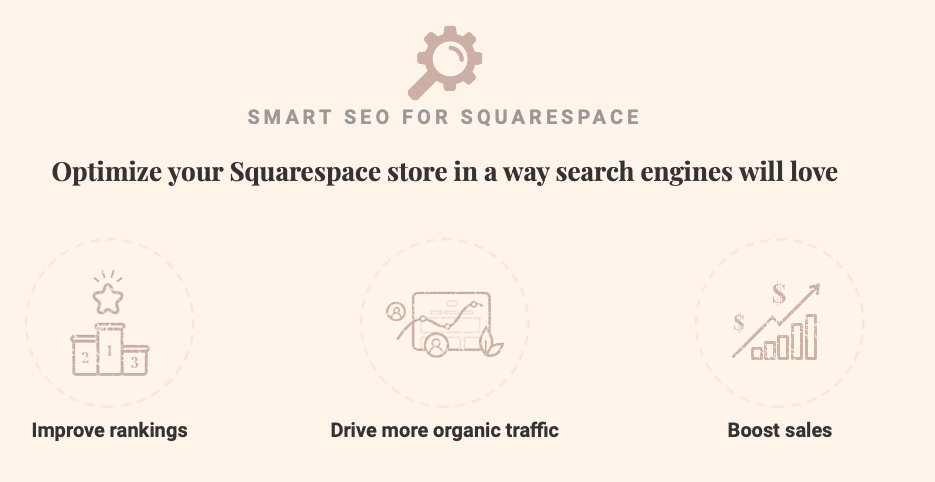 Smart SEO is a free plugin to help you get your products ranked higher on the search engine results page. This plugin can double the returns of Squarespace's existing SEO capabilities.
5. AfterShip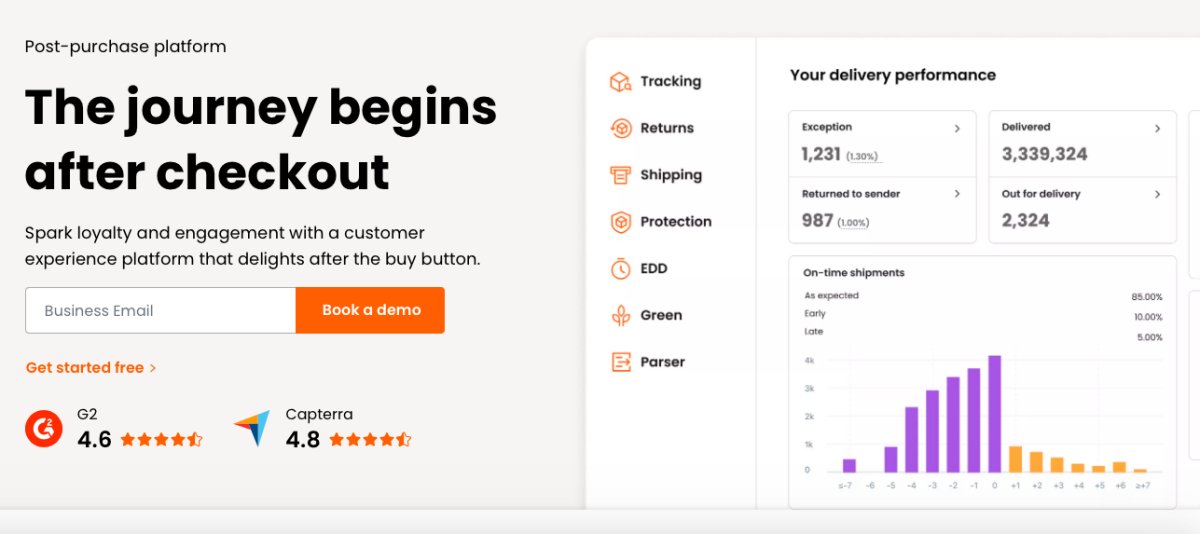 AfterShip is a useful Squarespace extension for businesses shipping online orders. It indicates shipment tracking and provides status updates on all orders.
Conclusion: Squarespace review
Squarespace is an outstanding, beginner-friendly website builder with abundant features for small businesses to flourish online.
The platform's eCommerce features have recently grown in popularity thanks to its sleek and modernized templates and an intuitive drag-and-drop editor that needs zero coding knowledge.
It's safe to say Squarespace offers the best value for money due to its end-to-end functionalities, from designing to post-purchase analytics.
Curious to read more? Check out these articles: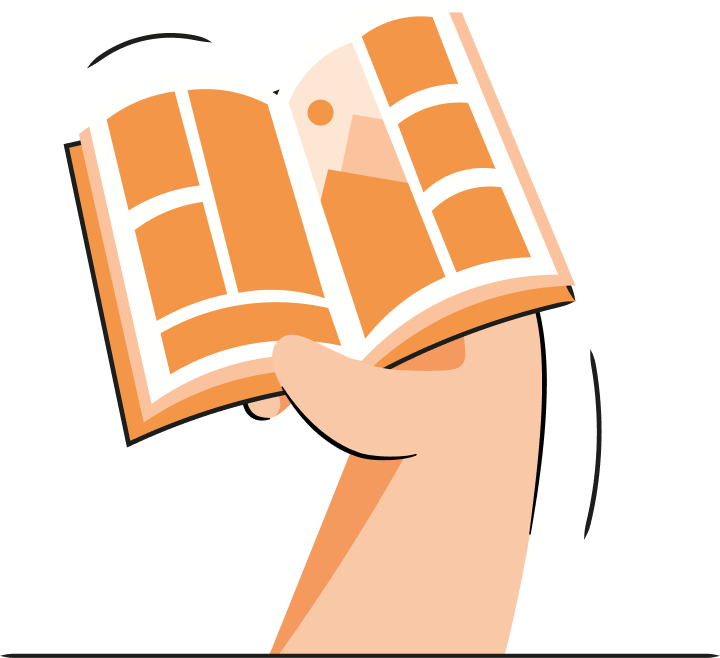 Frequently asked questions
Yes, Squarespace is a good platform to build smaller websites and online stores with a modernized look using sleek templates.
If you're not selling products or services on your website, it is still possible to make money off your Squarespace site by promoting affiliate products, asking for donations, or offering members-only content.
Yes, Squarespace is great for SEO. It offers plenty of tools and extensions for SEO while covering ninety percent of the SEO checklist required for keyword ranking.
Squarespace is one of the easiest, no-code website builders. The drag-and-drop functionality lets beginners with zero coding knowledge build a fully functioning website from scratch in no time.
Squarespace suits small businesses needing to scale and grow quickly the best. But a few big brands, like HBO Documentary Films, Lyft Business, WeWork, etc., also use Squarespace for their websites.