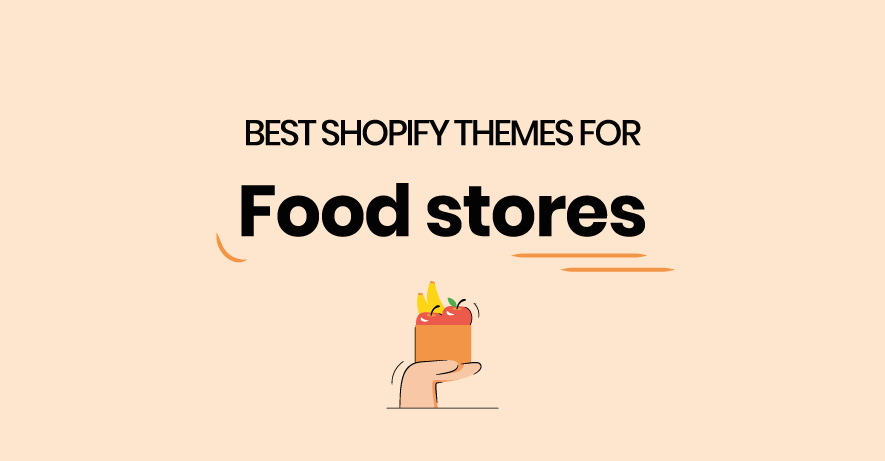 By purchasing through the links on this page, you are giving us the opportunity to earn a commission. Your support is greatly appreciated!

Even in an increasingly digitized world, we are still used to mostly purchasing food items in real life stores. But the tide is slowly changing, as food and drinks stores are going online – and many of them choose Shopify. For example, the world's strongest coffee seller Death Wish Coffee uses Shopify for their website. Oatly does so as well.

Shopify's popularity comes with some disadvantages though – there are hundreds of themes to choose from, and differentiating between them can be really hard.

That's why we've compiled the list of 9 best Shopify food themes. In this article, we also explain how we chose those themes and what you should look for when you choose a Shopify theme for your food or drink store.
What to look for in a Shopify theme for food stores?
When it comes to the Shopify store themes, there are certain components that make them great. Here's some of our criteria for choosing the best Shopify theme for food stores:
Mobile-friendly design. People shop on their phones and tablets – this trend is not changing. Check all of the themes' demos and make sure they function as good on mobile as they do on desktop.
Small/large store layout. Not all Shopify themes are equipped to handle large inventory. Just as not every theme is created for brand storytelling. Depending on the size of your business, make sure to choose the right theme.
User-friendly navigation. Keep the navigation menu as simple as possible – so that people find all your products easily. Less clutter can really help you decrease bounce rate, increase site speed, and keep people on your website longer.
Homepage video availability. Part of a good eating experience is seeing how the food is presented. An attractive video right on the homepage can be a subconscious deciding factor for a potential buyer.
9 best food Shopify themes for 2023 – our detailed list:
As we've already said, there are tons of Shopify food themes to choose from. So which ones did we put on our list? Here they are:
A tasty-looking Shopify food theme is great. Still you need to fully optimize your store for fast speeds and organic traffic growth.
Let's look at each of the themes in more detail.
1. Brooklyn – free & minimal Shopify theme for food stores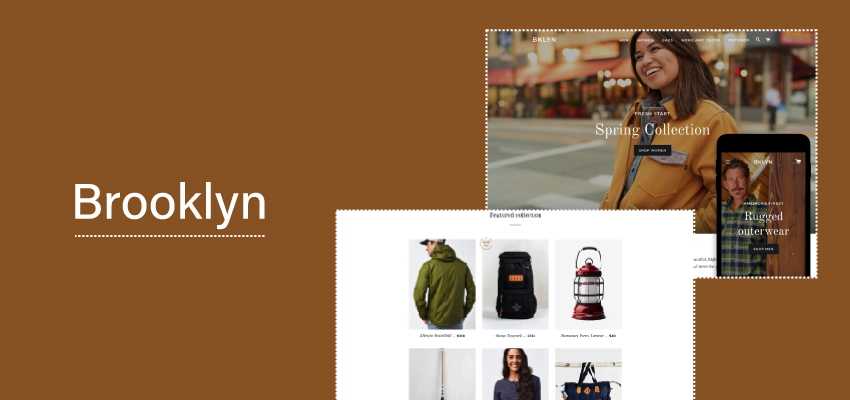 Compatible with Shopify 2.0:
Brooklyn Shopify theme keeps it simple and bold – perfect for getting your food or drink brand out there. This theme is best suited for smaller stores with less products.
Right off the gate, Brooklyn offers a wide homepage video, image, or a slideshow – depending on your preference. This feature is especially great for a food-focused shop because food presentation is half the fun of eating. You can also display your featured collection, offer a newsletter signup, and write a blog.
OLIPOP soda shop uses Brooklyn Shopify theme.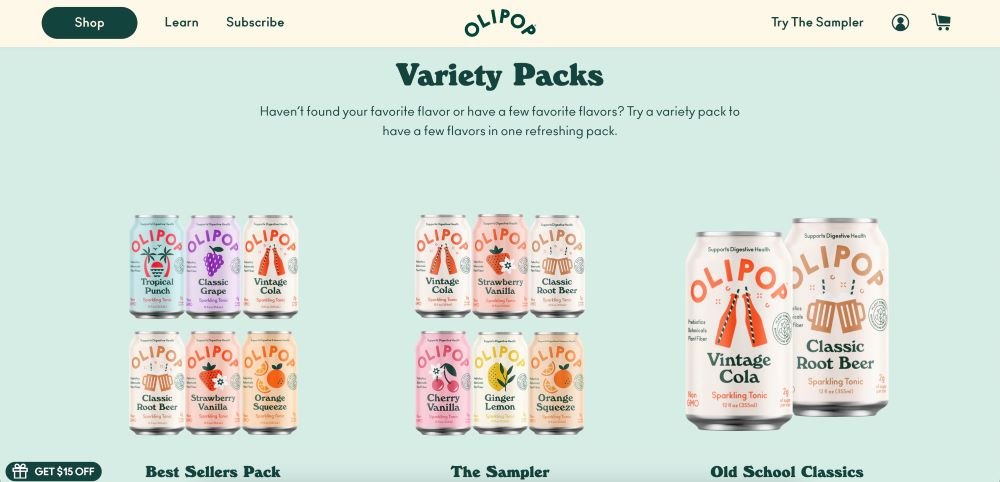 Main features:
Mobile optimized/responsive
Header slideshow
Dynamic product grid
Slide-out cart
Home page video
2. Venue – feature-packed Shopify theme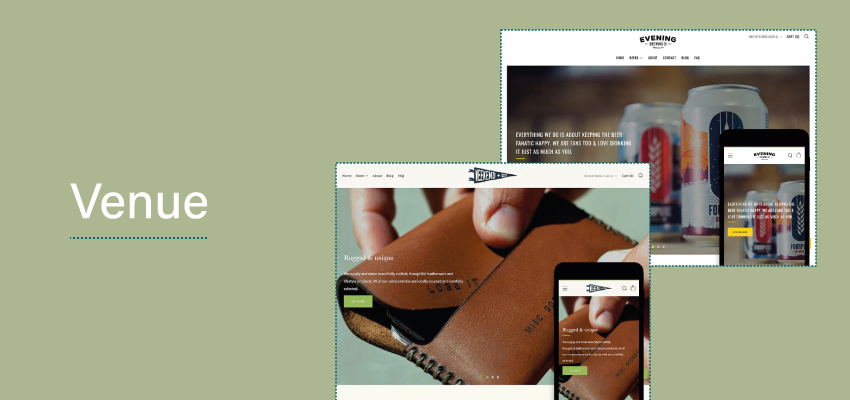 Morning, Evening, Weekend, Twilight
Compatible with Shopify 2.0:
Venue Shopify theme is stylish and packed with tons of useful features. This clutter-free theme is also great for brand storytelling, whether you're selling beer, meat, or cupcakes.
With Venue, you can build the exact shop that you want using smart and easy to use drag-and-drop sections and blocks. This theme is powerful and we couldn't cover every feature it offers, but some of the highlights are a quick shop feature, age verifier, EU translations, store locator, and more. It also offers a wide header video/image possibility, testimonials section, and lots of space for visual storytelling.
Barbeque at Home shop that sells fresh meat products uses Venue Shopify theme for their food store.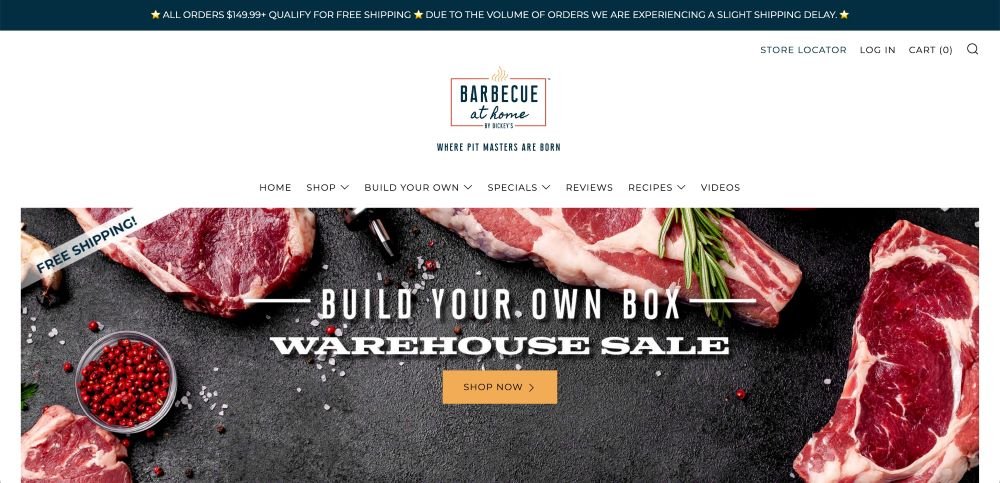 Main features:
Mobile optimized/responsive
Quick shop
EU translations
Age verifier
Promo popups
Blog
In-store pickups
3. Pacific – Shopify food theme for large stores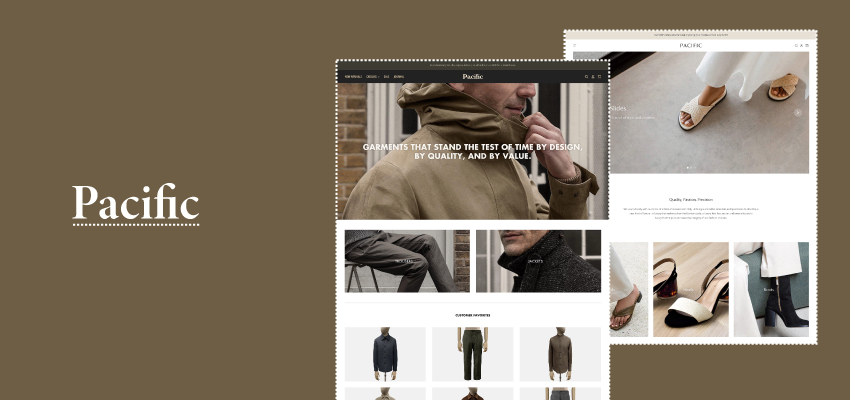 Compatible with Shopify 2.0:
Pacific is a good-looking Shopify theme meant for large inventory stores. It's versatile and easily customizable, so you can design the food store of your dreams.
This theme offers handy navigational features like multi-column menu with product images, a multi-tiered sidebar menu, and site-wide promotion titles. Pacific allows for flexible page customization with its drag-and-drop feature. This way, you can design a unique store with no coding knowledge whatsoever.
A bold food store Partake Foods uses Pacific Shopify theme for their website.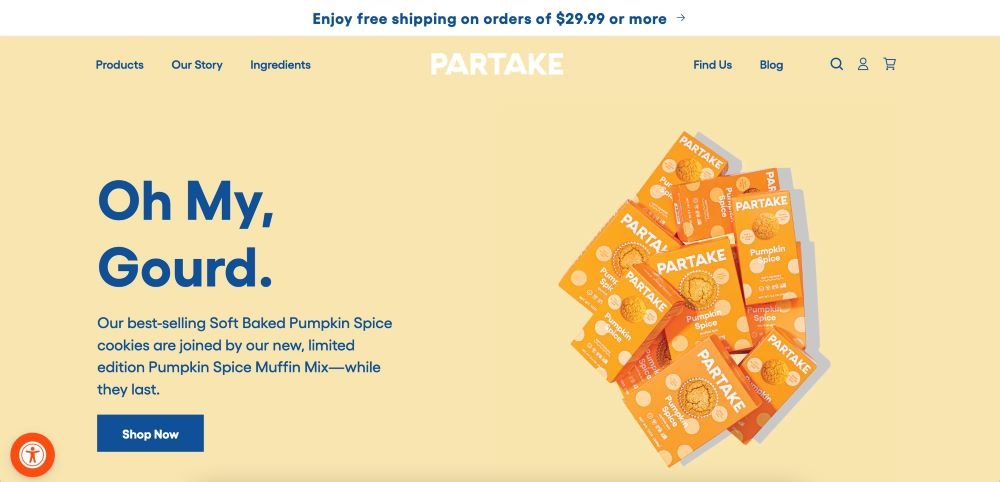 Main features:
Mobile optimized/responsive
In-menu promos
Promotional blocks
Blog posts
Optimized for editorial content
4. Flow – minimal Shopify theme for drinks and food stores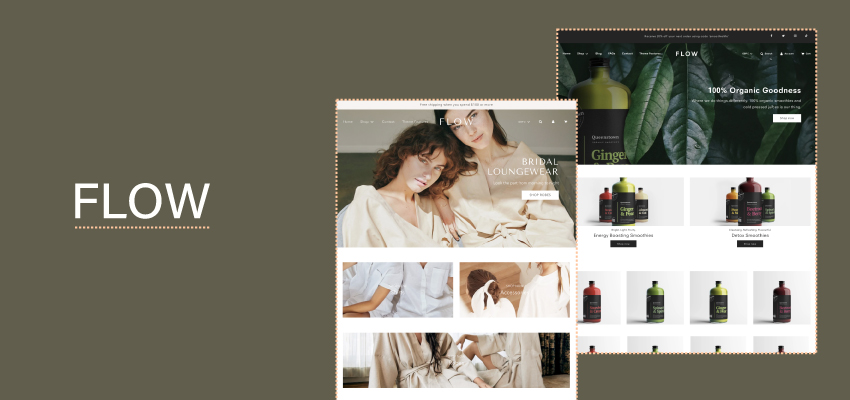 Byron, Queenstown, Cannes
Compatible with Shopify 2.0:
Flow Shopify theme is minimal and it puts your products front and center. It's a stylish theme, perfectly fit for bigger food stores that also allows you to beautifully showcase your brand.
This theme is easily customizable and allows you to do a lot when it comes to layout and design. There are a lot of features that you get with this Shopify theme, like an age verifier, newsletter popup, quick shop, back-in-store alert, promo banners, product filtering and sorting, and much, much more.
A famous kombucha seller June Shine uses Flow for their bold and colorful website.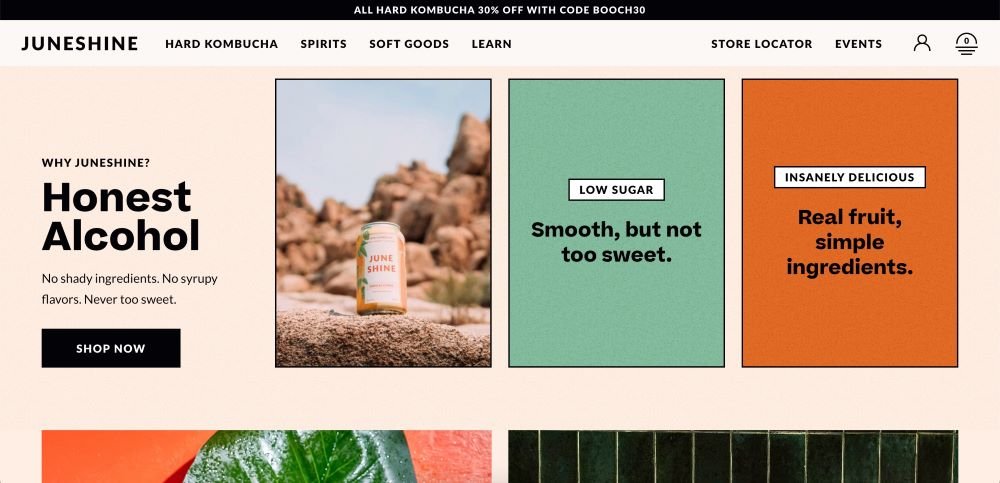 Main features:
Mobile optimized/responsive
Age verifier
In-menu promos
Quick view/quick shop
Flash sales
Ingredients and nutritional information
Blog
5. Envy – bold Shopify theme for food and drinks stores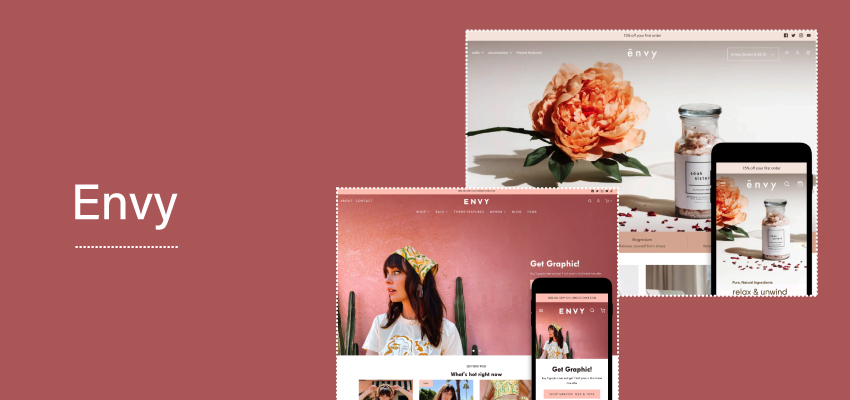 Stockholm, Oslo, Copenhagen, Gothenburg
Compatible with Shopify 2.0:
Envy Shopify theme is modern and offers a bold look for your food or drinks brand. It's designed for high-volume stores that process a large number of transactions but could also accommodate smaller stores.
This theme is easily customizable with drag-and-drop sections and blocks, allowing you to match the layout and design with your brand vision. You can display wide, high-quality images and videos on your homepage, and tell a story through visuals and text. Envy offers tons of features that help with marketing, sales, product discovery and merchandising, like quick buy, back-in-store alerts, promo banners, animation, and much more.
Jimmy Joy store specializing in nutritionally complete meals uses Envy Shopify theme for their website.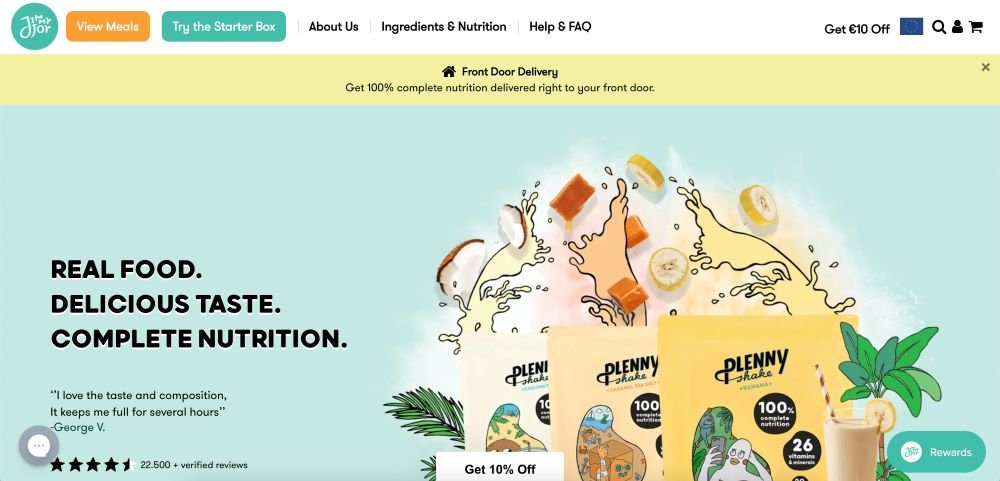 Main features:
Mobile optimized/responsive
Age verifier
Shop the Look section
In-menu promos
Flash sales
Quick buy
Product filtering and sorting
6. Parallax – Shopify food theme with a creative spin on scrolling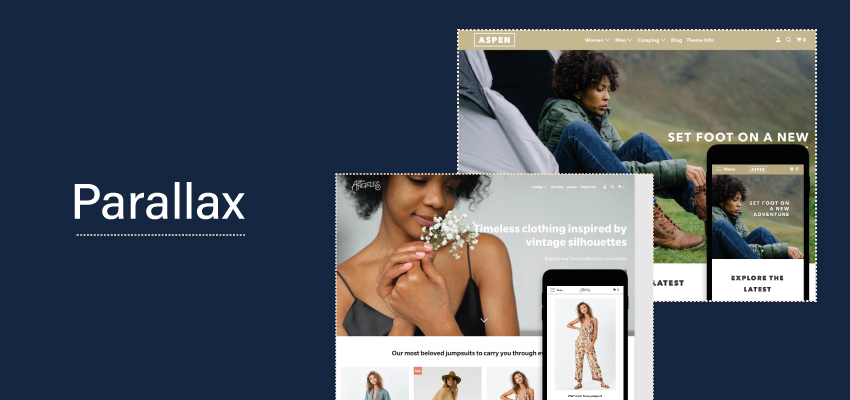 Aspen, Madrid, Vienna, Los Angeles
Compatible with Shopify 2.0:
Parallax Shopify theme urges you to get creative with the famous Parallax scrolling effect.
This theme offers full-width images, slideshows, video, testimonials, featured promotions, and more. The most distinct feature is the scrolling effect that gives your store's long-format home page a creative edge. Besides that, Parallax offers great sales features that help shorten the time it takes for the customer to finalize the transaction.
Gruvi alcohol-free drinks shop uses Parallax for their website.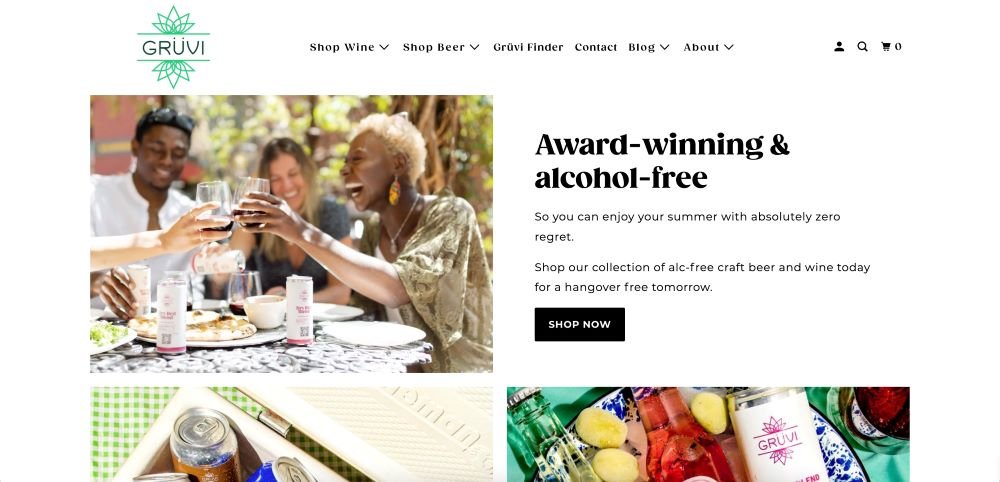 Main features:
Mobile optimized/responsive
Quick shop
Distinctive scrolling effect
Featured promotions
Animation
Enhanced search
7. Oars – highly customizable Shopify theme for diverse products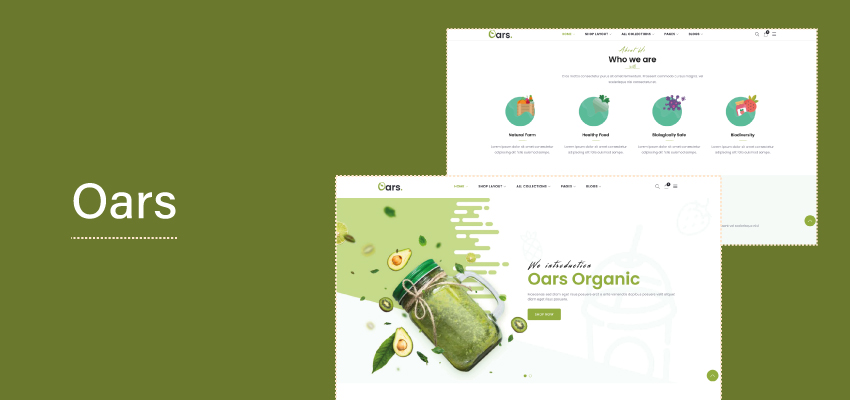 Compatible with Shopify 2.0:
Oars is a multipurpose Shopify theme that allows you to customize your food store to no end with its drag-and-drop layout builder.
We can say that Oars theme is not for minimalists. It's big, it's bold, and it's full of features. This theme offers unlimited color choices, includes all Google fonts, allows you to easily configure background color for a header, content sections, footer, and more.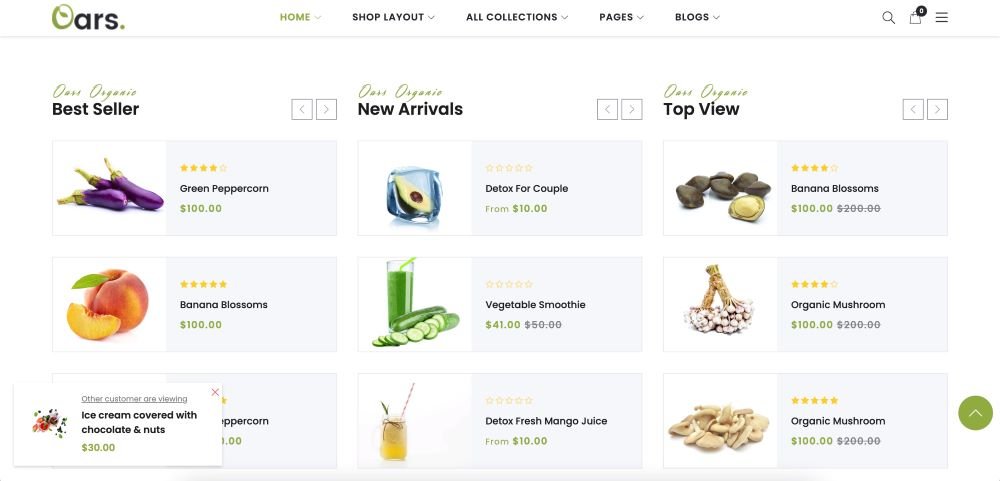 Main features:
Mobile optimized/responsive
Unlimited mega menu
Ajax add-to-cart & wishlist
Recently viewed products
Smart search
Newsletter popup
Multi currency
8. Vegist – a food-focused Shopify theme with lots of features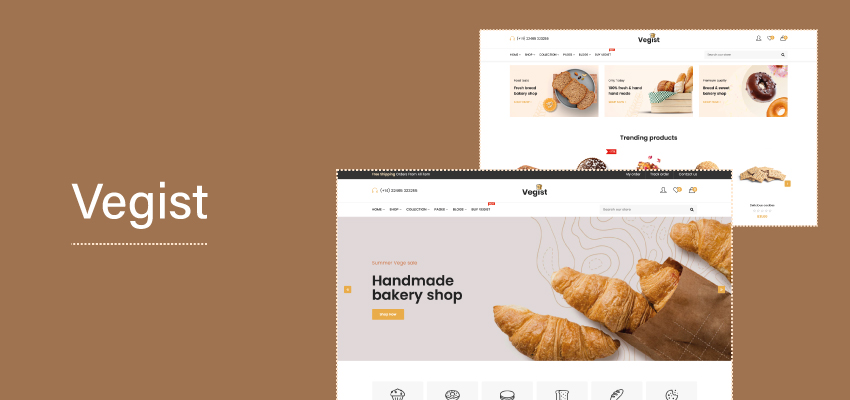 Compatible with Shopify 2.0:
As the name suggests, Vegist Shopify theme is a perfect choice for those seeking themes for their organic food stores and supermarkets.
Vegit offers advanced search option, product filtering, quick view, sticky cart, Ajax add-to-cart, and more features. With this theme, you can customize the layout and design perfectly to your liking; for example, you can choose between several header and footer variations.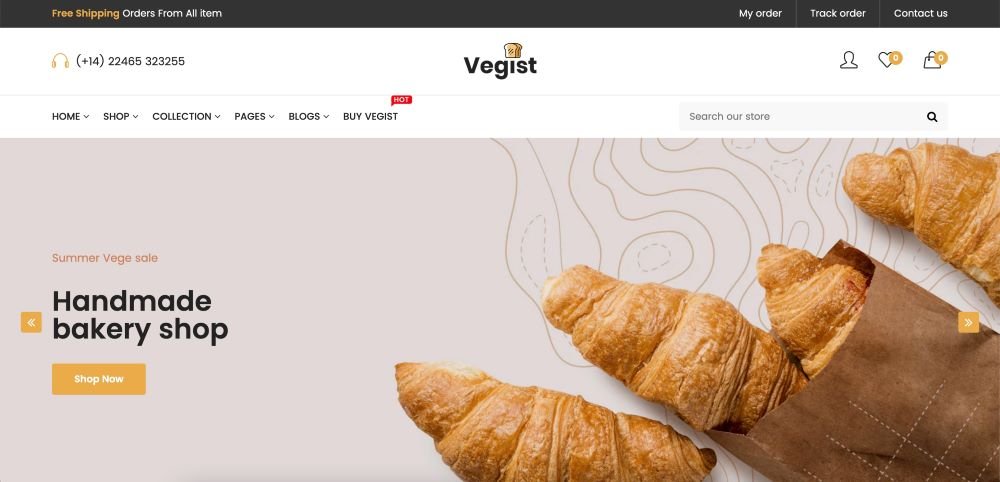 Main features:
Mobile optimized/responsive
Newsletter popup
Product filtering
Compatible with all browsers
Lazy image loader
Mega menu
Ajax add-to-cart
9. Organica – multipurpose Shopify theme with focus on organic food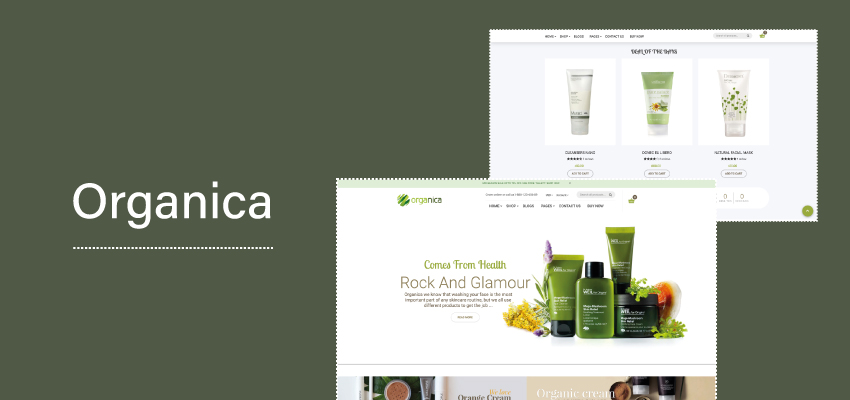 Compatible with Shopify 2.0:
Organica Shopify theme is here to bring you a fresh and organic look to your food store with its green accent color.
This theme allows you to heavily customize page sections in order to build the store that you actually want. It also offers you a customizable product grid, responsive design, countdown timer, mega menu, multi language integration, newsletter popup, dynamic layout, and more.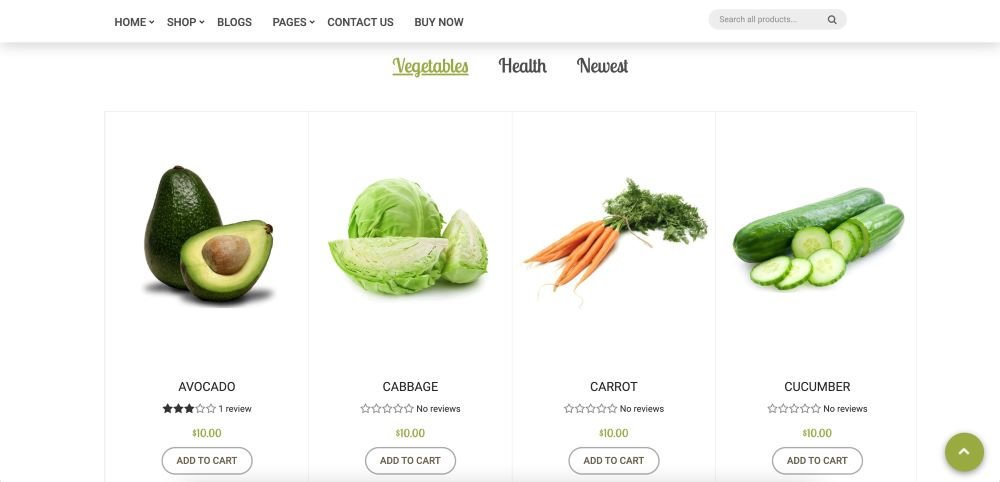 Main features:
Mobile optimized/responsive
Customizable product grid
Newsletter popup
Compatible with all browsers
Ajax login
Quick view
How did we choose these food Shopify themes?
With so many themes to choose from, how did we land on these 10 Shopify food themes as the best ones? Here's our criteria:
Theme usability. We chose themes that users actually buy, test, and use.
User testimonials. We looked at ratings and reviews in order to select the best ones.
Industry compatibility. We looked for themes that are fit for food and drink stores.
Expert reviews. We checked what the experts are saying for professional input.
Final words
Depending on what brand image you want to convey and how big or small your Shopify store is, choosing a fitting theme will bring different challenges. We hope that our list of 10 best Shopify food themes helps you to at least narrow down the list of options!
For us, Brooklyn is the best free Shopify theme for food and drink stores with a simple layout, while Flow and Venue are the best paid options, with loads of great features and stunning design.
Whatever you decide to go for, keep in mind that Shopify is flexible and you'll be able to switch to a different theme if need be. Good luck on your website-building ventures!
Want to see more themes? Check out these lists:
Frequently asked questions
Can I sell food on Shopify?
Yes, you can use Shopify to sell food or drink products. You can even sell alcohol with the right template that offers age verifying popups.
Is Shopify good for food stores?
Yes, Shopify is excellent for food stores – and quite popular as well. Famous food and drink brands like June Shine, Death Wish Coffee, and Oatly use Shopify for their websites.