By purchasing through the links on this page, you are giving us the opportunity to earn a commission. Your support is greatly appreciated!

When it comes to cosmetics, skincare, and other beauty products, all of the famous brands are online. And many of them, like Kylie Cosmetics, ColourPop and Jeffree Star Cosmetics, use Shopify for their stores.

If you're looking to start your beauty business on Shopify or just want to give your current store a new fresh look, we have got you covered.

In this article, we list 10 best hand-picked beauty Shopify themes, talk about how we chose them, and what criteria should matter to you when choosing a theme for your business.

Remember to optimize your Shopify beauty store for the best speed and organic traffic growth with one app

Get TinyIMG now
What to look for in a Shopify theme for beauty stores?
What elements are the most important if you're looking for a theme for your beauty and cosmetics store? Here's our criteria:
Mobile-optimized. More than a half of all online shoppers shop on mobile devices. Make sure the theme you've chosen is fully responsive and works well on desktop, tablet, and phone. Usually, if the theme is 100% responsive, it's added to the features list, so you won't miss it.
Attractive design. It's beauty, after all, so great design and aesthetics are incredibly important.
Sales-focused features. From quick-buy to sales labels on products, it's important to take advantage of all elements that will help you increase conversion rate.
High resolution images. If you want to sell your products, you have to make sure potential buyers see them in the best possible quality. Carefully look at all theme demos to see if everything looks just the way you want to.
SEO-friendliness. There are lots of metrics that contribute to a website's organic performance. Some of those metrics can strongly depend on a theme you choose, for example, fast loading time, intuitive user experience, customizable metadata, multi-language support.
There's a great selection of Shopify themes. All of them vary in design, features, and layout. Checking the demo stores and features offered will help you to choose the perfect one for your beauty business.
10 best beauty Shopify themes in 2023 – our detailed list:
Now that we've covered the basics of what you should look for in Shopify themes for beauty, let's get into our list of the 8 best themes:
1. Maker – Shopify theme for beauty brands with bold imagery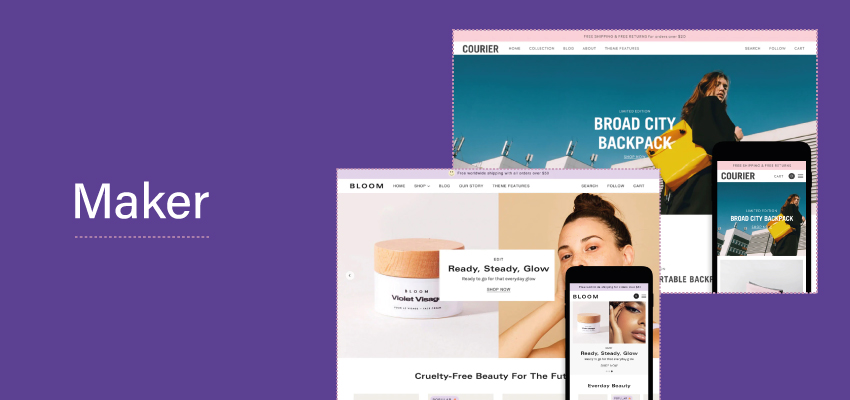 Compatible with Shopify 2.0:
Maker Shopify theme has an editorial-based layout with bold typography and showy hero sections. This theme is meant to be bold, it is meant to stand out.
Maker boasts powerful promotional features with sales and discount displays, featured product sections, and more. It's designed to increase sales and boost discoverability. While the design in itself is not minimal, the entire layout still feels tidy and intentional. If your intention is to be bold and colorful, Maker is an excellent choice.
All of that is also perfectly captured in the KraveBeauty online store, which sells skincare products in style.

Main Maker theme features:
Fully responsive
Speed-tested and approved
Optimized for longer-form text sections
Designed for large product catalogs
Perfect for visual storytelling
2. Atlantic – minimalist and stylish Shopify theme for beauty stores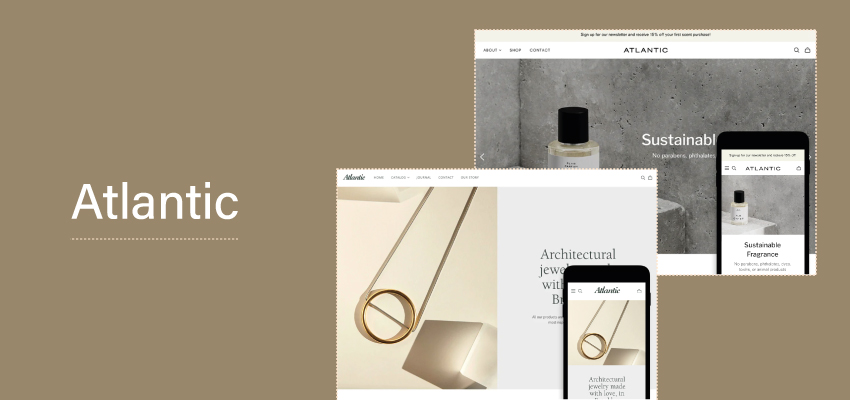 Chic, Modern, Light, Organic
Compatible with Shopify 2.0:
Atlantic is optimized for longer-form text sections, which is great for brand-building through storytelling. The theme itself is minimal and clutter-free, making it sleek and modern.
This Shopify theme doesn't overwhelm you with big homepage menus – it keeps the navigation simple. You can add products to the cart straight from the homepage or buy anything instantly with the quick shop function. High-resolution images allow you to display beauty and skincare products in all their glory, while the minimalist layout and modern typography make the store look fresh and stylish.
Thrive Causmetics store that sells make-up and skincare products use the Atlantic Shopify theme, as demonstrated in the screenshot below.

Main Atlantic theme features:
Fully responsive
High-resolution images
Newsletter pop-up
Speed-tested and approved
Perfect for large product catalogs
3. Prestige – luxury Shopify theme for high-end beauty brands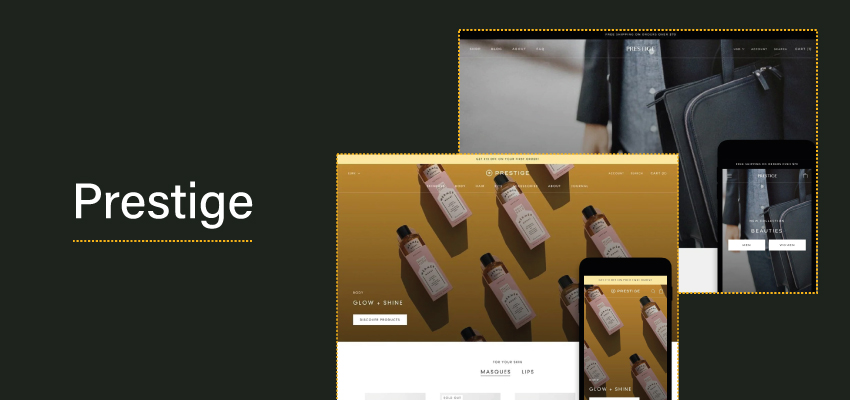 Compatible with Shopify 2.0:
Prestige lives up to its name as it's created for luxury high-end aesthetics. This Shopify theme is great for visual storytelling and editorial content, which allows you to highlight your brand's appeal.
Prestige offers tons of upselling features, like "shop the look" section, promo pop-ups, and in-menu promos. You can also take advantage of its highly versatile media display options, like image stacking, carousels, videos, and more.
Glow Recipe, skincare and beauty product brand, uses the Prestige Shopify theme, as showcased in the screenshot below.

Main features:
Fully responsive
Speed-tested and approved
Versatile product media display options
Optimized for longer-form text sections
High-resolution images
4. Startup – modern Shopify theme for small product catalogs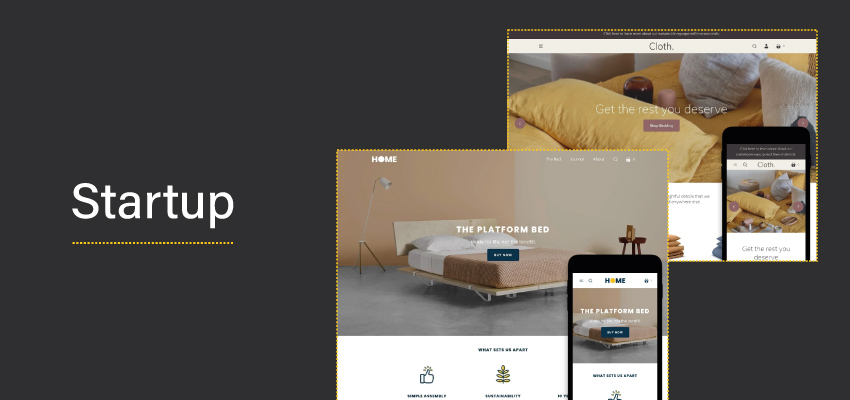 Tech, Home, Cloth, Travel
Compatible with Shopify 2.0:
Startup is a modern Shopify theme perfectly fit for beauty brands that sell internationally. The theme is easy to set up, so it won't take long until you can fully launch your store.
This theme is quite minimal, you can choose two types of navigational menus: overhead menu or an expandable one. Generally, everything about this theme screams modern and fresh. You can highlight customer testimonials, showcase product details from the homepage, and customize the layout perfectly to your liking.
To give a real-life example, Herbivore Botanicals uses the Startup Shopify theme for their natural, vegan, cruelty-free skincare products.

Main features:
Fully responsive
Speed-tested and approved
Perfect for small stores
Quick setup and launch
High-resolution images
5. Flow – minimalist Shopify theme for bold skincare brands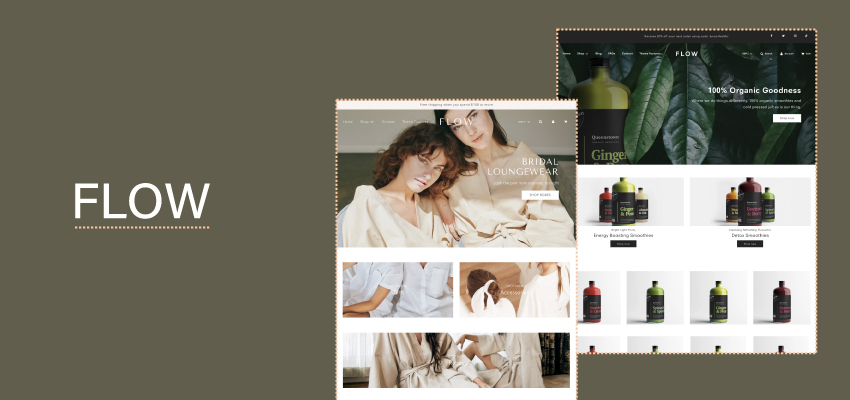 Byron, Queenstown, Cannes
Compatible with Shopify 2.0:
Flow Shopify theme puts your products front and center with its minimal and sharp design.
This theme has tons of useful features that are meant to attract and sell. You can integrate a quick buy button, customer testimonials, hero video, contact forms, and a newsletter pop-up. While the theme itself has three design presets, you can customize your store to fit your brand and story.
Versed Skincare online store uses Flow – it's bold, minimal, and easy to navigate.

Main features:
Fully responsive
Speed-tested and approved
Quick shop integrations
Perfect for high-volume stores
Newsletter pop-up
6. Wokiee – multipurpose and feature-heavy Shopify theme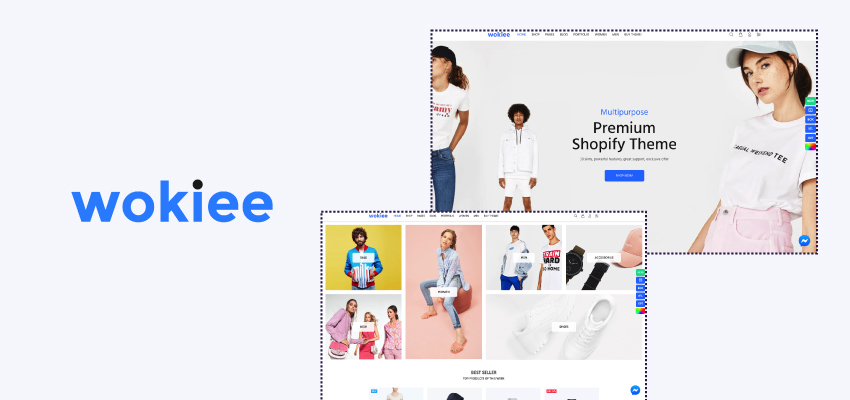 Compatible with Shopify 2.0:
Wokiee is one of the most popular and best rated Shopify themes. It's versatile and offers over 80 homepage demos to choose from. No surprise that it's also great for cosmetics, skincare, and other beauty-center brands.
This Shopify theme includes a lot of great features like megamenu, quick view, compare products, wishlist, and more. Wokiee is great for large product catalogs but it also has layouts for single product stores. Needless to say, this theme has flexible customization options, so you can make your store as unique as you please.
Main features:
Fully responsive
Speed-tested and approved
Dynamic filtering
Optimized for dropshipping
Advanced megamenu
Color, size, material swatches
7. Kala – customizable Shopify theme for all beauty-focused products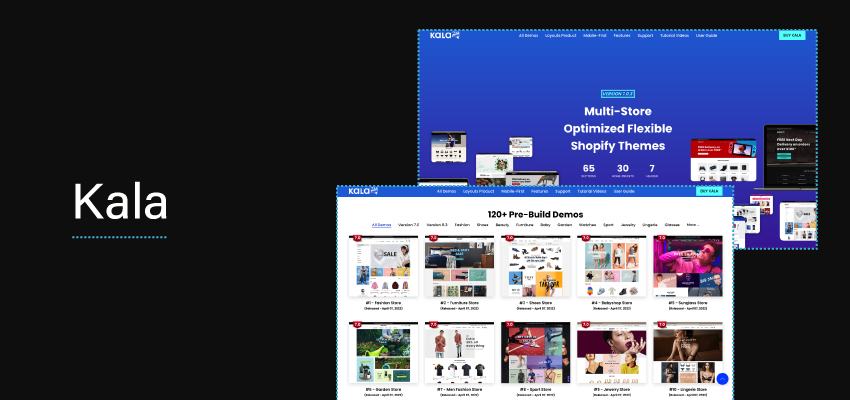 Compatible with Shopify 2.0:
Kala is a fully customizable Shopify theme that allows you to build your store however you like with its flexible sections builder.
This theme offers several header and footer layouts, as well as collection and product page layouts. Kala is a mobile-first Shopify theme, but it's fully optimized for all screens, whether you like to browse on a computer, phone or tablet. The theme is fully optimized for SEO with integrated micro data structures, Google rich snippets, and more.
Main features:
Fully responsive
Flexible sections builder
Megamenu
Newsletter pop-up
Ajax wishlist
Quick shop pop-up
8. Lezada – minimal and creative multiuse Shopify theme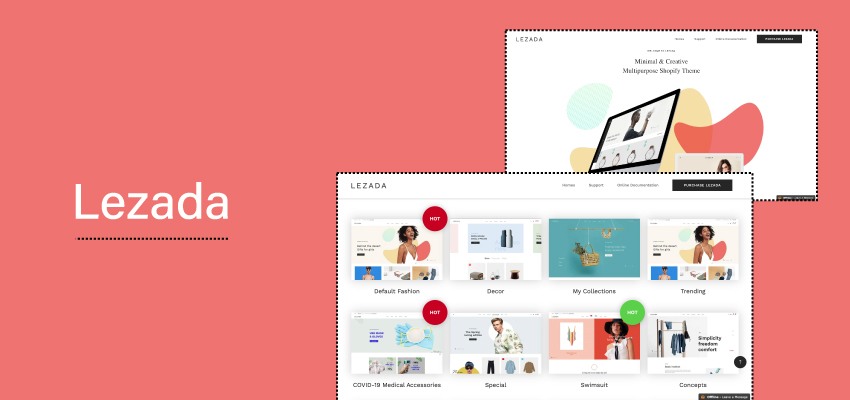 Compatible with Shopify 2.0:
Lezada Shopify theme offers beautiful homepage demos that are perfect for an online beauty shop of all sorts.
This theme is loaded with features that will help you create the best eCommerce store. Some of the features include a responsive megamenu, RTL support, Ajax cart pop-up, a timer, and other promotional, sales-focused elements. And with a drag & drop page builder you will be able to easily design your store to ideally reflect your brand.
Lezsda is also fully optimized for search engines, so you'll be able to boost your organic traffic and conversions.
Main features:
Fully responsive
Speed-tested and approved
Megamenu
Instagram shop
Quick view
Fit for affiliate marketing
9. Retina – sleek and polished Shopify theme for beauty products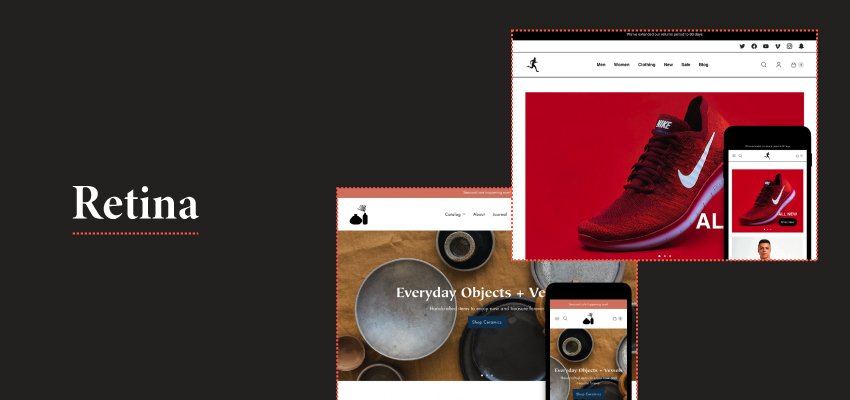 Austin, Montreal, Melbourne, Amsterdam
Compatible with Shopify 2.0:
Retina invites you to showcase your products with bold imagery and refined styling. The minimal and professional design makes Retina a great Shopify theme for selling beauty and skincare products.
The theme is optimized for editorial content without over-cluttering the layout. Retina also offers a lot of sales-boosting features like back-in-stock alerts, countdown timers, promo banners and popups, product videos, and much more. Theme developers also keep it very simple with a small navigation menu that doesn't overwhelm customers.

Main Retina theme features:
Mobile-friendly design
Focus on increasing conversions
Simple setup and customization
High-resolution images
10. Responsive – Shopify theme that lets your beauty products pop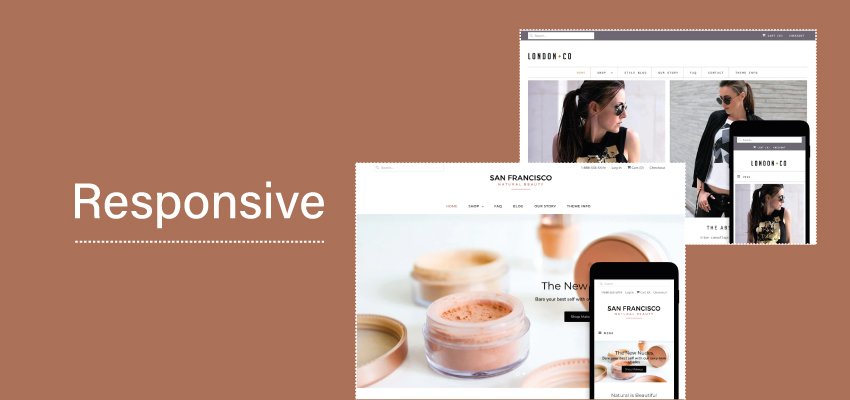 New York, San Francisco, London, Paris
Compatible with Shopify 2.0:
Responsive lives up to its name by designing this Shopify theme to look and work as great on mobile as it does on desktop. The design offers a lot of white space to allow you to focus on the products and imagery.
Responsive has lots of great features that will help you sell beauty products, like full-width images, hero videos, promo banners, and more. There are also various customization options for layout, typography, and featured promotions. This way, you can tell your brand story and create a style that you want to see.

Main Responsive theme features:
Fully responsive
Full-width imagery
Hero video
EU translations
High-resolution images
How did we choose these beauty Shopify themes?
This is how we decided to choose the 10 Shopify themes on this list:
User reviews & ratings – in order to see what people are saying
Mobile optimization – so everyone can shop no matter the screen
Aesthetic appeal – there would be no beauty stores without beautiful design
Promotional features – we looked at the themes with features that will help you sell
Diverse design options – for all of our minimalists and maximalists alike
Flexible customization – so your store's design is unique to your brand
Final words
The beauty industry is demanding, so we understand that choosing a theme for your store is a careful and slow process.
Even though all the themes on this list are great, we have a couple of favorites. Maker is perfect for those seeking bold and unique designs for your makeup or skincare brand, while Wokiee – one of the most popular Shopify themes – can offer you a wide range of storefront styles to choose from for your online beauty shop.
All in all, every Shopify theme on our list is easy to set up and launch, so whatever you choose, you'll be ready to go in no time!
Curious to read more? Check out these articles: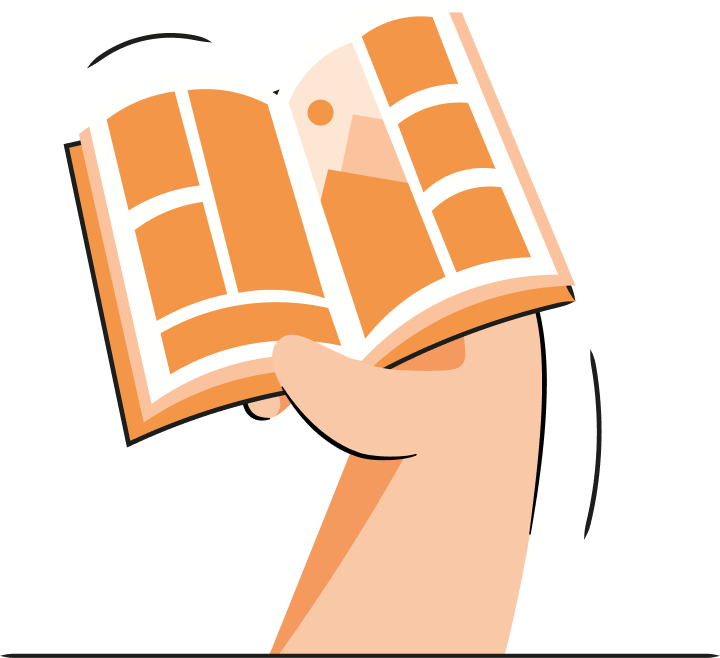 Frequently asked questions
There are many Shopify themes that are great for cosmetics, skincare, and other beauty products. For example, Maker is a Shopify theme created specifically for beauty-focused brands.
Yes, Kylie Cosmetics was built using Shopify.